Do you own your own home or maybe you are a renter looking to spruce up your living space? Or maybe you're just someone interested in DIY home decor projects, but you're not sure where to start? Well, you've come to the right place!
One excellent way to achieve this is by taking on your own DIY home decor projects. Focus on easy projects as they will not only help you with a tight budget but also allow you to share your personal style and exercise your creativity in your space. You will also get a sense of accomplishment from doing something with your hands and a little hard work.
In this beginner's guide, I offer some simple tips and tricks that will help you get started the easiest way on your DIY home decor journey. Your DIY home decor projects should be more than DIY crafts with a hot glue gun. I hope this guide will inspire you to create a beautiful and personalized space that reflects your unique style.
DIY home project tips for beginners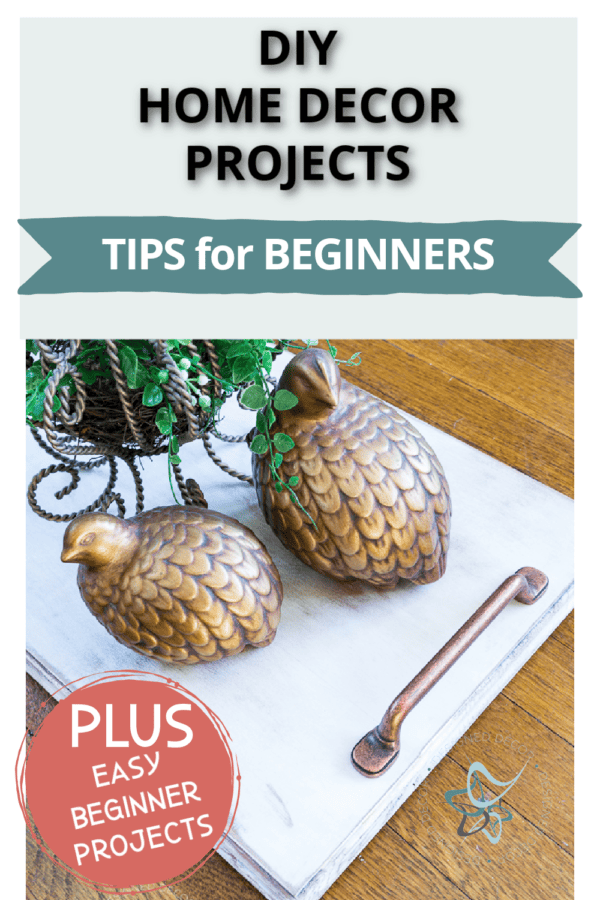 Finding Inspiration – A great starting point in any DIY project is finding inspiration. You can use Pinterest, Instagram, or even home decor magazines to find ideas for your DIY projects. Look for projects that are simple and easy to do, especially if you're a beginner. Once you've found a project that you love, start planning.
Start Small – Your first project should be a small and easy DIY project. This will give you the confidence to learn more. As you complete more small projects and acquire more tools, you can then begin to take on more challenging projects as you gain skills and knowledge.
Create a Plan – Before you begin your DIY project, it's essential to create a plan. This will help you avoid mistakes and save you a lot of time and frustration. Make a list of all the necessary materials, tools, and equipment that you'll need to complete your project. Also, set a reasonable and realistic timeline for your project. Search the internet for easy tutorials that way you know that you have the tools to finish the task.
Repurpose and Upcycle – One of the easiest ways to save money and add character to your home is to repurpose or upcycle items that you already have or from thrift stores. For example, you can turn an old ladder into a bookshelf or a bedframe into a shelf. You can also give old furniture a new life with a fresh coat of paint or some new hardware. Don't be afraid to get creative and think outside of the box when it comes to repurposing items.
Take it One Project at a Time – It is important to remember that DIYing your entire home can be overwhelming. Take it one room and one project at a time and focus on creating a space that makes you happy. Don't worry about being "perfect." You will learn as you complete each project.
Getting the Right Tools – Having the right tools is critical when embarking on DIY home decor projects. Fortunately, many DIY projects require only basic tools such as a hammer, saw, and screwdriver. However, if you're taking on more complex DIY projects, you may need specialized tools such as a jigsaw, drill, and sander. When purchasing tools, go for quality tools over cheap ones. This will save you money in the long run.
Must have tools for Beginner DIY Projects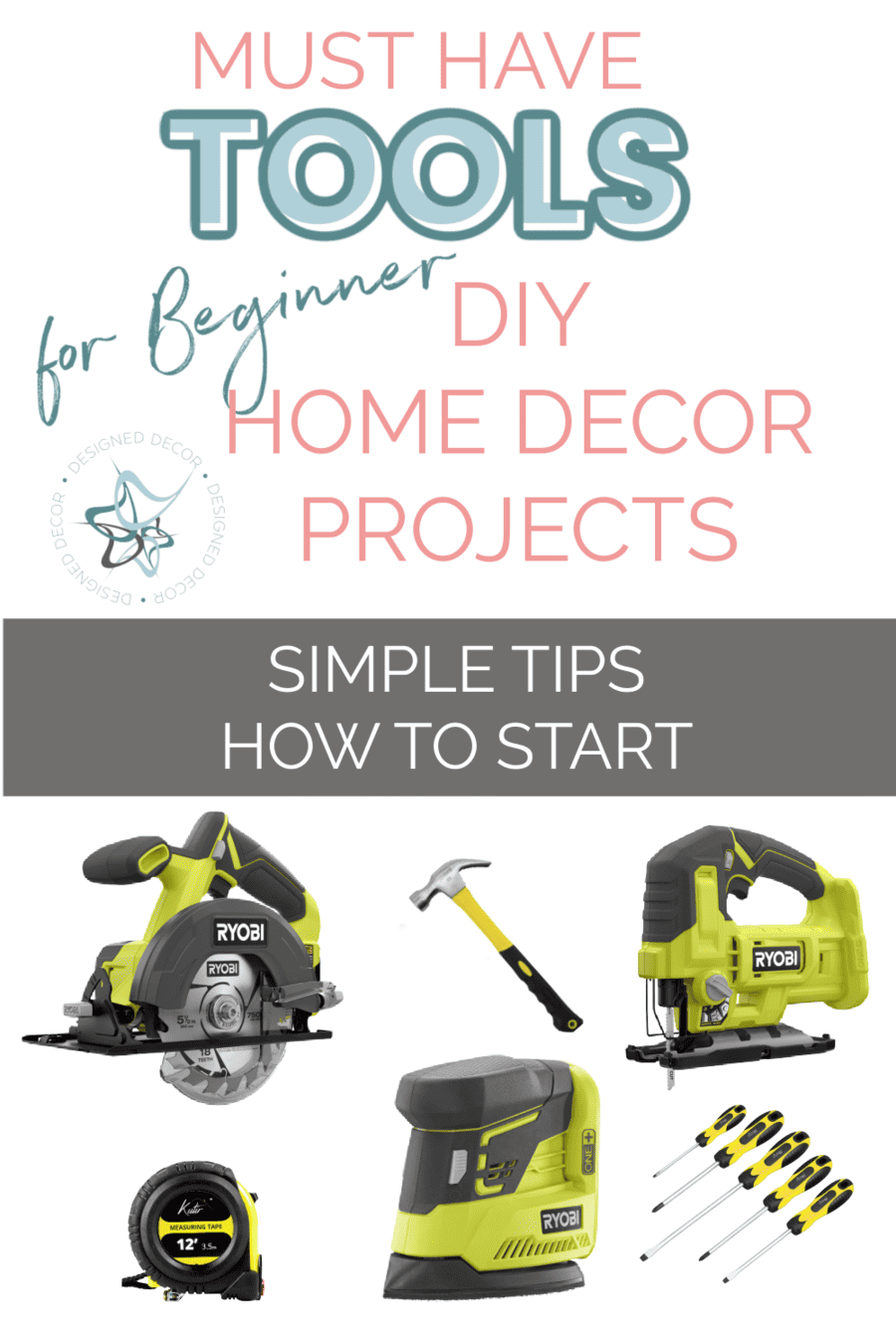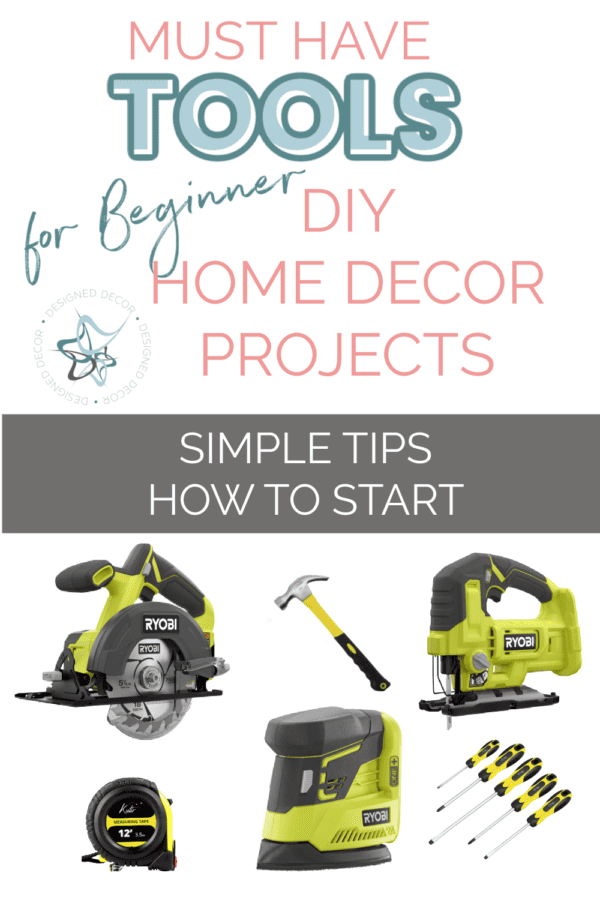 This post contains affiliate links. Click here to see my full disclosure policy.
Of course, there are the basic manual hand tools that are a MUST to get started on your DIY journey. These basics are quality measuring tape, hammer, clamps, utility knife, screwdriver, speed square, level, adjustable wrench, pliers, and a staple gun.
Once you can use all the above tools, you are ready to up your skill level with some beginner power tools. The very first power tool I would recommend is a power drill. This is the easiest power tool to use and it only takes a little knowledge of how to use one.
Here is a list of the other basic power tools I suggest:
Here is a list of the more advanced power tools I suggest:
If you are on a budget and are slowly building up your power tools, I recommend getting the power tools in the order that I have listed above.
The best way to learn how to use each of these power tools is to search YouTube. They have a lot of great tutorials on how to begin. Just type in "How to use a jigsaw for beginners" in the YouTube search bar. Change each search for the specific tool you would like to learn how to use.
A very important part is to make sure you use proper safety gear. Also, take the time to understand how each function before you begin.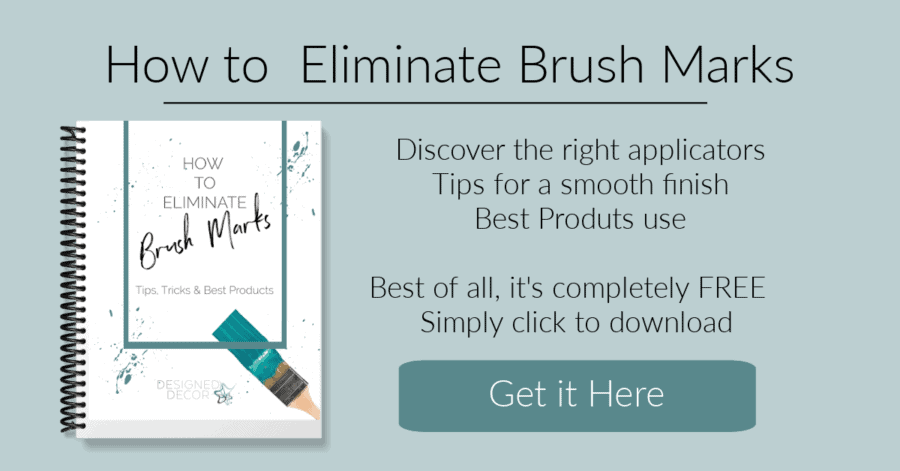 Easy DIY Home Decor Ideas for Beginners
DIY projects are inexpensive, fun, and a great way to spruce up any living space. With these easy beginner DIY home decor projects, all it takes is a little creativity and time before your place will be transformed into something straight out of the pages of Designed Decor! With a few simple tools, supplies, and ideas you can create stunning pieces that perfectly fit your style.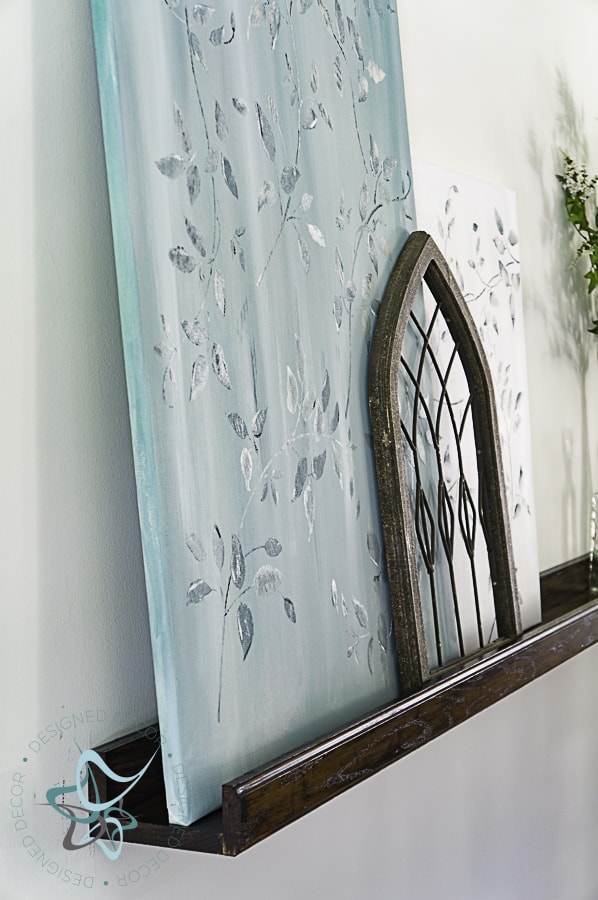 Simple Repurposed Beginner Projects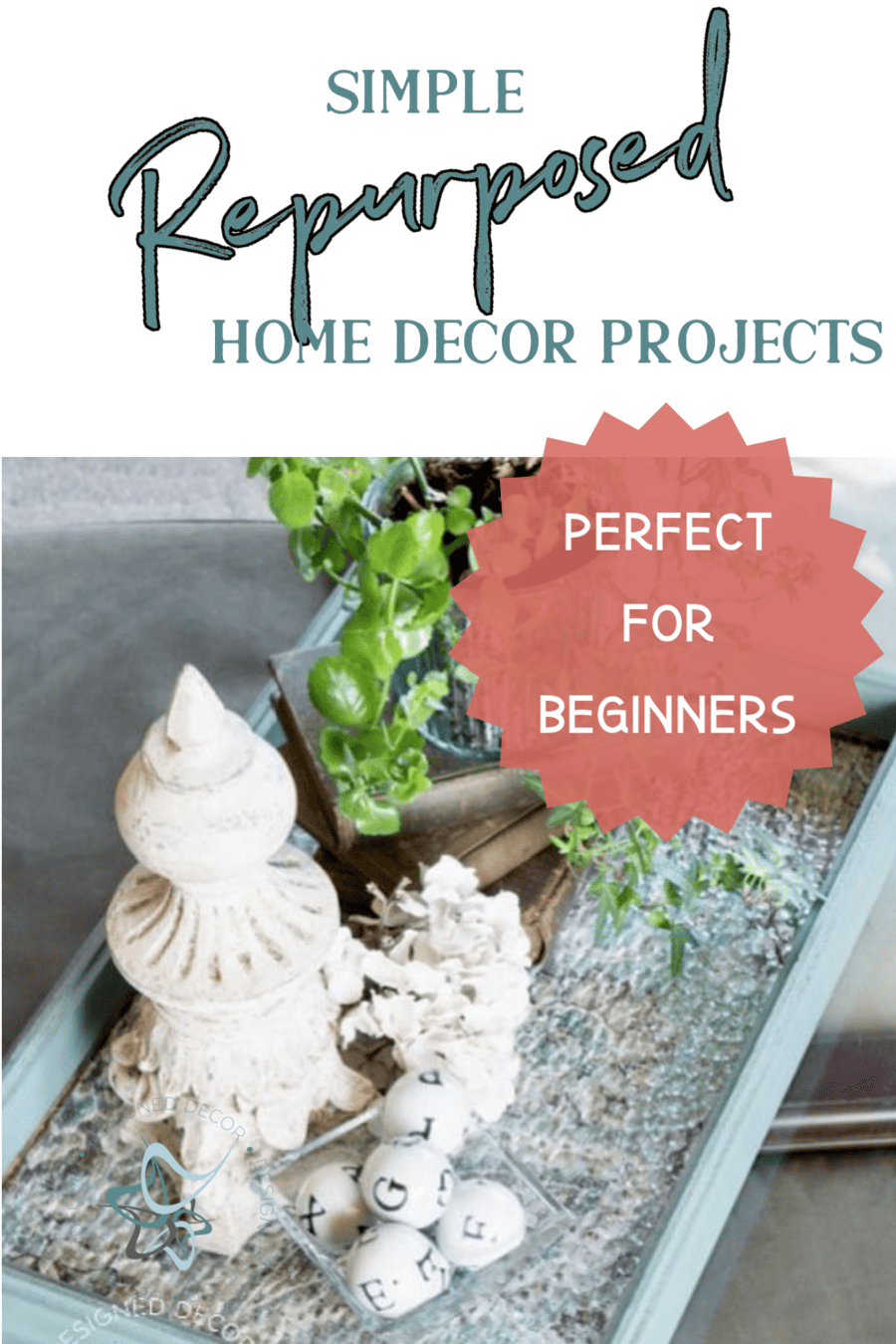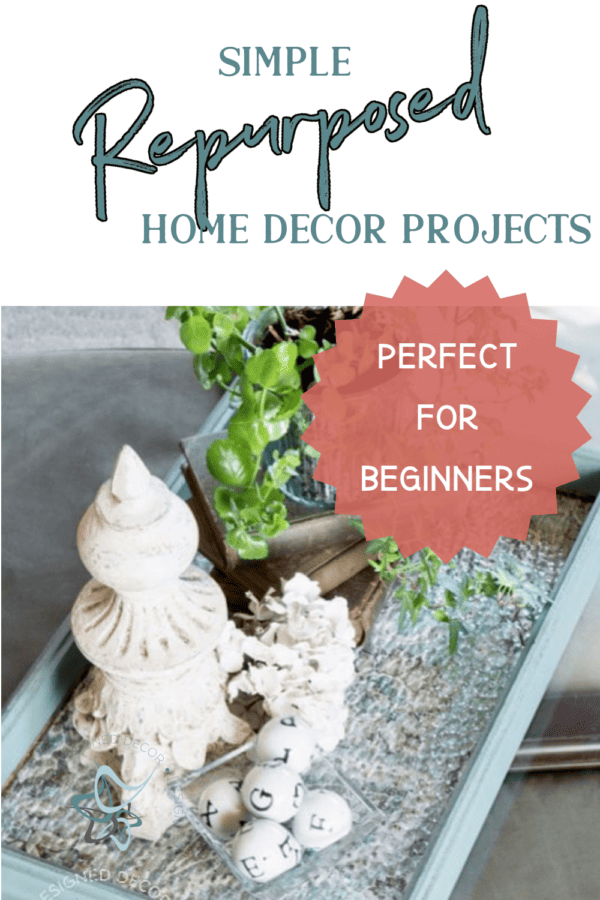 I love a great repurposed project. Nothing is better than finding an item at a thrift store and having a vision to turn it into something that will function and look great with my decor style. Some of my favorite repurposed projects do not even require power tools. Some are as simple as spray paint and glue.
When it comes to DIY home decor projects, it is always good to start the easy way. Start with small ideas and build up your skills and expertise gradually. With the tips and tricks in this guide, you can start creating a beautiful home with DIY projects that you'll be proud of and without a lot of work or a lot of money.
Whether you're a beginner or an experienced DIY-er, the DIY home decor projects will help you save money, personalize your space, and have fun while doing it. So, grab your tools, get creative, and start making your home beautiful with DIY home decor projects!
---
DeDe Bailey
DeDe Bailey is the artistic mastermind behind Designed Décor and The Puzzle Table.  With a rich background in home décor retail, she has transformed her website into a platform driven by a profound passion for helping individuals craft spaces they adore. As a self-taught furniture painting artist and thrift decorator, she loves sharing her knowledge and empowering others to beautify their homes through furniture painting and thrifting. When she isn't sharing her wisdom on the Designed Décor blog, DeDe is occupied with showcasing her ingenious jigsaw puzzle table design and expanding her short-term rental located in NE Ohio.
Get your FREE ELIMINATE BRUSH MARKS GUIDE => How to Eliminate paint brush marks
---
Discover more Inspirations by clicking on each category photo





Join the DD Community!
Join the Designed Decor Community and receive this FREE Favorite Furniture Painting Products & Tools Guide for joining.
You will also receive weekly updates on the in's & out's of making your house a home on a "Thrift" Budget!