Are you looking for a unique and creative way to add some character to your home? Have you ever thought about turning something vintage into a beautiful statement piece? Look no further than this beautiful painted secretary desk makeover!
We're taking some tired old secretary desks from drab to fab with some stylish paint and clever DIY solutions. From deciding on whether to paint the piece to prepping and sealing, see all the details so you can transform your own furniture into something special. Follow along to discover inspiration with furniture makeovers!
What to consider before painting antique furniture
The allure of antique furniture is undeniable – the intricate details, the rich history, and the craftsmanship that speaks to an earlier time. However, there may come a time when you want to breathe new life into a treasured piece by giving it a good furniture paint makeover.
Before picking up a brush, there are a few things that you must consider and research to ensure the integrity of the piece is preserved. From understanding the value of the furniture to selecting the right paint and color, painting antique furniture requires careful thought and planning. Don't rush into this decision, as altering the original finish can affect the value and authenticity of your heirloom.
Start by researching to see if your old piece of furniture has value. This is a hard task to complete as many older pieces of furniture have no markings of the manufacturer or the year it was made. Do some online research through sites like Kovels or Go Antiques.
Just because a furniture piece is old doesn't make something valuable. Take some time to weigh your options and make an informed decision to ensure that your antique furniture's beauty and value are not diminished by painting or altering the furniture.
Selecting the right type of paint and colors for your vintage secretary makeovers
Choosing the right furniture paint can make all the difference for a long-lasting paint finish. Not all paints are created equal. You'll want to select one specifically formulated for furniture to ensure it adheres correctly and holds up over time.
My favorite furniture paints to use are Country Chic Paint, General Finishes, and Amy Howard.
Country chic offers a great selection of products from paint, furniture glaze, and metallic creams.
General Finishes is my favorite to spray on for a modern smooth finish, using their milk paint and high-performance sealer.
Amy Howard's milk paint and wax is perfect for an aged finish
Beyond just choosing the right type of paint, selecting the right color is crucial for a successful makeover. The color you choose will set the tone for the entire room. So selecting a color that complements your existing decor and personal style is important.
Whether you opt for a bold pop of color or a more subdued neutral, taking the time to carefully select your paint and favorite colors will result in a beautifully transformed piece of furniture that you'll love for years to come.
Easy techniques to achieve a flawless finish while painting a secretary desk
No matter your skill level in painting furniture, I can help you to achieve the finish you desire when taking on painting that antique furniture. You can read all about my furniture painting tutorials right here on my site as well as use step-by-step video training workshops.
If you are the "read and research" type, start by clicking on this furniture tab. This will bring up so many furniture painting inspirations and tutorials. You can spend hours reading and researching to find the special furniture finish you desire.
Or maybe you are the "cut to the chase and get to business" type. For those of you who want to get to business painting your furniture, I offer a wide array of online furniture painting video tutorial workshops for you to learn fast and in the comforts of your own home.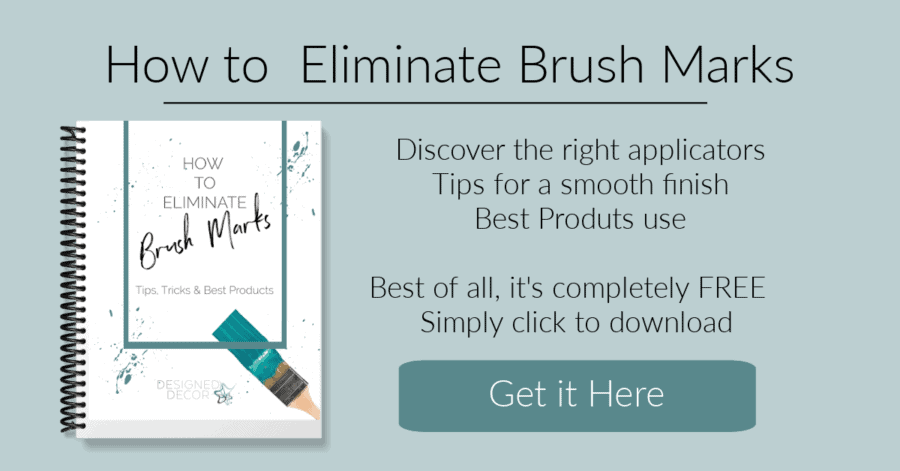 Also, check out these Insider tips & tricks for painting furniture.
Reveal photos – beautiful painted old secretary desk makeover – before and after!
Discover the beautiful transformation of these antique secretary desks. Let us inspire your imagination and spark your creativity. Keep scrolling to get some inspiration with these antique secretary desk makeovers.
Curved claw foot vintage secretary desk makeover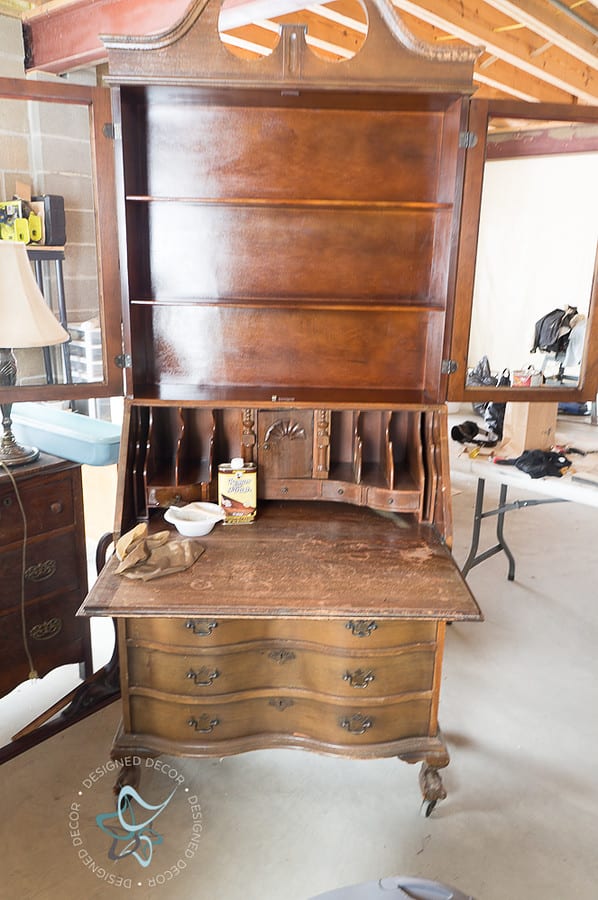 This post contains affiliate links. Click here to see my full disclosure policy.
This curvy vintage secretary desk was in great shape. My favorite feature was her lion's feet. I decided to do a natural distressed finish to accent the curves and those pretty furniture feet.
The natural distress paint finish was completed using liquorice paint and a paintbrush. No sanding was used for this paint technique. The exterior of the desk was sealed with clear wax to protect the chalk paint finish. The wax also helps to enhance the exposed wood.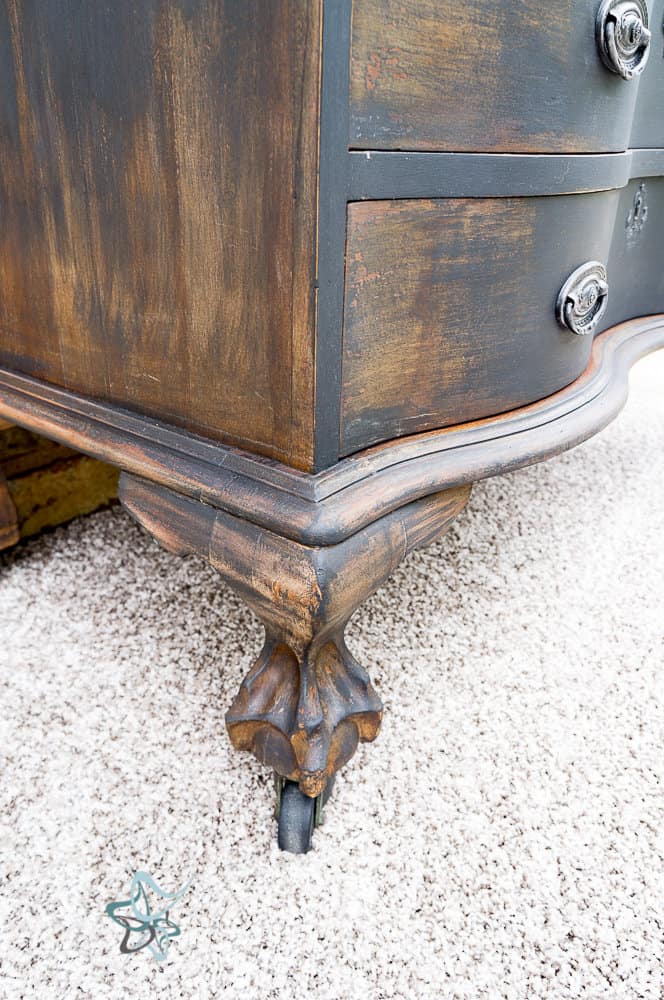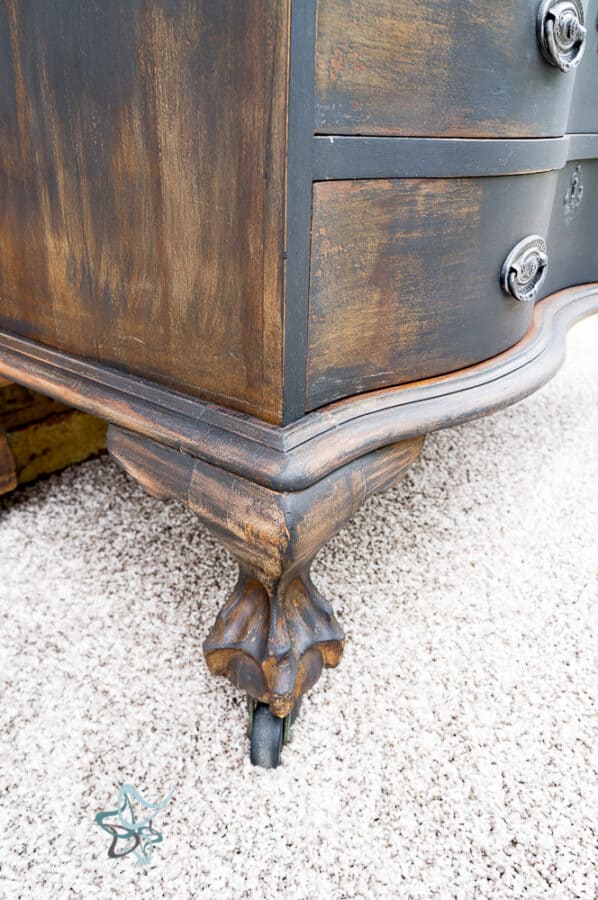 I restored the inside of the desk and inside of the drawers with Howard's restor-a-finish. This is my secret product to use on the interior of old cabinets and drawers.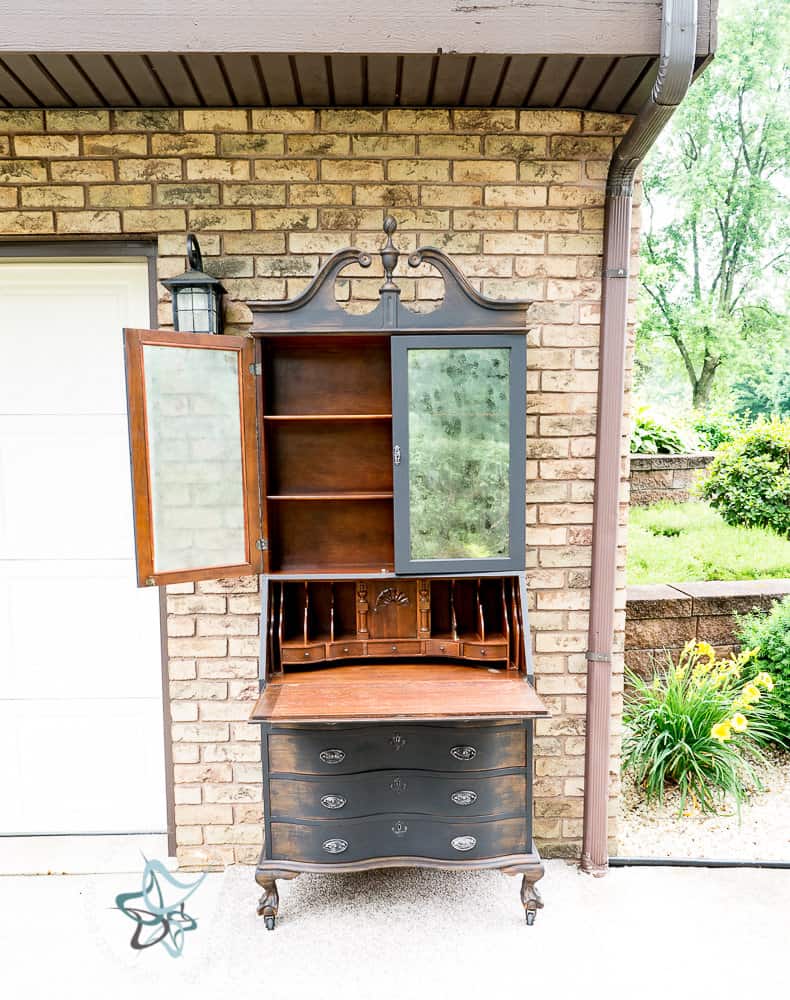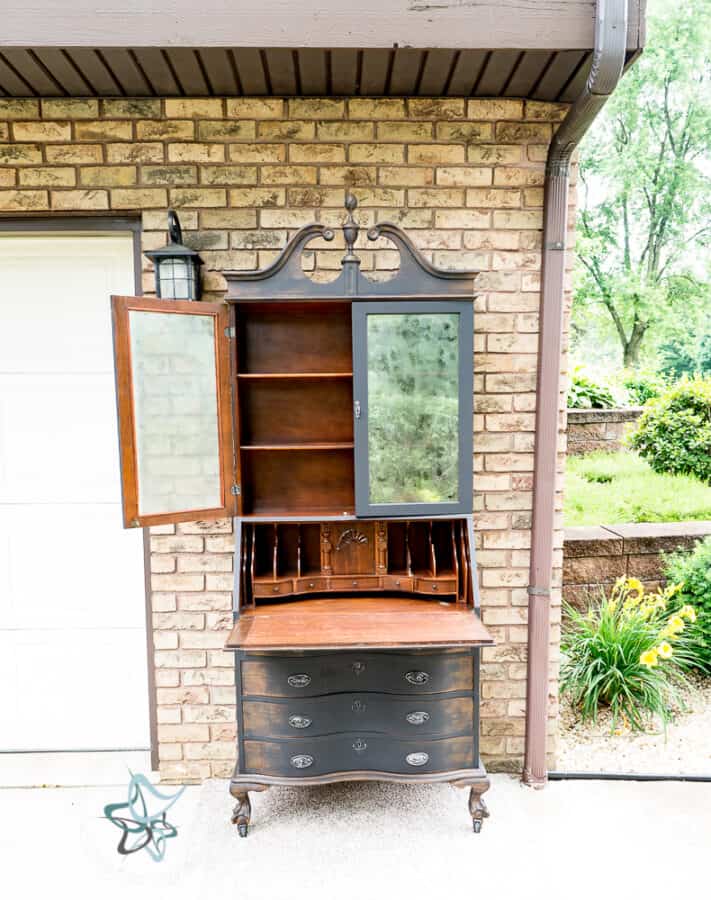 The next finishing details were giving the original glass an antique mirror effect and removing the eagle hardware. I ALWAYS remove the eagle hardware as it is my least favorite and it lacks detail and beauty. I painted other old furniture hardware I had on hand using my favorite metallic hardware finish.
Adding new hardware or painting the original hardware can give the furniture piece the much-needed finishing touches.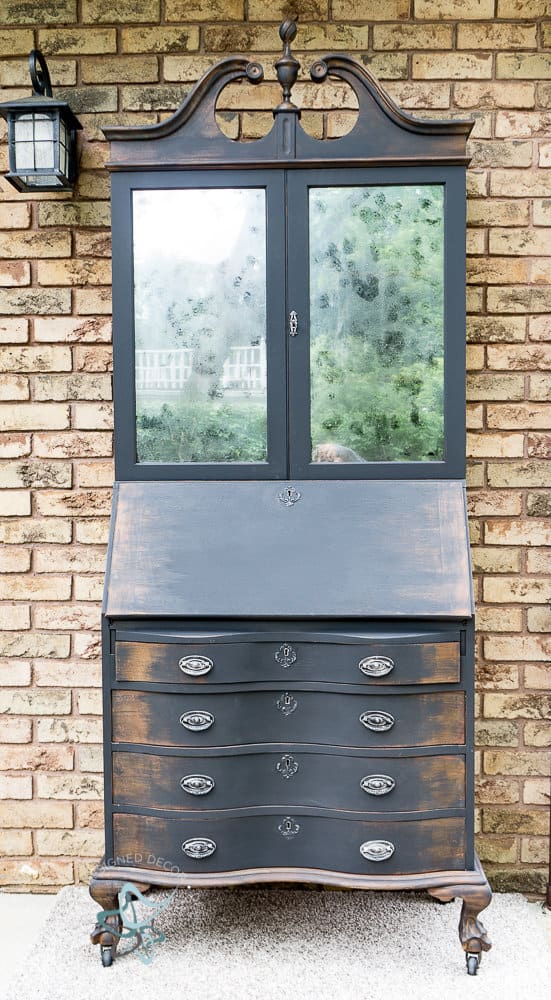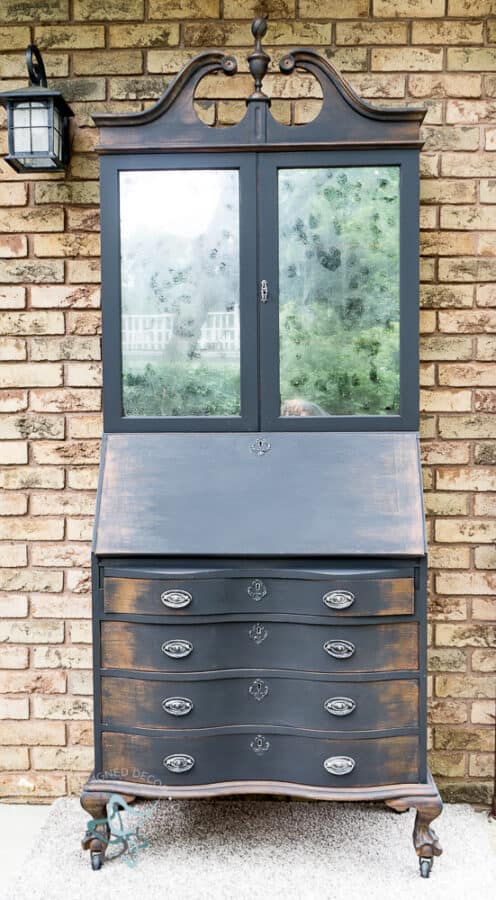 Drop-front secretary desk makeover
The small secretary desk below is a different size and version of a secretary desk. I found this definition: A secretary desk is a traditional writing desk with a hinged, foldable worktop. Many variations also come with upper storage cabinets.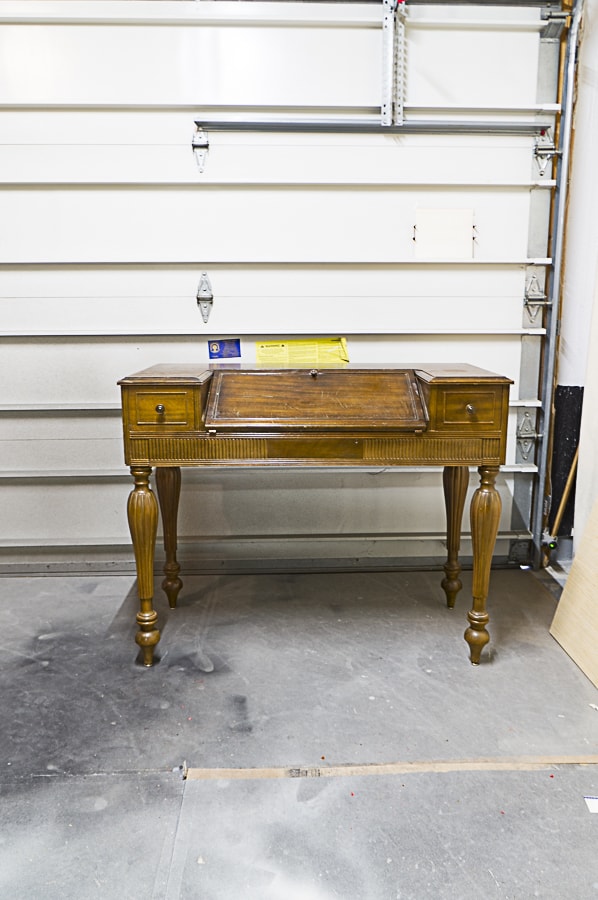 This one was painted using a powder glazing process. Powder Glazing adds dimension and beauty to furniture or cabinets without the frustrations of wiping the wet glaze off the carved details or insets. I love the finished look that powder glaze brings to a furniture makeover.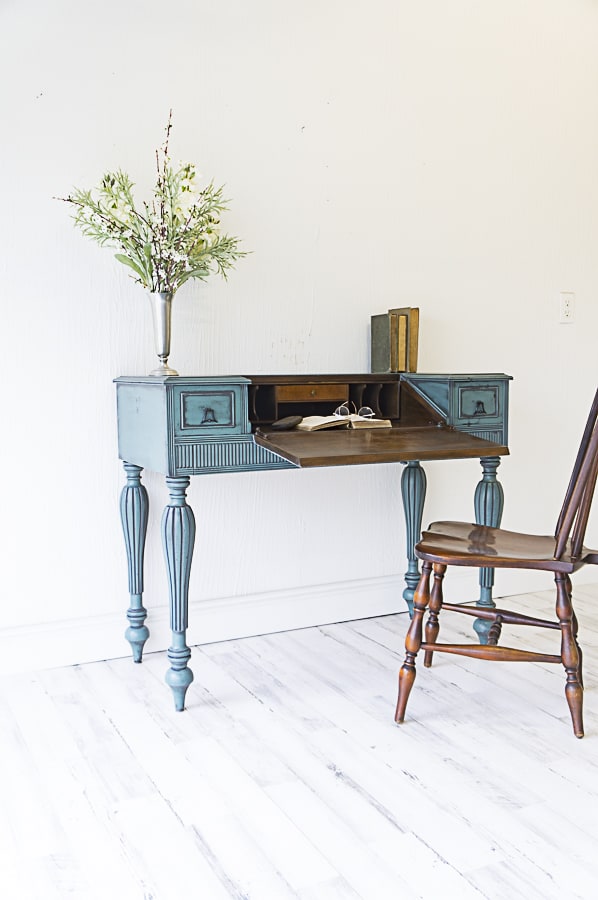 Again, I used restor-a-finish on the inside and changed out the hardware. The plain drawer pulls were not giving the desk the character it needed.
Repurposed secretary desk to shelves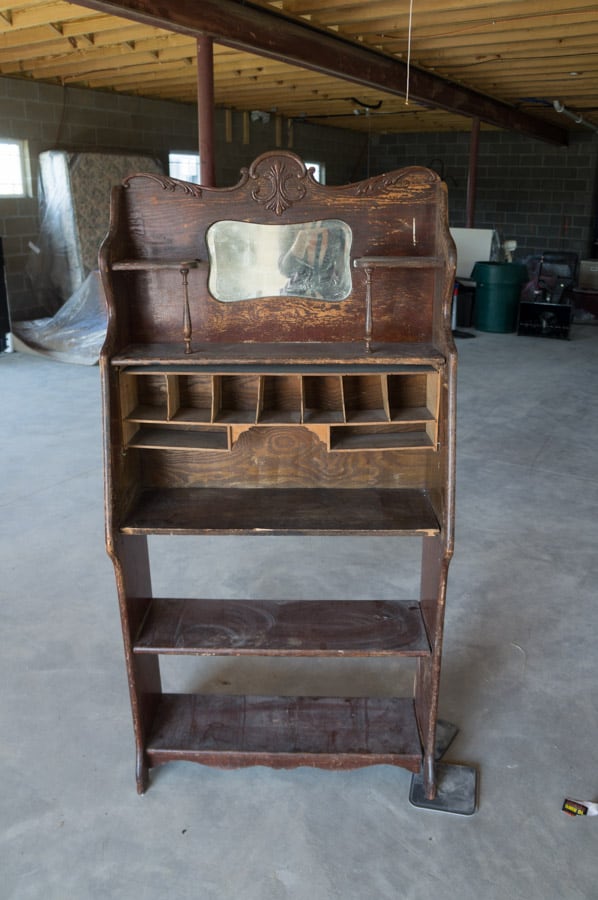 This secretary's desk was missing the foldable worktop and was in rough shape when I found her. So I imagined her still having a second life, now as a shelf.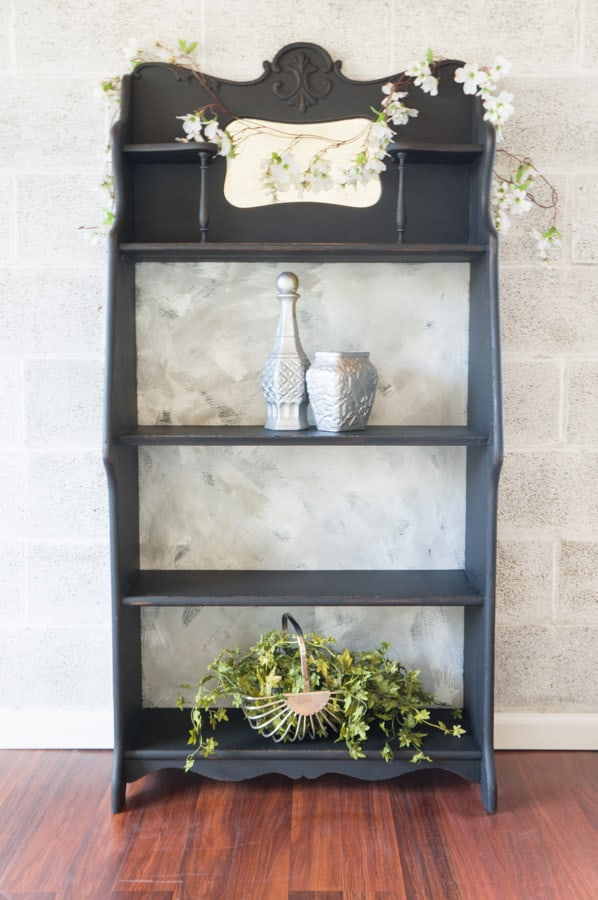 I removed the wood cubbies and the back of the desk. She was painted in lamp black, lightly distressed the carved details along with the edges, and sealed with high-performance flat. I cut a new back for the entire piece and painted the back with a lime painting finish.
Traditional Vintage Secretary Desk Makeover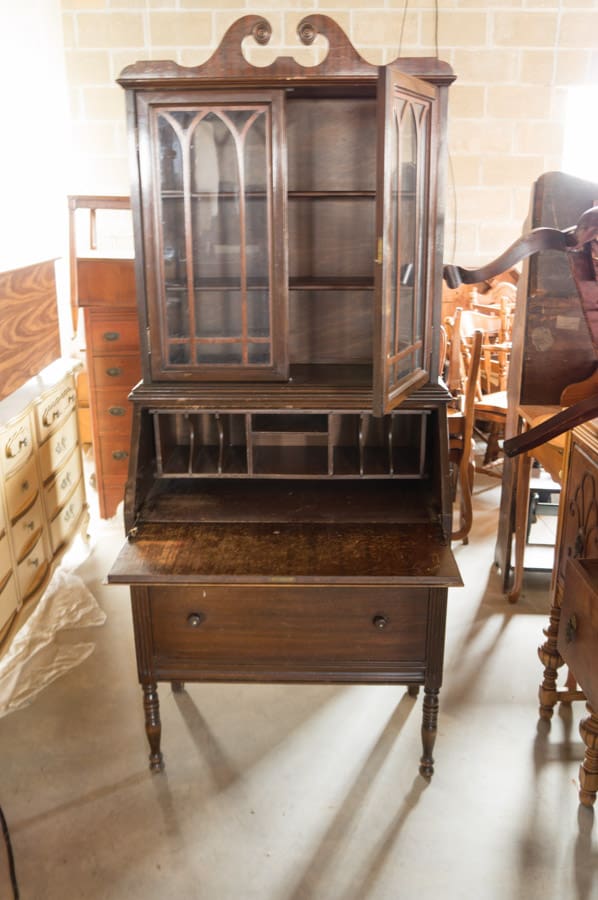 I love finding old secretary desks that are in great shape and also priced to sell. That is a major advantage here in Ohio. Old furniture pieces are easy to find in a local thrift store, garage sale, or Facebook marketplace. Most pieces are usually at a reasonable price. Most of the ones I have purchased to flip were at or below $100.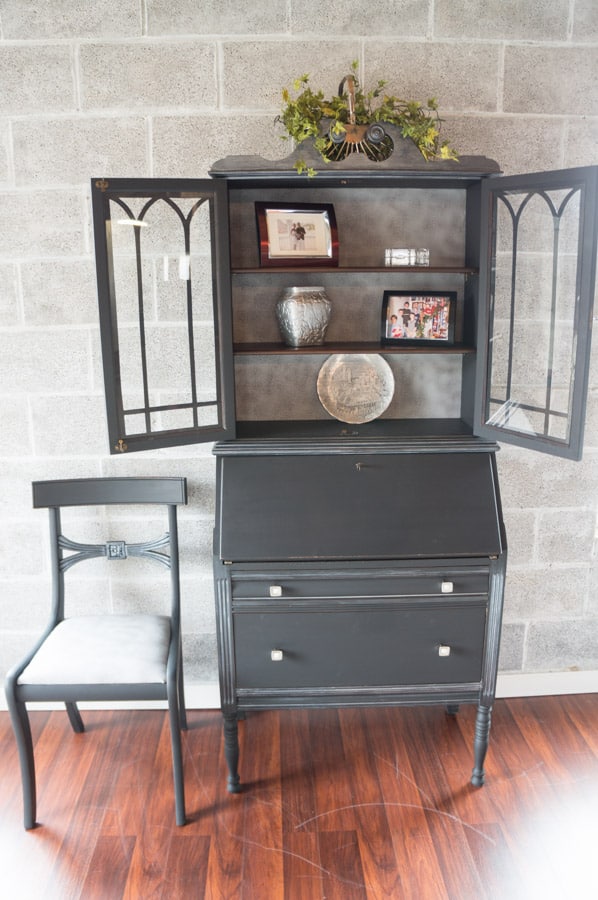 This one was painted lamp black and sealed with the high-performance flat. Glaze effects was used on the edges to give it a slight touch of glam. I decoupage a muted watercolor fabric on the back of the glass door cabinet. Since the original knobs were bland, I replaced them with new hardware. These silver square knobs were perfect to add more interest.
Antique oak leaded glass window secretary desk makeover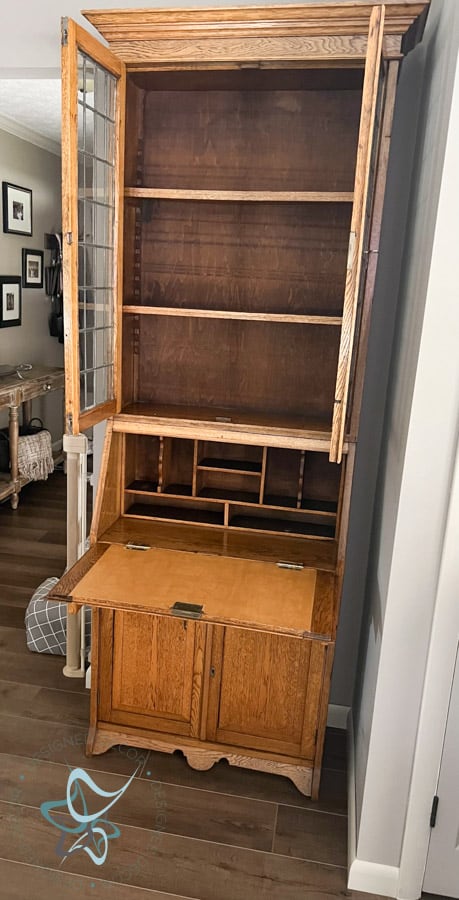 This was a custom-painted secretary desk for a customer who already owned the furniture piece. It was in decent shape and only needed a little prep work and a minor adjustment on the desk interior after removing the wood cubbies.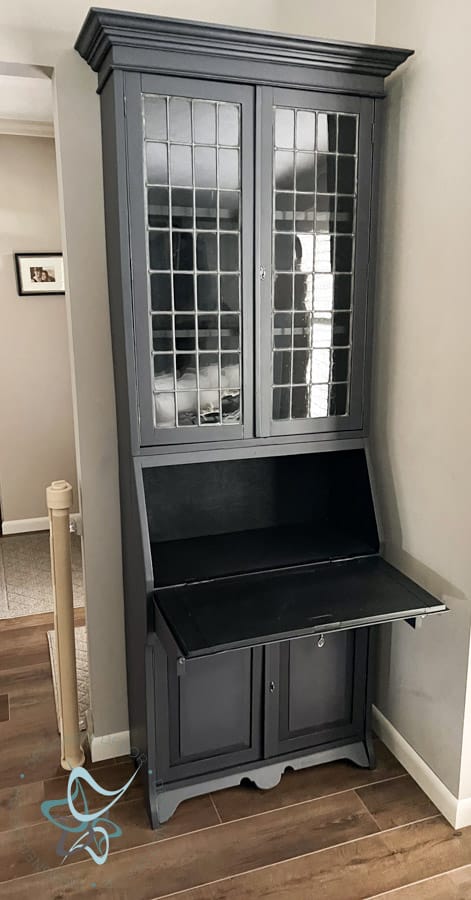 The cubbies were removed and the interior of both the desk and upper cabinet were painted in lamp black. The customer is using this as a liquor cabinet so they no longer wanted the cubbies. This allows them more storage in the inside.
The outside was a custom color of Queenstown gray and dark chocolate, glazed with graphite. The entire desk is sealed with a high-performance flat. The original hardware is painted using my metallic hardware finish with silver metallic cream.
Antique Tiger Oak Secretary Desk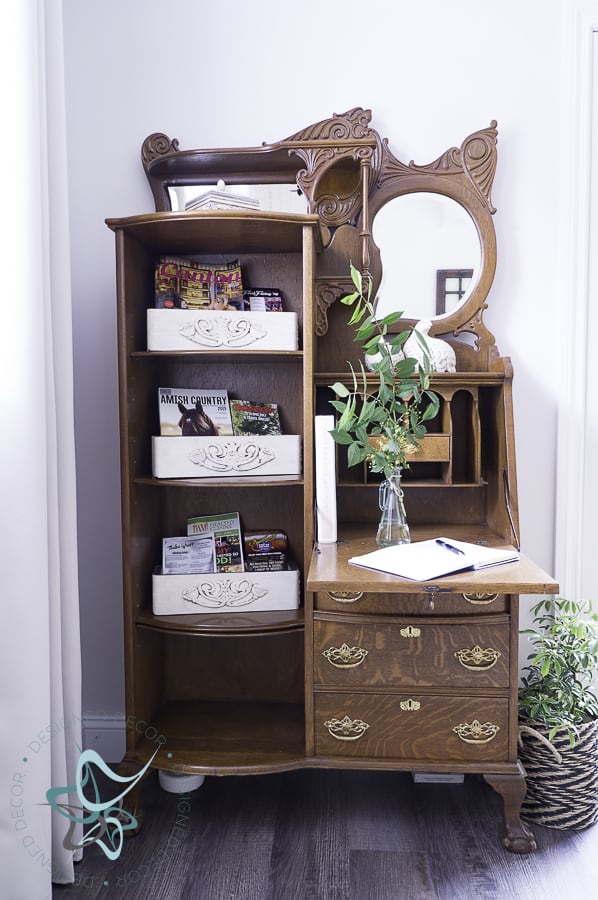 Sometimes you just might want to skip the paint. This antique tiger oak secretary desk was almost perfect the way she was. The original wood finish was in great shape and only needed some hemp oil to bring back the luster. I did change out the hardware and purchased these antique replicas from D. Lawless.
It ended up being a perfect piece in the entryway of my Airbnb. And serves as the perfect solution to hold the local brochures of the attractions in our area. It is also the As well as the inside of the secretary desk holds the signed guest book.
Final thoughts about secretary desk makeovers
As you can see, with a few easy steps and the right products, you can breathe new life into any piece of old furniture. It's a fun way to add color and character to your home without breaking the bank and buying new furniture. What's more, if you need help tackling your next makeover project, consider taking one of our online furniture painting classes. You'll be amazed at how much of an upgrade this simple process makes on any architectural piece! The possibilities are endless when it comes to making furniture look fabulous. Unleash your inner designer and take advantage of this opportunity today to learn more about transforming something vintage into something special with DIY furniture painting!
---
DeDe Bailey
DeDe Bailey is the artistic mastermind behind Designed Décor and The Puzzle Table.  With a rich background in home décor retail, she has transformed her website into a platform driven by a profound passion for helping individuals craft spaces they adore. As a self-taught furniture painting artist and thrift decorator, she loves sharing her knowledge and empowering others to beautify their homes through furniture painting and thrifting. When she isn't sharing her wisdom on the Designed Décor blog, DeDe is occupied with showcasing her ingenious jigsaw puzzle table design and expanding her short-term rental located in NE Ohio.
Get your FREE ELIMINATE BRUSH MARKS GUIDE => How to Eliminate paint brush marks
---





Join the DD Community!
Join the Designed Decor Community and receive weekly free tips on DIY home projects, painted furniture, decorating, and much more.