This post contains affiliate links. Click here to see my full disclosure policy.
How to decoupage furniture questions
Here is a list of the top questions I get when it comes to decoupaging furniture.
What do you need to decoupage furniture?
What is the best material to use for decoupage?
How to seal decoupage furniture?
Do I paint before decoupaging furniture?
What paper do I use to decoupage furniture?
I will answer each of these questions in detail in the sections below. Let's get started!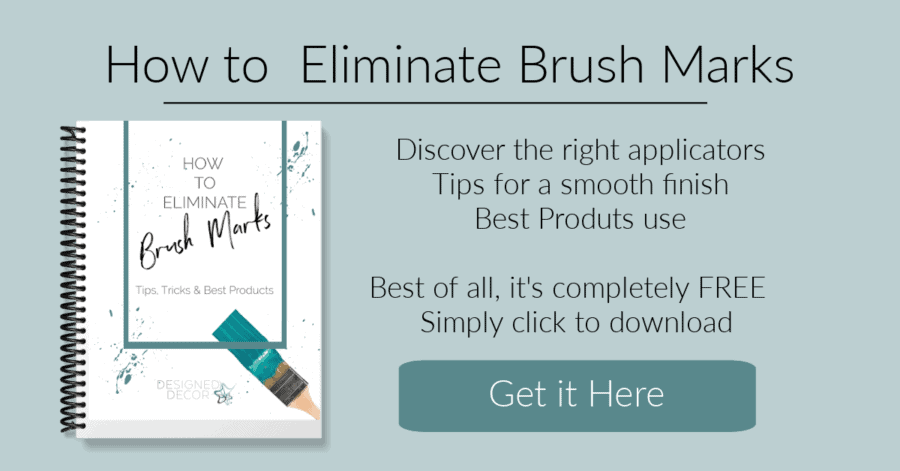 Decoupage Furniture Supplies
I use a few different products and basically the same method no matter the material I am using to easily decoupage furniture. Here is the list of my favorite supplies that I use.
Keep reading on how to use each of these products.
Best Material for Decoupage
When it comes to decoupaging furniture, I believe there is not the best material. You can use any of the following materials: wallpaper, wrapping paper, fabric, tissue paper, poster, napkins, aluminum foil, also almost any type of paper. So this answers the question, what paper do I use to decoupage furniture. I have used all of the above materials and each has come out looking great. If there are any other materials you have used, please leave me a comment below and I would love to add them to the list.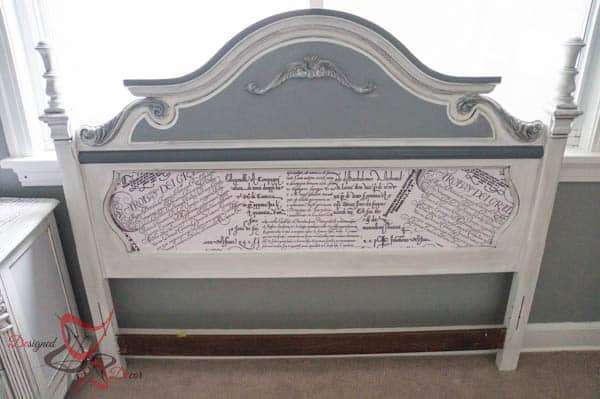 My #1 tip when using printed paper to decoupage, seal it first!

DeDe, Designed Decor
This #1 tip on how to decoupage furniture with paper comes from experience. Maybe it is better to say from my mistakes. The ink on some printed papers will smear since we are using a liquid product on them. After this happened to me when doing this french decoupage furniture makeover on my guest bedroom set, I began to seal the paper before using it for decoupage.
How to seal printed paper for decoupage
Roll out the paper on a clean surface. Spray the printed side of the paper with this spray-on sealer. Use light strokes when applying the sealer and make sure not to saturate the paper. After it dries, apply another light coat. This will help to set the ink and potentially prevent the ink from smearing.
Yes, you can use other spray sealers, just make sure that they are water-based. The reason for this is some oil-based sealers cause yellowing. If you are using light color paper, you do not want it to yellow.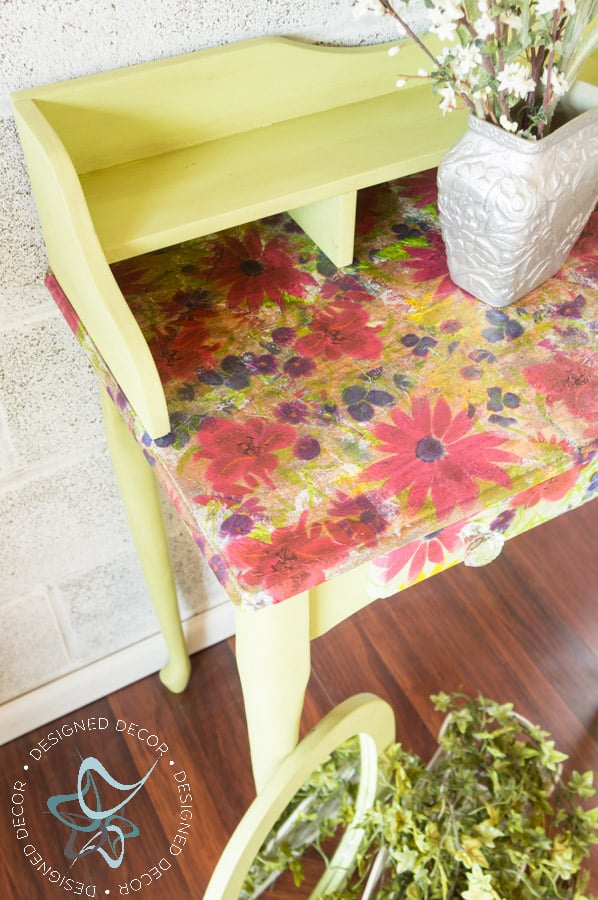 In my experience, I have only had to seal printed paper and nothing else. To be safe, I would always test the material you are using before applying it to the furniture.
Do I paint before decoupaging furniture
I always prep, clean, paint or stain my furniture first. The decoupage I save for the last step. The first reason for this answer is that some decoupage materials are thin and you might be able to see the furniture color through the material. If you have a dark piece of furniture, it may alter the decoupage and make it darker than you wanted.
The second reason is painting and staining can be messy and it is easier not to have to tape off the decoupage areas. For this reason, I recommend always finishing before decoupage.
Here is a quick video to show you how to decoupage with napkins
Step-by-step decoupage instructions
Just in case you skipped directly down to the easy step-by-step decoupage instructions, make sure to prep any printed paper before decoupaging. See the information above.
Step 1: Paint Furniture and Prep material
As mentioned above, prep and paint your furniture piece. Cut the decoupage material of your choice to the size needed. Do a dry fit of the material in place before proceeding.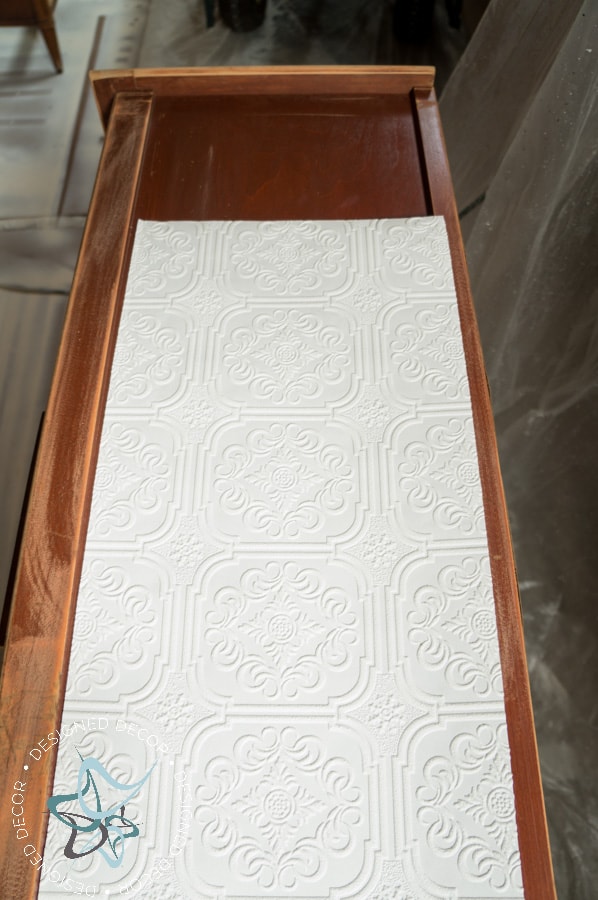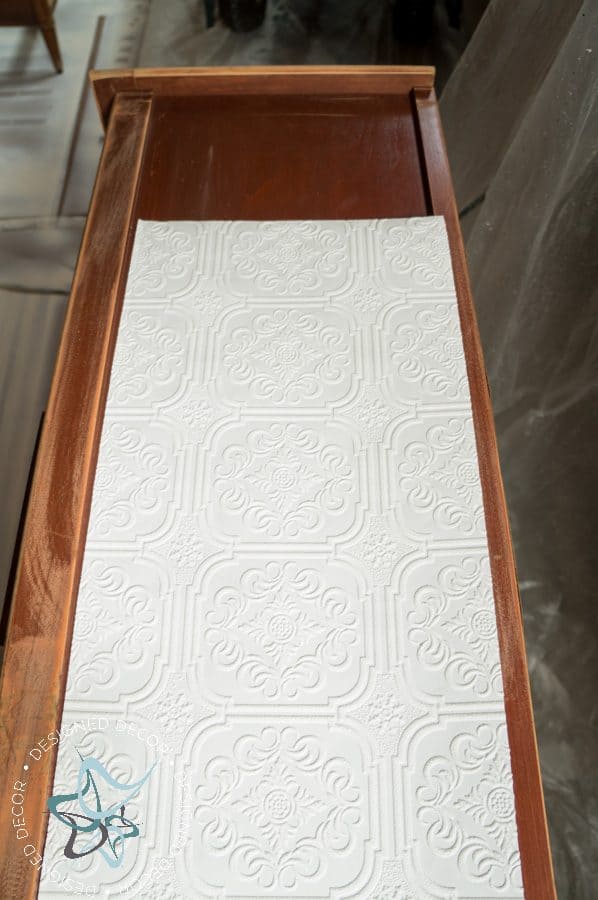 Step 2: Applying Decoupage Adhesive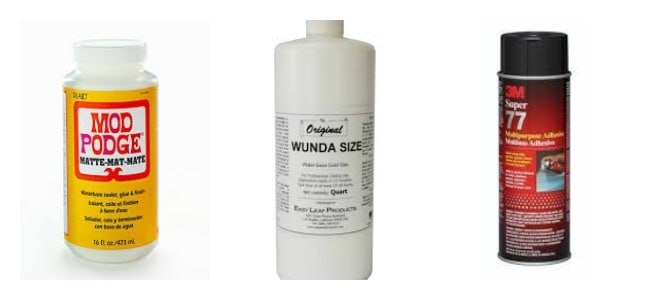 I recommend using 1 of the 3 products above, Mod Podge
, Wunda Size
, or Spray Adhesive
. My product of choice is Wunda Size.
After using all 3 products I prefer to use Wunda Size as my base adhesive layer. It is a very thin liquid that you apply and it sets up within 10 minutes. I find that it tends to have fewer air bubbles than Mod Podge. Mod Podge has mobility once you place the paper or fabric on it and it does take longer to dry.
However, I do recommend using mod podge for crafts.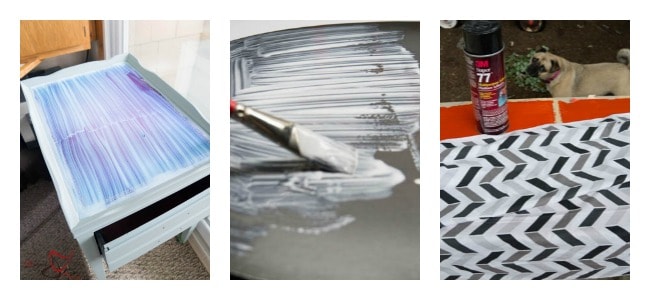 A spray adhesive works for thin paper and the brand does not matter. However, it is not forgiving and once you put some paper in place, it is there to stay or you tear it trying to reposition it. It does not move as easily as using Wunda size. Also, it becomes sticky when dried and this can interfere when applying the final sealer.
Apply the Wunda size or Mod Podge adhesive using a sponge brush or a chip brush. If using Wunda Size let it sit for about 10 minutes or until it is tacky to the touch. Now you are ready to apply your material of choice.
Step 3: Adding Material for Decoupage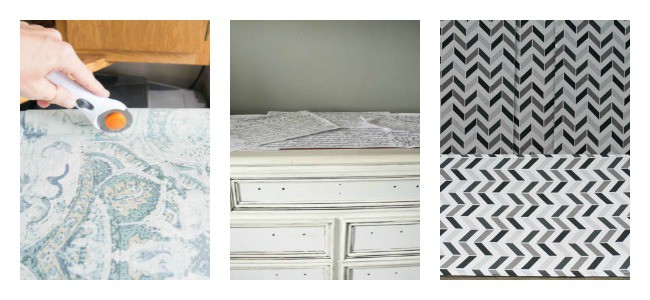 If using fabric to decoupage, it is best to cut the fabric slightly larger than the space. This allows you to make sure it is straight and lined up. I trim the extra pieces off once the adhesive has dried. Again, take my advice on letting the adhesive dry, it is much easier. Otherwise, you can move the fabric and trim it incorrectly. Use a fabric wheel cutter to trim off the extra fabric. This is so much easier and cleaner than using scissors.
When using paper for layering or overlapping, I like to use the spray adhesive so the paper will stick to the base layer. Spray the layering piece before laying it on top of the base layer. Carefully start at one end slowly laying down the material and smooth out as you go to help eliminate air bubbles. Quickly smooth out your material to remove air bubbles. You can also use a straight pin to place a small hole to help remove the trapped air.
I do not add a layer of the decoupage adhesive on the material after it has dried. I just apply the furniture sealer instead.
Step 4: How to Seal Decoupage Furniture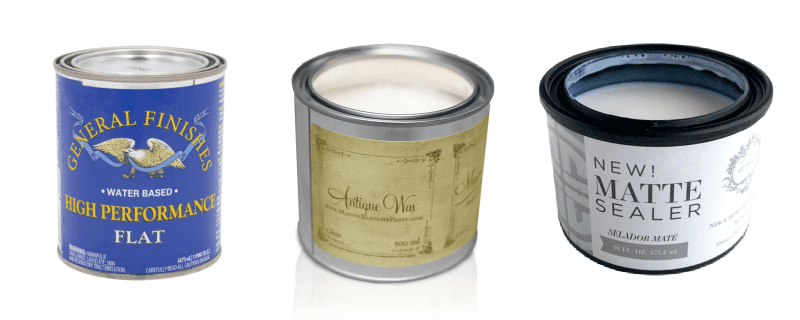 I use the above products to seal the material General Finishes High Performance, Antique Furniture Wax, or any Amy Howard Water Based Sealer
. My preferred method is sealing my material and furniture with a water-based sealer. I love the high-performance flat from General Finishes.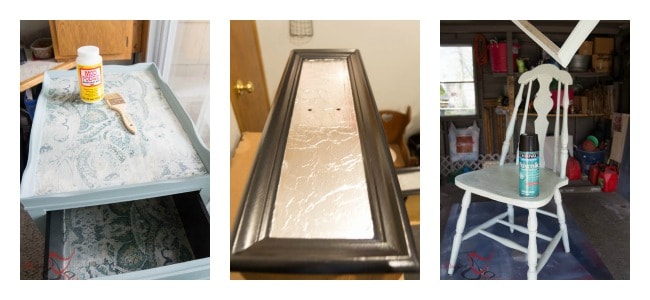 I will typically apply a second or third coat of sealer based on the furniture. For any light-used furniture, 2 coats are fine. For heavily used furniture like tabletops or chairs, I will seal using 3 coats.
If applying sealer with a paintbrush and using paper decoupage, I recommend spraying a coat of water-based polyacrylic sealer first and letting it dry. This helps to seal the printed ink. It is always best to be safe than smearing the ink and having to fix it. The spray adhesive will seal without dragging a wet brush over the material. Again, use a straight pin to help remove any air pockets. Once the spray is dry, then apply the furniture sealer with the paintbrush.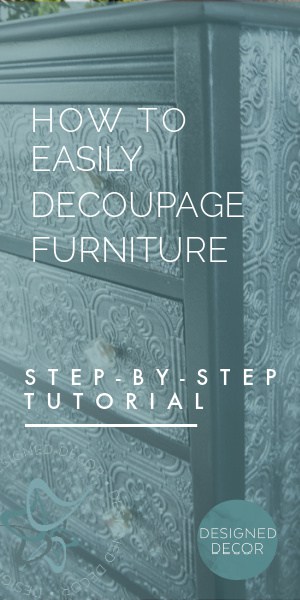 I wanted to make this as easy as possible for anyone to decoupage furniture. As sometimes it takes trial and error when working with a new fabric or a different type of paper. Always test the material on a sample board to see how it will work with the decoupage supplies. Let your imagination go wild and I am sure it can be added to your next furniture piece.
Decoupage Furniture Inspirations
Here are some of the pieces that I have decoupaged, stopover over to see the before on these pieces!  
How to decoupage with aluminum foil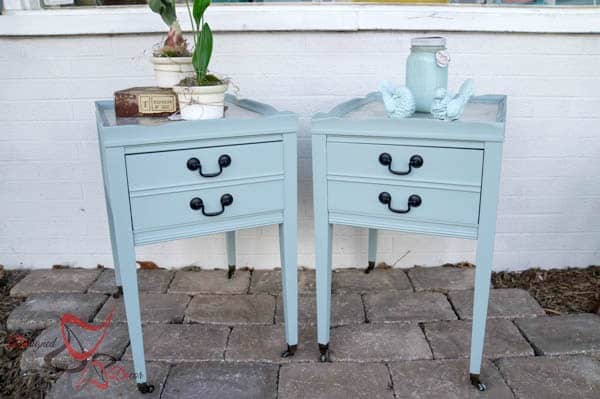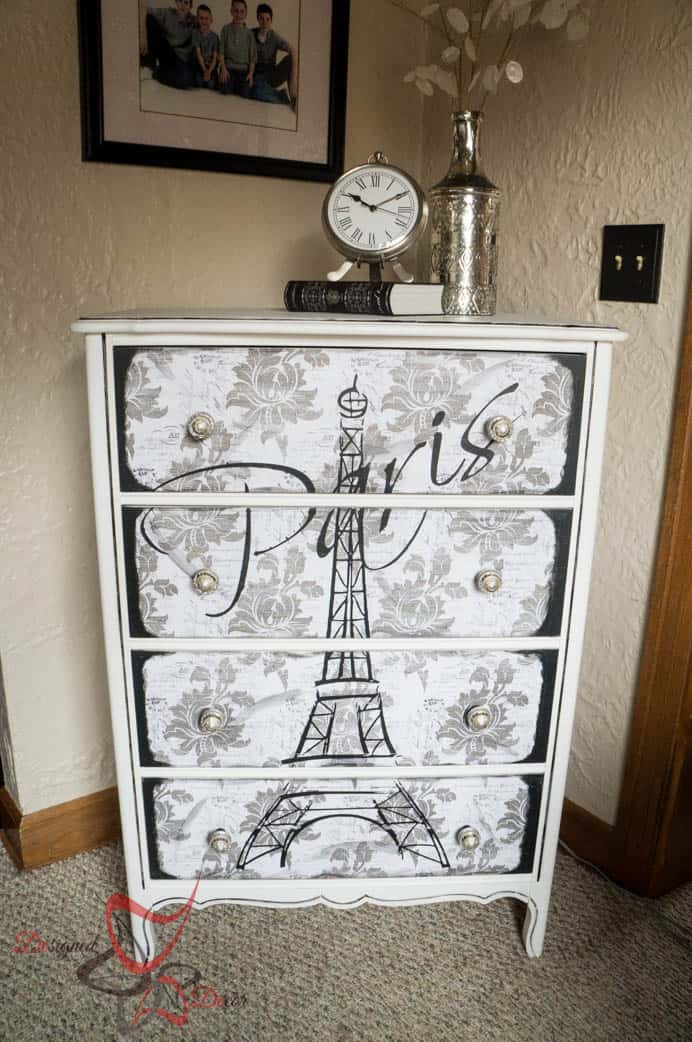 How to decoupage with wrapping paper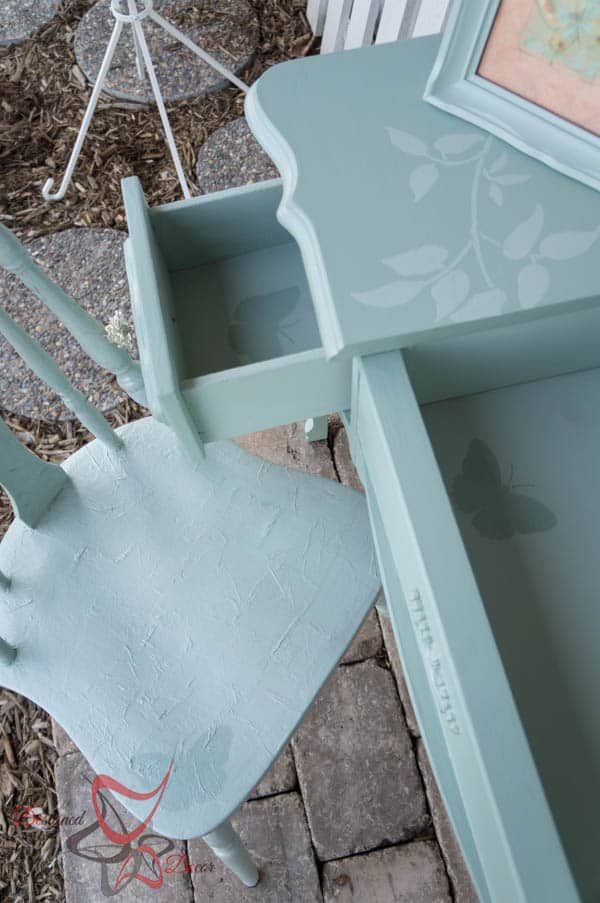 How to decoupage with tissue paper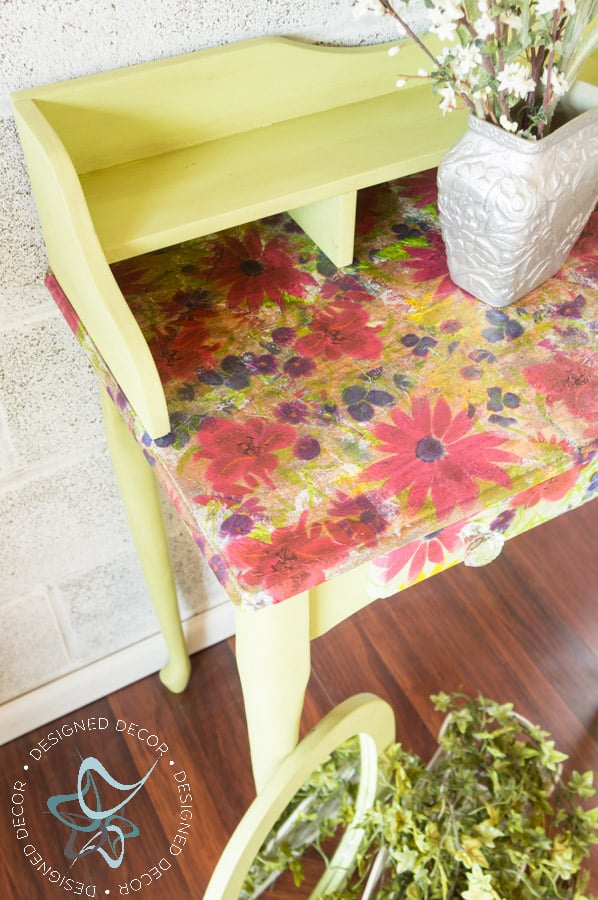 How to decoupage with napkins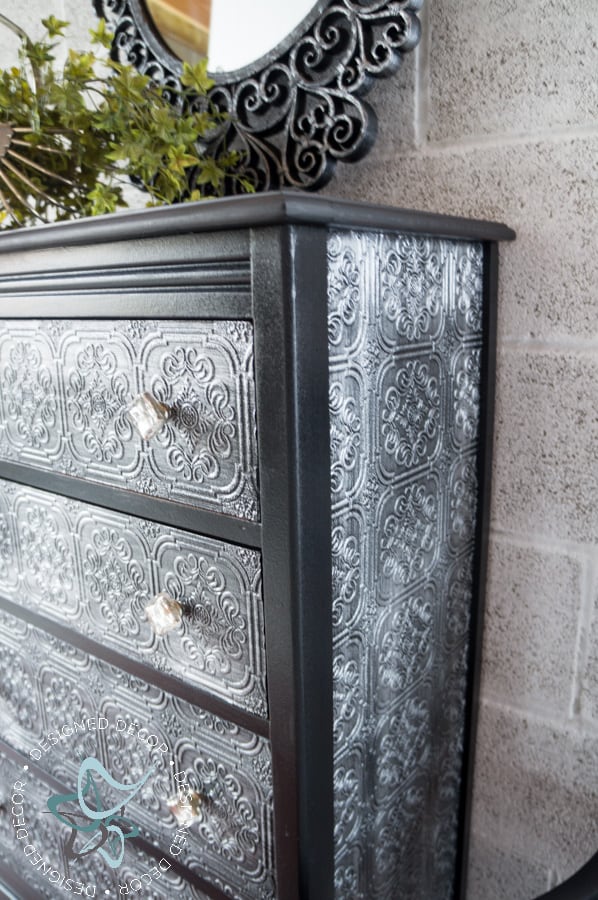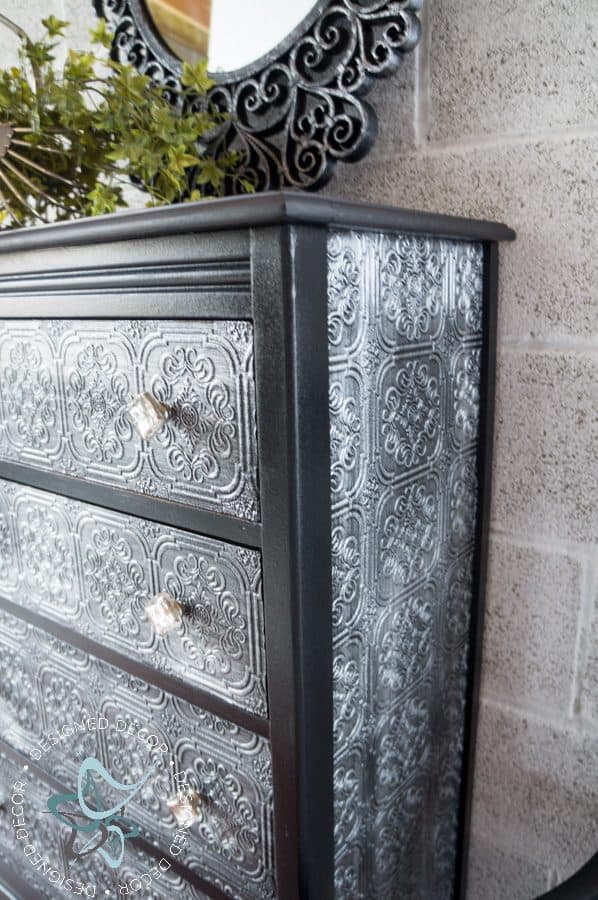 How to decoupage with wallpaper





Join the DD Community!
Join the Designed Decor Community and receive weekly free tips on DIY home projects, painted furniture, decorating, and much more.