This decoupage wallpaper dresser is small but she is "Oh, So Classy!" I find so many plain dressers when I am out looking for bargains to repaint and if they are solid wood, I will bring them home with me. I am good at having a vision for them and I know they will be far from the plain jane that they started out to be.

I loved how this turned out and I can't wait to complete another one. The textured wallpaper and the paint products from General Finishes gave this plain jane dresser the perfect makeover. Check out these other great textured wallpaper pieces..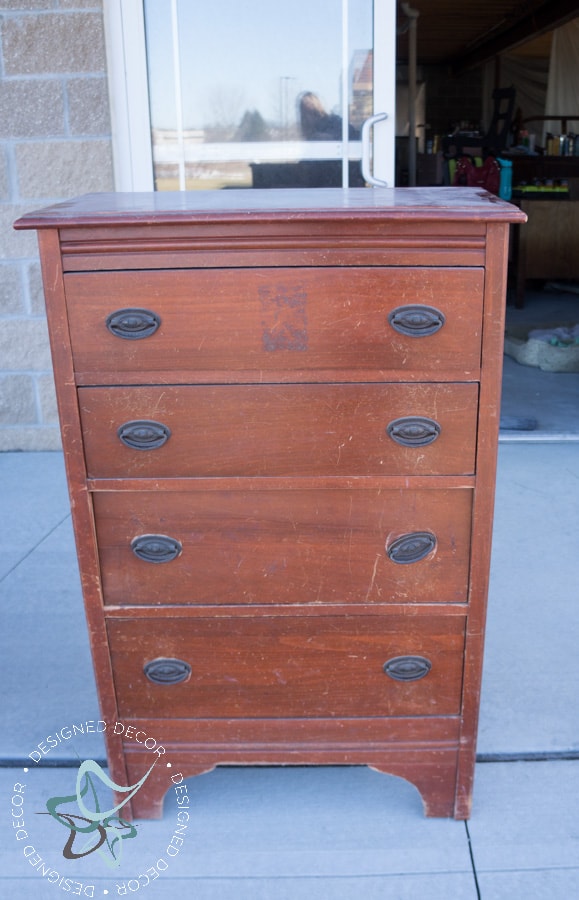 See what I mean by plain jane, but a little imagination and we have a true beauty on our hands.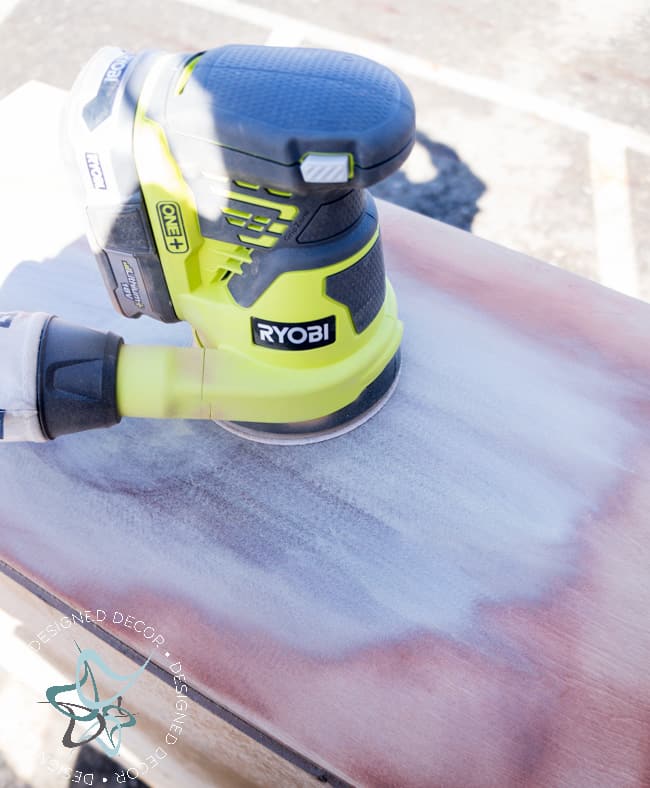 This post contains some affiliate links. Click here for my full disclosure policy.
I sanded down the top of the dresser using my Ryobi orbital sander.  I like to stain the tops of my pieces instead of painting, when possible.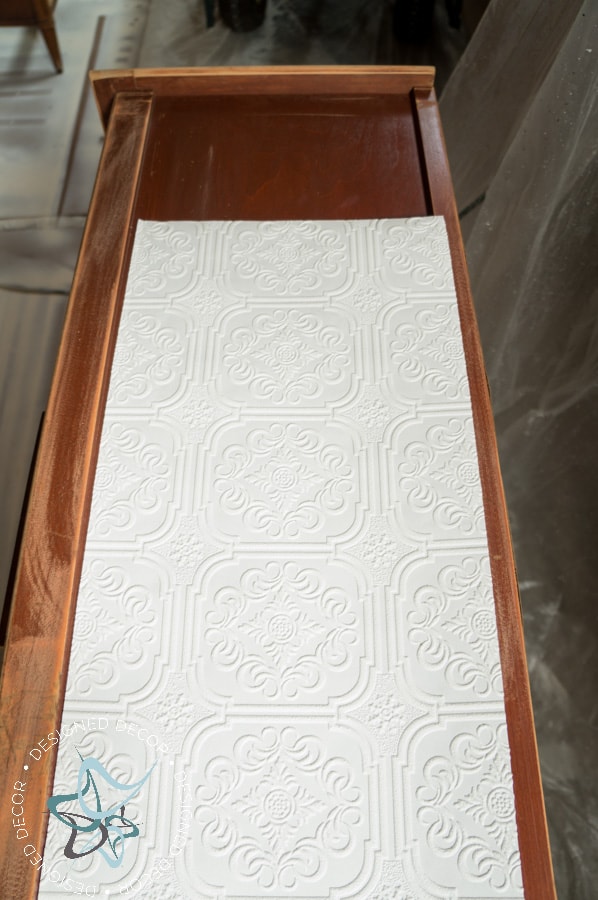 I purchased this textured wallpaper from Lowes. I start by measuring the area that I am placing the textured wallpaper and cutting out a section. You must pay close attention to direction and center the pattern, especially when working on the front and lining up the drawer fronts.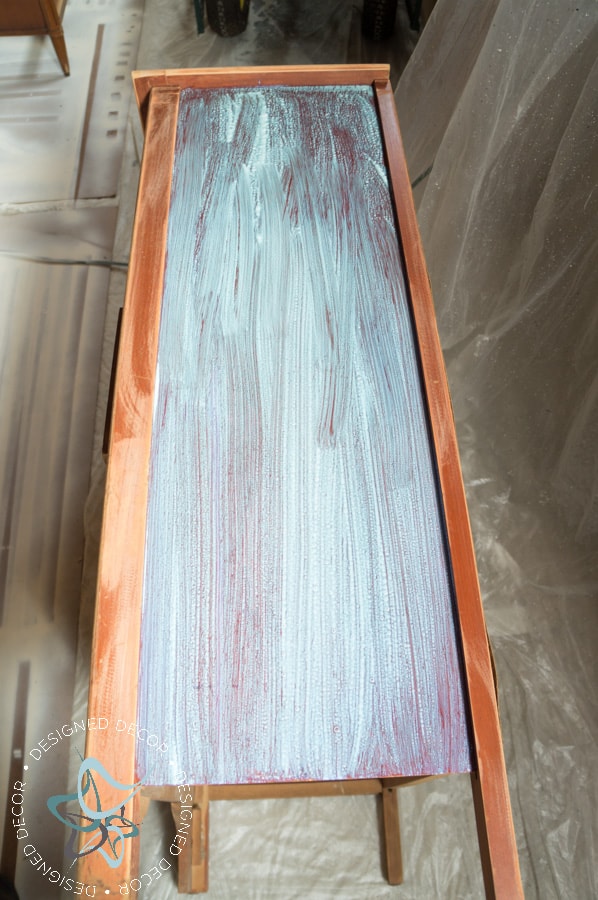 Once all the wallpaper pieces are cut, I place a layer of Wunda Size on the furniture. I let that set for 5 to 10 minutes to allow it to become tacky and then I place the wallpaper on the adhesive. I use Wunda Size for all my decoupaging, I get far better results with it than other brands of adhesive. I also have to be patient and let it set up overnight before painting. I do this so the adhesive has a chance to fully cure before painting the front and getting it wet. I am pretty sure that the painting could be done all in one day, but I like to be cautious and let it dry to save me frustrations down the line.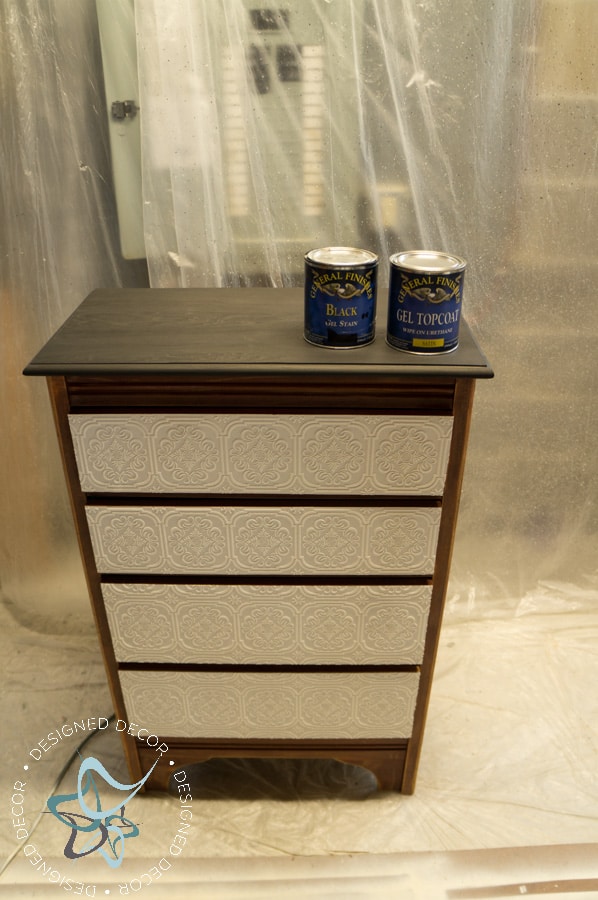 Once the wallpaper was in place, I stained the top of the dresser using General Finishes Black Gel stain
and sealed it with the Gel TopCoat sealer. This was the first time I used the Gel TopCoat sealer and I really like how easy it was to use. I will be using it again. I also allow my gel stain to dry overnight before placing the sealer on top. Again, I do this to save from project malfunctions, and this comes from experience and trying to rush a piece to completion. Slow and steady is how I work. But don't get me wrong, I do have many project malfunctions and this is how I learn.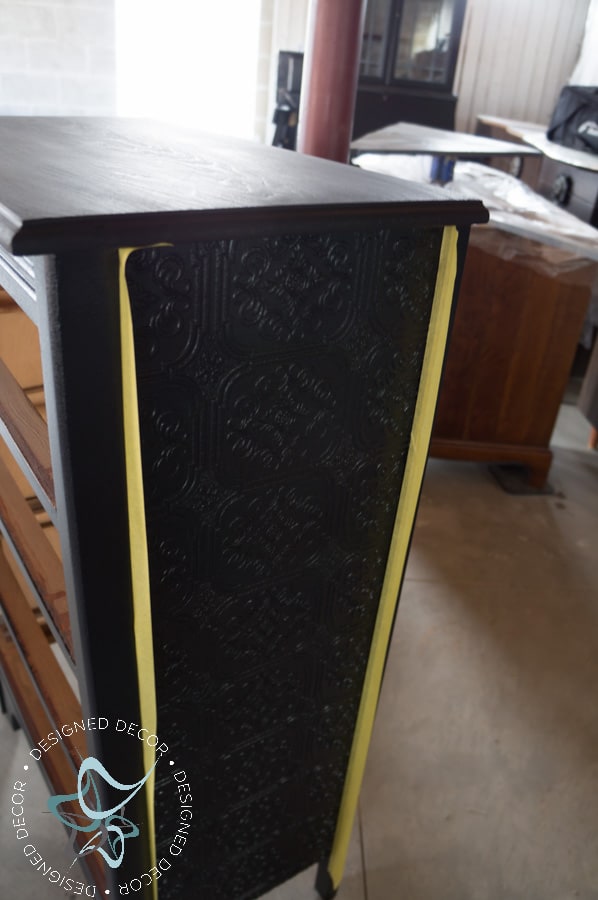 I covered the stained top and sprayed the dresser using General Finishes Chalk Style paint in Black Pepper
. Once that was completely dry, I sealed using General Finishes High Performance in Satin
topcoat. Once the topcoat was fully dry, I used the delicate yellow frog tape to tape off the edges on the sides.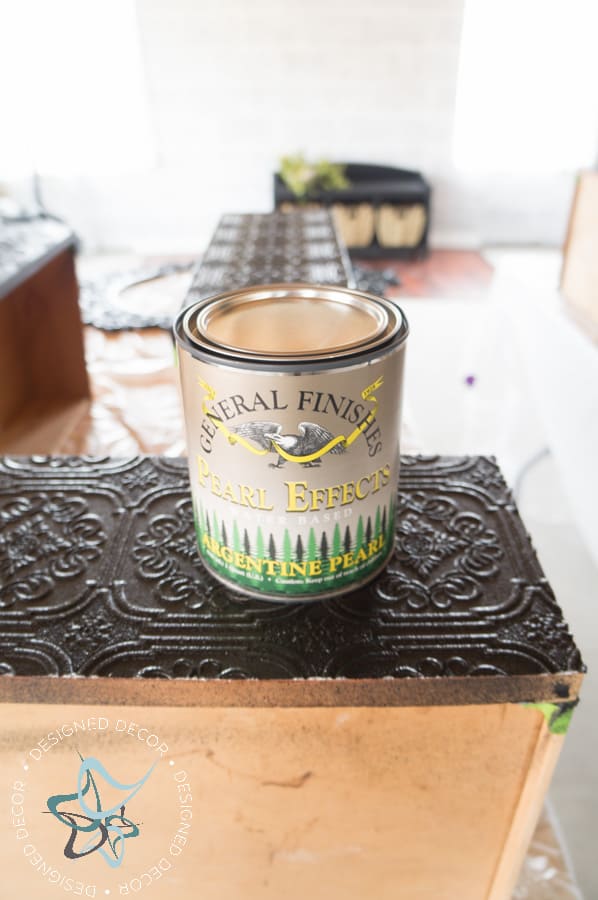 I applied a dry brush finish to the textured wallpaper sections using General Finishes Pearl Effects in Argentine Pearl.
Here is a quick 15-second video on how I did this dry brush technique.
I am starting to do more video tutorials, so make sure you
subscribe to my youtube channel
.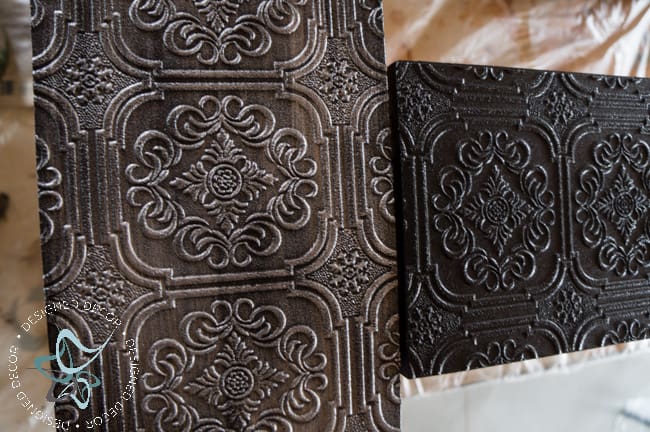 You can see how pretty the pearl effects looks on the textured wallpaper.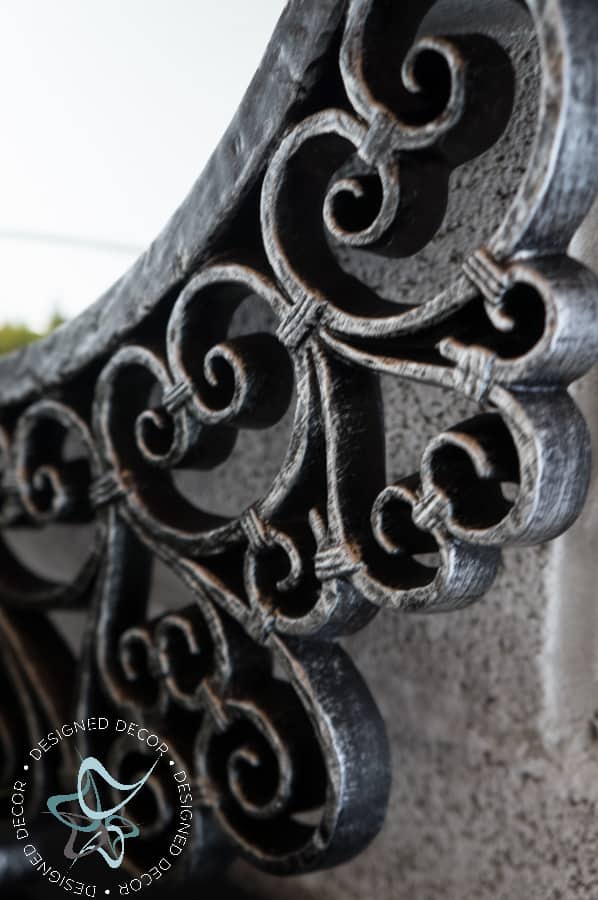 I also did the same exact procedure on this mirror. Now you will want to go out and find decorative home accessories and do this painting technique to have beautiful home decor pieces at inexpensive prices. That is why I love to DIY.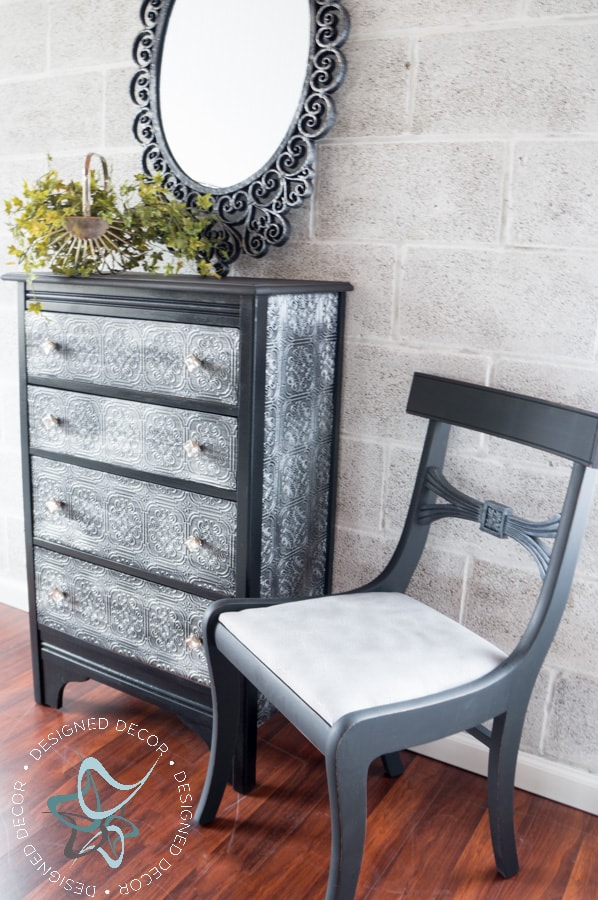 I love when a piece turns out better than you imagined!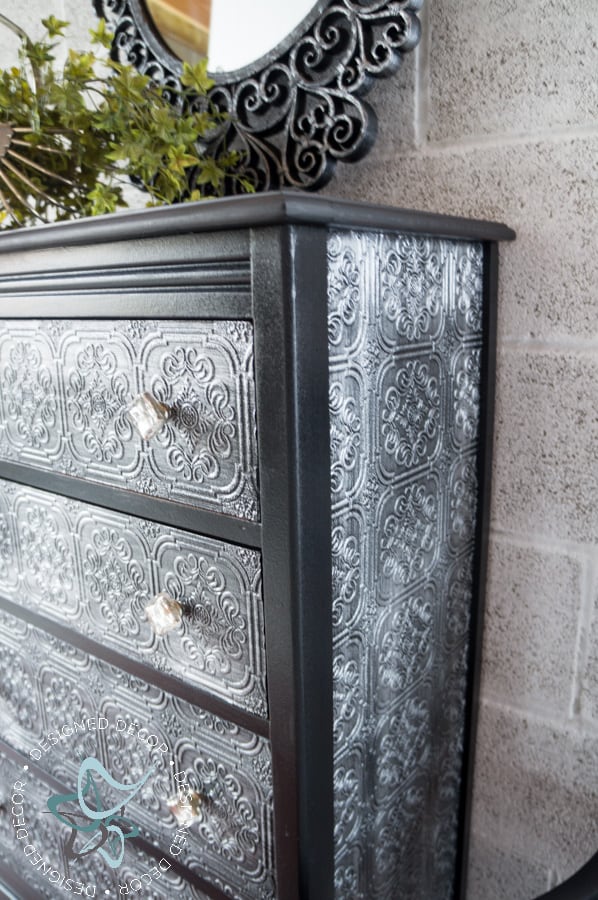 I added these fun knobs from Hobby Lobby, which added a little bit more style to the piece instead of the original hardware.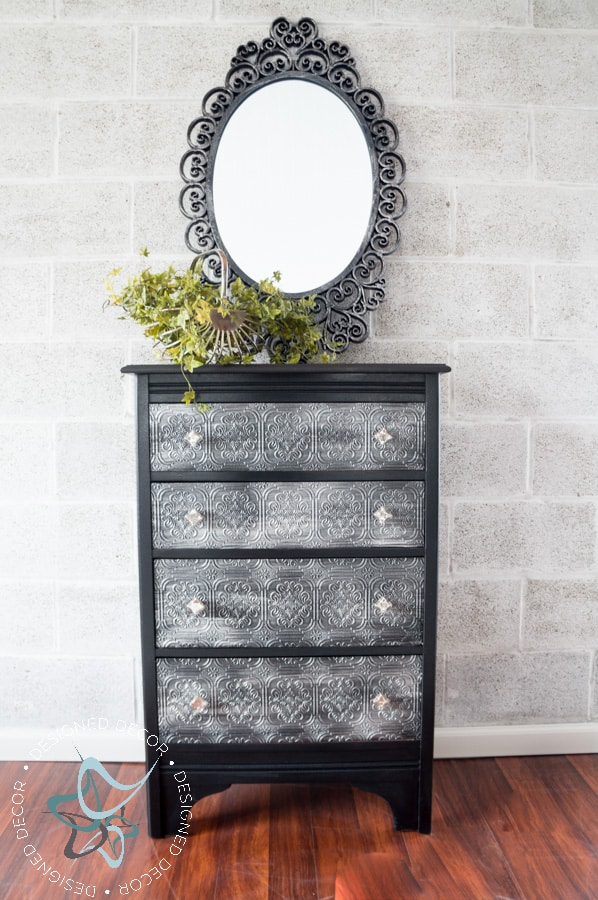 Join the DD Community!
Join the Designed Decor Community and receive weekly free tips on DIY home projects, painted furniture, decorating, and much more.