Hello, I am DeDe
I am a multi-passionate entrepreneur teaching others how to DIY, decorate, and paint furniture. I also find time to run a short-term rental (Airbnb super host) and sell Jigsaw puzzle tables.
PUZZLE TABLE DESIGNER | FURNITURE PAINTING ARTIST | THRIFT DECORATOR
I am so happy that you are taking the time to get to know me.  Stick around to learn more about Designed Decor where you will learn how to create a home you love on a thrift budget one DIY project at a time. Your house needs to be a place that you can love and enjoy.
Let me teach you how to decorate on a thrift budget, not by cutting corners but by using what you have, finding second-hand treasures, and working with the style of your home.  I hope you will stick around and let me help you find the passion for DIY, painting, decorating, and just plain living.  
---
Want to stay updated on all my latest posts?
Join the Designed Decor Community and receive weekly free tips on DIY home projects, painted furniture, decorating, and much more.
Join the DD Community!
Join the Designed Decor Community and receive weekly free tips on DIY home projects, painted furniture, decorating, and much more.
Jigsaw Puzzle Tables
Mr. DD and I designed a table for ourselves. I wanted a table that could easily be hidden with a flip of the tabletop so I could hide the clutter and have my pretty decor sitting on top. The post went viral on Facebook, and we reacted by making build plans for the DIY'er to build their own. We also sell custom-made tables from our local Amish craftsman here in Ohio.
Furniture Painting Workshops
I was once in your shoes doing every search available to find some helpful information on how to paint furniture. I became confused about which paint to use and what techniques to try. I read so much conflicting information my head was spinning. I am sure you are feeling this same frustration and are afraid to start.
Once I began to learn the basics of painting, I discovered it was not as hard as I was making it to be. I just needed to stop searching and start painting.
I have 8+ years of furniture painting experience. I have taught in-person paint classes, as well as online furniture painting workshops, I created beautifully painted pieces for my home as well as sold painted furniture for an income.
Start to create your own beautifully painted pieces and let me help by teaching you all the things I have discovered over the years
DIY & Decorating
On average we spend 62% of our waking time in our homes. So to me, that means you must love it in order for it to work for you! Let's make sure your home is working for you!
I love to thrift and save money in order to decorate and make our home work for us. By DIYing, thrifting, and painting, I can spend the savings on vacations and more meaningful experiences with my hubby, family, and friends.
Take a look at these areas to help you find the inspiration you need to make your house work for you!
My Airbnb
Since our town is growing in leaps and bounds and we are located 1 mile from the Pro Football Hall of Fame, we decided to start a short-term rental. I have put my heart and soul into the decor and all the extra touches to make it feel like our guests are welcome into our home and our town.
Mr. Designed Decor aka Mr. DD.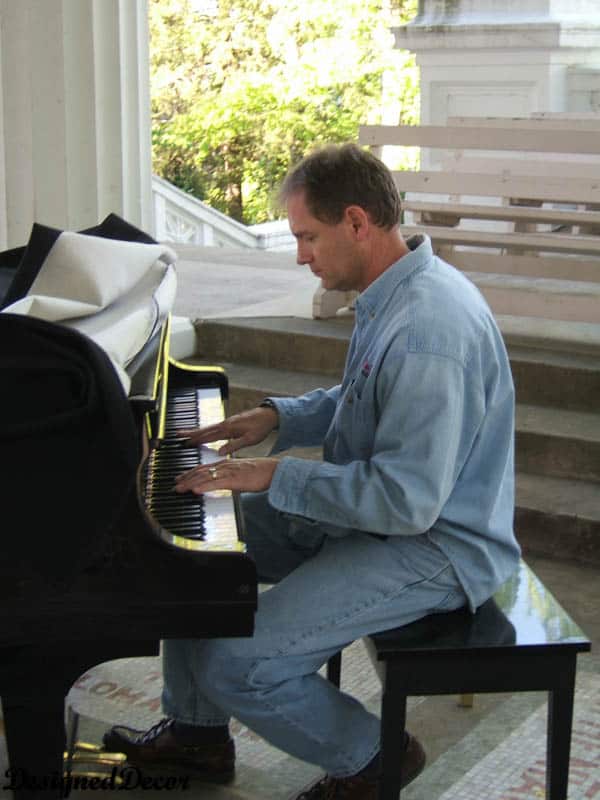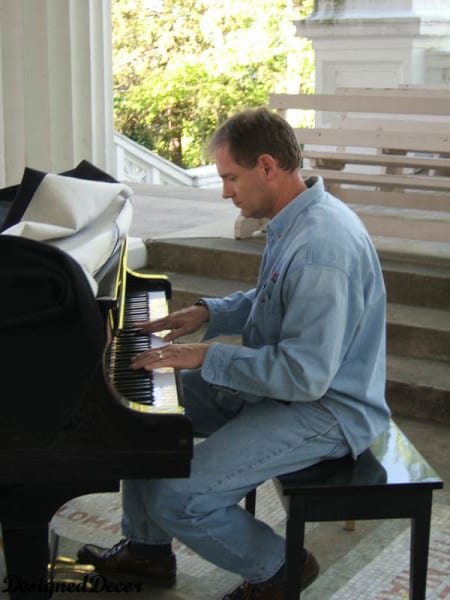 He is the love of my life.  You can read our love story:  How We Met, Our Wedding, Anniversary trips part 1, and Anniversary trips part 2. I would not be living my dream (loving, creating, blogging, and selling) without his strength and support.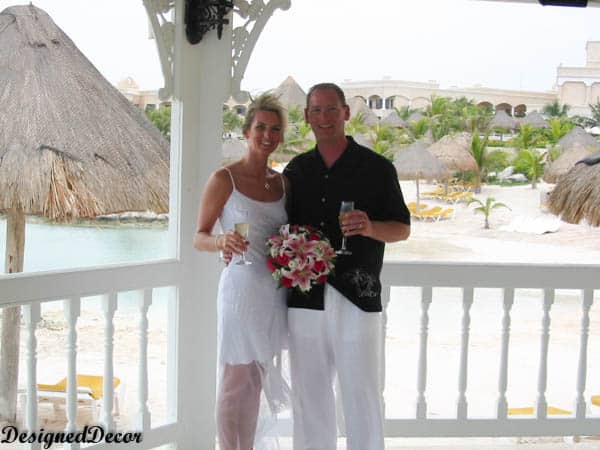 Repurposing – I love repainting and repurposing furniture.  This is where I find inspiration in the ordinary and turn those ugly unwanted pieces into beautiful "loved again" items.  Since I love it so much, I sold my painted pieces for 7+ years at a local boutique called Modern Vintage in Hartville Ohio. There I began to teach in-person furniture painting classes which inspired me to begin my online workshops to reach more painters.  
I love Neil Diamond and Journey~ My all-time favorite song is "Forever in Blue Jeans"  I will belt out the words at the top of my lungs… and I can't sing.  Just ask my family, an American Idol contestant I am not, unless, featured as the ones you laugh at.  Every time a journey song comes on, my kids look at me and say – "Don't sing!"
 I love to take backcountry roads when we travel. ~ A trip that should take 3 hours takes us 5 or 6 since I insist that we don't drive on the expressway.  I love to see the small towns and see how others live.  Who knows, we might pass a thrift store on the way too.  
I love to travel, try new things, and discover new places.  I set a personal goal to visit all 50 states before turning 50.  Guess what, I reached that goal with 2 years to spare, but now I am past that time!  
I love all things peanut butter! ~ My kids would come home from trick or treat and give me all the Reese's
 I love doubled-over chips – I will pick out the doubles from the bag and only eat those. While we were dating, Mr. DD brought me all the double chips from his bag. He still hands me the double while he is eating chips!
I love doors, when we travel to quaint towns, I photograph the doors of people's homes.

I chose the name Designed Decor based on my wanting my name in the title and envisioning the name on a brick-and-mortar store.  Designed Decor 
I am the spoiled baby in my family ~ I have an older sister and a brother.
My nickname growing up was ~ Dumb DeDe Done It!  Maybe this has something to do with the fact that I was the spoiled baby.
Sometimes, I sleep with my knees up.
My emotions are always worn on my sleeve, as I cry watching commercials, and if I see someone else cry, I cry too!
I am slightly claustrophobic, I can't have things covering my head and face.
"Southern Blood" runs through my veins, as my mom is from southern Georgia. One day with southern friends and family and I'm saying "Y'all" and" bless her heart" with the best of them.
OCD tends to take over in certain aspects of my life like when I feel the need to rearrange the silverware in the dishwasher so all the forks are together, the spoons are together, etc.  
I am stubborn and determined, as I once put together a TV stand without the instructions because I was determined to get it together that day and not wait for them to mail me the directions.  This is one of the reasons Mr. DD fell in love and married me.  He was impressed that I was self-sufficient and determined.  
Now that you know more about me, I am here to help you.
Join the DD Community!
Join the Designed Decor Community and receive weekly free tips on DIY home projects, painted furniture, decorating, and much more.