Today I am sharing the story of how we met.   Yesterday, I shared about what we will be doing to celebrate our 10-year Anniversary.
Pre-Story:  My friend Alice and I were divorced about a month apart.  We were friends as well as neighbors and we did everything together.  Alice starting playing around with this little thing they called Love@AOL.    Many of you may have never heard about this thing they called Love@AOL.  Love@AOL was just as it sounds, it was a section on AOL.com to meet singles.  This part of AOL has been long discontinued and now there are plenty of dating sites out there today.
Our Story:  One cold fall evening in 2000, my boy's ages 6 and 3, were in bed.  I had a little too much time on my hands and started to peek around that little thing they called Love@Aol.  I did a search for single white men, ages 30 to 40 and living within 50 miles of my hometown.  Wow, what entertainment that was for the evening.  It was very interesting to see what people wrote about themselves on the internet.(That is putting it nicely)  As I scrolled along the profiles of men in this category, I came across the profile of my future husband.  I looked at his picture and thought (good-looking), I read his profile and thought(decent).  I then began to think what is wrong with him?  Why is he posting on here, something has to be wrong with this story?  I hesitantly wrote him an email to introduce myself.  I kept thinking should I hit send or just forget about it, ultimately I hit the send button.  After I hit send, I stayed online and continued to find entertainment with the profiles with on-line dating.  After a few minutes, I received an instant message from the man I just sent the email too.  OH SHIT!  That is what I said and my heart began to race.  We began to communicate with one another through instant messaging and emails, that night and in the weeks to follow.  The emails led to our first phone conversation, and our phone conversations led to our first meeting.
It was December 27, 2000, and we decided to meet for lunch.  I was working at JC Penney that day and told my co-workers, "I am going to lunch at Applebee's with this stranger that I met on-line.  Here is my cell phone number and if I am not back in an hour, come looking for me and call the cops."   After we met face to face, we both were attracted to one another and we both can tell you exactly what each of us was wearing on that first meeting.
Things began to progress in our relationship and on December 27, 2002, we went to lunch at Applebee's to celebrate our first meeting and Mr. DD proposed to me at lunch.  Every year since the very first meeting(2000), we go to Applebee's on December 27 to celebrate our first meeting and engagement.
We made plans to marry on May 29, 2003.  Stop back tomorrow as I share our Wedding story.  It is not your typical wedding story, I have details about our story that Mr. DD is not so proud of.  Stay tuned for tomorrow's story!  What about you, how did you meet your spouse?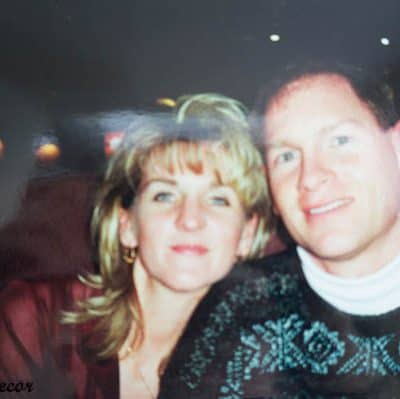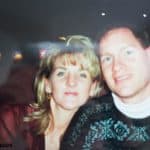 Join the DD Community!
Join the Designed Decor Community and receive weekly free tips on DIY home projects, painted furniture, decorating, and much more.