If you're looking for a low-cost way to refresh the style of your furniture, consider using paintable wallpaper. This versatile material can be used on dressers, cabinets, bookshelves, and more to add some interest and depth to an otherwise boring piece of furniture. Plus, adding paintable wallpaper on furniture provides a surface that's easy to paint and personalize to match your decor.
Ever come across plain outdated furniture or furniture that has damage? Adding paintable wallpaper on furniture is the answer. The texture of the wallpaper gives a dimension for plain boring furniture and it also helps to hide damage on furniture pieces.
This post contains some affiliate links. Click here for my full disclosure policy.
Leather top side table makeover using wallpaper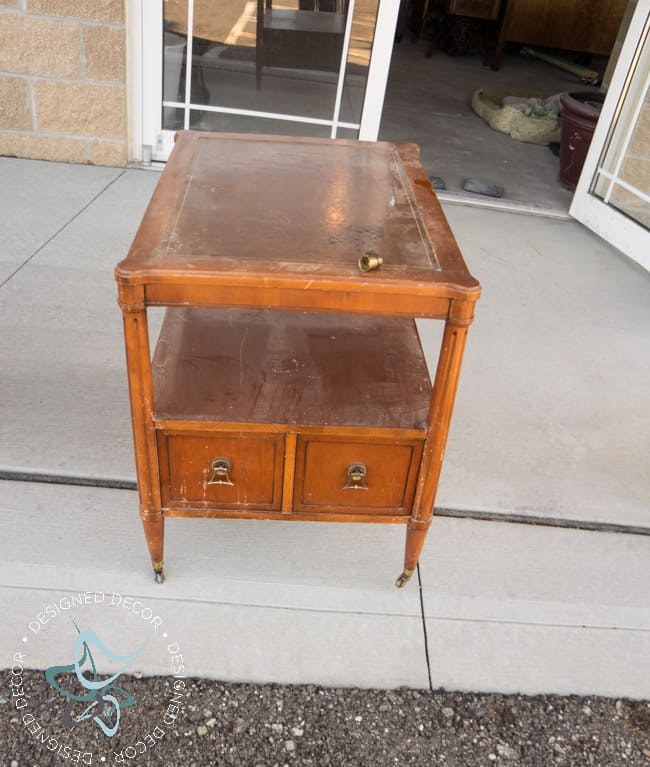 I remember my grandmother having a few furniture pieces with the leather tops like this side table above. This side table is a perfect candidate to use the textured wallpaper to cover up the leather top. I also added the wallpaper to the sides as well as the front of the drawer.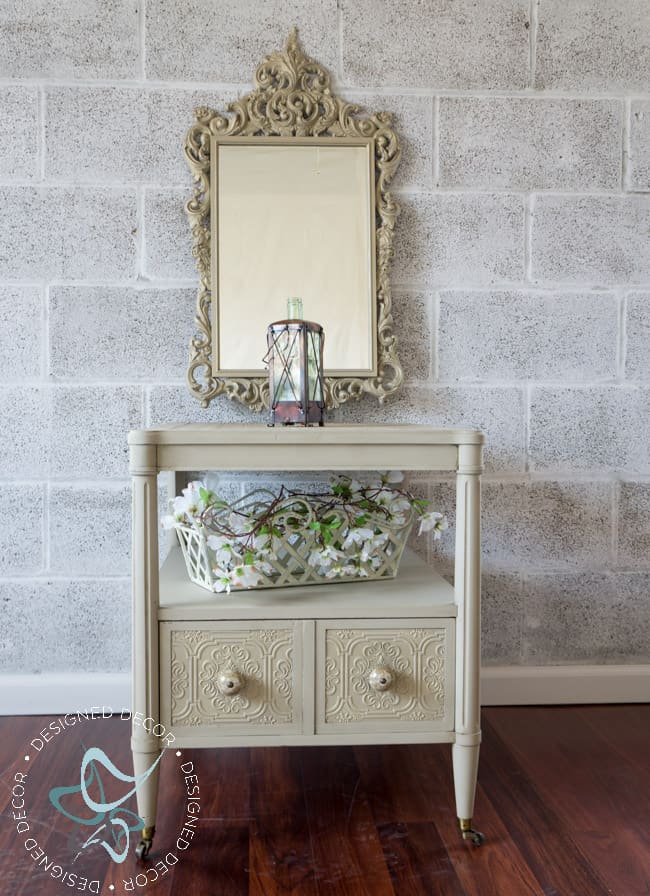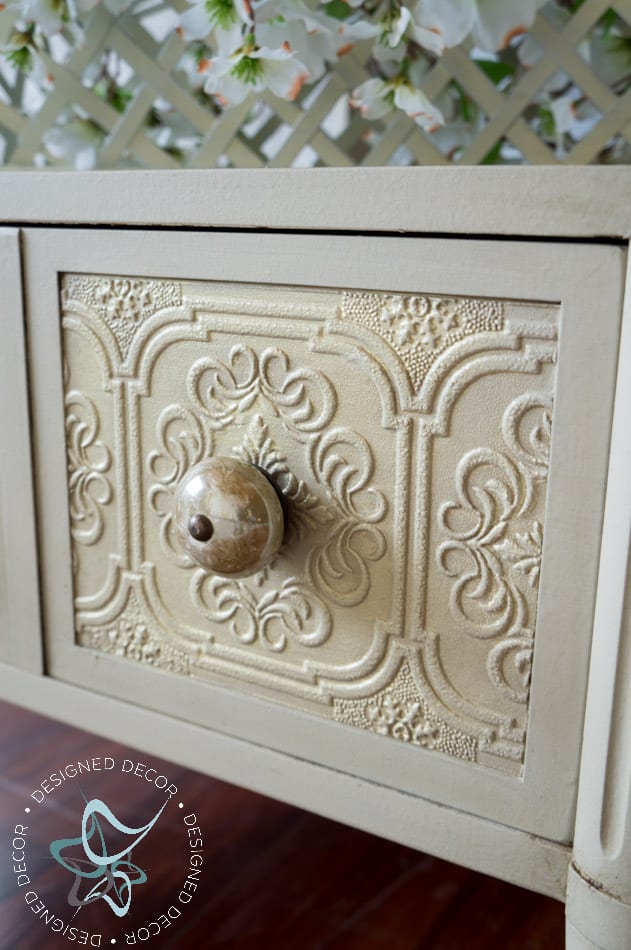 To achieve this same finish start by using General Finishes Milk paint in Linen
. After painting, seal the paint with High-Performance Flat
, and glaze with Van Dyke Brown. I also used a dry brush technique and applied Champagne pearl effects to the textured wallpaper sections.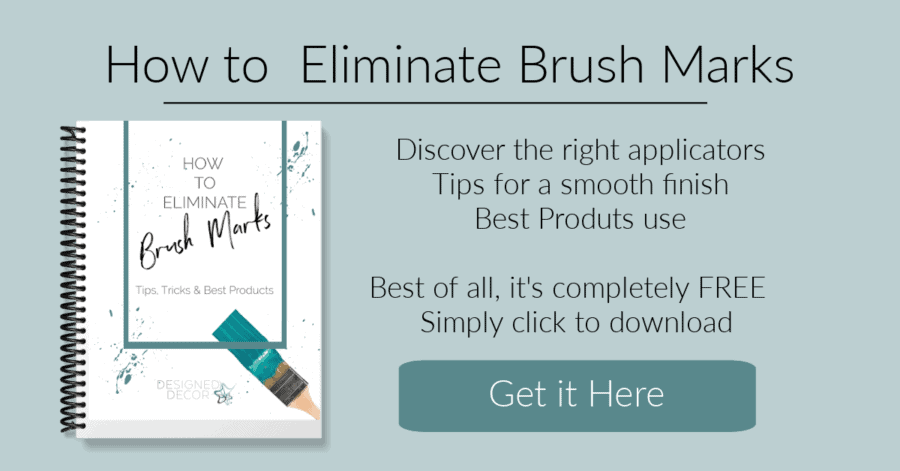 Covering damage with wallpaper on furniture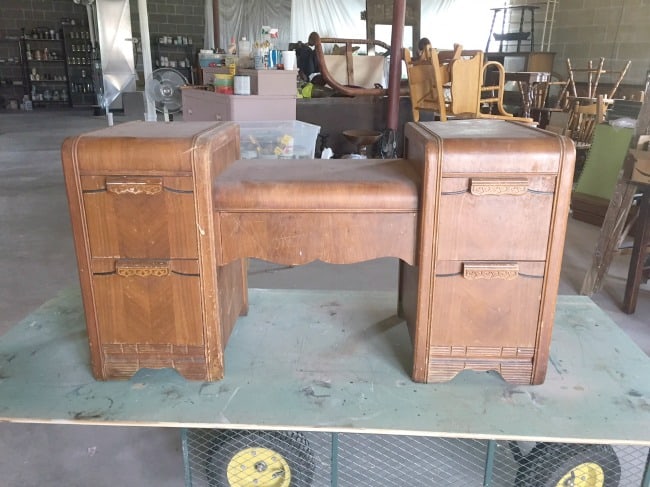 This outdated waterfall vanity is another furniture makeover that was in need of some texture. This vanity was left for the trash and I saved her from going to the landfill.
I use to be embarrassed to pick things off the curb, but now it's trendy and I am proud to save the pieces and give them a new life.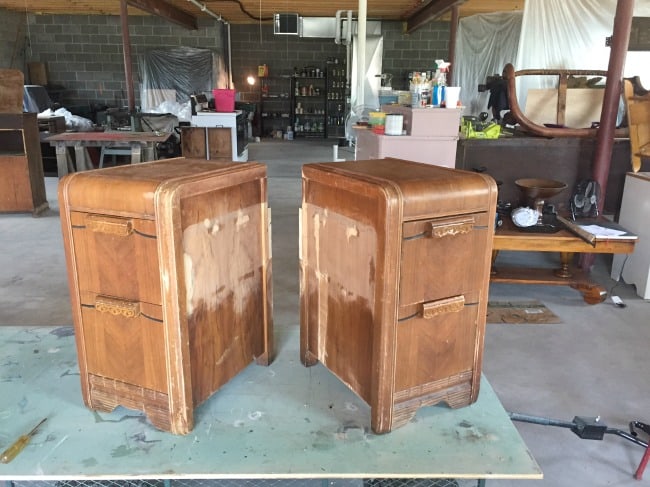 The waterfall vanity is a very outdated furniture piece. Most people would not want to keep it to use as a makeup vanity, so I decided to take it apart and turn it into nightstands.
You can see the damage on the insides after removing the center support. This is the perfect situation to use the textured wallpaper to cover up the damage. I used wood filler
to fill in the gaps where the veneer was missing. After the wood filler was dry, I sanded it out to a smooth surface. It did not have to be perfect since I am adding the textured wallpaper to the sides.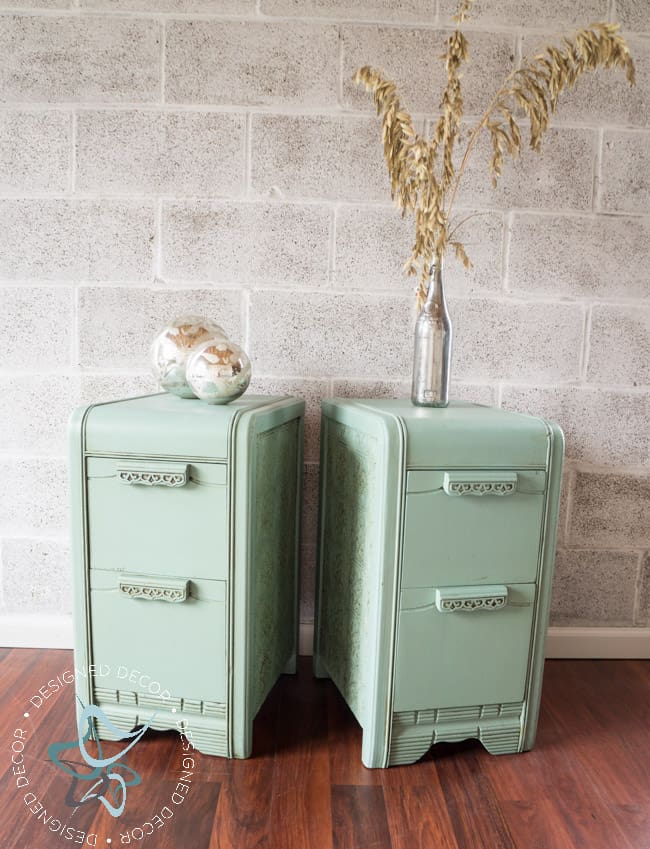 Achieve this finish by using Amy Howard One step paint in Barefoot in the Park, and Dark antique wax.
Transforming plain furniture with wallpaper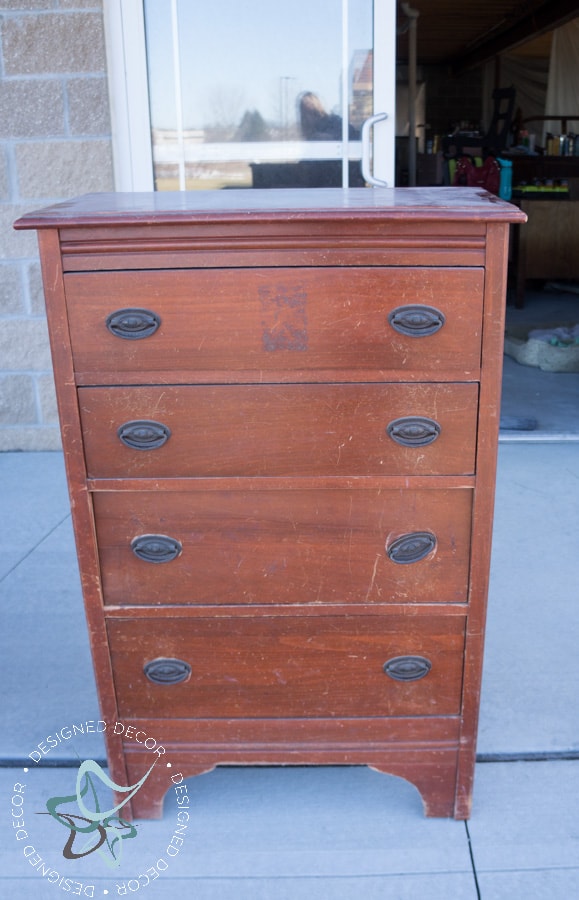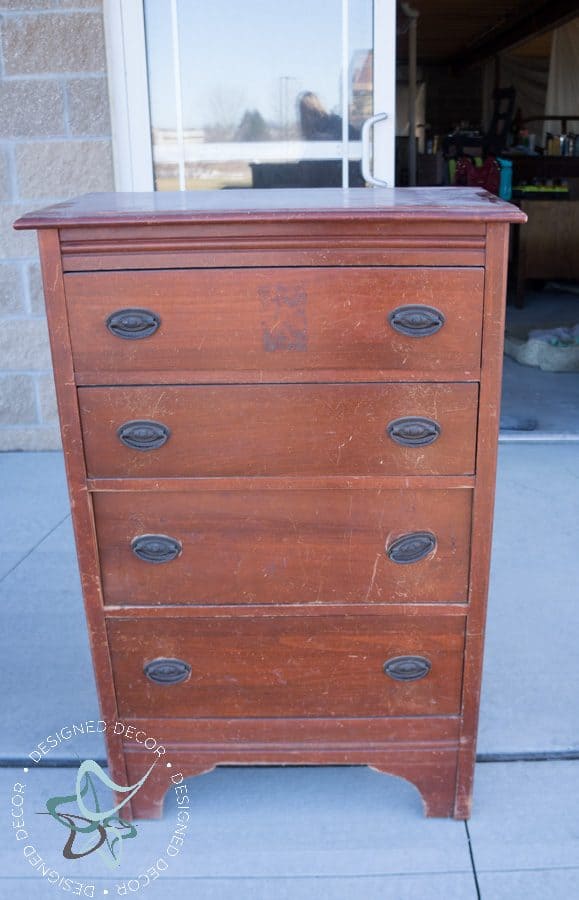 This chest of drawers was lacking details. It needed more than a fresh coat of paint to make it stand out.
Another perfect candidate for paintable wallpaper. Adding texture will give the dresser the new life it deserves.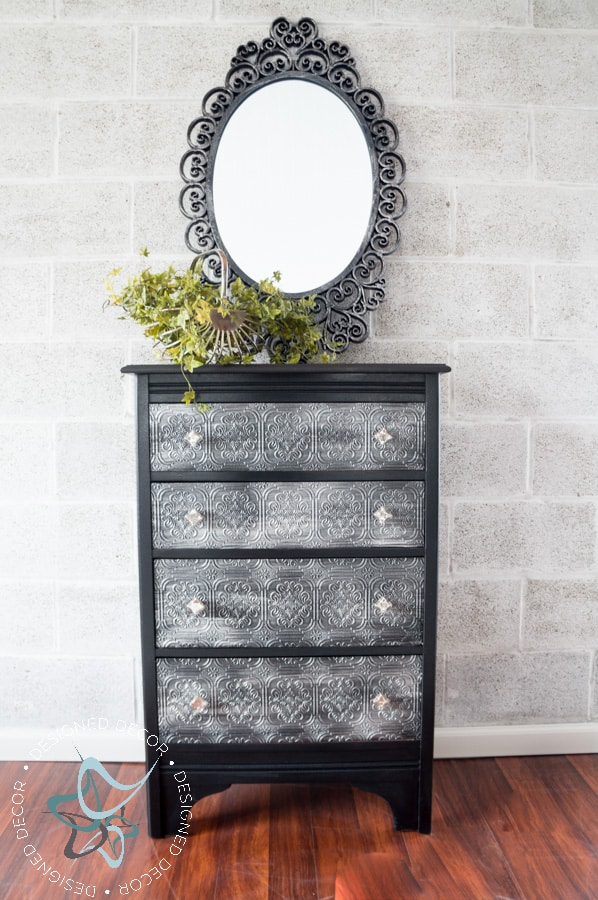 If you want to learn how to decoupage paintable wallpaper on furniture and see the products I use, I have a full tutorial, so visit this post, Decoupage Wallpaper Dresser, to learn how.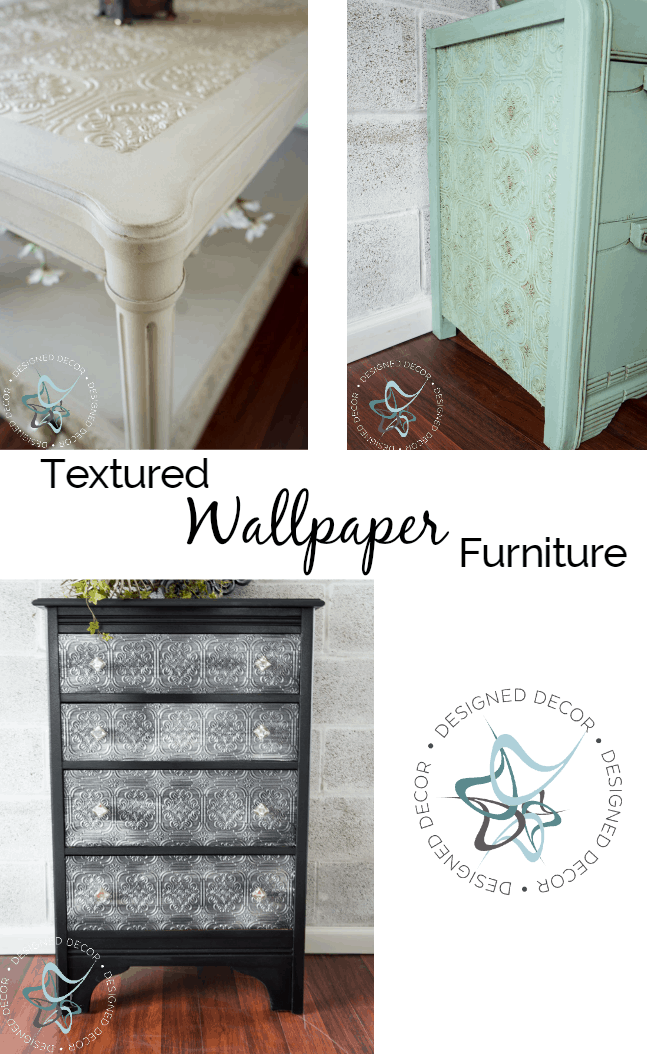 Discover more Inspirations by clicking on each category photo





Join the DD Community!
Join the Designed Decor Community and receive weekly free tips on DIY home projects, painted furniture, decorating, and much more.