I always wait for a piece of furniture to speak to me before I decide how I am going to finish the piece.  This Aluminum Foil Desk said that it wanted a modern flair with a touch of masculine.
This post contains affiliate links.  Click here to see my full disclosure policy.
Yes, I stand back and stare at the furniture and wait for something creative to pop out.  Doesn't everyone wait for their furniture to talk to them?  I know, it sounds crazy!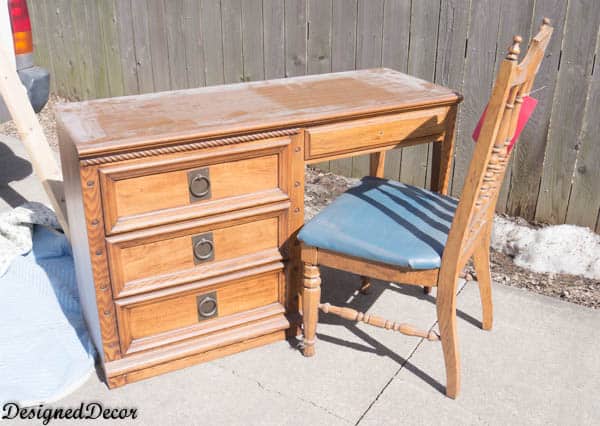 When I first saw this piece, it had a masculine vibe and I knew I was painting it black.  I wanted to give it an industrial twist to it and that is when I decided to try the aluminum foil technique.  I had seen so many pieces online that had the silver leaf added to it, but I decided to use what I had on hand in my kitchen cupboard.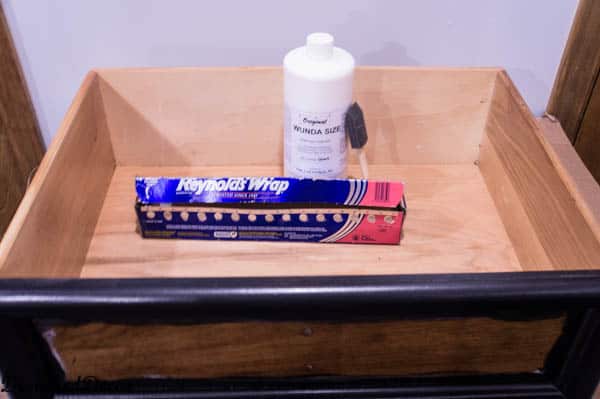 I started by using a sheet of aluminum foil that was the length of the drawer insert and cut it to fit the insert.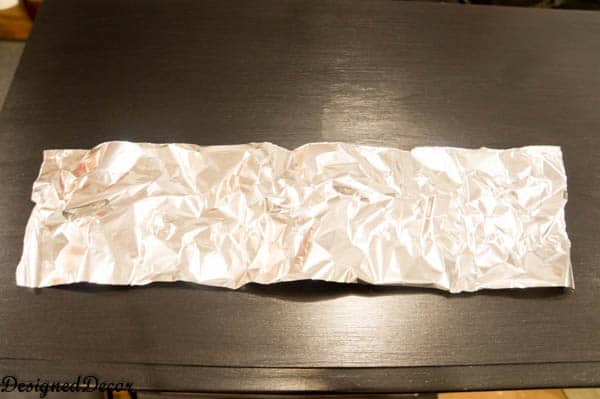 I slightly crumpled up the foil so that it would not be a smooth finish.  I liked the look of the silver leafing and that is not a smooth finish either.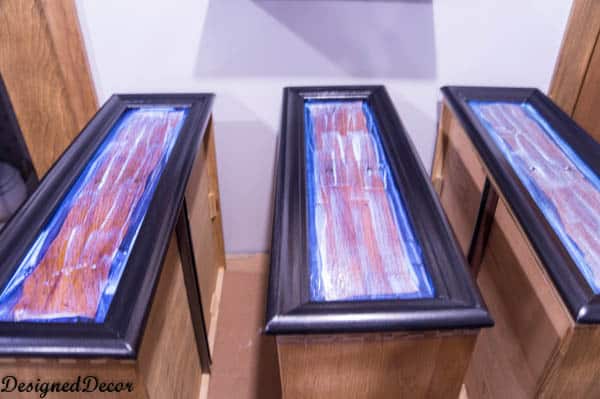 I applied Wunda Size (my go-to decoupage adhesive) on the drawer inserts, let the Wunda size sit for 15 minutes then place the foil over top.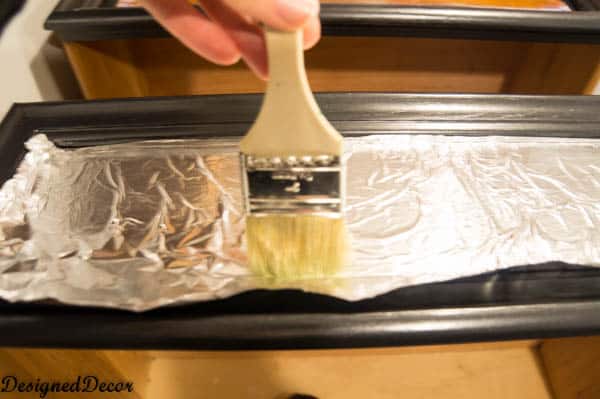 I used a chip brush to smooth out the foil and to make sure it was firmly attached to the drawer fronts.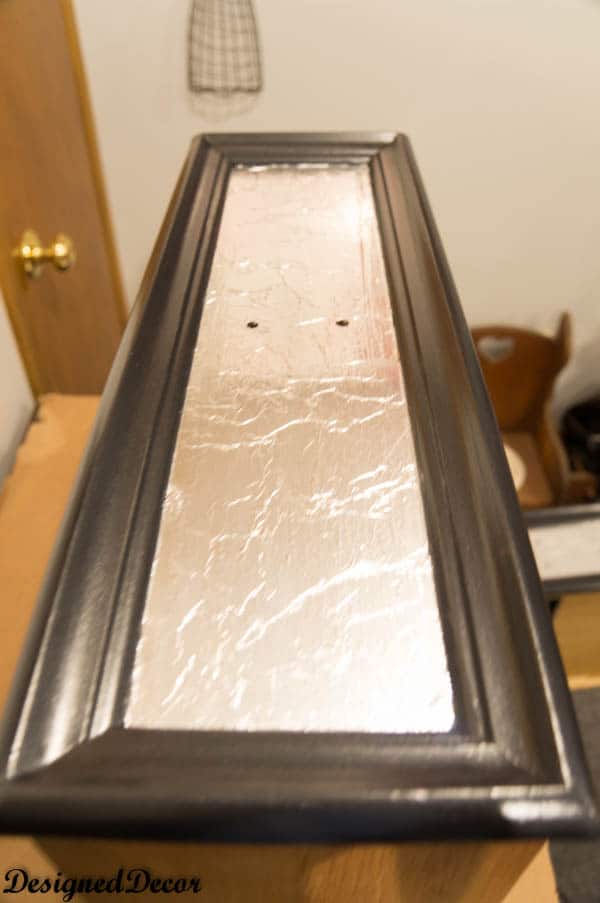 Carefully trim the edges of the foil and your piece is ready for a top coat.  I used a sealer Polycrylic from Minwax.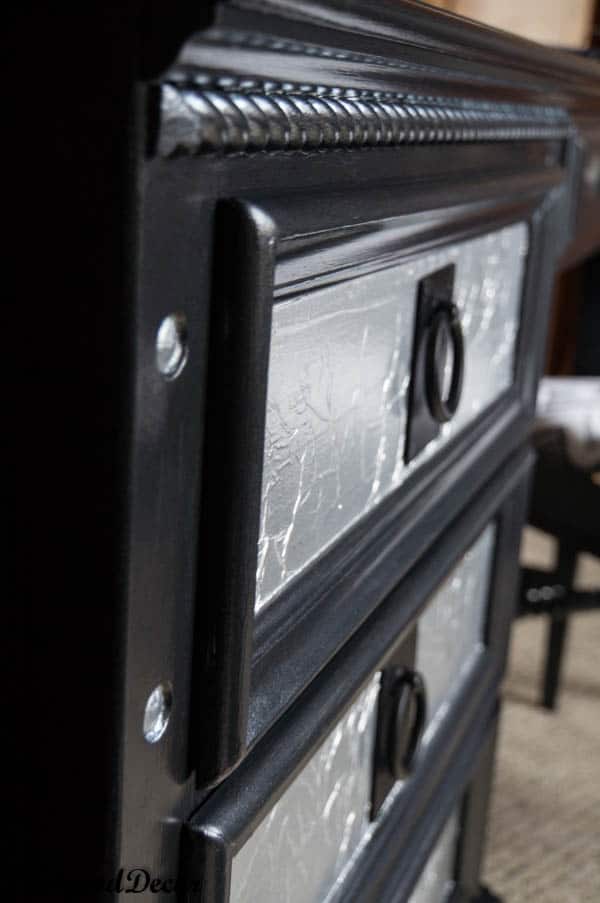 I used a silver glaze for the inset circles and the rope piping on the top edge, this gave the desk some additional silver color.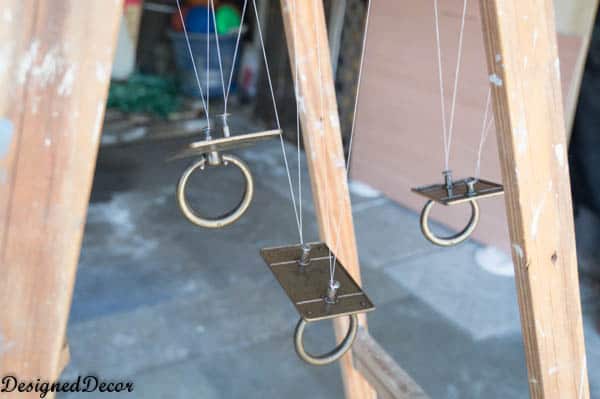 I try to find creative ways to spray paint the hardware.  Since the drawer pulls had a movable ring, I decided it would be easier to hang them and spray paint them upside down instead of moving the ring back and forth between coats.  This saved me time since I was able to get the edges and not have to move the ring.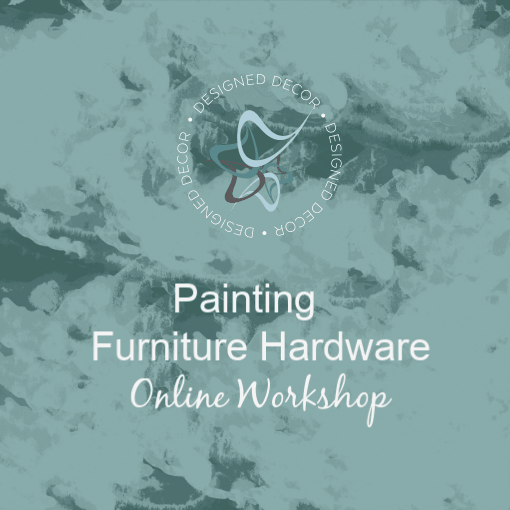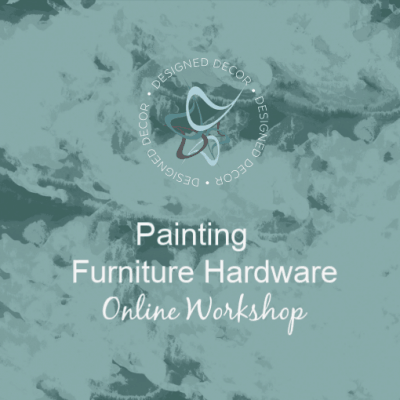 You can also learn 4 different techniques on how to paint outdated furniture hardware in my online workshop.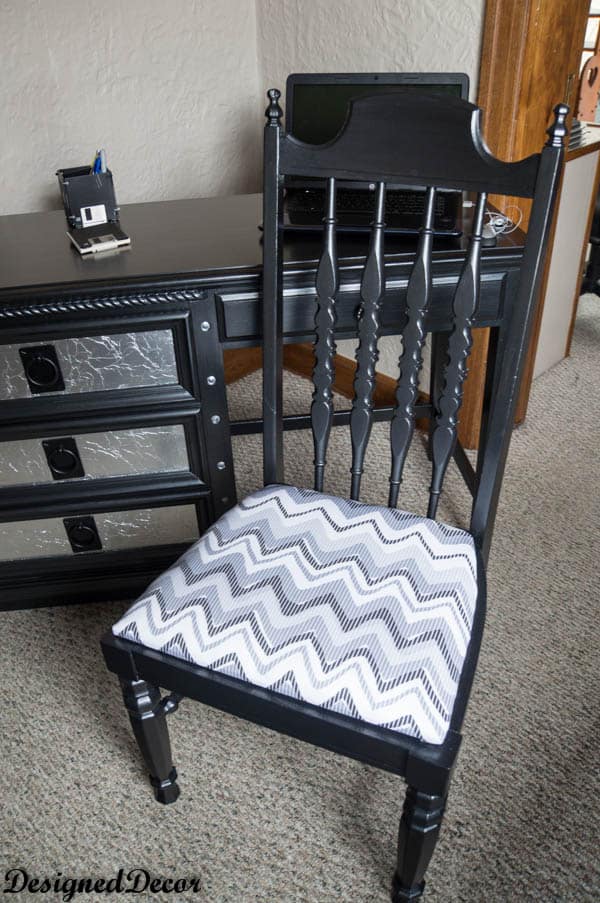 I upholstered the chair with a fun wave pattern.  The chair had about 4 layers of old nasty fabric, I stripped it down to the base and purchase new padding along with the fabric.  If you want to learn how to reupholster chairs, stop over to see my tutorial on how I reupholster.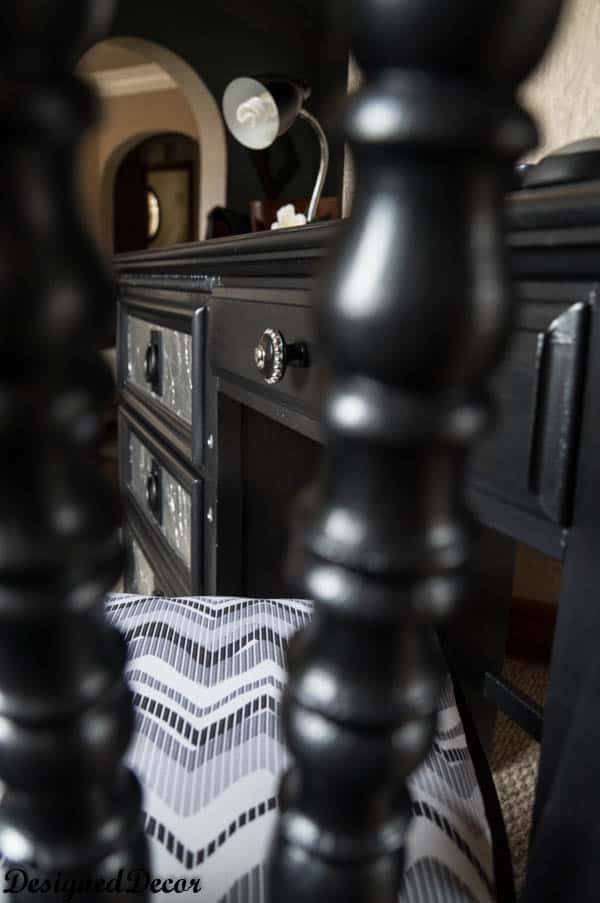 I love the shimmer of the Black Pearl paint by Modern Masters paint collection.  This paint glides on like silk and looks perfect!  This desk sold within a week of being at the shop, so I am thinking it was a winning combination.  I can't wait to do more aluminum foil furniture pieces.
Check out these other great Tin Foil Projects for more inspiration.

Join the DD Community!
Join the Designed Decor Community and receive weekly free tips on DIY home projects, painted furniture, decorating, and much more.