I have to say that Andes Mint candies is one of my favorite forms of chocolate, so why not use them to make Mint Doodle Cookies. I remember as a child that certain restaurants would hand them out and the end of dinner with your bill. I would get excited to have one, since it was not a candy that we typically had as a child. Am I the only one who has this childhood memory?
I love the flavor of these dark chocolate cookies with the mint.  The older I get, the more I like dark chocolate.  When I was younger I would never touch a piece of dark chocolate now I like both. It's funny how your sense of taste changes.  I am told it is because our taste buds dull as we age and that is why we change our view on the different tastes.  Maybe my taste buds have dulled and now the bitter taste of dark chocolate does not taste bitter.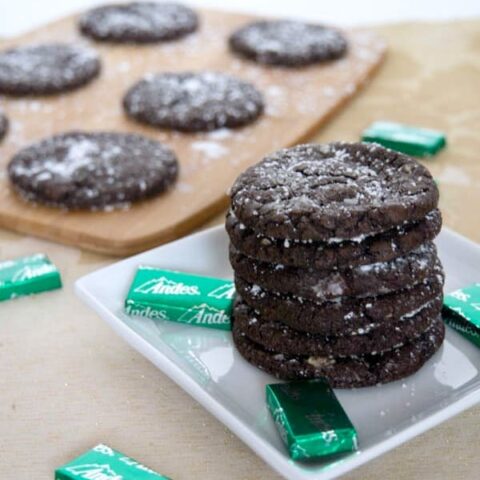 Andes Mint Doodle Cookies!
Additional Time:
5 minutes
Ingredients
2 ¼ cups all-purpose flour, sifted
¾ cup cocoa, sifted
½ teaspoon baking soda
½ teaspoon salt
½ cup shortening
½ cup unsalted butter, softened
3/4 cup sugar
3/4 cup dark brown sugar, firmly packed
2 large eggs, beaten
2 teaspoon vanilla
2 cups Andes Crème de Menthe Thins, chopped (2 packages) (28 candies)
1 cup powdered sugar
Instructions
Pre-heat oven to 350 degrees.
Sift the flour, cocoa, baking soda, and salt together into a bowl and set aside.
Beat together the shortening and butter until creamy. Add the sugars to the shortening mixture and continue beating until light and fluffy. Add the eggs and vanilla and beat until thoroughly mixed. Add the flour mixture slowly and blend until smooth. Fold in chopped mint candies.
Roll the dough, by hand, into small balls. Flatten the balls gently into ½" thick disks and place them on ungreased baking sheets. Sprinkle powdered sugar over flattened cookies. Bake cookies at 350 degrees for 10-12 minutes. Remove from oven and let cookies set on baking sheet. Remove from cookie tray and place on a wire rack to cool completely.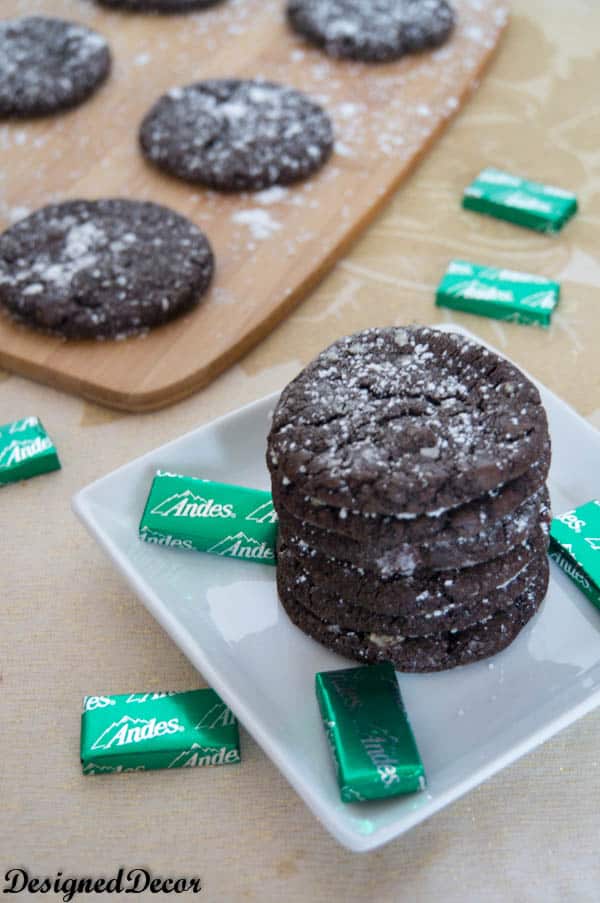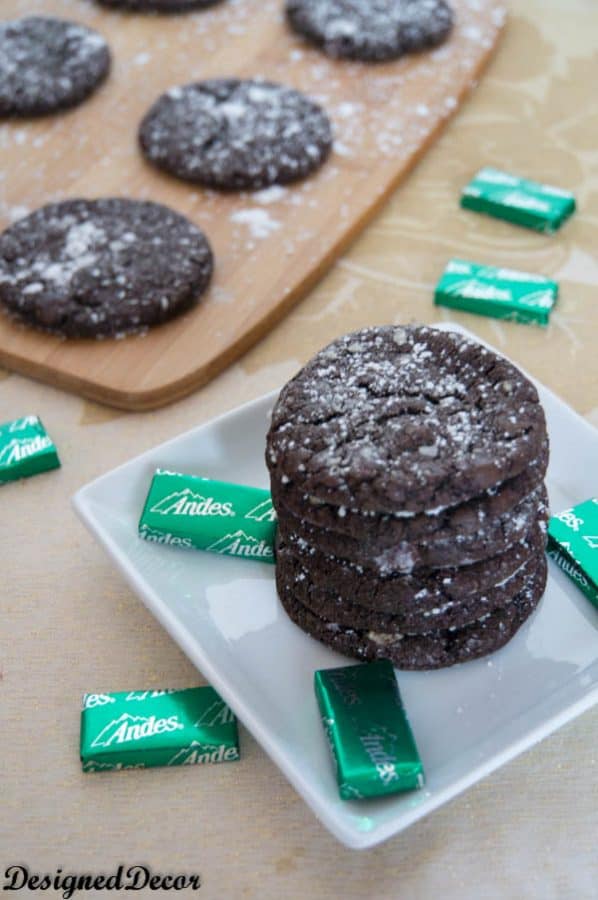 I think mint flavor ranks pretty high on my list, of course not as high as my #1 flavor of peanut butter. What is your favorite cookie?

Join the DD Community!
Join the Designed Decor Community and receive weekly free tips on DIY home projects, painted furniture, decorating, and much more.