This post is all about how to save you time when painting your next room. I am going to share some easy method painting tips and tricks. The biggest time saver is no taping when you paint your trim. Yes, you read that right, no taping! Not only is no taping a time saver, it is a money saver too.
I confess, I always taped before I painted the trim. I never felt like I could hold a steady line when I was painting, so I painstakingly taped a room before I began to paint. Fast forward to today and I can paint a room without taping. I wish I had a picture of me doing the happy dance for this one. Mr. DD taught me how to paint a room without using tape.
Here is a quick video on no tape trim painting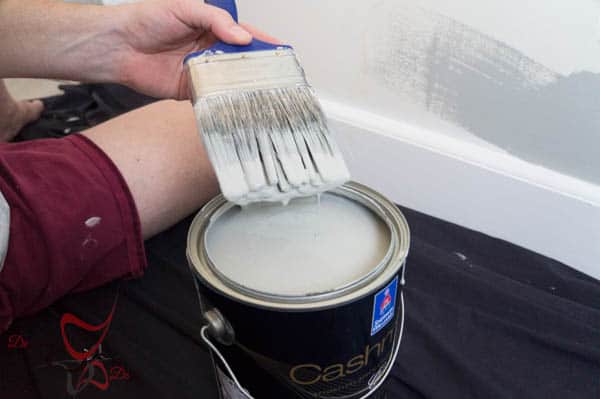 Start by dipping your brush about 2 inches into the paint. I like to drag the brush against the edge of the can to clean off one side.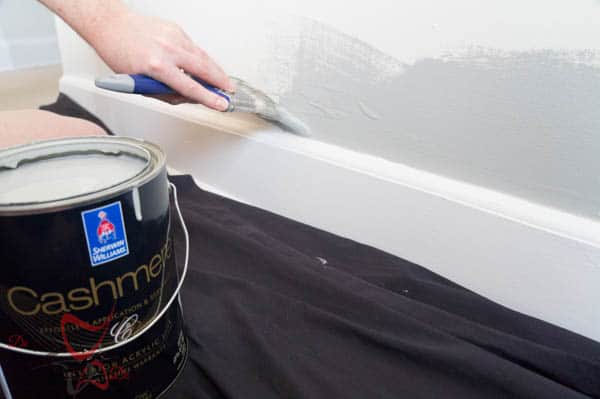 Place your brush close to the edge and begin to drag your brush to make a good pointed tip, once you have the brush at an angle, move closer to the trim and begin your line.  Move very slow and steady as you keep a good eye on where your brush is going.  Once you seem to run out of paint, pull your brush away from the trim line.  Go back and spread the paint above the section you just completed, this will spread out any drips and extra paint.  Make sure you paint above the trim line 3 to 4 inches so that you don't come close to the trim line when rolling on the wall paint.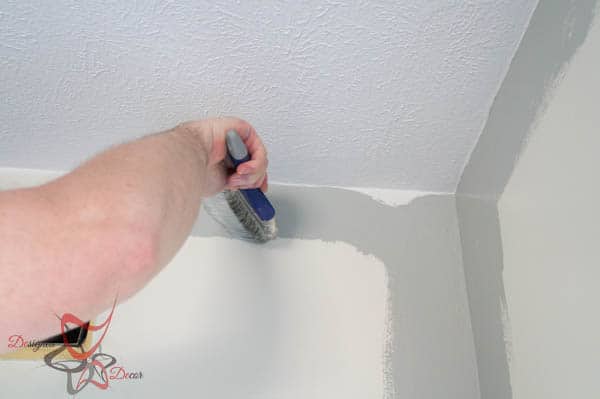 Now for working in the corners. Once you run your trim line, you will have a dip in the corner where you had to pull your brush away, as in the picture above.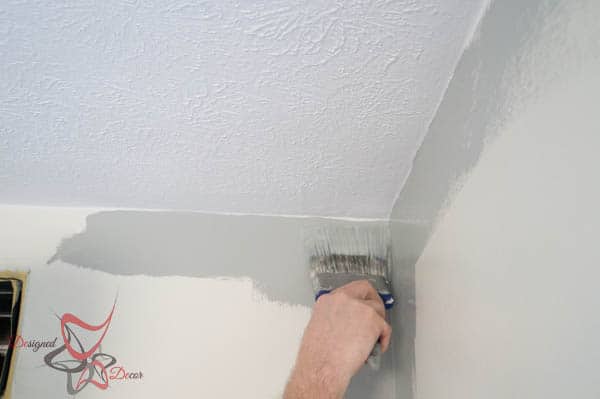 Fill your brush back up with paint, place brush on the wall, close to the trim edge line. Press on your brush to get a nice flat edge on the tip of your brush. Once you have a flat edge, slowly move the brush evenly to the ceiling. Once the trim line is even and filled, pull the brush down to paint under the trim line.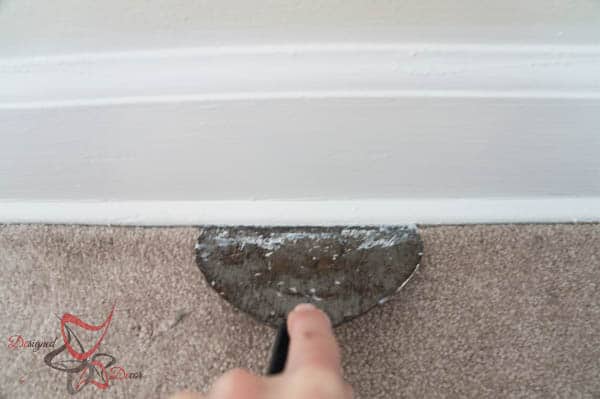 Painting trim with Carpet.  Here is my trick for painting trim that is next to the carpet.  I use a large 4 or 5-inch scraper(or larger) to hold down the carpet while I paint above it.  Once I paint the small section, I wipe off the blade using newspapers that are lying next to my work area and move to the next section.  I like using this method since I can push down the carpet with the blade and get below the carpet line.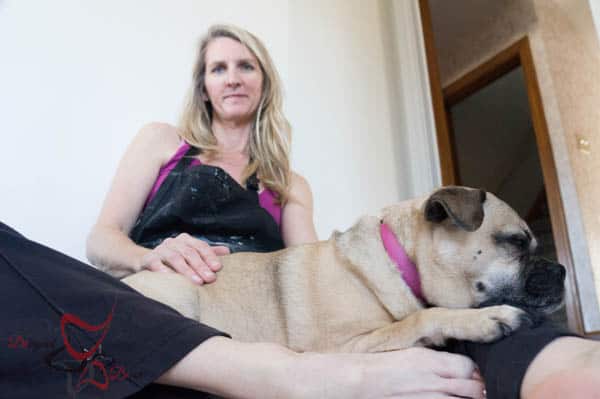 This is me and my best helper sitting and waiting for Mr. DD to finish the trim painting so I can start to roll.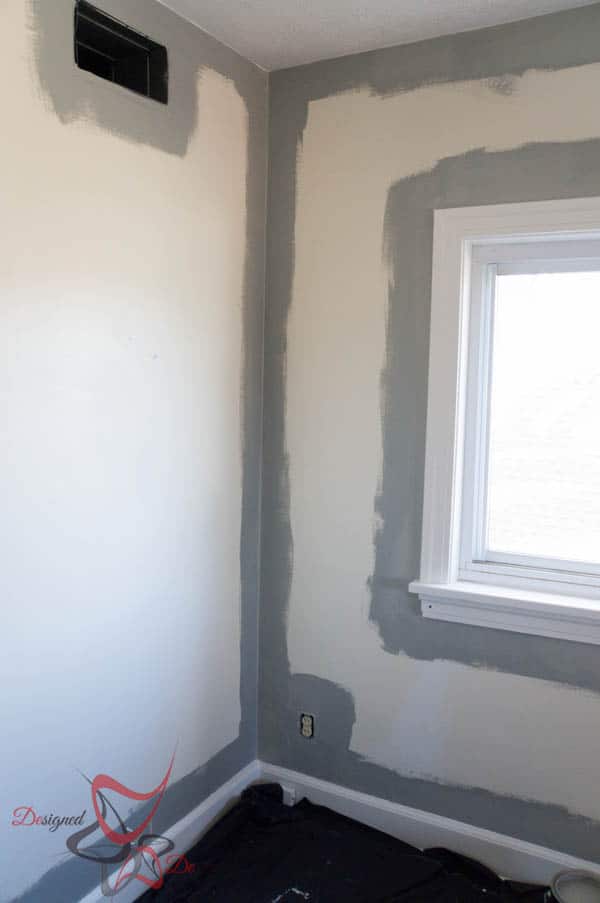 This post contains affiliate links. Click here to see my full disclosure policy.
The trim is complete and the wall is ready for paint using my new favorite painting tool, PaintStick EZ Twist by HomeRight.  A few weeks back we used it to paint the ceilings in the guest bedroom.  Stopover to read how simple and easy this paint stick is to use for all your paint rolling needs.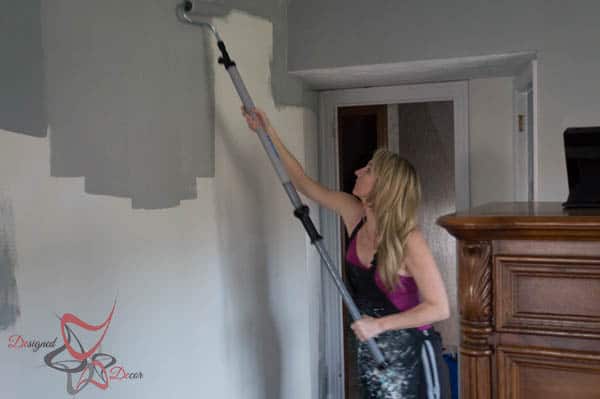 I love the PaintStick Ez Twist and I will be using it in a few other hard-to-reach areas of my house.  Here is a quick pros and cons list I created from the first time we used the paint tool.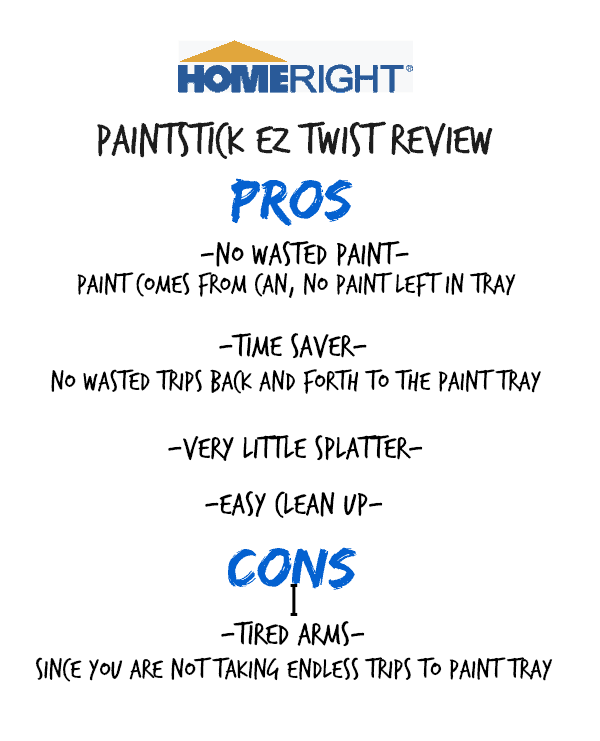 How about you, do you tape when painting? Leave me your answer in the comments section, I would love to know.

Join the DD Community!
Join the Designed Decor Community and receive weekly free tips on DIY home projects, painted furniture, decorating, and much more.