I am joining the Fab Flippin' Furniture Contest again this month and this month's theme is Shabby Chic Storage!
 I decided to turn an old ladder into a creative way to display your pretty storage.  I am sure you have seen many ways to turn a ladder into a ladder shelf.  Today I am sharing how I made a couple of these for
my shop
, where I sell my pieces.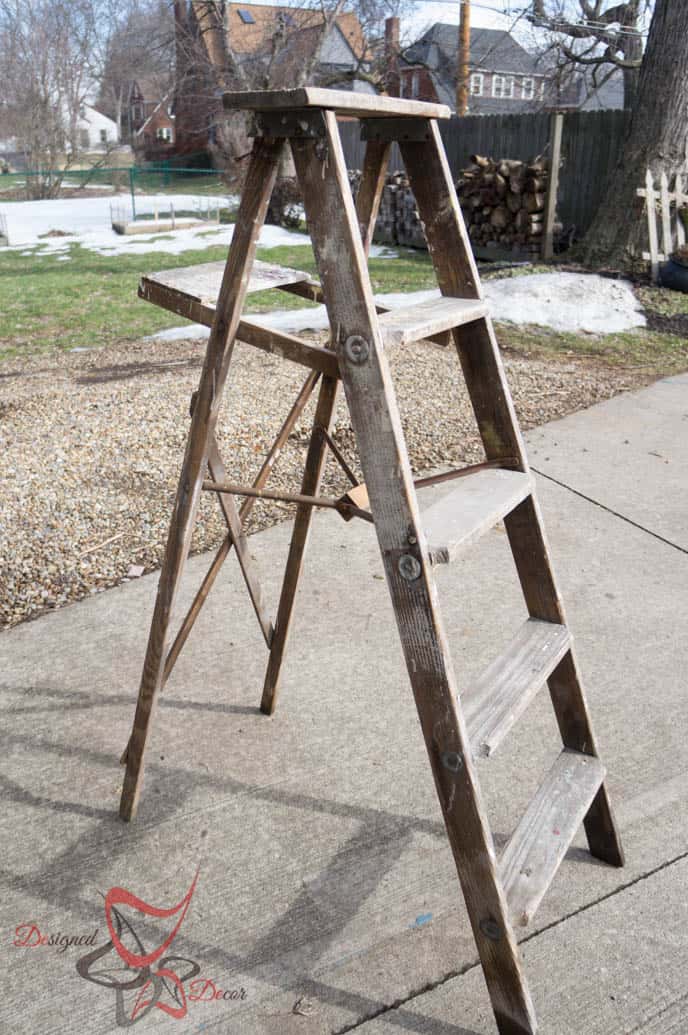 The ladder went from this to this!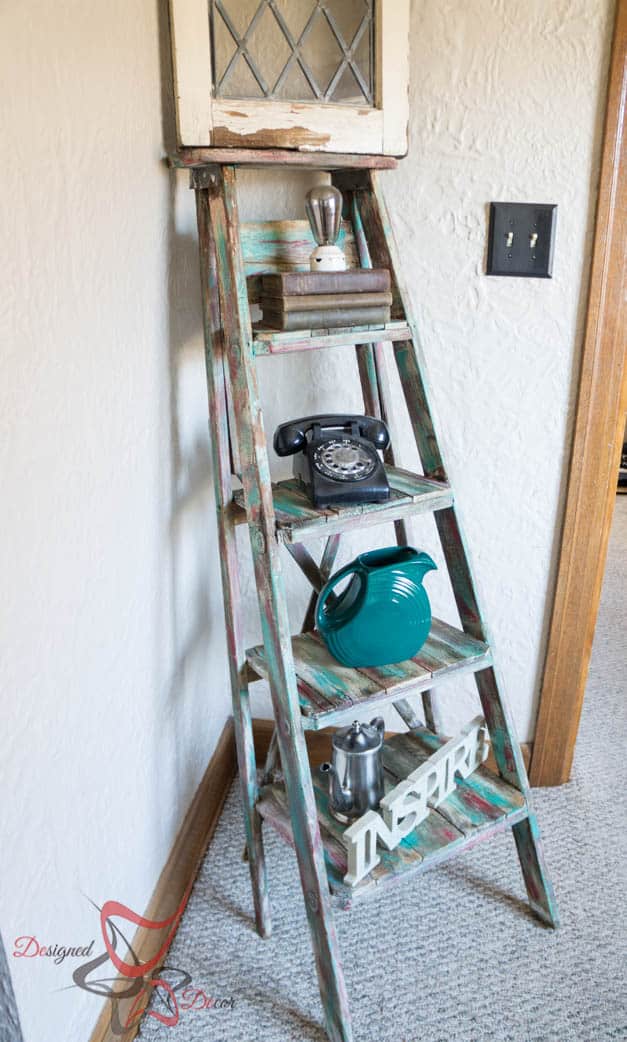 The first one I made, opened up fully and this one I made to lean so it would take up less floor space.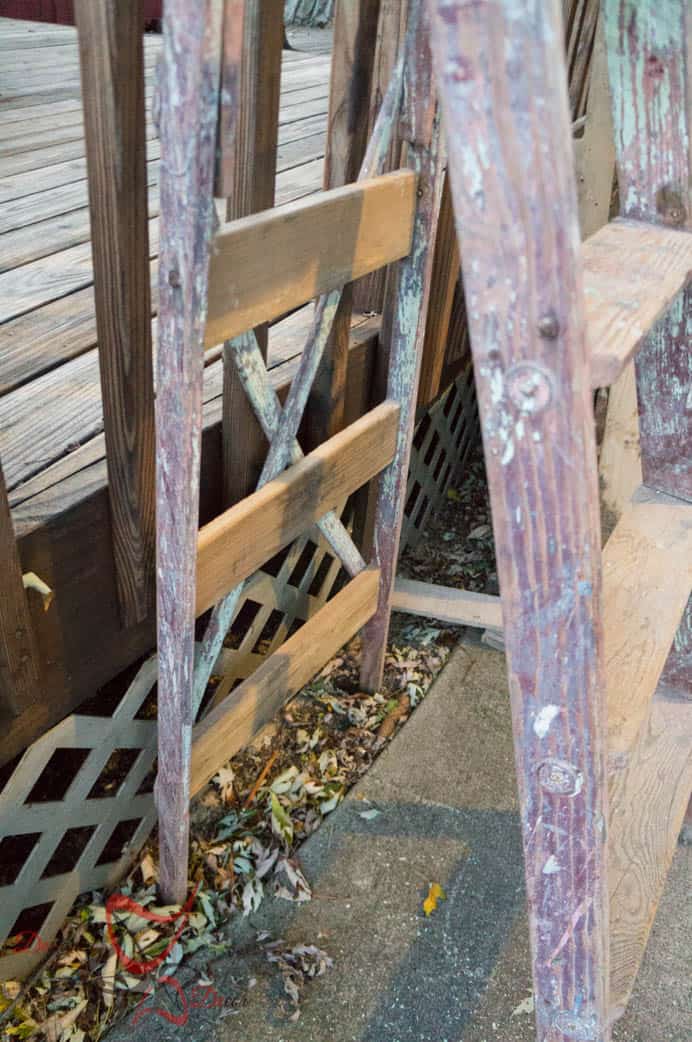 Step 1 is cutting boards for the back supports of the ladder.  These are the boards you will be using to place the shelf on.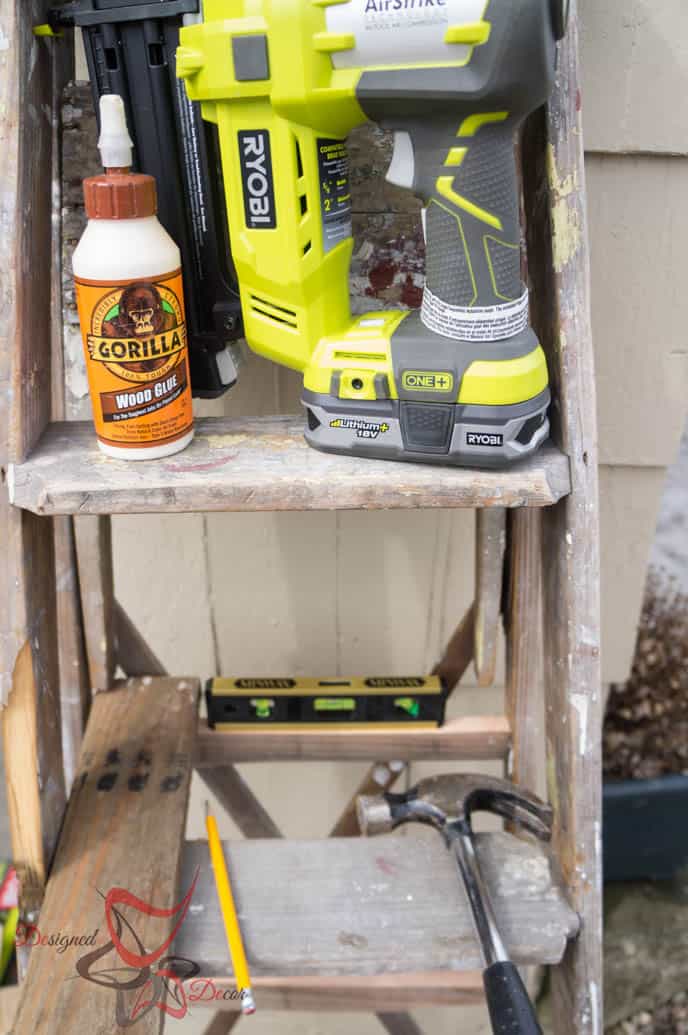 The needed tools for this project is:  Saw, Air-nailer, measure tape, wood glue, level, pencil and a hammer.
I did have to shorten the back leg on the ladder for the leaning ladder shelf.  I used this angle tool to make sure I had the same angle on the back leg as the front leg.  You would only do this if you wanted to make your ladder shelf leaning.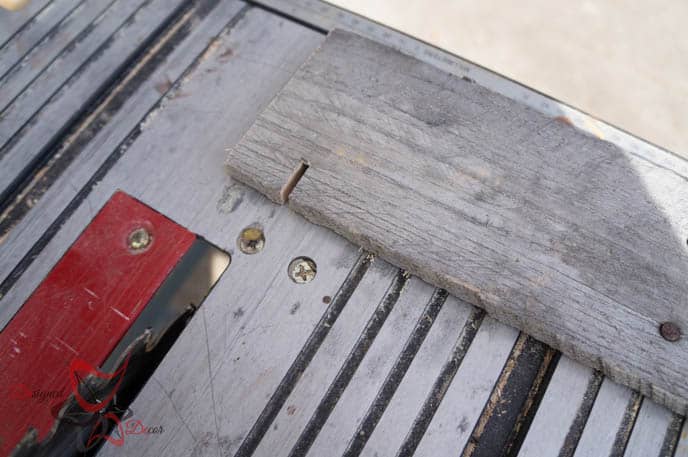 Some of the shelf pieces needed a small notch out on the back to fit completely front to back.
Once the pieces are cut and placed, I used the Gorilla Wood Glue and my Ryobi Air Nailer.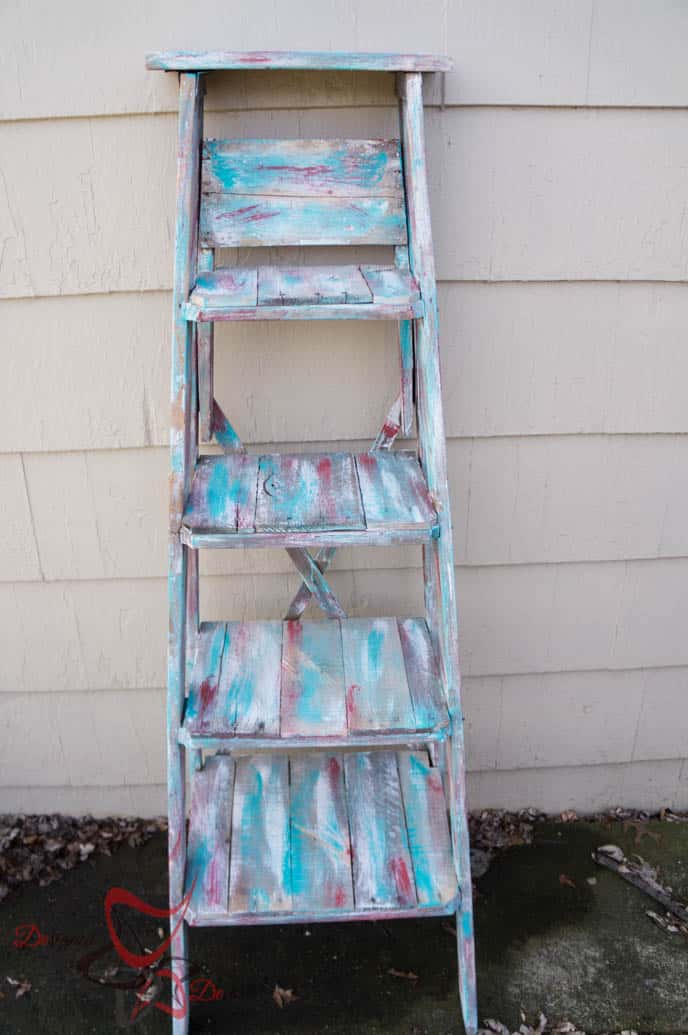 This leaning ladder shelf did not have much color, so I decided to paint it in a shabby chic distressed with a pop of color.  I used Maison Blanche Vintage paint in Riviera, Cerise, Maison White and sealed with dark brown wax.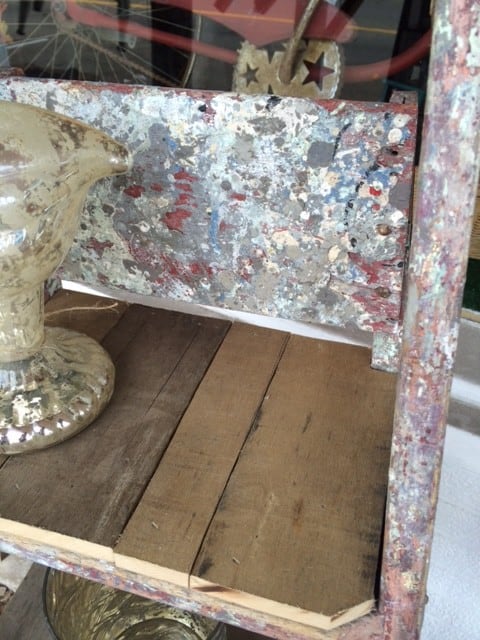 The first ladder had its own natural paint splatter, so that one was left as I found it.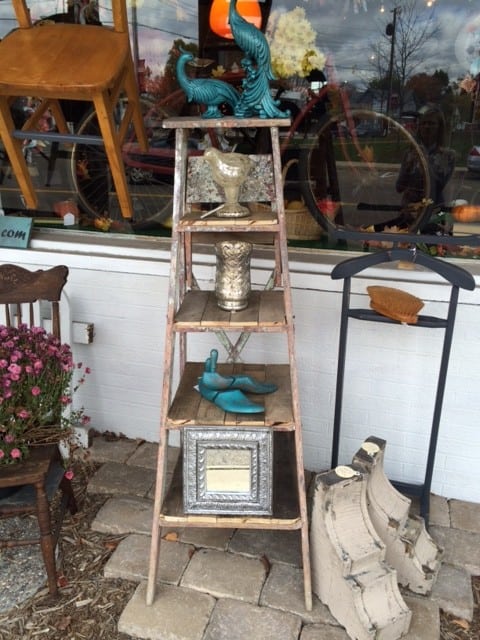 I now look for old paint ladders when I go garage sales.  This is where I can find the best price because most people think that nobody would want this old ladder!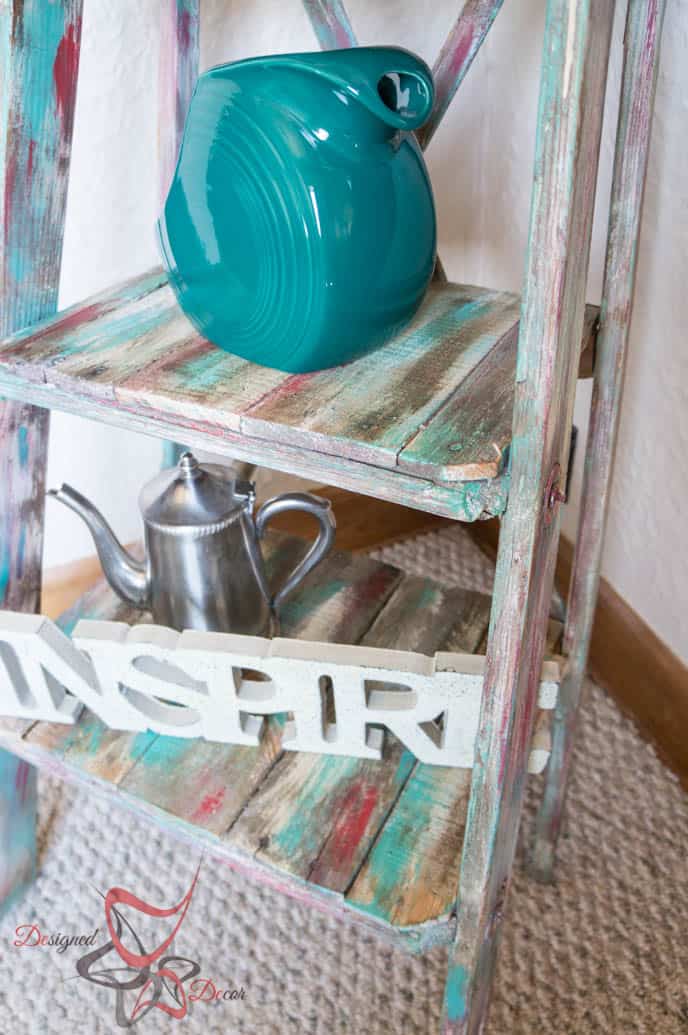 So the next time you see an old ladder at a garage sale, think of me and this post and buy it!  You can stop over to Thirty Eighth Street or City Suburb Sanity to see all the great entries for the Fab Furniture Flippin' Contest.  I would also like to thank the sponsor for this month's contest, Old-Fashion Milk Paint.  Although I did not paint my shabby chic storage ladder in OFMP, the table below is painted using their products.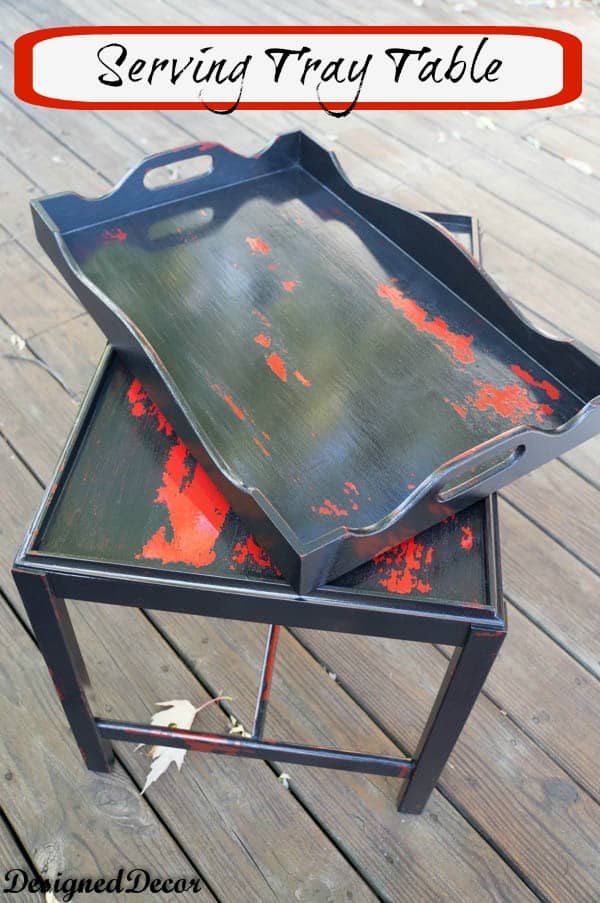 If you are a blogger who paints furniture and would like to join our monthly Fab Furniture Flippin' Contest, please contact  Stacy ([email protected]) or Evey ([email protected]).

Join the DD Community!
Join the Designed Decor Community and receive weekly free tips on DIY home projects, painted furniture, decorating, and much more.