Do you ever find chairs on the side of the road in a trash pile ready for the garbage truck? Do find them at garage sales or thrift stores? Do they seem to be everywhere you look? Do you ever think what can I do with this free chair? Do you want to bring that chair home but don't know what to do with it? Well, I can show you how to repurpose part of the chair into a Repurposed Chair Leg Bench.
This post contains affiliate links. Click here to see my full disclosure policy.
Stay tuned to the end of this post to enter our "Reader Challenge" to 2 winners will be selected to win Ryobi Power Tools!
Just when I tell myself I can not stop and pick up or buy another chair, there they are. They are just begging me to stop my car and pick them up or buy them and take them home to add to my chair pile. Yes, I have a chair stockpile! I just can't pass up a free chair or one that is really cheap.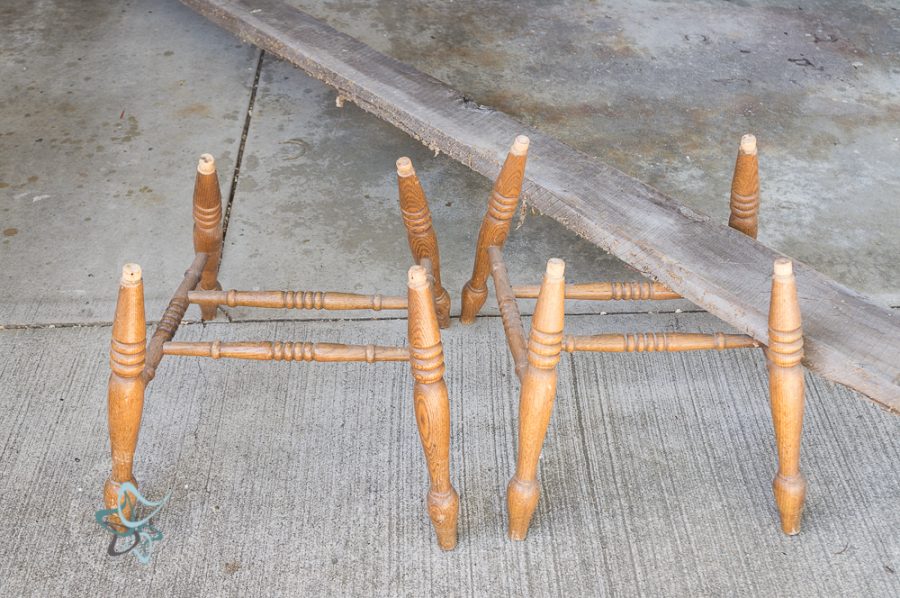 When I picked these chairs up from the curb, the seats were broken and a lot of spindles were missing from the tops of the chairs. I stopped because I just can't pass up free. I forgot to take a before picture before I disassembled the chairs. This is how the chair legs sat in my chair stockpile until last week.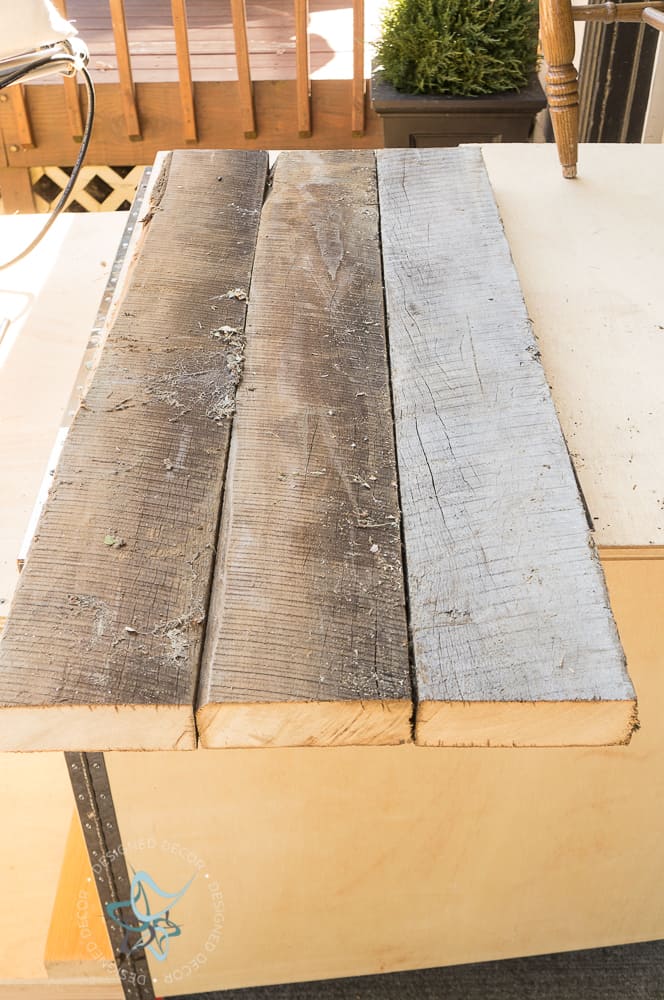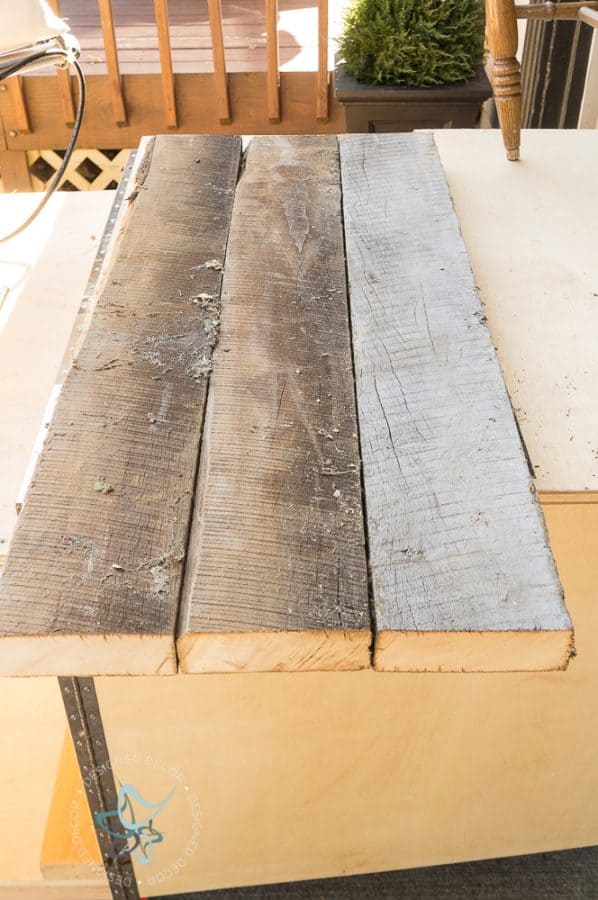 I had a vision of cutting wood boards and making a bench seat for the chair legs. I was hoping they would fit in the space in my entryway, so I brought the chair legs home from my workshop so I could place them in the entryway to see how they would fit. They were going to be a perfect size, so I proceeded by cutting some barn wood that I had purchased a few years ago.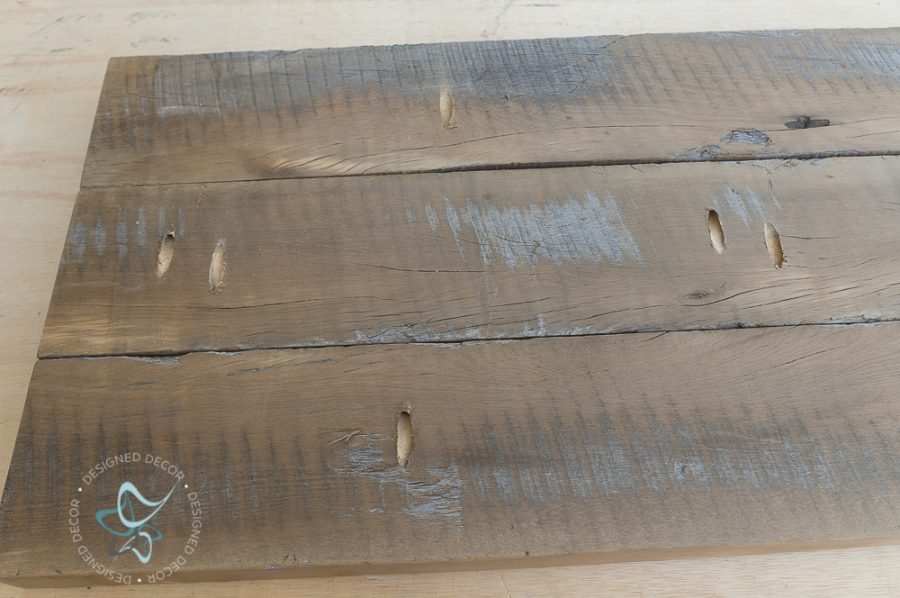 After cutting the boards to size, I ran them through a Ridgid wood planner, to remove all the dirt and grim of sitting in an outdoor wood pile for years. I know, some people want that aged wood look, but I chose to plan and smooth the boards. I attached them together using a Kreg Jig.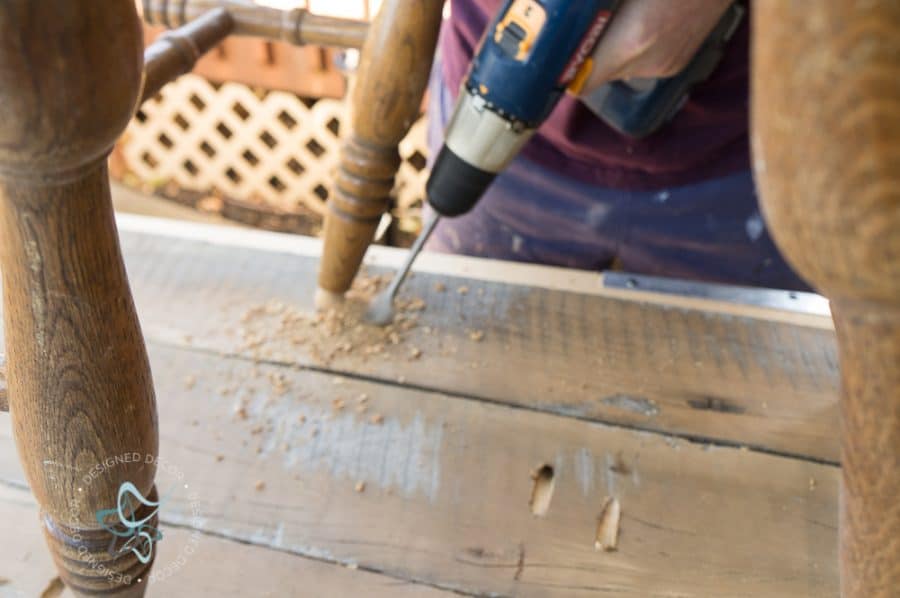 First, we measured and marked where each leg needed to be placed. Since the chair legs sit at an angle, we needed to drill the hole at the same angle so the leg fits properly and snug. After marking all the legs, we slightly moved the leg off the mark and set right next to where we needed to drill so we could use the leg as our visual angle guide and drilled using a spade bit.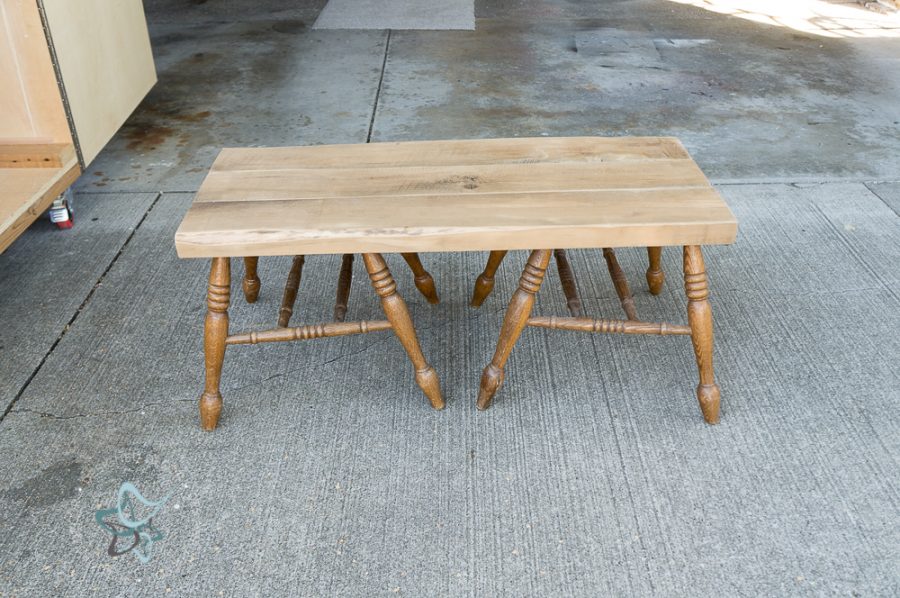 Note: We did have to slightly shorten 2 of the legs from each chair leg set. Since the front legs of these chairs sat at a different angle than the back legs, 2 of the legs were slightly longer than the other 2 legs. This is how the bench looked before stain and paint! I love how a good plan comes together.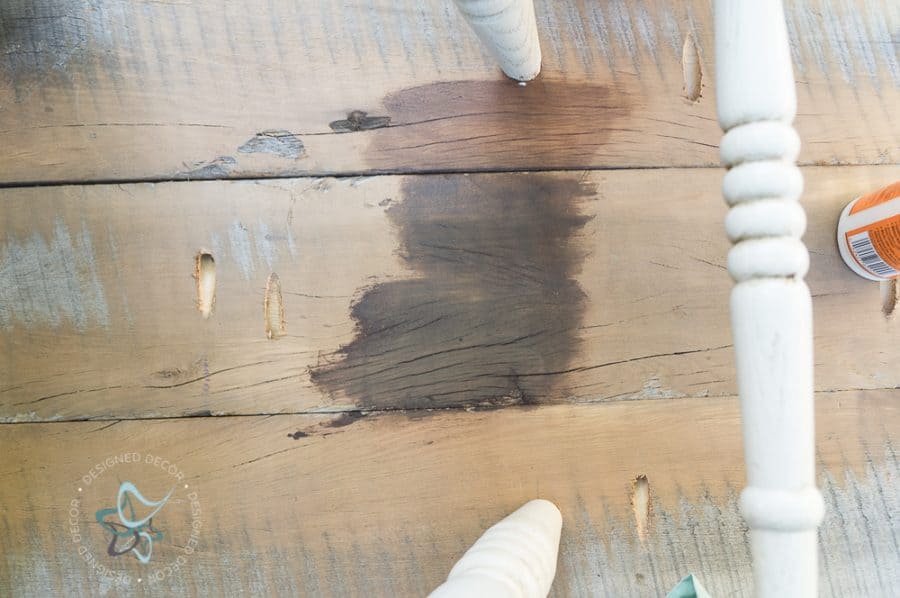 I tested different stain colors on the underside of the bench to see which color would look best.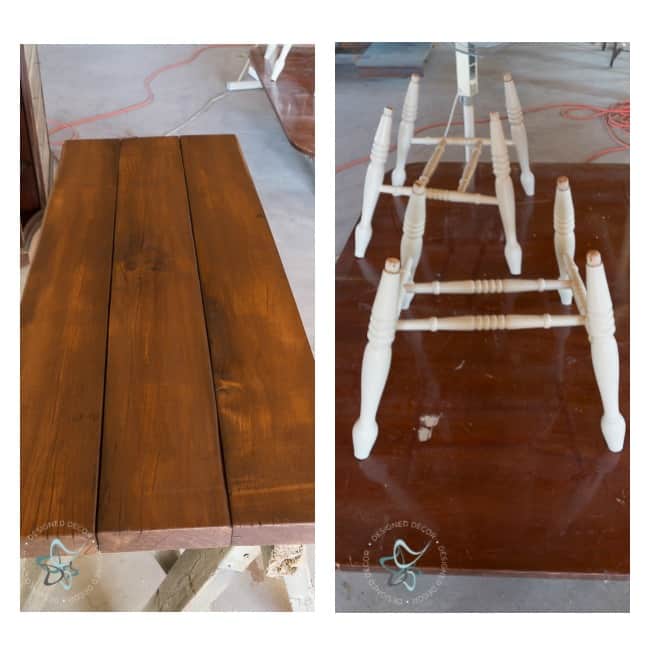 I stained the top using Minwax in dark walnut, sealed with Minwax wipe-on poly. I painted the chair legs using General Finishes Milk Paint in a custom color. If you want to know the color, stop over to see my dining room table makeover, since I shared the paint color blend on that post.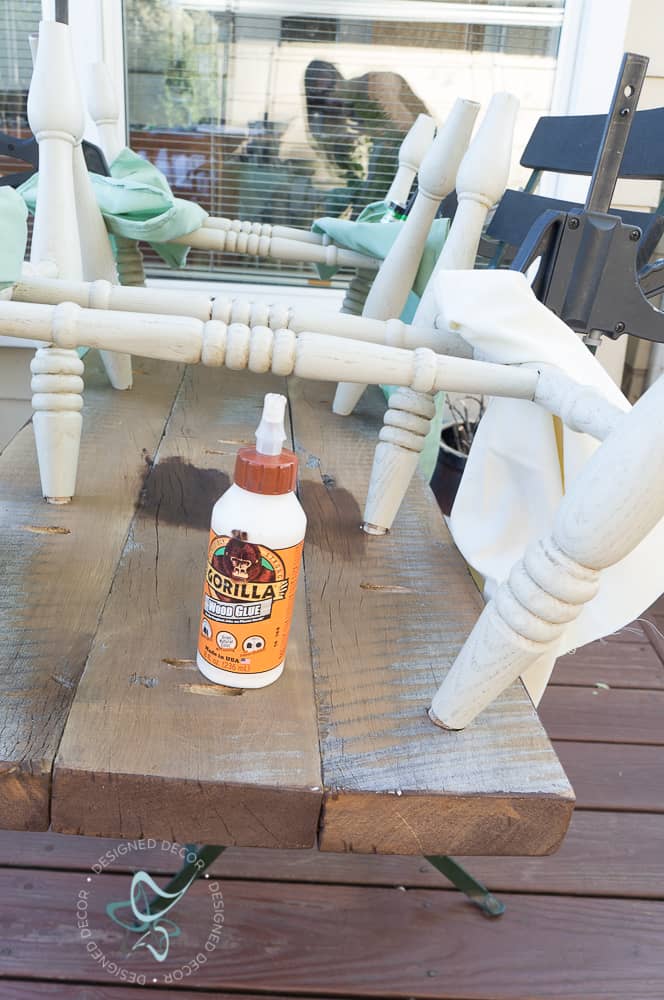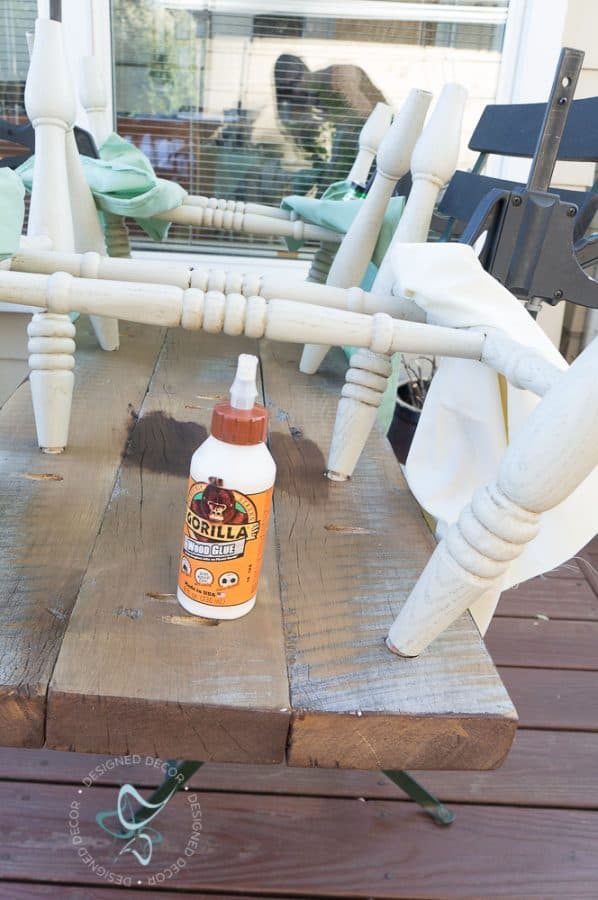 I attached the chair legs to the bench seat using gorilla wood glue and clamps. I let that sit overnight before removing the clamps.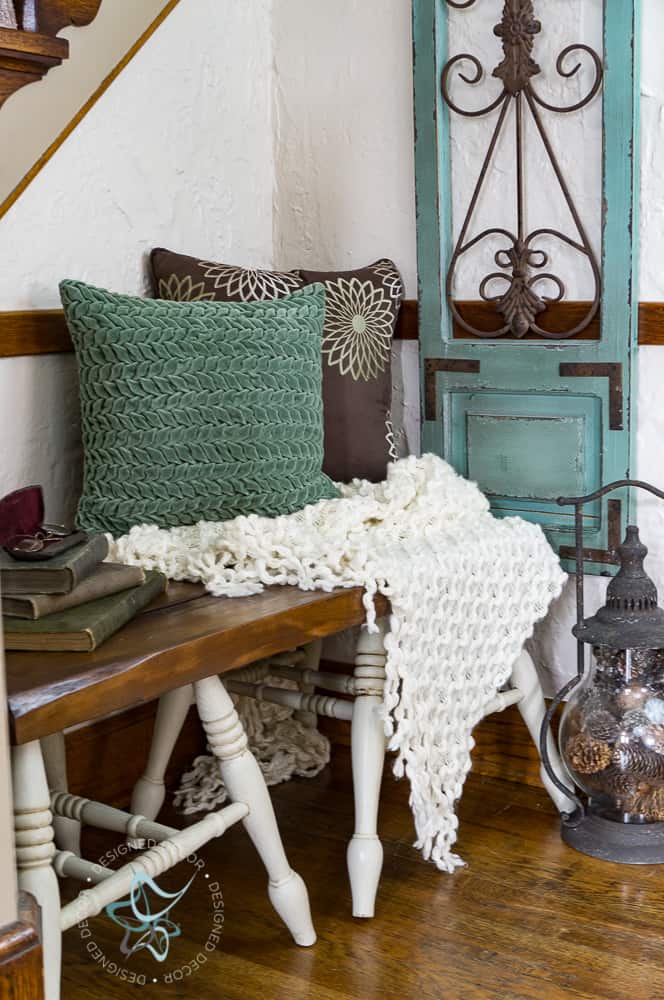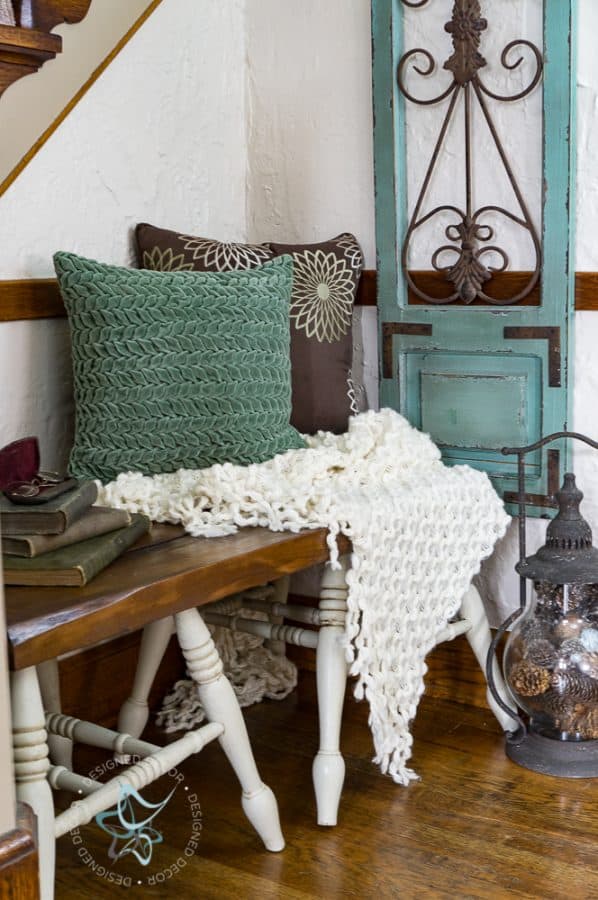 I love how the repurposed chair leg bench turned out and it looks perfect in the space.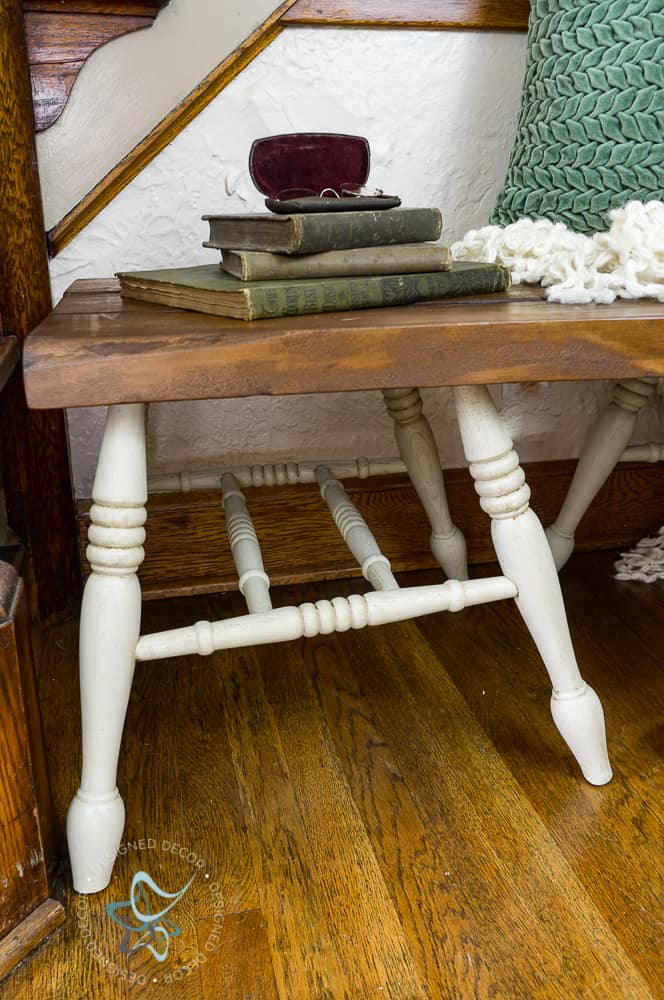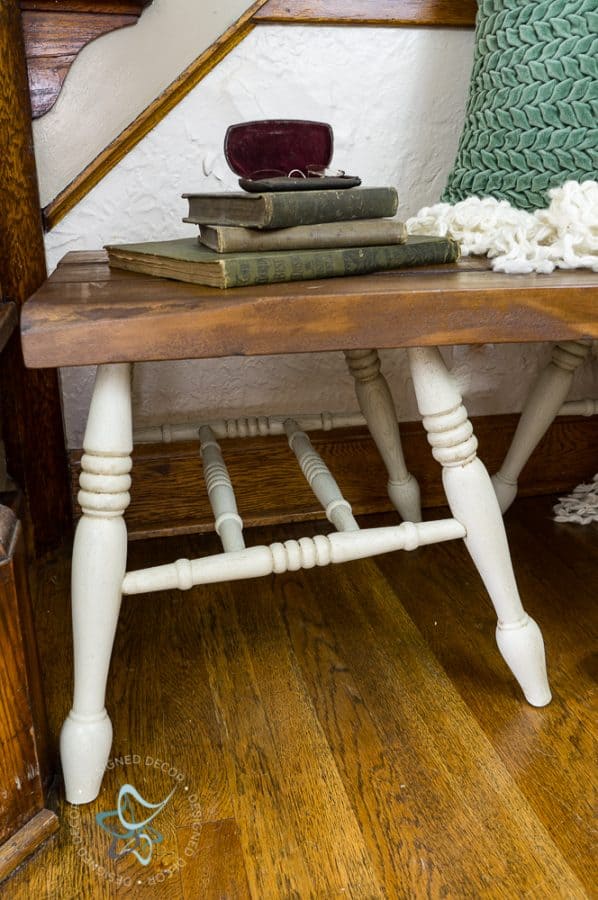 I have had many things placed in this area of my home. The entryway has been the overflow area, where I just randomly placed pieces in the space without creating a welcoming space. The bench will be a permanent piece of furniture in the entryway and I will just change out some of the accessories to keep it looking fresh every season.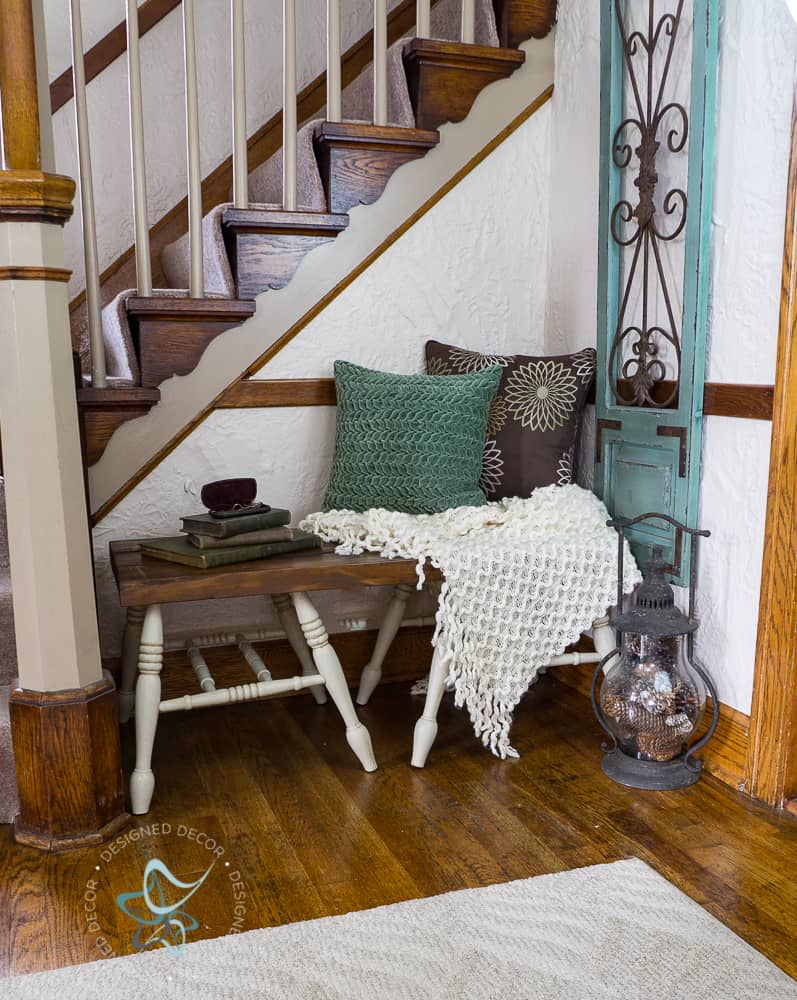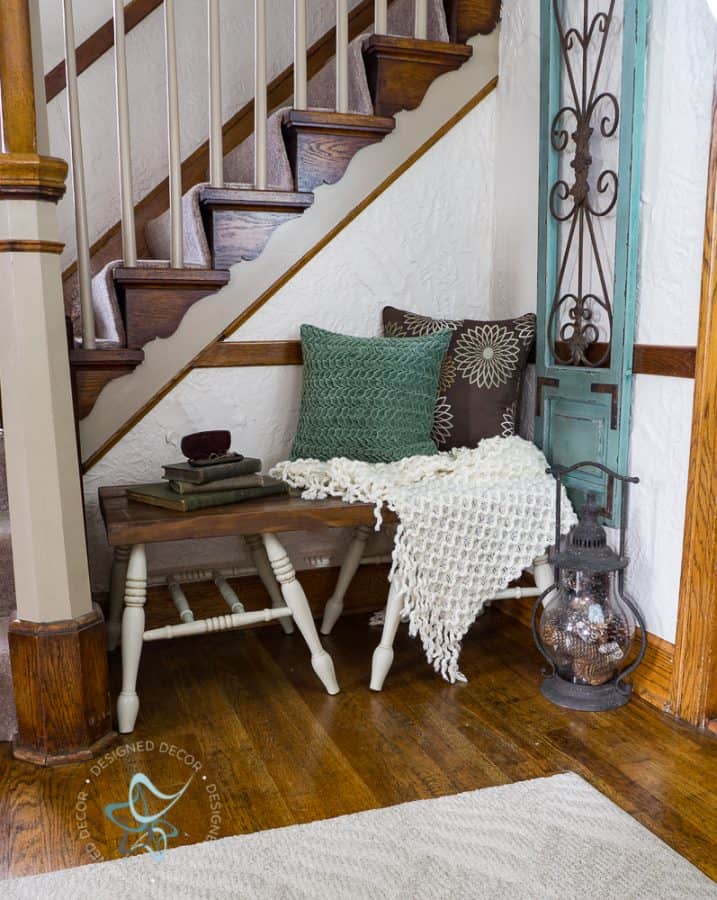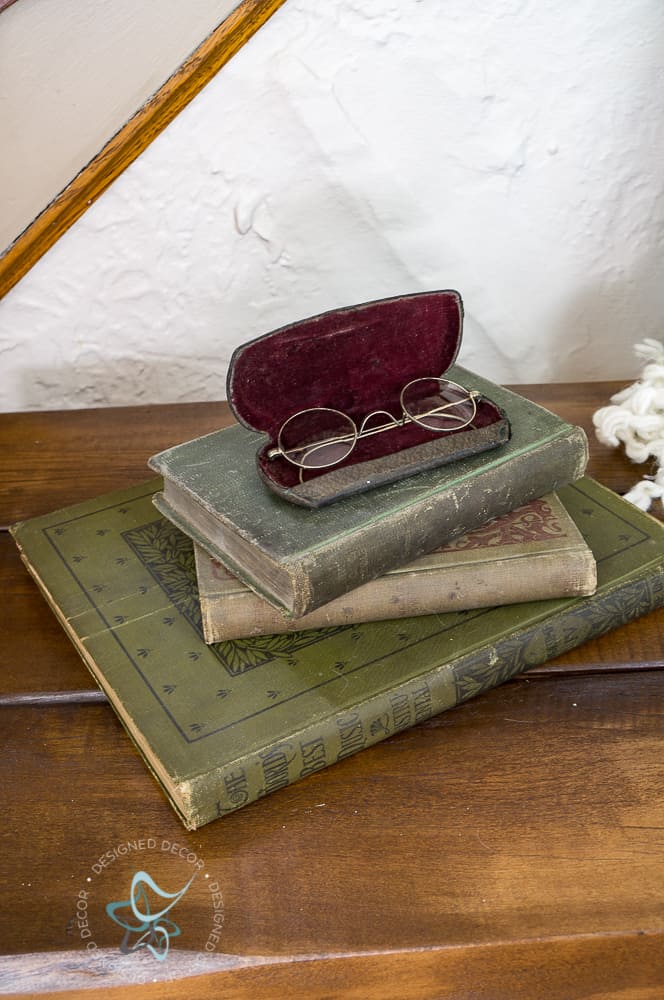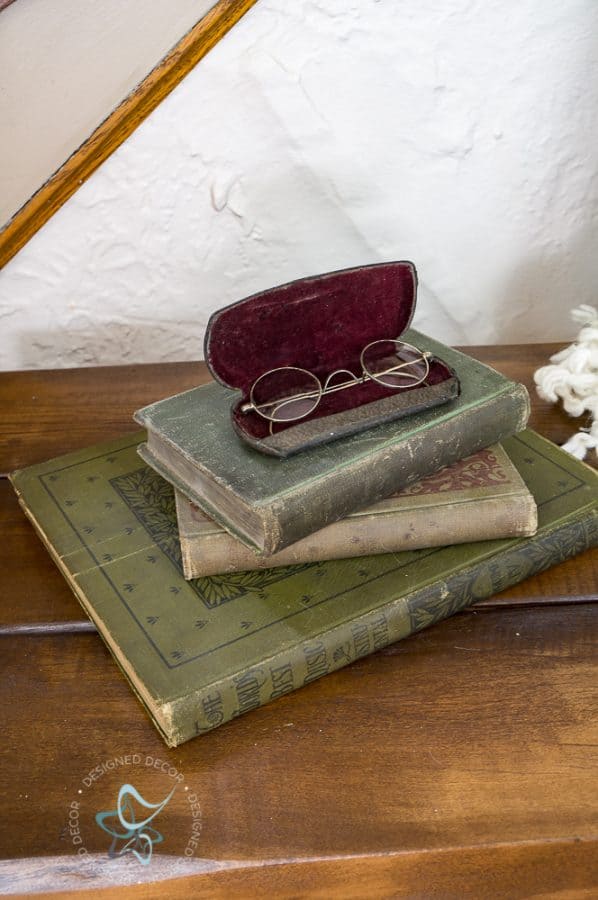 I love mixing old with new to create a nice vignette in my home.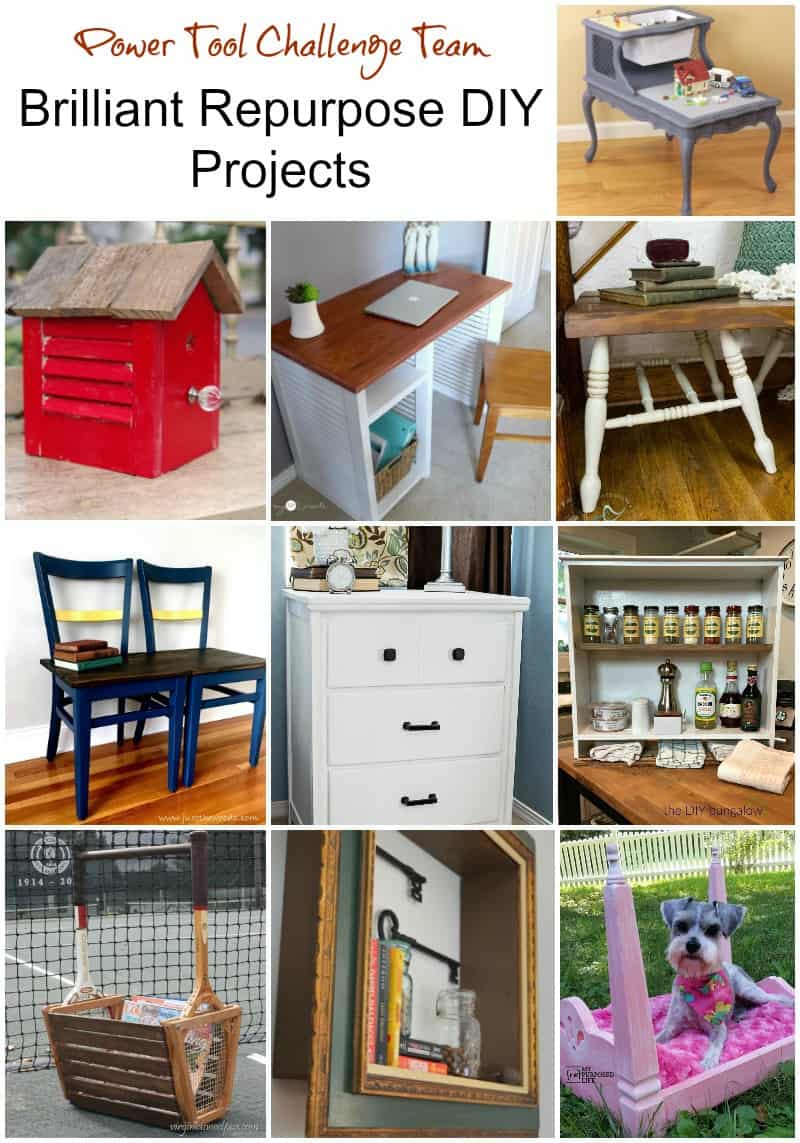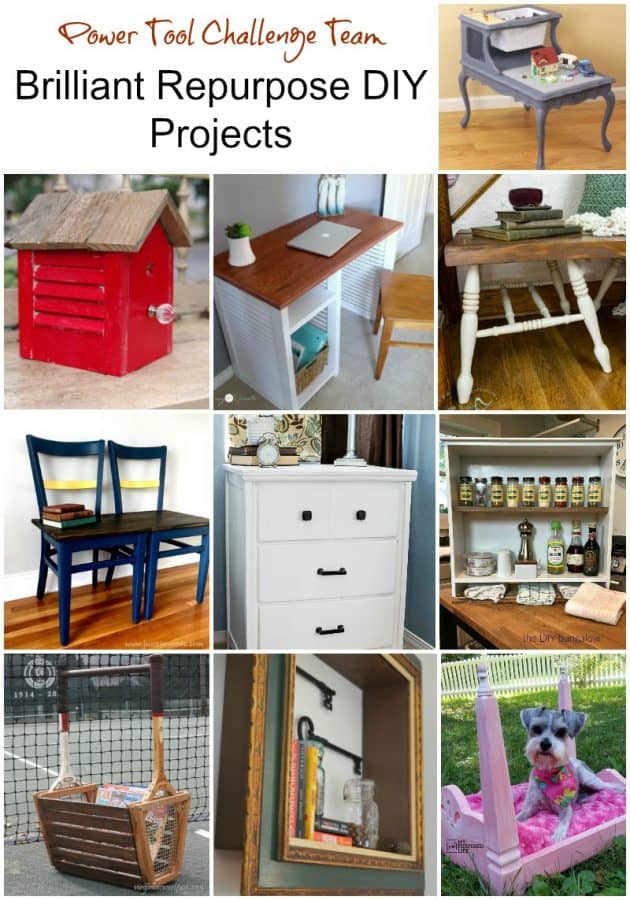 Now, here are my other team members projects! Make sure you visit them all because they Rock and you will find great inspirations for all of your repurposed projects!
Create and Babble Rustic Birdhouse from Upcycled Shutter
My Love 2 Create Repurposed Shutter Desk
Designed Decor How To Build A Repurposed Chair Leg Bench
Just The Woods How To Make A Bench From Chairs
Domestically Speaking How To Turn A Desk Into A Nightstand
The DIY Bungalow Turn an Old Drawer into a Cabinet
Virginia Sweet Pea DIY Vintage Tennis Racket Basket
H2OBungalow Repurposed Picture Frame Wall Shelves
My Repurposed Life DIY Doll/ Dog Bed
The Kim Six Fix – Lego Play Center
Now that you've seen our projects, let's see yours!
To qualify, an item needs to be repurposed using at least one power tool of any kind in the process. Simple enough? Everyone can enter up to four DIY repurposed projects.
We are giving away "2" Ryobi Power Tool Prizes! One random drawing and one voted Best Repurposed Project Overall.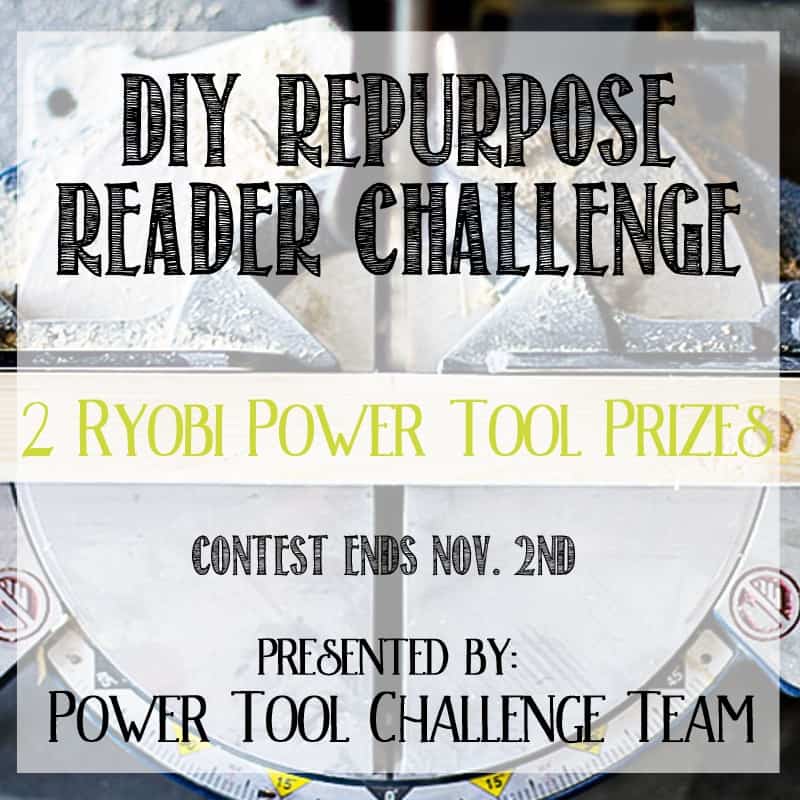 Prizes:
The Winner of the voted best project gets to choose up to $230 of Ryobi Power Tools.
The Random Winner gets to choose either an 18 Volt One + jigsaw or an 18 Volt One + Drill.
***Every entry counts towards a chance in a random drawing
To pick the Best Overall Repurposed DIY project, the team and a Ryobi Power Tools team member will vote on their top choice.
How to enter: Enter your project in the linky below. The linky will be open for 2 weeks ( ending midnight November 2nd). Readers can submit their own projects directly, make a Facebook post and share that link. If any of you need help or want me to post your project for you just send me an email with your project photo to [email protected], be sure to include your name and your project title too!
Must be 18 or older to win, giveaway and contest is open to USA resident only.
Good Luck and I'm looking forward to seeing your projects!

Join the DD Community!
Join the Designed Decor Community and receive weekly free tips on DIY home projects, painted furniture, decorating, and much more.