The majority of us don't have money to pay a decorator to give us ideas or even an endless decorating budget for trendy home decor. I am going to share everything you need to easily decorate on a budget.
Decorating your home is an emotional roller coaster for so many people. Everyone starts with great visions and intentions and that turns into frustration and eventually settling or giving up.
Shop your home
Take a look around your home and see what can be moved or used in a different setting. Sometimes you can use a dresser as a media stand or an entryway table. Extra seating in the overly crowded living room can serve as a reading nook in a bedroom.
Move things around and "try them on," for a few days or even weeks. This allows you to look at an item in the space and really figure out if you like it in the area. Think outside the box on how you can use items in different locations of your home.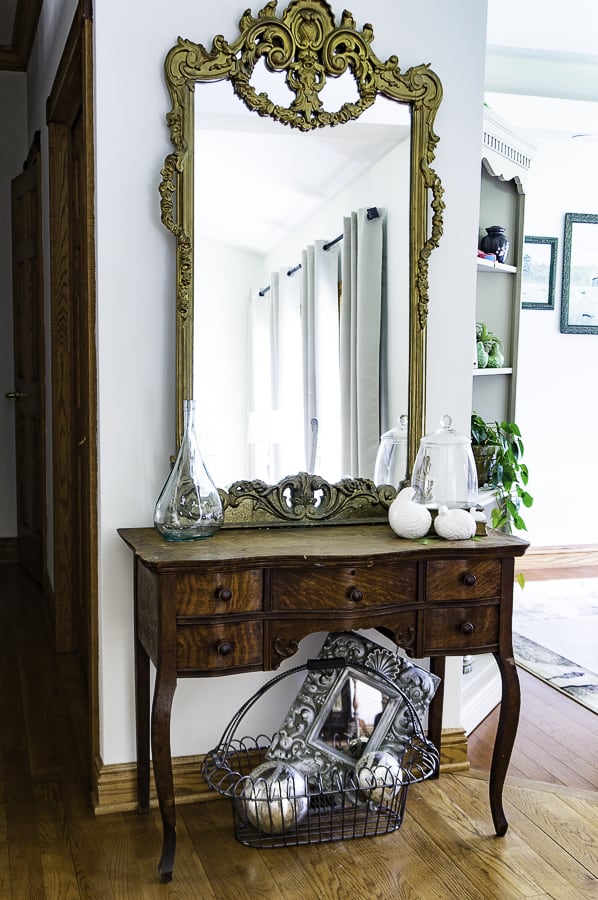 Here is an example of how I approach budget decorating and "trying things on" Everything in this picture is from a garage sale or thrift store. I place everything in the space and let it sit unfinished without the finishing touches. I might move some things in and around until I like the placement.
My ideas for this vignette – Paint the table and possibly the mirror? Change out the clear vase of the left for a white one to balance the white birds on the other side. Fill the clear jar with some type of seasonal decor items and add some seasonal greenery to the basket below.
Shop thrift stores
Thrift stores are where I do the bulk of my home decor shopping. You can find so many great items and so much cheaper than buying new ones from a retail store. Analyze an inspirational photo from any retail store, save it to your phone to use as a reference. Make a shopping list of the items from that inspirational photo. Go shopping at your local thrift store for the items on your list. You can find something similar for the fraction of the price.
Some of your thrift store items may need to be painted or altered, however, the $5 can of spray paint is still cheaper than buying new. Shopping thrift stores allow you to easily decorate on a budget far cheaper than buying brand new.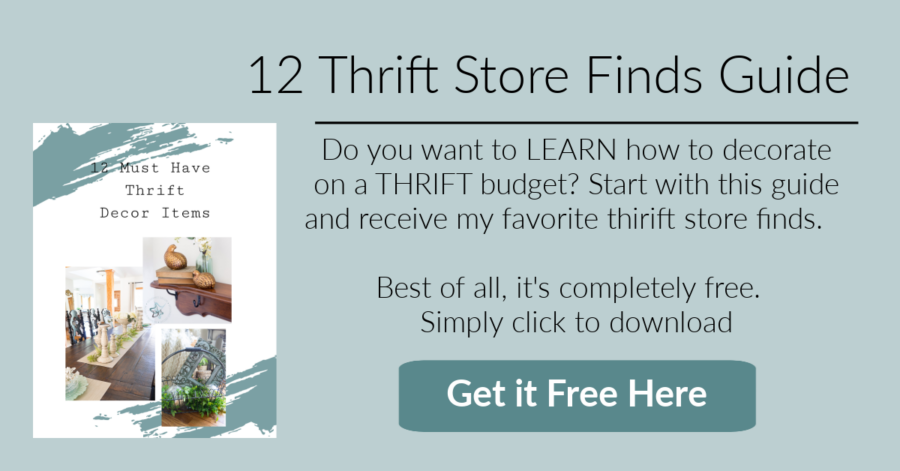 The entryway table and the large antique mirror were $75 each. If they end up not working in that space, I will move them or sell them on Facebook Marketplace and get my money back to purchase something different.
Learn to DIY
I am not saying you have to learn how to use power tools, just be willing to try a few things and you might surprise yourself. You don't have to be crafty or artistic to learn how to DIY your home decor. Sometimes it is as simple as buying a can of spray paint and painting a mirror frame. Just be willing to have an open mind and give it a try.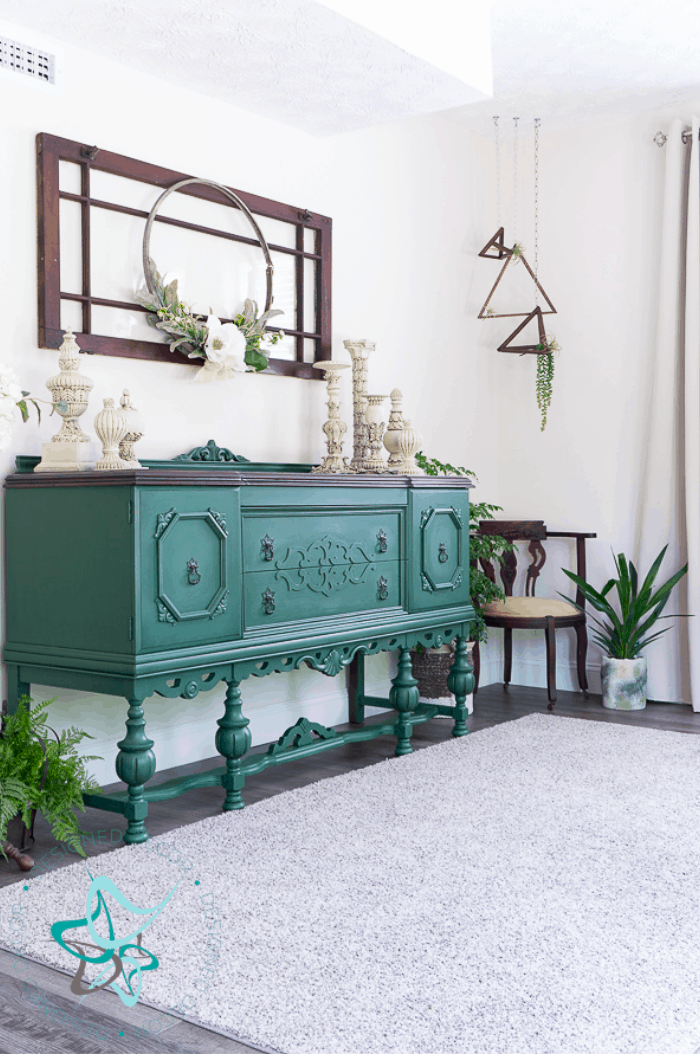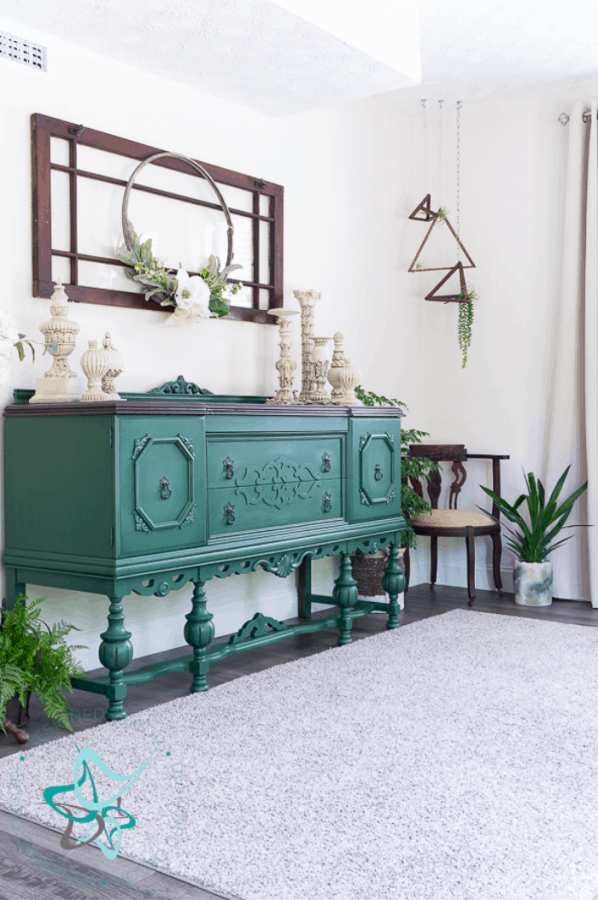 I taught myself how to paint furniture so I could save money by refinishing beautiful old furniture pieces. Secondhand furniture is much cheaper and sometimes better quality than today's furniture pieces. The buffet was $100 from Facebook Marketplace. I transformed it into a show-stopping entryway statement piece. Stopover to see the buffet makeover using a custom green paint mix. This painted buffet sells for $500+ in my area of Ohio, so this was a huge cost saving by painting it myself.
Everything in this photo was purchased second-hand. I painted the candlestick holders and DIY'ed the hanging air plant holders.
Here is a list of easy DIY home projects that make your house look expensive.
I can teach you to paint and do simple DIY home decorating projects, just stick with me.

Designed Decor
Need more painting help? Check out these furniture painting posts below:
Spend Money on Home Decorating Staples
Don't waste your money on trendy trinkets thinking that will make your space better. Also, the trends go out of style before you get your use out of the trendy item. Instead, buy blankets, decorative pillows, or even slipcovers. Adding a slipcover to a chair or sofa that does not match can change the space dramatically. Add a few decorative pillows and blankets and your living room can take on an entirely new look.
Buy decorative pillow covers – Change them out seasonally and they fold away to save on storage space."

Designed Decor
This post contains affiliate links. Click here to see my full disclosure policy.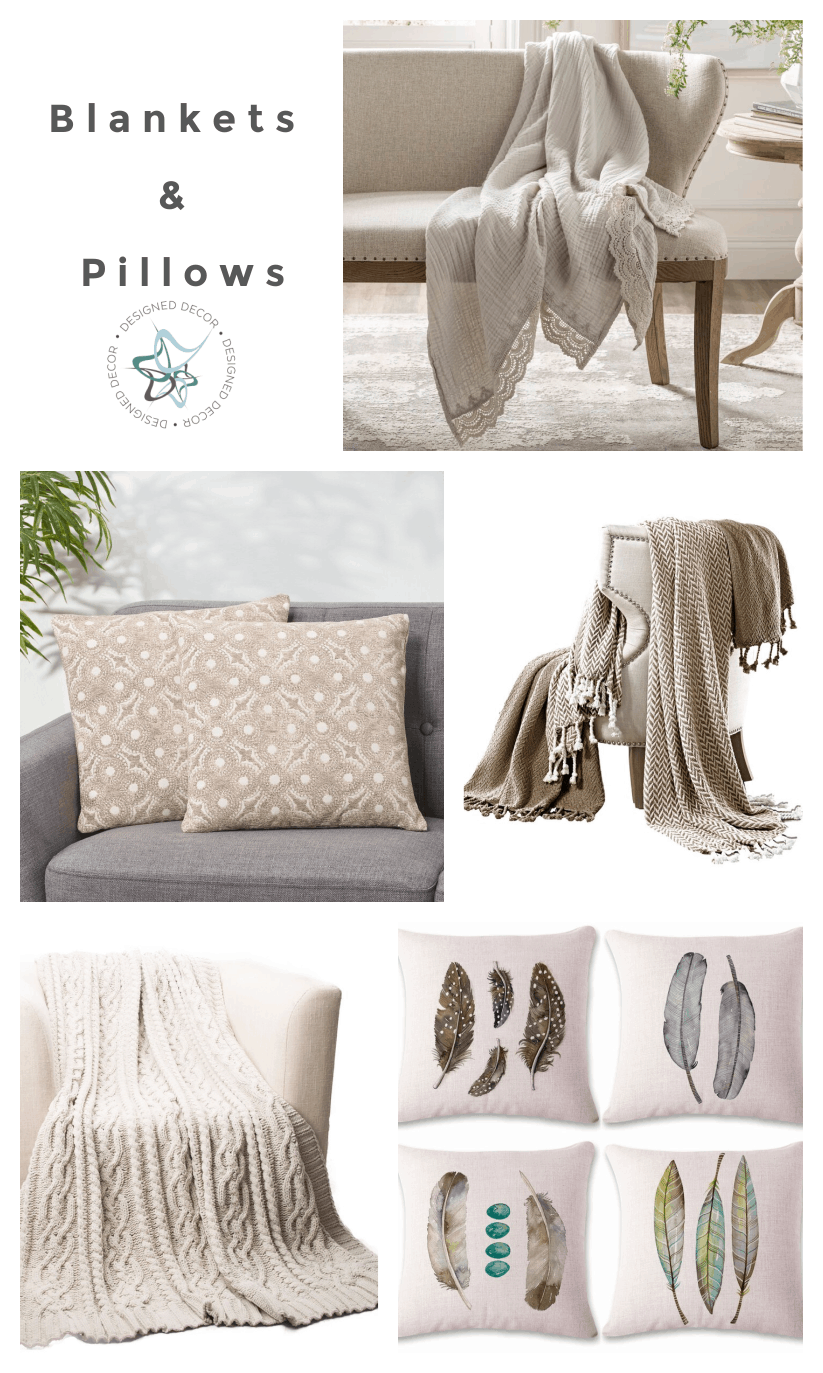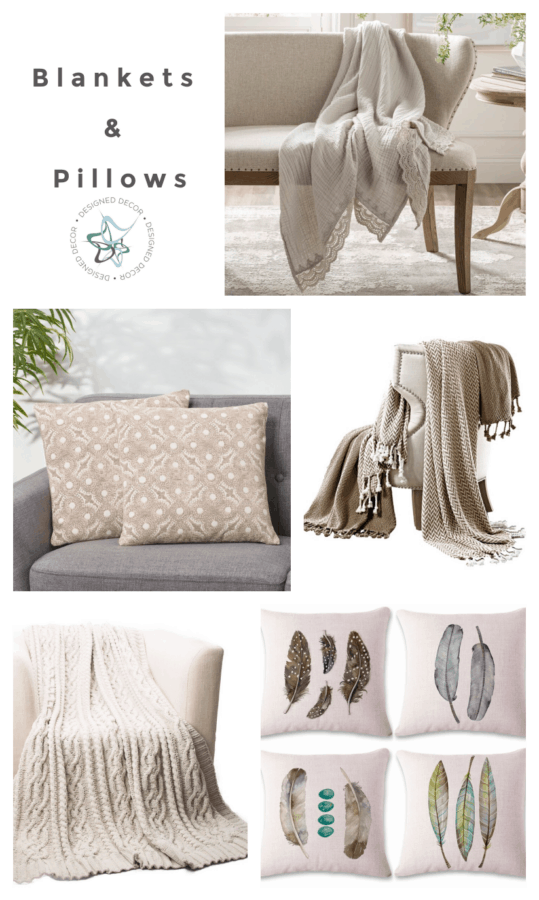 Layer a throw rug over the old carpet until you have the funds to replace the flooring. You can also save money by searching for an oversized clearance rug and having it cut down to size and bound. Here is a list of some of my favorite area rungs under $200. Also, read this post on how to save money by making your own custom area rugs.
Use nature to decorate
Things found in nature are great to add to your decor and they are FREE! Natural elements bring warmth to any space in your home.
Use many items like fresh blooming flowers, branches, pine cones, driftwood, seashells, or any other item you can find in your backyard or the local park. This also saves in storing home decor, once the season is over, throw those branches back into the yard.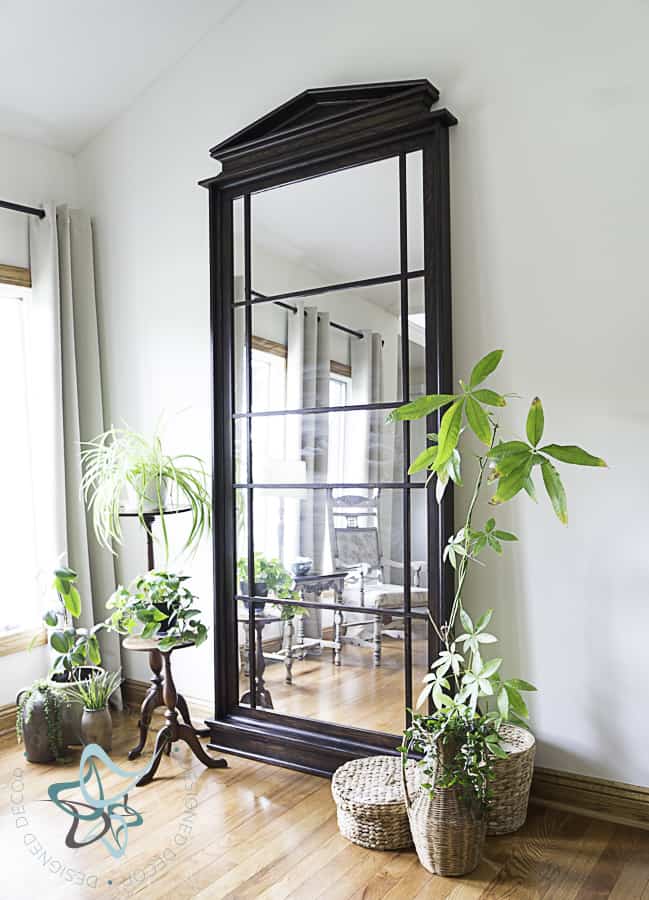 Plants and baskets are another low-budget way to bring nature to your decor.
Mix in quality faux plants with your real plants and nobody will notice."

Designed Decor
Minimize decorating for seasons
I am not suggesting to not decorate for the season. Just don't fall into the seasonal decorating traps of retail stores. You don't need to replace your favorite decorating vignettes with all that expensive seasonal decor.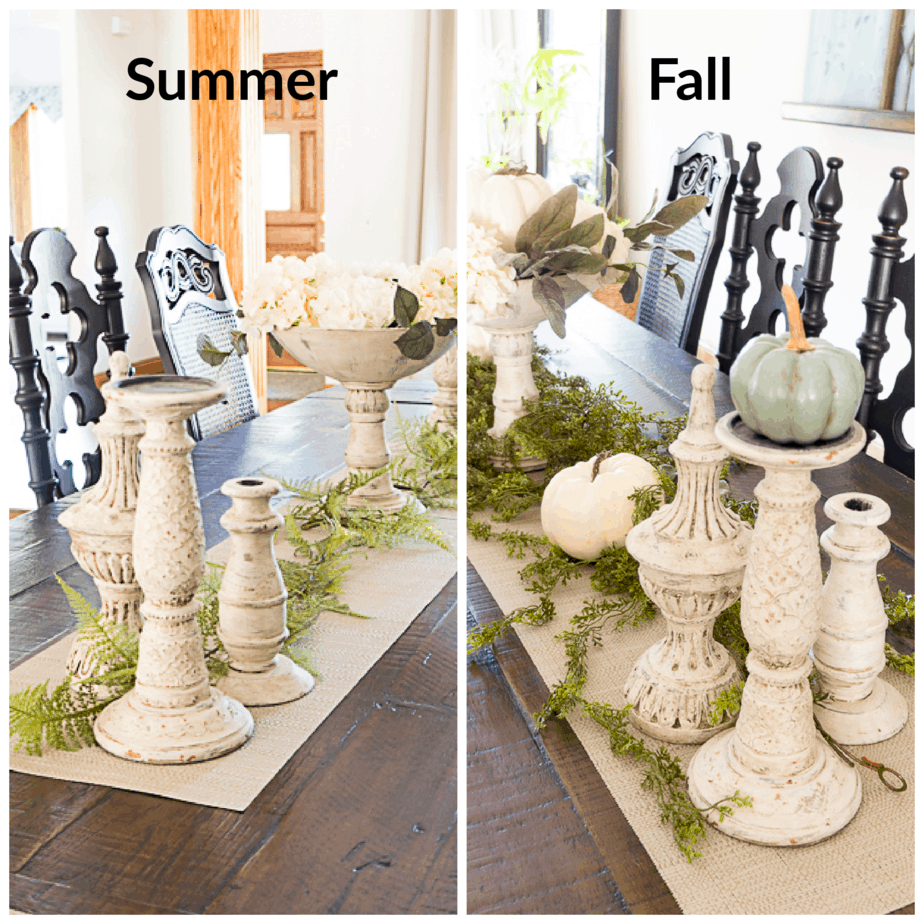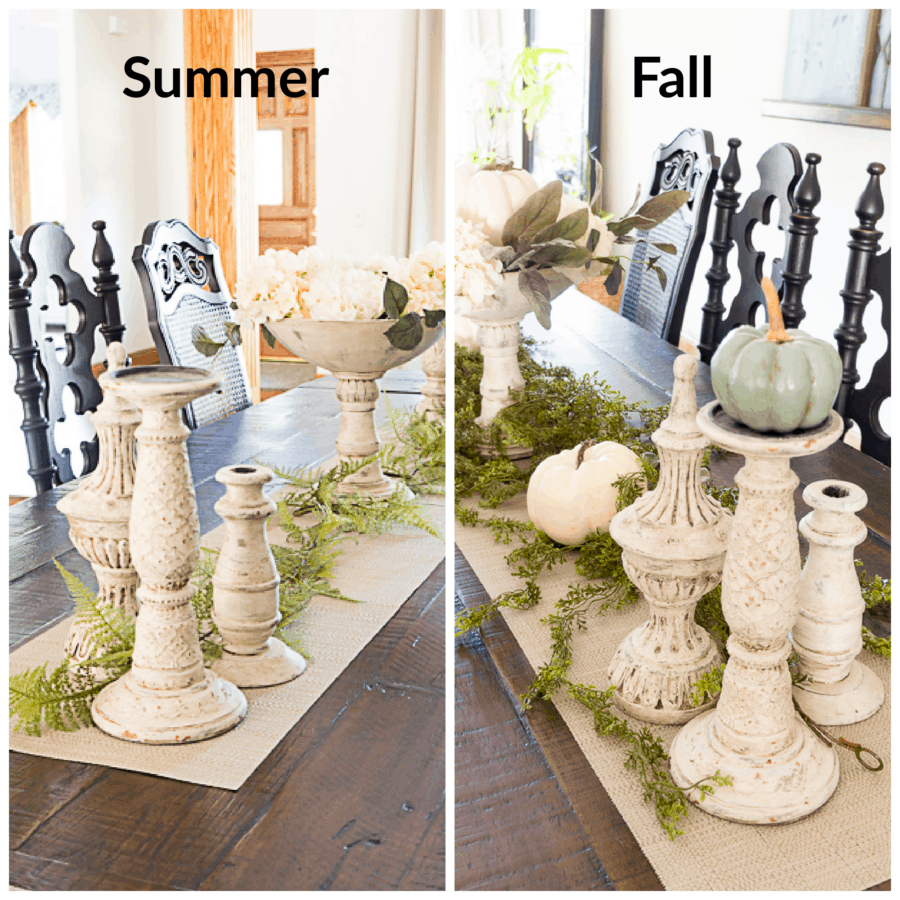 The key to affordable seasonal decor is using the same core items and just making a few seasonal changes. Simply adding a few seasonal items makes your home reflect the season, without overspending and over decorating.
I also save money by finding faux pumpkins in shapes and sizes that look real. I paint those faux pumpkins to match my decor. See how I transformed these faux pumpkins above. And learn about my #1 secret to making them look real!
See more Simple Seasonal Decorating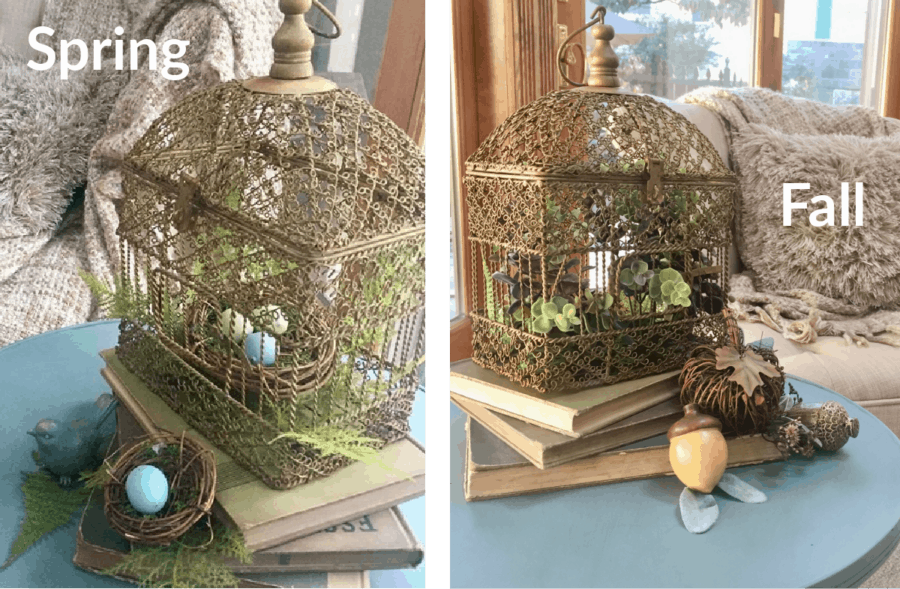 Not only will this allow you to easily decorate on a budget, but it also saves you time and storage space. You will no longer have to store a bunch of seasonal decor items.
Also, check out "How to Find Your Decorating Style."
Discover more Inspirations by clicking on each category photo





Join the DD Community!
Join the Designed Decor Community and receive weekly free tips on DIY home projects, painted furniture, decorating, and much more.