I am finally putting the finishing touches on my boys attic stairway space. This space was done in October except for adding a light fixture. putting up the hand rails and finding stairway runners and rugs. I can finally say that this space is complete. I started in March and finished in December. It seems that I am notorious for taking 9 months to finish my projects. My guest bedroom makeover took 9 months as well.
I searched all options to find rugs for my odd-shaped landings and to have matching runners to make stairway runners. It was EXTREMELY hard to find rugs in the sizes I needed, (4 different sizes) and to find them is a style that I liked at an affordable price. This was trying to find a needle in a haystack. I gave up and decided that I could make my own custom stairway runners and rugs out of the carpet.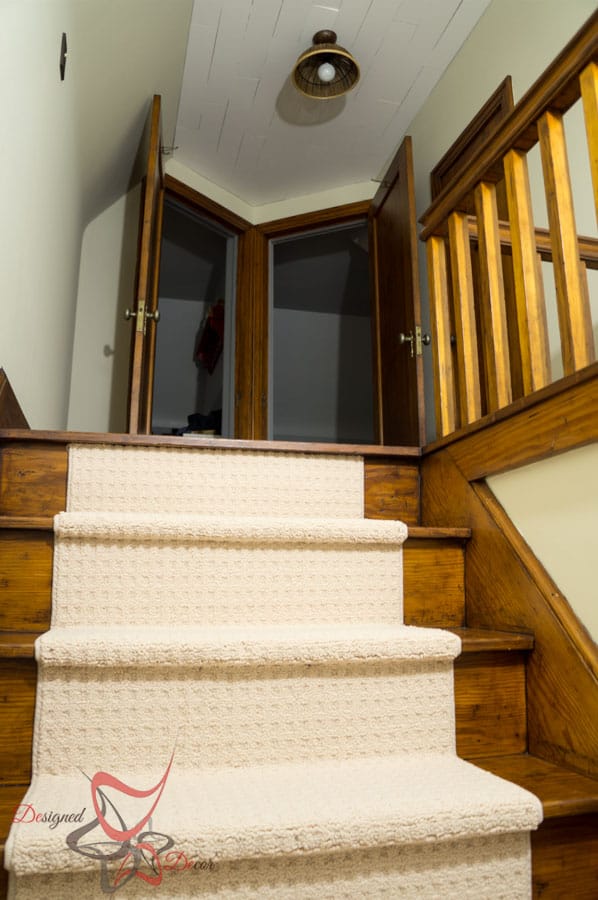 I am lucky enough that Mr. DD has a wholesale account on the carpet from a previous business he owned. I was able to order a 12 x 9.5 piece of carpet for $174. We took the carpet to a local design carpet store and they cut and bound the carpet to the custom sizes we needed for each area for $74. The cost of my custom stairway runners and rugs is $248 for 4 different sized rugs. You can easily find carpet remnants in your local area and do this same option for those hard to fit areas. I did this same thing in my dining room with an existing area rug and had it cut down and bound to the size I needed. This is a great way to get an affordable custom area rug for those hard to fit rooms or hallways.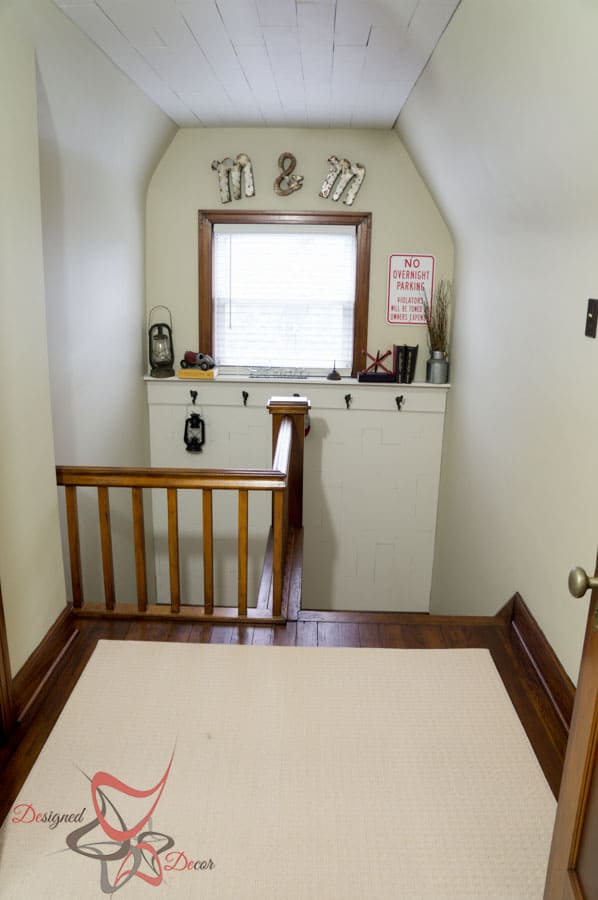 The upper landing area needed a 5 x 8, the first landing needed a 2 x 5.5 and the runners were 2 x 10 and the other was 2 x 7.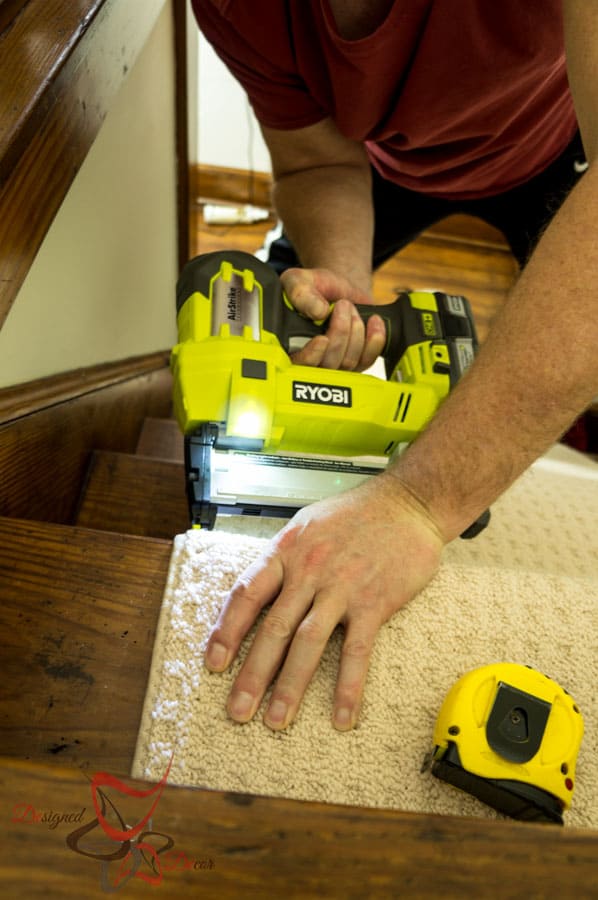 We started at the top of each stairway and used my (affiliate link – – ->) Ryobi Crown Stapler to attach the custom runner to the riser.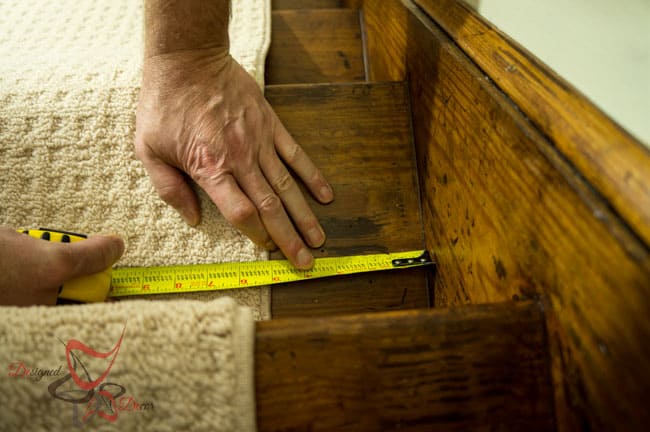 We measured before we did the final staple on each step.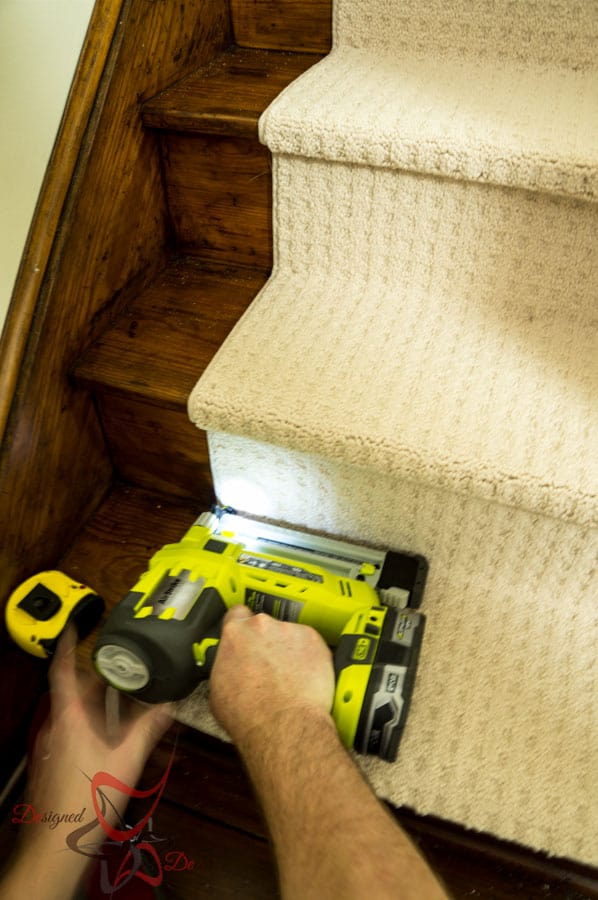 I am thrilled at how the custom stairway runners and rugs turned out. My boys and Miss Cinnamon love the rugs, as this helps them all walk down the steps without slipping. It also helps with the noise of hardwood stairways. You can read all about this area and all the changes we made: How to easily removed wallpaper, How to Gel Stain over existing stain
I made a promise to Mr. DD that I would only work on one house project at a time, so now I can finally move on to my next house project.

Join the DD Community!
Join the Designed Decor Community and receive weekly free tips on DIY home projects, painted furniture, decorating, and much more.