Do you have an old, outdated buffet that you just can't seem to get rid of? Don't worry, you can totally modernize an outdated buffet with a few coats of paint! In this blog post, we'll show you how to give your buffet a modern makeover using a bold color. Let's get started!
I love how adding paint to furniture can easily give an updated look. And it is easier than you might think.
I wanted to make a statement with a painted antique buffet in the entryway of our guest suite of our Airbnb (short-term rental). This painted buffet welcomes our guests and also brings in the WOW factor.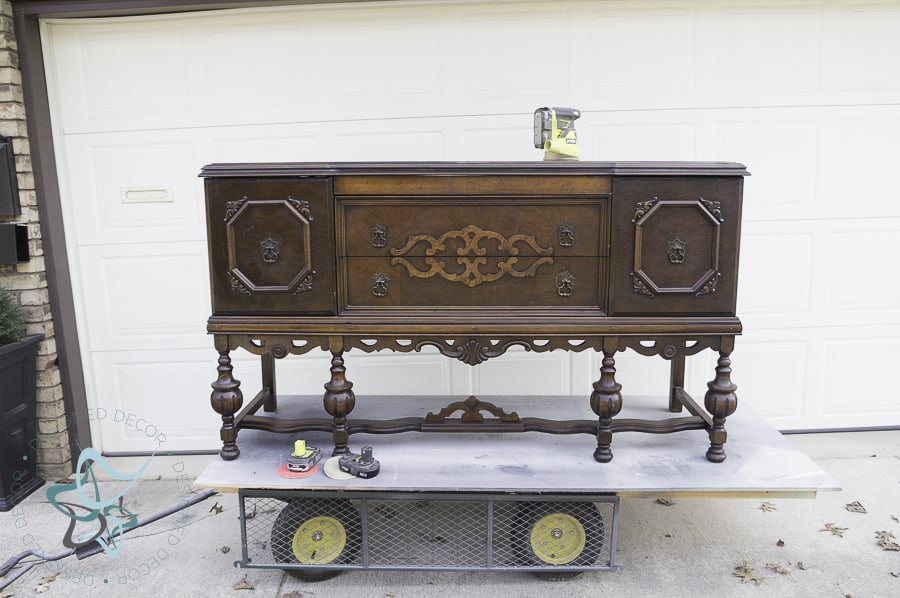 This is how she looked when I found her. Great bones and details but she just didn't stand out. Mr. DD had to do some leg repairs as someone attempted to fix the issue but did not do the correct job.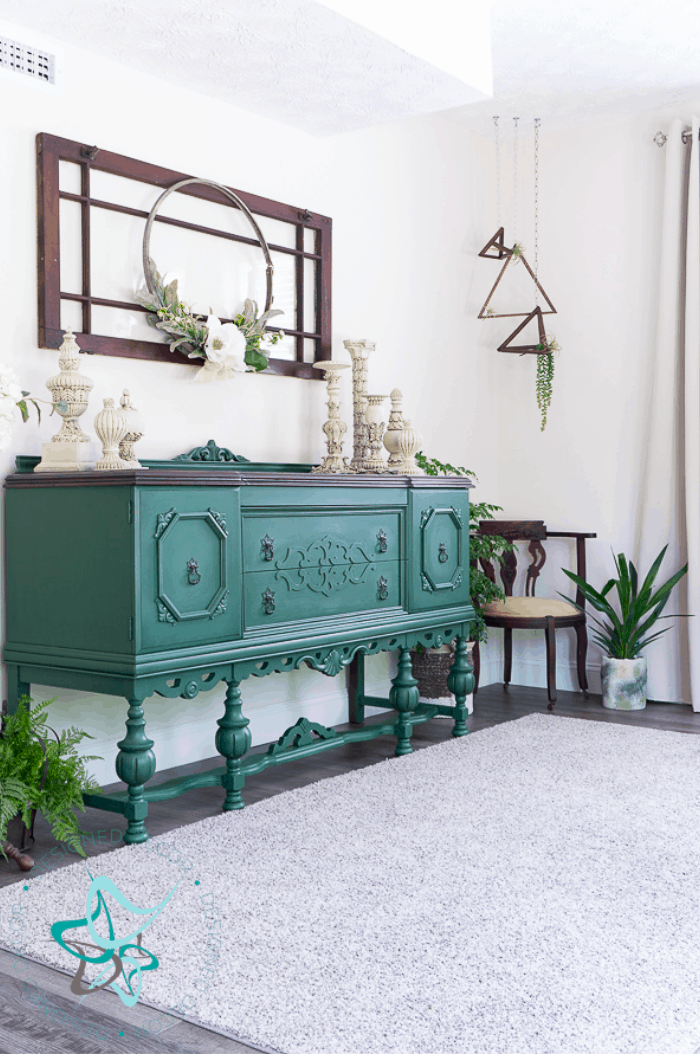 This post contains affiliate links. Click here to see my full disclosure policy.
Check out this great video!
How to update antique furniture with paint and stain
Using stain and paint together brings warmth to the furniture. I also find that leaving the tops of buffets, tables, and dressers stained allows for a lasting finish.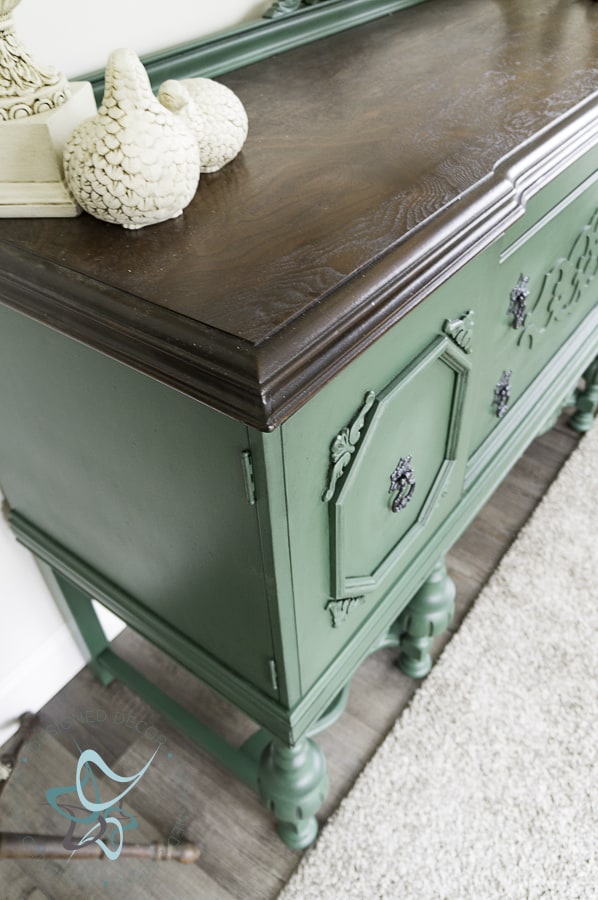 I started by darkening the top of this buffet using my favorite Java gel stain from General Finishes. If you want to know my process for restaining, you can read how to darken stain without stripping. This is the same process I do on most of my furniture makeovers.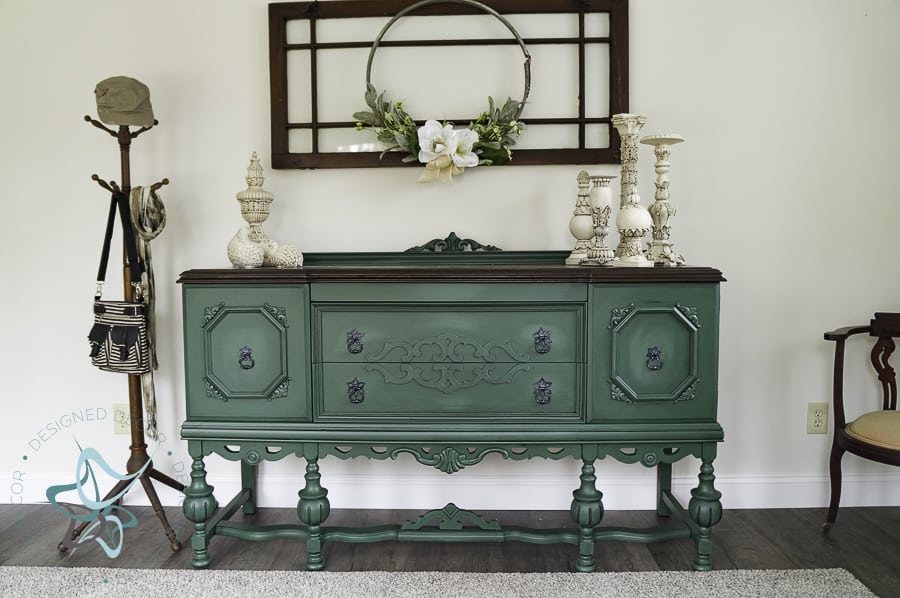 After the stain finish is complete, I cover and tape off the finished top and begin the painting process.
This has to be one of my favorite custom colors. I used Maison Blanche furniture paint in Saint Anne and Wrought Iron to get this beautiful deep green color. Use 2 parts green paint to 1 part black paint and mix really well.
**UPDATE – the paint brand I used has been discontinued. I would recommend using Country Chic Fireworks or Country Chic Hollow Hill mixed with Country Chic Licorice.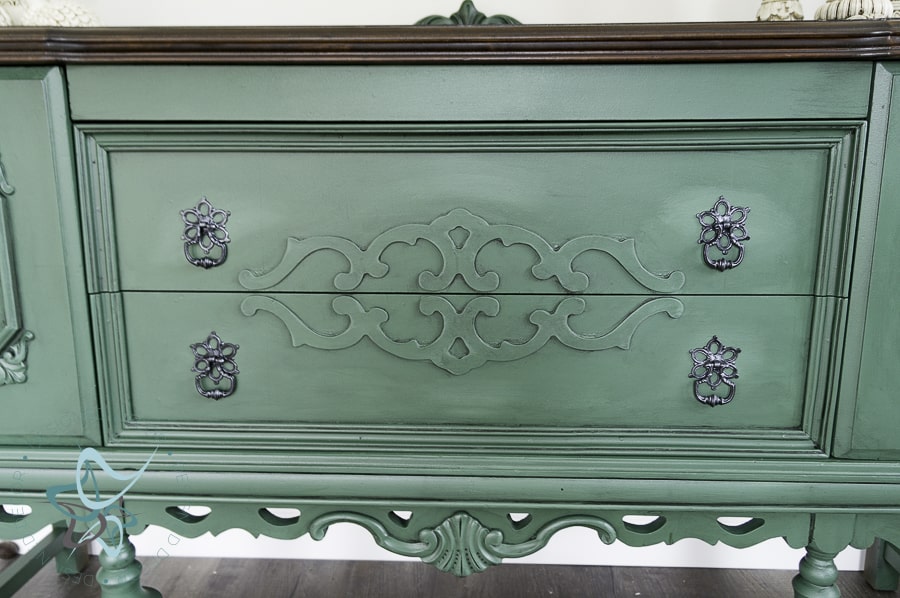 I added highlights to the various places on the doors and around the edges of the drawers to give depth and added dimensions to the piece.
Need help with blending furniture paint? Let me teach you how in this "Furniture paint blending workshop."
Make sure to read this post on "How to easily mix paint colors" before you begin mixing paints. This process allows you to easily test paint colors together without wasting paint.
Once the painting process is complete, I sealed using my favorite sealer, High Performance in a matte finish
. I also used glaze after sealing to add depth, the glaze I used is Annie's Reserve in licorice. **UPDATE – glaze mentioned is discontinued, I recommend Country Chic Graphite Glaze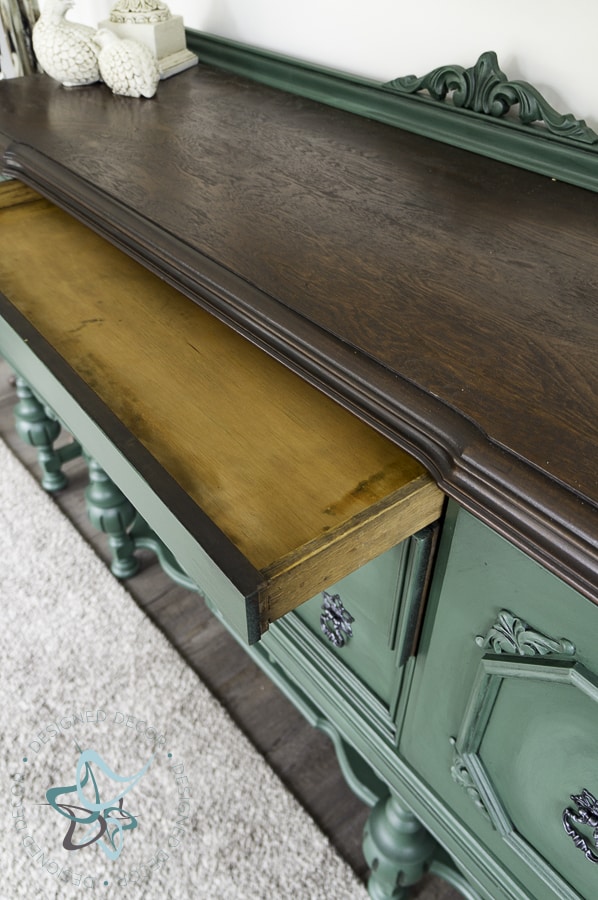 The hidden drawer is a fun feature. It looks like the top support edge and you can only open it by opening the drawer underneath.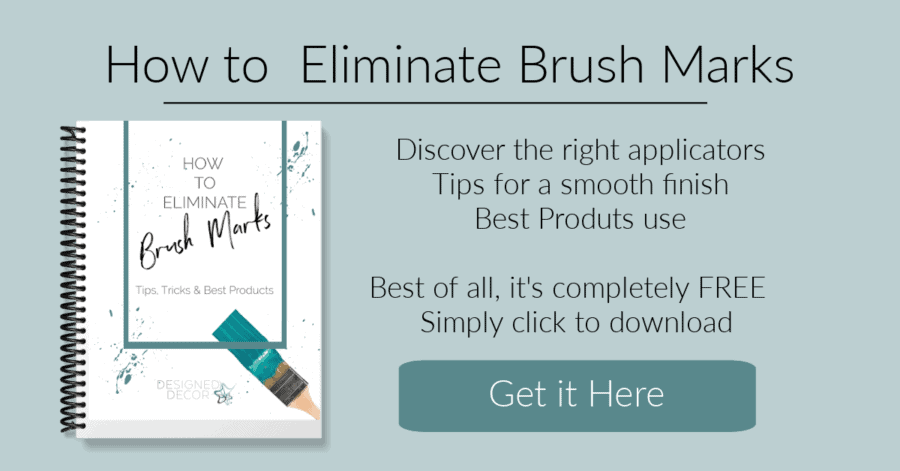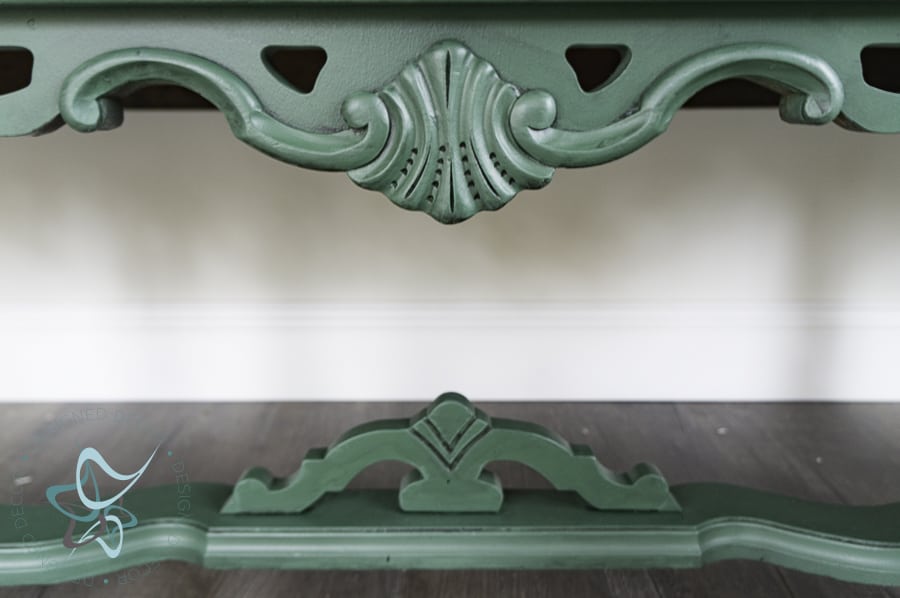 The legs and the details on this piece really stand out with the glaze lying in the carved details.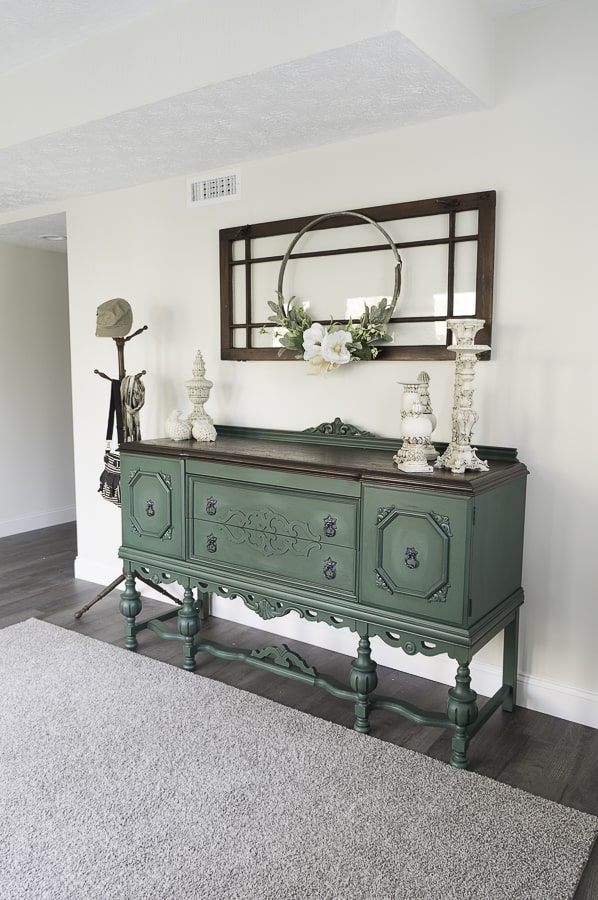 It is fun to modernize an outdated buffet and they all take on their own personalities.
Painted Buffet Ideas
Check out these other great painted buffets that would be perfect for your dining room.
Whether you're looking to modernize an existing buffet or simply want to try out a trendy two-toned furniture look, this project is for you. With just a little time and elbow grease, you can have a beautiful piece of updated furniture that will make all your friends jealous. And the best part is that it won't cost you an arm and a leg – just some paint and stain!
So grab your supplies and get started today. We'd love to see how your project turns out, so be sure to share pictures with us when you're done. Have you used a custom paint mix on your painted furniture pieces? What colors did you use?





Join the DD Community!
Join the Designed Decor Community and receive weekly free tips on DIY home projects, painted furniture, decorating, and much more.