Do you know what furniture beauty marks are? Do you know enhancing old furniture and working with those beauty marks can create an amazing effortless finsih.
Stick with me and I will give you some great ideas on how to enhance those overly blemished furniture pieces and bring them back to life.
I like to say that worn out furniture has beauty marks. These beauty marks are the wear and tear the have received over the years. We all can relate to that statement!
Assessing the blemishes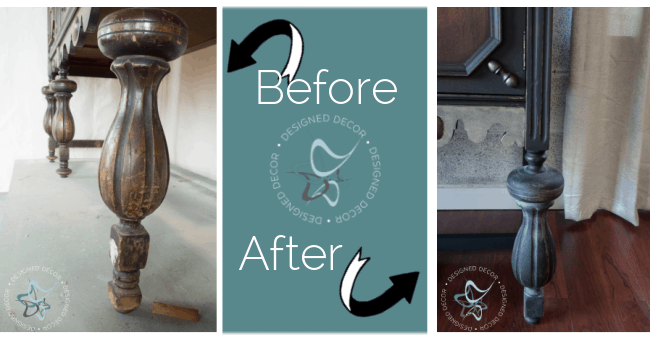 This buffet had many blemishes. The biggest was the missing back support bar and some legs were missing the round wood trim at the base of the legs. (See the back legs in the photo on left)
As you assess the furniture beauty marks on each piece of furniture, you need to keep in mind HOW you will be refinishing the piece. The more worn natural blemishes the more rustic the piece needs to be.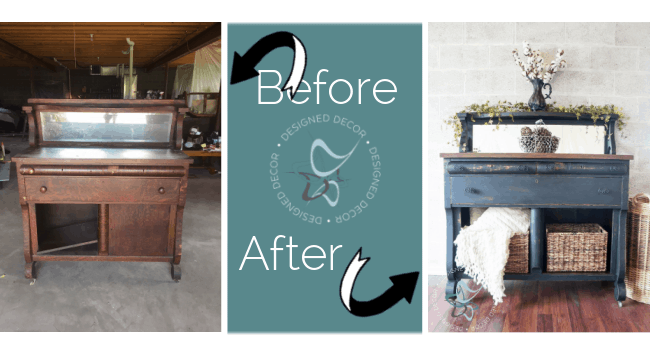 You don't want to spend all your time trying to make each piece perfect before applying the finishes. This is why you work with beauty marks.

DeDe Designed Decor
Enhancing beauty marks
Each piece of furniture is unique and needs to be refinished to enhance the features along with any blemishes.
This empire buffet had layers and layers of paint. After trying to strip the paint on the drawers, I gave up and worked with what was left. I was not going to spend the hours to remove all the paint so I could have a smooth painted surface.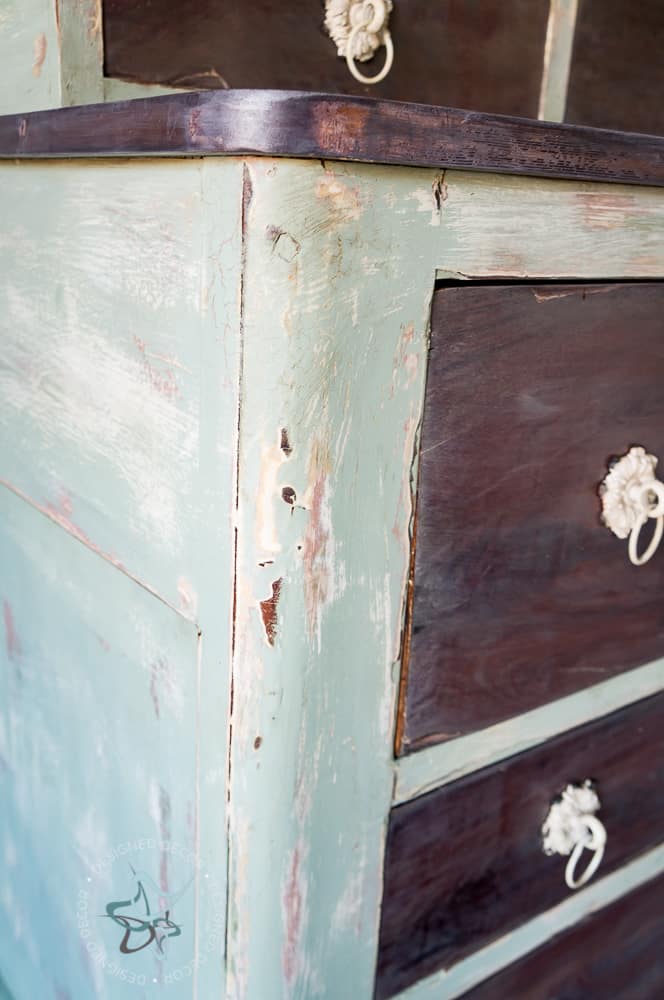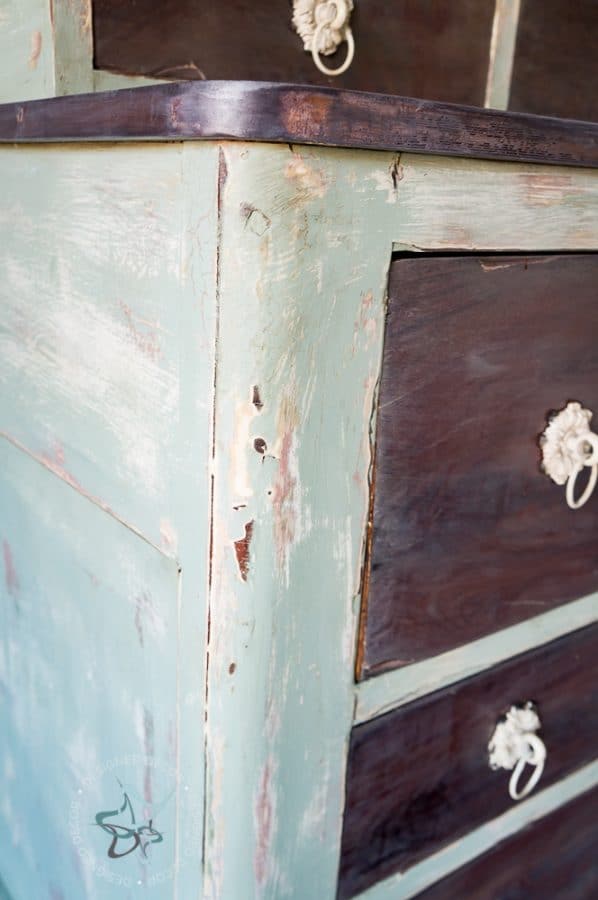 I gave her a shabby finish that enhanced all the layers of paint and all the imperfections in the wood. If you want more details on how to create this shabby finish, click on the link to see more details.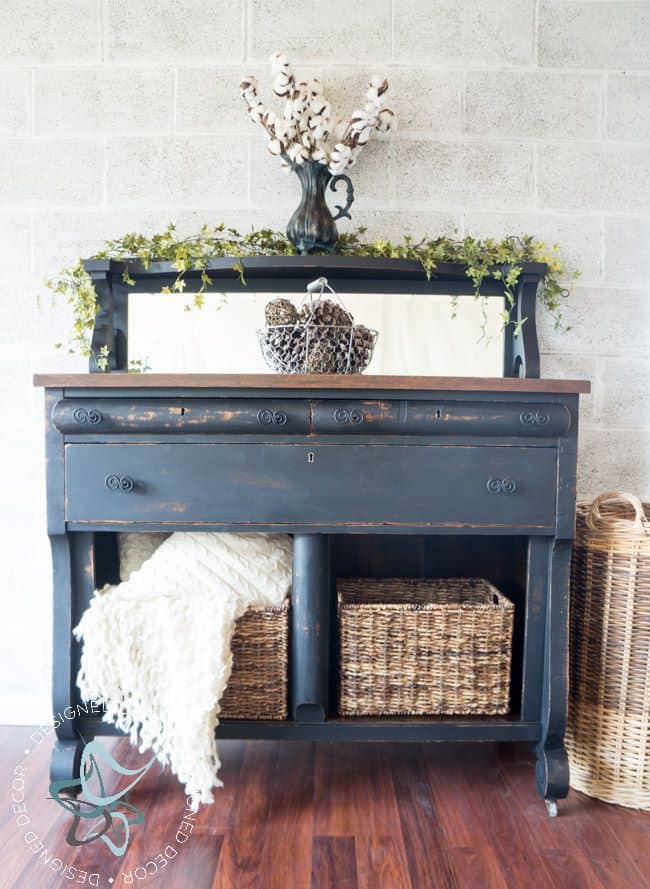 This post contains affiliate links.  Click here to see my full disclosure policy.
This empire buffet had broken doors and missing veneer. I removed the doors and gave it a heavily distressed paint to enhance all the imperfections. This buffet is painted using Maison Blanche Furniture paint in wrought iron.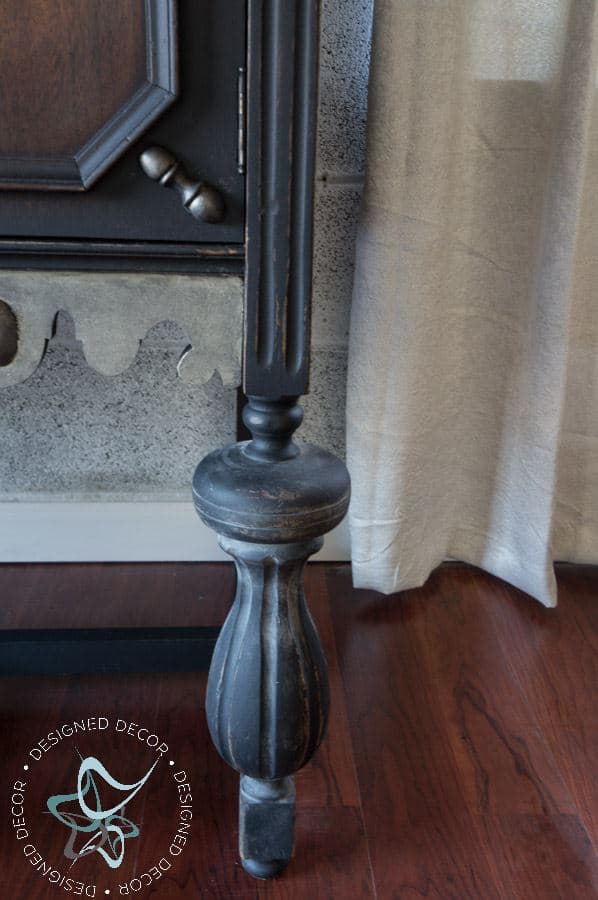 This buffet had many different issues with the legs, so I enhanced the legs with aging dust to cover up the imperfections by working with its natural beauty.
Working with what you have
Listen to the furniture and give it a finish it wants and deserves to have. A perfect example would be the clean lines of a mid-century modern piece that would not want a shabby finish. Also, an old antique piece wants to keep its furniture beauty marks, so don't completely remove them, enhance them.
You never waste time trying to turn a piece of furniture into something it was not meant to be.

DeDe Designed Decor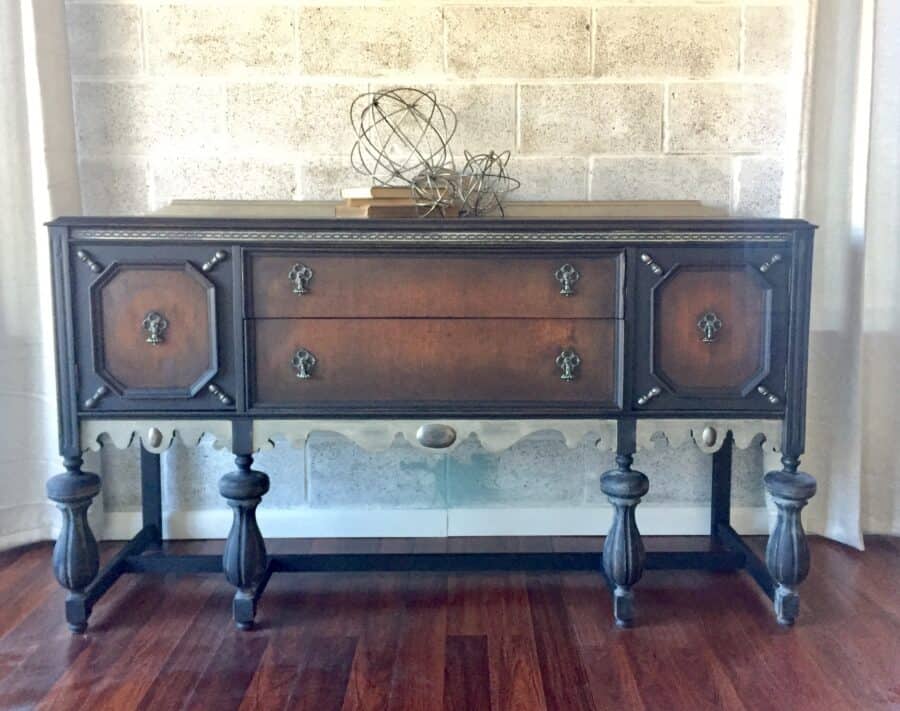 This piece was asking to highlight and work with its beautiful features. I gave it a rustic glam finish by giving it some metallic highlights for the glam and keeping some natural wood for the rustic.
More Furniture Makeovers
Adding Silver Leaf – Shabby Paint Finish – Powder Glazing
Discover more Inspirations by clicking on each category photo





Join the DD Community!
Join the Designed Decor Community and receive weekly free tips on DIY home projects, painted furniture, decorating, and much more.