No wonder it is so hard to find your decorating style. There are so many different decorating terms, decorating styles, and different decorating meanings. In addition, the styles have taken on different names over the years. I am going to give you a few easy tips to help define your decorating style.
Start a private Pinterest board
The first step is to start a private Pinterest board. Name this board, "my decorating style." Once you have your "My decorating Style" private board set up, start pinning only the styles you absolutely love onto this board. Take a look at the Pinterest boards you already have for living rooms, kitchens, bathrooms, and bedrooms, and move the favorites over to your "My Decorating Style" board. Remember to only pin the ones that jump out at you and say, I want this look in my house.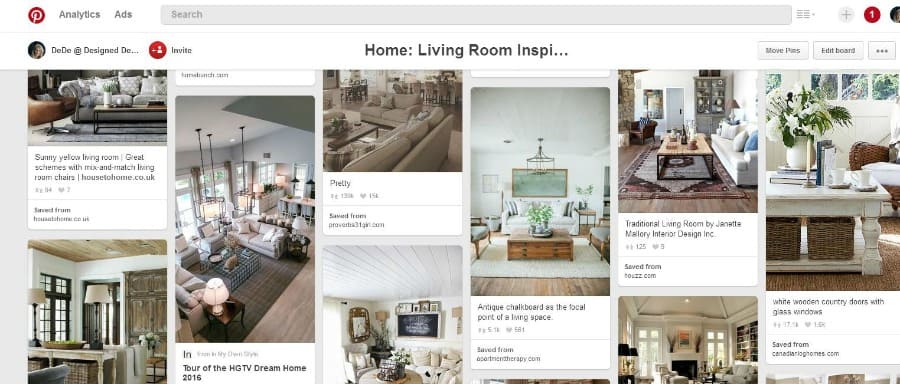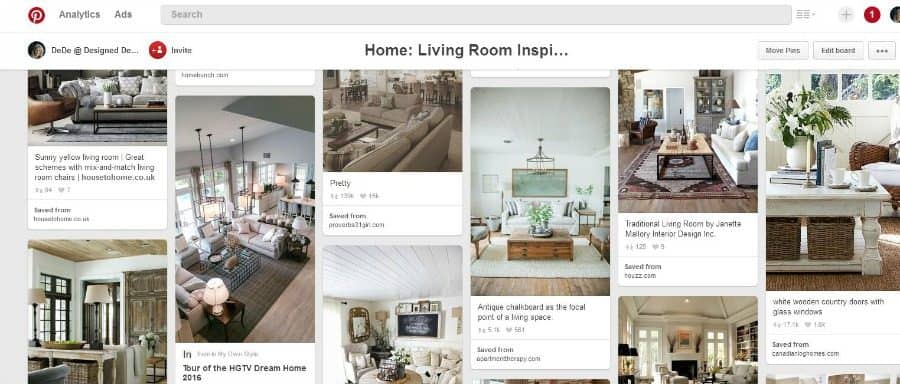 This is a screenshot of my Living Room Board. This board has many pretty living spaces as I pin modern, shabby chic and many different styles. Even though they all are beautiful styles, I would not want any of them in my home. I narrowed down my favorites and placed them into the "My Decorating Style" Board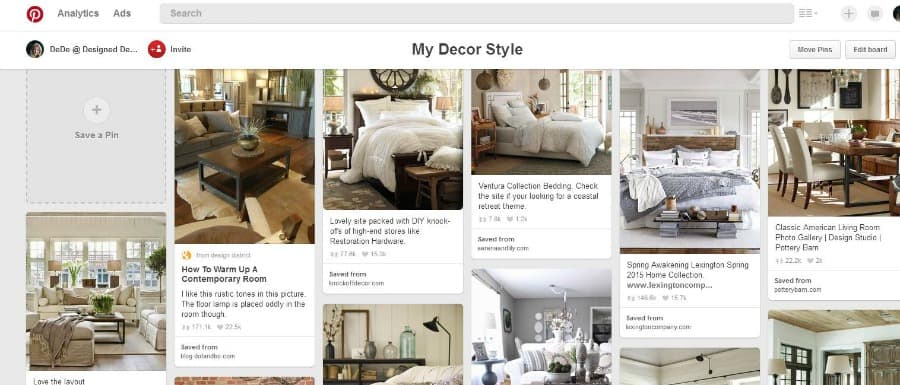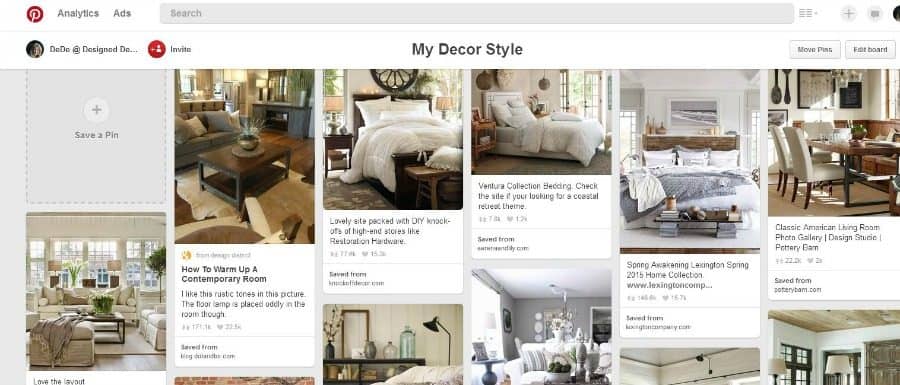 Analize the Pinterest Board
I noticed after moving my absolute favorites over to "my decorating style board," the styles that I really love have wood tones in them. For instance, the above screenshot is from my "decorating Style Board." You can definitely see a theme of neutral walls with strong wood accents in each room.
As much as I love the look of an all-white room, I know I would not be happy with that style in my home. The styles that stood out to me all had some type of wood tone in the image, these were the pins that ended up on the "My Decorating Style" board and I began to notice the common looks that each of the pins reflected.
Make sure you change the pin description to state what you like about the space and what you could do in your home to reflect that look. An example would be "Love the warm tones of the hardwood flooring. I can remove the carpet in my living space to expose the hardwood flooring. This is a private pin, so you can be as detailed as you like in the description.
Take inventory of your current space
The second step is to take inventory of your current space. Get a notebook and pencil, sit quietly in each room, and start a "Dream List" of how you would like the space to look. Have your "My Decorating Style" Pinterest board open for inspiration. Start by making a list of the changes you would like to make to the room.
The list could be something like this: remove the carpet to expose hardwood floors, paint the walls a lighter color, etc. Add in a modern vintage painted media center. Start another list of the items that would work in the room and also list the items that need to be removed. Do not forget to list items that need a makeover to fit into your decorating style. Repurposing old items is the biggest way to save money when decorating.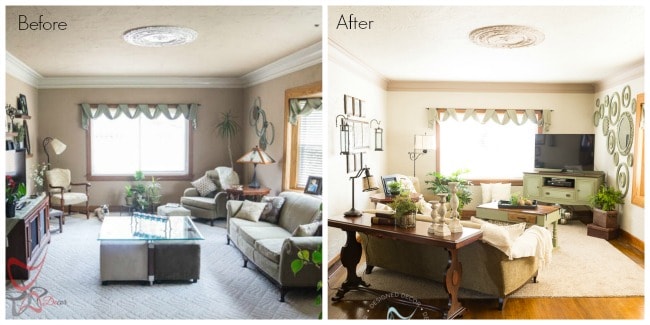 Here is the before and after of my living room and getting it more in line with my decor style. My list for this makeover was long as many of the elements in the before were not items that worked with the style of the home.
The vintage pieces must stay in the space(required by Mr. DD)
Replace modern elements with more modern vintage pieces(Media stand and coffee table)
Expose the hardwood floors
Paint walls for a lighter look to offset the hardwood floors.
Reaccessorize the walls and table decor to match the modern vintage feel of the room.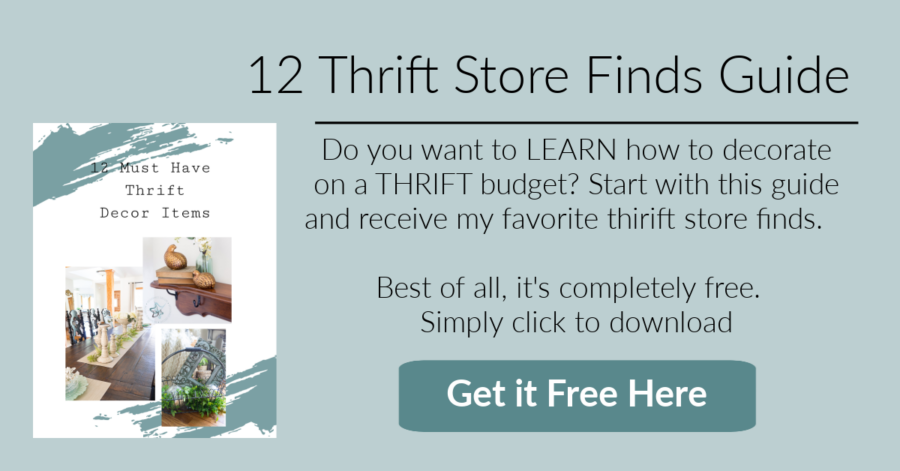 Shop your decorating style
Once you have found your style through your Pinterest boards, you now need to shop at those retailers who help define that style. You will gain more inspiration and stay focused on shopping from those retailers. If you like a modern style, you would not shop from Shabby Chic Couture, you would shop at Ikea.
Here are a few choices for your decorating styles: This post contains affiliate links. Click here to see my full disclosure policy.
Some of the major retailers fall into a few different style categories, and this sometimes blurs the style lines. You can get away with blending a few styles into one design plan.
Name your style
Naming your style is the hardest part. You may know the style you like, but it fits into so many different categories. Today's decor styles are more of a blend of different styles. There are so many decor styles and so many different meanings for those styles. You can love the popular Farmhouse style and blend that style with other styles. Blending those styles looks like this, Cottage Farmhouse, Modern Farmhouse, French Farmhouse, and Traditional Farmhouse.
The best thing is you don't have to fit into a particular decor style. Above all, do what you love and don't compare your style to all those perfect pictures you see in the Magazines. I decided that my style falls into the "Cozy Classic style" with a few touches of modern and vintage. So when others ask, that is my response to my style. It was not easy to pinpoint but I am happy with my choice of styling words.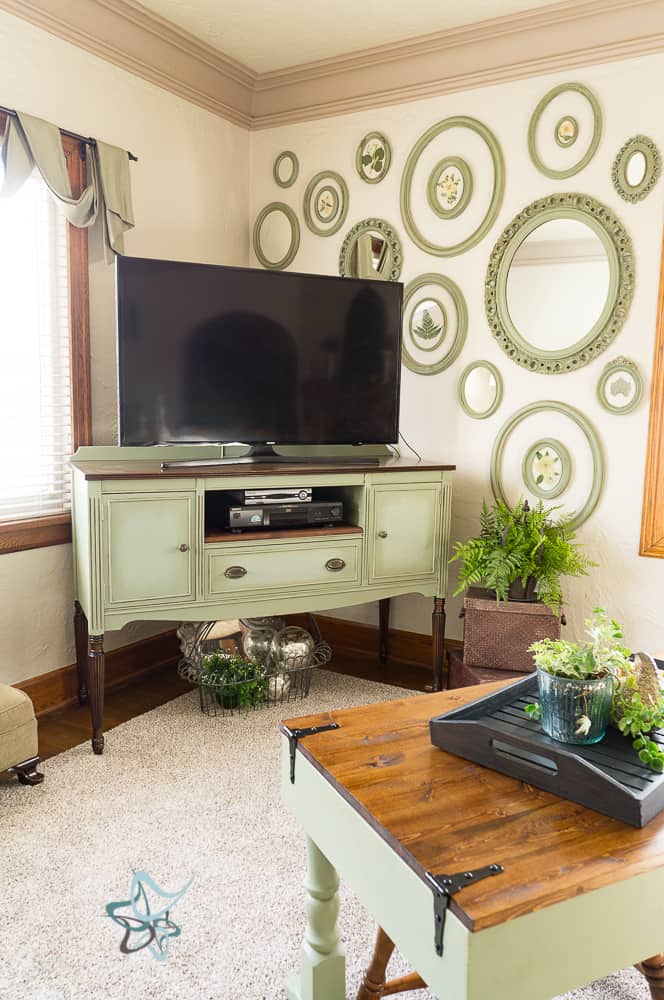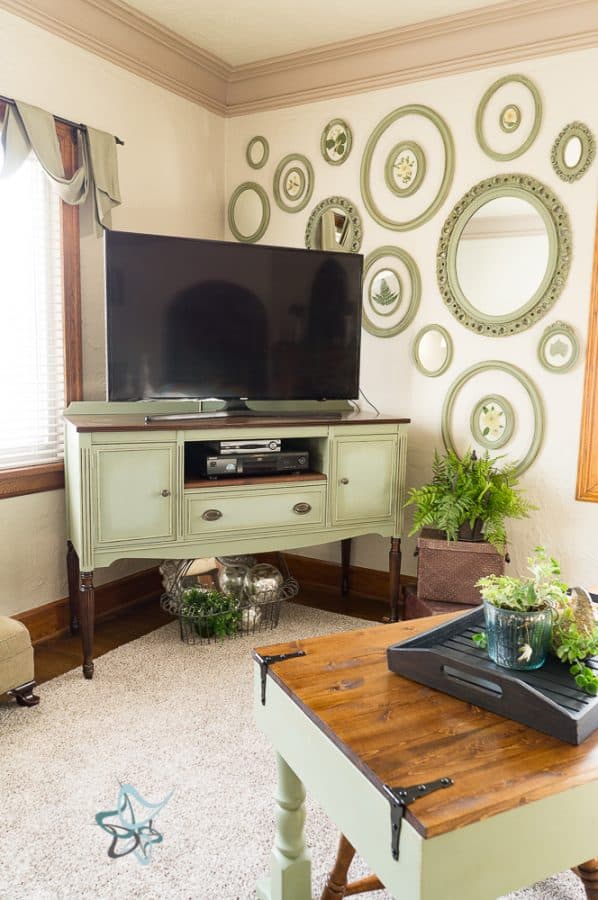 Have Fun and don't be afraid to start, and it is ok to make those horrible decorating mistakes. I know I have made many mistakes and my style is always changing.
Here are a few "What are your decor Style" quizzes.  I hope they help and do not confuse you even more.  Houzz , Havenly, My Domaine, BHG,  HomeGoods, Lonn.  More decorating inspirations
6 Simple Decor Changes for Big Impact in the Living Room(Opens in a new browser tab)
Thrift This Look – Traditional Casual Living Room(Opens in a new browser tab)


---





Join the DD Community!
Join the Designed Decor Community and receive weekly free tips on DIY home projects, painted furniture, decorating, and much more.