It is cucumber season here in Ohio and I am anticipating making some easy homemade refrigerator pickles. I made this recipe late in the season last year and decided to wait and share the recipe with you until we were back in cucumber season. You can make this recipe year around since you can get cucumbers year around from your local grocery store.
This recipe needs to sit 2 weeks in the refrigerator before eating, so plan accordingly. My family likes any type of pickles but we seem to eat bread butter pickles the most, so these are the ones I like to make once our cucumbers start growing in the summer time.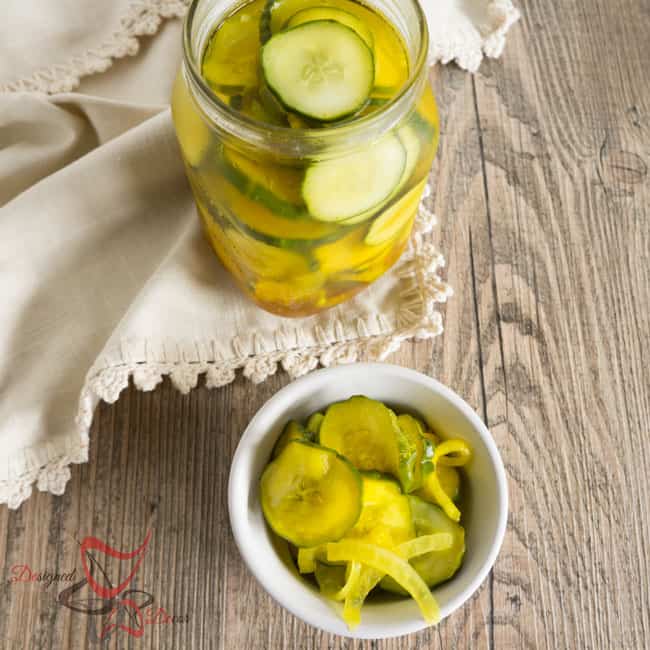 The only challenge I have with growing my own cucumbers is the amount of space they use in the garden. They wrap around anything that is close to them. I spend most of my garden time taming the cucumber. I just discovered, through my neighbor, that they have cucumber bushes. The cucumber bush grows as a bush and not so much like a vine, so next year I will be giving those a try.
Homemade Refrigerator Pickles!
Ingredients
6 cups thinly sliced cucumbers
2 cups thinly sliced onions
1-1/2 cups sugar
1-1/2 cups cider vinegar
1/2 teaspoon salt
1/2 teaspoon mustard seed
1/2 teaspoon celery seed
1/2 teaspoon ground cloves
Instructions
Place cucumbers and onions in a large sealable jar.
Combine remaining ingredients in a saucepan; bring to a boil.
Stir just until the sugar is dissolved.
Pour over cucumber mixture; cool.
Seal the jar and refrigerate for at least 24 hours before serving.
Nutrition Information:
Yield:

6 cups
Serving Size:

1
Amount Per Serving:
Calories:

325
Total Fat:

0g
Saturated Fat:

0g
Trans Fat:

0g
Unsaturated Fat:

0g
Cholesterol:

0mg
Sodium:

186mg
Carbohydrates:

79g
Fiber:

2g
Sugar:

72g
Protein:

2g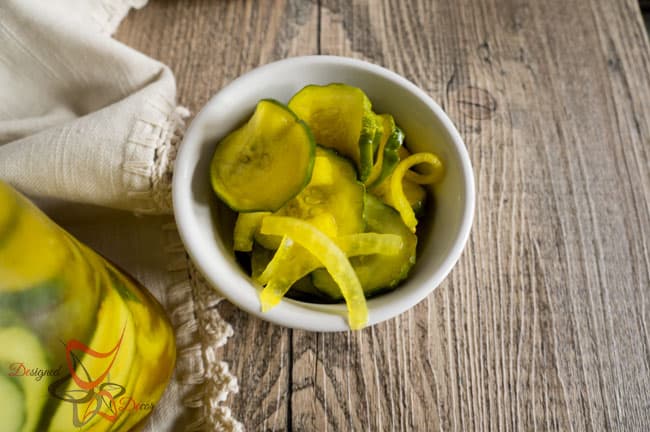 Because I don't like to waste anything, once I have used up the pickles in the jar, I save the pickle juice and reuse it. I place the leftover pickle juice from 2 jars in a saucepan and bring it to a boil. Slice some fresh cucumbers and place them into the jar and pour pickle juice over top. Store in refrigerator for 2 weeks and now you have another fresh batch of pickles. Are you a dill pickle person or a bread and butter pickle person?


Join the DD Community!
Join the Designed Decor Community and receive weekly free tips on DIY home projects, painted furniture, decorating, and much more.