It is fun to turn a bed into a repurposed bed bench.  It is also better when you find them in the trash or at a garage sale for next to nothing.  This bed was lacking in the detail department, so I needed to make it stand out and take it from boring to "making a statement."
What do you think?  Does it "make a statement" now?  It's pretty bold and would not fit into everyone's decor, but it sure would look great on a front porch or in a mud room.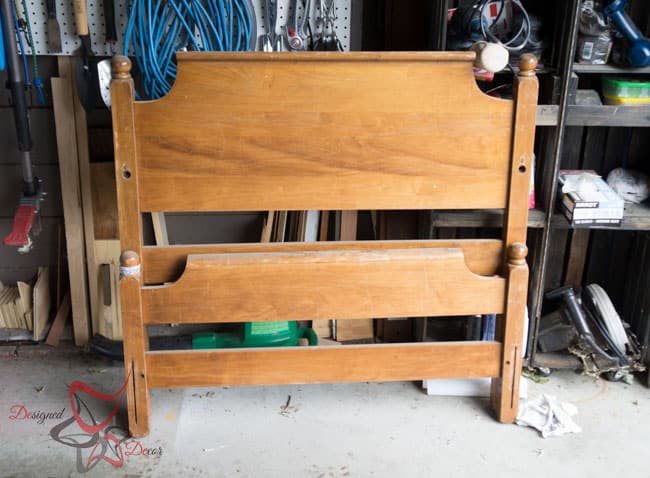 This is how she started out, like I said, plain and boring, but she was free!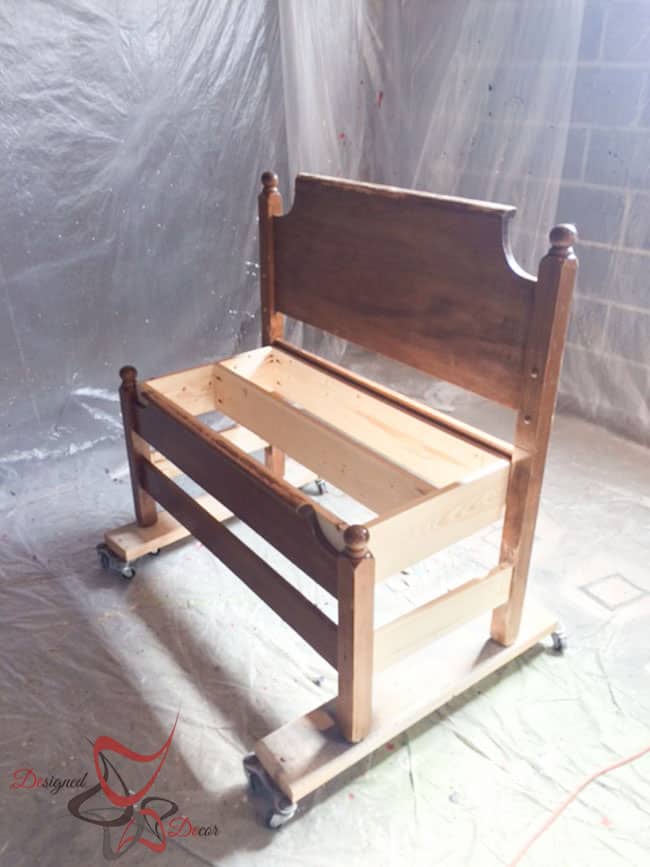 We constructed the seat frame and the bottom supporting frame and she is ready for a coat of paint.  This is my spray area in my workshop, so forgive the poor lighting and picture.  I like to spray most of my furniture pieces and I used the HomeRight Finish Max Pro on this bench.  You can read how to build a bench from this French Bench post.
All the benches get pretty much the same construction of a seating frame.  Each bench has different features, so you need to work with each bench to figure out what each one needs in terms of building the frame.  Also, check out these favorite repurposed bench ideas.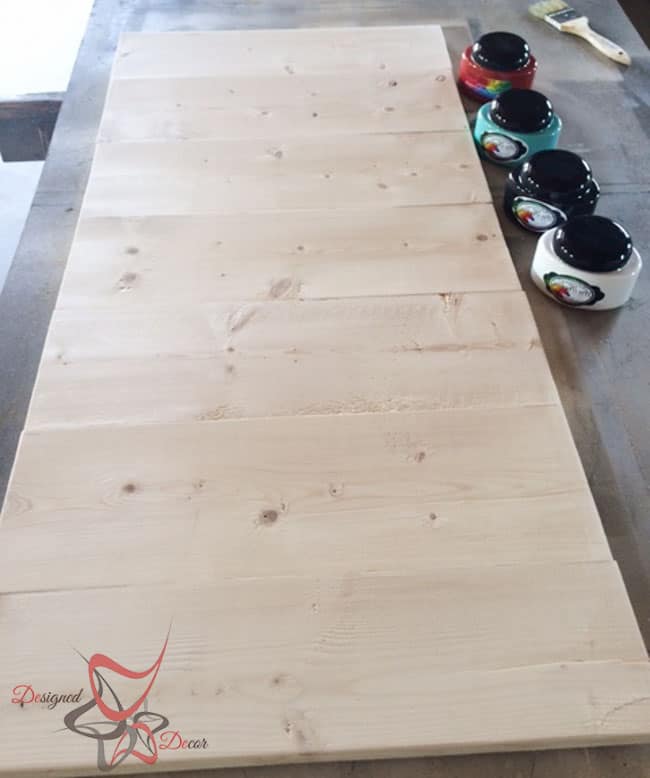 I used a Kreg Jig to attach the seat boards together.  I sanded the boards down and removed all the dust from the boards.  Now it is ready to use the Unicorn SPiT and get creative. Unicorn SPiT you say, that is a funny name, I know.  You can read all about this safe, vibrant stain and make sure you read Michelle's story on how she started this company and the reason behind the colorful stain.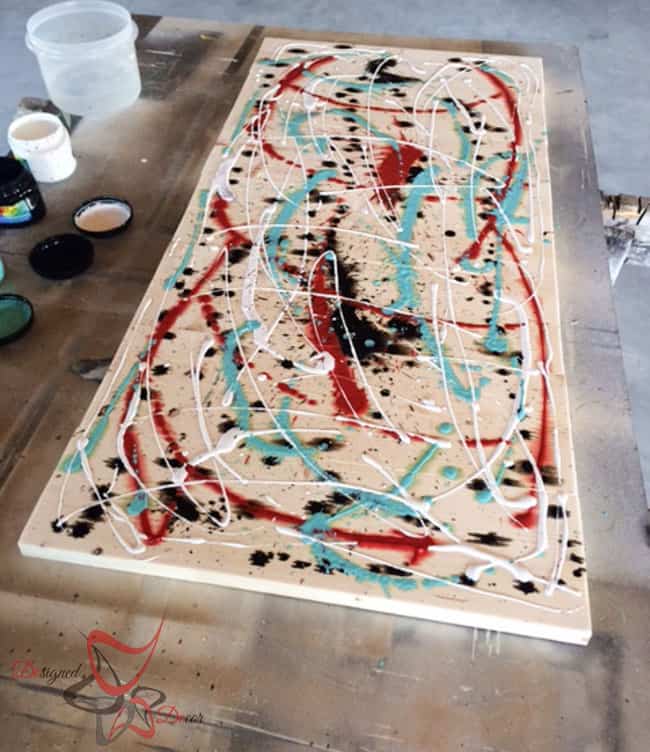 I used 4 colors to achieve this tye dye watercolor effect, white nig, zia teal, midnight blackness and Tuscon.  I randomly placed the liquid stain using a syringe.  You need to make sure you have plenty of stain on your wood board.  Once you have it all placed on the wood, you place a plastic sheet over top so you can spread and blend the stains together.   Since this was a large piece, I needed Mr. DD to help place the plastic on the wood and stain.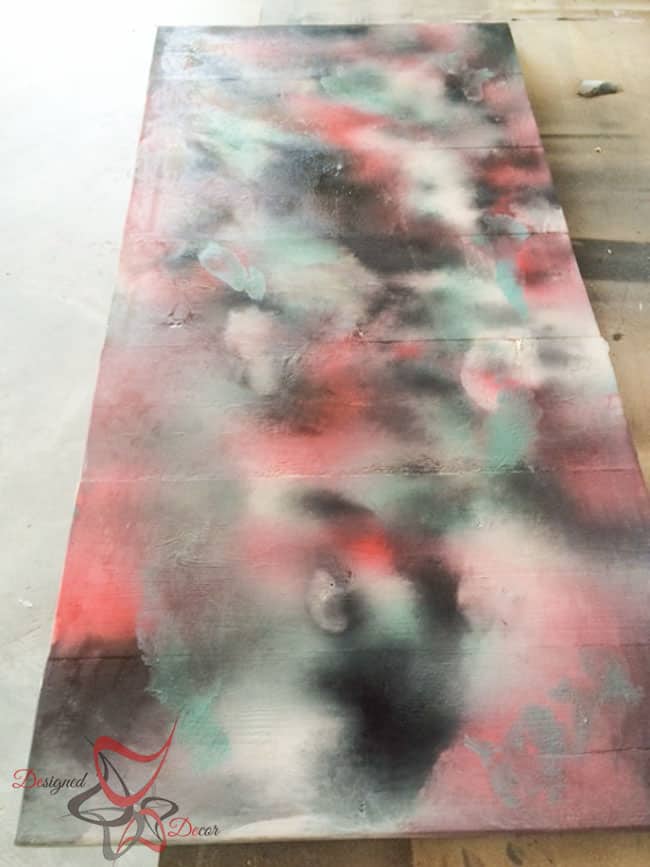 This is how she looked after I removed the plastic sheet.  Once the Unicorn spit was completely dry, I sealed with an oil based polyurethane, you can't use a water based sealer since the stain is water based.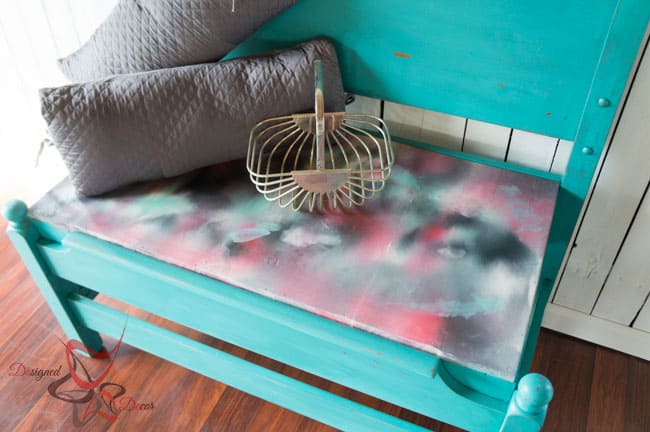 I painted the bench using Maison Blanche Vintage Furniture paint in Riviera and used their licorice glaze after sealing the piece in varnish.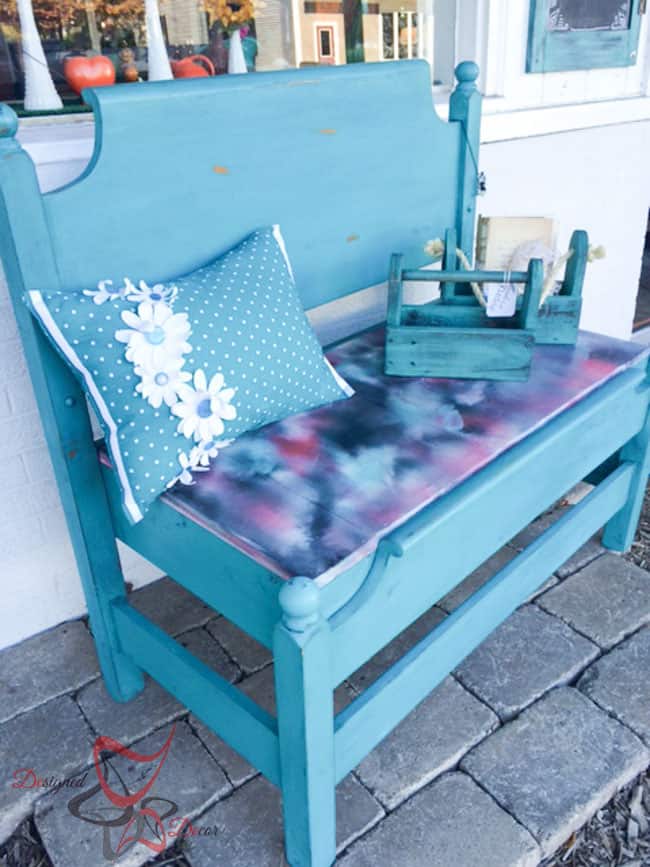 This repurposed bed bench makes a great statement piece!

Join the DD Community!
Join the Designed Decor Community and receive weekly free tips on DIY home projects, painted furniture, decorating, and much more.