It is bug season and I should have shared this DIY essential oil bug spray recipe at the beginning of summer, it is still not too late to make your own. I hate bug sprays and the chemicals that are in them, so I decided to make my own with this recipe and I am very happy with how it works.
This post contains affiliate links. Click here to see my full disclosure policy.
I am a magnet for mosquitos, just ask Mr. DD. He claims that I am his bug spray. We will be side by side and I will get multiple bites and he will have zero as long as I am next to him. I know a lot of you out there are just like me. Those pesky mosquitos love my scent!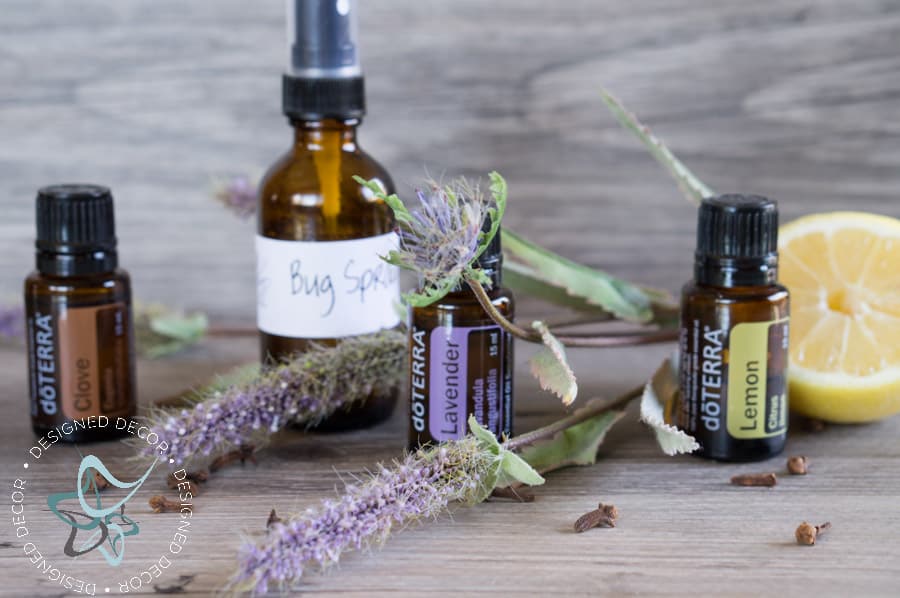 The first time I used my new bug spray was sitting outside on our deck and Mr. DD said we need to go in, I am getting bit. What, wait, you are getting bites and I have not! It works and I am not using those nasty chemical-laden bug sprays ever again!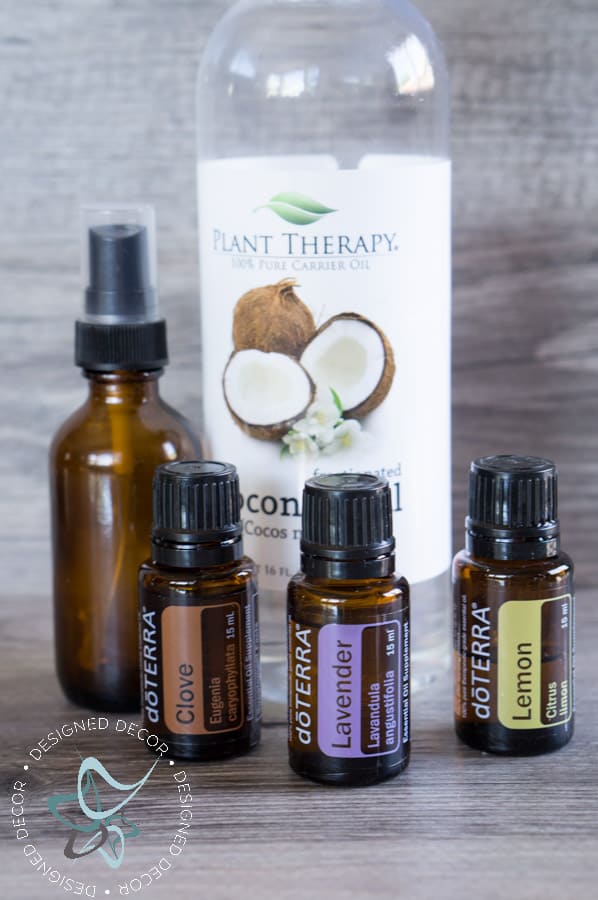 Get the recipe
This is such a simple recipe and a little goes a long way. I will need to make a few bottles so I can have one at home and carry one in my purse. I recommend using glass bottles for all your essential oils. They keep better in the glass as the essential oil can break down the plastic compounds and that defeats the purpose of using an essential oil if it has plastic compounds in it. I used these 2-ounce amber glass bottles because it is best to use dark bottles.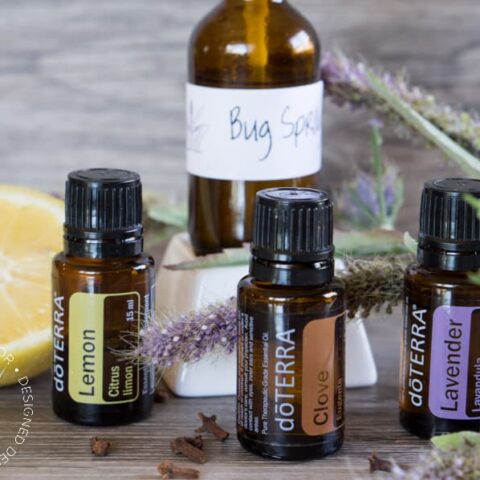 DIY Bug Spray
Materials
2 Tablespoons Fractionated Coconut Oil
2 Tablespoons Distilled Water
15 drops Lavender Essential Oil
15 drops Lemon Essential Oil
15 drops Clove Essential Oil
Instructions

Add all ingredients into a small dark glass spray bottle.
Shake before each use.
Recommended Products
As an Amazon Associate and member of other affiliate programs, I earn from qualifying purchases.
There are many different combinations of essential oils that you can use for your bug spray. I used these 3 since this is what I had on hand and they all repel bugs.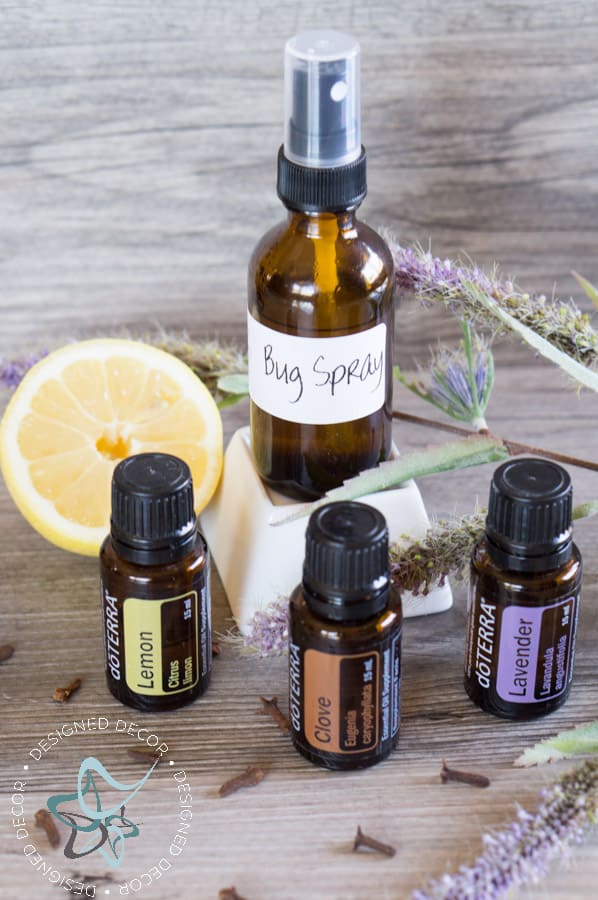 Different oils repel different bugs, so it's best to use a combination of essential oils to ward off several types of bugs.
Mosquitos – citronella, lemon eucalyptus, peppermint, lemon, eucalyptus, basil, clove, thyme, lemongrass, geranium, lavender
Fleas – cedarwood, citronella, eucalyptus, tea tree oil, lemongrass, lavender, orange, pine
Ticks – rose geranium, juniper, rosewood, thyme, grapefruit, oregano
I hope you have a bug-free summer and enjoy this homemade essential oil bug spray.  
Learn more about doTerra and why I chose to use their essential oils over the others.  
Chemical FREE Cleaning Guide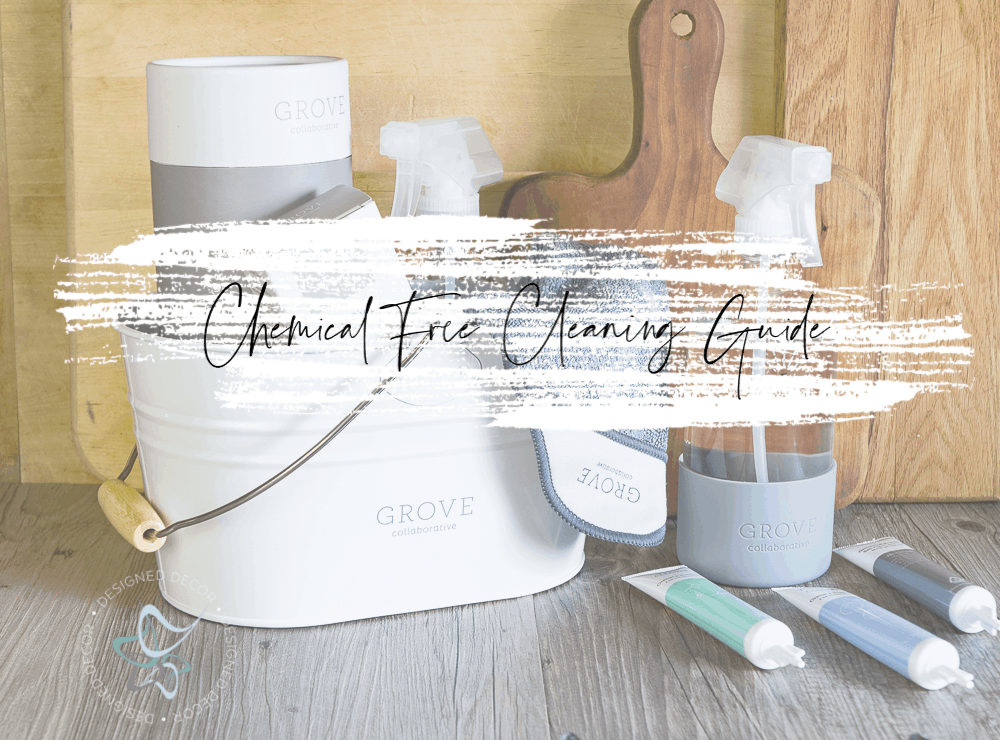 Learn how to easily remove harsh chemicals from your home
Discover DIY cleaning recipes
List of favorite natural cleaning products
Looking to go chemical-free in your cleaning? Let me help with this Chemical-Free Cleaning Guide. Join the Designed Decor Community and receive this guide as my Thank you for joining. You will receive DIY and home decor updates delivered to your email.

Join the DD Community!
Join the Designed Decor Community and receive all the in's & out's of making your house a home on a "Thrift" Budget. Also receive this Chemical Free Cleaning Guide for joining.