Adding a raised stenciling to furniture is a great way to add some extra personality and dimension to your pieces. It's a relatively easy process, and the results can be really impressive. In this tutorial, we'll show you how to do it.
Creating a raised stencil to a furniture piece is a perfect way to transform a plain and boring piece of furniture.
Do you ever come across a deal and buy it because the price was too good to be true? This is exactly what happened when I purchased 2 dressers from Goodwill that were plain and boring. After I brought them home and really looked at them, I thought what in the world am I going to do to these ugly things. I had buyer's remorse!
After doing a few internet searches for inspiration, I decided to add some details to the dressers by using furniture stencils. I also decided to create a raised stencil design instead of using the traditional painted stenciling.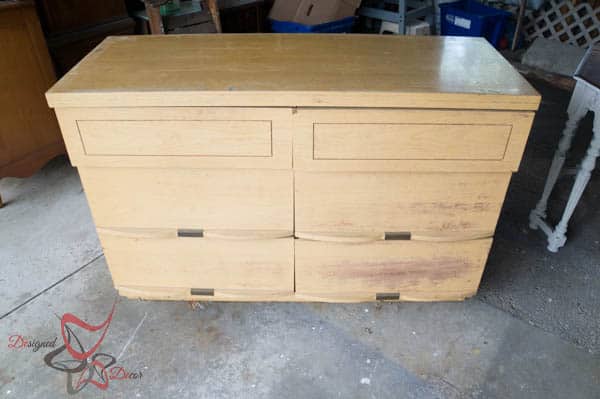 This post contains some affiliate links. Click here for my full disclosure policy.
How to apply a raised stencil
I was so excited to start this project but the weather has been damp and cold and was preventing me from working in my garage, so I decided I would start the dresser drawers and bring them in the house. See how plain these are. The dressers were solid wood and in good shape, so I could not pass up the deal in spite of boring.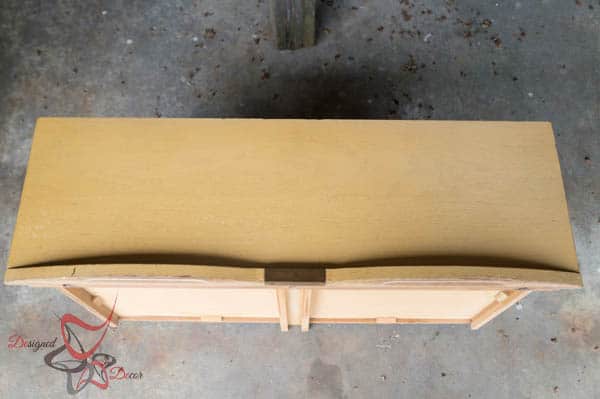 Step 1 – Prep the Furniture
Start by lighting sanding, followed by a good cleaning, and then priming. If you are using chalk paint or any type of furniture paint, you can skip the priming part. Since I decided to use Modern Masters paint in Champagne, for these dressers, this paint recommends priming before painting.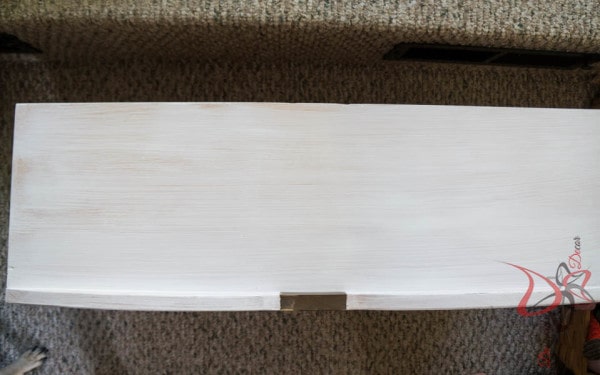 Step 2 – Paint the Furniture
Since I was using the Modern Master paint and it is a very sheer paint, I decided I would give my pieces a first coat before adding on the raised stenciling. Again, if you are using furniture paint, you can skip this step of painting the furniture first.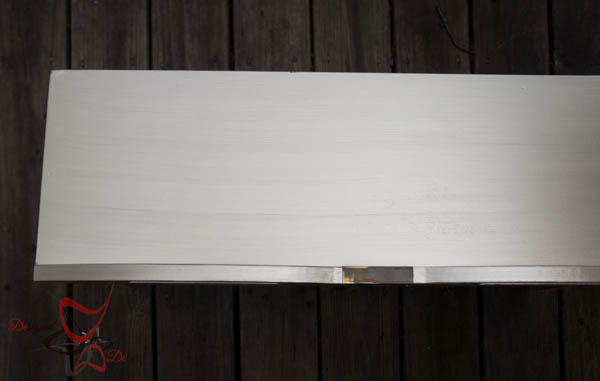 Step 3 – Applying raised stencil textured paste
Now the fun begins! Place your stencil on your project and secure it by using a spray adhesive or securely taping your stencil so it does not shift while you are applying the texture paste.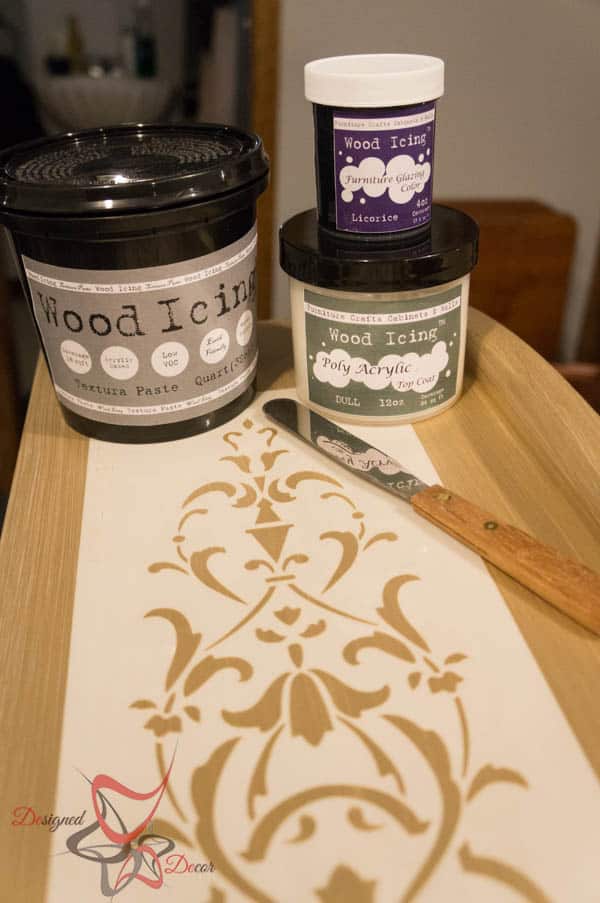 The wood icing product that I used for this raised stencil furniture makeover is no longer available. See the list of other products I recommend below.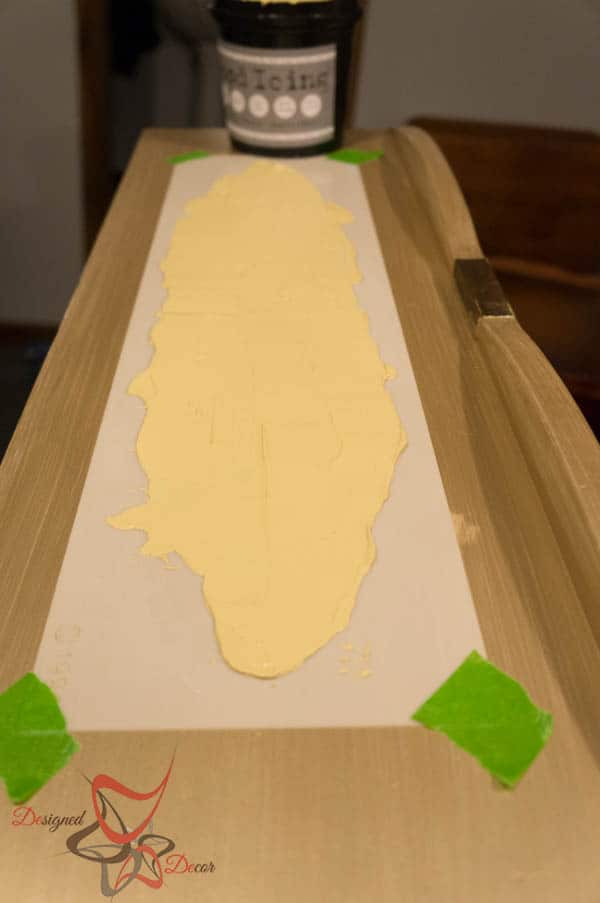 Apply a generous amount of the texture paste over the stencil. Using the "off-set knife" at a slight angle, evenly spread out the texture paste. Once you have the texture pasted smoothed and even, carefully remove your stencil.
TIP- Scrape off the texture paste from the stencil and place it back into the jar. I recommend wiping off the remaining paste from the stencil with a baby wipe, so you are not rinsing all the product down your drain.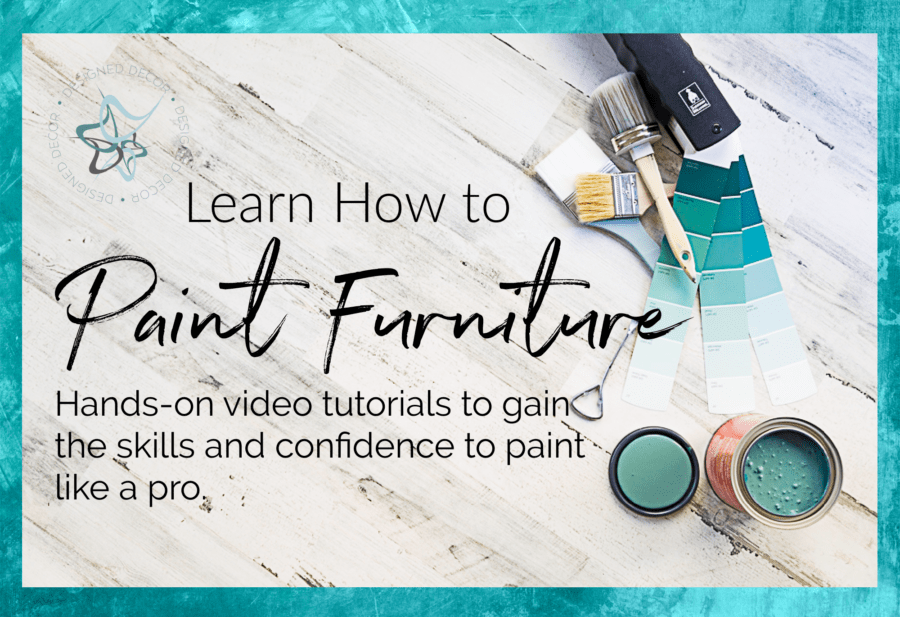 Are you wanting to learn how to paint furniture and just can't find the time in your busy schedule to go to a local workshop?
Frustrated with all the conflicting tutorials on "how–to" or "what products"?
Are you eager to learn a new paint technique and afraid you will mess it up?
Learn many different furniture painting techniques with video training from beginner to advanced.
Online Furniture Painting Workshops for every skill level
Insider Furniture Painting Tips and Tricks
Step 4 – Sand the raised stencil
Let the texture paste dry completely, overnight. Using medium-grit sandpaper, sand over the raised stenciling pattern to smooth out any peaks and rough surfaces. Remove any extra dust and debris from the furniture.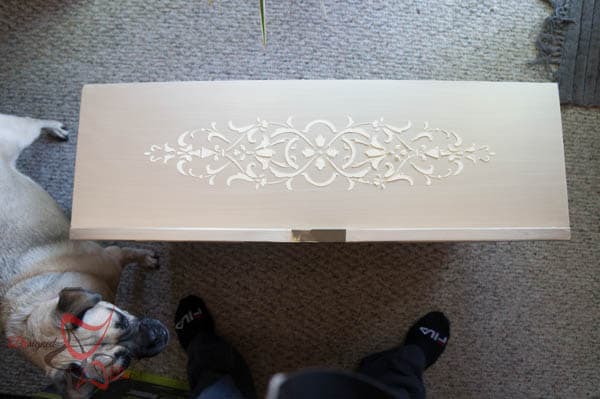 Step 5 – How to paint a raised stencil
Now you are ready to paint the raised stencil and furniture. Apply 2 more coats of paint over the design, making sure to get the paint into all the raised details.
This is done easily by needing your paintbrush in a circular motion until all the paint settles into the raised stencil design.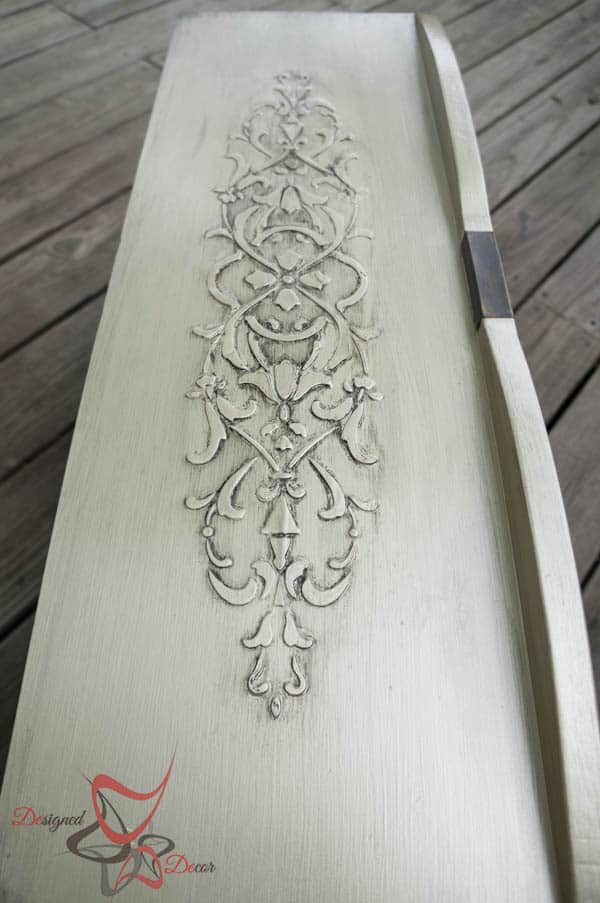 Seal your painted furniture piece with wax or a water-based sealer. Consider applying a dark wax or a furniture glaze to bring out the beauty of the carved details.
For this furniture makeover, I applied furniture glazing in black over the painted design. After the painting was finished, I sealed the drawer front before applying it. Usually, when using a light color paint and a dark glaze, sealing may be required to give the glaze a longer working time. This glaze has a quick dry time, so this was needed for this piece. I used a small slightly damp sponge to apply the furniture glaze, applying it on the edges and over the raised design.
The Micah stencil from Royal Design Stencils is the stencil for these dressers. Stop over to see the completed dressers and also see the cool hammered effect that happened when using the Modern Masters paint in a paint sprayer.
What products are used for raised stencil technique
Since the Wood Icing product is no longer available, here are a few others that I have used and would recommend for your raised stenciling projects.
I have also found some DIY homemade versions for an embossing cream, however, I have never tried any of them so I can't speak for how well they hold up on furniture.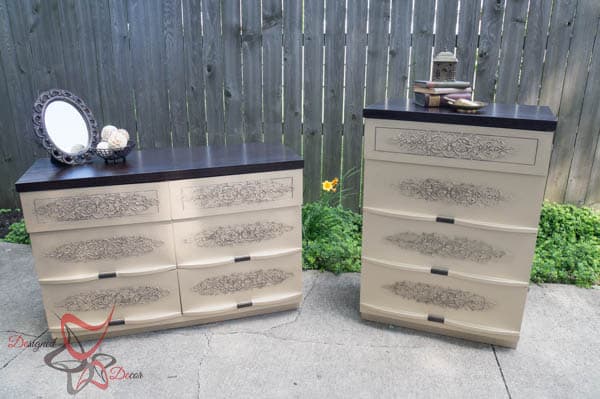 So, there you have it! How to add a raised stencil to furniture. As I mentioned before, raised stencils are great for adding texture and dimension to your work. They also create interesting patterns or designs. I hope you'll give them a try! Have you ever tried using raised stenciling on your furniture makeovers? What was your experience like? Let me know in the comments below.
Check out these furniture makeover inspirations
Discover more Inspirations by clicking on each category photo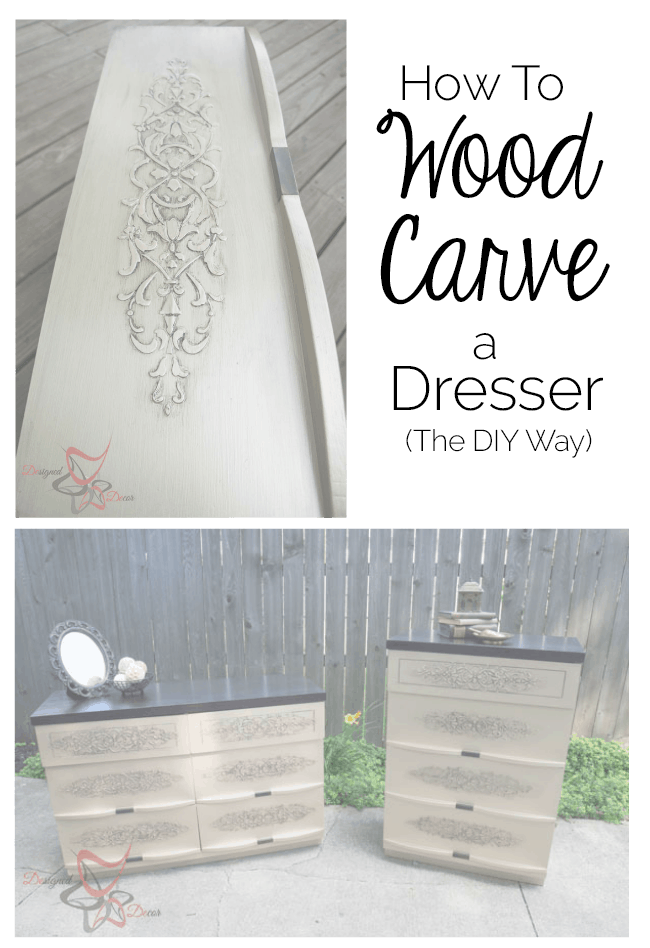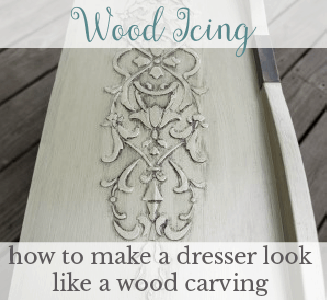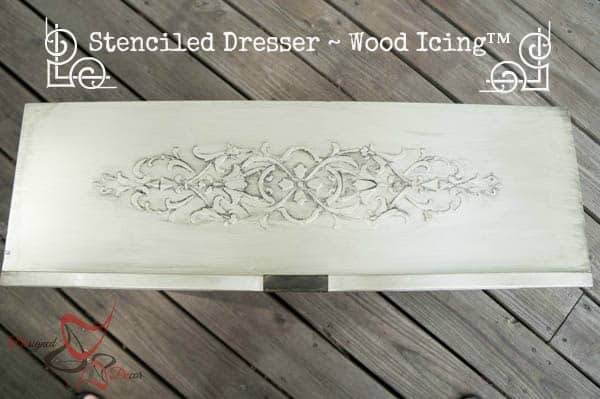 Join the DD Community!
Join the Designed Decor Community and receive weekly free tips on DIY home projects, painted furniture, decorating, and much more.