Have you ever had buyers remorse directly after making a purchase? This is what I had after I purchased these chunky dressers but that all disappeared after I turned them into classy media centers.
I regretted buying these dressers from Craigslist immediately after loading the first piece into the car. It took 3 trips to get all the pieces home. You can read the "small world" story on these pieces from when I painted the ornate side tables.
These dressers sat in my garage for months before I finally decided to tackle them and get them out of my garage. They were huge pieces and taking up vital storage and workspace in my garage. I always wait for a piece of furniture to speak to me and tell me what to do with it. I know that sounds like a crazy person speaking, but for those of you who paint furniture know what I mean. These pieces were not speaking. I turned to my Furniture Painters Group on Facebook and they helped me to decide. Thanks, ladies!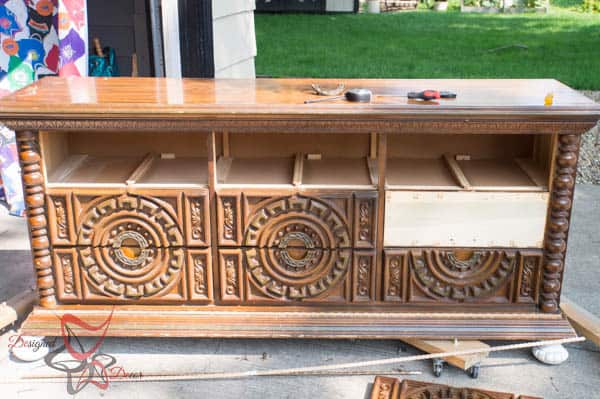 I hated the chunky ornate looking drawer fronts and was afraid that they would limit the person buying these pieces. I quickly discovered that they were plastic and I decided to remove one of the drawer fronts to see what lied underneath. Plain wood drawer fronts were way better than chunky plastic. This is when the pieces began to speak to me. They wanted their ugly shells removed so we could discover the beauty underneath.
I tend to make a furniture redo more complicated than it needs to be, but this is the way I roll and I always want to push myself to a new level instead of just painting a piece. I decided to turn these into media centers instead of just dressers. I removed the top 3 drawers on the long piece and the top 4 drawers on the tall piece, now they were looking more like the classy pieces I was envisioning. Now to patch the holes and create shelves for baskets or T.V. Components.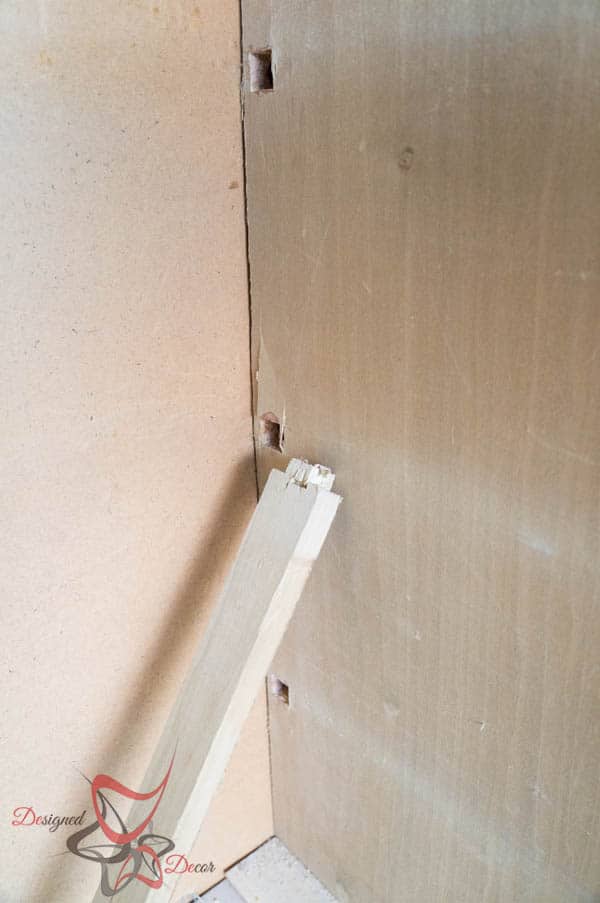 I used the drawer support end pieces to fill in the holes on the sides on the tall unit, then used the wood filler from Minwax, to smooth the seams. Mr. DD cut bottoms for the shelves and attached them using my all-time favorite tool, AirStrike by Ryobi. I have never been so excited to use a tool as much as I love using this one. If you don't have one, this is a must get for any handy person in your life. Hint, Christmas is coming up and the Ryobi AirStrike would make an awesome present for the DIY'er in your life.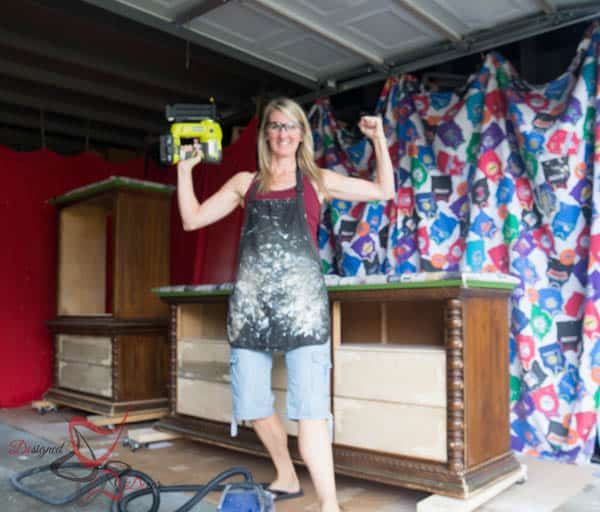 Once all the construction was complete, she was ready for some pretty. I started by adding details to the front of each drawer by using stencils and embossing creme. This gave the plain drawer fronts the details she needed in order to look like the classy media center that was hiding underneath. You can read about this technique on my "embossed drawer fronts" post.
Some of the detail trim pieces were missing from both pieces, so I removed the old trim from the tall piece and used that on the log piece. Purchased some similar trim pieces and placed them on the tall media center. Again, can I tell you how much I love my AirStrike Air Nailer? This makes the trim process so simple. I hand cut my angles, my table saw is very old and does not do a good clean job on small wood pieces.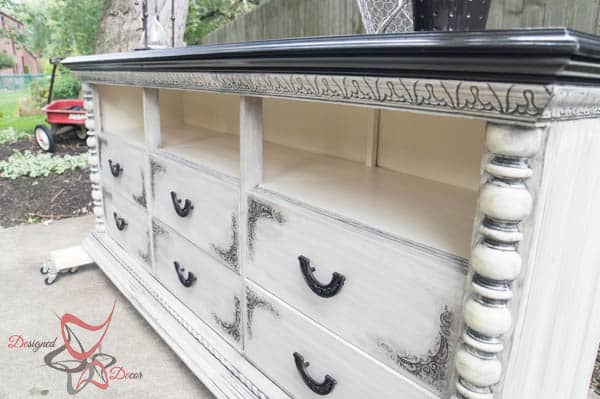 I painted the media centers in a paint washing technique and I will be sharing how I did this technique on another blog post soon.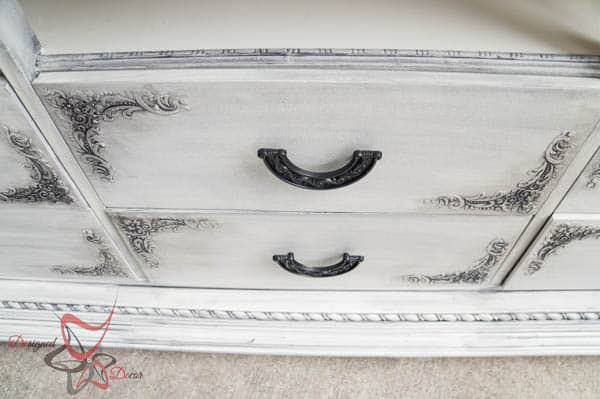 I love how these pieces turned out, and so did someone else. They sold quite quickly.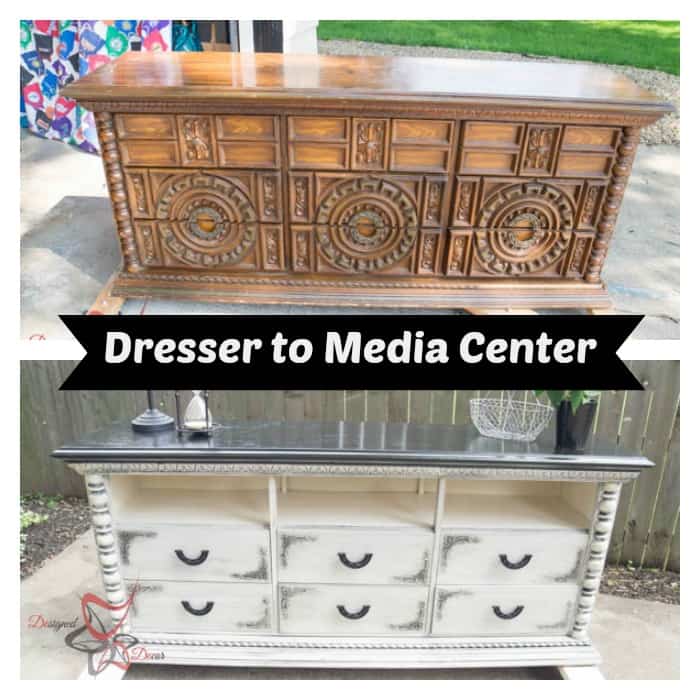 Can you believe that these are the same pieces! This is why I love to push myself to go above and beyond on my furniture pieces.
You also might want to see the after pictures of these great re-loved pieces. You have to see to believe!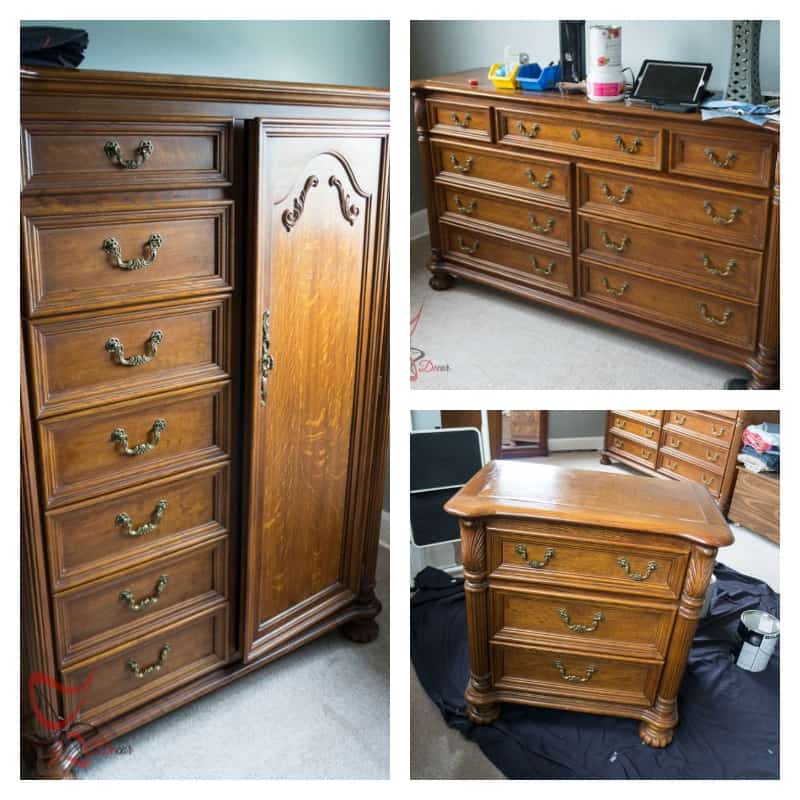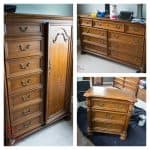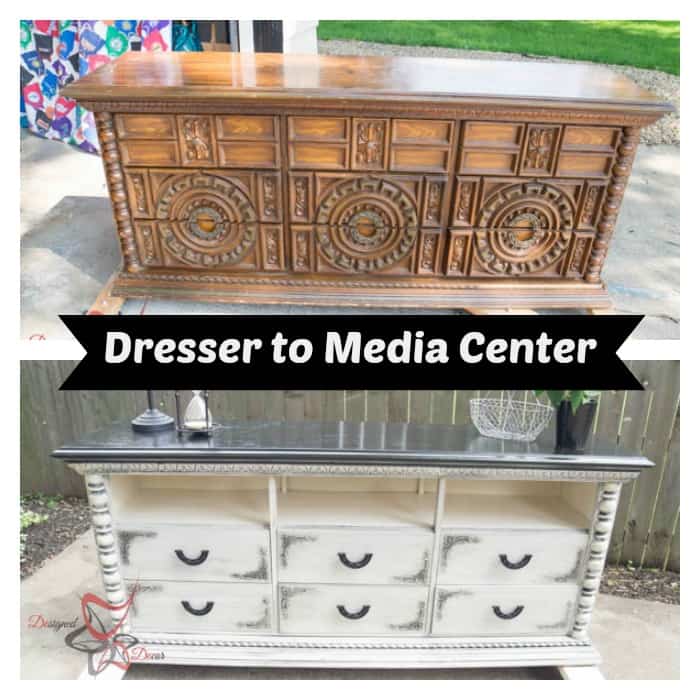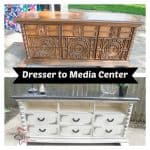 Join the DD Community!
Join the Designed Decor Community and receive weekly free tips on DIY home projects, painted furniture, decorating, and much more.