As the seasons change, it's nice to adapt your home decor to match the new surroundings outside. But sometimes it's hard to know where to start or how to make the changes. Here are a few simple ways to easily transition seasonal home decor items into the next season without buying extra amounts of store-bought decor or placing your everyday items into storage boxes.
There's no need to completely redo your home decor every time a new season rolls around! With just a few simple changes, you can easily change your home decor for the seasons. You too can add seasonal decor to your home without feeling overwhelmed.
How to Transition my Home Decor
One simple way to update your home from season to season is by using what you have. This gives you a great foundation by using everyday items you already love.
This allows you to use the same home decor items for interchangeable seasonal decor and makes it simple by adding in a few seasonal touches. For example, a vase filled with flowers for spring could be transformed into an ornamental pumpkin display for fall just by changing out the flowers.
Since you are using what you have this cuts down on having to place everything in storage and you will only be adding a few seasonal items to the everyday vignette or tablescape.
Using what you already have is budget-friendly since you are not buying another store-bought seasonal item. Don't get sucked into the media and advertising of needing to make huge changes to your seasonal decor every year.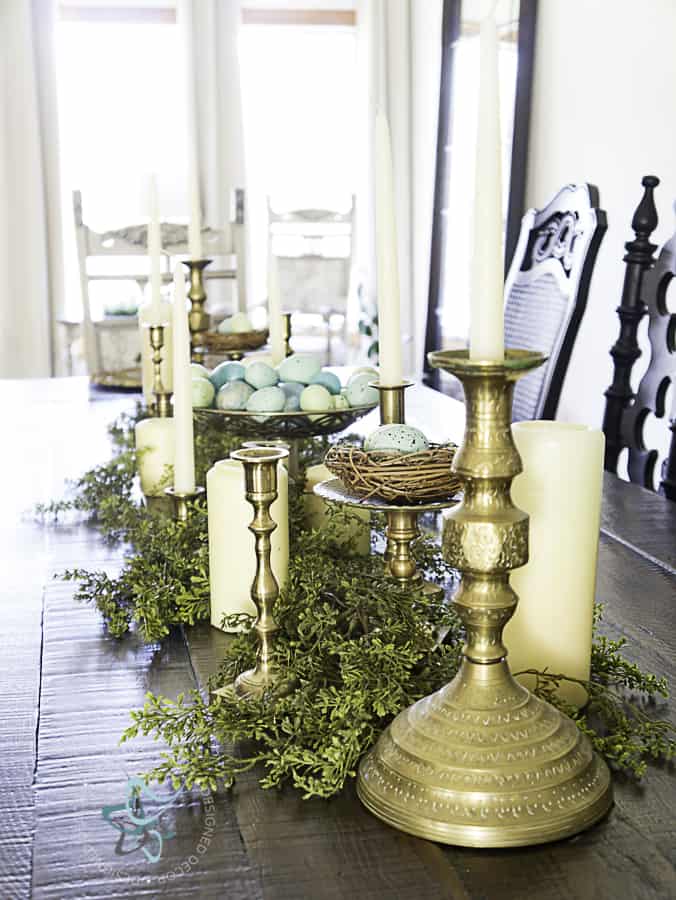 The above gallery shows you how to easily transition a dining tablescape from season to season using the same everyday home decor items and adding in seasonal touches.
Simple Seasonal Decorating in 3 to 4 areas
Start by selecting a few areas of your home as a "No Season Zone". This means that most areas will not be seasonally decorated. For me, this is my bathroom and bedroom. I typically do not change things out seasonally in these areas. I may make a few simple changes like adding in cozy throw blankets or decorative pillows for the fall and winter. Overall my home decor items will stay the same in the areas that I designated as "No Season Sone."
Next, pick a few key areas of your home that you would like to decorate seasonally and leave the rest with your everyday decor items. Only picking 3 to 4 key areas to add in some seasonal decor, will help to cut down on the decorating overwhelm and feeling like everything needs to change over to seasonal decor.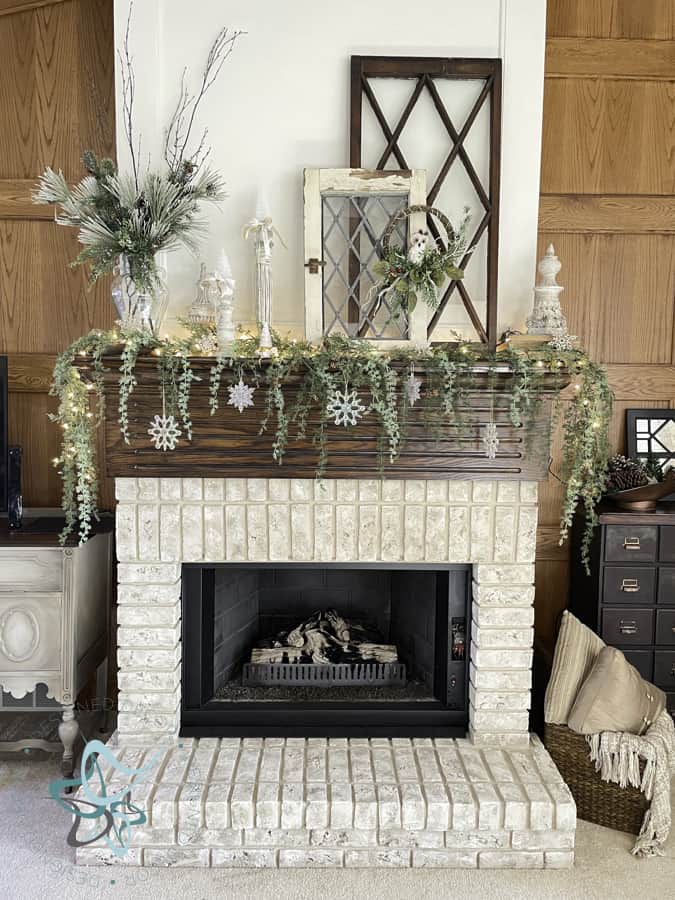 Also focusing on a few key areas will also cut down on clutter. Sometimes too much seasonal decor can make your home feel like an antique store with things shoved in every nook and cranny and your eye does not know where to focus and you just want to leave to escape the overwhelm.
The current areas that I change out seasonally in my home are the mantle, dining tablescape, and the front entryway vignette.
Spring Seasonal Decorating Tips
Effortless ways to transition your decor over to spring is by using light colors and a few items that reflect the current season. This can be done in a few simple steps by adding seasonal plants, flowers, bird nests, and maybe an occasional easter egg. These items will add color and life to your home for the current time of year.
Consider bringing in items from nature like blooming tree branches and budding flowers. You can also purchase outdoor plants and use them indoors until it is time to plant them outdoors.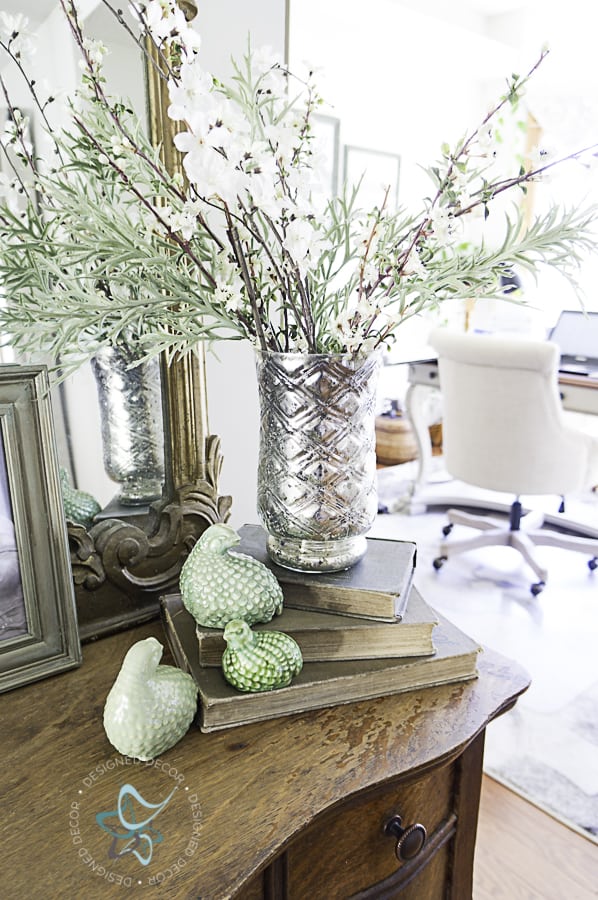 This post contains affiliate links. Click here to see my full disclosure policy.
This can be done in a few areas of your like such as mantles, tablescapes, shelves, or even by creating a vignette. Decorating with white or neutral dishes is perfect for this because you can use them all year long and they always look fresh no matter what time of year it is.
Switch out the cozy blankets and decorative pillows for lightweight blankets and pillows. Using light materials and colors will give your home a fresh and clean feel.
Here are a few of my favorite spring decorating items from Amazon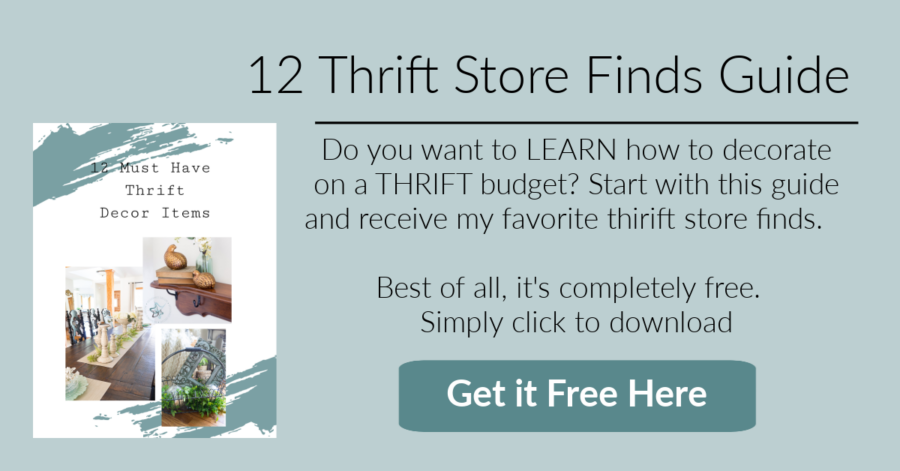 Summer Seasonal Decorating Tips
A great way to add summer decor to your home is by adding touches of summer florals. Change out the spring touches and replace them with summer bouquets like hydrangeas. You can also add a vase of fresh flowers to your table or countertop.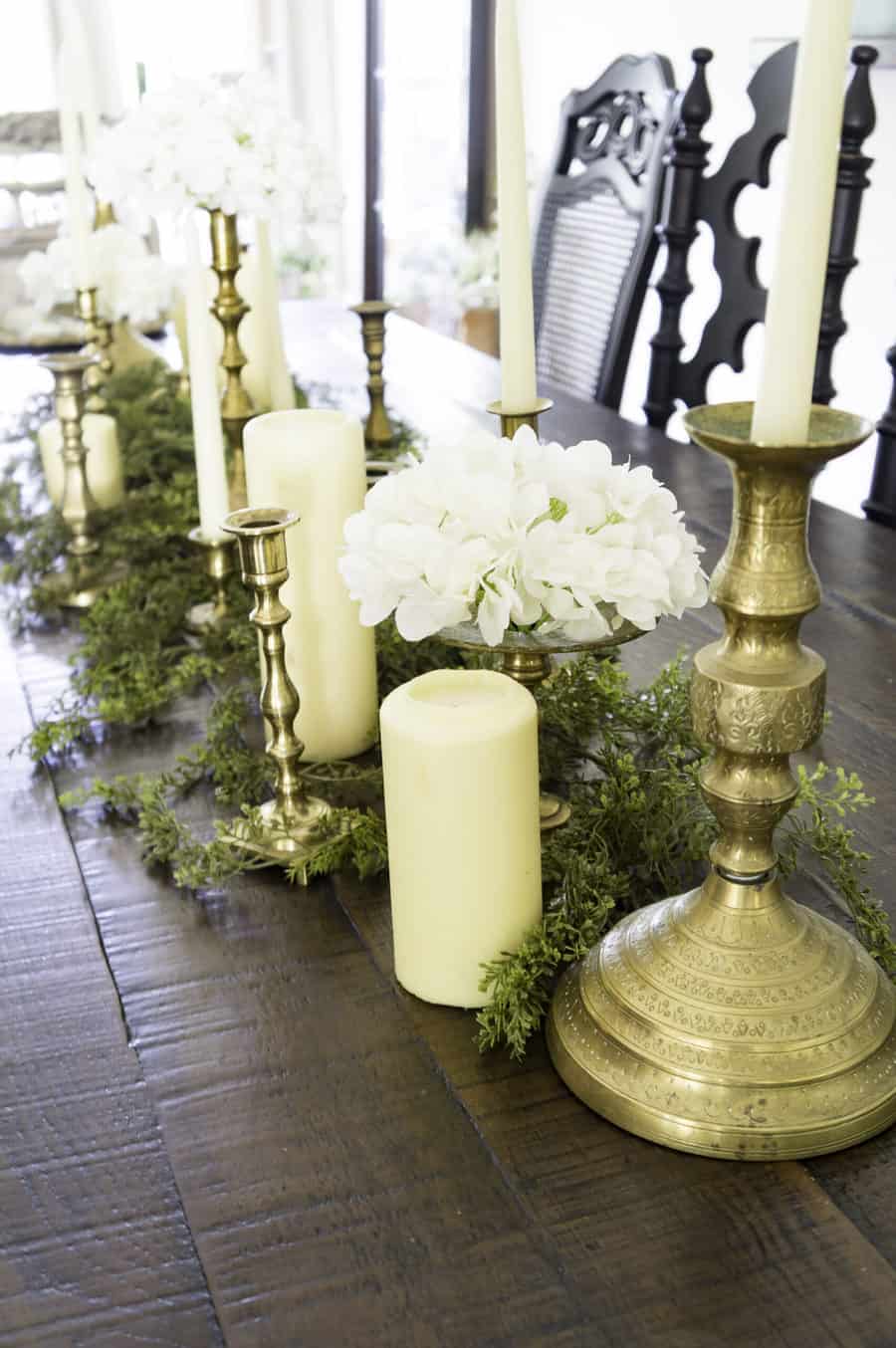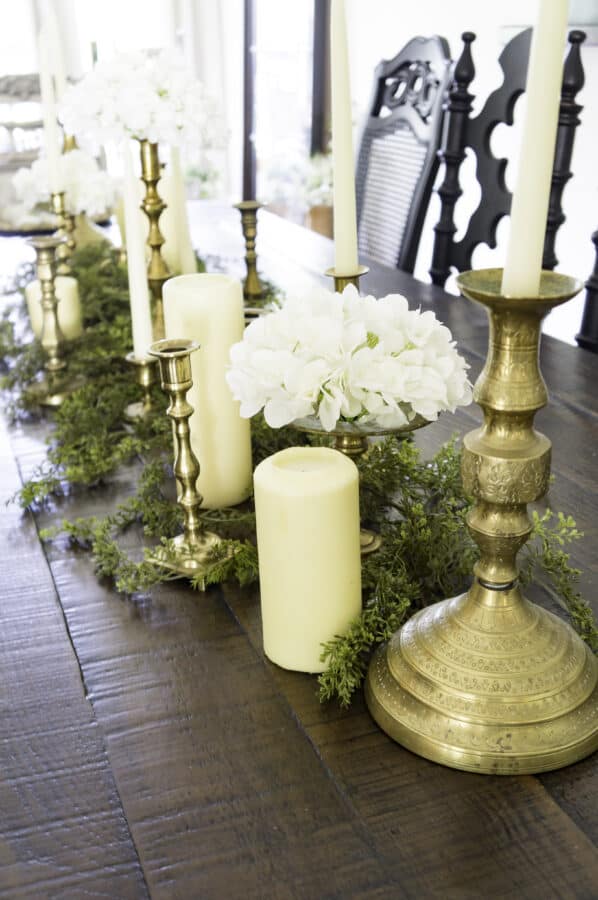 Another way to add in some summer color is by replacing your throw pillows with ones that are floral. My biggest tip when it comes to decorative pillows is to use decorative pillow covers. This allows you to easily change out the decorative pillows without having to store numerous pillows in the closet. Pillow covers can be folded up and they take up much less space than a full pillow. You may also leave them on the pillow and just slide another pillow cover over top. Of course, you can keep out the same blankets you used for the spring as they are lightweight and will work for summer decorating as well.
Add some colorful lemons, limes, berries, or any other summer fruits for a pop of color into your existing bowls or trays. Here are a few of my favorite summer decorating items, including some real-looking fruit choices.
Fall Seasonal Decorating Tips
Bring the outdoors into your home decorating. Using items found in nature is a huge cost saving. Go for a walk in the park and see what fun items you can bring home to add to your decor. Fall is the perfect time to bring in pine cones, acorns, and leaves indoors to use in your jars, vases, and bowls.
Add a wreath to the mantle, display pumpkins on shelves, tables, or steps. Use real ones for a fresh look or choose faux for years of enjoyment. See how I transformed these faux pumpkins to look like the real thing.
Change out throw blankets and decorative pillows for the cooler fall weather. Choose colors, textures, and styles that make you feel cozy on a cool fall evening. Display extra blankets and pillows in baskets, under or beside tables, or next to the mantle to bring the look and feel of autumn into your home.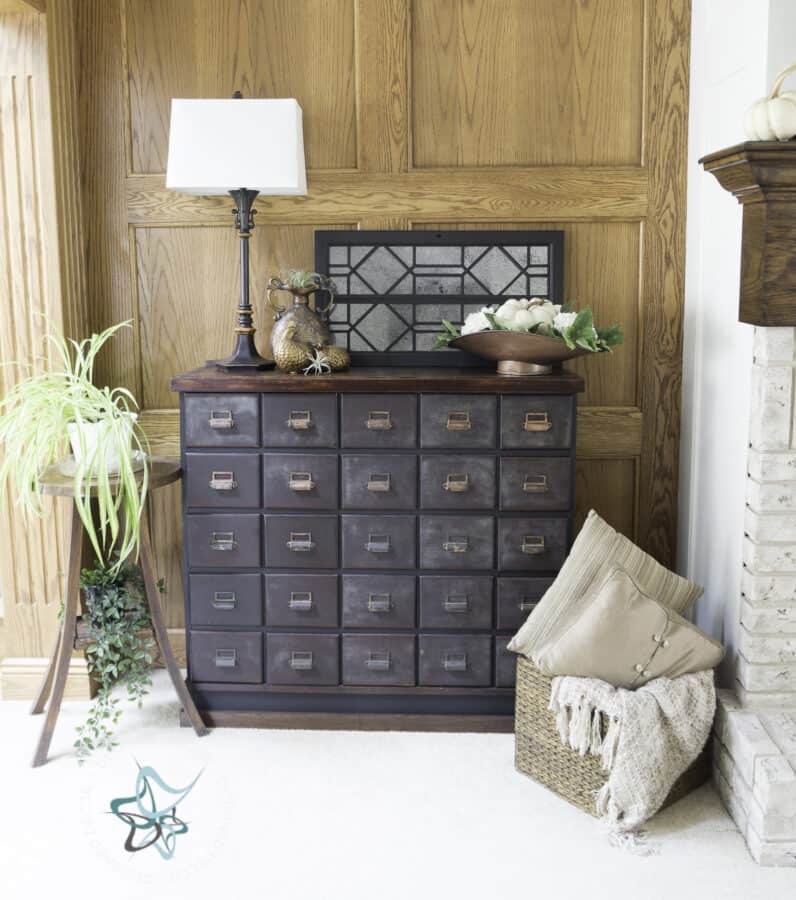 Using scent in your home is a perfect way to give your entire home the smell of Fall. Add some new candles to your collection or display them in your favorite candle holders. Scents are important this time of year with cinnamon and pumpkin spice being popular choices for many people.
By making a few of these simple changes to easily transition seasonal home decor, you can enjoy the fall season all throughout your home! With just a little effort, you can create a cozy and inviting space that will make you feel warm and comfortable all season long. Check out these Easy Fall Decorating tips of a Budget, for more fall decorating ideas. Also, check out this cozy canincore decorating from BHG.
See a few of my favorite fall decorating items.
Christmas Decorating Tips
Transitioning from Fall to Christmas can be an easier task as you can use some of the same items like the cozy pillows, blankets, and pine cones.
Add a few Christmas touches to your mantel. I always keep the same items on my mantle year-round, but because they are neutral tones, it's easy for me to add in some greenery and Christmas ornaments without having to change out everything! It is so simple: just add fresh greenery (faux works great too), ornaments, and maybe a few new candles.
Add some Christmas decor to your kitchen or dining table – it doesn't have to be anything complicated! I love using a simple runner on the center of our table or just adding a few items like candles or greenery. Check out this post for more Seasonal Decorating tips to transition from fall decor over to Christmas.
Of course, you will want to add in a tree. Remember, you do not have to move your entire living room around to add in a tree. Now that the Christmas trees come in so many different sizes from skinny ones to oversized ones, it is easy to find one that will work into your existing layout.
I was easily able to move my accent chair from the corner and move it to the other side of the accent table and place the tree in the corner without much disturbance to the space.
Here are a few of my favorite Christmas decorating items from Amazon.
Transition from Christmas to Winter Decor
Winter is the 5th decorating season in my house. I hate that feeling in my home after removing all the Christmas decor and packing it away. So I like to transition my home decor over from Christmas to touches of winter. I don't want to have to take everything down and be left with a cold feeling in my home. After all, it is winter and I want it to feel cozy and warm.
In my home, I have a lot of neutral colors so it's easy to transition from one season to another without having to change out all of my decor. I replace the ornaments with snowflakes and icicles and I keep some of the lights on the mantle. I keep the baskets of pinecones and just add in the snowflakes. You can also add in branches with berries to give a fun pop of winter color.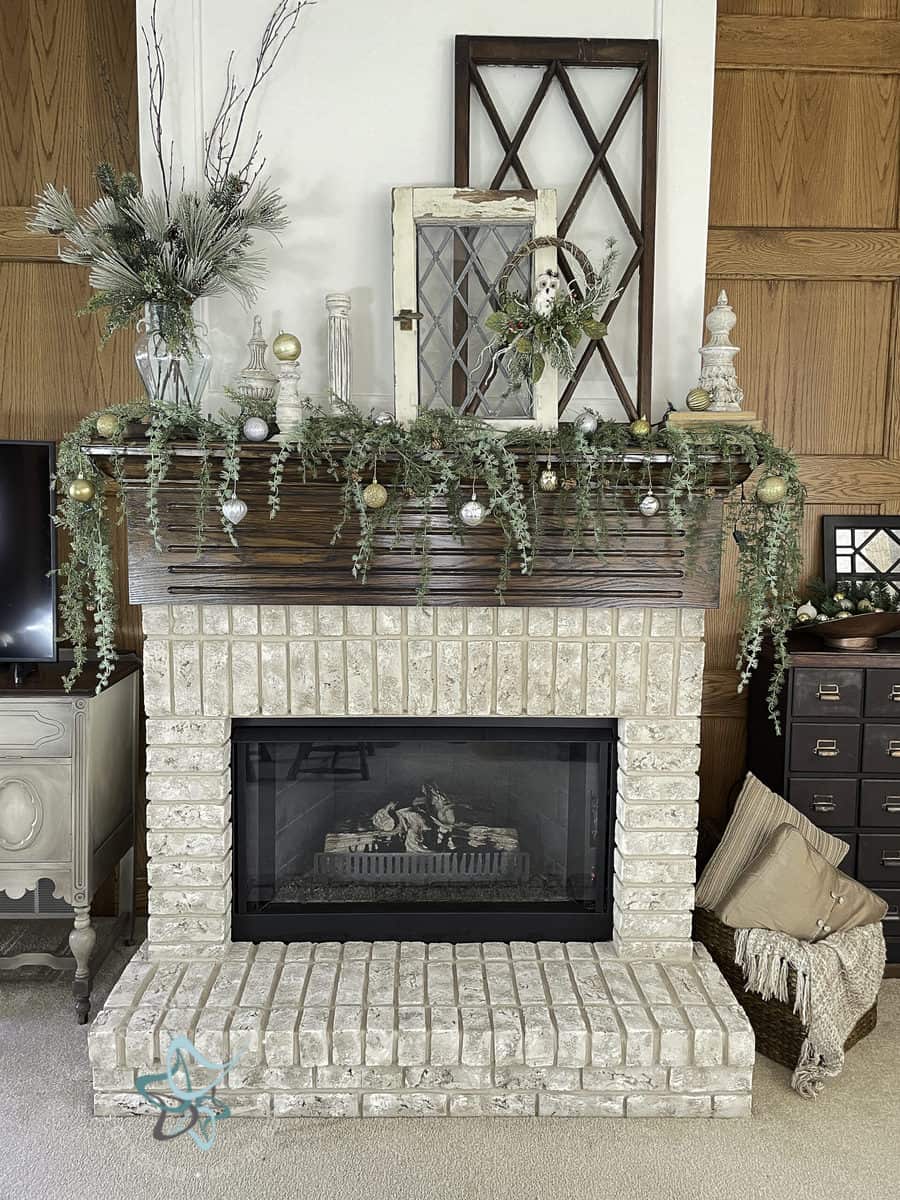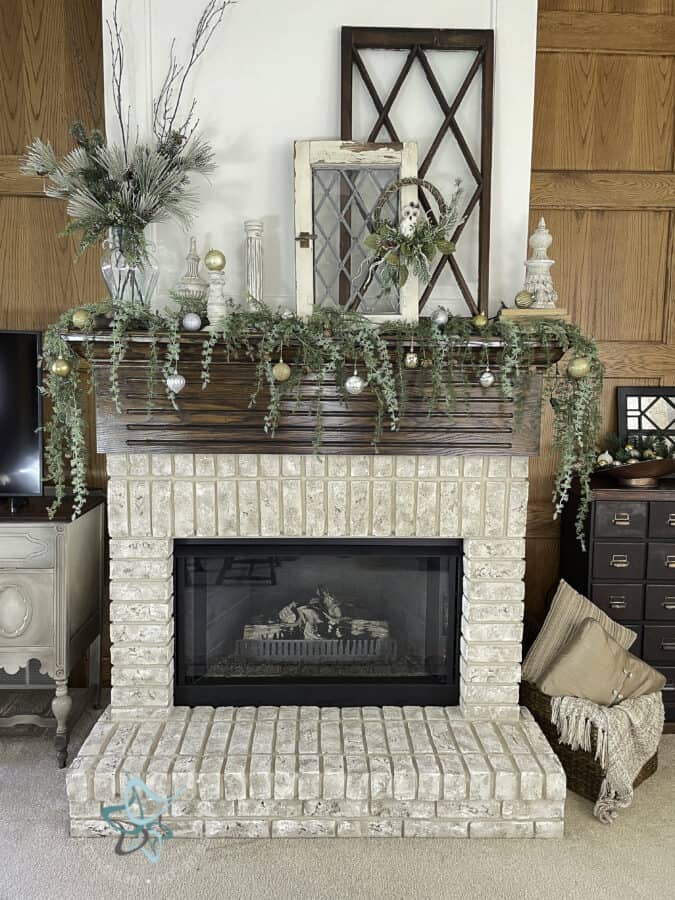 All the blankets and pillow covers remain the same as they bring in the warmth and coziness for winter. Along with the candles with the winter scents can remain the same from Christmas into winter. Check out my favorite winter decorating items from amazon.
By following these simple tips, you can easily change your home decor for every season and enjoy each season in your home to the fullest! With just a few easy changes, you can create a cozy and inviting space that will make you feel warm and comfortable all season long. Happy decorating! 🙂
Need more decorating help? Check out these other great posts.
Discover more Inspirations by clicking on each category photo





Join the DD Community!
Join the Designed Decor Community and receive weekly free tips on DIY home projects, painted furniture, decorating, and much more.