Have you ever been stuck on where to begin on giving a room a makeover?  Where you just lack the vision for that space? I have a space just like that in my home and I am going to share the affordable room makeover for my den.
This post contains affiliate links.  Click here to see my full disclosure policy.  
This space in my home has always been a challenge, it is small and a major walk-thru area.  It is a space connected to our office/ back entryway and this room also leads into our dining room.  I have even struggled with what to call the space.
This space had always been an after thought.  I have always just placed items in the room without a plan or a desire to make over the room.
This is when we called it the "music room."  We had a small keyboard and a few other instruments in the space.  We never used the space except to walk to the back of the house into the office or to leave.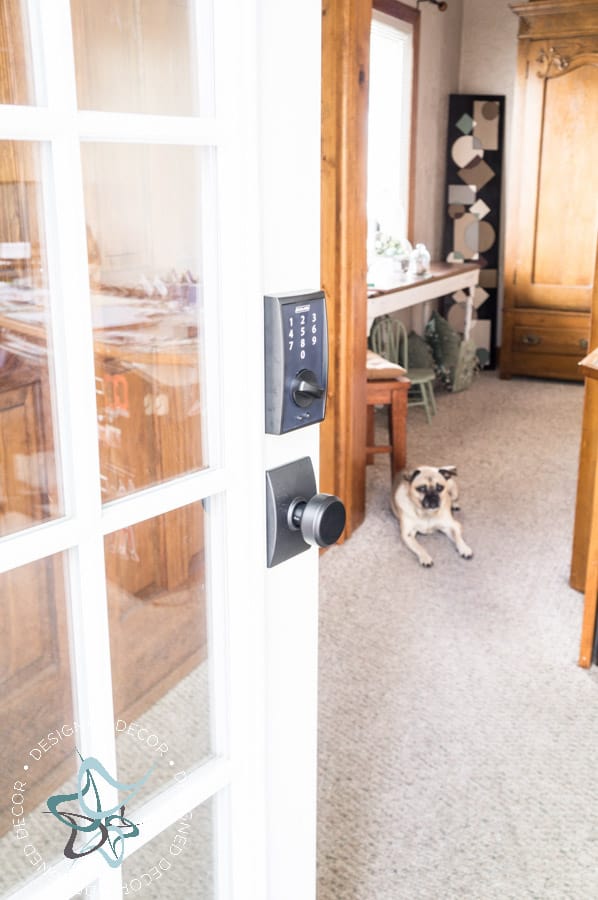 Getting closer!  I moved out the over sized chairs and put my favorite cabinet in the space.  I moved the keyboard down into the basement since Mr. DD. was not playing it.  He still claims that he doesn't play anymore since I moved it to the basement.
Now it truly became a walk through area.  The cabinet is to the right and I made this A-frame plant stand and placed the extra dining room chairs in the space.  I love the plant stand but I was still not happy with the room.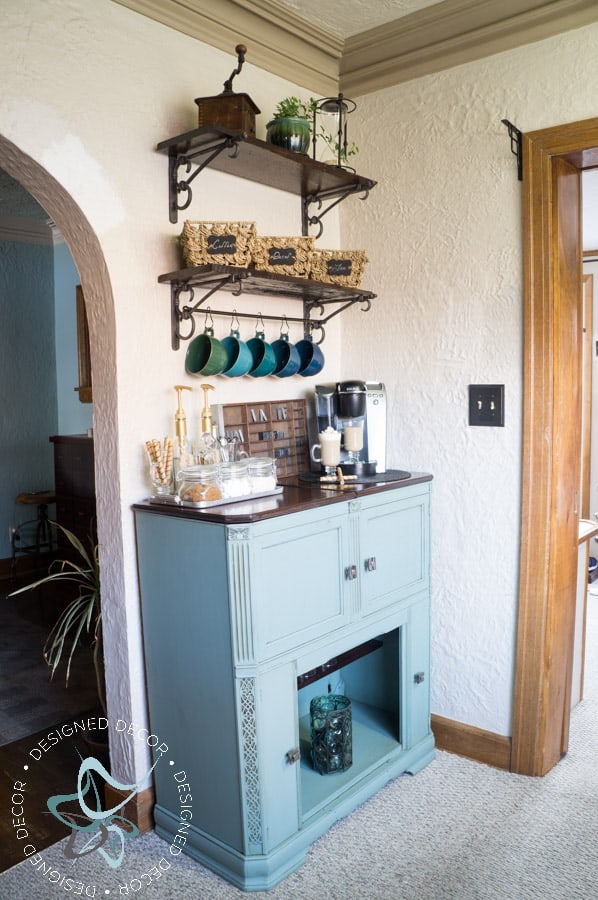 I made over this radio cabinet into a coffee bar and placed this is my "walk-through" room.  Now, we actually stopped in the room, but not for long because it had only one dining room chair in the space and it was not comfortable.  I was still very unhappy with the room and decided it was time to get serious about giving this room a makeover.  Of course, it has to be an affordable room makeover because that is what I am all about.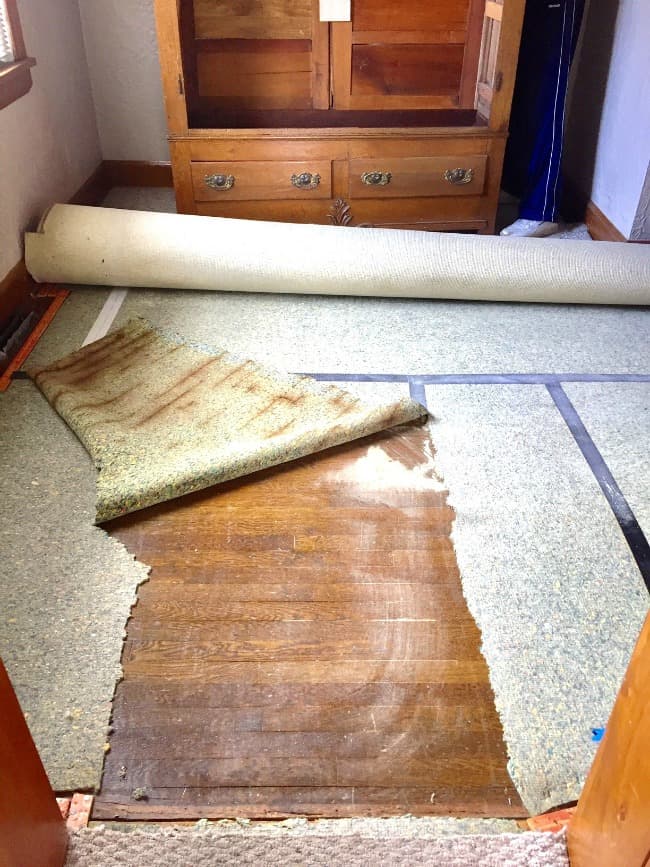 I decided to makeover the den and the office at the same time since we were replacing the old worn out carpet in both rooms.  I knew there were hardwood floors under the carpet in the den and depending on the condition of them determined how much new carpet I would be ordering.  They were in great shape for the original floors from 1927.  This was my first money saver, I won't be needing new carpet and pad in this space.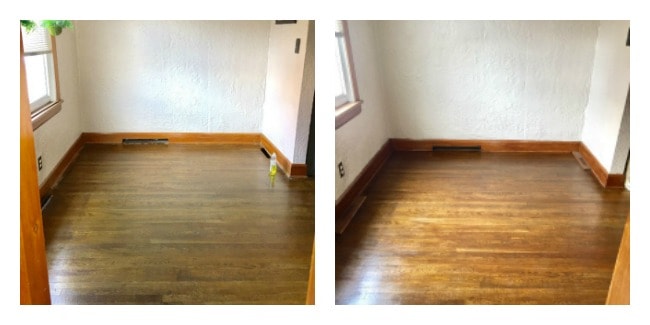 I lightly sanded down the floors and placed a gel stain over the top and sealed them to bring the floors back to life.  This is the before and after, I know it does not look like much difference but it did help to refresh the floors.  You can read about the entire process because I did the same thing for my attic stairs and landing.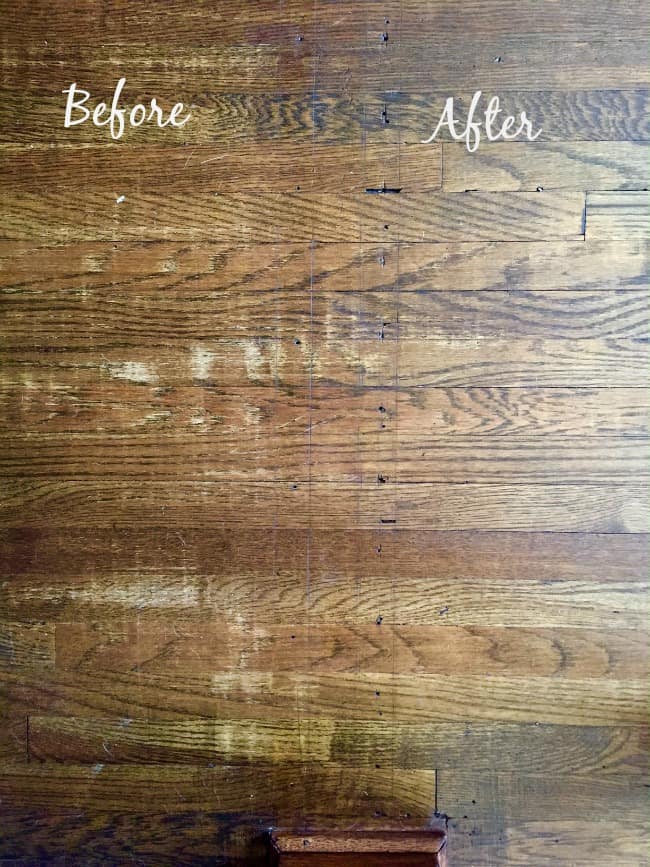 Here is a close up of the floors and how the gel stain brings the life back.  Not a huge difference just a refresh, which is all that was needed with my aged hardwood floors. They still have all the age and character of old hardwood floors.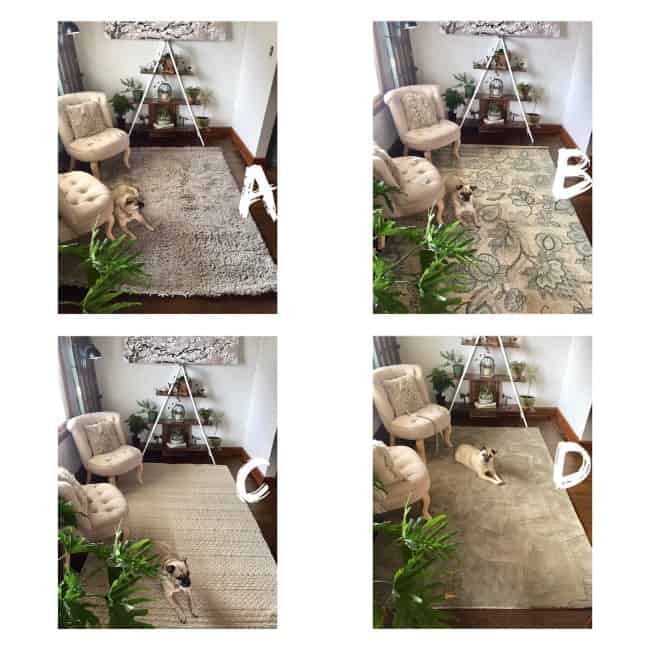 The hardest decision I had to make in this den makeover was the rug choice.  I loved "Rug A" but it was a little smaller than I wanted which I could live with but the price was $240.  I liked "Rug B" for the print and color but it was more tan than taupe and I was not liking it with the color of the chairs and the picture.  It was a great price for $80.  That was the hard part, returning a great bargain.  "Rug C" was a bargain as well at $90 but was tan and not taupe.  I really liked "Rug D" but felt it was too formal for the space since it was next to my office and it was $200.  I know anything under $200 would be a great buy for a 5 x 7 rug and they all were returned because they just didn't fit the look of the room.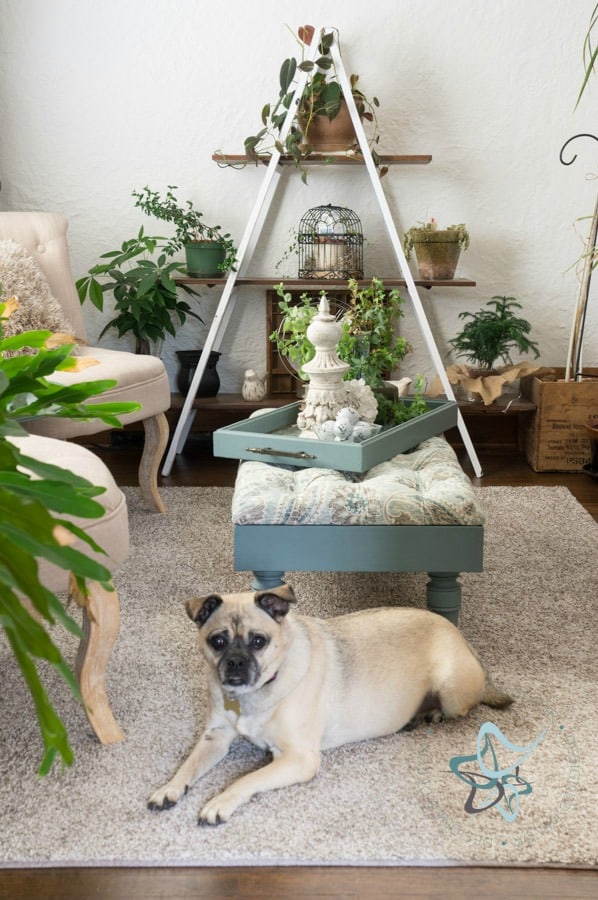 I ended up making a custom rug for the area.  I know that sounds expensive but it was cheaper than some of the rugs above.  Since it was a custom rug, I was able to leave the same about of space around the entire rug.  Mr. DD. has a wholesale carpet account and we purchased the carpet at wholesale prices.  I know, how does that save you money?  Well, you can find carpet remnants at discount stores and have them cut down to size and bound just like I did.  So if you ever come across a great deal on carpet or a huge area rug that is too big, buy it.  I take the carpet to a mom and pop carpet store that does the binding.  The binding was only $37 for the entire rug.  I have also taken a big area rug to them and they cut it down to size and bound the side to match.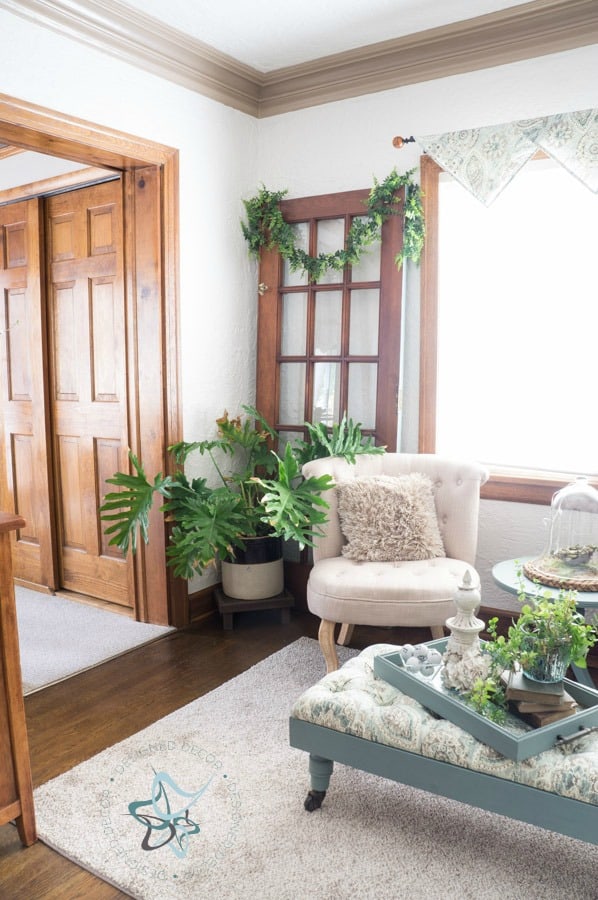 I am now using this space every day.  I sit here every morning when drinking my tea and I will check my email before my day begins.  I also find us sitting here after dinner and just chatting and drinking some wine.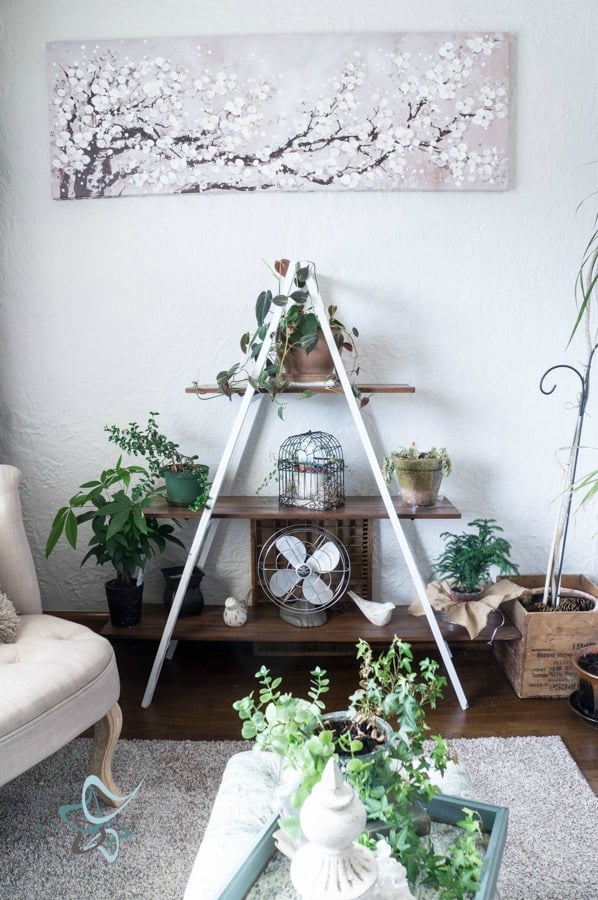 The picture ended up being the color inspiration in the room.  It was only $40 from a store called Tuesday Morning.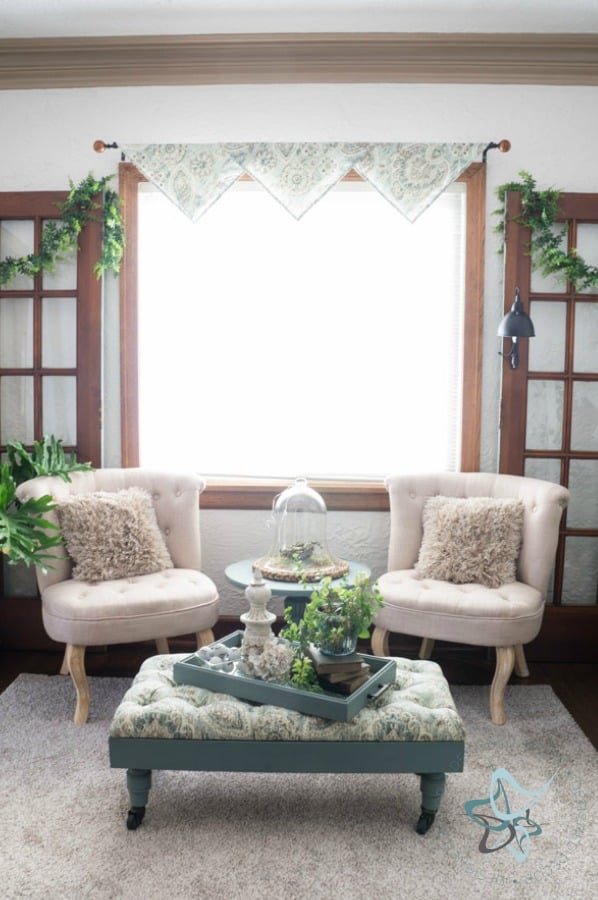 Source List:
Custom Area Rug – $127 Read all about how to create a custom rug for any space in your home.
Tufted Bench – $30   I made this bench from scrap wood and had the legs from an old desk.  I will be sharing how I made this bench soon.  If you have no desire to make a tufted bench, I found this one from Wayfair that is under $170.
Serving Tray – $0 – This was made from all left over materials.  Here is the link to how I made it – Serving Tray
Accent Table – $10 Garage sale find.  I painted the table using Amy Howard One Step Paint in Vintage Affliction.  This is the same color I used for the bench and the serving tray.
Accent Chairs – $119 each.  This was the biggest investment in this space.  I found them at Marshall's.  The problem with Marshall's is they purchase a "one and done"philosophy, so you won't find them there today.  I did find these similar chairs from Amazon
Accent Pillows – $ 26.99 each.  Shag Throw Pillow from Wayfair
French Doors – $8 each.  These were a steal at a garage sale.  They didn't have a price on them and when I asked and she said $8 each.  I casually said I will take them and tried my best to contain my excitement.  I wanted to do a few cartwheels right in front of her.
DIY Handkerchief Valances – I made these using the same fabric from the bench.  Coming Soon!
Glass Bell Cloche – $19.80
Accordion Wall Sconce – Found this one that is similiare.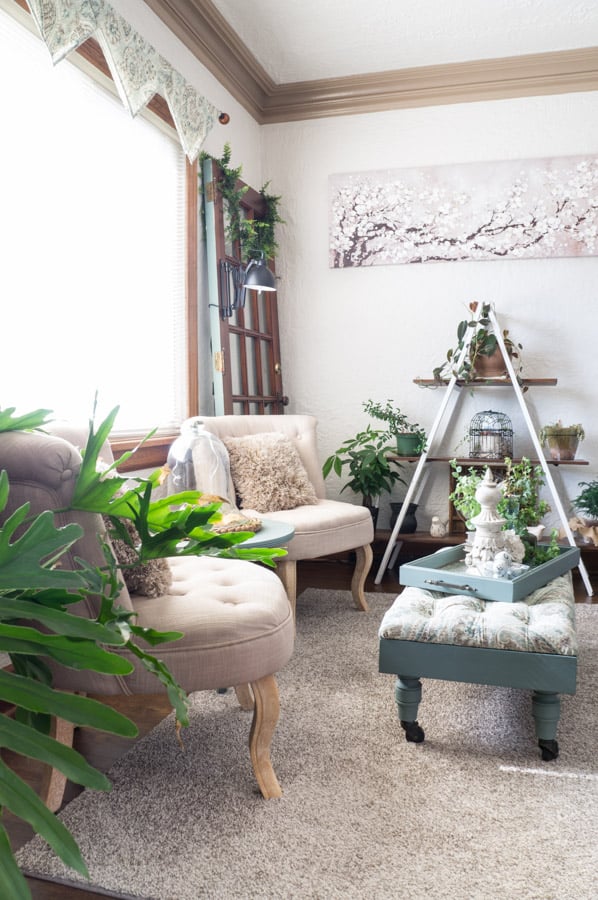 Make sure you sign up to receive my email updates so you can follow along with all my money saving home decor projects and ideas.

Join the DD Community!
Join the Designed Decor Community and receive weekly free tips on DIY home projects, painted furniture, decorating, and much more.