My latest makeover was turning an old radio cabinet into a bar. It is fun to turn outdated furniture pieces into some sort of bar. Everyone is always looking for a mini bar to add to their living areas. So let's take a look at this Repurposed Radio Cabinet Bar.
The outside of the cabinet was in good shape except for the hideous lock that they added to it. Someone drilled a hole through the door to add a lock to the cabinet. I am sure it had a skeleton key lock and the key was lost, so they improvised.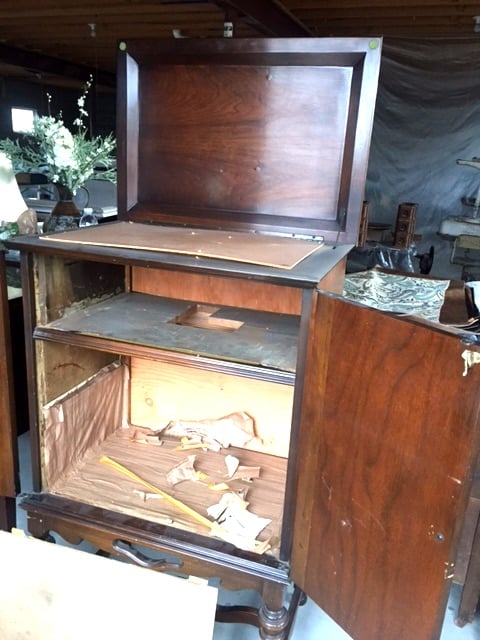 This post contains some affiliate links. Click here for my full disclosure policy.
From this picture, you can see how bad the inside was. Someone placed contact paper on the inside to cover up the peeling veneer. I think that made it look worse. Everything was chopped up and the top was covered over and screwed down. I stripped everything on the inside so I could see what needed to be done to turn her back into a real beauty.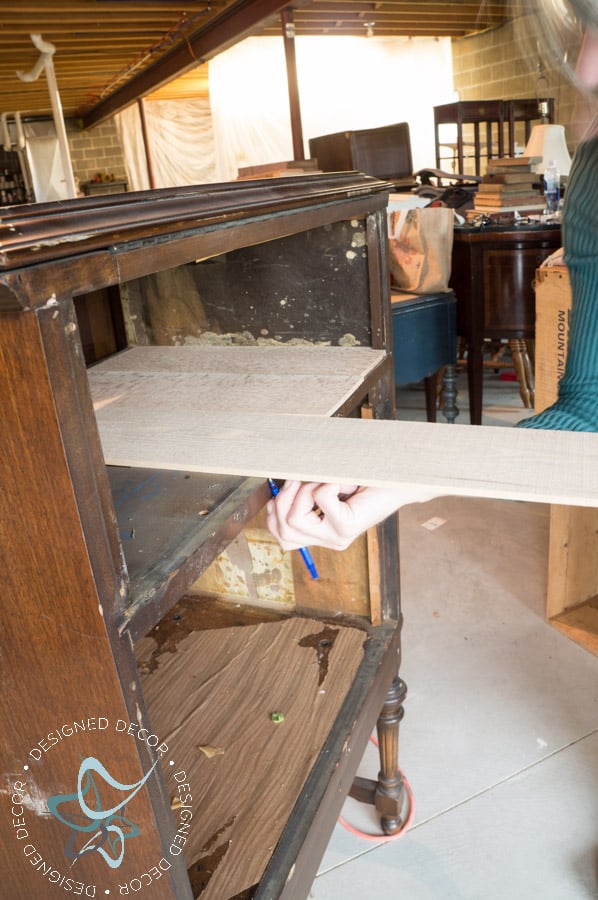 The option I decided was to use the Pallet Wall in a box from Amy Howard. I used this once before on a dresser that I turned into a media center and I love how it turned out. So I went to work, measuring and cutting the boards.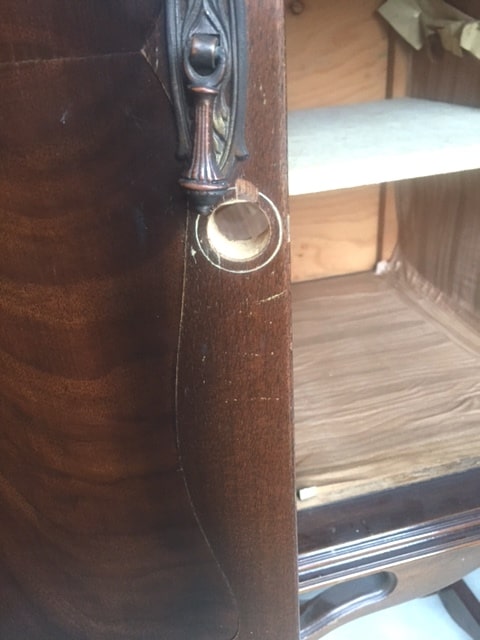 Here is how the outside looked once I removed the lock. A HUGE hole. I just added a dowel rod to fill the opening and cut it to the proper thickness and used wood filler
to smooth and fill the gaps.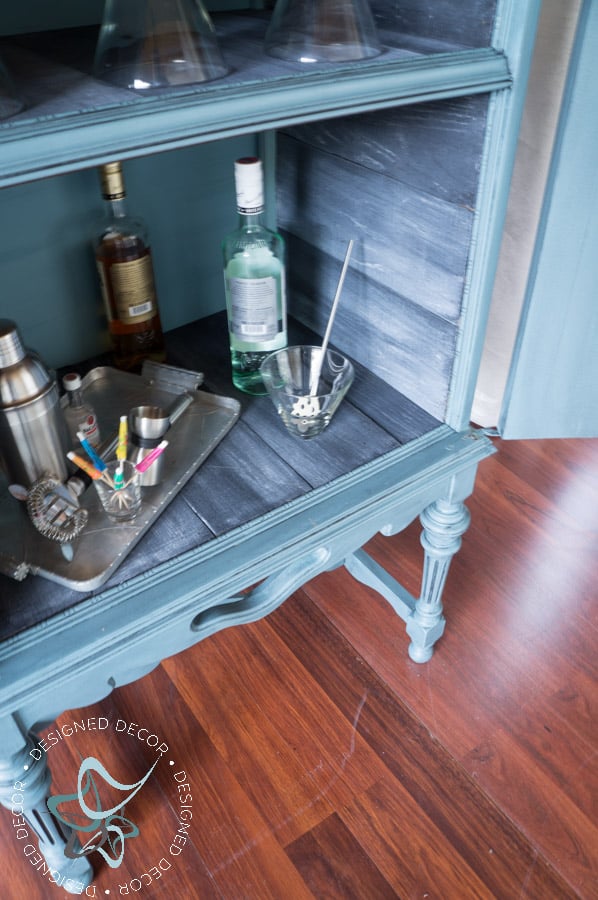 I painted the pallet wood with Amy Howard's One Step Paint in black and used a 50/50 mix of water. I wanted it to be runny so I could spread it on the pallet wood easier. After it dried completely I applied a coat of Cerusing wax to get the vintage wood look. It was the perfect complement to the paint color and glaze. Make sure you go over to my youtube channel to see how you can create a vintage wood effect by creating a paint wash.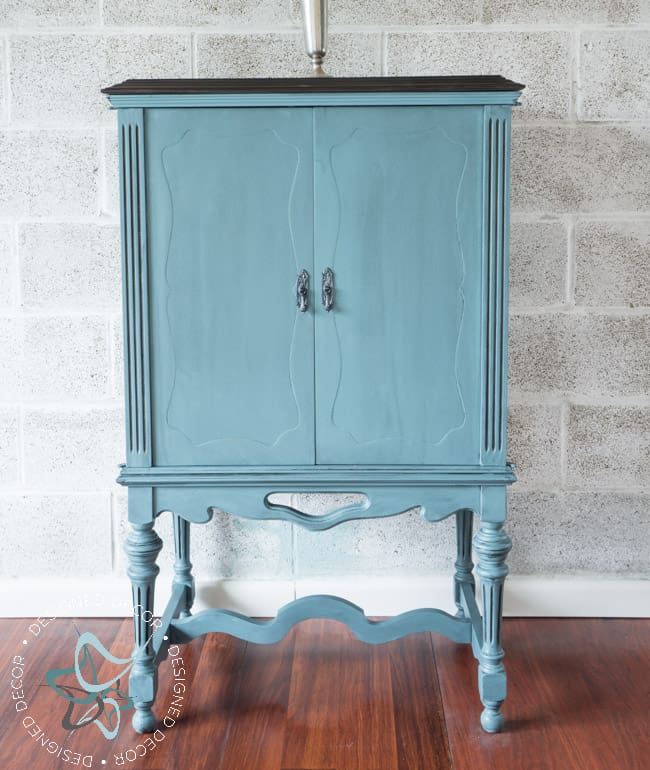 I painted the base cabinet using One Step Paint in Vintage Affliction, sealed with Matte Sealer and Glazed over mixed with One Step Balck Paint.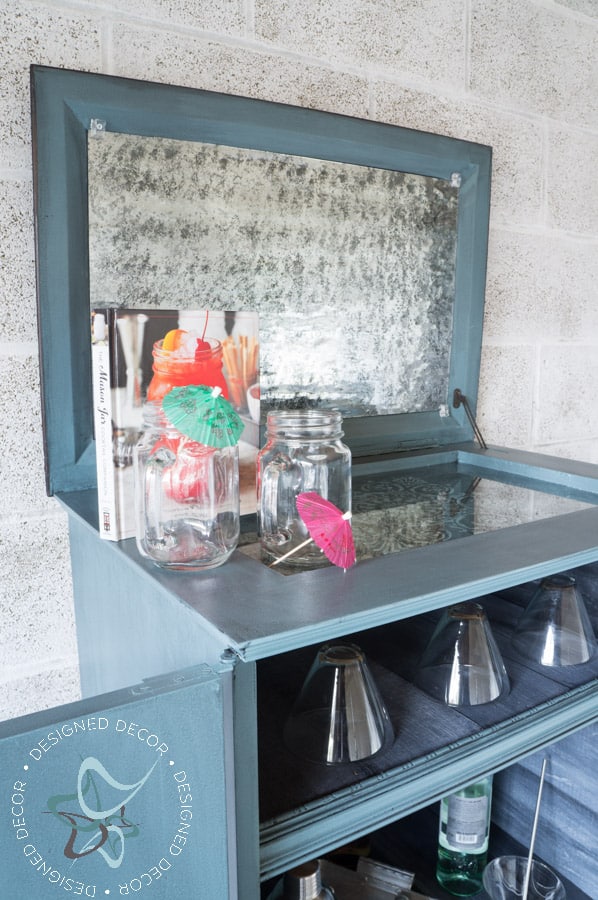 And oh that top! Mr. DD came down to my workshop while I was working on the pallet wood and convinced me to let the top flip open and turn it into a bar with a flip-up lid. More work for me, but it was worth it.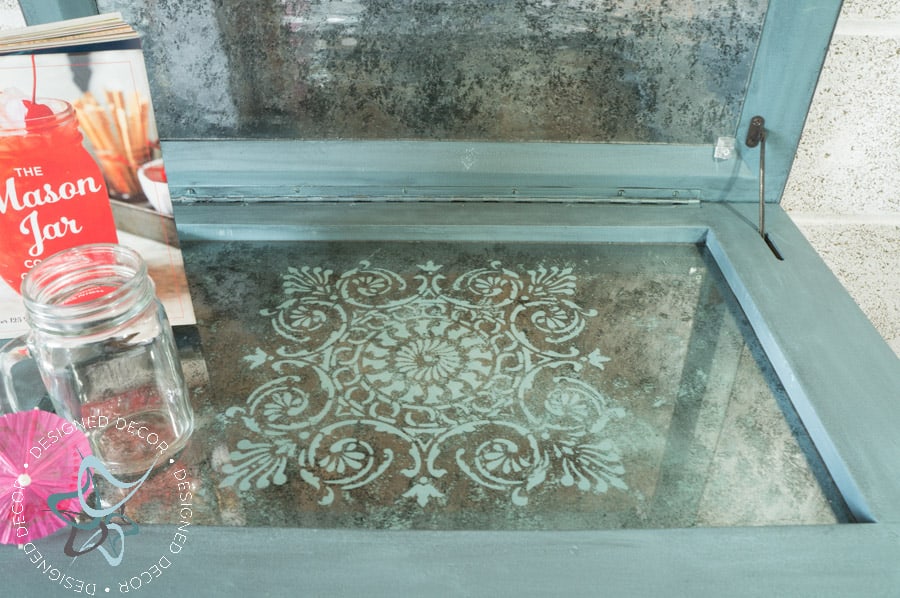 I used two pieces of cut glass and created a vintage mirror look. The top piece was a wavy piece of glass, and the bottom was a smooth piece and I created the look with a stencil. Here is a quick video on how to create the vintage glass mirror.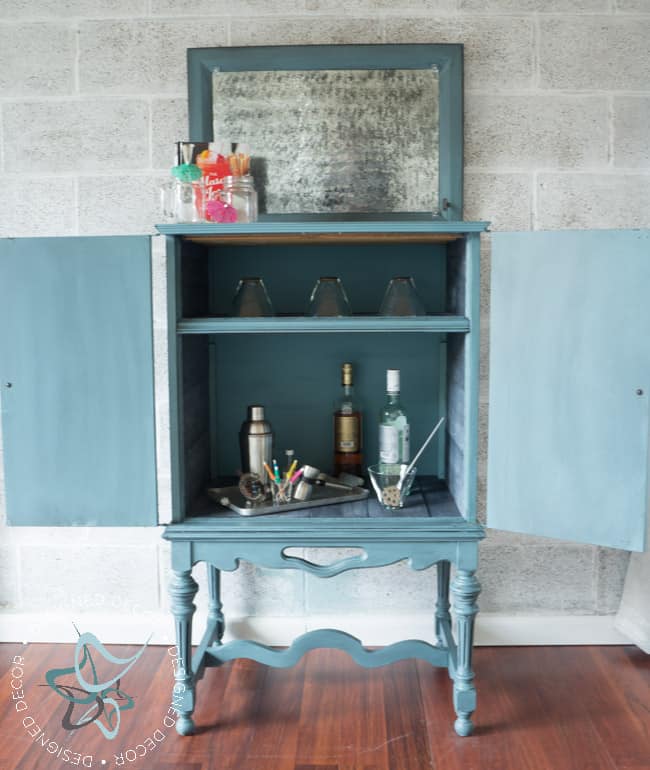 You would have never known how bad the inside of the cabinet was by looking how pretty the after is. She sold right away and is going to a good home for her second life.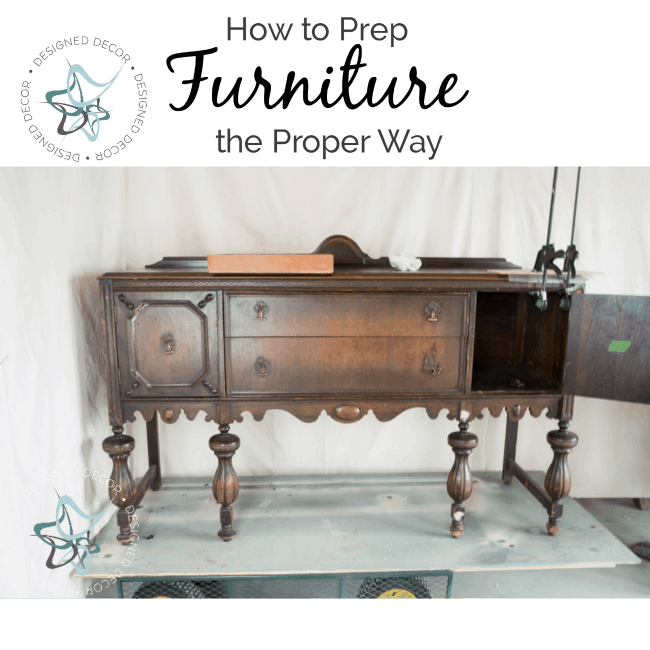 Make sure you check out my free video on how to prep furniture the proper way.

Join the DD Community!
Join the Designed Decor Community and receive weekly free tips on DIY home projects, painted furniture, decorating, and much more.