I am in the slow process of painting my entire downstairs and giving each room a mini makeover. I have decided to start in the back of our house which is the back entryway/office space. We turned this space into an office 12+ years ago and it is in desperate need of a makeover. I wanted to share my office makeover plans with you so you can share in the inspiration process.
This post contains some affiliate links. Click here for my full disclosure policy.
To Do List:
Wall Mounted Desk – We built this desk 12+ years ago with the help of my dad. You can see how my current office looks by going over to check out an old post from my office. I love how we configured the layout of the desk and we won't be changing the desk, except we will be making a big update on the top of this desk.
I will be changing out my current broken black office chairs for these old vintage wooden chairs. I love the look and character of the old wooden chairs. I am going for a modern vintage industrial look in this space.
I will be covering up my current ugly ceiling by creating a faux tin tile look with wallpaper and paint. (look at picture below to see what I am talking about)
Replace the existing bench seat with a 3 tier shelf that I had in my closet.
Give my existing outdated lamps a makeover by creating a galvanized faux finish. I will be doing this same finish on the plug outlet covers, the metal heating vents and the fun metal letters I purchased for the office space.
Use existing black metal file cabinets
I am adding a fun new desktop by using a product called Paper Transformations. This product is a great way to makeover old and outdated countertops, walls or furniture pieces. Stop over to check out the site and see how cool it is.
I will be making a knock-off vintage map wall decor piece to go over Mr. DD's side of the desk. This picture is my inspiration piece.
Painting the walls using Sherwin Williams Emerald Interior paint in SW7014
Replacing existing carpet.
Making a small desktop TV stand for Mr. DD and replacing the plastic stand we are using now.
Making new window valances.
Create some kind of key holder and replace the existing broken one.
Make a new shoe holder to replace the wine cork one that I made years ago.
Here is an old photo of the office space.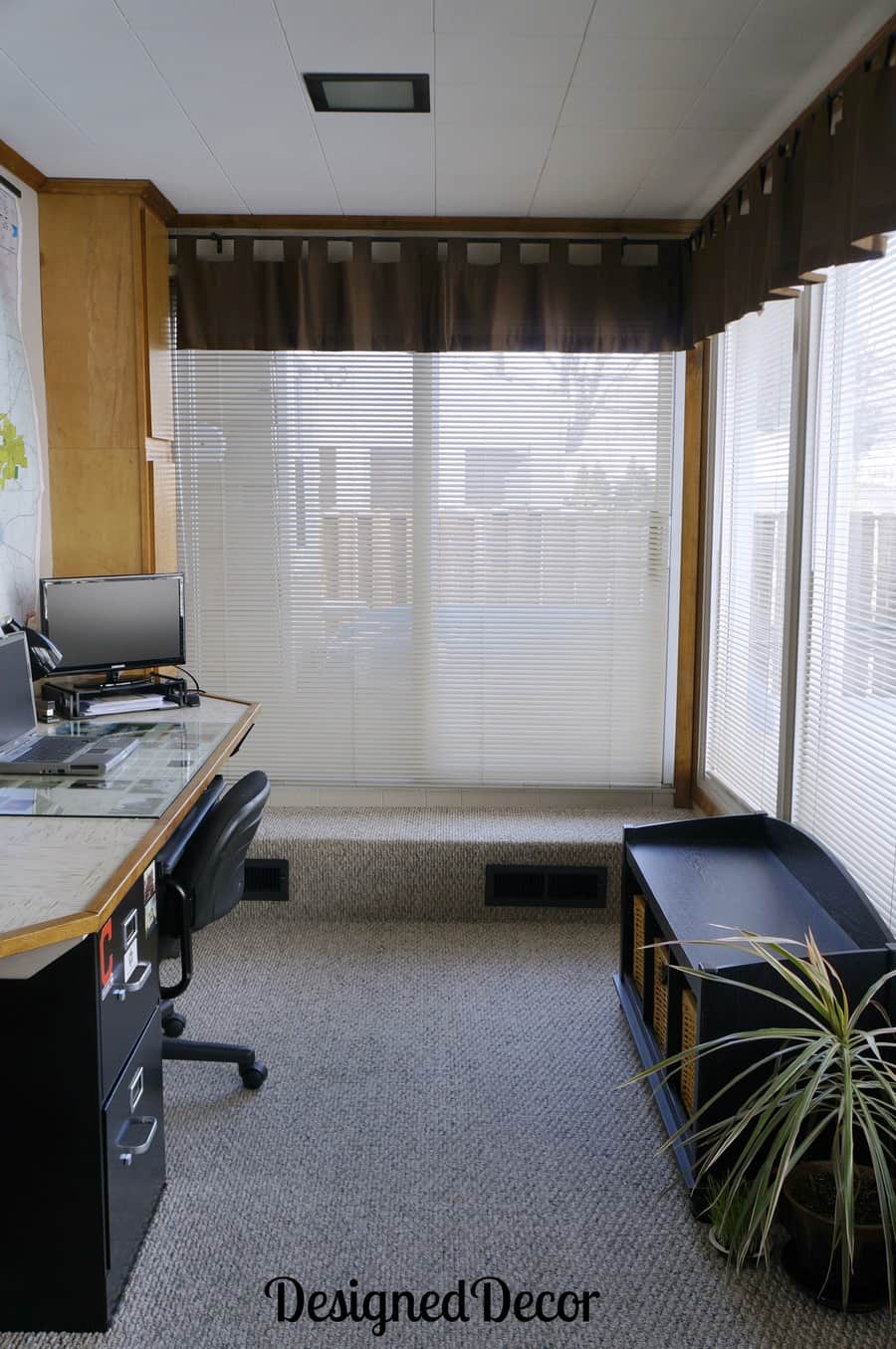 Sometimes taking on a small room makeover can become overwhelming. By creating a design plan and having a few images for inspiration helps to create the space you are dreaming of. I also try to use items that I currently have by just doing a few changes to make them relevant for the space. This saves money and allows you to repurpose the things you have. I can't wait to get this space completed so I can share it with you and move onto the next room.

Join the DD Community!
Join the Designed Decor Community and receive weekly free tips on DIY home projects, painted furniture, decorating, and much more.