The new year brings a newly organized office space. My office space tends to be the dumping grounds, it is our main entry area as well as our office. This space was pretty well-organized, but it needed a few extra touches to add inspiration and organization.
This was right after Christmas, see what I mean by dumping grounds.


Aside from a lot of cleaning and filing, I added a few items to help with organizing the office space. I gave my husband a shelf under his new T.V., to place the items that need attention but are not ready to file yet. I cleaned out a section in the cabinet for some of his investment books and C.D.'s that just sat on the desktop creating clutter. The cabinets are used for all our hot tub items, chemicals, swim trunks and towels. I made him a notepad and pen holder out of old floppy disks. I redecorated my side and added some items for inspiration. I will be sharing these projects later this week.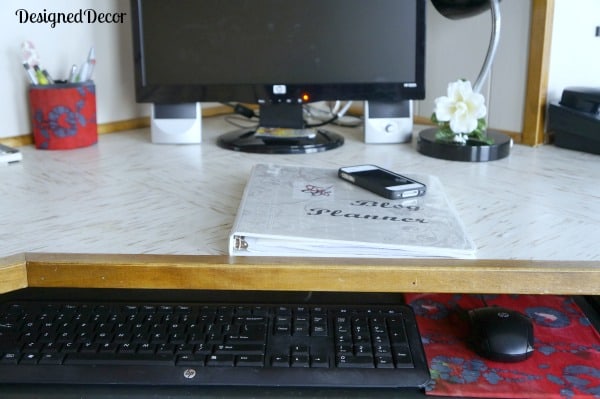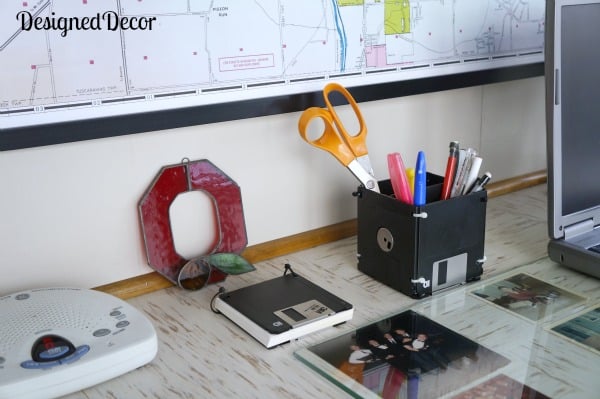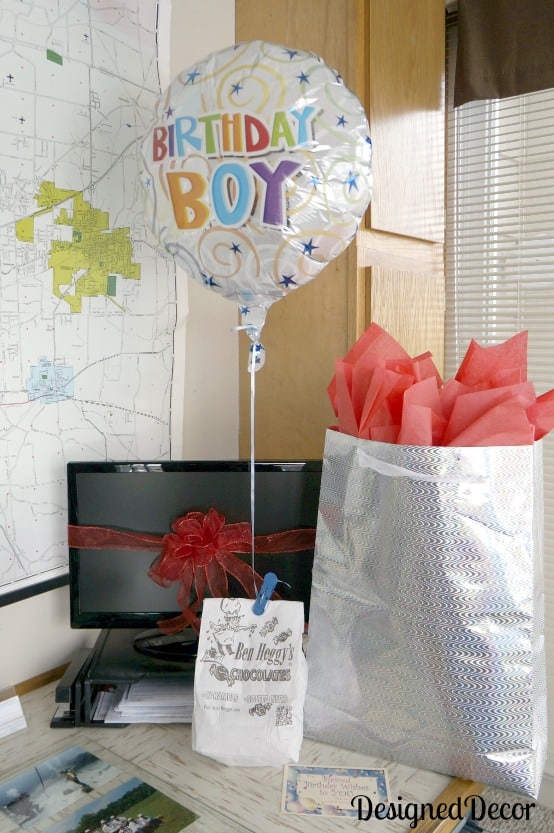 The T.V. was my husband's birthday gift. I cleaned and organized the office on his birthday so he would come home to a surprise. The first words out fo his mouth were, "What did you do with my stuff." So far the newly organized office space has remained clear of clutter and is working for both of us.
This office space was one of the first projects that my husband, dad and I did after wewere married. My husband and I came up with the layout and design. We decided that building a long desk that was a better option than having 2 separate desks. We also decided to build closets since this was also our main entry to the house. Having 6 people coming and going with all the backpacks, jackets, and shoes, we needed somewhere to hide place everything. I have to say that this closet is one of my favorite things in this house.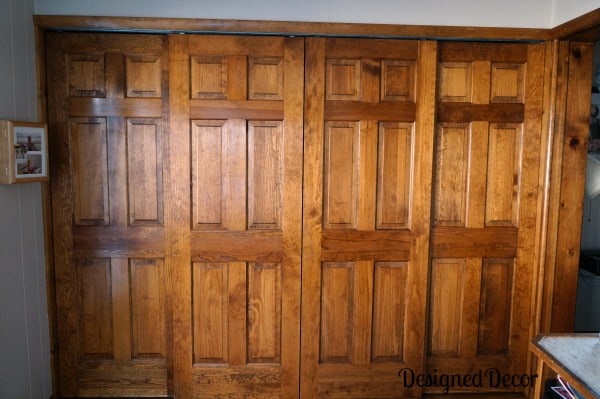 Here is the great closet system my dad built. Each door is on a sliding track, we slide open the 2 inside doors or slide the 2 outside doors. The left side is where we built a space for shoes, hats, and coats. The 2 inside middle doors is a unit to hold office supplies and a cubby for each boy to dump his backpack and other items. The far right side has 2 large shelves to hold carpet samples and various items for my husband's rentals.
The white unit inside the closet was an armoire we had on hand. We took off the doors and cut those to make additional shelves. This was a great repurpose for an item that we would have thrown away.
A little closet organizing is needed to help with the hats and shoes.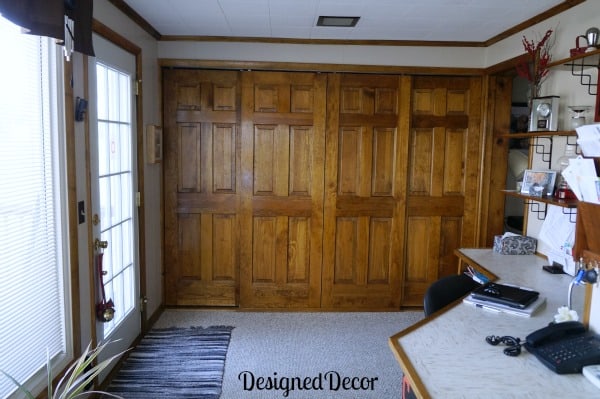 I truly love my organized office space. I love all the windows, and what an open feeling they create.
What about you, do you love your office or does it need some TLC?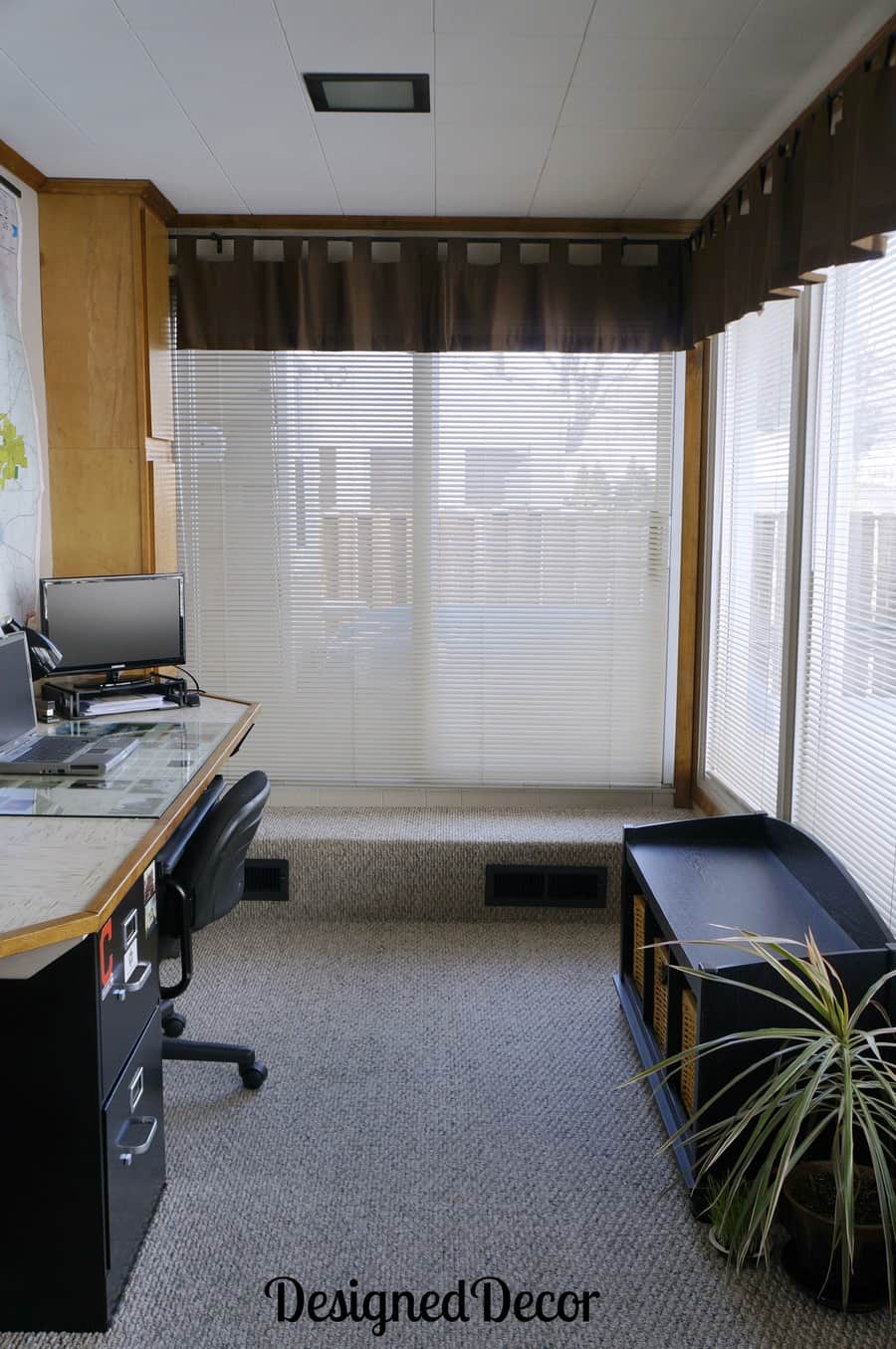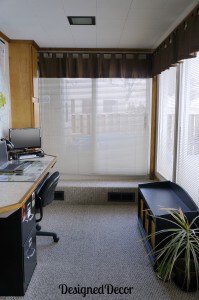 Join the DD Community!
Join the Designed Decor Community and receive weekly free tips on DIY home projects, painted furniture, decorating, and much more.