Fall is one of the best seasons of the year, and decorating your home with pumpkins is a fantastic way to celebrate it! However, buying expensive pumpkins year after year is not budget-friendly. This is why I am teaching you how to paint faux pumpkins to look like real and beautiful heirloom pumpkins.
Whether you want to add a touch of fall to your mantel, centerpiece, or front porch, pumpkins are a perfect way to express the warm, cozy feel of autumn. In this blog post, we'll show you how to make faux heirloom pumpkins using fake pumpkins, paint, wax, and real pumpkin stems.
Materials Needed: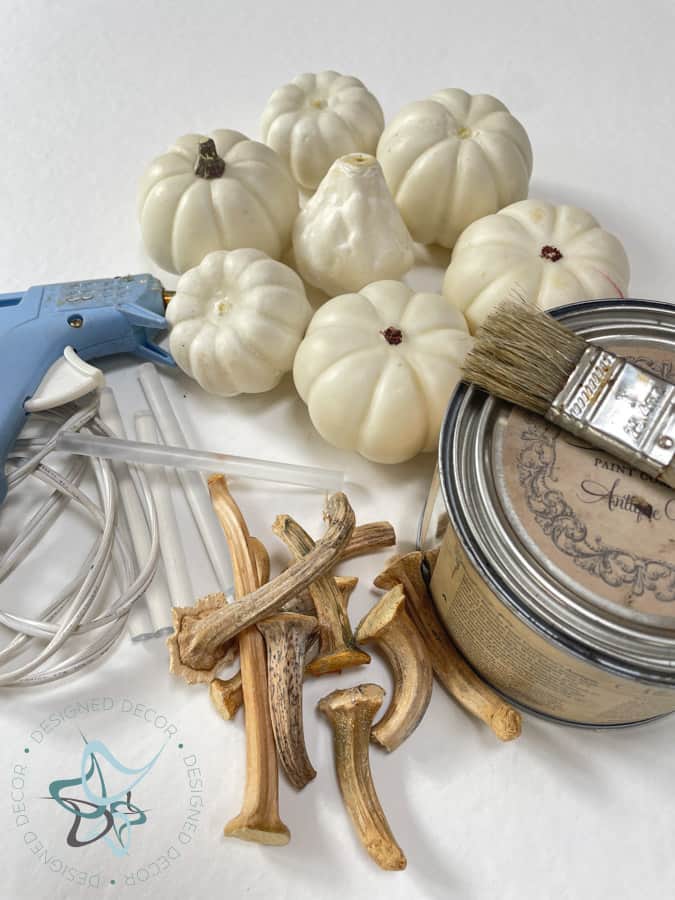 Fake pumpkins
Paints (gray, green, peach, or cream)
Wax (light or dark brown)
Paintbrushes (chip brushes work best)
Sandpaper or primer (for high gloss pumpkins)
Real pumpkin stems
Glue gun and glue sticks
How to paint fake pumpkins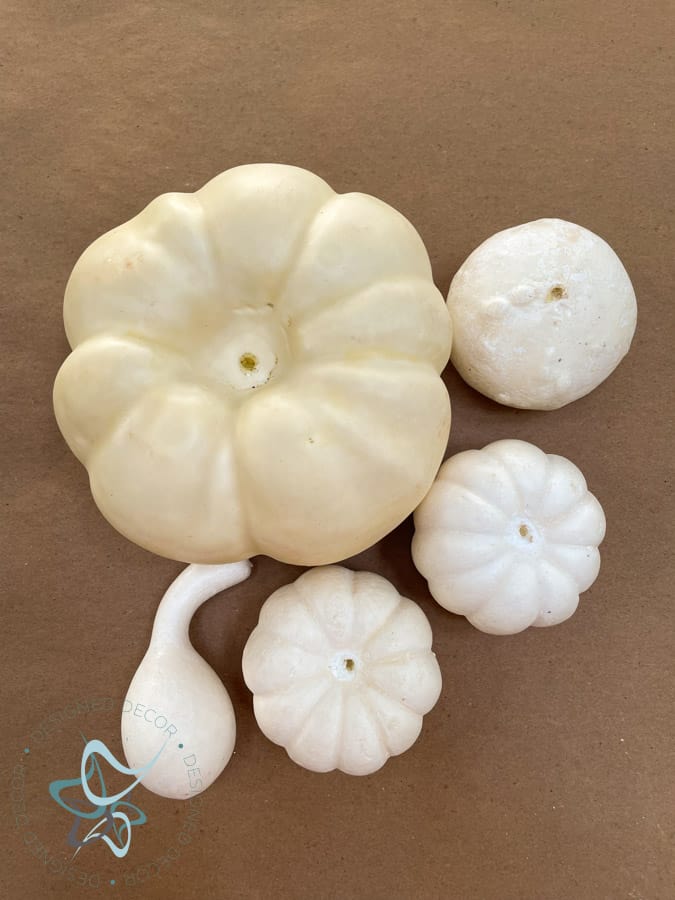 Start by removing the plastic stems from the faux pumpkins. If you have a really high-gloss pumpkin, use light-grit sandpaper to remove the sheen. You can also easily use a spray primer instead of sanding.
Apply paint to the pumpkins. You will probably need 2 coats to get the proper coverage. If using chalk-type paint, I would recommend blending a few different shades of the same color paint. This will give more variation in the paint finish.
To get different shades add a small amount of white, brown, or black paint to your base paint color.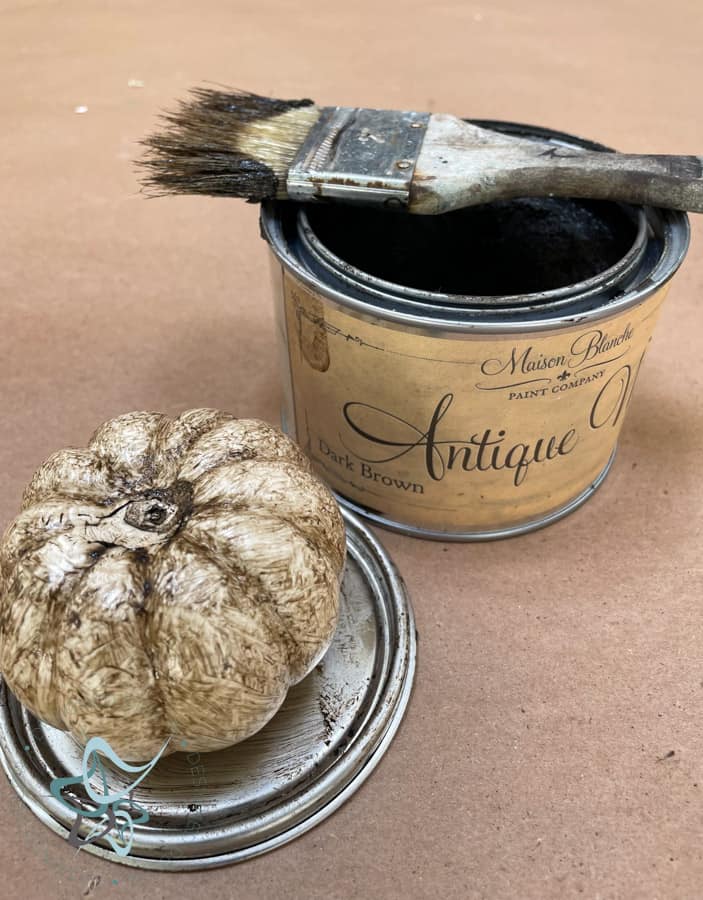 After the paint is completely dry, apply the brown wax. I like to use both light brown wax and dark brown wax so each pumpkin varies in color. After applying the wax to the entire pumpkin, begin to wipe off the wax. Be sure not to remove the wax in the crevices of the pumpkins.
After the wax is completely dry, hot glue on the REAL pumpkin stems. This is the best way to make a faux pumpkin look real.
What type of paint is best for painting pumpkins
I would recommend using chalk paint, mineral paint, spray paint, or acrylic paint. These paints are created to adhere and they are easier to use without having to do much prepping. If you want to use latex paint, I would recommend that you make your own DIY chalk paint. Click on the link to see how to make your own DIY chalk paint.
Here is a list of my favorite paints and colors to use to get a beautiful heirloom pumpkin color.
Rustoleum 2x paint and primer – I like this one since it has the primer already in the paint. I would use the colors Heirloom white, Stone Gray, Cinnamon, and Moss Green.
Country Chic paint – in colors Happy Hour, Vanilla Frosting, and Persimmon.
Deco Art Americana Acrylic Paint in colors Warm White, Silver Sage Green, and Peaches n Cream.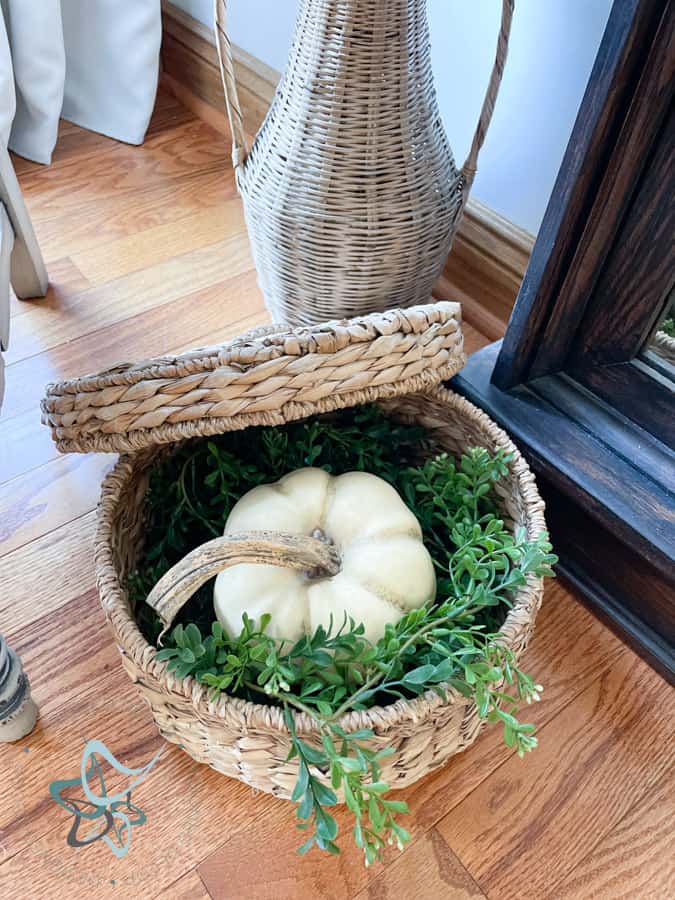 The wax that I used is no longer available, my recommendation would be Antique wax from Country Chic. They do not have a light brown color, however, you can mix in some white or pearl to lighten the dark brown color.
Sourcing real pumpkin stems
I save my real pumpkin stems and have done this for years. Ask your friends and neighbors to save them for you at the end of the season.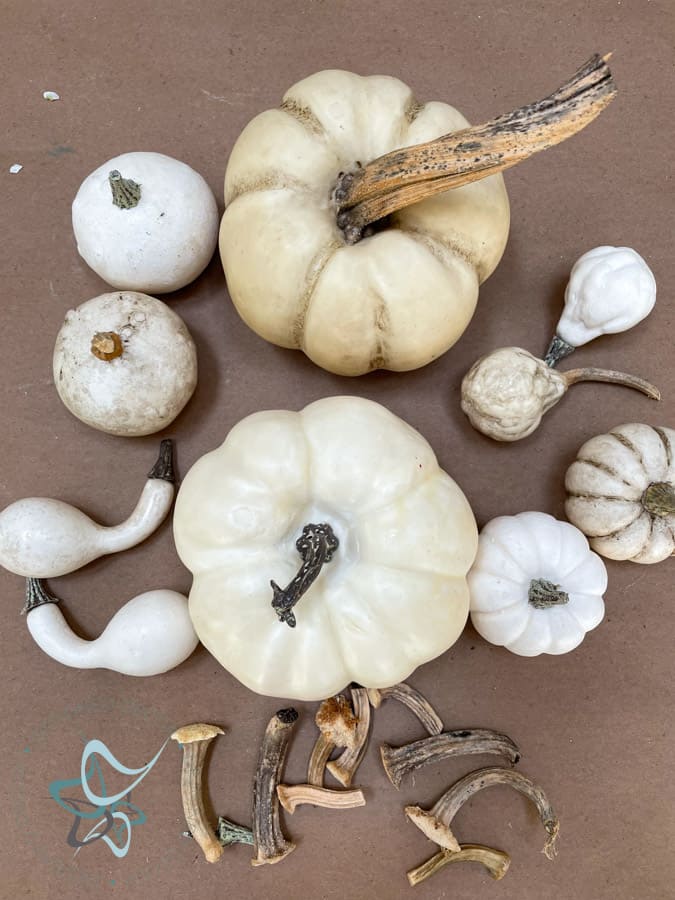 Always look at the bottom of the pumpkin crates. Whenever I am out shopping and see a pumpkin crate, I always peek inside to see if I can find pumpkin stems at the bottom. Yes, I will dig to the bottom to get them. The stores will not care if you take the ones that are already off, but please do not remove any that are attached!
If you do not have time to find real pumpkin stems, you can purchase some from this online shop.
Finding affordable fake pumpkins
I like to buy fake pumpkins at the end of the season when they offer closeouts and end-of-season sales. You can also find 50% off sales in the season, however, I think the bigger pumpkin sizes are expensive, even at half off. So that is why I try to wait until the end of the season to purchase pumpkins for the following year.
Check out the dollar stores early in the season, garage sales, and Facebook marketplace. You never know who might be getting rid of their craft collection or old fall decor. Remember you can paint anything to make it look like a heirloom pumpkin.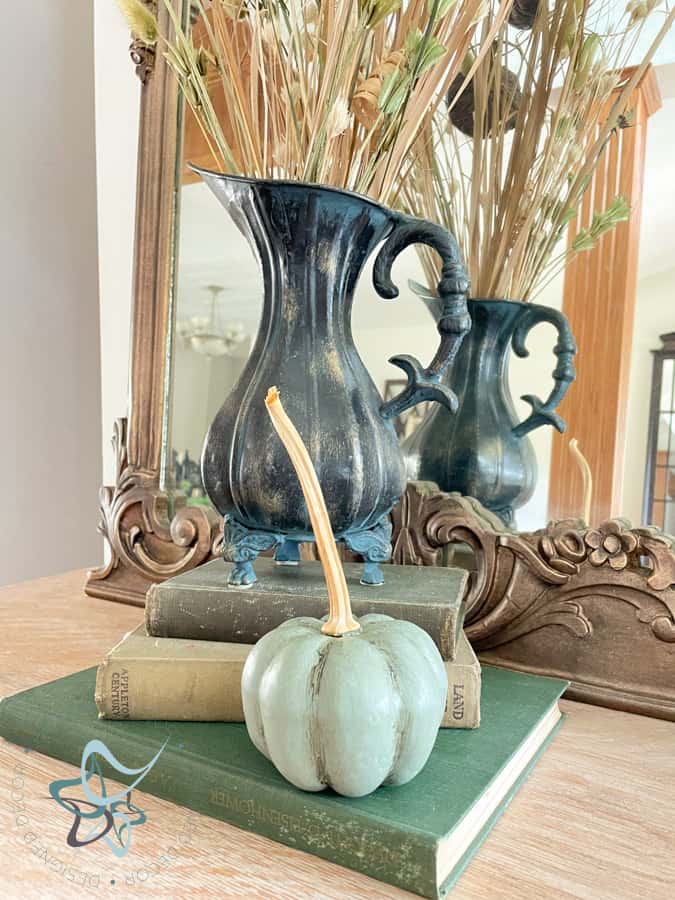 I like to find the heirloom-style pumpkin shapes. Don't worry about the color, because you will be painting it. I like this 9-inch one from Michaels. I find shopping at the local craft store to be the better prices compared to Amazon or Wayfair.
How to make faux baby boo pumpkins
To make baby boo pumpkins, I used these 16pc. harvest gourd and pumpkin mix. The best part was they were already white and I only needed to use the brown wax on them. Of course, I added the real pumpkin stems as well.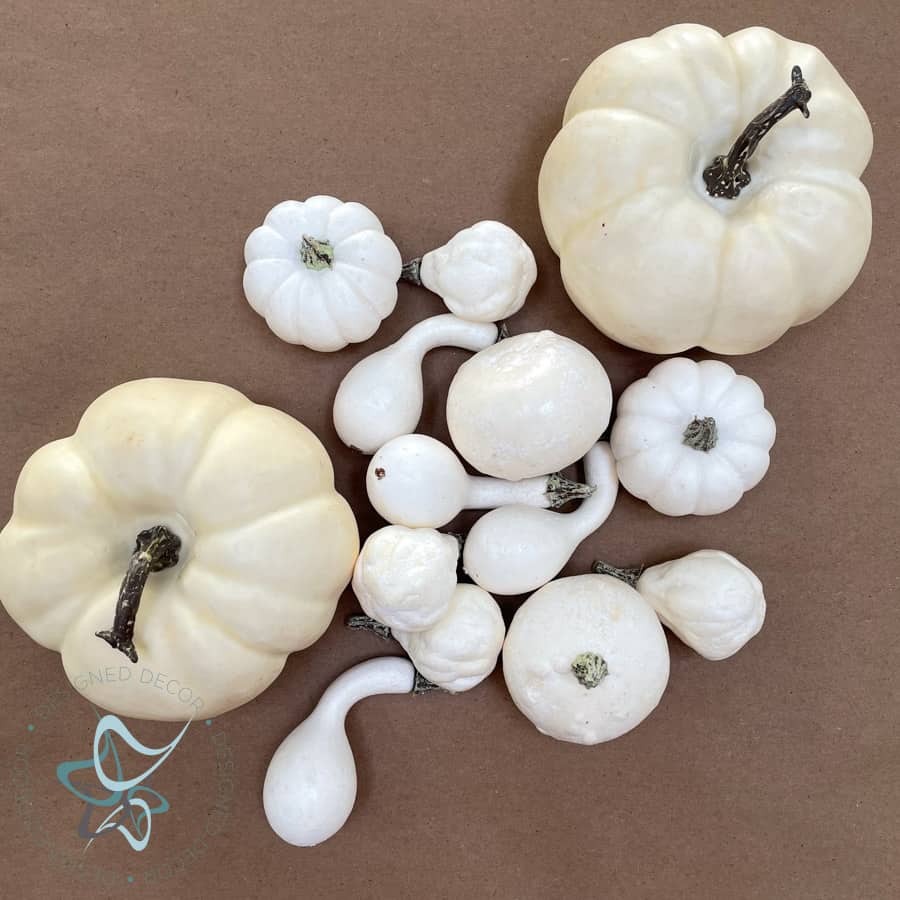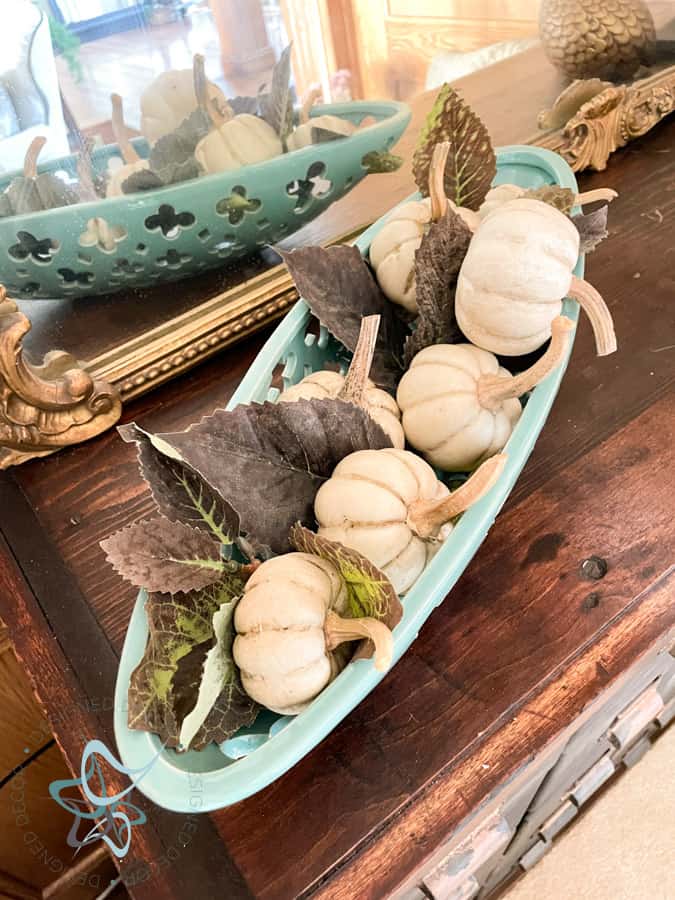 Creating DIY faux heirloom pumpkins is a simple and affordable way to decorate your home for fall. By using fake pumpkins, paint, wax, and pumpkin stems, you can make very adorable pieces in just a few hours. Of course, you can adjust the colors, textures, and details to suit your personal preferences. Remember, if you're hesitating between buying real or DIYing something awesome, always err on the side of creating! With this guide's help, you can easily paint, wax, assemble, and style your beautiful faux heirloom pumpkins that will last for many years to come. Happy Fall Y'all!
Check out these other great Fall Decorating Ideas





Join the DD Community!
Join the Designed Decor Community and receive weekly free tips on DIY home projects, painted furniture, decorating, and much more.