Do you have furniture in your home that needs a makeover but you don't want to shell out the cash for expensive store-bought chalk paint? Making your own chalk paint recipe for furniture is easy and can save you money over expensive chalky furniture paints.
Here, we'll guide you through exactly how to make your own chalk paint recipe with simple ingredients. With very little effort and expense, painting your furniture will be easy and fun! However, if you want to make your own DIY chalk paint recipe, you need to know a few important things first.
This post contains affiliate links. Please click here to see my full disclosure.
Best Practices to make your own chalk paint
Chalk paint recipes are becoming increasingly popular, but it's essential to know the best practices before you get started! I'm here to give you some helpful tips and tricks for making your own DIY chalk paint so that every project is a success.
Use warm water to mix into the plaster of Paris, (or other powders) this helps to properly dissolve the powder.  I measure the plaster of Paris and place it into a disposable plastic container.  Slowly add the warm water to the plaster of Paris and mix thoroughly, until all granules are dissolved. This is an extremely important step as you do not want chunks in your mixture when painting. This mixture should be a thin consistency, but not watery.
I find it easier to mix the powder and the paint using this —> handheld mixer. Trust me when I say you can never mix the paint enough to achieve a smooth finish.  
Pour 2 cups of latex or acrylic paint into a mixing container, using this —> paint strainer. The paint strainer removes debris from the paint which allows for a smoother paint finish. Strain your POP mixture into the latex paint. Make sure to thoroughly mix the POP and paint together.
Make small batches when making your own DIY chalk paint recipe as it tends to dry out quickly over longer periods. Use air-tight glass containers when sealing your leftover chalk paint. Glass keeps moisture better than plastic.
Featured Videos from Designed Décor
Questions about how to make chalk paint
What paint is best for making chalk paint? You can use any type of latex paint in your chalk paint recipe. The better the quality of latex paint, the better the homemade recipe.
Can you turn acrylic paint into chalk paint? Yes, you can use it however, latex paint works best.
Can you make chalk paint with baking soda? Yes, it does require more sanding as the finish is not as smooth as some of the other powder additives you can use.
What is the best DIY chalk paint recipe? My personal opinion is the recipe with plaster of Paris. See my comparisons below.
Is homemade chalk paint as good as store-bought? Again, this is a personal preference. I prefer to use premixed store-bought chalk paint. Please see the reasons further down in this post.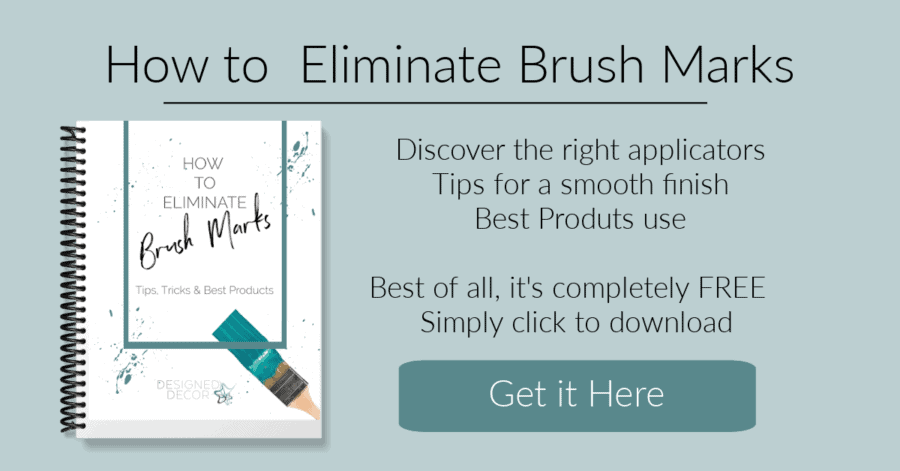 Chalk Paint Recipes
You can use a variety of different powders to mix into your latex paint to have homemade chalk paint. My personal choice that I have used many times is with plaster of Paris.
Plaster of Paris Chalk Paint Recipe
Mix 4 tablespoons of plaster of Paris with 2 tablespoons of warm water. You may need a bit more water to get a thin consistency. Mix thoroughly with the emersion blender and add the 2 cups of strained paint. See the best practices above for all the mixing details. ~ Check out this article if you would like to know more about pop. What is plaster of Paris?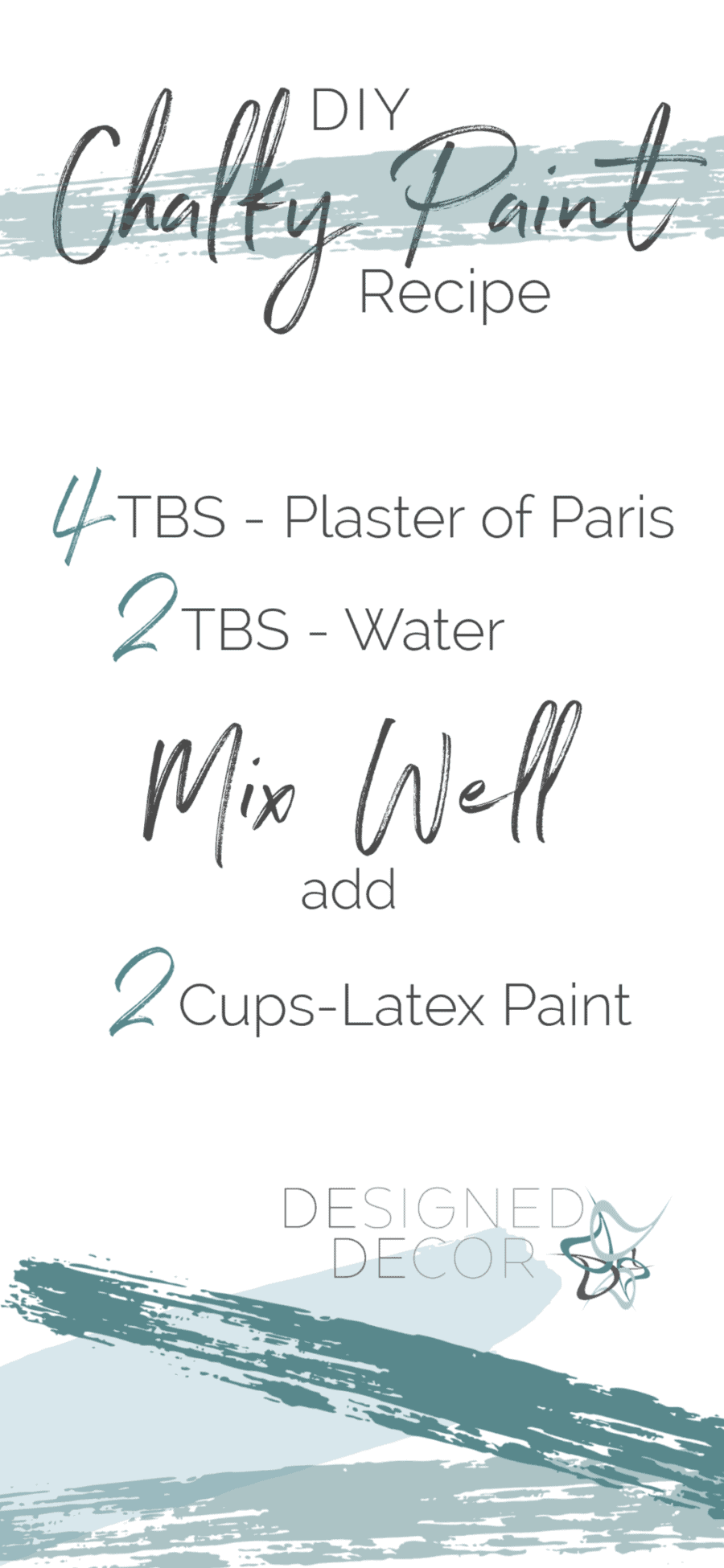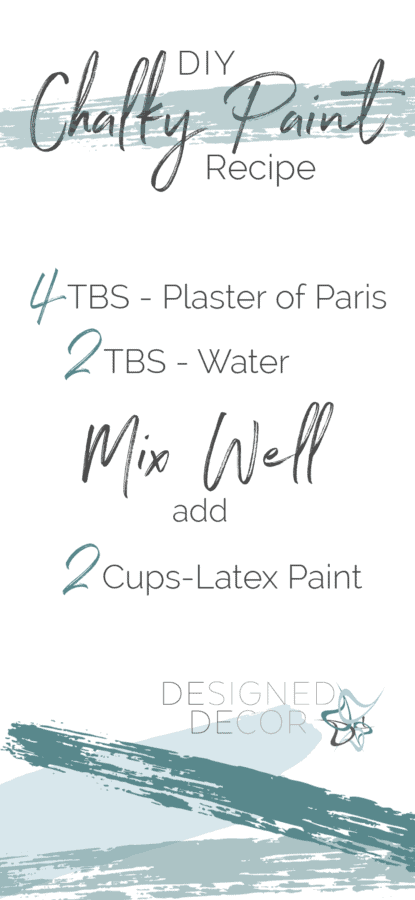 Calcium carbonate chalk paint recipe
Mix 2 parts latex paint to 1 part calcium carbonate. Mix well using the emersion blender. This mixes up well and seems to be easier to mix than the others. You may not find it at your local stores and may have to order calcium carbonate online.
Baking soda chalk paint recipe
Mix 2 parts paint to 1 part baking soda. As mentioned many times, you need to mix the powder very well into the paint. The baking soda recipe is very gritty when applied. For this reason, I do not recommend using it to make chalk paint.
I have seen many different chalk paint recipes and would only recommend using calcium carbonite as a substitute for the plaster of Paris. I have discovered using baking soda, sanded or non-sanded grout and both work, however, the paint finish is very rough no matter how much you mix the products together. The baking soda and the grout also dry out the paint mixture very quickly.
DIY chalk paint vs. Manufactured paint
When I first started to paint furniture, I made most of my chalk paint. This helped to save money on my own personal painted furniture projects. This allowed me to use the latex paint colors I had on hand and use the paint colors that were in the color scheme of my home.
Once I began selling my painted furniture, I decided to start buying manufactured chalk paint. I did not want to sell an inferior product. I wanted my finished-painted pieces to last over time. Yes, they are more expensive, however, my reputation as a quality furniture painter was more important than saving a few dollars.
The other big decision was the manufactured chalk paint sprayed on better than my homemade chalk paint. Spraying on paint is a huge time saving so what I spent on product saved me on time with spraying.
Painting tips when using homemade chalk paint on furniture
Mix and then mix some more. You need to continually mix the paint as you go. You also may need to add in some water to keep it at the right consistency.
After the first coat dries, use light grit sandpaper, 400 or higher, to smooth out the finish in between coats. Do this after every coat.
If your paint seems to be too coarse, add a bit more paint to the mix, thin it out with water, and strain it with this mesh paint strainer.
Some DIY chalk-painted furniture may need to be distressed as it may not give you the smooth finish you were hoping for.
Seal all chalk-painted furniture with a wax or my favorite matte sealer.
Finished furniture pieces using the DIY chalk paint recipe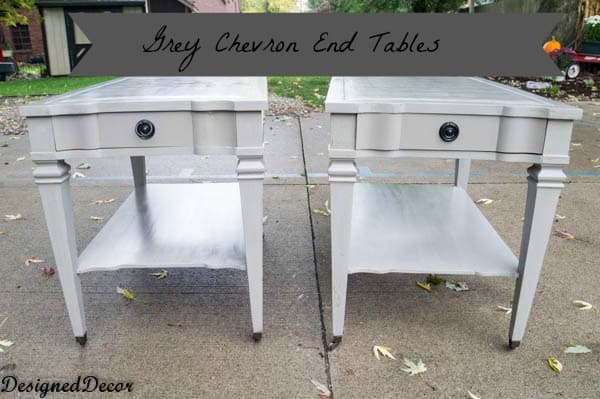 I found these leather top-end tables at a garage sale and knew they would have a great future with a little paint.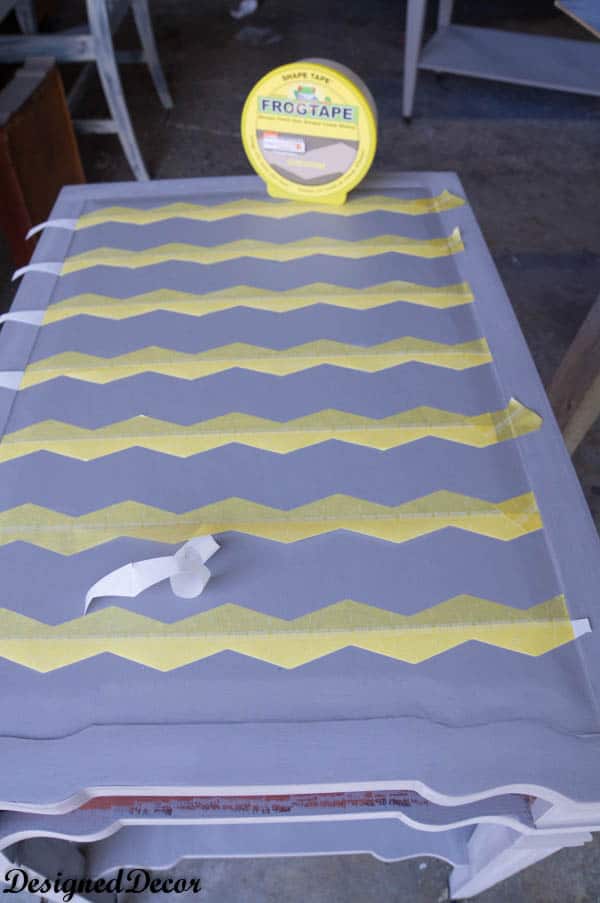 I used 2 coats of my DIY chalk-like paint to cover the tables completely. For those who want to know I used Sherwin Williams color #SW7018 Dovetail to make my chalk-like paint. I used Frog Tape Shape Tape Painting Tape, Chevron Design, 1.81 Inches x 25 Yards, 282549
to achieve my chevron pattern. You could make your own chevron pattern, but I decided my time was worth buying the pattern tape. I then mixed a lighter color version of my chalk-like paint and dry brushed that on top of the chevron tape. Once I removed the tape, the darker gray color showed through, giving the tables a distressed white-washed look.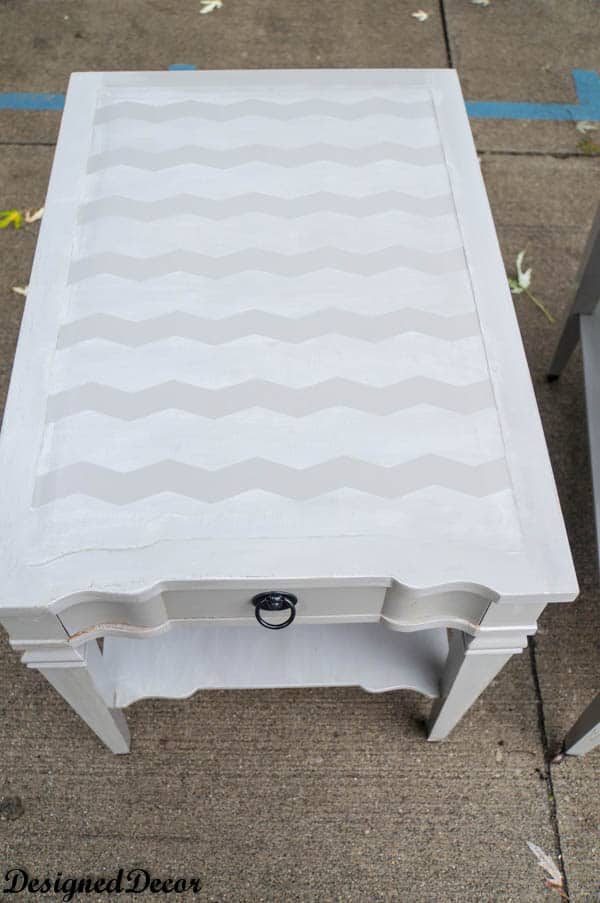 This spindle 3-tier shelf was a roadside find. I used the same color as the leather top tables above. I distressed them quite a bit as it was hard to get a smooth finish on the spindles.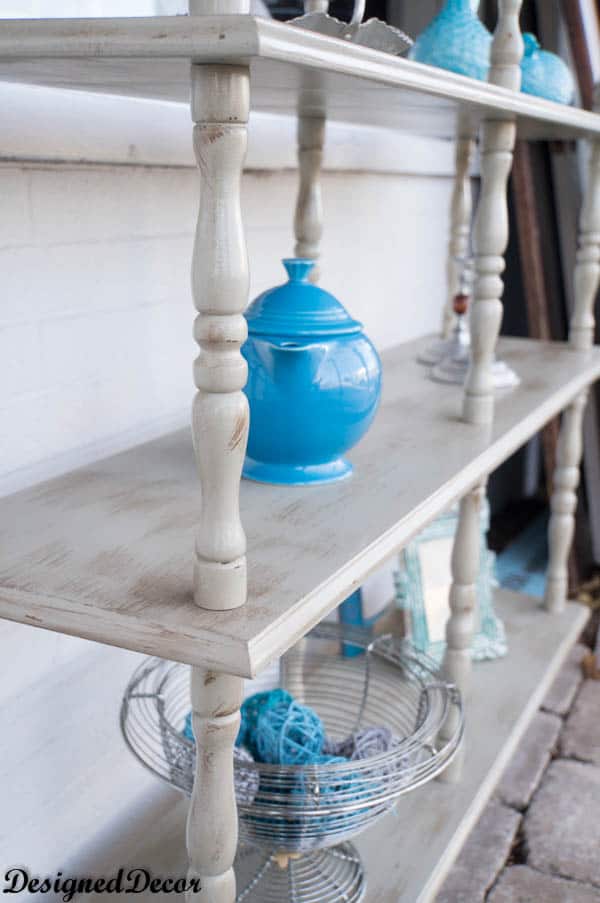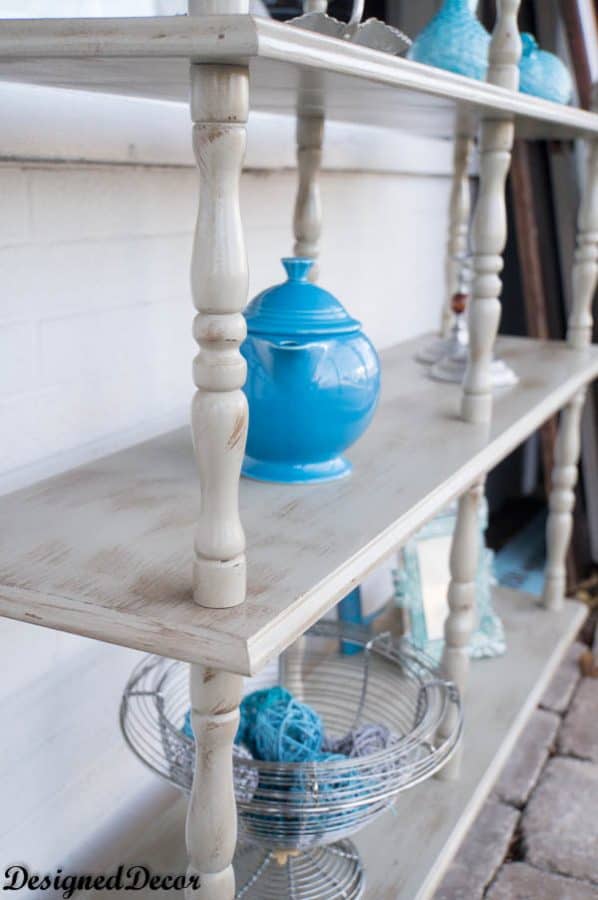 Making your own chalk paint is not only easy, but it's also a great way to save money. By following the best practices and using one of the easy recipes above, you can make high-quality chalk paint that will give your furniture projects a beautiful finish. And if you run into any problems along the way or need more help painting furniture, check out these other great resources.





Join the DD Community!
Join the Designed Decor Community and receive weekly free tips on DIY home projects, painted furniture, decorating, and much more.