It's that time of year again! Thanksgiving is just around the corner, and that means it's time to start planning your table decor. But if you're like me, you don't have a lot of money to spend on seasonal decorations or you just do not like to fuss over your table decor, never fear! There are a lot of ways to set a beautiful yet simple Thanksgiving table on a budget. In this blog post, I'll share some tips and tricks for creating an elegant Thanksgiving table without breaking the bank. So read on, and get inspired!
Skip the tablecloth
If you do not already have a neutral tablecloth or table runner, skip it. You do not need one to make your Thanksgiving table look beautiful. However, I would not use cheap plastic ones as they can give off an unappetizing feel to your guests and ruin the whole experience!
If needed, you can get away with using a scarf as a table runner. Bunch up the scarf and place your decorations inside the gathered fabric, no one will know you just wore it yesterday.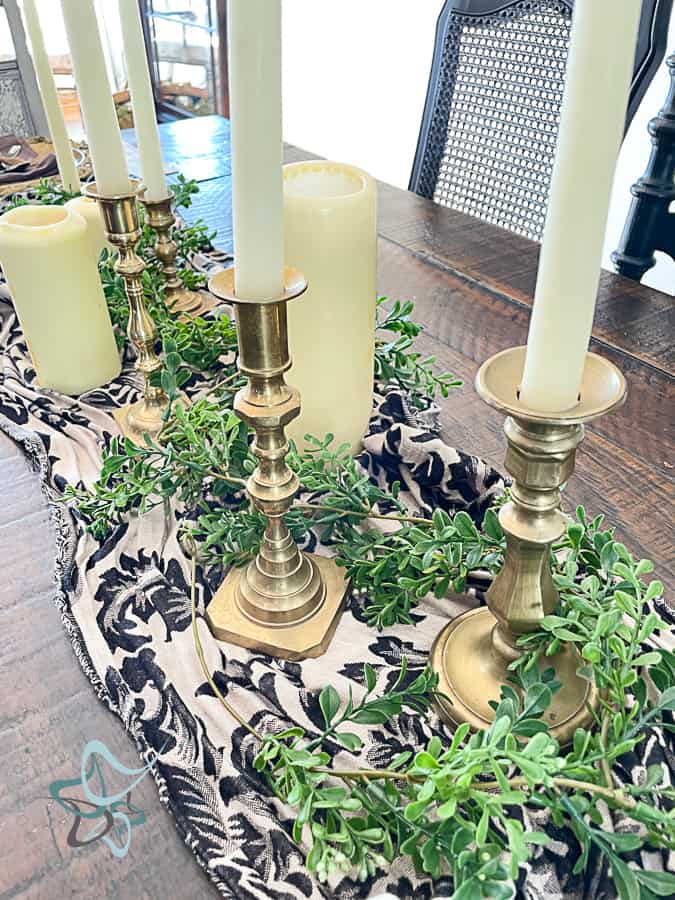 This post contains affiliate links. Click here to see my full disclosure policy.
The other option to use in place of a tablecloth or runner is placemats. I have used placemats running down the center of my table or for individual place settings. These heat-resistant, wrinkle-free and washable placemats are perfect for your simple table setting.
Keep it neutral
No matter what type of Thanksgiving table you are setting, a neutral cloth and dishes will make it look beautiful.
The key is to have neutral non-seasonal items to set your table. You do not want to have to store dinner plates that you only use 1 time a year. The same goes for your other table decor. A classic brass or silver candle stick holder can be used year-round for any occasion.
Neutral dishes will allow you to use any pop of color for the season and will not clash with your dinner wear if you go neutral.
Neutral also stands the test of time with its clean and classic styles.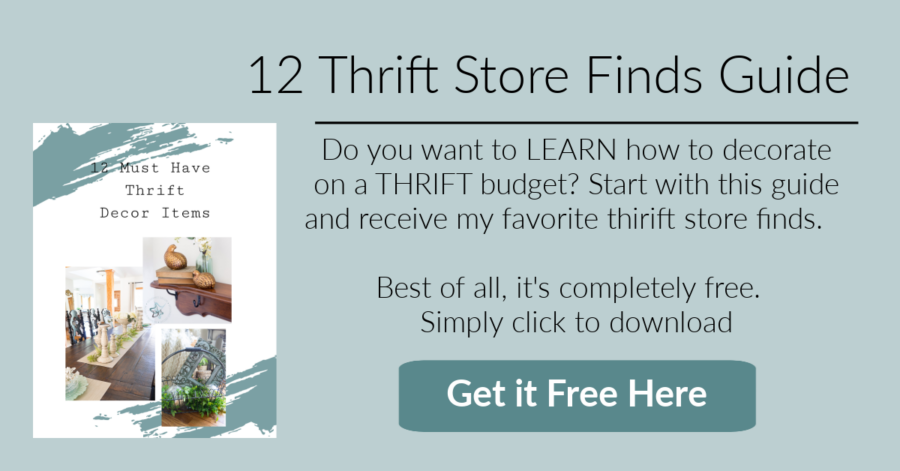 Use home decor items you already own
Shop your home a see what items you can use to make a centerpiece. Find a vase or a dough bowl and fill it with tree branches, grass tassels, dried corn stalks, fresh rosemary clippings, or any other items you may find in nature.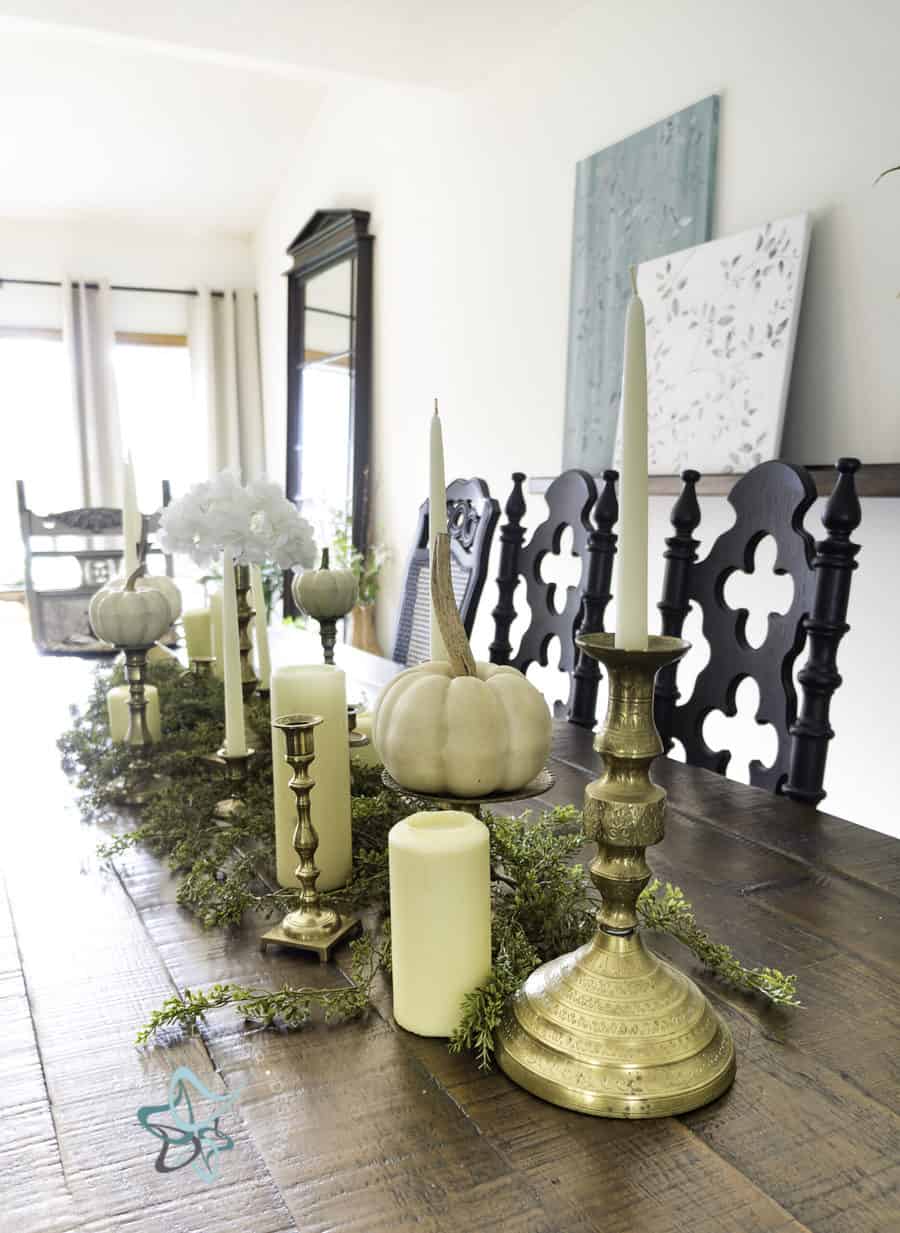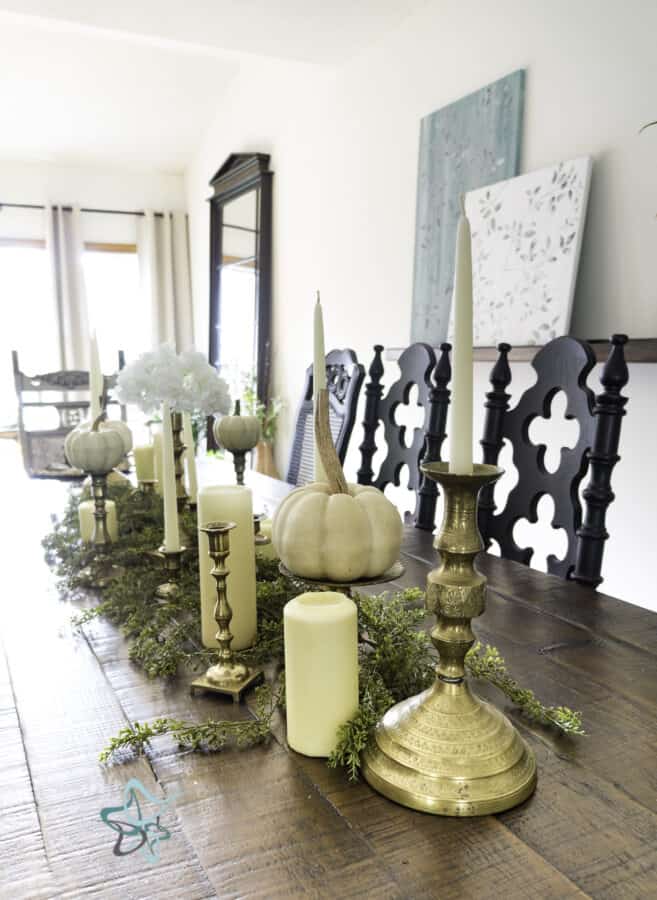 Also consider using fresh pears, apples, oranges, and pumpkins to add to your table setting. No storage is needed if using fresh produce or things found in nature.
Add candles
Adding candles to your Thanksgiving tablescape is a very inexpensive way to decorate your table. The candles also add warmth and coziness to achieve that feeling of fall.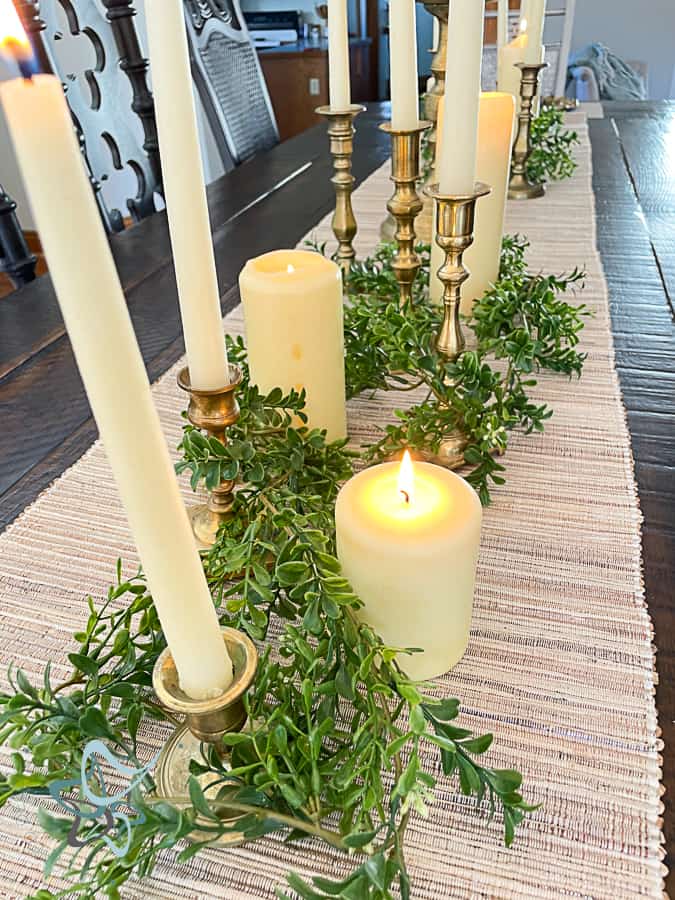 Again, stick to a neutral candle color so you can add these to any table setting.
Here are a few inexpensive candles and candlesticks for your table setting.
Make your own DIY candlestick holders
I am a huge fan of finding used brass candlestick holders at the thrift store. They add height to any vignette or table setting and you can find them in different heights and styles and they all pull together nicely.
Another great option would be to make your own candlestick holders. Here are a few great ideas on simple ways to DIY your thanksgiving tablescape.
Purchase inexpensive charger plates
Charger plates can sometimes be expensive. I recommend that you purchase the ones from the dollar store. I found this set of 12 for $15. They have a few different colors and don't forget you can spray paint them in a color that coordinates with your neutral table setting.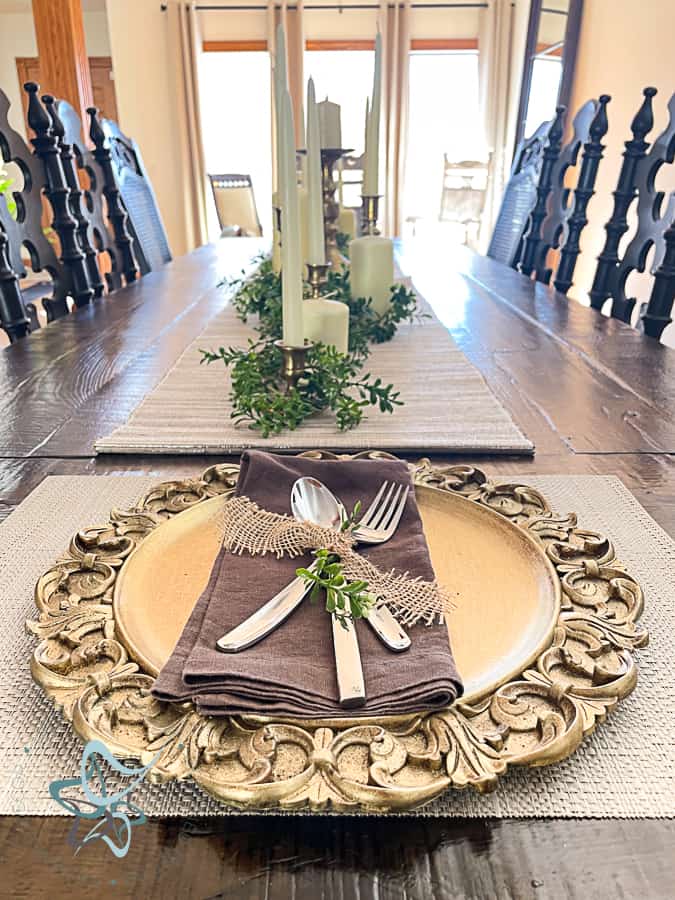 Watch this video on how I quickly changed the color of my charger plates.
Level up with place cards
Make your guests feel welcome by having place cards and each place setting.
You do not have to make them with individual names, use fall quotes or items to be grateful for as conversation starters.
Take a look at these place card ideas and free printables
So there you have it, a simple table setting that is chic and elegant but won't break the bank. I love using things from nature as part of my decor, and mixing in some vintage finds always makes me happy. What ideas do you have for a simple Thanksgiving table setting? Do you go all out with an elaborate spread, or keep it more low-key as I did? I'd love to hear your thoughts in the comments below!
Also, check out these simple ways to decorate for the Holiday Seasons
Discover more Inspirations by clicking on each category photo





Join the DD Community!
Join the Designed Decor Community and receive weekly free tips on DIY home projects, painted furniture, decorating, and much more.