Are you looking to add some style to your home without spending too much money? Do you want to give old items a new life? If the answer is yes, then DIY thrift store makeovers are perfect for you!
Giving a second chance to an item, whether it's furniture or decor, can be incredibly rewarding and cost-effective. With a little creativity, you can transform tired but worthy items into stylish pieces that bring personality and charm into your space.
In this blog post, we'll provide tips on how to hunt for hidden treasures in thrift stores as well as explain step-by-step guides on how you can use them to create beautiful DIY projects that will revamp any room in your home.
How to shop for Thrift Store home decor
Thrifting is an amazing way to find great deals, explore new styles, and give furniture or accessories a stylish makeover. Make sure to go with an open mind and take inspiration from what you find.
Before beginning your thrifting journey, make sure to have a clear idea of the kind of item or look you're hoping to find. Having a few inspirational photos or ideas are very helpful.
If you are looking to fill open shelving in your home, make sure you have a list of items that will work in the space and also know your measurements. You do not want to spend money on items that are too tall or wide for the shelving.
Thrift shopping requires an eye for creativity and a bit of patience, but you can ultimately find some truly unique items. You may love an item, but the color is all wrong. Remember to think outside the box and know that you can easily alter and change the color of most thrift store finds.
Another great strategy is setting a budget for what you want to spend, which can help keep you from overspending or buying more than necessary.
Thrift store home decor shopping can be a fun and affordable way to inject new life into your home without breaking the bank. And remember that if you don't find anything on this specific outing, there are always more thrift stores waiting! Who knows what treasures next time will bring?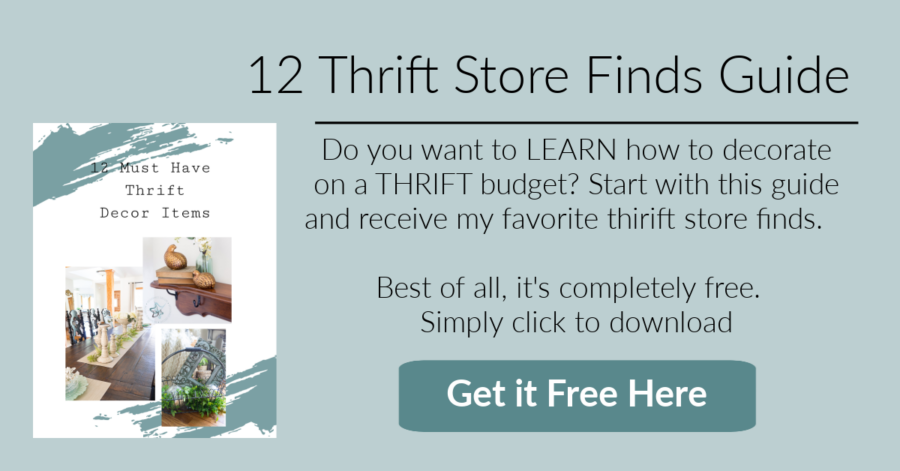 How to upcycle second-hand home decor finds
Now it is time to get creative and find inspiration for those thrift store home decor items.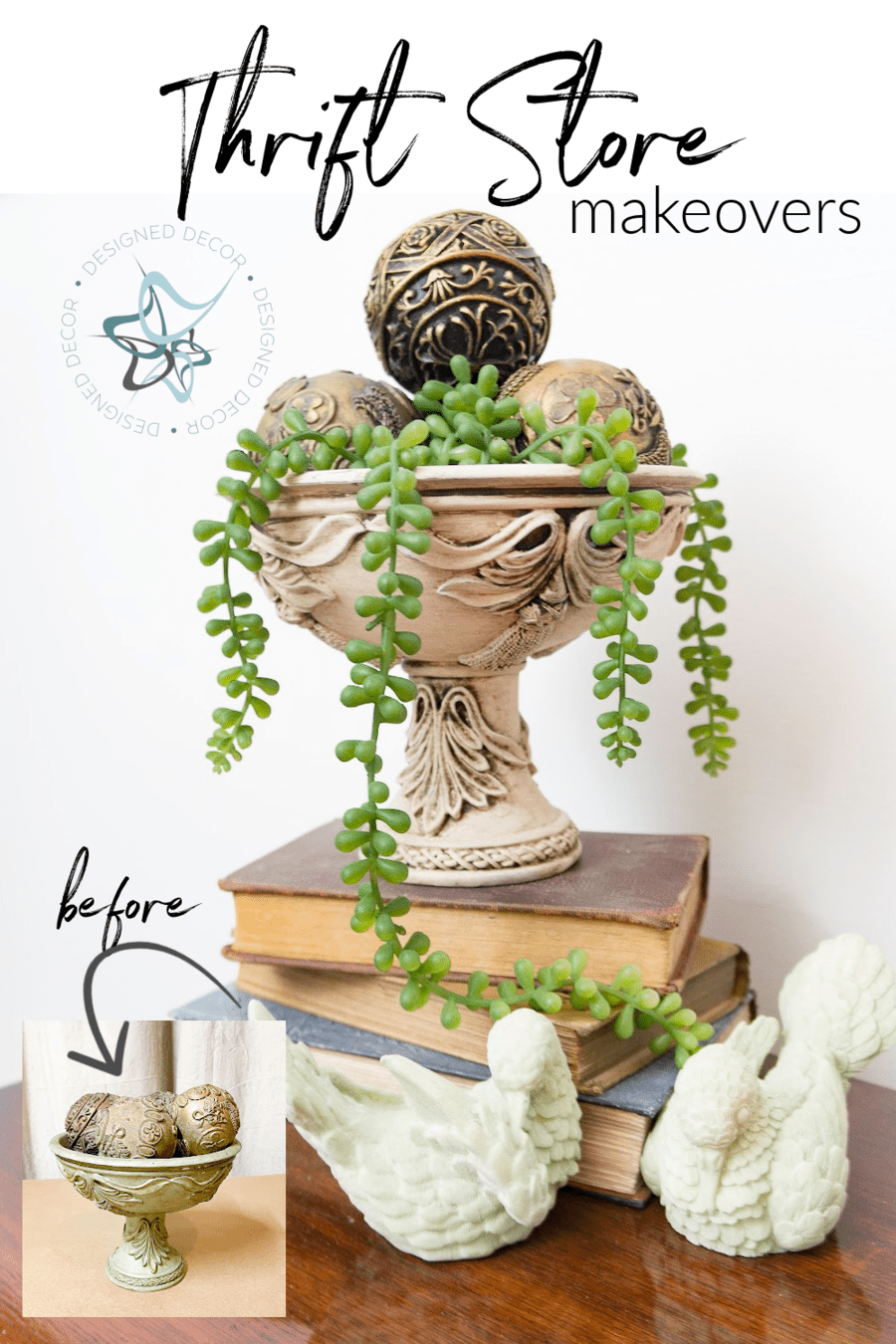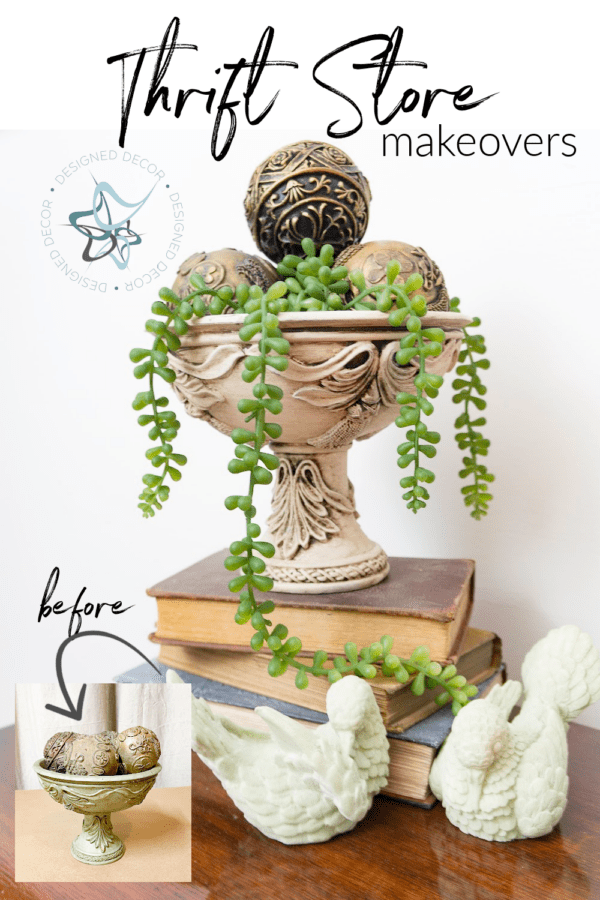 This post contains affiliate links. Click here to see my full disclosure policy.
This pedestal bowl with wooden orbs was an easy makeover using some paint, glaze, and metallic wax. The bowl was painted using cheesecake chalk paint and smokey quartz glaze. The doves were painted in soft green spray paint.
The wooden orbs were finished with 2 easy finishes.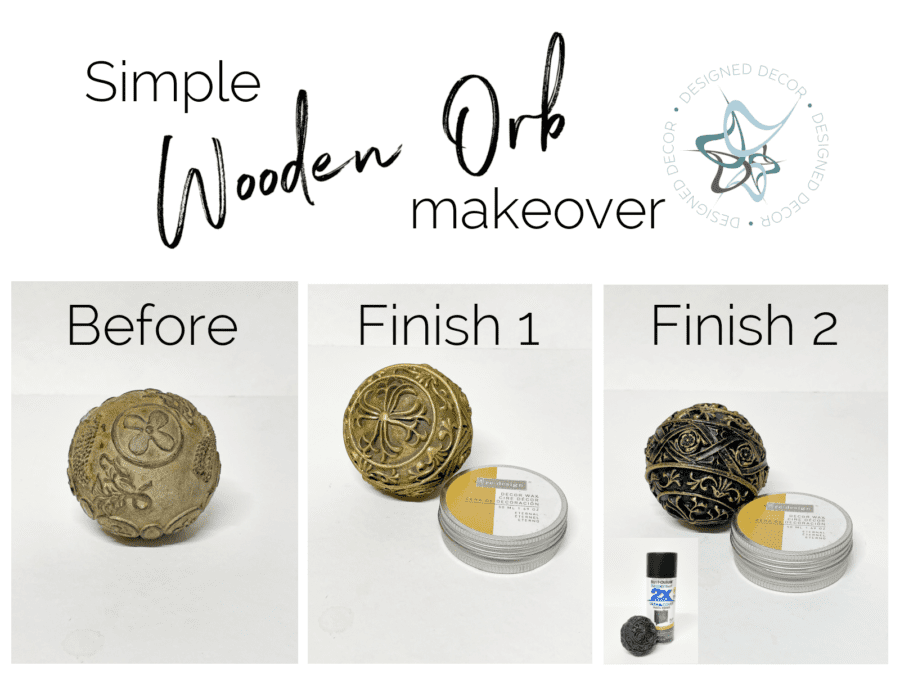 Create this first finish easily by using gold metallic wax. Finish #2 was first painted using black spray paint followed by the same gold metallic wax from finish #1. The orbs stood out more by using 2 different finishes.
Watch this video to see how I used this same gold wax to makeover charger plates.
One of the best thrift store finds is anything that has carved details like bowls, frames, and boxes.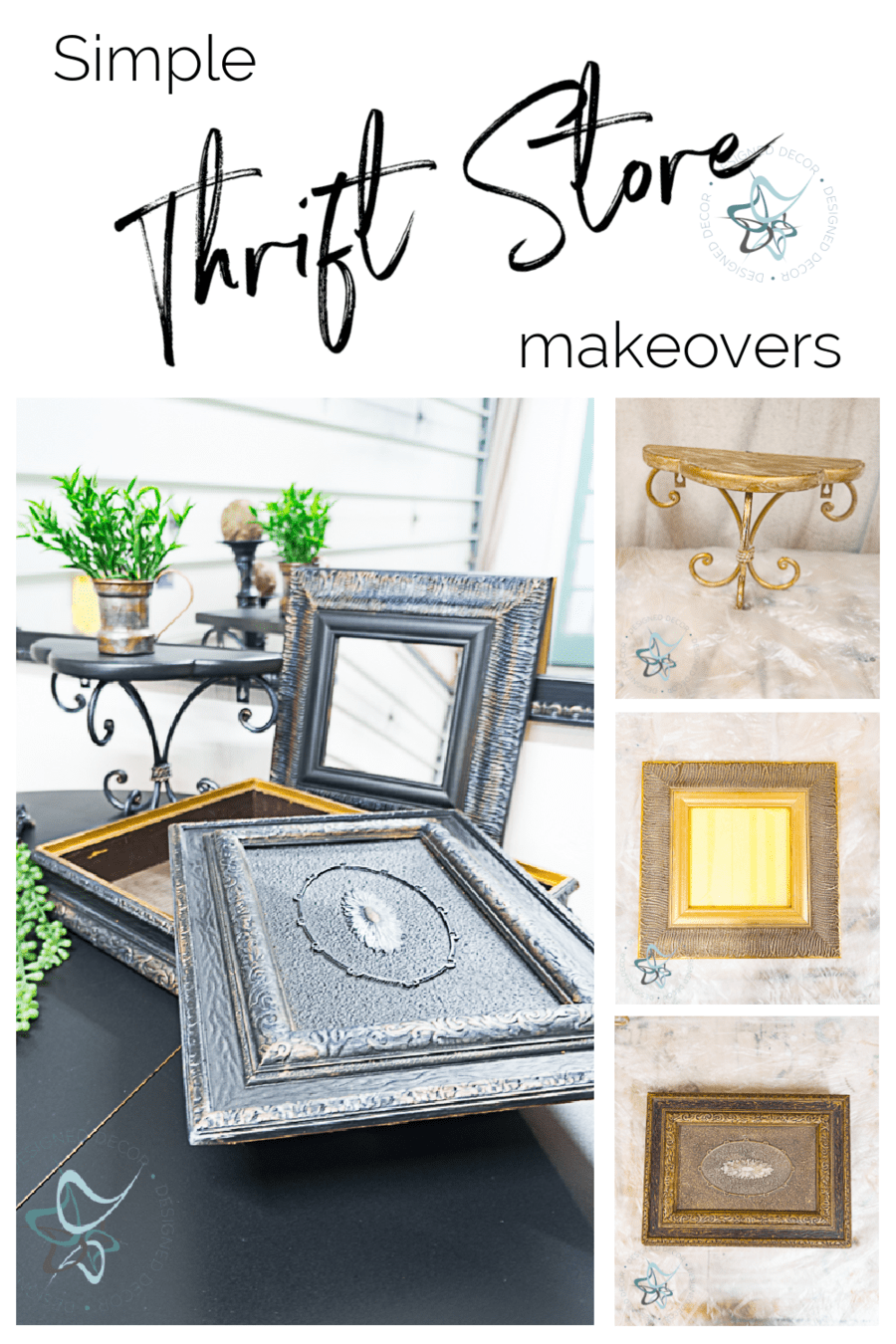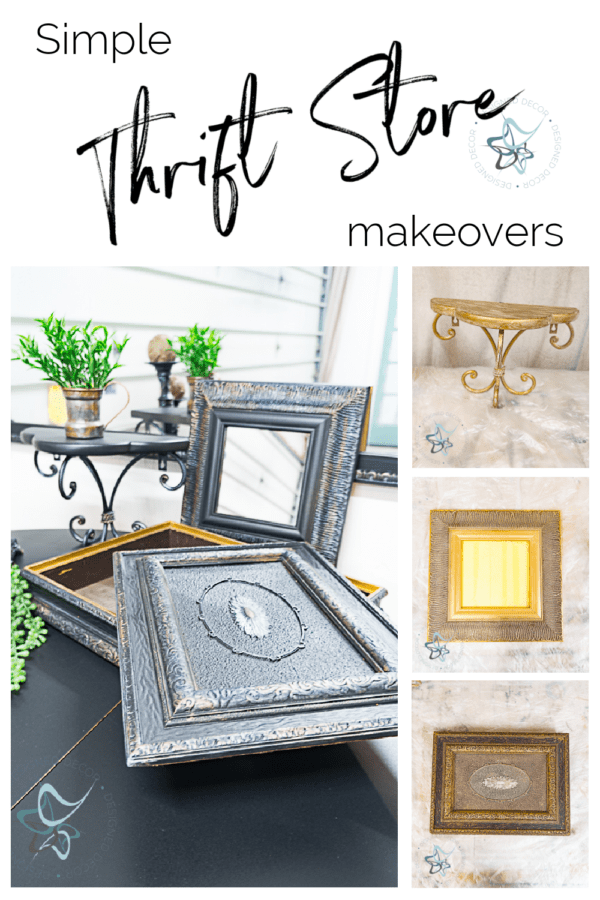 All the above and below home decor items were painted in lamp black, sealed with a flat sealer, and accented with metallic cream.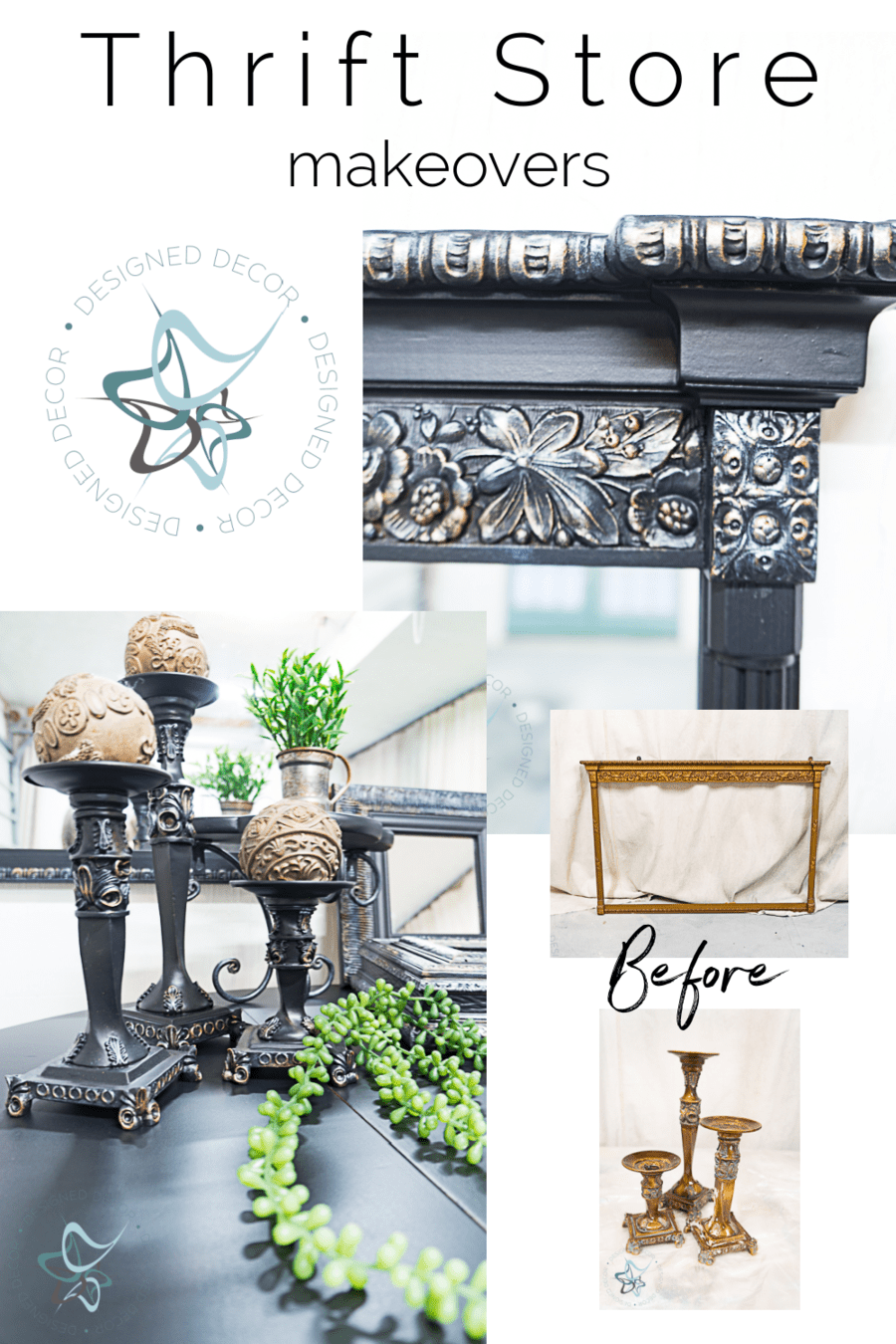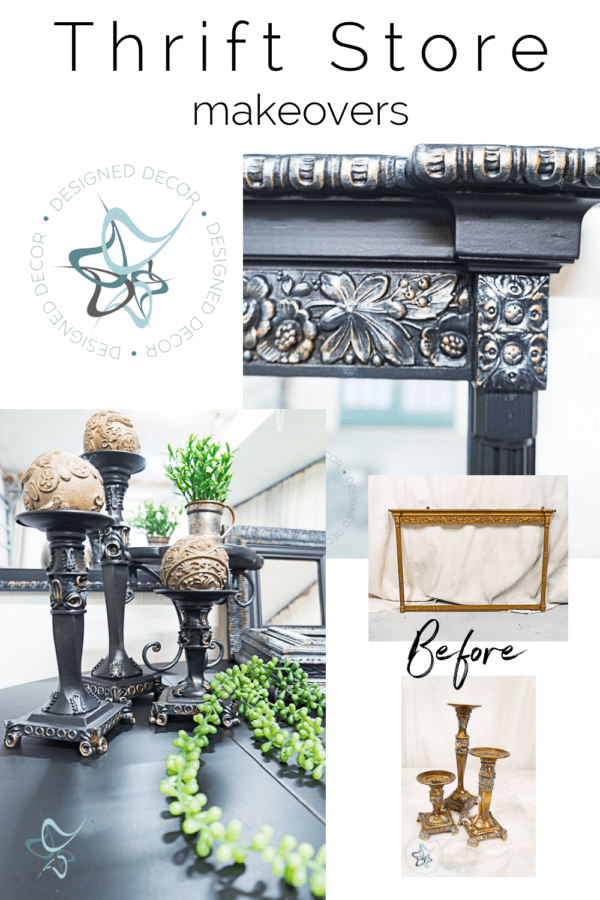 Next, are a few items that I forgot to take before photos. Sometimes I get excited to start painting and forget to snap that picture.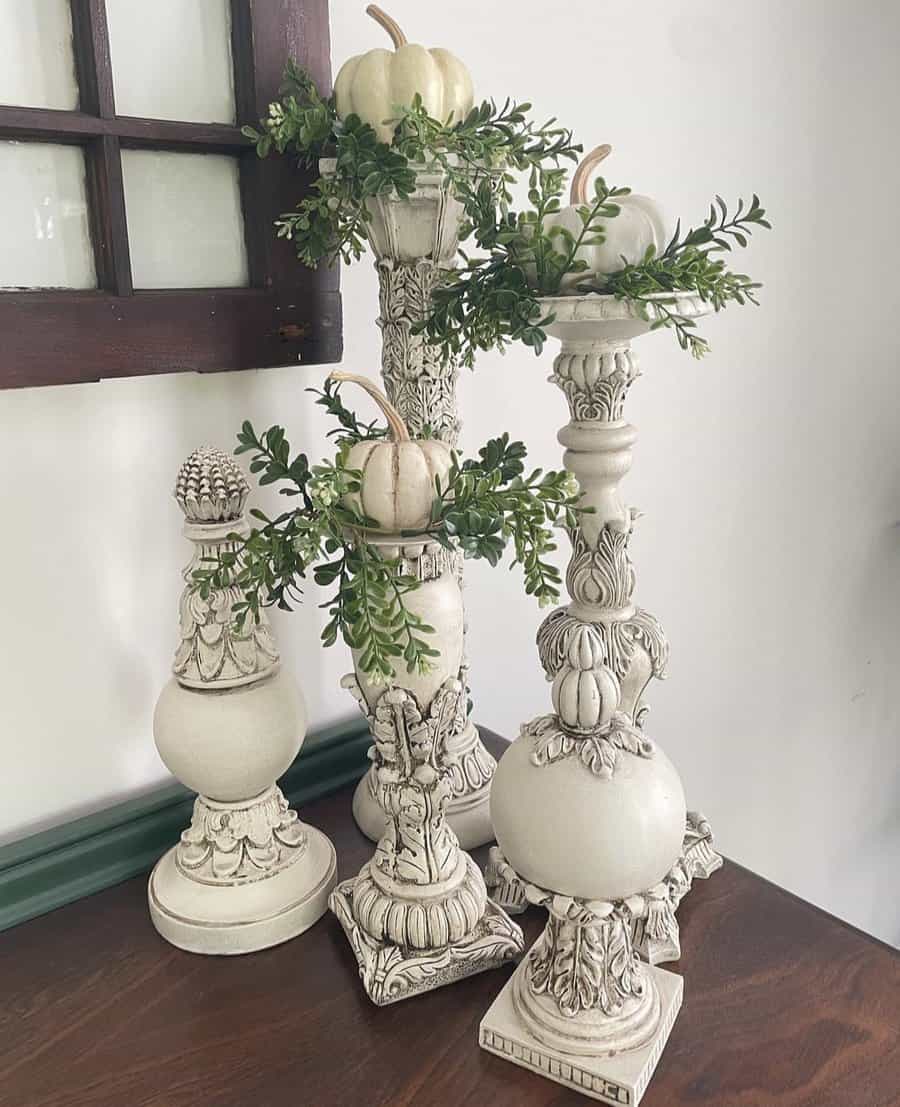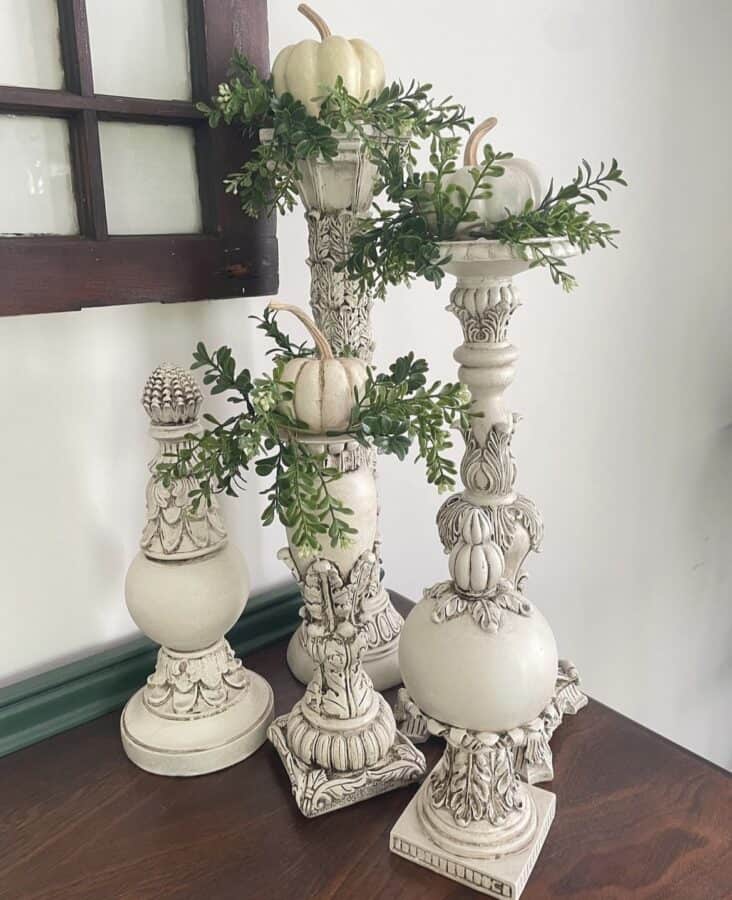 In this case, these decorative accessories and candle holders were all different colors. I sprayed them using my Wagner paint sprayer, using linen paint, my favorite flat sealer, and van dyke brown glaze.
If you are looking for more thrift store home decor ideas, make sure you check out my DIY PROJECTS page, where I have many more thrift store makeovers.
Don't forget that thrift stores have really great furniture which you can paint in order to save you huge amounts of money when it comes to decorating your home. Also, check out my FURNITURE MAKEOVER page.
I know that painting a frame is much easier than furniture, and I have you covered. Along with all the free tutorials, I offer ONLINE FURNITURE PAINTING WORKSHOPS for those who need step-by-step instructions.
For the most part, 80% of my home is decorated with thrift store decorating. I save so much money by using upcycled home decor items. It takes time to find the perfect items. Vision to see those old items with a fresh coat of paint.
Now that you have some inspiration to give your home a fresh look on a budget by decorating with thrift store finds. With a little creativity, you can turn inexpensive secondhand items into stylish decorations for your home. What thrift store makeovers have you done in your own home?
Discover more Inspirations by clicking on each category photo





Join the DD Community!
Join the Designed Decor Community and receive weekly free tips on DIY home projects, painted furniture, decorating, and much more.