As much as we all love decking the halls in festive decor during the holidays, it can be a bit of a challenge to decorate for winter after Christmas. Sure, you can just take down all of your holiday decorations and call it a day, but that's not very exciting. And just because the holidays are over doesn't mean you have to be stuck with a bare home until spring arrives! Here are some simple yet stylish ideas on how to transition from Christmas to winter decor.
Decorate for the Season, not for the Holiday
To make decorating for Christmas easier, start by decorating for the season and not just for the Holiday.
Begin by decorating for Winter before you begin to decorate for Christmas. This makes it easier to add in a few Christmas decorations while still having the layers of winter decor in place.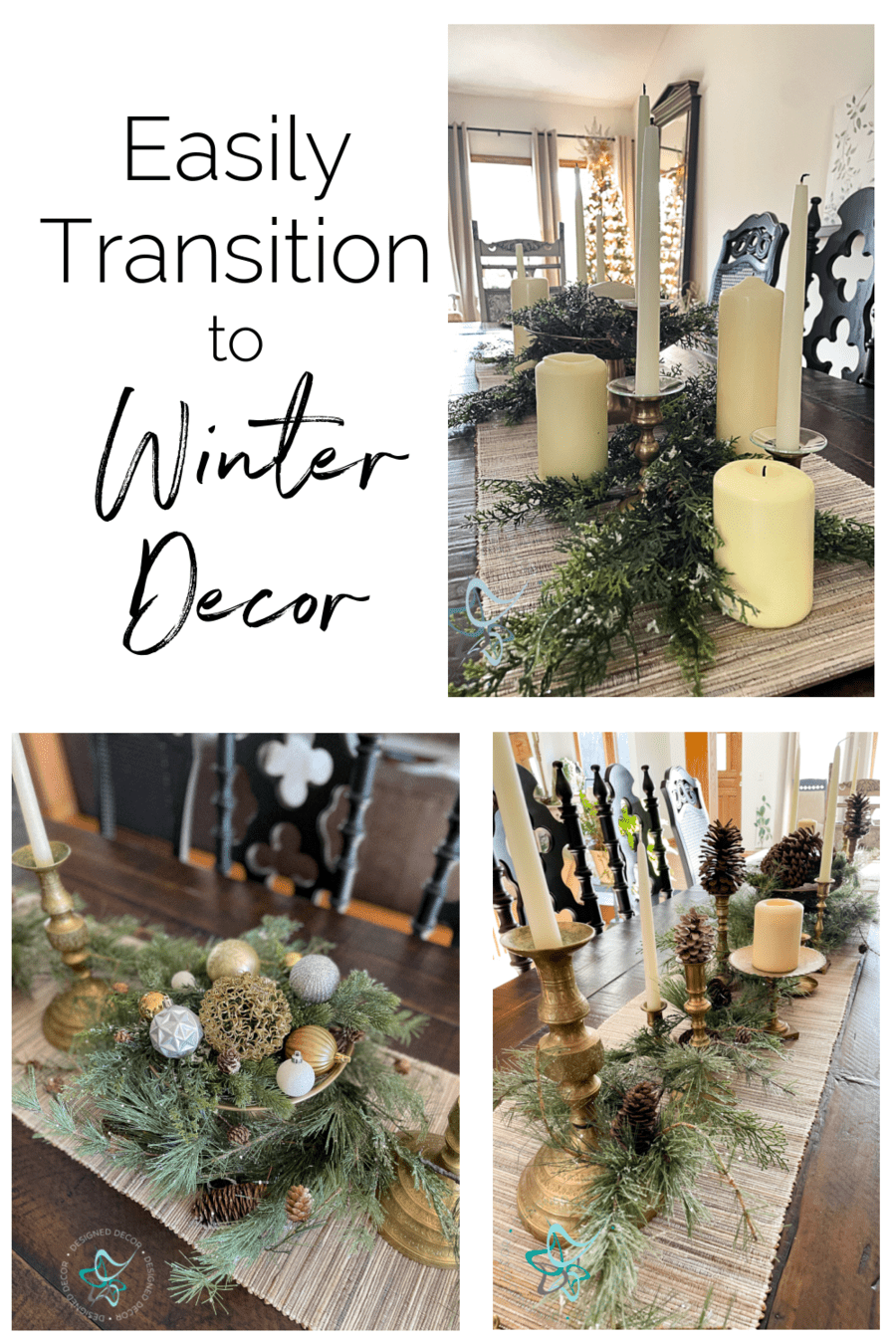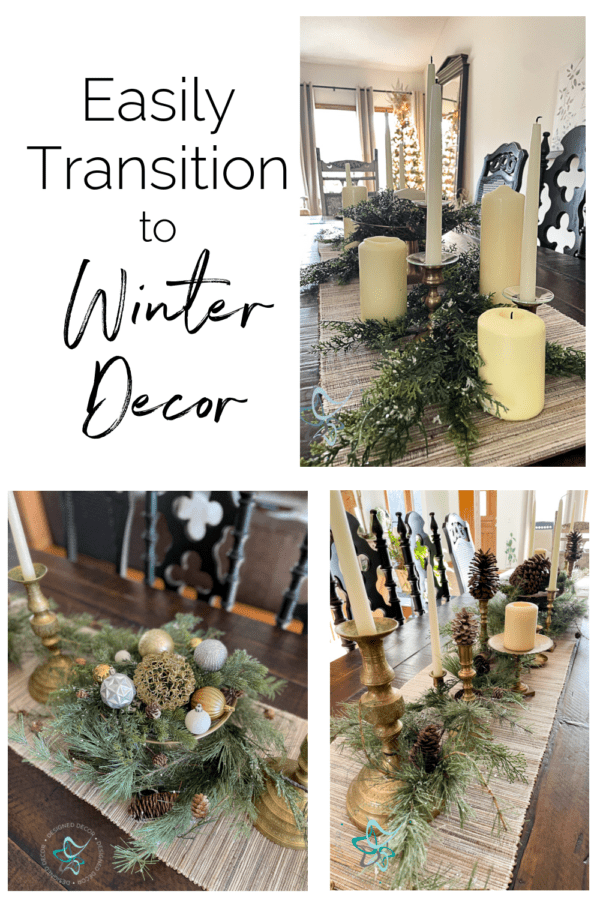 As with the example above for a dining tablescape. Start with a layer of greenery and add in candles. This is the base for winter decorating. Once Christmas arrives, add in simple Christmas ornaments. After Christmas, it is easy to change out the ornaments for pine cones or snowflakes.
This makes for easy winter decorating as you are leaving the base in place and only changing out a few simple items.
Seasonal Decorating Ideas
Another focal point in most homes is the fireplace mantel. Using the same concept of decorating for winter. Start by keeping the base decor items on your mantel the same. These items would be items like artwork, mirrors, vases, or candle holders.
For winter decorating add in winter greenery. Give the mantel a slight change by adding in Christmas items. Trying to not change out the entire mantel for Christmas. Again, after Christmas, switch out the holiday decor for touches of winter by using items found in nature like branches and winter pines.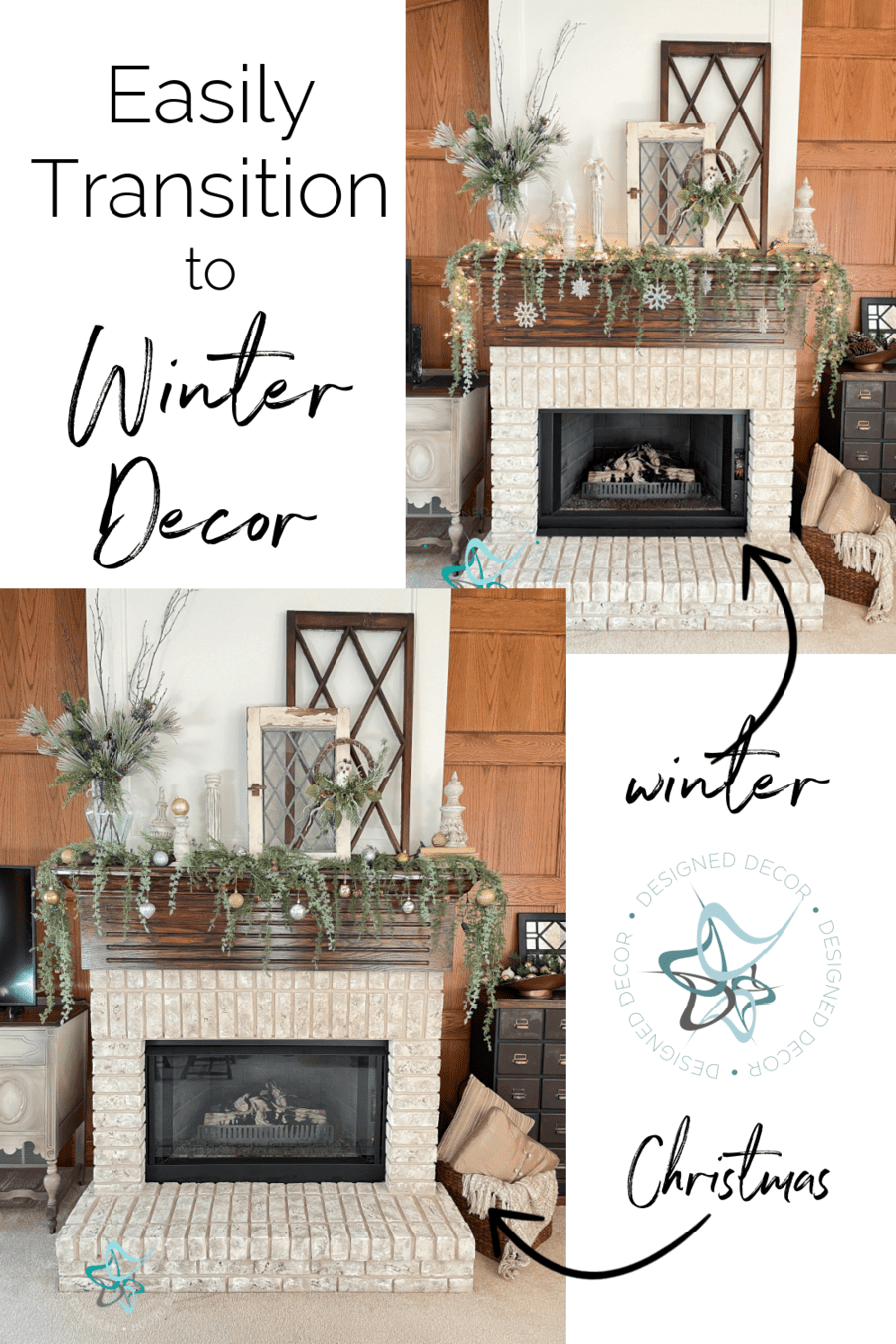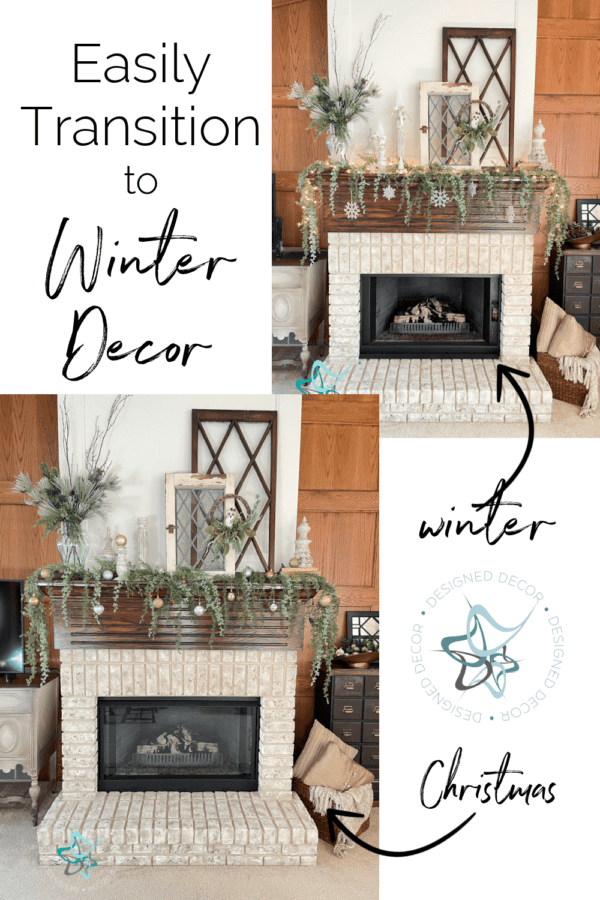 TIP: Keep white lights on your mantel for the entire season after Christmas. It keeps a sense of winter sparkle and warmth. You can also add reflective items like mercury glass and snowflakes.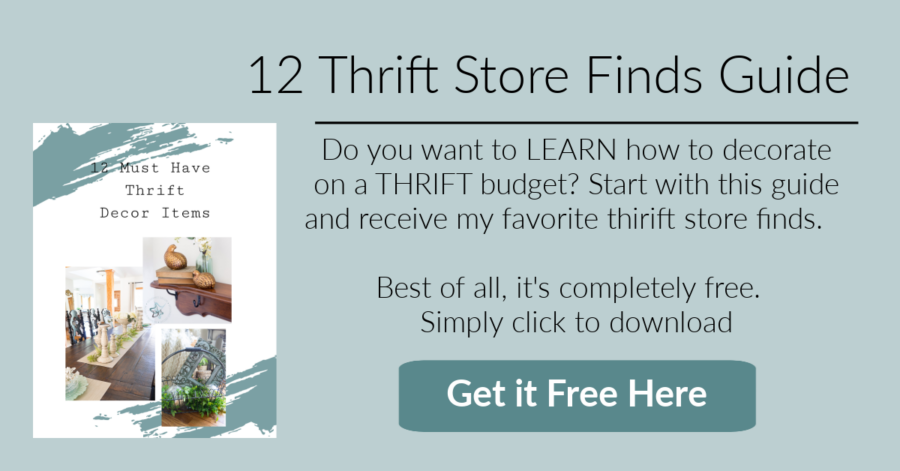 Winter Decorating Ideas
Create an Atmosphere with Texture and Color

One way to create cozy winter vibes in your home is by adding texture and color by using throws and pillows. When the weather outside is cold—and especially when there's snow on the ground—it can be nice to come inside to a space that has some warmth and comfort. Adding fur or velvet pillows or blankets will bring some depth of texture into a room while also adding some additional color.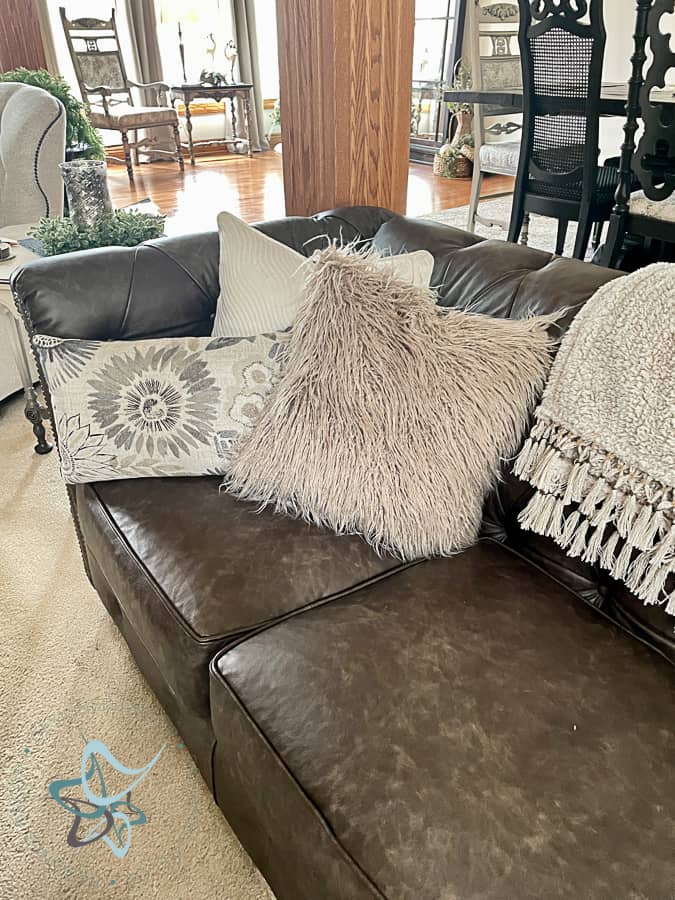 Here are a few of my favorite cozy throws and pillows for winter decorating.

Add a Little Sparkle If you want something that really stands out amidst the muted tones of winter, then why not add some sparkle with glittery garlands or string lights? You don't have to go overboard either; just a few twinkling lights here and there can instantly transform any space into something magical! You could also hang up snowflakes made from glitter cardstock or create festive centerpieces using mercury or glass jars filled with silver beads or glittery stars.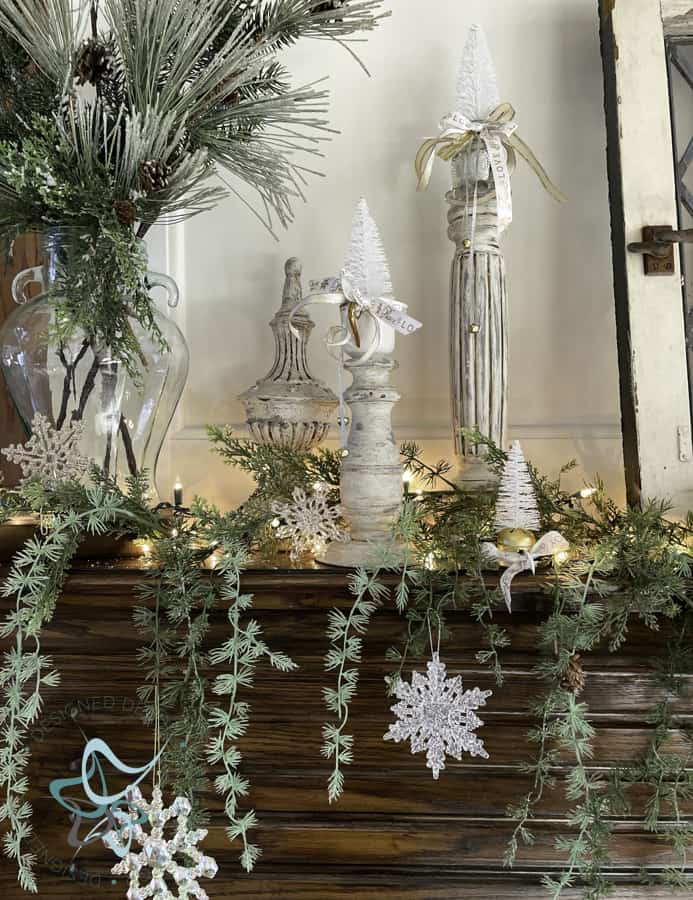 Here is a list of a few of my favorite sparkling winter decor items

Bring in Nature

Another great way to decorate your home for winter is to bring nature inside. This could be as simple as adding a few potted plants, fresh flowers, or even some pinecones and branches that you've collected from outdoors. You can also hang up wreaths made of dried branches and leaves, or even make your own out of fabric or paper. The possibilities are endless!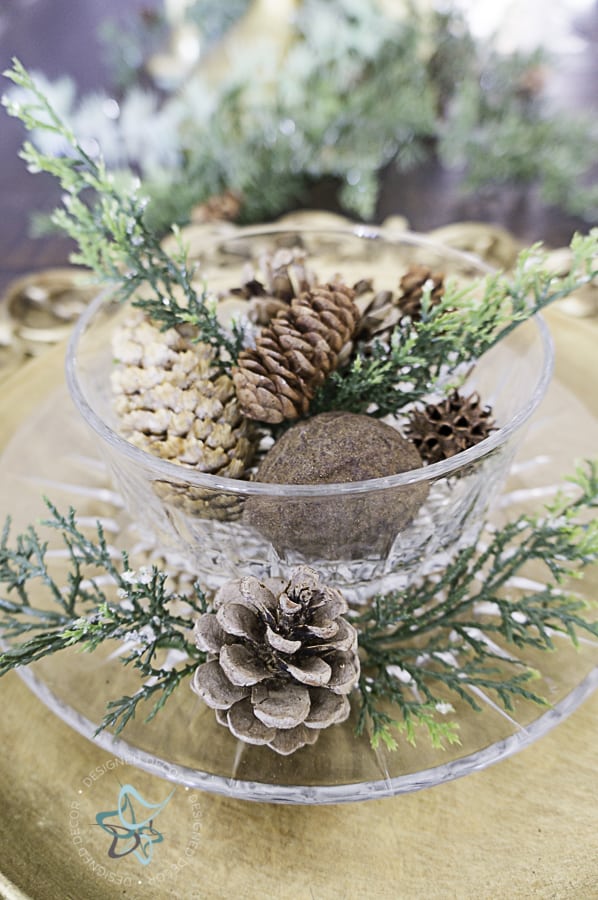 Finally, adding greenery throughout your home is always a great idea for any season—but especially during wintertime! Plants are known for being natural air purifiers so they can help with keeping indoor air clean. Plants also bring life into every corner of your living space. Try experimenting with succulents or hanging plants if you don't have much floor space available.
Here are a few of my favorite faux greenery items. For those who do not have access to nature.
Layer Your Rugs

Rugs are another great way to add warmth and texture to any space during wintertime. Layering two or more rugs is a great way to bring the feeling of coziness into any room. Choose rugs in different shapes, sizes, textures, and colors. This layering of rugs will give an eclectic look that says "winter chic" throughout your entire home.
Adding Scents of the Season
Another very important way to make your home feel like winter is the scent of your home. The importance of smell is just as strong as the visual aspects of your home decorating. Nothing is better than walking into a home that makes your brain instantly think of the season.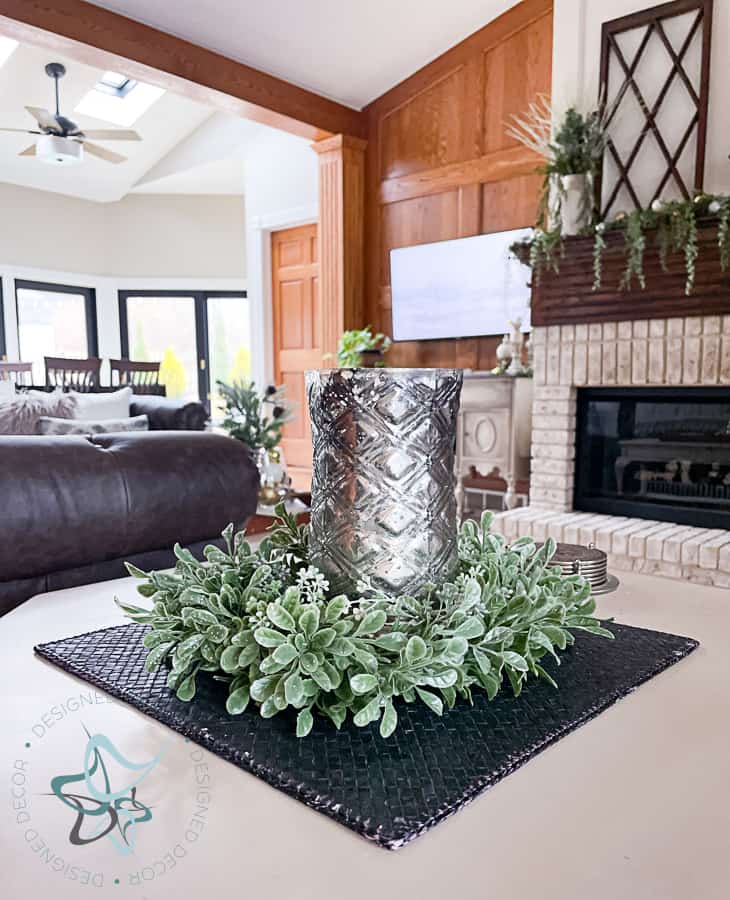 You can easily achieve a great-smelling home with scented candles, essential oil diffusers, or DIY potpourri. I like placing my scented candles in a mercury vase as this also creates that sparkle that I mentioned earlier.
Here is a list of my favorite ways to achieve winter smells in your home.
Decorating your home doesn't have to be complicated—especially when transitioning from Christmas to winter decor. You can easily create an atmosphere of coziness by adding texture and color throughout your living space. With these simple tips in mind, there's no reason why you can't enjoy winter at home!
Make sure you check out these other easy decorating tips
Discover more Inspirations by clicking on each category photo





Join the DD Community!
Join the Designed Decor Community and receive weekly free tips on DIY home projects, painted furniture, decorating, and much more.