Are you looking to refresh your living room and make it feel homier? If so, adding the perfect accent chair can just be what your room needs. An accent chair is a great way to add some personality to your decor, but if you pick the right one, it will also provide comfortable seating for extra guests or evening movie nights.
But with all of the different options out there, how do you choose the best accent chair for your space? That's why I have put together this list of five tips that are sure to help you select an eye-catching piece that complements your style and fits in nicely with the rest of your furniture and decor. Let's take a look!
5 tips for choosing the right accent chair
Define your style
Decide on function
Proper placement
Size matters
Picking color and texture
Picking the perfect accent chair does not require an interior designer. However, you will need to have some helpful information before rushing out to purchase that chair. I always recommend that everyone make a plan and do their research before jumping in.
Before we cover each of these 5 tips in detail below, the most important of these tips is having the proper size accent chair for the space. If the size is off, the other tips will help in the selection but you will notice that something is off about the chair.
Define your style
Accent chairs are a great way to add life and personality to any room. For a cohesive look, try blending your current style with the type of chair you choose: pair something like wicker for that natural vibe or go with leather if you prefer traditional elegance.
If you are not sure about the style of your room, find inspiration. I do this by going to Pinterest and finding a room that has some of the same basic designs as mine and looking to see what chairs they are pairing for that style.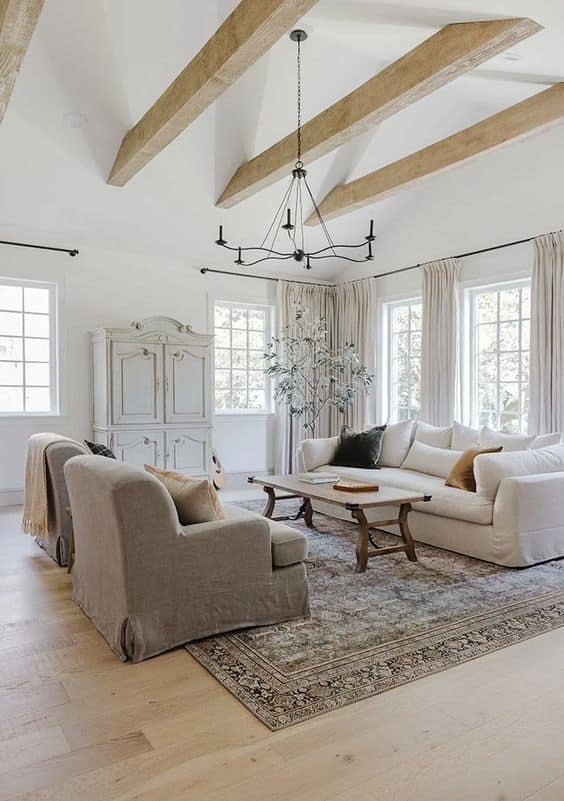 This post contains affiliate links. Click here to see my full disclosure policy.
A great example would be this space above. The style is a comfortable casual or relaxed coastal living space. The couch is a slip-cover sofa. The slip-cover accent chairs in a different color are a perfect choice. This living room is very spacious and having the 2 larger chairs anchoring the other side gives the room the balance it needs since it is an open-concept space.
If you had a much smaller living space, the other option you could choose with this style of sofa would be a natural rattan chair for the same coastal living style or a leather accent chair for a more modern feel.
The chair that you pair with the couch will make a huge difference in the style of the room and easily change the look and feel.
Decide on the Function of the accent chair
Deciding on the function of the chair is a critical choice. Are you choosing it for comfort, a chair that you will watch movies and read? Or will it be an occasional chair that does not get sat in very often unless you have a large gathering?
Ask yourself a few questions to figure out the function of the chair. Answering these questions will help you to narrow down the function and point you toward the perfect fit.
Are you looking for something comfy to lounge on?
Do you want the accent piece that'll add some decorative style?
Do you want form over function?
With so many design options available, take your time deciding what function best suits your needs. This decision will play a big part in the type of chair to pick for the area.
Determine the placement of the chair
Where will the chair be placed? When picking out an accent chair, it's important to think about where the piece will fit in your space – since its location can drastically influence how you use and enjoy it.
Consider where the chairs will be placed and how they will relate to the existing furniture in the room. If placed next to the sofa for additional main seating, you will want to measure and see what size chair will fit into the remaining space.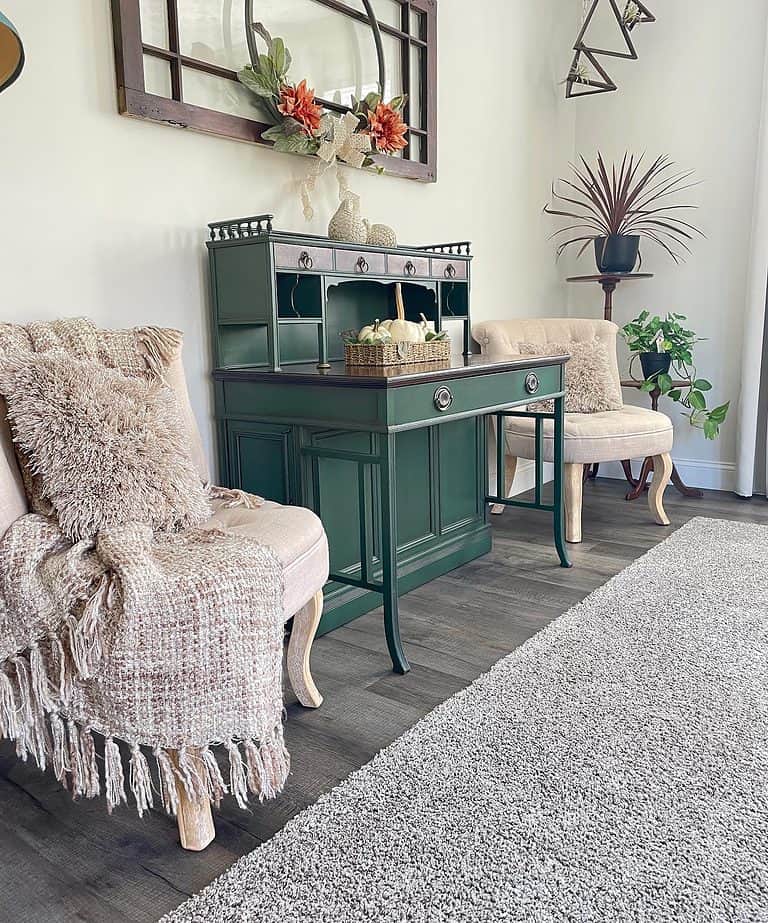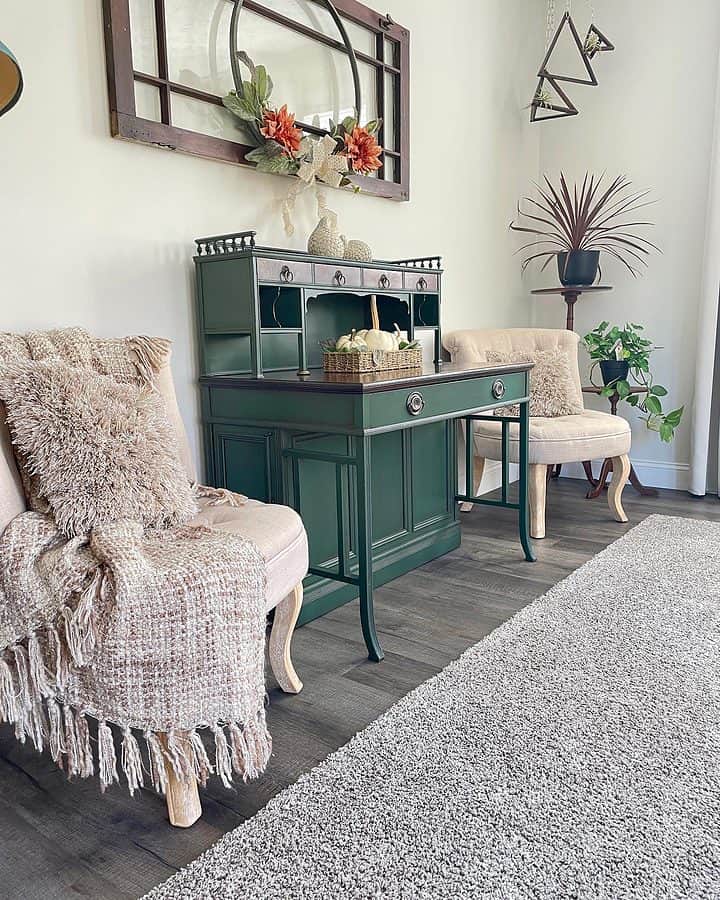 I like to use the existing chair method. Place an existing chair in the space to see if the layout works with the sofa. Maybe 2 chairs are needed with a table in between or maybe you only have room for 1 chair. Use the items you have in your house to play around with different layouts.
Also, consider other places where you can tuck in smaller accent chairs for additional seating outside of your main seating area. These could be areas next to a window for a reading nook or tucked into a corner of a room. These extra chairs will serve as additional seating to easily group together if having over guests.
Size Matters
When choosing an occasional chair, you will want to consider the size. You will need to make sure the size of the chair is in proportion to the existing furniture and also the space of the room.
A chair that is too large for the room will make it difficult to place the needed tables and other furniture pieces. It can also make the room look cluttered and small. A chair that is too small can look lost and make the room look empty and uninviting.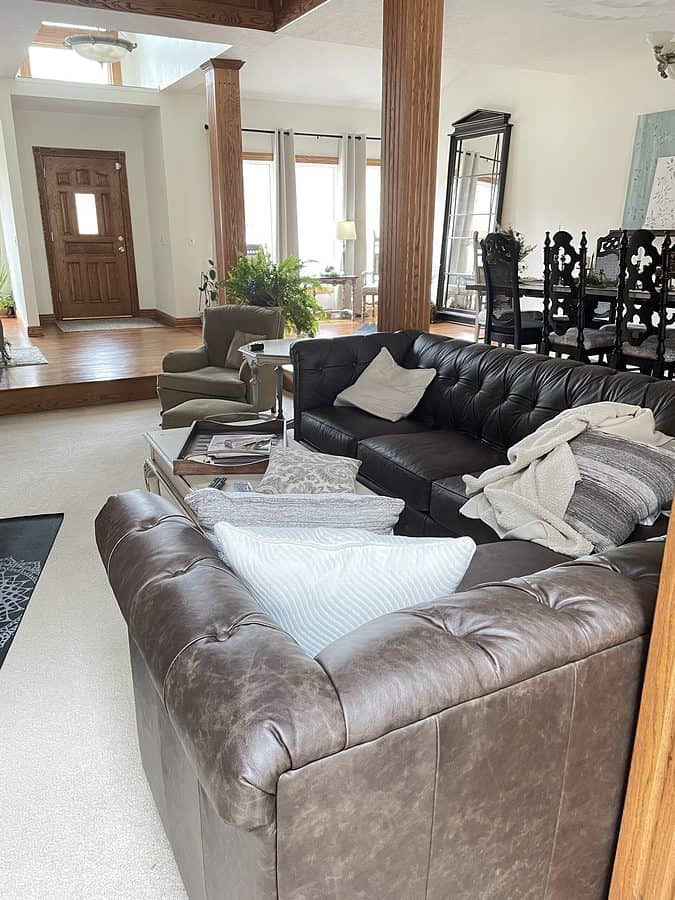 The above picture is a mess but it serves as a teaching guide for you when it comes to the proportion size of an accent chair. As you can see, our old accent chair was way too small with the large-style sectional sofa. It is also too small for the corner space and the high table next to it.
I recommend that you use the no-fail tape method when deciding on the size of a chair. Tape off an area on the floor to help give you a better visual idea of a properly fitting chair. This also works when you have the measurements of a specific chair you are considering.
Picking colors and textures
This is where you can have some fun before making the final decision. This is also the last step in selecting your perfect accent chair. You need to do the other 4 before picking the color and texture of your accent chair.
You decide on the size, function, placement, and style before picking the color and texture. The reason for this is that maybe the bold color you selected or the fun pattern is not available in the reclining chair that you decided was the best function and the best size for your space.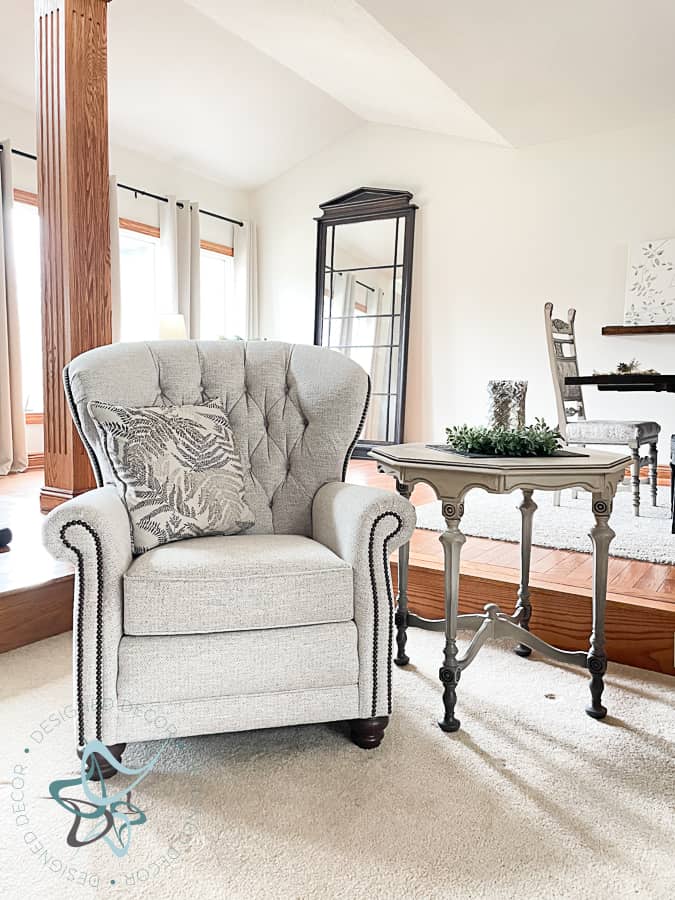 Don't pick a chair because you fell in love with the fabric. The fabric may look great with the other design elements in the room, but the size or style of the chair could be all wrong for the space. Go back up to read the first 4 steps if you are falling in love with a chair that is all wrong for your room.
Make the decision if you want the chair fabric to be a bold statement, a trendy design, or if you want something classic that will last. Remember you can always add bold and trendy accent pillows to a classic chair. This will save you money when you decide you no longer love the trendy fabric.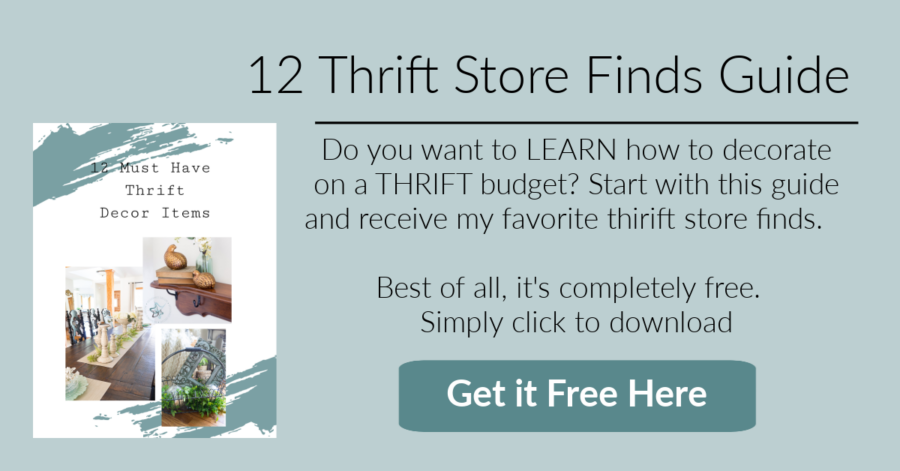 Top accent chair questions
Should your accent chair match your couch? This is a yes and no answer depending on what you consider matching. If you consider matching to be the exact style and fabric the answer is no. You do not need to have a matching chair and couch set. This design went out in the '90s. Yes, you still see that offered in the retail stores, however, look at the design magazines and you will not see matching sets.
Yes, your accent chair should coordinate with your couch style. Meaning you are selecting a design style of a chair that will coordinate with your sofa style. In today's designs, the possibilities are endless as so many styles can look great when paired together.
Do accent chairs have to match? This again is open based on the design style you are wanting. I personally think 2 accent chairs placed in the same seating next to each other look great when they are matching.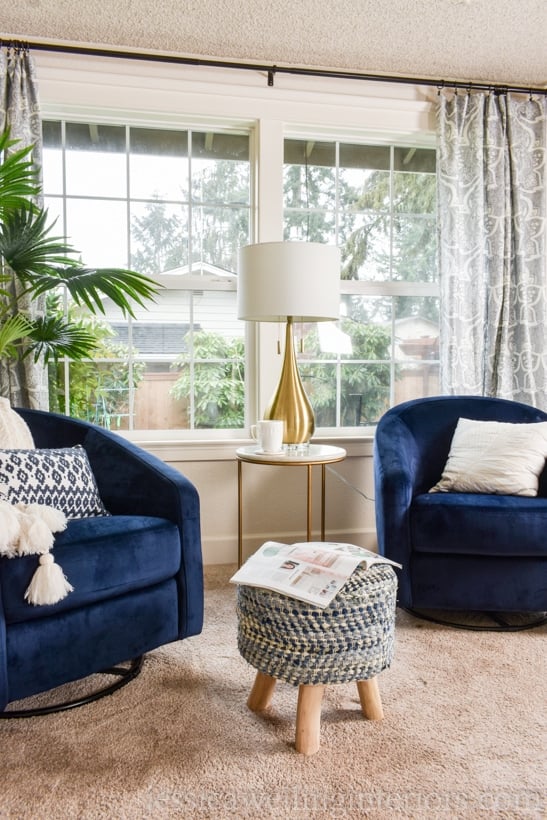 I love the way Jessica Welling Interiors uses these 2 matching accent chairs in her living room.
However, if you are going for a more eclectic look, 2 different accent chairs are the answer. Also, the placement of these chairs can help make the decision if they are matching.
How to coordinate an accent chair with the couch?
Consider the seat height when picking an accent chair to go with the sofa. You want the seat profiles to be less than 4 inches apart. So if you have a low-profile sofa that has a seat height is 16 inches, find an accent chair that is close to that seat height as well.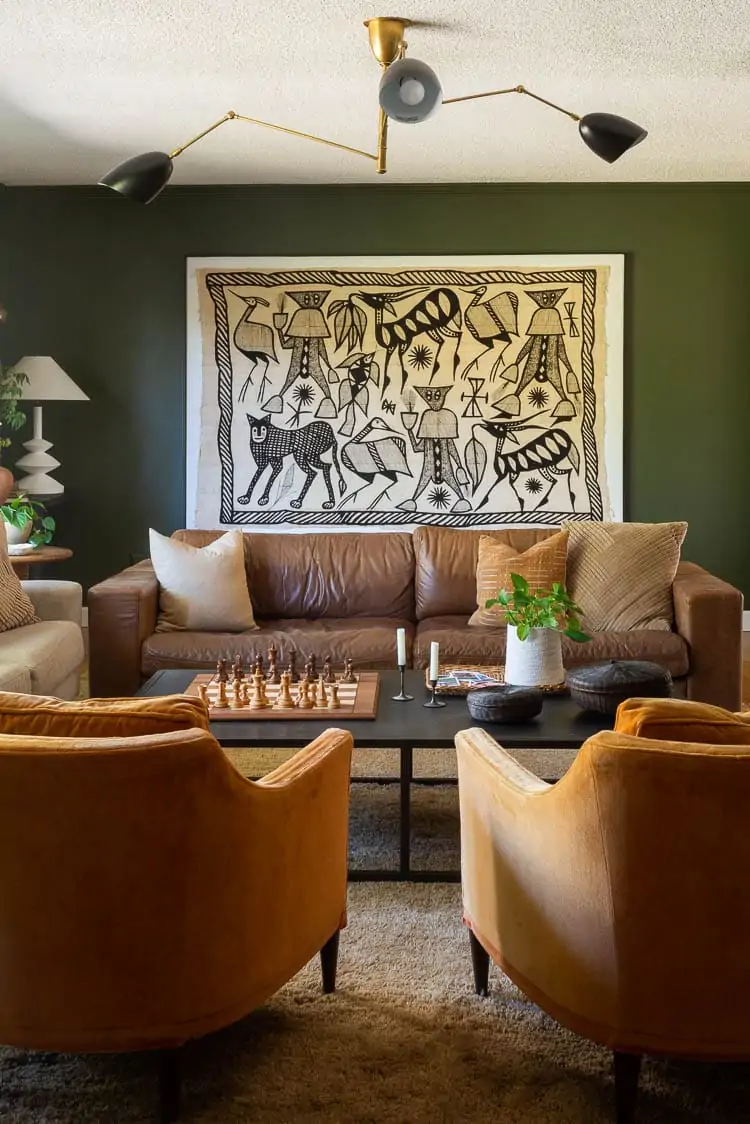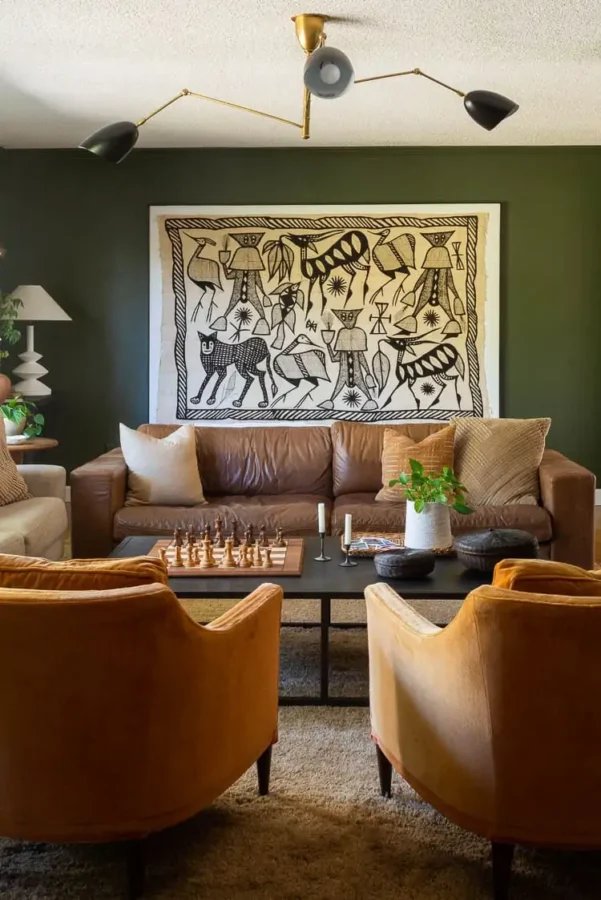 I love how Ashley from Bigger than the 3 of Us, chose lower-profile accent chairs to go with her sofa. Since the ceiling height is low, it makes the sofa and chairs complement the size of the room.
Also, consider the style of the sofa. If you have a boxy straight style sofa, you may want a softly curved accent chair to soften out the lines in the room. This also goes back to not having matching pieces, just items that coordinate.
How big should my accent chair be? This question ties into the size matters section in this post above.
What is the difference between an occasional chair and an accent chair? Just as the description states, an occasional chair is not used on a daily basis. Whereas an accent chair is a more interchangeable term to mean a chair with a contrasting style, fabric, and color than the sofa.
What is the best way to save money when shopping for an accent chair?
Shopping at second-hand thrift stores is a great way to save money when shopping for an accent chair. It may take longer to find the perfect accent chair, however, the savings will be worth the time you invested.
Also, be prepared to give a great used accent chair a much-needed makeover in order to have it fit into your design style. Take a look at these great DIY accent chair makeovers.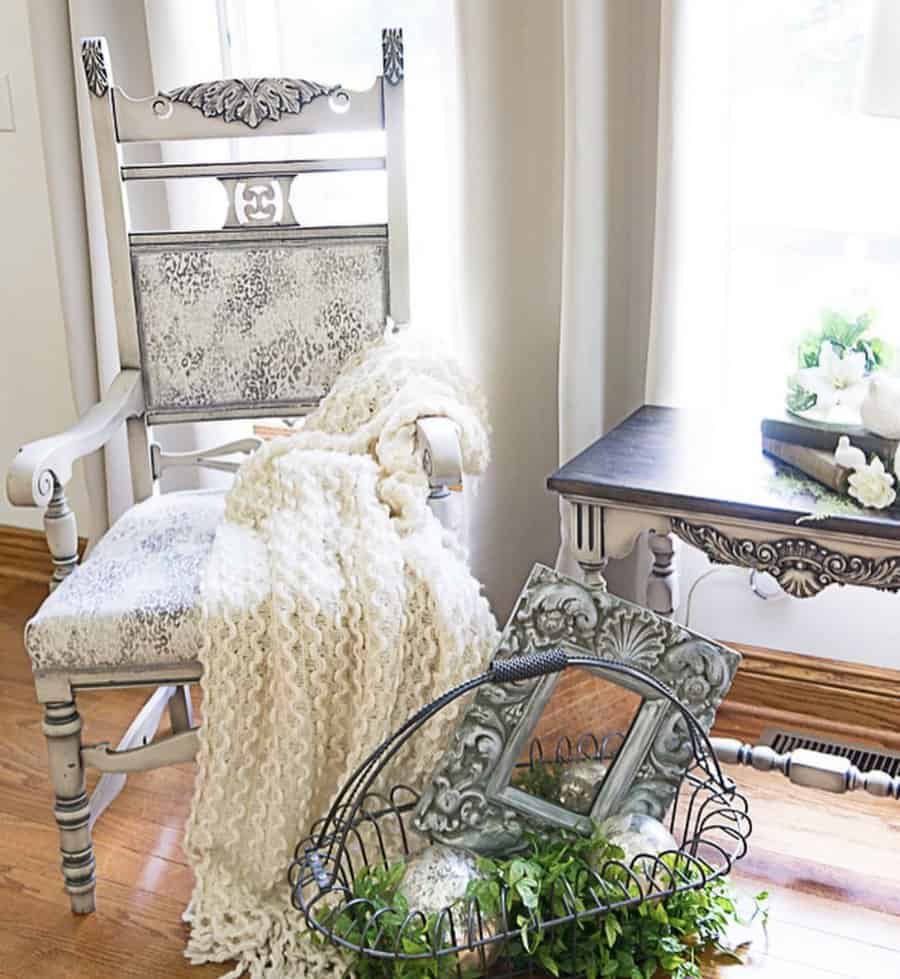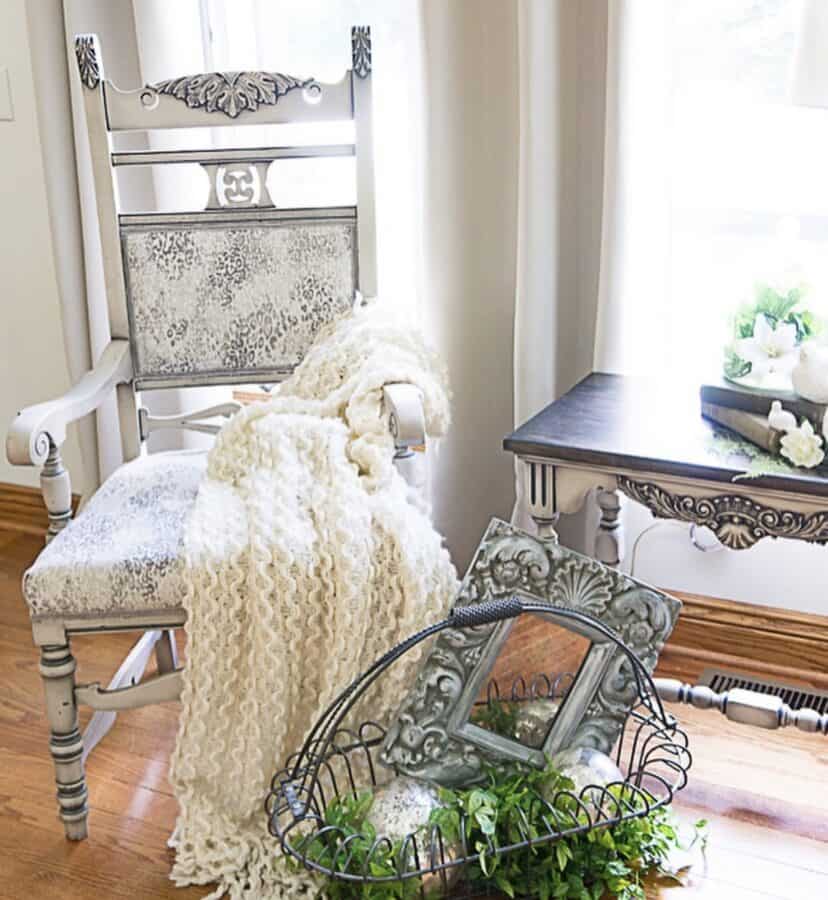 This is one of my favorite chair makeovers in my house. Come see the before on this antique chair makeover.
Different styles of accent chairs
Accent chairs come in a variety of styles and colors, so it's easy to find something that works with any room design. From mid-century modern to boho chic, there is a chair for every look. Traditional armless slipper chairs are great for creating an inviting atmosphere, while curvier accent chairs can be perfect for adding texture and character.
For a more modern touch, wingback chairs add height without being too bulky. Or go luxe with tufted velvet, leather studded designs, or even animal print! With all these options, you'll soon discover your own personal style that adds flare to any décor.
Wingback chair is like an ode to the handsome styles of old-world classics. With its swooped profile, large upholstered arms, and deeply cushioned seat, it instantly says "luxury". Not only can you curl up for a cozy read in a wingback chair, but with its regal appeal this type of chair will bring a sophisticated touch to any room in your home. Made from high-quality fabrics like velvet or fine leather, these comfortable chairs will last for years. Besides providing the perfect spot to relax in, the towering silhouette of a wingback provides an interesting design element even when entertaining guests. Regardless of its surroundings or decor style, this timeless piece adds a touch of sophistication wherever it lands.
Here are a few of my favorite affordable wingback chairs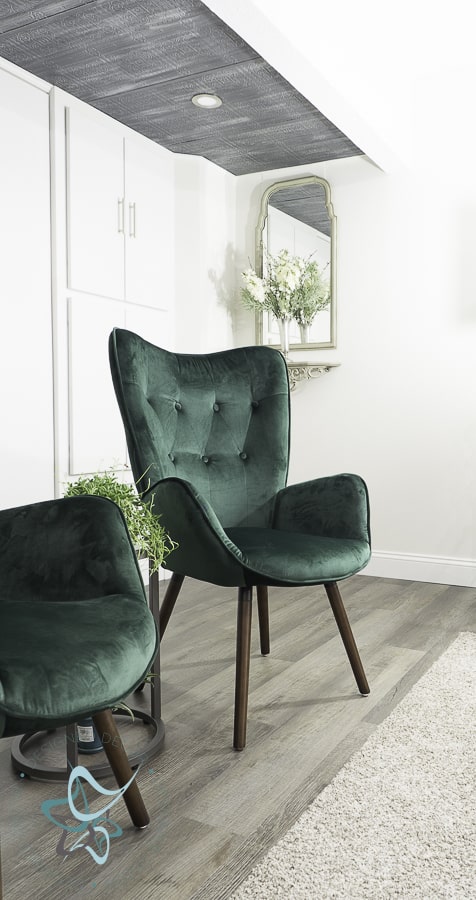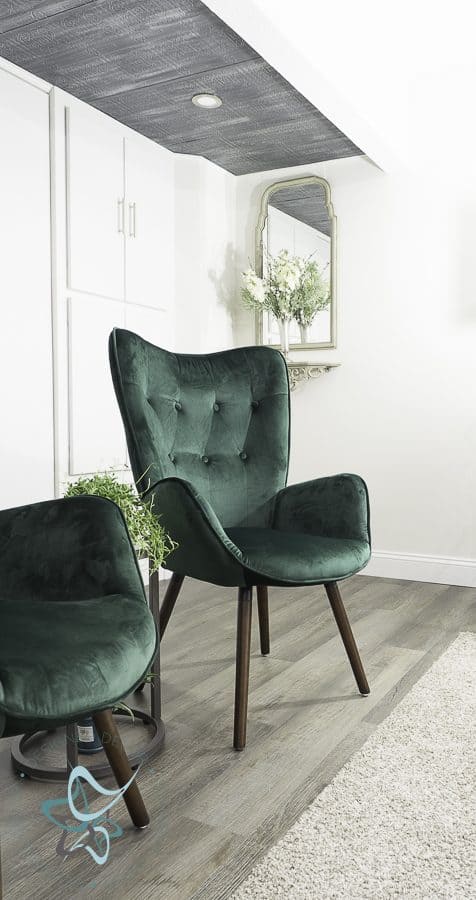 These are my favorite Velvet Modern wingback chairs that I mention above. They are the perfect coordinating chairs in our guest suite Airbnb.
An occasional chair is used just as it is called, on occasion. These chairs can truly transform a space such as a study, bedroom corner, or living area. Go wild with fabrics and choose something bright and vibrant or go muted and classic with subtle prints. Either way, when guests come over they won't be able to resist admiring your stylish occasional chair!
The club chair is such an inviting piece of furniture! It has a wide, rounded back, big arms, and sturdy legs. You can find these classic chairs in all sorts of fabrics, colors, and styles – perfect for any home space. What's not to love about a club chair? It'll make any room look sophisticated yet inviting at the same time. And, when it comes to cozy-chic furniture that will last through the years…a timeless club chair is surely worth all the hype.
Favorite affordable club chairs
Barrel chairs are a comfy and stylish addition to any living space. Its signature curved shape offers plenty of cozy support, and the tufted fabric upholstery gives it a modern touch. This style chair is perfect to create an inviting reading nook. Not only does it look great, but its durable construction ensures you'll be able to enjoy it for years to come. Anyone who likes a unique seating option with just the right amount of comfort will love having a barrel chair!
A few fun styles
A side chair is a classic piece of furniture, one that has been around since the 1700s. Its timeless design features a tall back with slightly curved lines and solid wood legs that add strength and stability. In addition to being a timeless piece of furniture, it is also incredibly versatile. The small size makes it perfect for tight corners or tucked-away spaces. Also is the common style for dining tables. The side chair may not be the flashiest piece of furniture out there, but it definitely serves its purpose. They provide a comfortable place to sit down and enjoy whatever activity comes your way!
The slipper chair is the perfect addition to any room, providing a stylish seating option that also looks fantastic. It has an elegant style that is simple yet timeless while offering an ergonomic effect. Its small size allows it to fit in even the smallest of spaces. While its low-profile design keeps your body feeling comfortable and relaxed. The versatility of this piece of furniture makes it ideal for use in different rooms throughout your home or office. Whether you prefer a classic or modern look, it's easy to find one that works perfectly with your existing decor.
My favorite affordable slipper chairs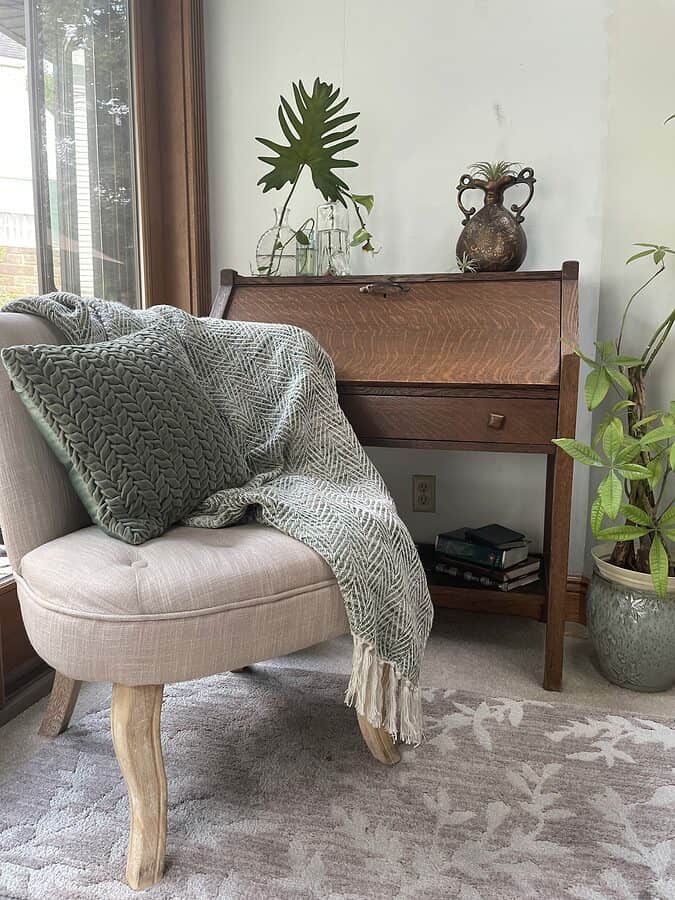 These slipper chairs have been moved around all over my home. They make a perfect chair to sit in a small corner to make the perfect reading nook. I purchased them at a local store, however, I found a similar tufted slipper chair.
Recliners are the ultimate comfort furniture by providing superior relaxation. They come with a variety of features like adjustable headrests, foldable footrests, and lumbar support to make sure you're comfy even after sitting in them for extended periods of time. Recliners are the perfect place to surrender after a long day at work or to just kick back and watch your favorite show. They provide customizable seating arrangements that easily accommodate any size body. Whether you want to spread out or curl up, a recliner will be sure to meet your needs.
Chair and half is a perfectly designed combination of a large, cozy armchair and a loveseat. It offers the same amenities as an oversized armchair with the functionality of a small loveseat. Making it the perfect piece of furniture to curl up in while reading your favorite book or lounging in front of the television. It's available in different materials such as leather and fabric, so you can choose something that fits your style. Not to mention, this chair is twice as wide as a regular chair, providing more seating space in any room. Whether you're looking for extra seating for movie nights or want a spot to relax, a chair and a half is definitely an excellent choice!
---
Your interior design project is an exciting opportunity to get creative and try something new. Picking the perfect accent chair should be an enjoyable experience, not a stressful one. With these five tips in mind — size, style, placement, color, and texture — you should have everything you need to make a great selection that works for your space and preferences. Plus, when it comes to accent chairs there's no such thing as too much variety. Swapping out or rearranging different chairs is one of the many advantages they offer. Make sure to take your time while looking for the right chair. Don't forget to rely on your own personal taste. All it takes is one great choice and you could completely transform your living area–so start shopping!
Discover more Inspirations by clicking on each category photo





Join the DD Community!
Join the Designed Decor Community and receive weekly free tips on DIY home projects, painted furniture, decorating, and much more.