Do you need an update to your dining table? Are you unsure how to blend second hand finds with your existing dining table? Stick around as I share the updates that I made to an Arhaus trestle table and how I paired 3 different style chairs to pull off the blending of antique, vintage and modern.
My dining room is 27 feet long and narrow. I wanted a long dining table to fill the space. I originally found an 8 foot table and decided I needed at least a 10 foot table.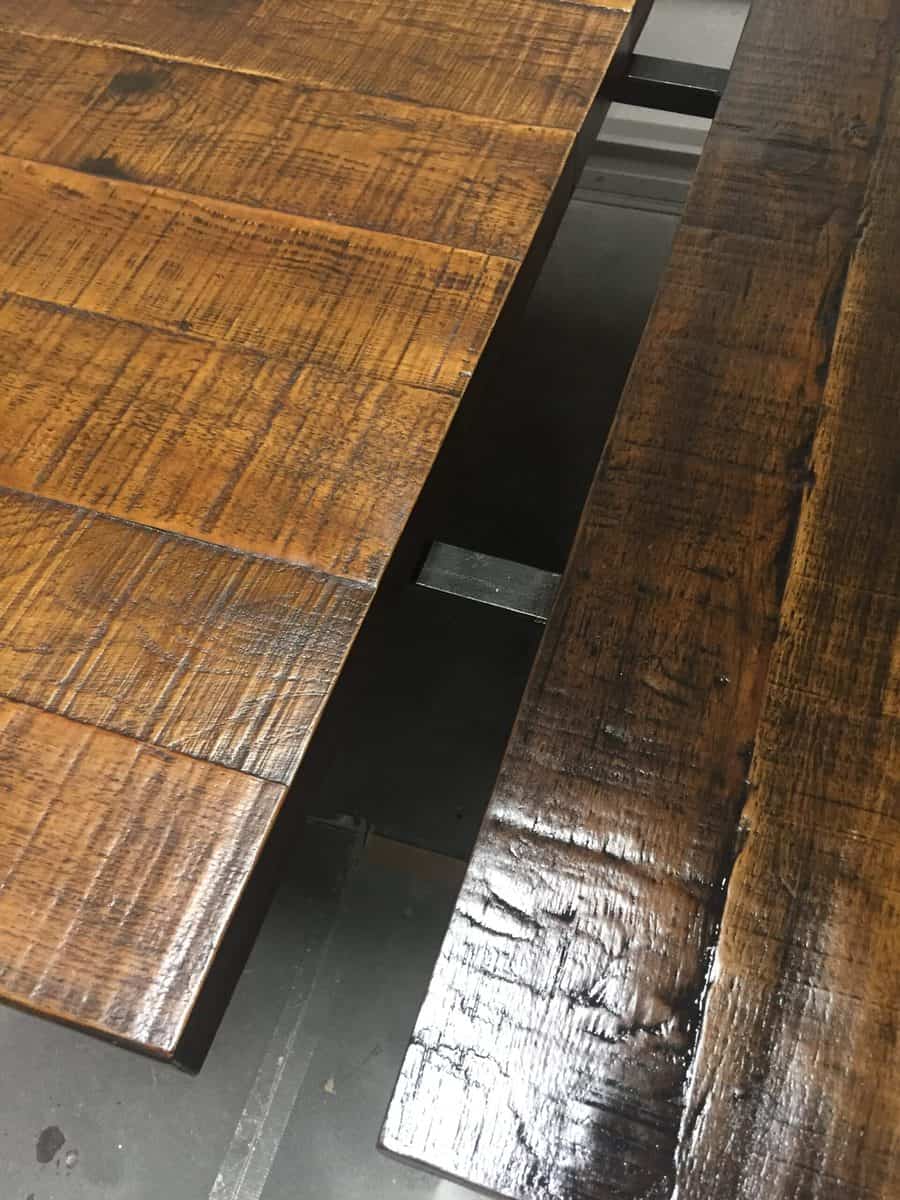 Updating the Table
This post contains affiliate links. Click here to see my full disclosure policy.
I found a used Arhaus Kensington Trestle Table on Facebook Marketplace, except the table needed to be darker to offset all the oak wood that I already have in the main living area of our home.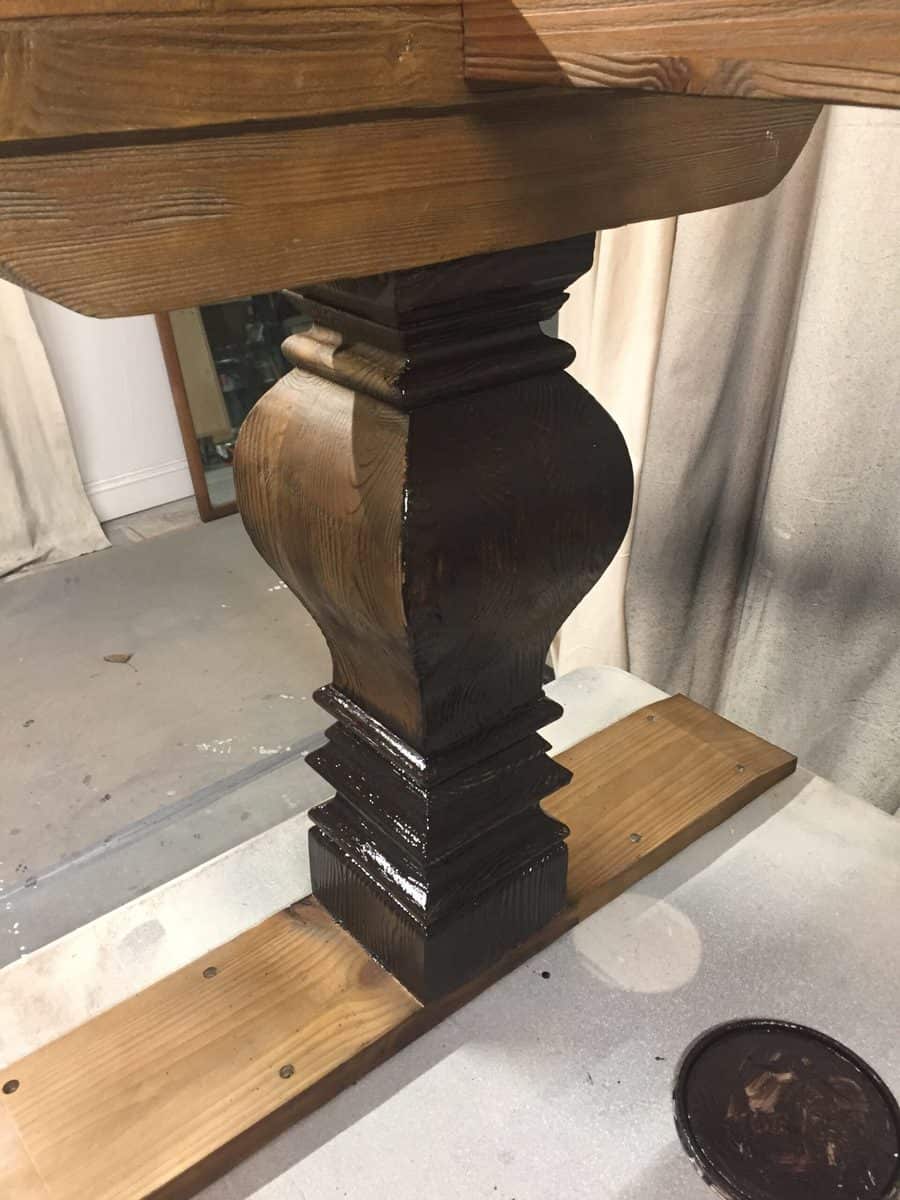 I used my "Go-To" method for darkening stain, and applied Java gel stain to the existing table and sealed with wipe-on poly. If you want more details on this method, visit
How to Easily Darken Stain without Stripping(Opens in a new browser tab)
Combing Antique and Vintage Chairs
We have high ceilings and now an open concept, so I knew I needed taller dining chairs to fill the space.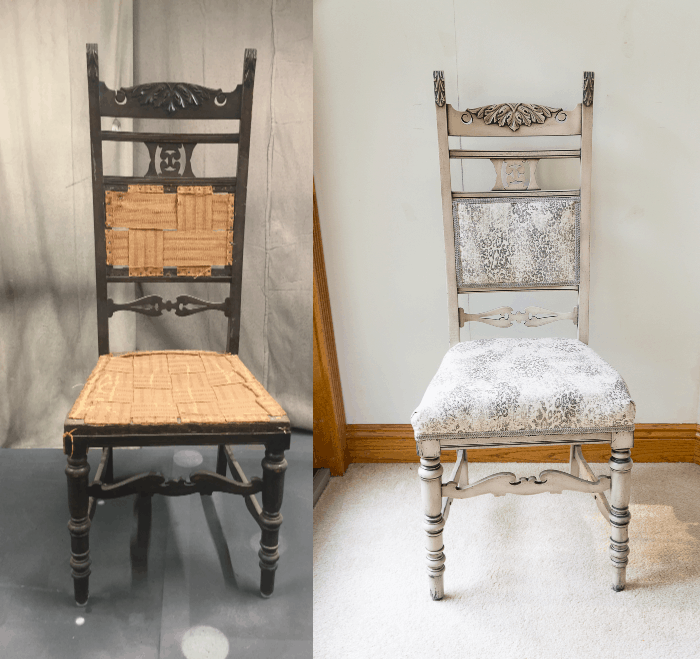 I found these dreamy antique chairs first. They are 47 inches tall, which is considered a taller chair as most ding chairs are 42″ or lower. I only found 2 side chairs and 1 arm chair, so decided they would be the ends and accent chairs in the dining room.
I painted the bases using white chalk paint and powered glazed over the white paint.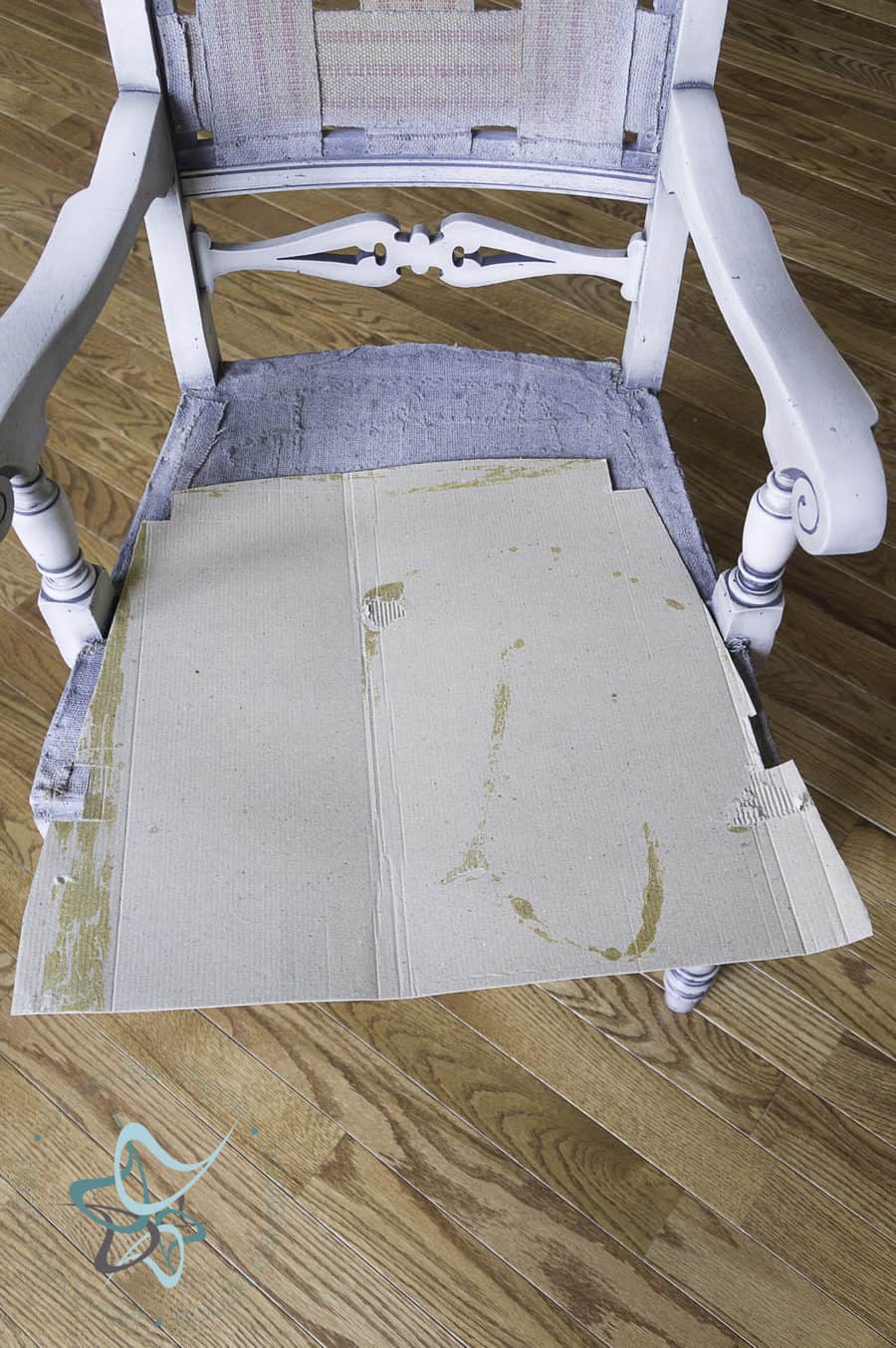 The straps have seen their better days and it was cheaper to make a seat base. I always start my templates with cardboard and use that to cut the wood seat.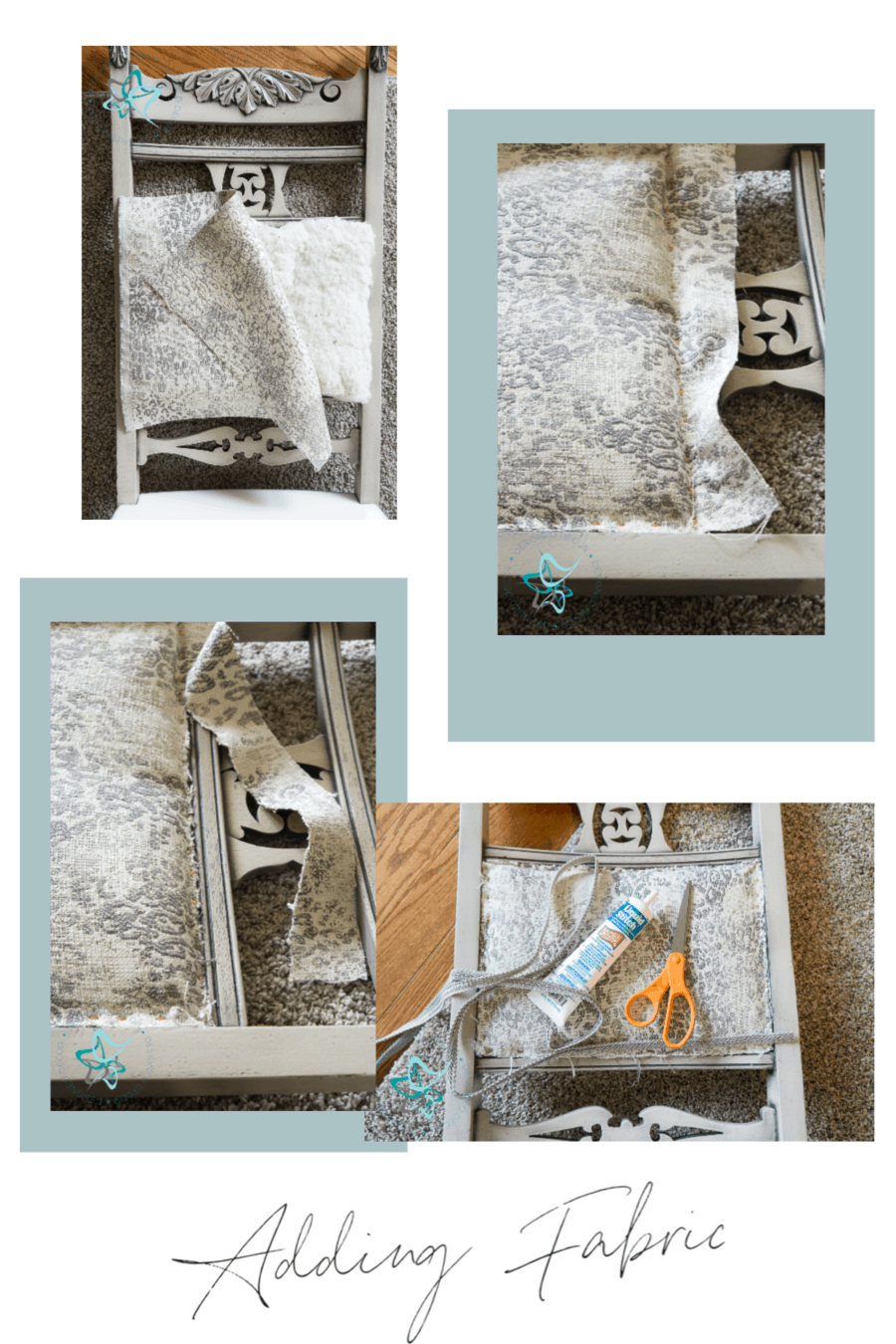 A 2-inch foam cushion for the seat and an added layer of batting, are more comfortable and give a more luxurious look. I also used 2 layers of battling for the chair back and then stapled on the fabric and glued on the upholstery trim.
Do you want to learn more about how to upholster chairs? Stopover to read more by clicking on the link, How to upholster chairs.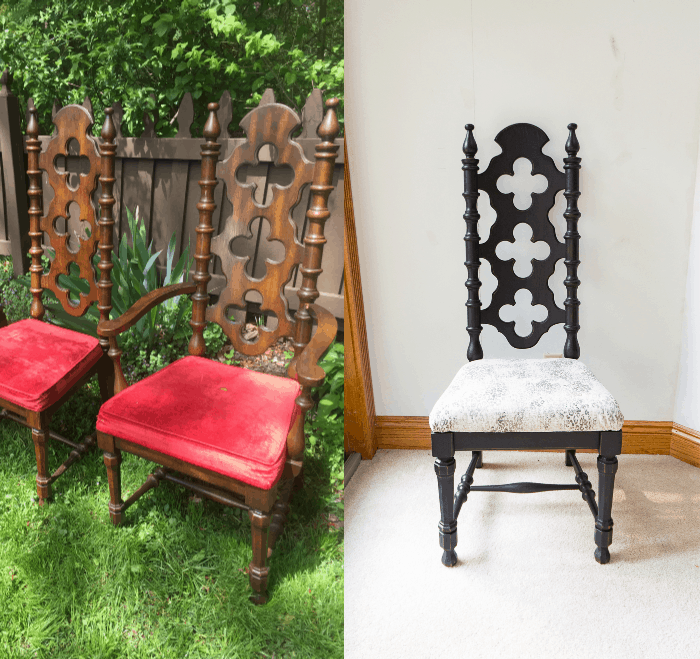 The back of these 70's style chairs were different then most of the chairs I was finding on Marketplace, and they were 47 inches tall.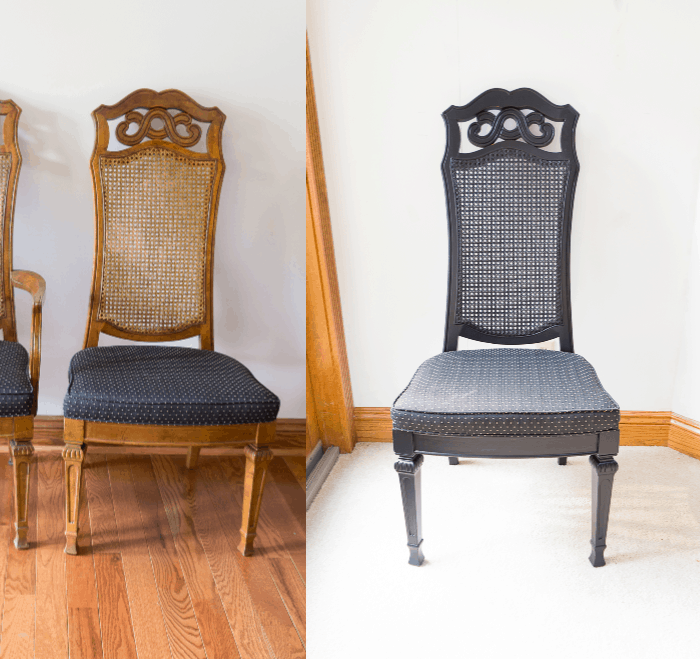 These cain back chairs were also 47 inches tall, except I was not crazy about the design. I was under pressure to find chairs and get my dining room makeover complete.
The person who was selling these chairs, just had the seats reupholstered and thankfully they are black material that goes with anything, and the chairs were only 2 miles from my home.
Pulling it all together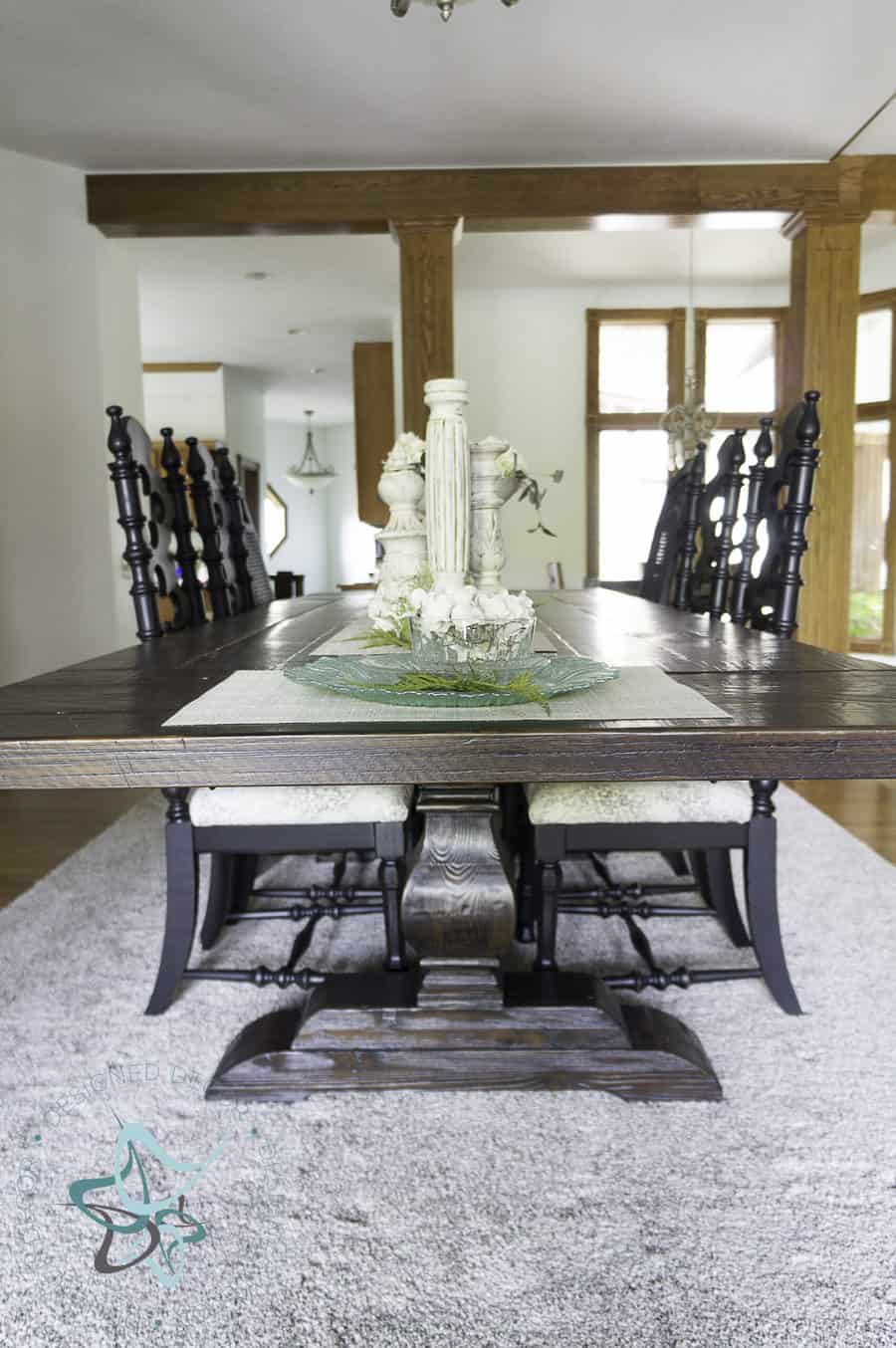 Even though the chair styles are different, painting the side chairs all the same color helps to tie the chairs together.
I wanted the end chairs to make a statement and stand out. The chairs are painted with white base paint and a black powder glazing to make the carved details pop. The black glaze ties in with the black side chairs.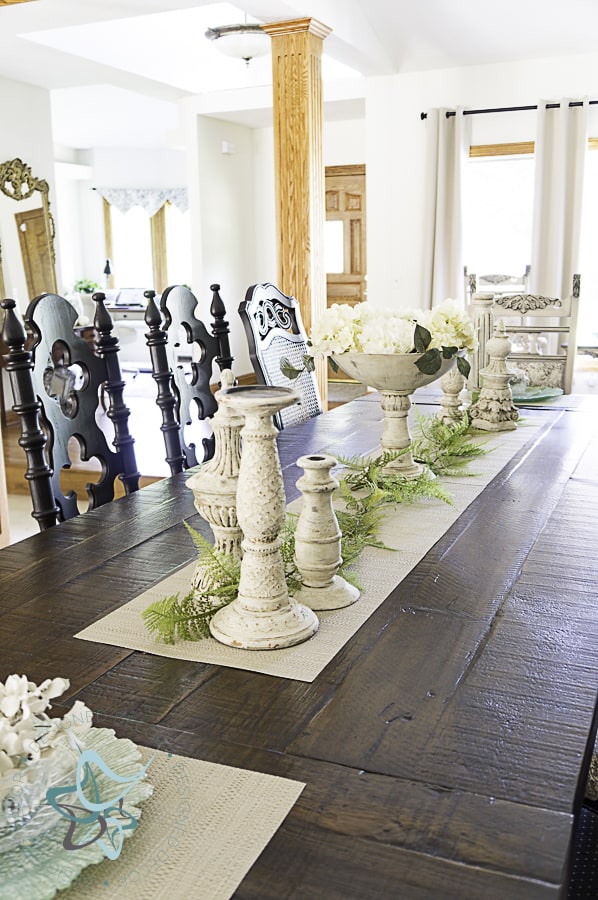 Adding the modern elements on the table vignette is the finishing touches.
My design style in every room that I make over has touches of antique, vintage, and modern, and that is why I call my design style Transitional.

---
Join the DD Community!
Join the Designed Decor Community and receive weekly free tips on DIY home projects, painted furniture, decorating, and much more.