Have you ever come across a beautiful chair? The chair has a beautiful shape and the wood frame is exactly what you want, except the fabric is orange? I have and I am here to show you how to remedy that situation and it's not about reupholstering the chair. Painting a fabric chair is the solution!
The lovely orange fabric chair was FREE, yes free, so I threw it in my truck before it was gone to the next passerby.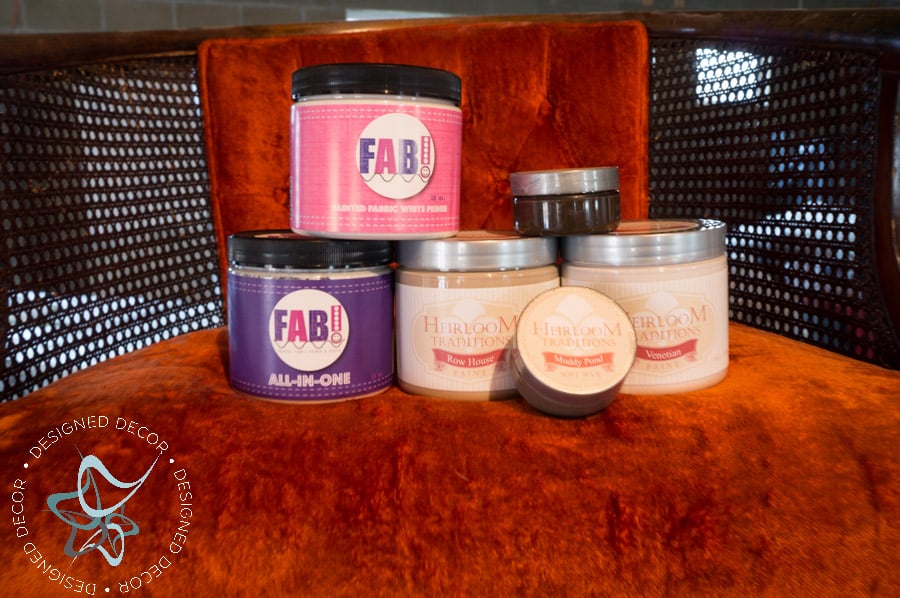 I have read many different posts on how to paint a fabric chair, everyone has their different methods. After reading all the many different ways of painting a fabric chair, I decided to use a product called FAB. FAB is a primer and sealer to use when painting fabric. You can read all about the product over at Heirloom Traditions.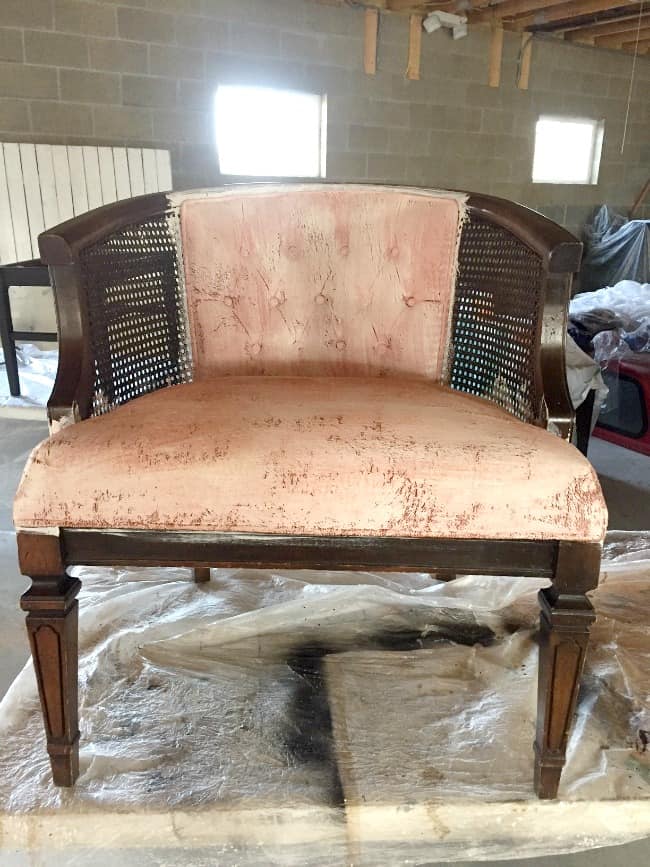 This is the lovely orange fabric after the coat of FAB primer. While the fabric is still wet with the FAB primer, brush down the fabric with the grain to keep the fabric smooth. After the primer is completely dry apply the chalk paint. I used Heirloom Traditions paint in Row House. I did need 2 coats of the Row House and then I applied the FAB sealer after the paint was completely dry.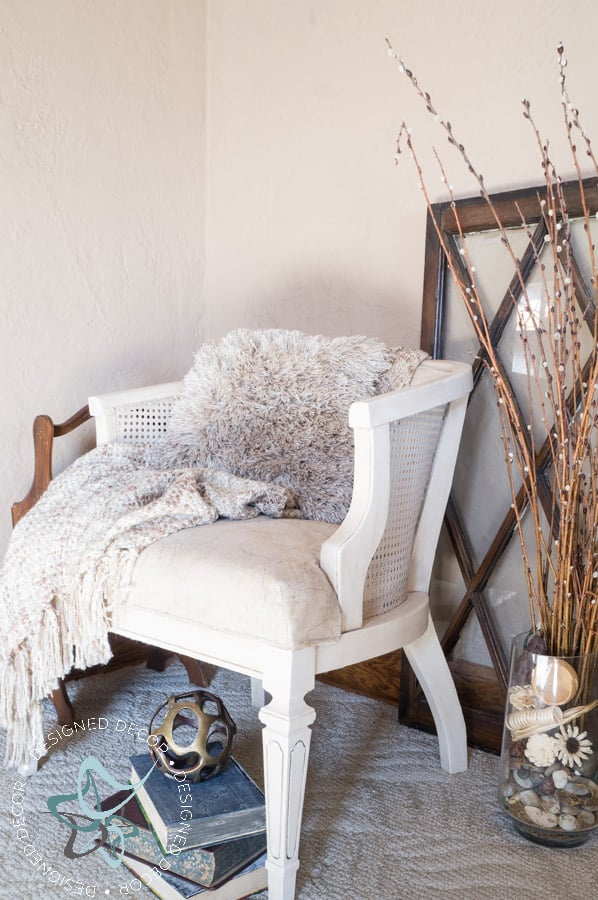 Once the fabric was painted and sealed I painted the wood frame. I used Row House on the mesh part of the chair because I liked the look of the mesh being a different color than the chair frame. The chair frame was painted in Venetian and sealed with dark umber wax.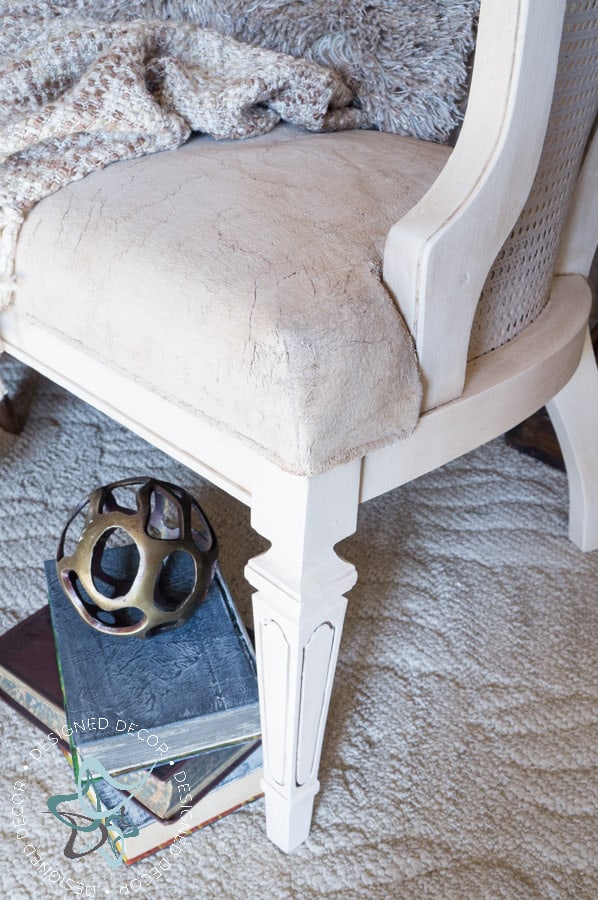 The painted fabric looks and feels like suede leather. The fabric is soft and not crunchy. I did do a light dry brush of the dark umber wax over the sealed painted fabric, it added to the suede look and gave the fabric more depth. As you can see by the photo, I do have crack marks on the chair, but they also add to the suede look.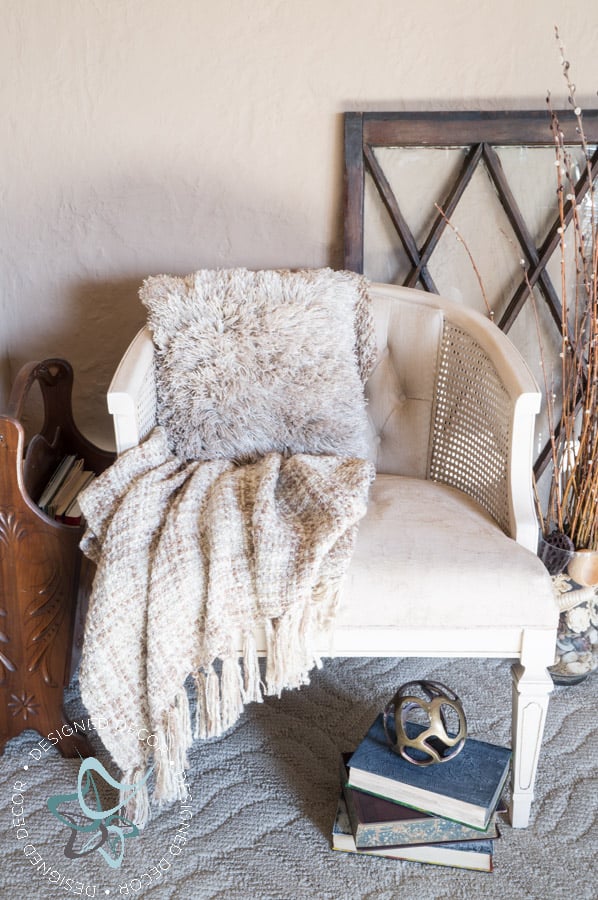 I would usually sell my painted furniture pieces, but I am keeping this chair as my test chair. I want to be able to use this chair and report back to you on how it has held up over time and use. Would I paint another fabric chair with this method? YES
The only thing I would choose to do differently is picking a chair that has open sides instead of the mesh. It was very difficult painting down in between the mesh and the cushion since the cushion is permanently attached and not removable.
Join the DD Community!
Join the Designed Decor Community and receive weekly free tips on DIY home projects, painted furniture, decorating, and much more.