Have you been looking for the perfect paint color to use on your next furniture makeover and can't seem to find it?  Do you have some leftover furniture paint that is not enough to paint another piece?  Why not solve those issues by mixing your own furniture paint to create a custom color or to use leftover paint.  I did just that and created this custom blue furniture paint.
This post contains affiliate links.  Click here to see my full disclosure policy.
I had some left over blue chalky paint and it was too bright of a color.  I decided to mix in some black paint to deepen the blue base.  I don't remember the color of blue but it was from Country Chic Paint and I mixed that with the black from General Finishes.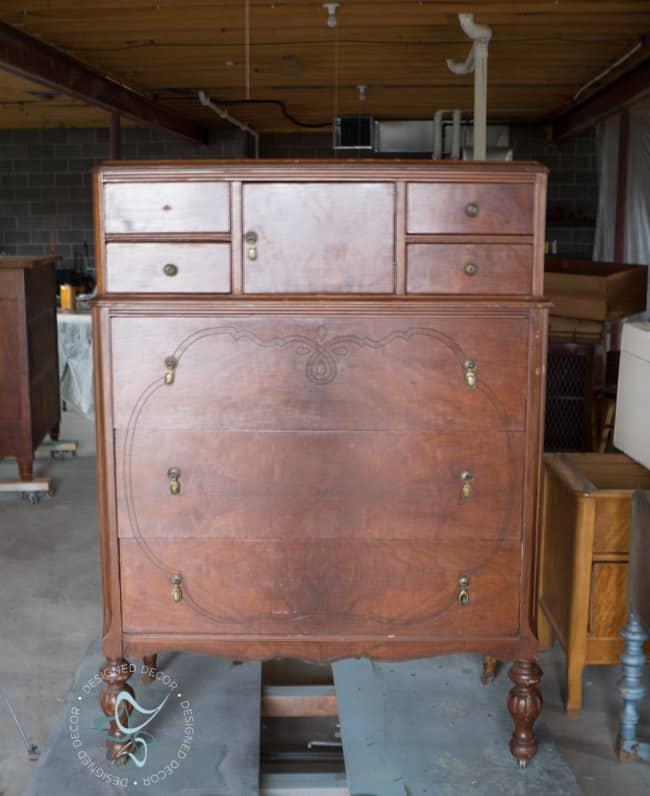 I always recommend mixing a small amount of paint before attempting to mix enough for a dresser.  I use a paint syringe ( <- – – – just like this one) to mix small amounts of paint to make a sample.  You will want to write down your ratio of colors, especially if you love the color and want to recreate the same mix.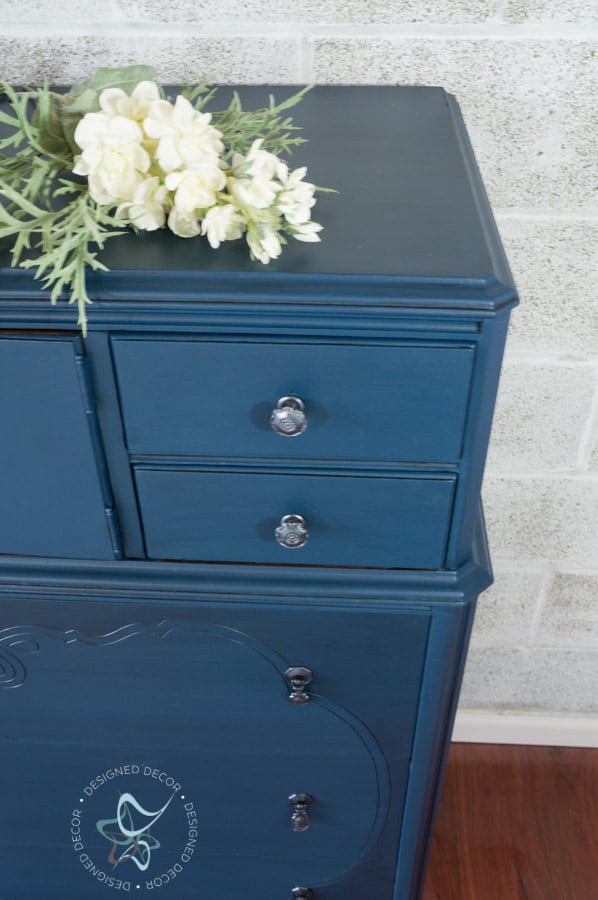 I  have a confession on this one.  I did not keep track of the paint ratio mix.  I just kept adding black paint to the blue until the blue was deep in color.  I always add small amounts of paint when mixing colors, especially strong colors like black.  Black can over power the base color and just turn it an ugly color of black, so be careful and use small amounts.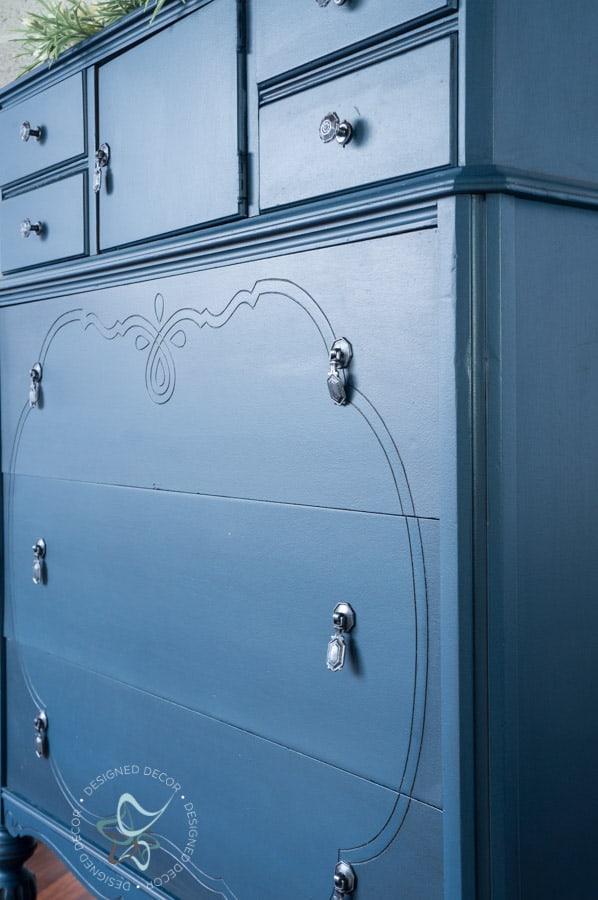 At times, I also mix different brands of paint together.  I know the manufacturers will recommend not doing this, but I have experimented and it has worked well for me.  I use what I have on hand as not to waste my supplies.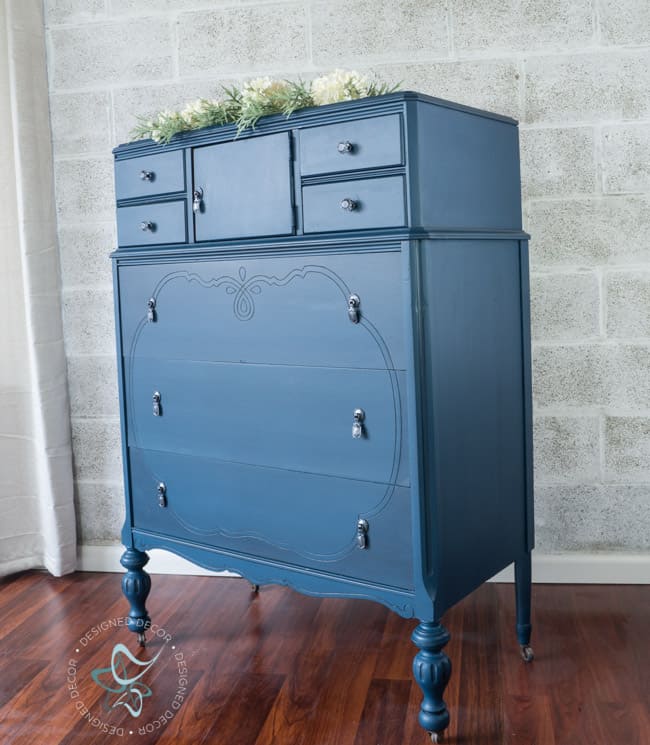 After this highboy was painted with 2 coats of my custom blue furniture paint using my Wagner Flexio 890 Paint Sprayer, I sealed it with General Finishes High Performance in flat.  I also added shading using General Finishes Glaze Effects in Pitch Black.   I painted the original hardware using my favorite technique and products.  You can check out how I finish original hardware with my "How to Paint Furniture Hardware"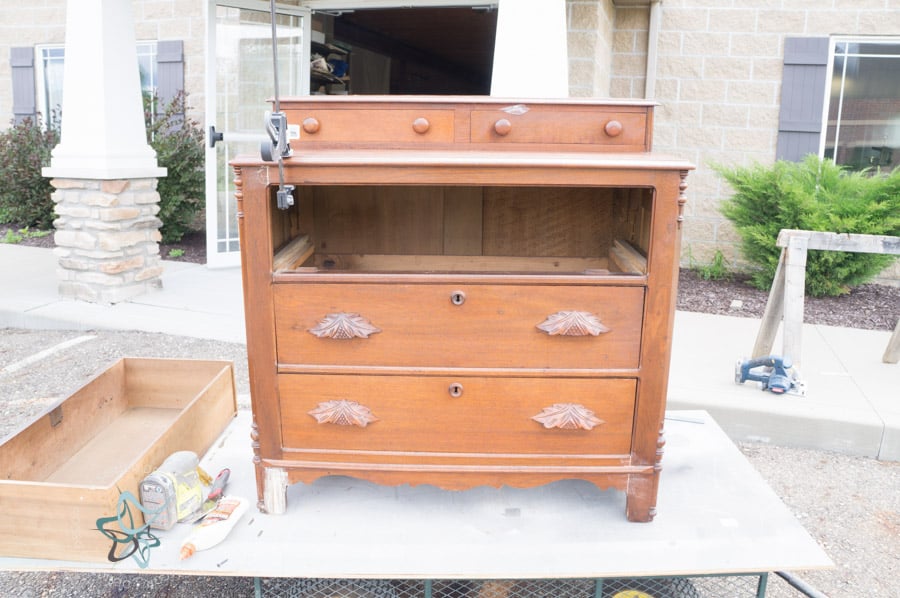 I also used the same custom blue furniture paint on this Eastlake dresser.  This dresser was well taken care of and was in great condition for its age.  Usually, most of these old antique pieces need a lot of prep work before you can even begin to paint.  The top was a little loose on the left side so I added some wood glue and clamped it down.  I also used a little wood filler on the left leg since it was slightly pulling away.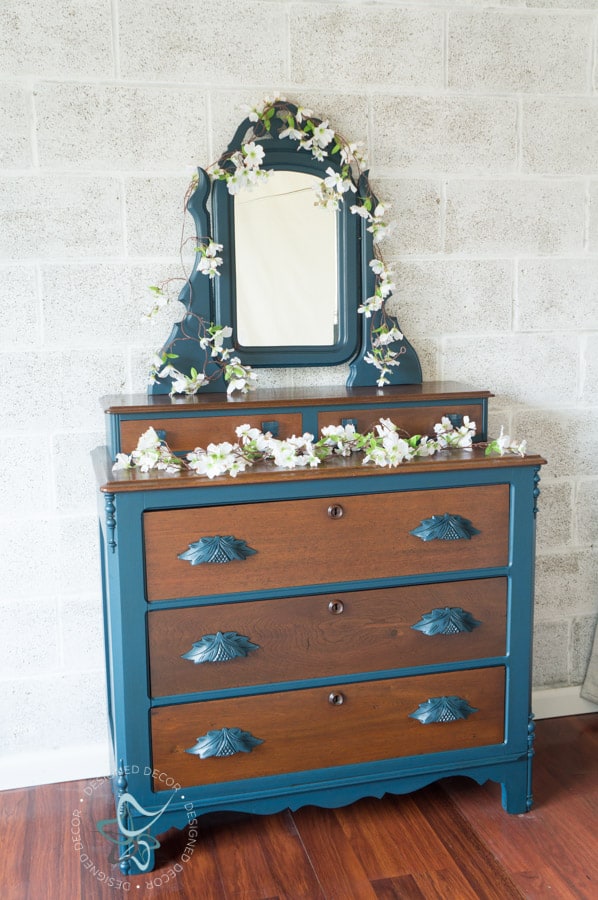 I lightly sanded down the drawers and top and darkened using General Finishes Java Gel
and sealed with Minwax Wipe-on poly.  
  I used the same products to paint, seal and glaze this dresser as the highboy dresser above.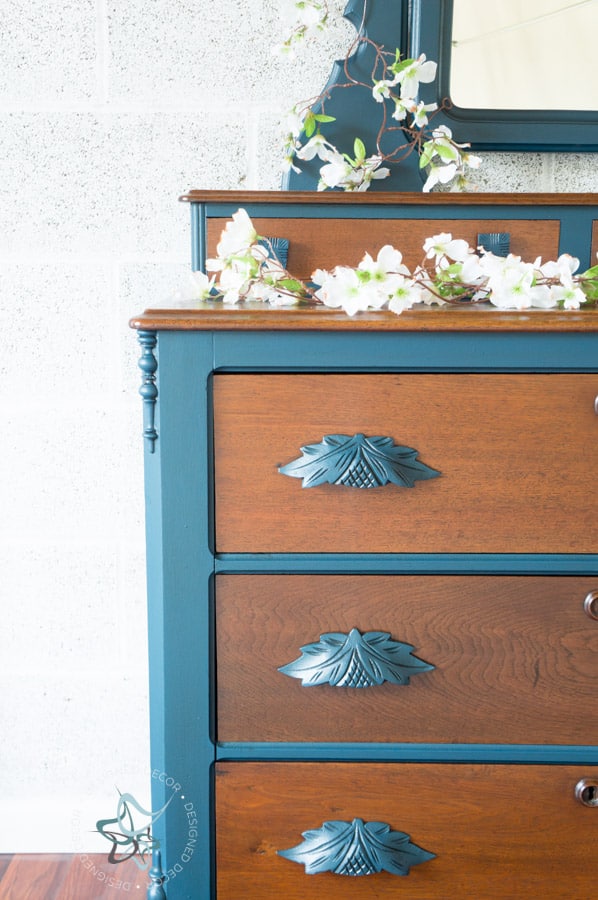 The furniture pulls are wood, so I painted them just as I painted the base of the dresser.  The pulls on top were a boring round wood knob, so I purchased new hardware from Hobby Lobby and painted them to match.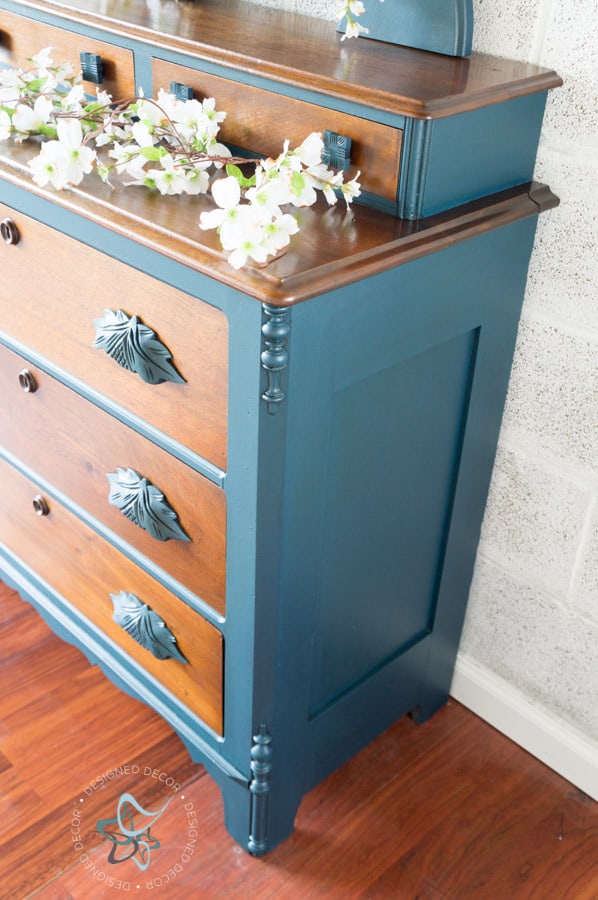 This dresser will have a great second life just as it did with its first life.
Furniture Makeovers with custom paint blends

Join the DD Community!
Join the Designed Decor Community and receive weekly free tips on DIY home projects, painted furniture, decorating, and much more.