Are you looking to add a few easy no sew projects to your child's bedroom?  I made a T-Shirt rug and a no-sew reversible blanket to my Boy's Bedroom.  They were easy to make and added some comfort to the room.
This post contains some affiliate links.  Click here for my full disclosure policy.
With a house full of boys, we always have old t-shirts ready to be used for all kinds of cleaning, but why not use them for something besides cleaning the car or floor.   I decided I had plenty of red, black, white and gray t-shirts to make a t-shirt rug for my son's bedroom.  These colors are our high school colors, so we have no shortage of black, red, gray and white t-shirts.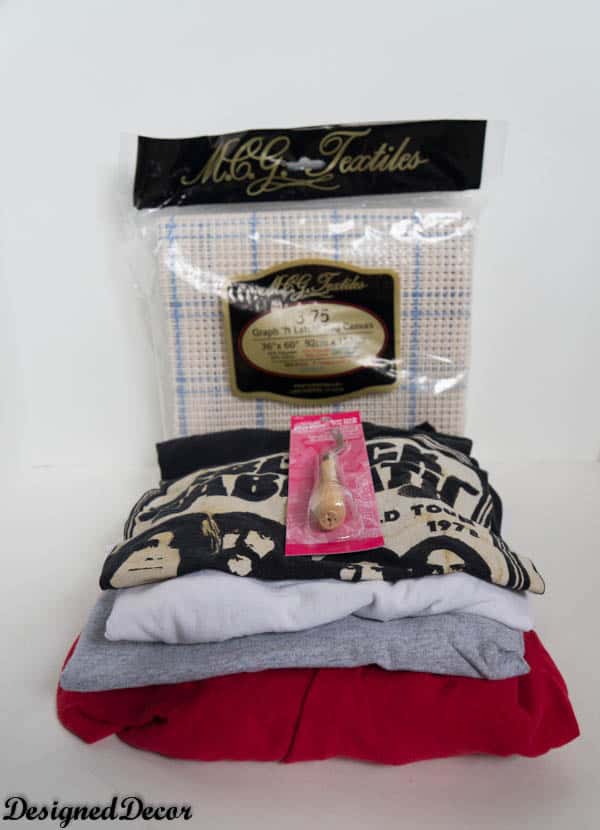 Source List:
I purchased the rug canvas and the latch hook from JoAnn's.  The rug canvas was a 3 x 5 and I had every intention of making this size.  You will read later in the post why I made the rug smaller than intended.    You will want to stick around and find out if you are tempted to make a T-Shirt rug.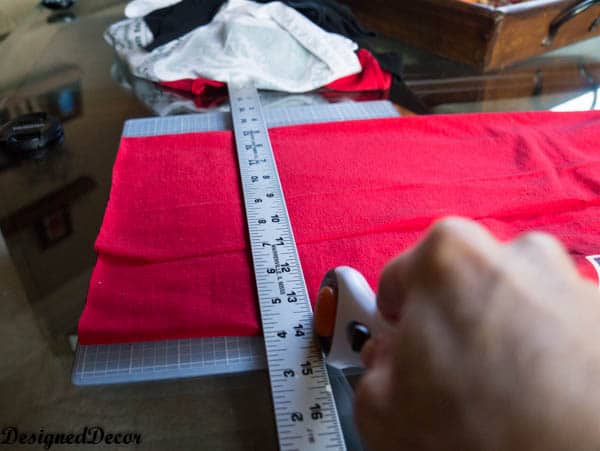 I started by cutting all the sleeves off each t-shirt and trimmed off all the seams and collar.  I then cut the fabric into 1 inch wide strips by 5 inches long.  I placed all the cut pieces by color into separate boxes to make it easy to grab the color I needed.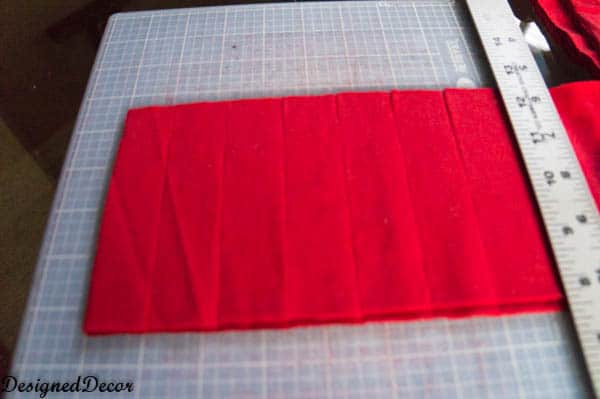 I cut  and cut and cut some more.  I lost track of how many t-shirts I ended up using for this project, but I think it was 4 or 5 (short sleeve men's size medium or large.) per color.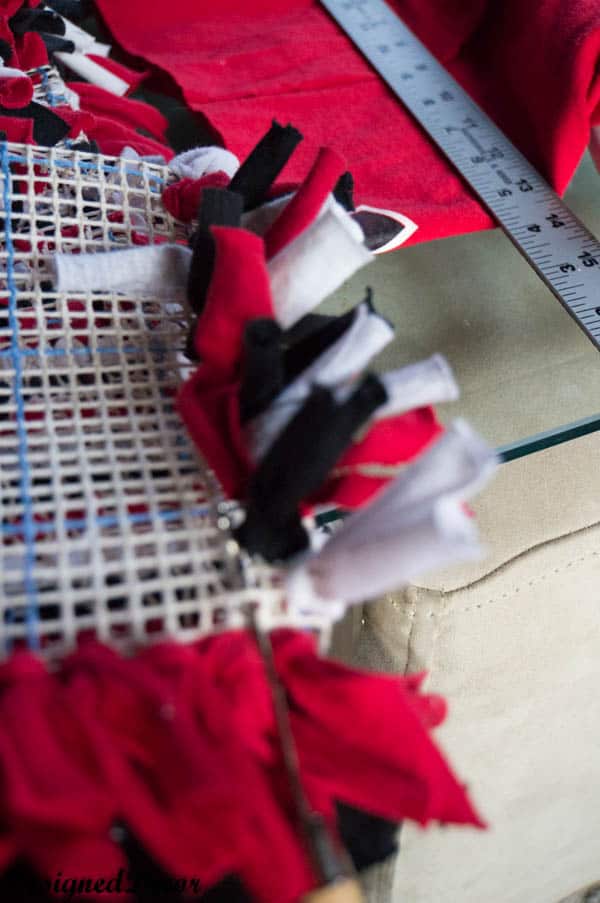 I had more red and black t-shirts so I made a pattern using more of those colors.  I started by latching one of each color on the end, so I could make it easier to form my pattern and not have to remember what color came next after I completed a row.  At this point, I shortened my rug to be a 3 x 4.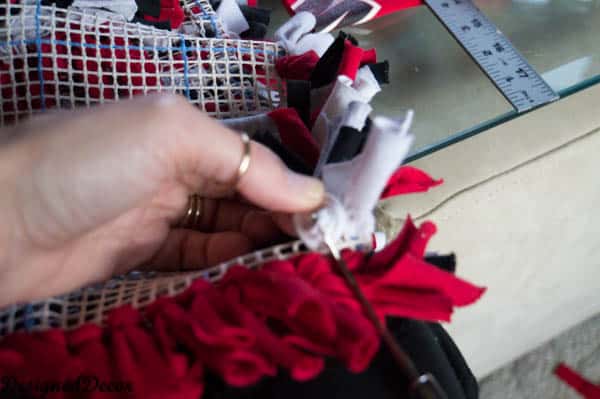 I latched and latched and latched some more.  WHAT WAS I THINKING! I even said to myself, who's great idea was it to make this rug?  So here is your warning, this takes A LOT of time to complete this rug.  I would sit with Mr. DD and latch in the evenings while we watched T.V.  This rug was a project I did in the Fall well before Christmas.  Just to let you know, I used 2900 strips of fabric for this rug.  I am here to say, I won't be doing another one of these anytime soon!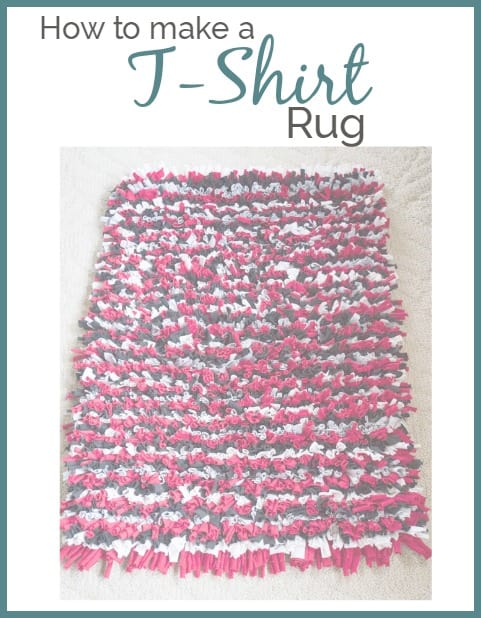 Now for the easy breezy project, a no-sew reversible blanket.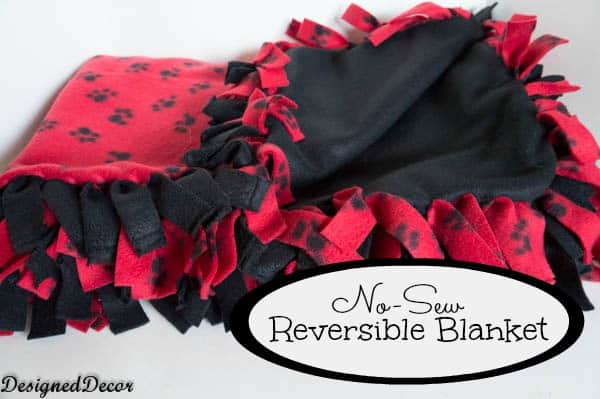 I know, these have been done before, but they are a favorite in my house.  We have a few on them, but we needed one in black and red, especially one with puppy prints on it.  Our High School mascot is a bulldog and I take this blanket with me to our football games, to watch my son march at halftime.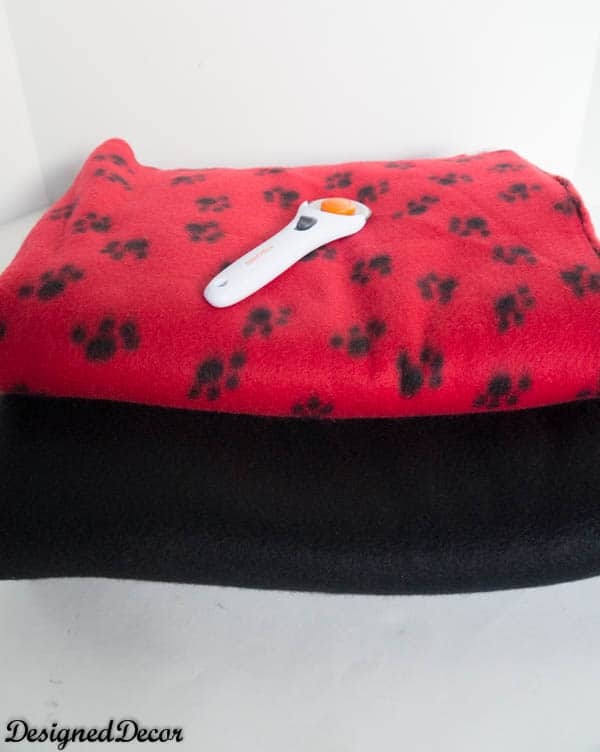 Oh, by the way, I love the fabric cutter
.  I have never used one before but knew I needed it for both of these projects and now I wonder how I lived without it.  Oh, I know, I really don't sew, so never really needed one.  Find the similiar dog print fleece from Amazon or check your local fabric store.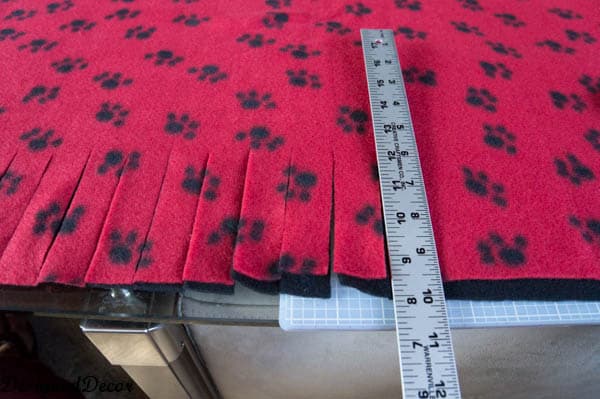 I am not going to explain the process because I am sure it has been explained many times before and it is pretty self-explanatory.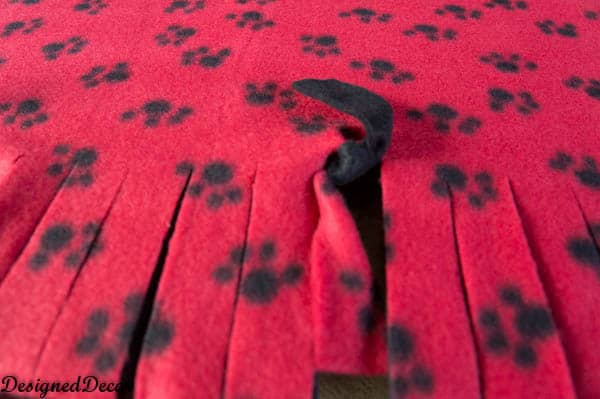 Just make sure to tie the knots really tight and maybe double knot them.  Again, I am talking from experience.  I washed my blanket and ended up with 2 separate pieces.   It was difficult to get back together because not all sides were equal and again, found this out the hard way.  I tied the entire blanket up and found this out on the last side.  I had extra ties???  I had to untie them all, and figure out how they matched up and do it all again.  So I have officially tied this blanket 3 times!   I am glad that I can teach you all about my dumb mistakes.
I hope you are ready to see the boy's attic makeover.
You might also like these great posts!  

Join the DD Community!
Join the Designed Decor Community and receive weekly free tips on DIY home projects, painted furniture, decorating, and much more.