I like to make soup all winter long, and here in Ohio, March is still soup weather. I made this Sausage Tortellini Soup recipe and Mr. DD loved it. I think this will become part of the staple recipes that I make for next winter.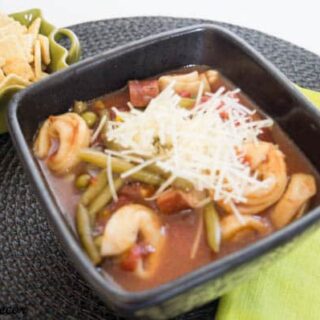 Sausage Tortellini Soup!
Ingredients
2 14 1/2 ounce cans Italian-style stewed tomatoes, undrained
3 cups water
1 cups frozen cut green beans
1 10 1/2 ounce can condensed French onion soup
8 ounces cooked turkey kielbasa, halved lengthwise and cut into 1/2-inch pieces
2 cups frozen mixed vegetables
1 9 ounce package refrigerated cheese-filled tortellini
Shaved Parmesan cheese (optional)
Instructions
In a crockpot, combine tomatoes, water, vegetables, soup, and sausage.
Cover and cook on a low-heat setting for 8 to 10 hours or on a high-heat setting for 4 to 5 hours.
Add tortellini shells to the soup for the last 30 minutes of cooking. If desired, top each serving with Parmesan cheese.
Remember most of the things I make are simple and this one delivers in that category as well.
I always like to double my recipes, so that I have extra to freeze for a quick and easy lunch.  Mr. DD takes lunch to work every day.  If he does not have leftovers, he will just reach in the freezer and grab a soup.  A much better alternative than eating fast food for lunch.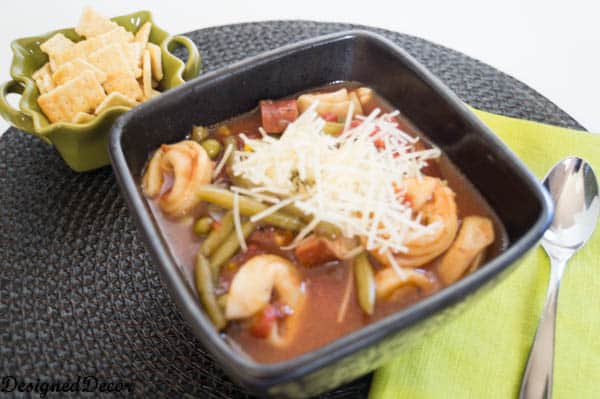 What is your favorite soup recipe?
Join the DD Community!
Join the Designed Decor Community and receive weekly free tips on DIY home projects, painted furniture, decorating, and much more.