I am finally sharing my boy's bedroom makeover. Each week I have shown you a project that I completed for his bedroom, now I am sharing the entire space.
If I took a picture of it today, it would not look like this. The bed is not made, multiple drinking glasses on the bedside table, clothes stacked everywhere(not in the dresser where they belong) As I am writing this post, I was very tempted to do this, thinking maybe he would be embarrassed that I posted his lack of tidiness. I figured he would say of well, I have better things to do than clean my room.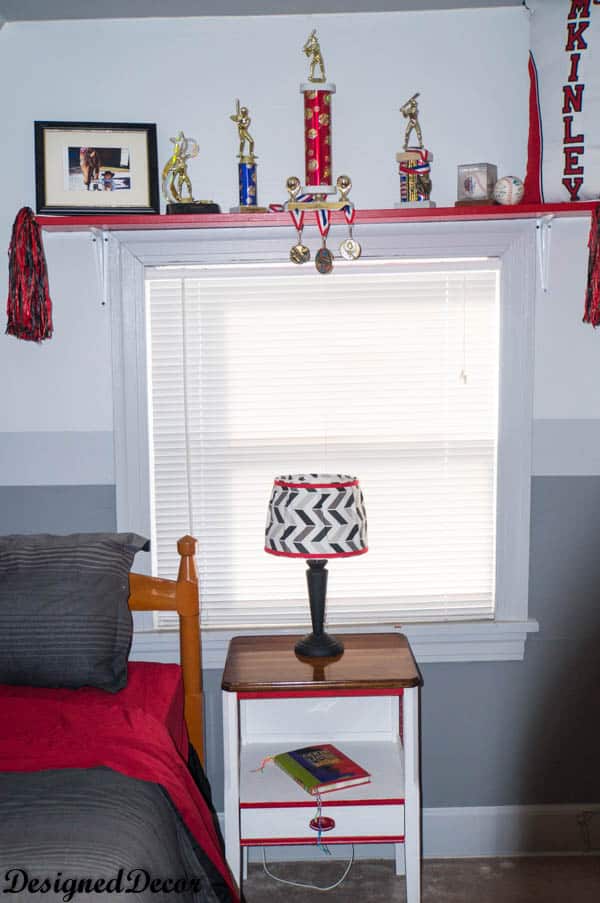 One of the main reasons I moved him to the upstairs attic bedrooms was so I did not have to see his mess. The other was so I could finally have a guest bedroom, and have a reason to paint some furniture for my house.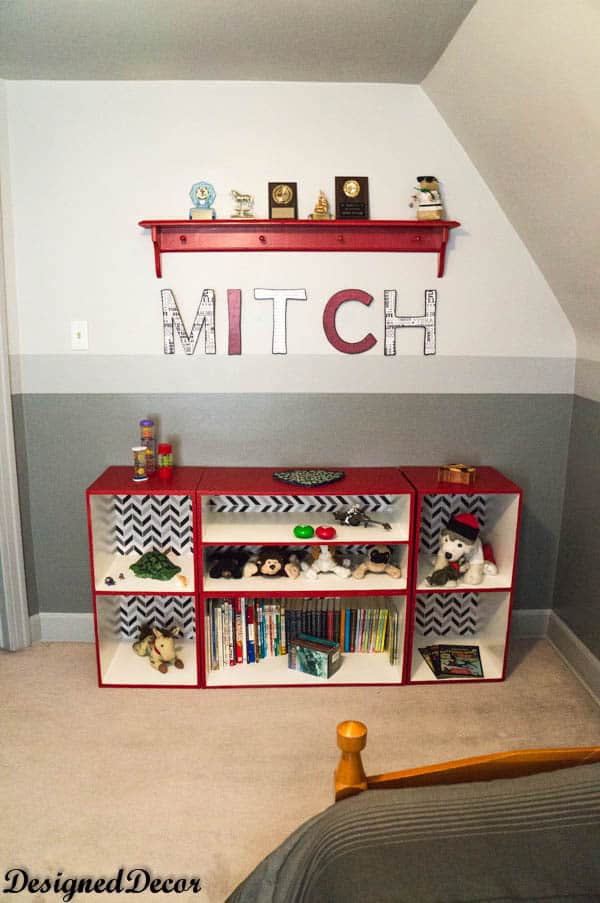 Let me review all the changes I did for his room. I painted the room a few years ago for the older boys. They were originally painted red and navy and decorated with Chief Wahoo for the Cleveland Indians. I guess we did ombre before I knew what ombre was.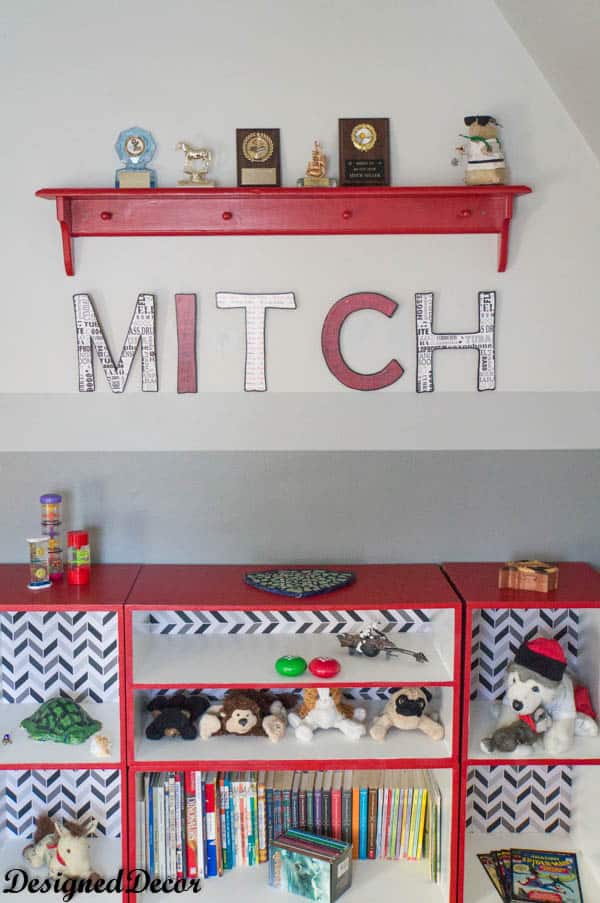 I painted all the shelves red and also added some chevron fabric to the back of the floor shelf. I made the wood letters from scratch by cutting out the wood and using scrapbook paper and mod podge.
The bedside table received a complete transformation along with the lamp. I decided that I did not have enough on my plate and came up with the great idea to make a t-shirt rug. If you missed that post, you need to go over and read about how crazy of an idea that was.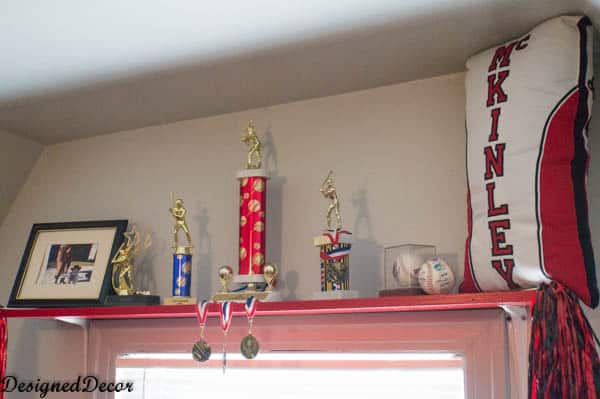 Decorating a teenaged boys room can be a bit of a challenge. I removed a lot of childhood clutter but kept the items that had meaning. I still have stuffed animals on his shelves, but these are the ones I am keeping to give to him from his childhood memories. I have a box for each son, filled with all the important things from their youth. Once each boy is established and have their own home, they will be receiving the boxes I have saved for them.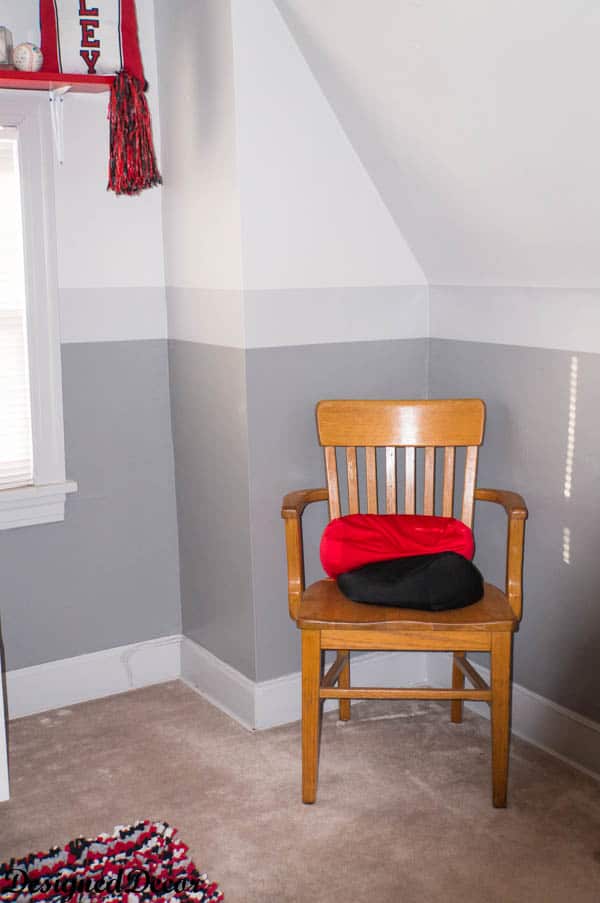 If you missed the any of the projects I did to complete my boy's bedroom makeover, you can find them here: Painting the bedside table and shelves, how to cover a lampshade with fabric, making wood letters from scratch, and making a T-shirt rug. You can alos see the other attic bedroom.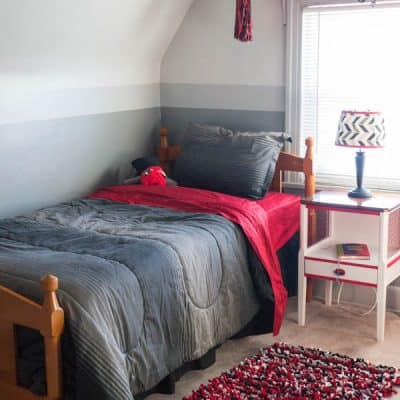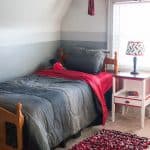 Join the DD Community!
Join the Designed Decor Community and receive weekly free tips on DIY home projects, painted furniture, decorating, and much more.