I am finally getting around to getting the boy's bedrooms moved and finished. The step son's have been out of the house for a few years now and we have moved the younger boys upstairs to the attic bedrooms where the older 2 slept. I am excited to share the first room with you because I have this sleek new lamp to show off.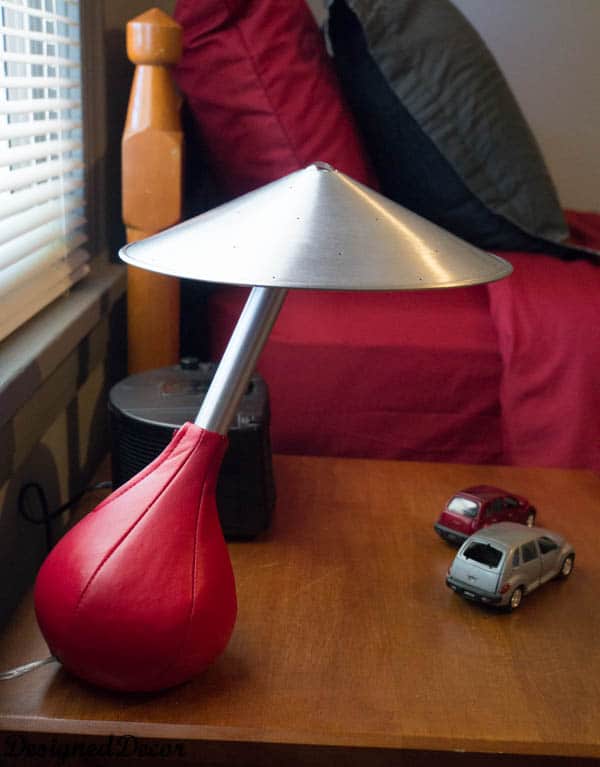 Is this the coolest lamp ever! This Piccola Accent lamp is available from Lamps.com. I was given the chance to pick a lamp for review and this one was the perfect accent lamp that I needed for my son's bedside table. That is a red leather base, how modern is that! This lamp comes in 6 different colors. The great thing about this base is I can move and form it to be at the angle or standing straight up. The shade sits right on top of the sleek light bulb. I love all the really cool features about this lamp. If you are in need of finding the perfect lamp, please stop over to Lamps.com and check out the enormous selection of lamps they have to offer. I am sure you can find the perfect lamp for the decorating challenge you are facing.
Now let me show you the rest of my sons bedroom.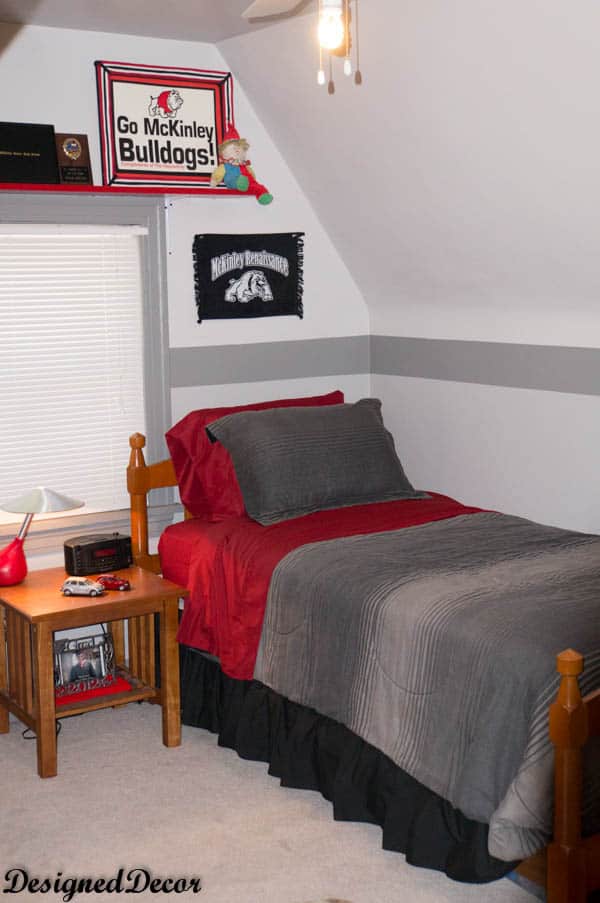 The bed and dresser are from my room when I was a teenager. We are planning to pass these onto my boys when they are all growed up and have their own house.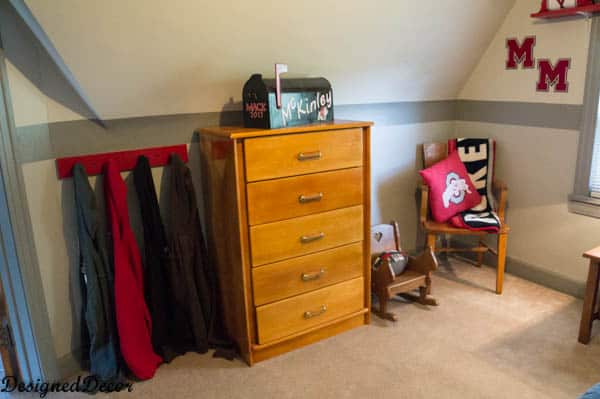 The little rocking chair was a gift to my son when he was a baby. These are the keepsakes that you hold onto and pass down from generation to generation. The mailbox on the dresser is what I made for him for his graduation to hold his cards for the graduation party.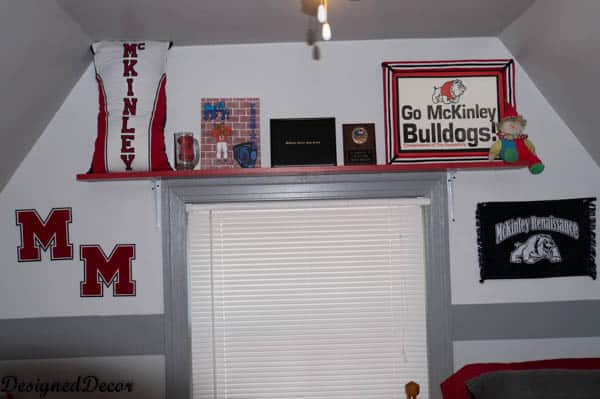 The McKinley pillow is made out of his band uniform coat. The band was fundraising for new uniforms and this was the creative way they raised money by making pillows out of the old uniforms. Great idea! The Go Bulldogs repurposed t-shirt frame was made by me out of some of his old t-shirts! You have to see the cute little clown on the shelf. This is "Bobby," "Bobby the clown" was his favorite toy as a child.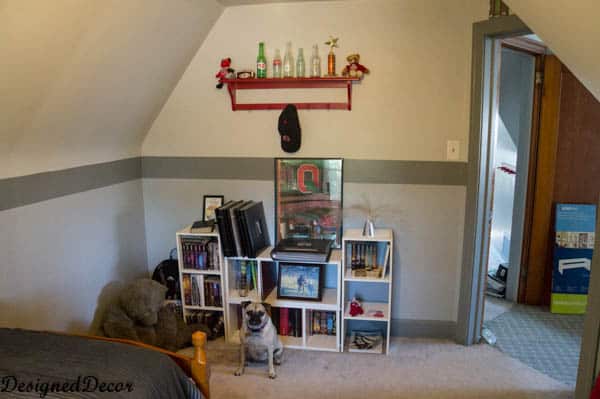 There is my shadow and my professional photo bomber! I am telling you, she follows me everywhere and I do not stage these pictures. I turn to take a picture and boom, there she is! The big stuffed teddy bear in the corner is Gruff. Gruff has been with me for 24 years now. He has been loved on by my nephew who is 25 and both of my boys. He is MY keeper! I am saving him for the grandkids, so I can get pictures of them loving on Gruff just as their Dads did at that young age. Wow, that is a scary thought! Grandma and calling my boys Dad! This will need to wait at least another 10 years!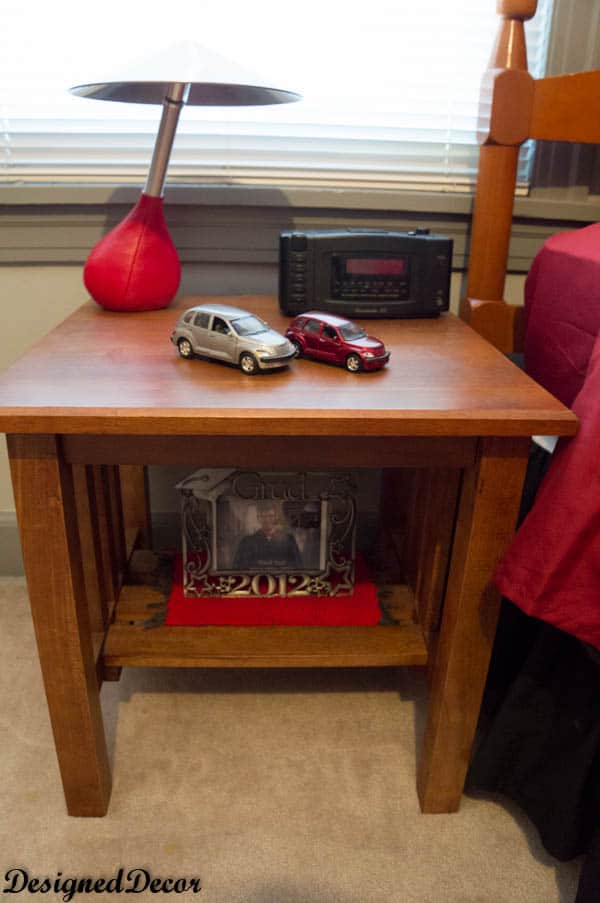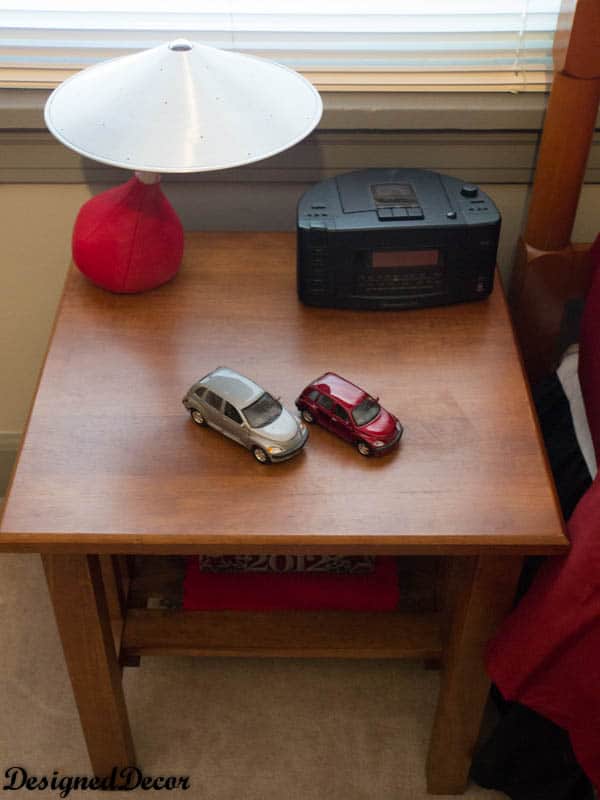 I will be sharing the other room with you in a few weeks as I am still finishing up a few of the projects for his room. Don't forget to stop on over to Lamps.com to look and the great selection of all type of lamps. Stop over to see the other boys attic bedroom for the youngest son.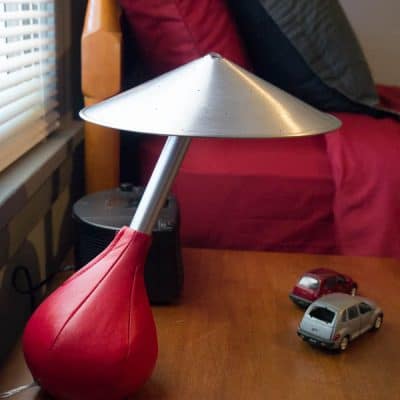 Join the DD Community!
Join the Designed Decor Community and receive weekly free tips on DIY home projects, painted furniture, decorating, and much more.