I recently made some Pecan Tassies and this quickly became a family favorite from all members. You must know by now, that I am a pecan fan! I have southern blood and I love my pecans.
These pecan tassies are like eating a mini pecan pie and we love our pecan pie around this house too! The only thing I don't like about this recipe is having to roll out all those dough balls.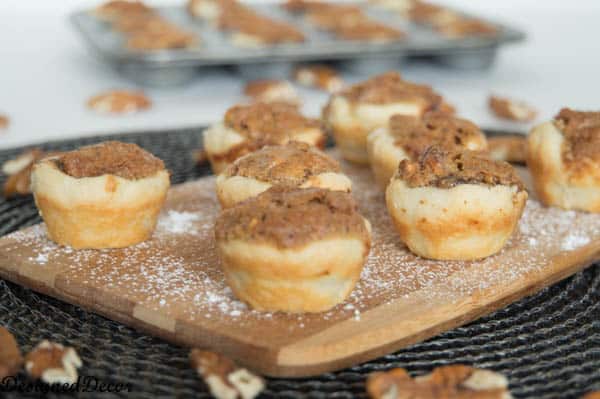 Pecan Tassies
Ingredients
1 cup butter, softened
1 (8-oz.) package cream cheese, softened
2 1/2 cups all-purpose flour
1 1/2 cups firmly packed brown sugar
1 1/2 cups chopped pecans
2 large eggs
2 tablespoons butter, melted
2 teaspoons vanilla extract
1/8 teaspoon salt
Instructions
Beat butter and cream cheese at medium speed with an electric mixer until creamy. Gradually add flour to the butter mixture, beating at low speed. Shape mixture into 48 balls, and place on a baking sheet; cover and chill 1 hour.
Place 1 dough ball into each lightly greased muffin cup in mini muffin pans, shaping each into a shell. You can use a tart press to shape the dough.
Whisk together brown sugar, pecans, eggs, melted butter, vanilla, and salt. Spoon into tart shells.
Bake at 350° for 20 minutes or until filling is set. Cool in pans on wire racks for 10 minutes. Remove from pans; cool on wire racks 20 minutes or until completely cool.
The other great debate is how in the world do you pronounce that word? Do you say Pecan (Pekin) Pecan (Pecon) or Pecan (PeCAN). I say Pecan (Pecon) , this is the only proper way to say it! And you must throw in a little bit of southern accent. This gets our family in an uproar on the true pronunciation.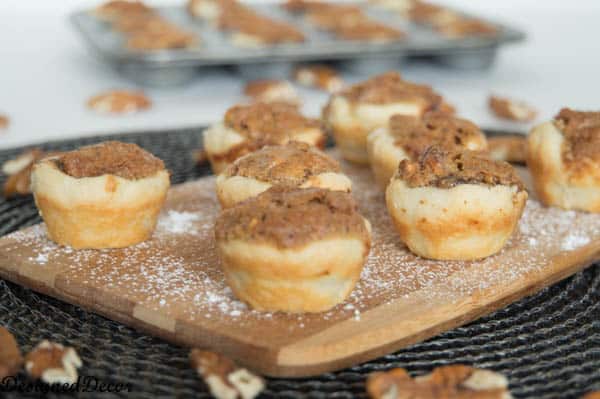 This pecan tassies recipe can be stored in the refrigerator and made in small batches instead of making all at one time. Pecans make such a great snack alone or in your favorite dessert. Are you a pecan fan?
Join the DD Community!
Join the Designed Decor Community and receive weekly free tips on DIY home projects, painted furniture, decorating, and much more.