Are you a DIYer or jigsaw puzzle lover looking for an exciting project? Look no further, because learning how to build your own jigsaw puzzle game table is just the thing! This fun and challenging endeavor will have you both delighted and eager to build your own.
If you're up for the challenge then this blog post can be your guide. Take a look at how we created this one-of-a-kind jigsaw puzzle game table. Learn to build your own so that everyone will be asking when they come over and see your fun jigsaw puzzle table.
UPDATE:
We are selling the Build plans for this table design as well as custom-made tables for those who can't build their own.
Why you need a puzzle game table
I decided that building a DIY puzzle game table was the solution to an organized space in our house. I hated to see the clutter from an unfinished jigsaw puzzle. It is also very frustrating not to use our dining room table for dinner.
Do you and your family like to spend quality time putting together a jigsaw puzzle? Do you hate the fact that it takes days or even weeks to put together a jigsaw puzzle and your kitchen, dining, or coffee table is left with the unfinished puzzle? Or better yet, you have company coming over and you need to clean your house and you hate to have to remove the unfinished puzzle. I know I could use a felt puzzle mat, but that doesn't help either when it comes to a neat and organized space.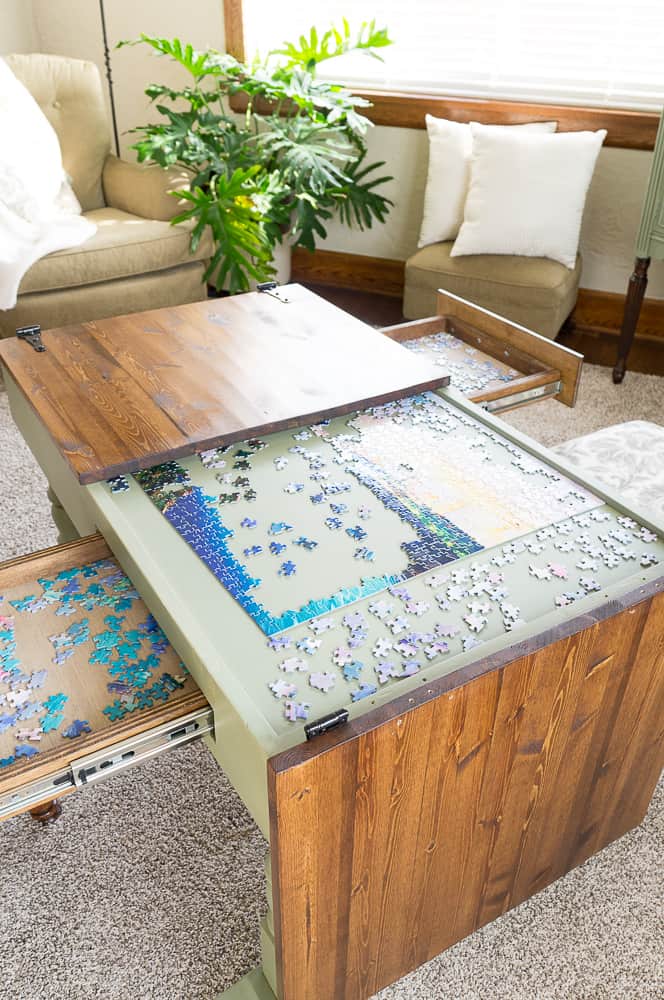 This post contains affiliate links. Click here to see my full disclosure policy.
My family enjoys working on jigsaw puzzles. We stopped doing them because I hate for a puzzle to be left out on the dining room table. I told Mr. DD that I wanted to replace our current coffee table and build a puzzle game table. I had the vision in my head and I needed to explain what that vision was to Mr. DD. This puzzle game table turned out great and we had to change the design plans along the way.
How to build a coffee puzzle table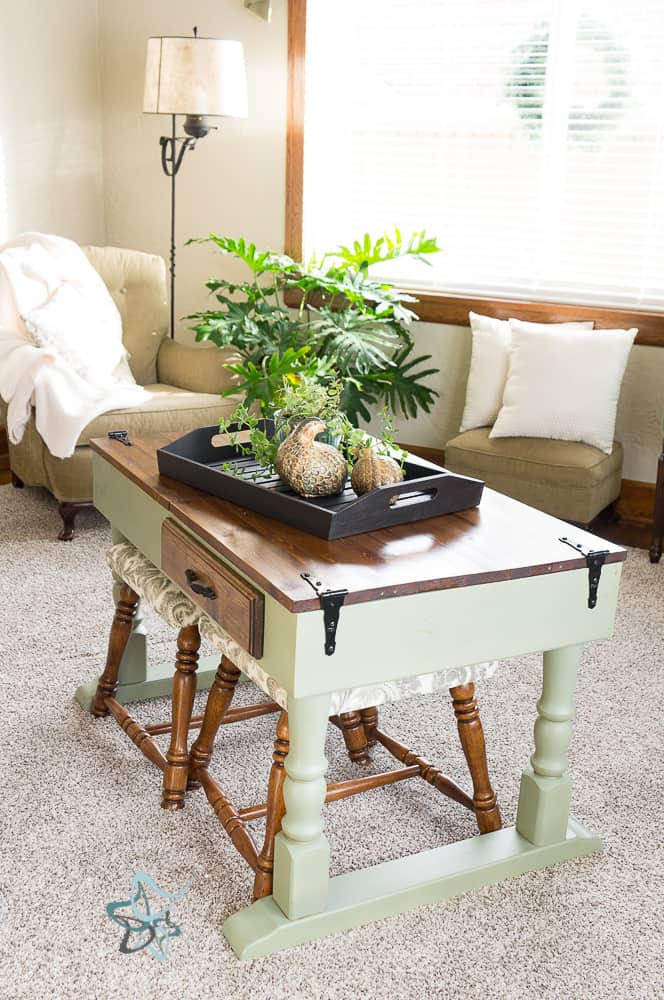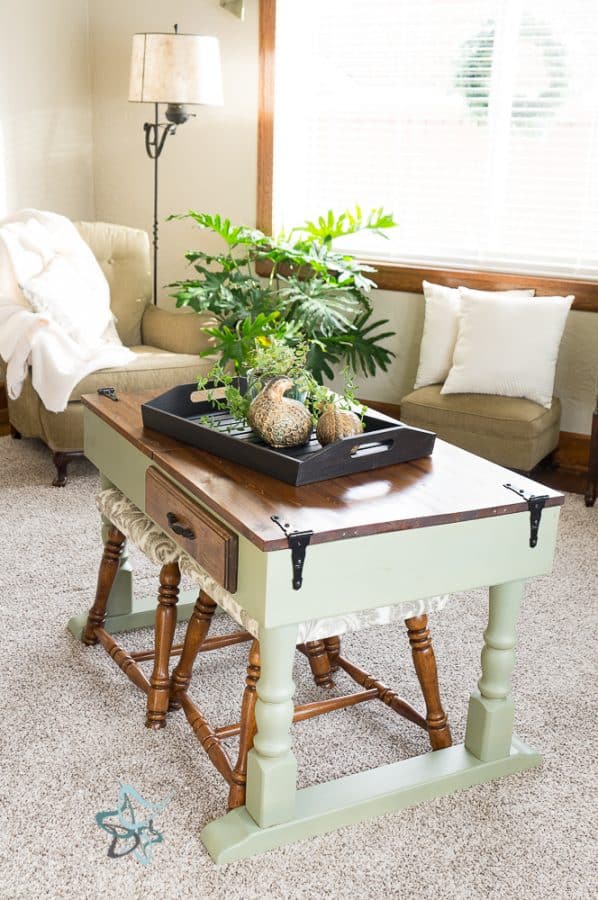 My plan was to have stools tucked under the table so we could easily pull the stools and sit on them to work on the puzzle. Mr. DD also likes to use the stools to rest his feet. He had a certain height requirement that he liked for his footstool. The footstools needed to be almost as high as the couch because he does not like a low footstool. This does make our puzzle game table higher than your average coffee table height. The higher table design is a must for the flip-open tabletop design.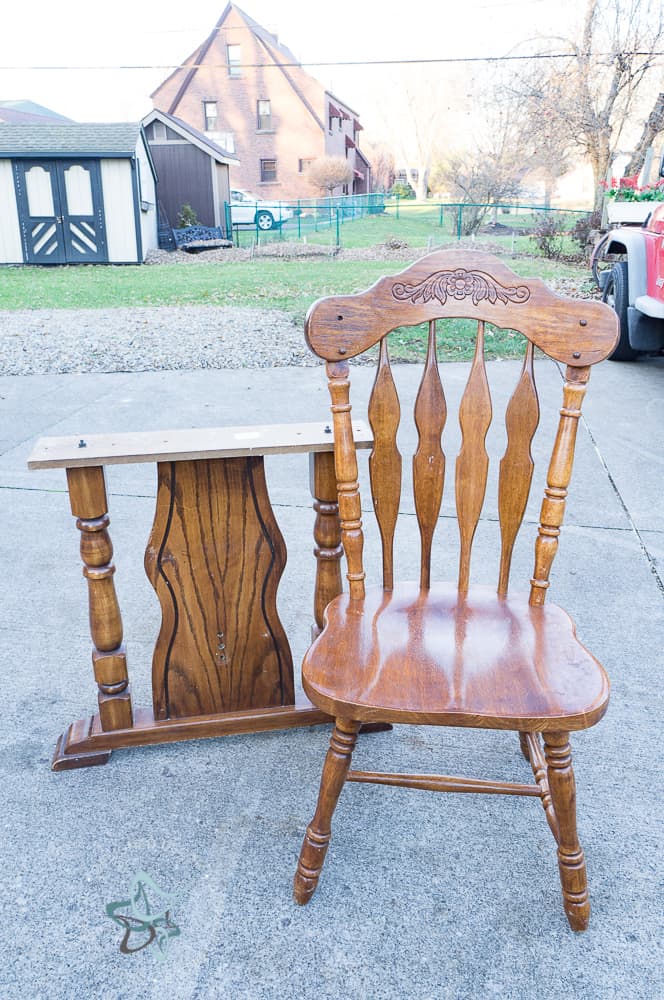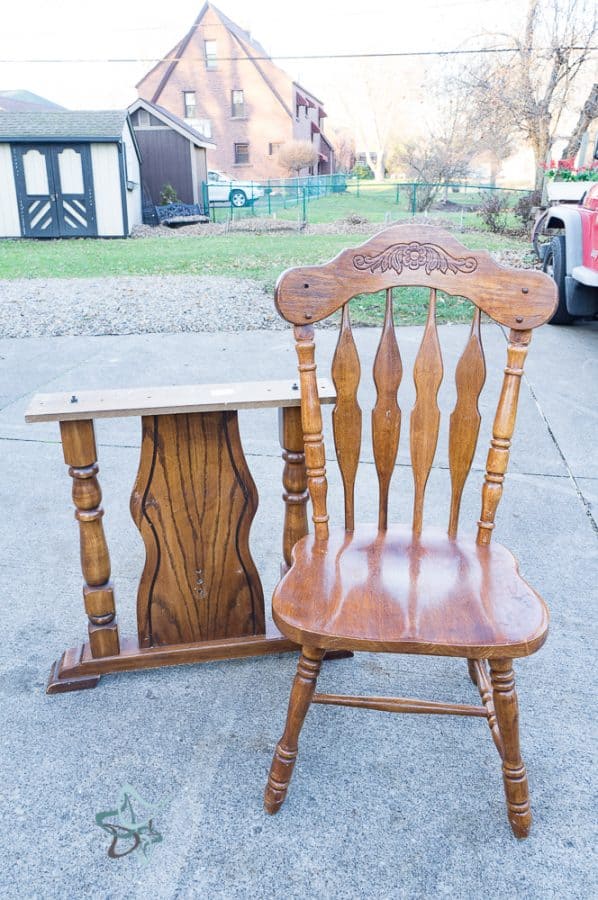 After deciding I did not want to use square 2 x 4's as the table legs. The look of a square box leg would not fit with my other "leggy" items in the room. Also after pricing new table legs, I decided that repurposing a table would be the answer.
Remember, we needed taller legs so using dining table legs would be what we needed. I found a dining table and 4 chairs for $25. This was the answer, I would use the table legs and the chairs would become stools. This is a more affordable way to build a puzzle table instead of buying new wooden legs.
Mr. DD sketched out the design of the table. We needed a recessed work area to hold the ongoing jigsaw puzzle, drawers to store the extra puzzle pieces, and an easy flip-open top.
We figured out the size we would need to accommodate the footstools underneath, and the proper size to fit our sofa and living area.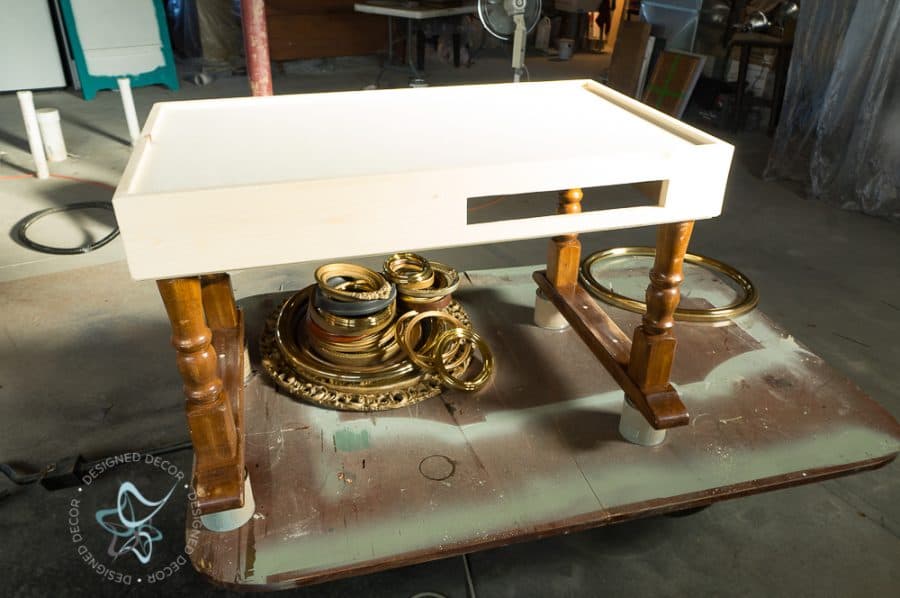 Mr. DD began by building the box of the coffee jigsaw puzzle game table first. He cut in the drawers, added the supports to hold the drawers, and the recessed work area.
Puzzle Coffee Table Build Plans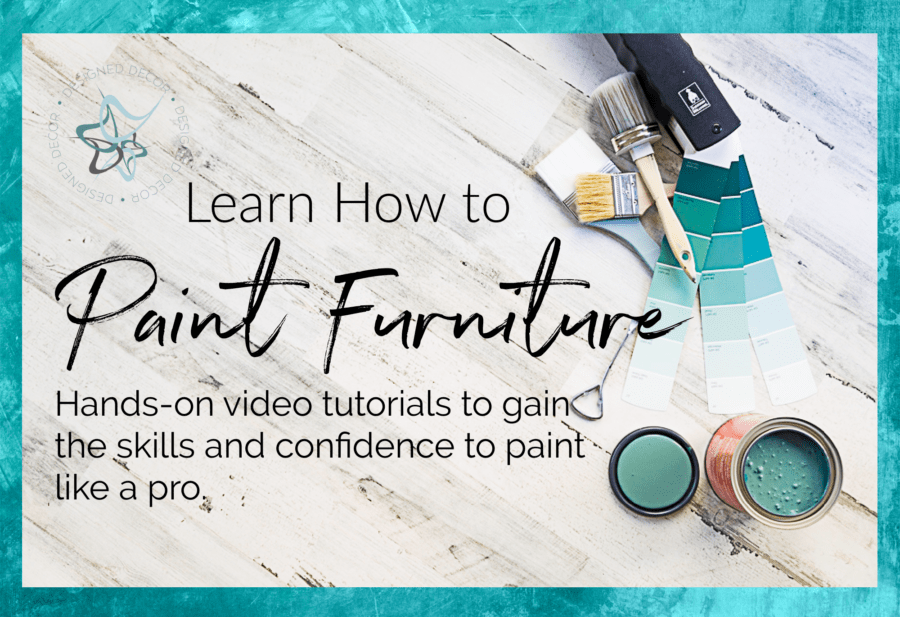 Are you wanting to learn how to paint furniture and just can't find the time in your busy schedule to go to a local workshop?
Frustrated with all the conflicting tutorials on "how–to" or "what products"?
Are you eager to learn a new paint technique and afraid you will mess it up?
Learn many different furniture painting techniques with video training from beginner to advanced.
Online Furniture Painting Workshops for every skill level
Insider Furniture Painting Tips and Tricks
Painting the jigsaw puzzle table
Once the table was built, I took the table over to my paint workshop so I could stain the top and spray the base. I use a Wagner Flexio sprayer for all my painted furniture. All of those frames are being sprayed as well for my wall decor next to the media stand in my living room.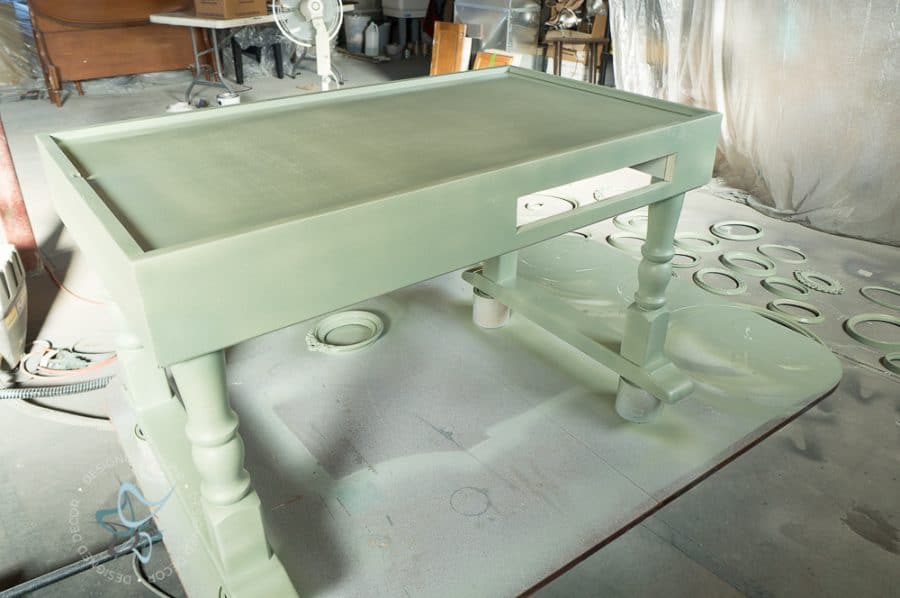 This picture is from the first coat of General Finishes Milk Paint in Basil. I continued with a second coat followed by my favorite sealer and glazing in smokey quartz.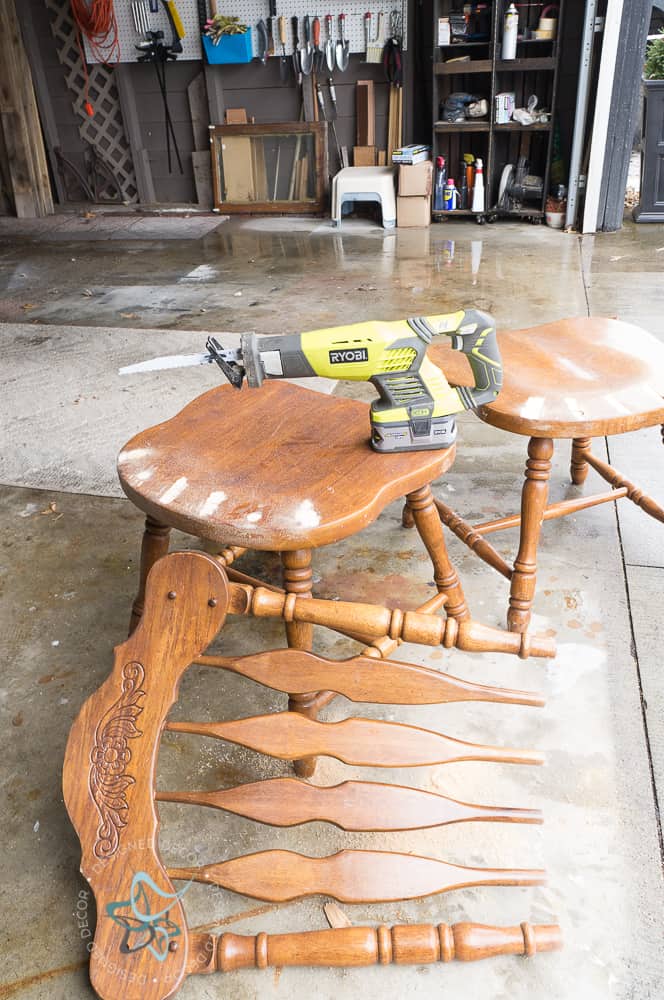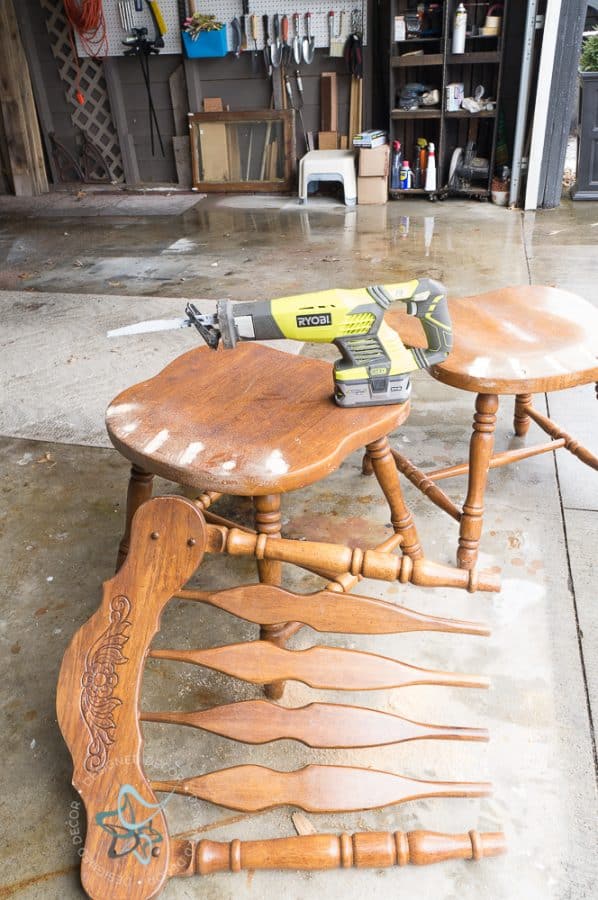 The tops of the chairs were cut off using a Ryobi reciprocating saw.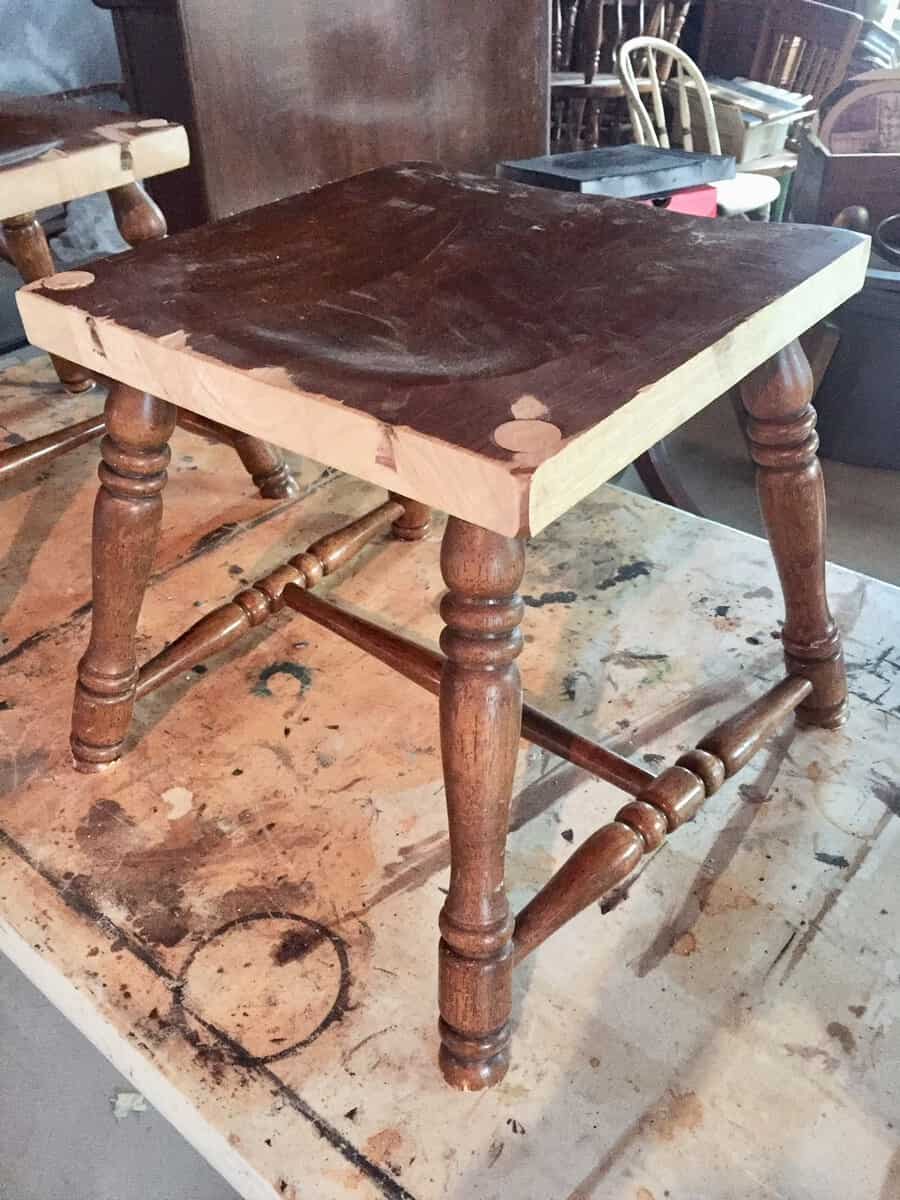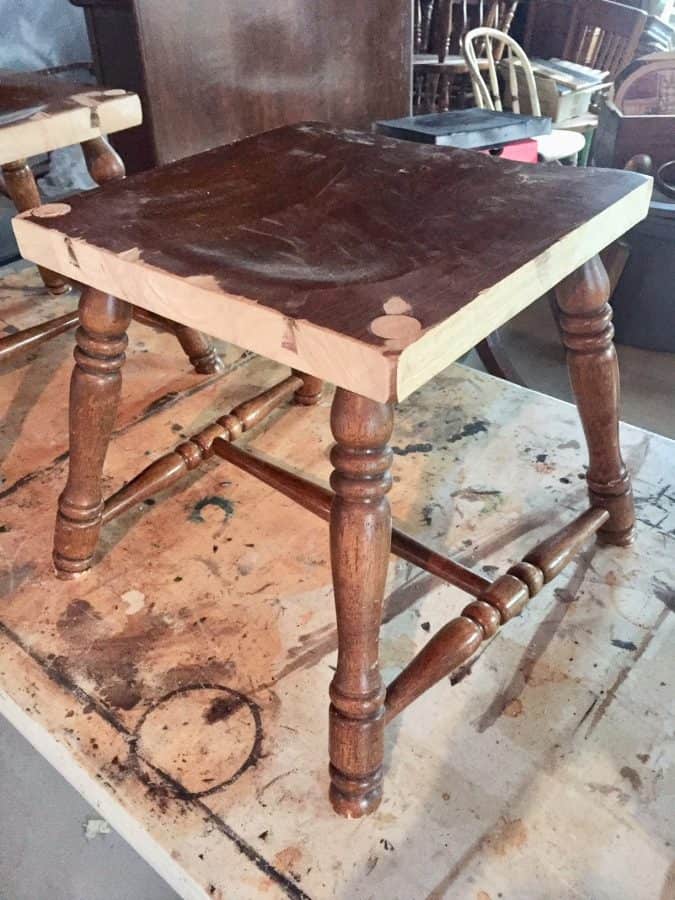 I squared off the edges using a Ryobi table saw or you could use a circular saw. Then began to stain the legs using a darker gel stain and sealed them with wipe-on poly. The seats are upholstered by using foam core cushion, batting, and fabric. Make sure you check out my post on how to upholster chair seat.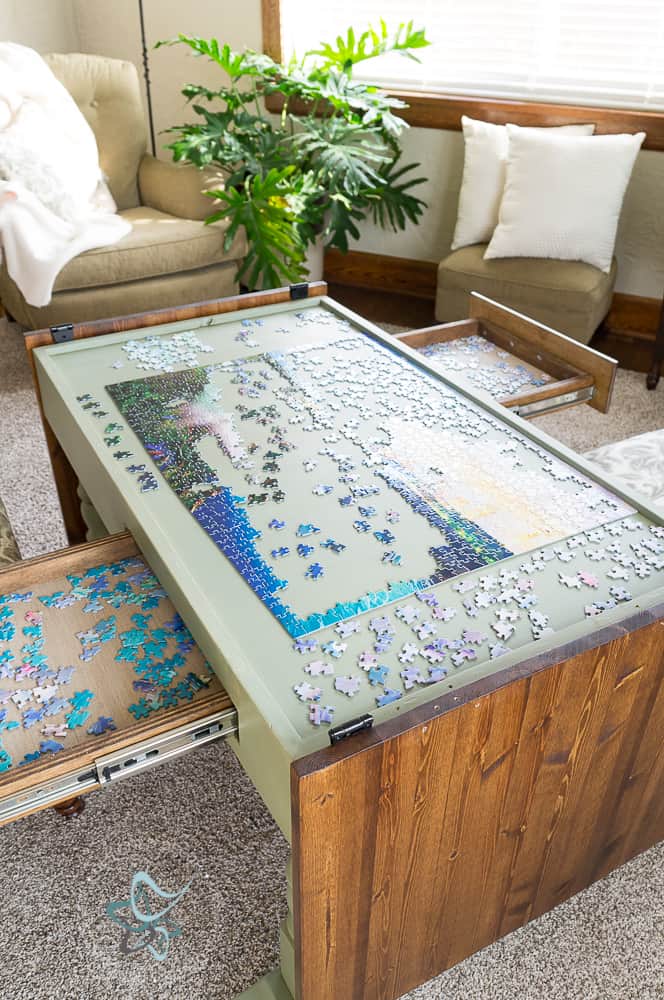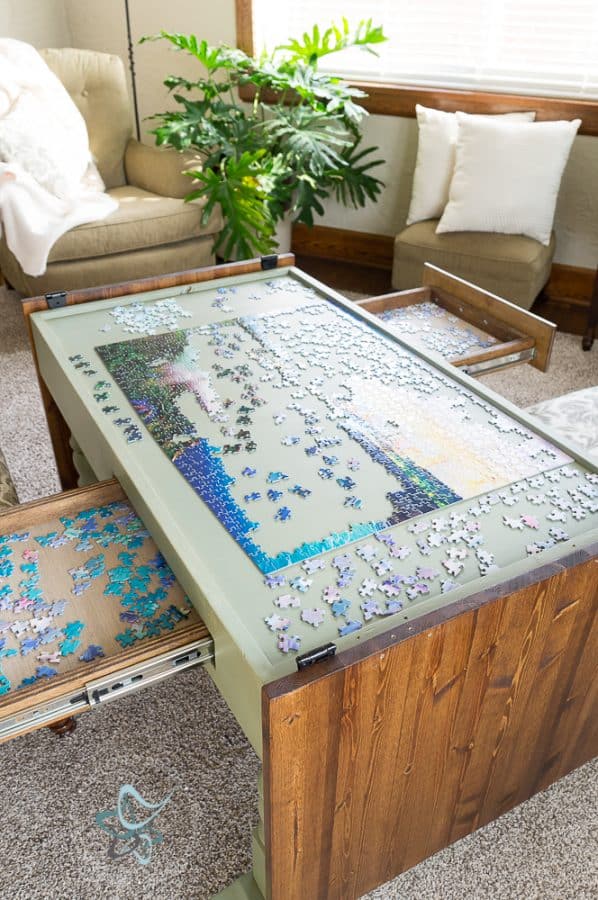 Now I can stay organized and spend quality family time together. I just simply close the top and drawers and you would never know we are working on a puzzle under there.
How our coffee puzzle table went viral
Not long after we built this coffee puzzle table, I had a Facebook post go viral about everyone wanting this table. You can read all about the incredible story and how it leads us to sell build plans and eventually find table manufacturers to build custom tables for us. Read the post on "how our puzzle table post went viral."
If you love puzzles and spending time with family and friends, why not build a jigsaw puzzle game table? This post should help guide you to build your own table. If you don't have the time or inclination to build your own table, you can purchase the plans or buy a custom-made jigsaw puzzle table from us. Thanks for reading and happy building!
We are now selling the build plans for this puzzle coffee table if you would like to build your own puzzle game table.   
Web Stories






Join the DD Community!
Join the Designed Decor Community and receive weekly free tips on DIY home projects, painted furniture, decorating, and much more.