Has this ever happened to you?  You are approaching a garage sale and from a far distance, you see an item.  Your heart starts to bet a little faster and your palms a getting sweaty.  You want to break out in a full-blown run to get to the item before anyone else snags it up.  You have to play it cool and approach with the "just browsing" stare because you don't want to show too much excitement over the item because if you do the owner will know how much you want it instead of negotiating with you.  This exact thing happened to me with this!
This post contains affiliate links.  Click here to see my full disclosure policy.  
Oh, the details on this old door!  I did not have to negotiate on price for this door because it was only marked $25.  Wait, what, am I reading that right?  I loaded her up and brought her home.  I knew I was not selling this one in my shop, it was going to sit and wait for the perfect place in my home.  The other side of the door had its original dark stain on it and this side must have been on the outside because it has years of harsh weather showing.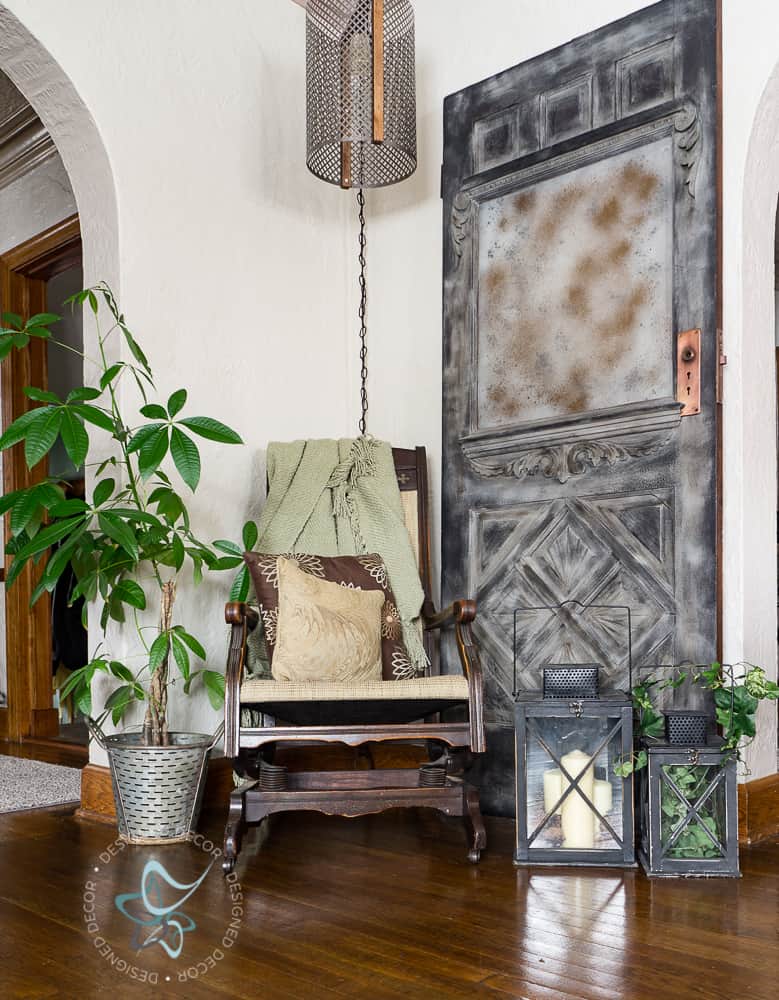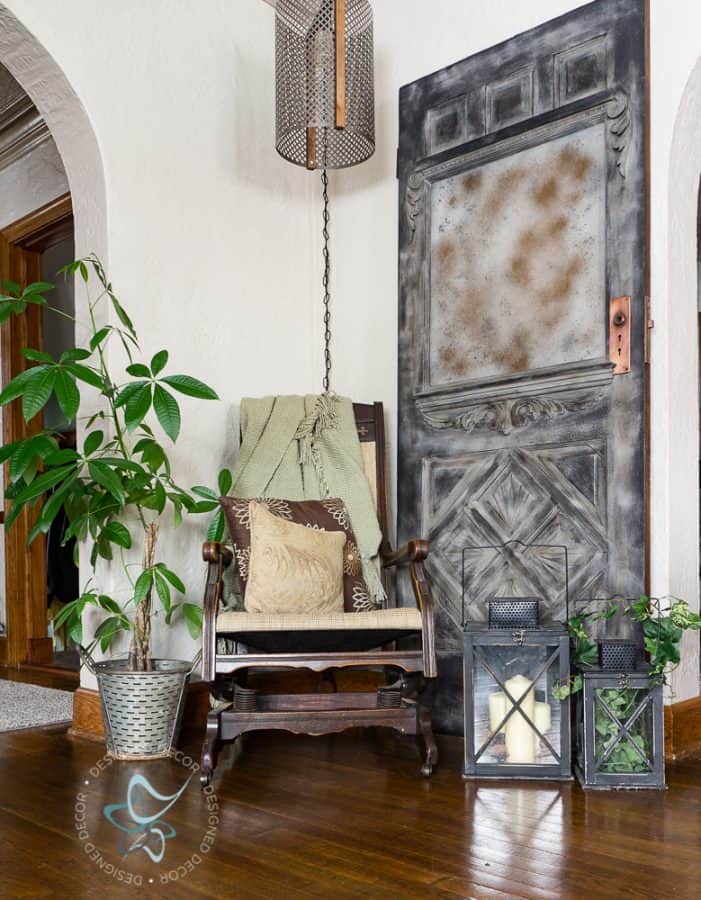 I found it!  I just recently completed a few updates to my living room and found her the perfect place.  I need do a few upgrades to the door.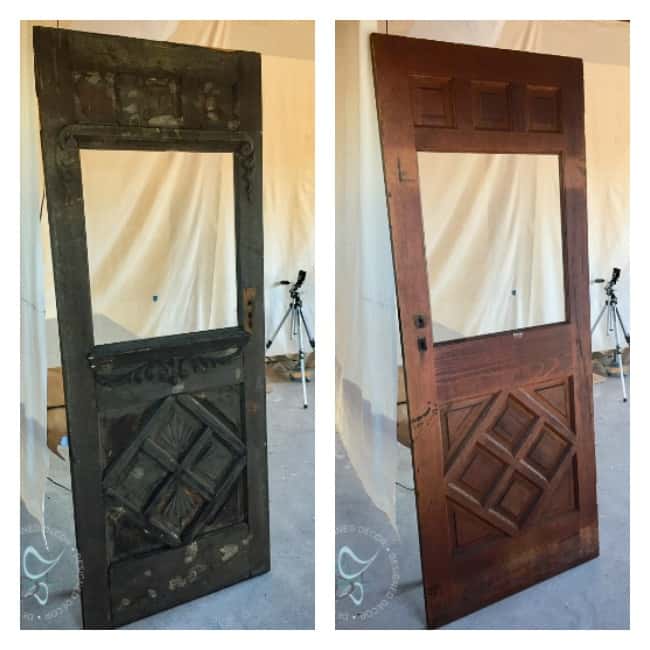 I cleaned her up and placed a dark brown stain on the inside of the door and sealed with polyurethane.  The outside of the door had all those details and I was really liking the door the way it was looking when I brought her home and wanted to keep it that way.  I used a black stain after cleaning to darken the wood and give it some love.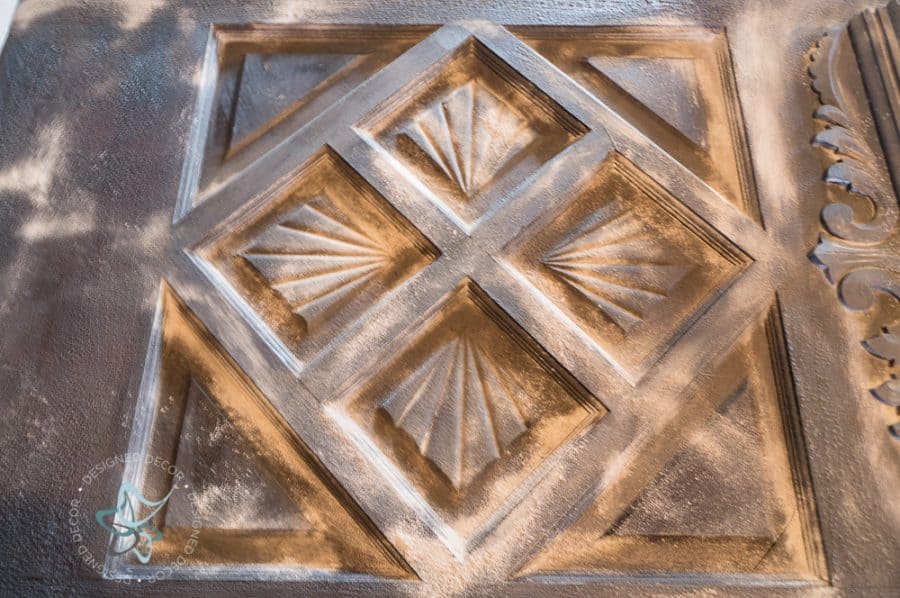 I applied Amy Howards clear wax and Dust of Ages to restore back the aged finish that was on the door when I brought it home.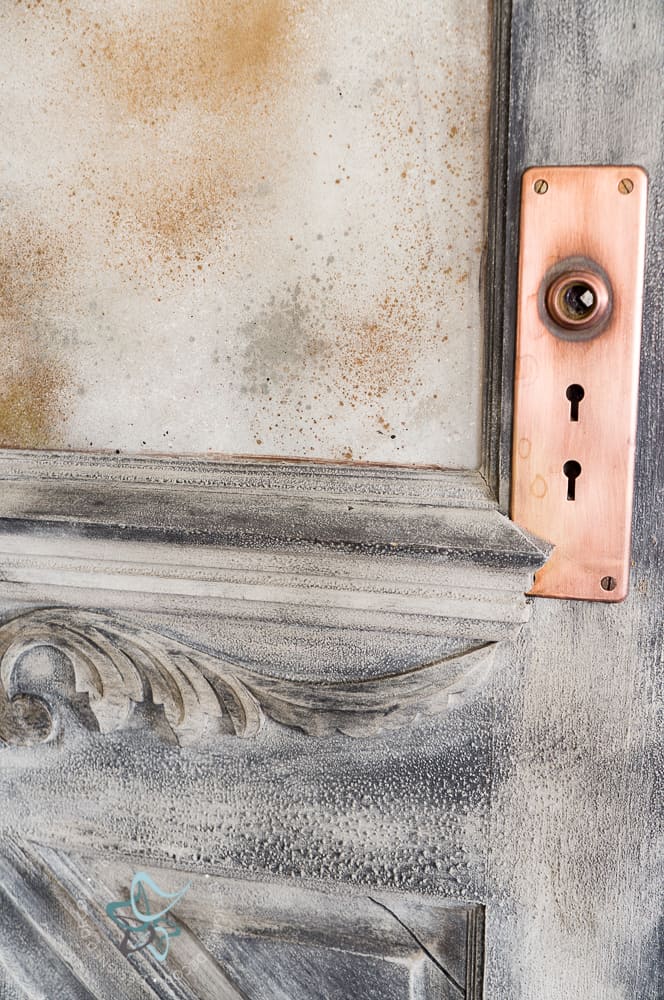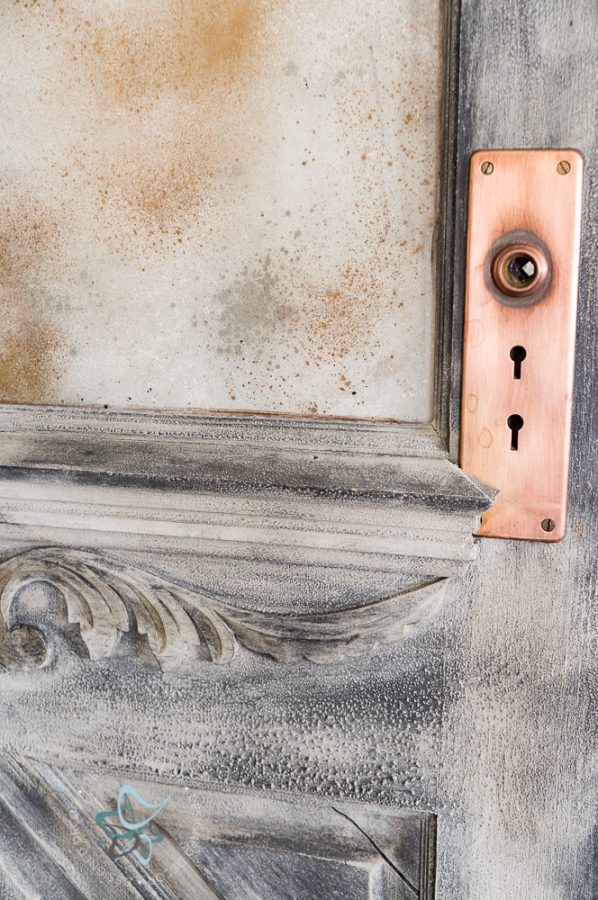 See those bumps, that is from the old varnish, which is perfect when applying the dust of ages.  If anyone knows the term for that, please let me know.  I also cooked the hardware in my crockpot to remove the years of tarnish and grime.  Yes, I cook my hardware and it does a wonderful job, just can't use it again for food!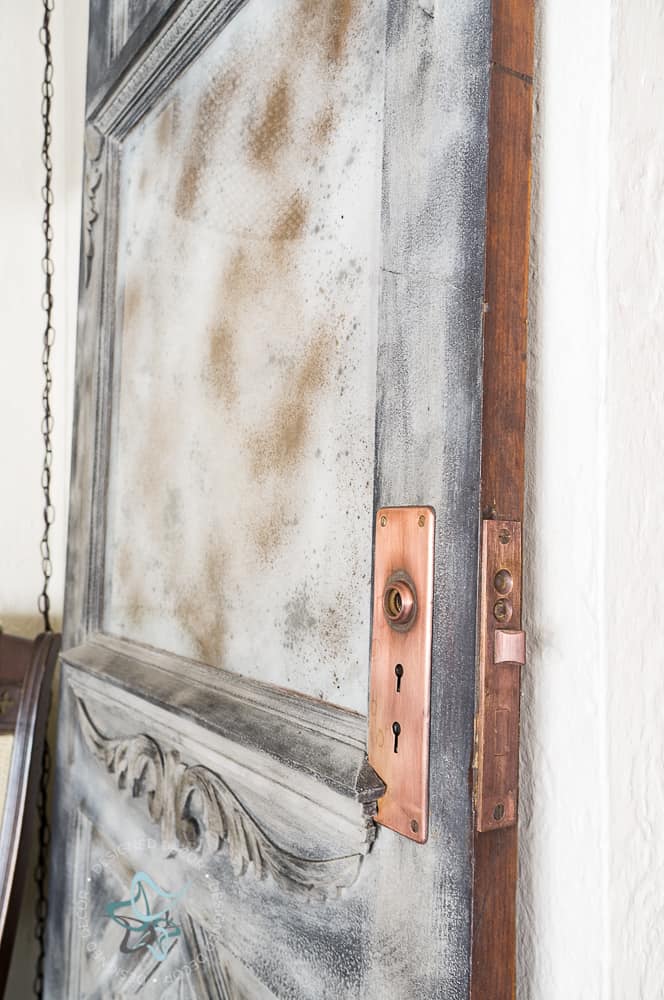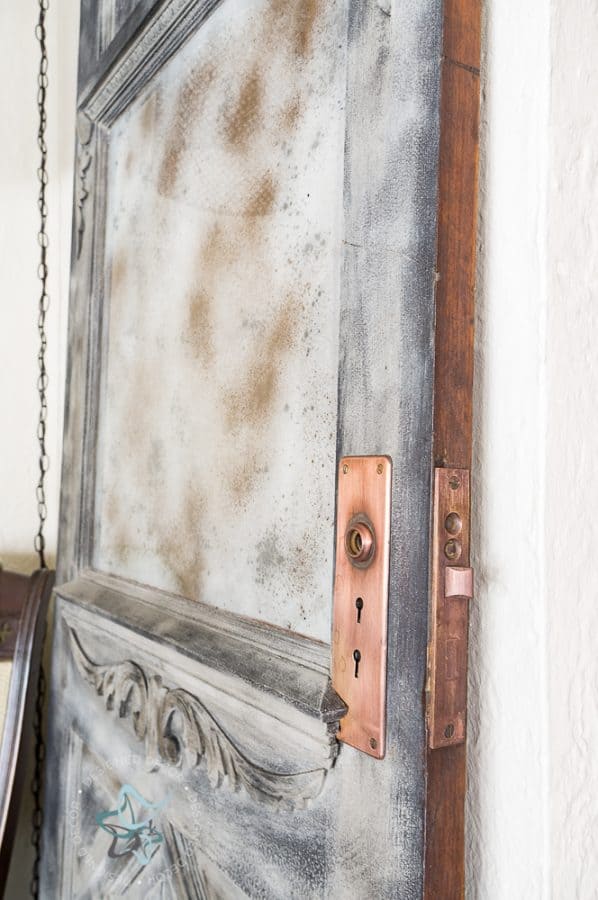 I decided I wanted something on the glass instead of seeing the wall, so I did a DIY decorative glass paint technique on it using Amy Howards Bright Idea Laquer, mica powders, and Chalky Mineral Paint.  Stop over to my YouTube channel and view the video tutorial I made and see how simple it was to transform this glass.  Also, make sure you subscribe to my channel as I post new paint videos over there!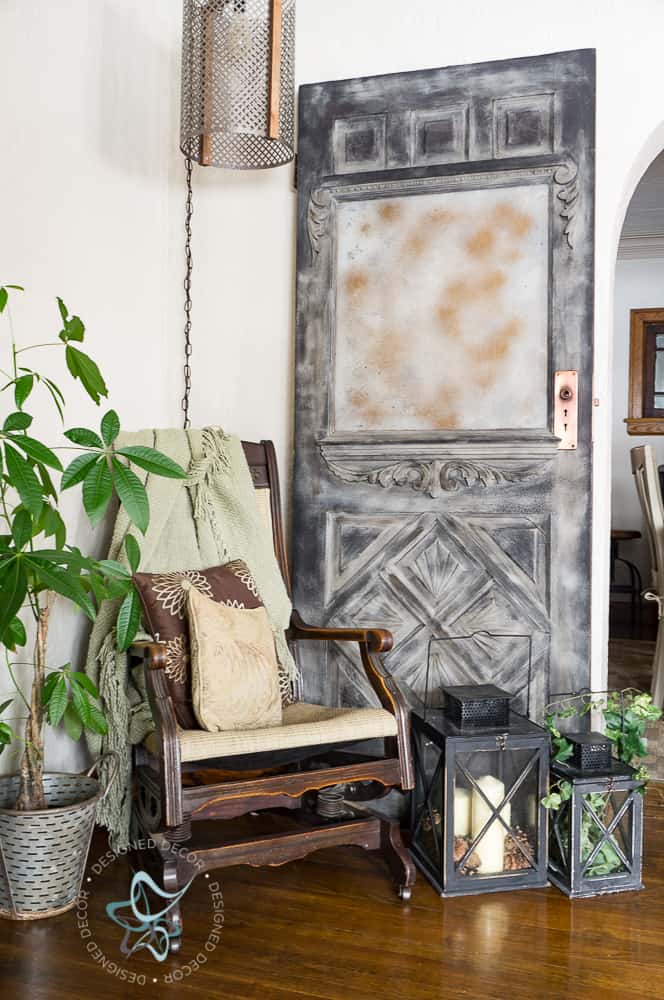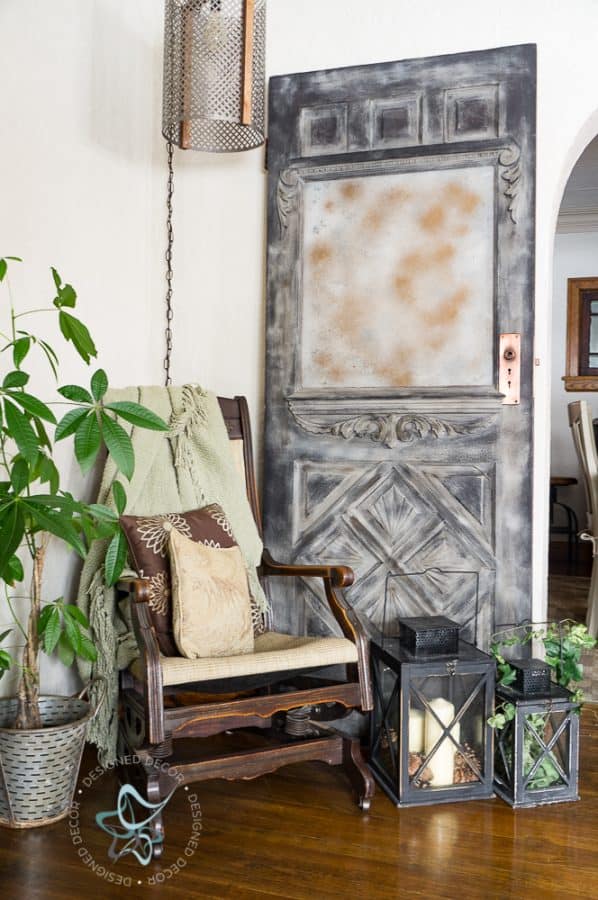 The best part is I have 2 doors in one because the other side is a dark wood so the door can be moved around my house.
Don't you love finding an awesome steal at a garage sale!  What has been your best find at a garage sale?

Learn how to paint in the comforts of your own home!  Online Paint Workshops
Join the DD Community!
Join the Designed Decor Community and receive weekly free tips on DIY home projects, painted furniture, decorating, and much more.