Learn to make your own DIY Puzzle Table with easy step-by-step Build Plans. These build plans are for intermediate skills and require power tools such as a table saw and router. Also, stick around to read about the amazing story of how the puzzle-building table came to be available.   
Just want the build plans and not the story, click on the link below.

Purchase the Jigsaw Puzzle Table build plans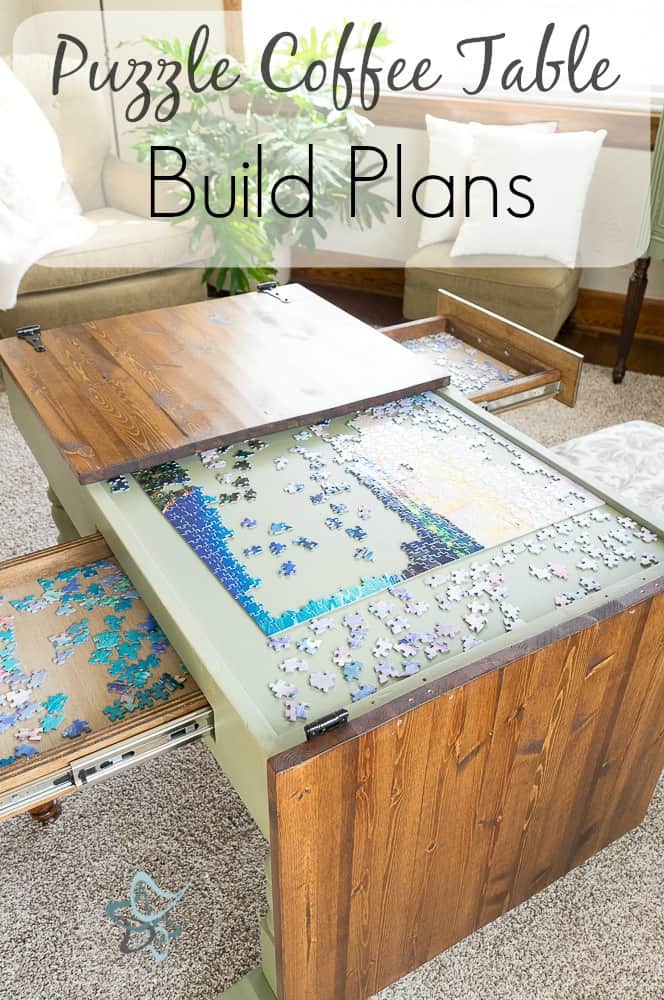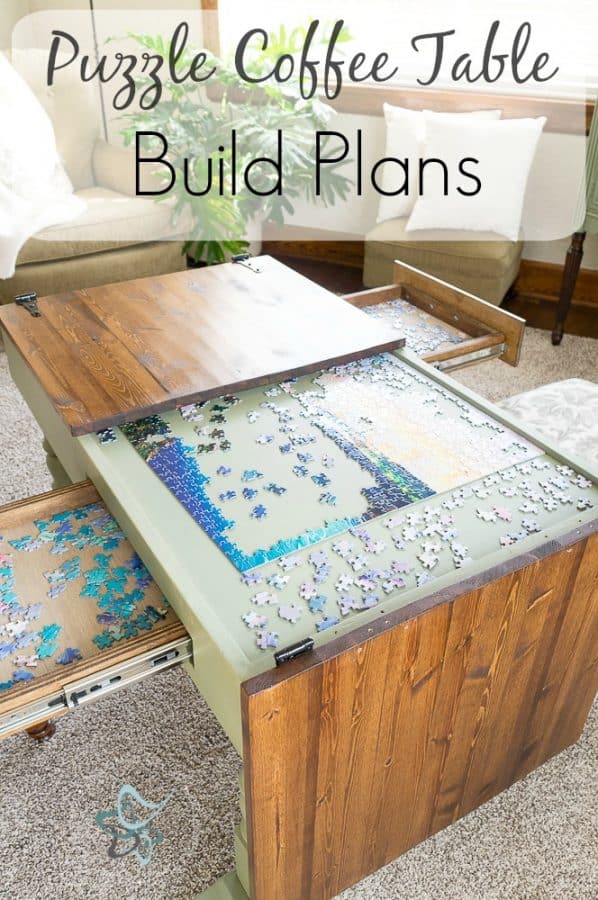 The Story Behind the Puzzle Coffee Table
We love to do puzzles and I hate the cluttered mess of a puzzle taking up vital dinner tablespace. Of course, when you start to work on a puzzle, they usually take days if not weeks to complete, so you are left with the unsightly mess of a puzzle in progress. You stand to lose pieces because of pets or even feisty family members.
We stopped doing puzzles because of this.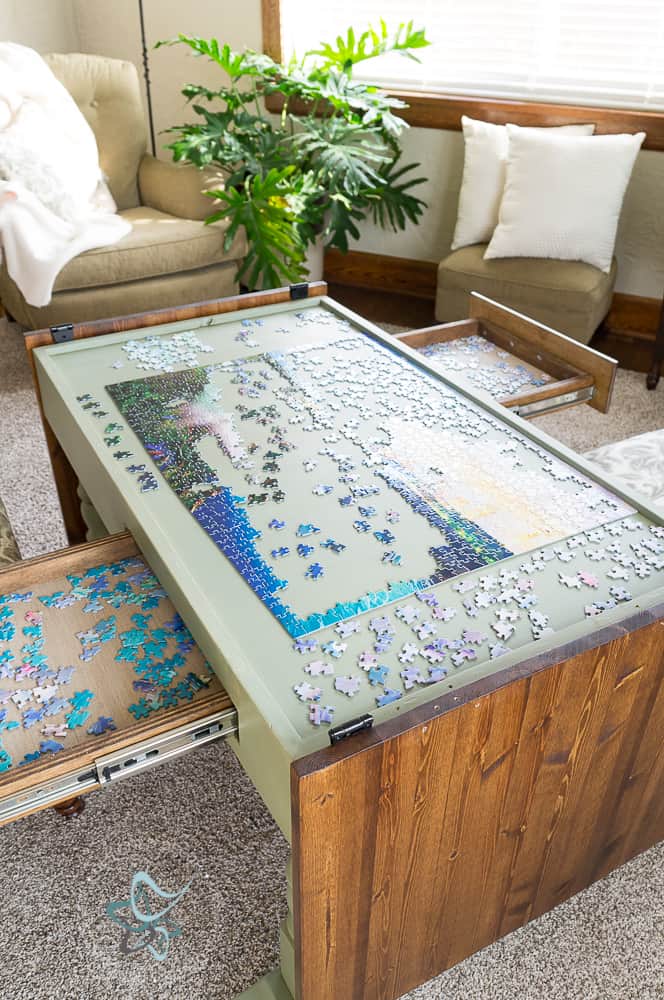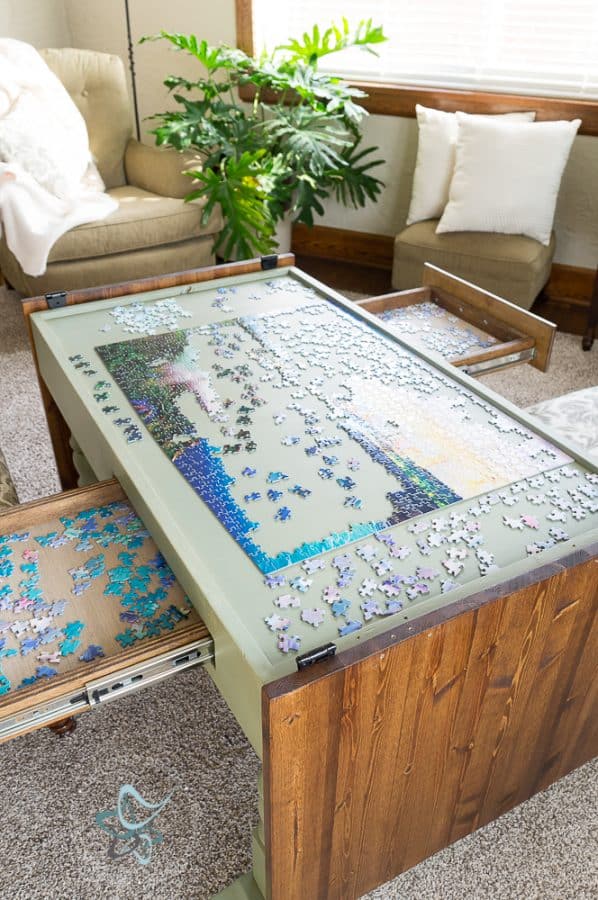 I told Mr. DD I want YOU to build a hideaway puzzle table because I want to be able to hide the puzzle. We need a puzzle table with a cover so I can have my pretty decor on display, not a puzzle.  I want a coffee table so we do not have to use our dining table as our puzzle-building area.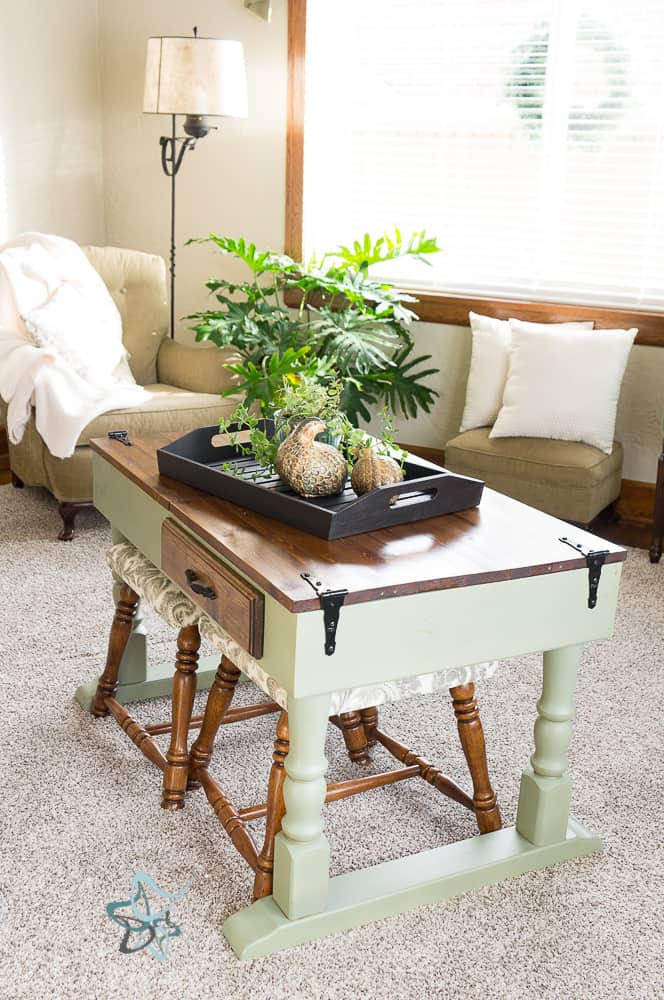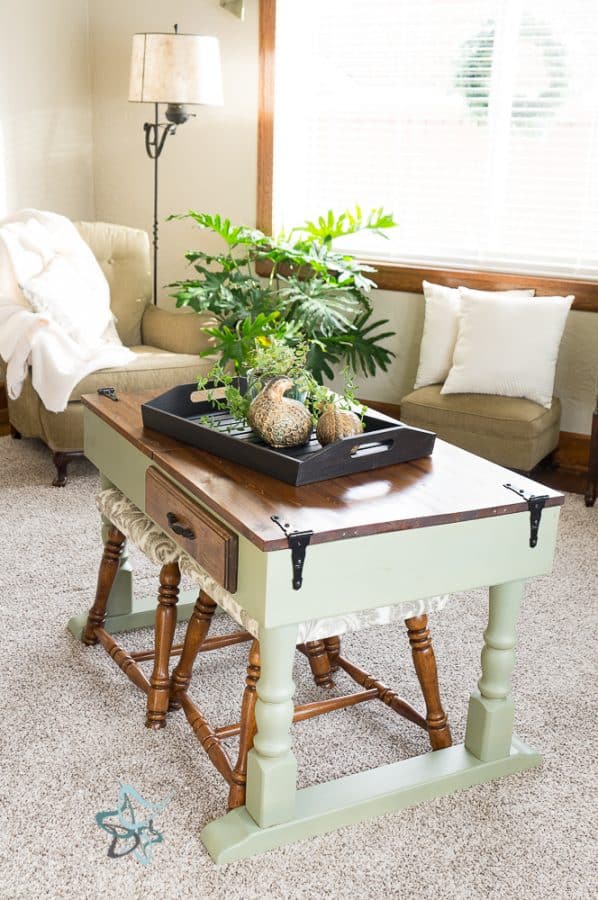 The design has been conceptualized in my head. I told Mr. DD that I wanted the tabletop to flip open because I did not want a removable top that you had to store somewhere and I wanted the flip open so I could have my pretty on the table when not working on the puzzle. My pretty takes precedence in my home. I also wanted storage drawers to hold the initial unplaced puzzle pieces. We began to talk through the design came up with additional ideas, and roughly sketched out the idea.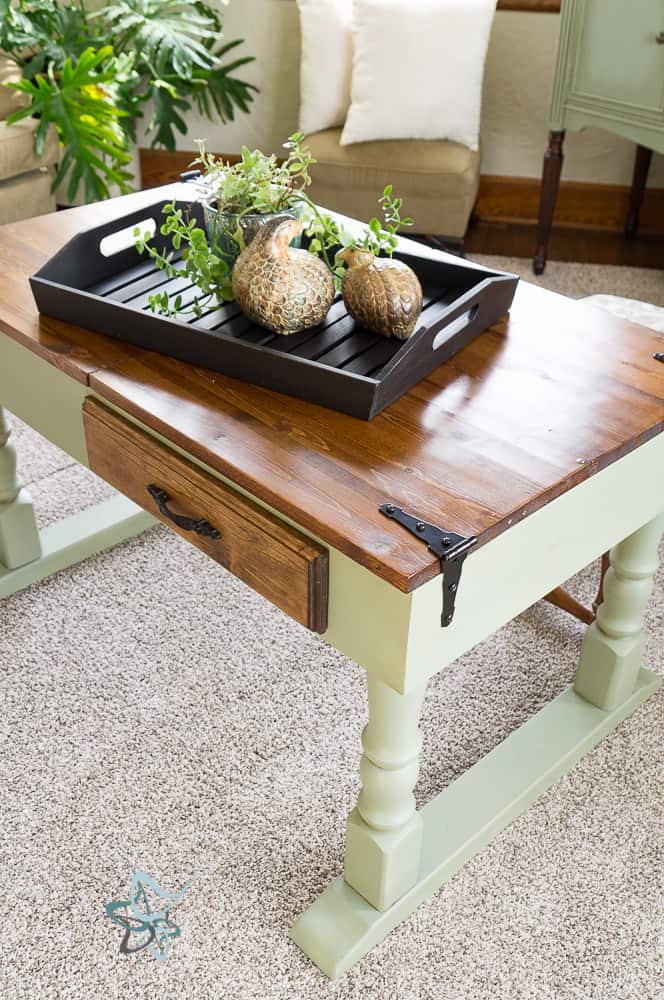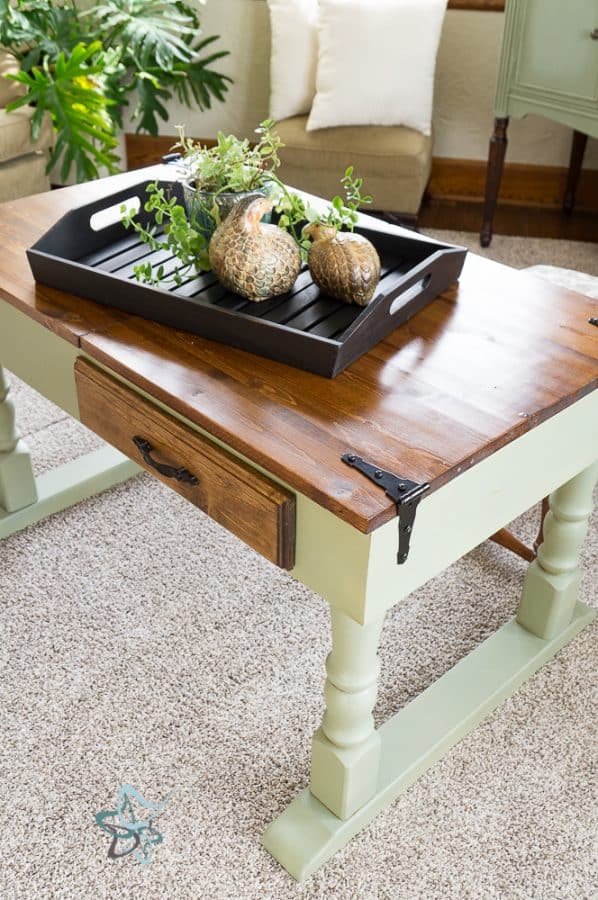 How the post went viral
Back in January 2018, I posted my table on my site as well as my Designed Decor Facebook page. At that time my Facebook engagement was very low and I only received a few comments. I still was over the top happy with our puzzle coffee table.
Fast forward: I joined a business building group called the Inner Circle with Jennifer Allwood. She told us that we needed to grow our social media engagement in order to grow our business. She challenged all the members to a social media challenge for the month of March. We were to post to Facebook 4 times a day (UGH) and do 2 FB lives a week. I was right in the middle of selling my home as well as moving so I knew I would not be able to do the 2 lives but I did take on the challenge of the 4 posts. As hard as it was, I did it and I started to see a major improvement in my engagement with my FB fans. I continued to keep up the posts for April and that is when I reposted my puzzle coffee table.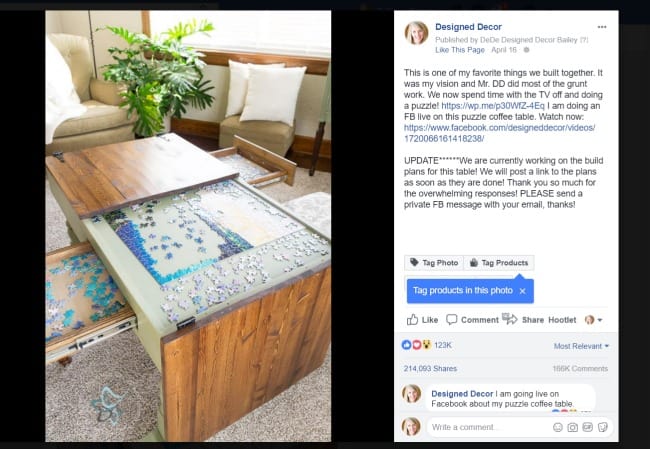 The post for the puzzle coffee table went on my Facebook page at 4:00 pm on Monday, April 16. I don't have my cell phone set up with notifications because I believe it overtakes your life. I choose to log on to social media when I can and not live my life around distractions. So on Tuesday, I logged in to my account and was pleasantly surprised at the large amounts of comments and shares. It continued to grow all day and by Wednesday I was able to say my post was going viral.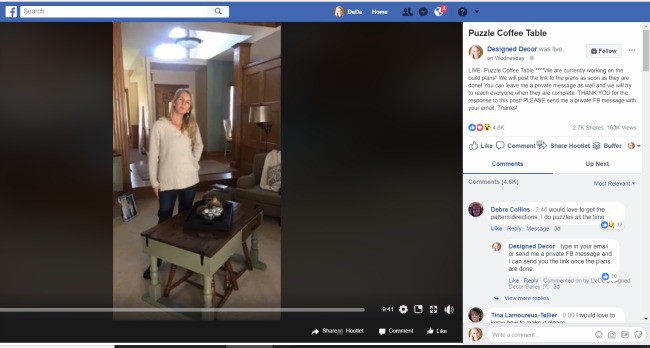 On Wednesday I told Mr. DD that we needed to make build plans for the jigsaw puzzle table because so many of you want and need this table. We went live on Facebook to inform everyone about the puzzle coffee table build plans. The response was and still is overwhelming. The comments, the stories, and the pictures have touched us deeply.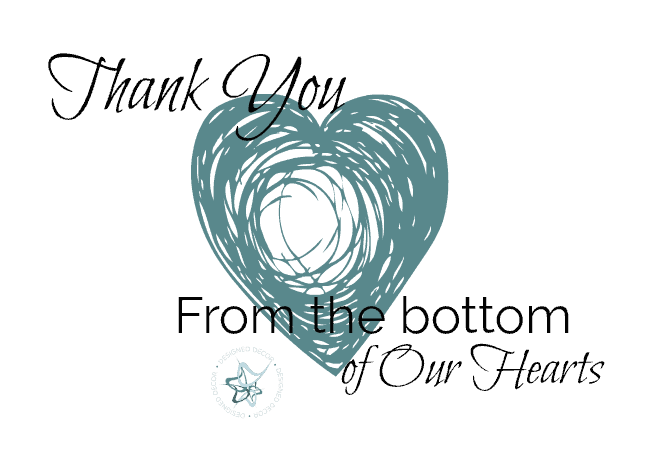 How We Reacted to the Viral Post
Mr. DD is self-employed as a Registered Investment Advisor, he works from home and has his own company, Strategic Portfolio Management Inc. Thankfully he did not have any trading to do and he began to create the build plans. I continued to respond to thousands of requests and comments.
Sometimes I would just sit and stare at my Facebook page in amazement at what was happening. Other times I felt so overwhelmed because I was only 1 person and I felt like I needed to respond to all of you. I shed tears from the stories that you told me of the reasons why you needed the table, for cancer patients, for your autistic child, for your elderly parent or grandparent. I laughed at the animal stories and loved every picture that you sent of your cats laying on your puzzles. 2 days later, we had everything in order and now we needed someone to do computer sketches of the build plans.
In the midst of the viral FB post and all the build plans, my site crashed because of a malware virus, and with the help of my Host, Andrew from HostingEH I only lost 1 day of visits. Andrew was great and helped me, the non-techie gal.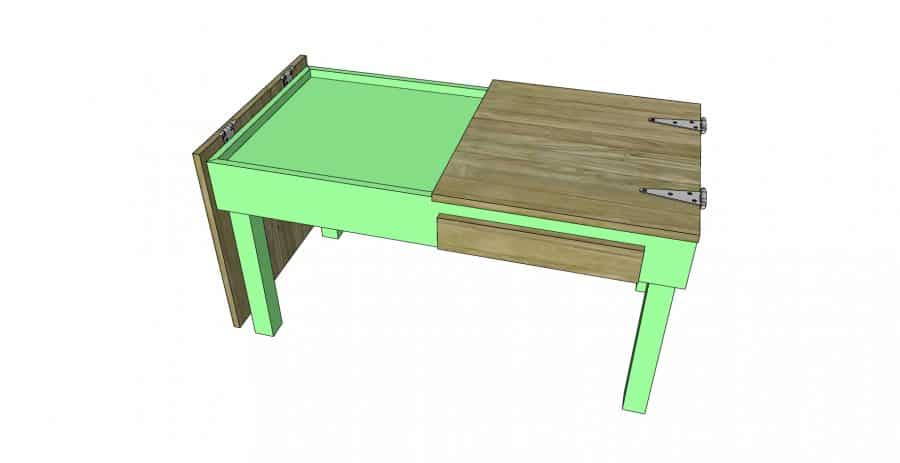 My blogger friend Cher from Designs by Studio C quickly created the computer plans for us. She told me not to mention her, but I am anyways. Thanks, Cher for putting a rush on our plans.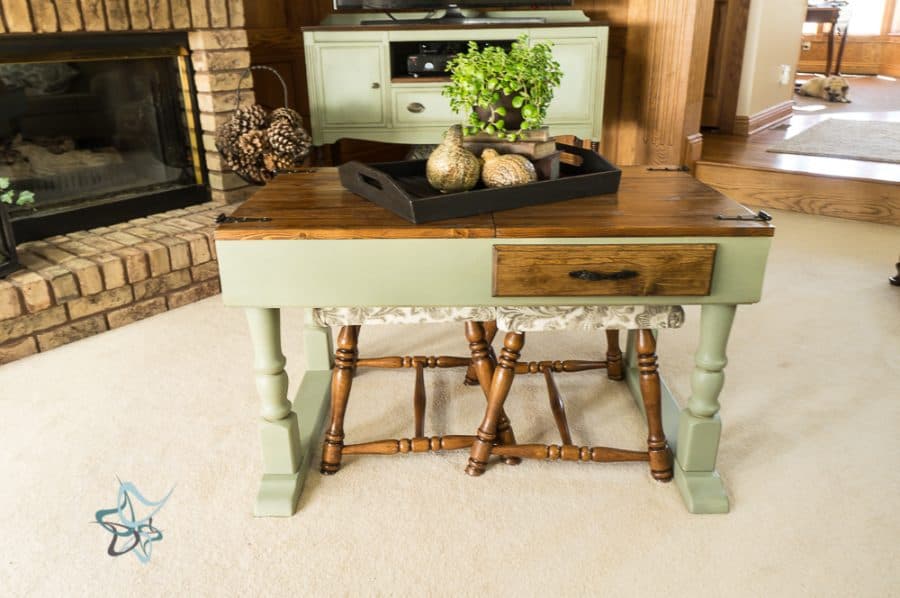 After hearing so many of you saying that you have been searching for a puzzle table for adults to work on your jigsaw puzzles and this was the perfect table and there is nothing like this out on the market, I began to google and search puzzle table options, and you are right. There are many puzzle tables out there but nothing with these exact features. I had never done a search for a puzzle table so I had no idea what was on the market. So in hindsight, this was a blessing, not even knowing what was on the market for people to purchase. My design idea was completely from my thoughts on what would make a great puzzle table and remember PRETTY was at the top of my list.
So a week ago I was organizing my pantry, trying to settle into my new home and now today we are filing provisional patents and copyrights to protect our hard work and design.
NOW SELLING Jigsaw Puzzle Tables
UPDATE: We have found a local manufacturer in Sugarcreek Ohio to custom-make our patented design.  You can see all the details about the puzzle table with drawers in my shop: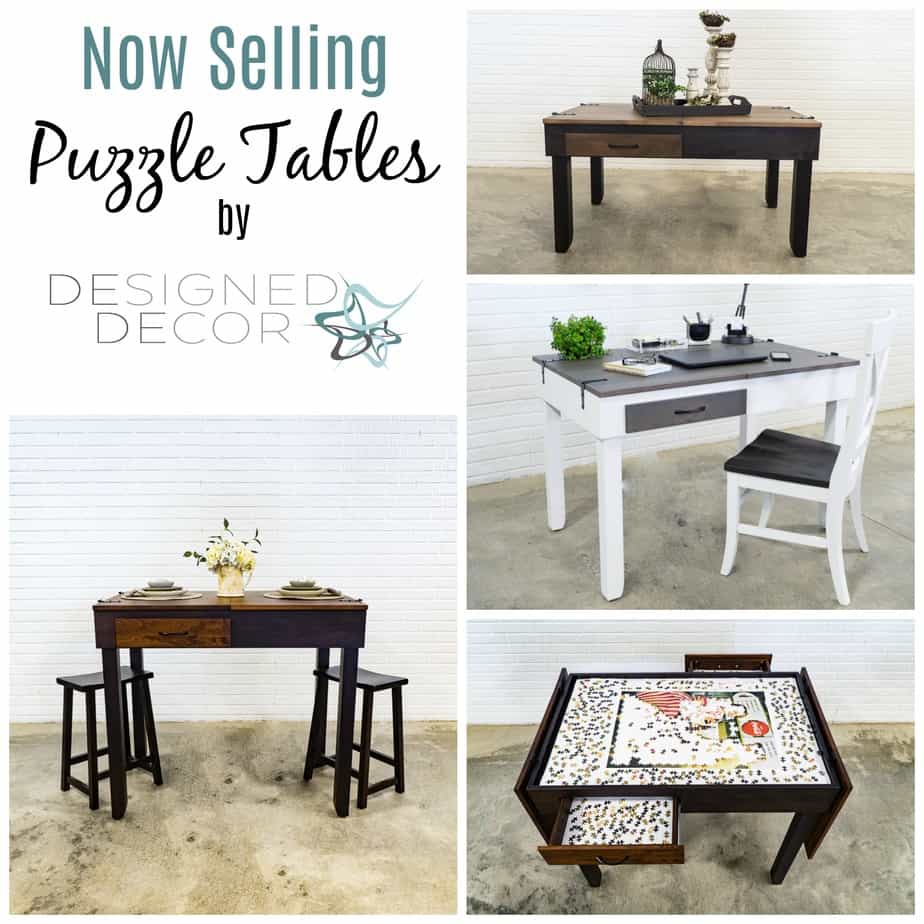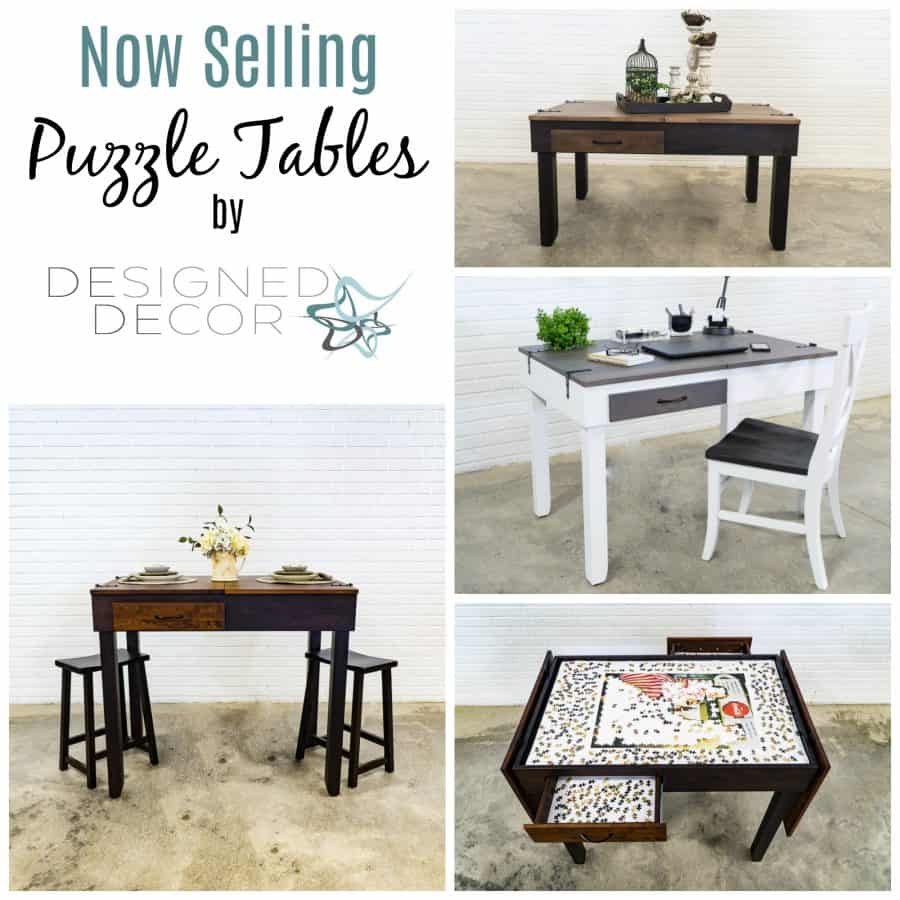 We are truly blessed and amazed at what a viral post can do to your life.  My Facebook following went from 6,100 followers to 37,000 followers (and still growing). The Facebook post has reached over 32 million people and continues to grow.  I feel that GOD threw this opportunity into our laps. This lead me to the need to produce this table for all of you! 
Benefits of Jigsaw Puzzles
Exercises the Left and Right Brain Simultaneously
Improves Short-Term Memory
Works on Visual-Spatial Reasoning
Relieves Stress by Entering a Meditative State
Spend Quality Time with Your Family
Give Yourself a Break from other tasks
Live a Longer, Healthier Life
Here is a great article about the health benefits of doing jigsaw puzzles.
My wish is for all of you to have many happy "puzzle-making memories" and I hope that this table helps.
Thank you, Thank you, Thank you!
Jigsaw Puzzle Table(Opens in a new browser tab)
Jigsaw Puzzle Lover Gift Guide

Join the DD Community!
Join the Designed Decor Community and receive weekly free tips on DIY home projects, painted furniture, decorating, and much more.