If you're looking for an easy and creative way to add a touch of rustic charm to your outdoor living space, then this repurposed wooden spool table is the perfect project for you! For those of us who love DIY projects but don't have much time on our hands, this simple upcycle task takes only a couple of hours and doesn't require many materials or tools. You'll be amazed at the results when you use old wooden spools and some basic elbow grease to create a charming piece that adds texture and personality to your outdoor living space!
We are working on the deck and making some much-needed updates to our outdoor living space. All this started because we removed our Hot Tub. After Mr. DD decided he was done repairing and taking care of the old hot tub. So off it went to friends that knew how to repair the motor and said they wanted it. Now we have some additional space this year.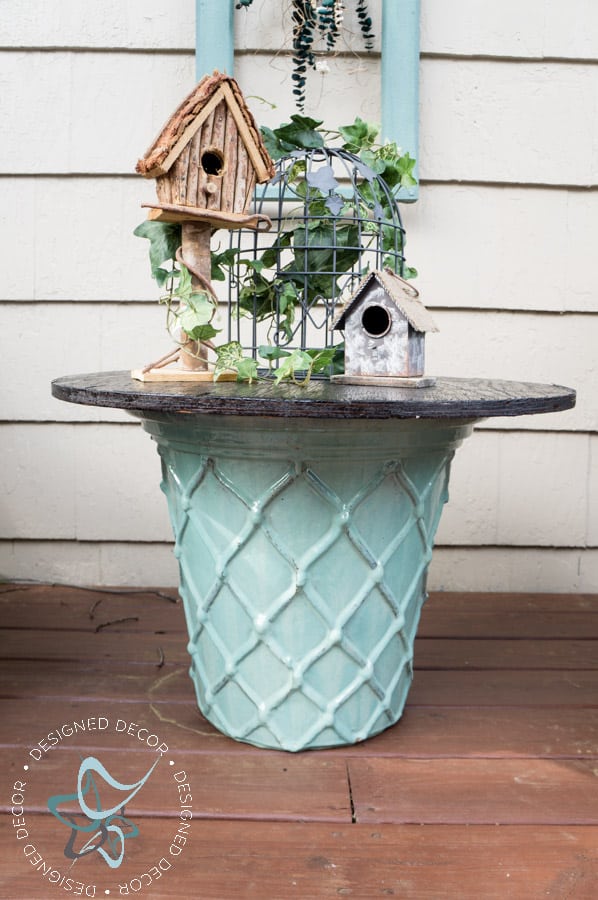 With the hot tub gone, I knew I needed to create a few seating areas and I needed some outdoor side tables. I remembered that I had a wooden electric spool that I found in the trash. This got me thinking about how I could use that and make a table.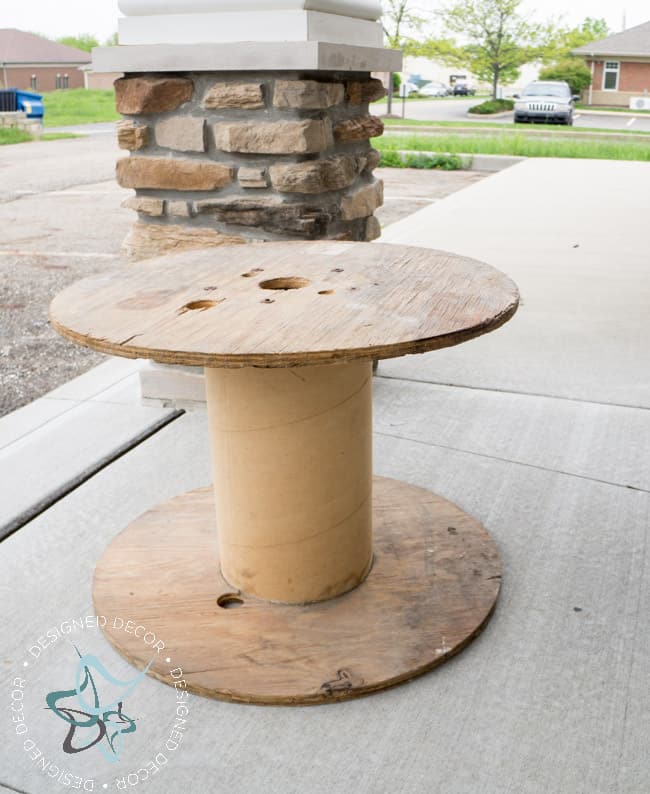 This post contains affiliate links. Click here to see my full disclosure policy.
I have seen wooden cable spools that have wooden centers, and they must be antique. Since mine had a cardboard center, I could not just stain it and set it in place.
While shopping, I fell in love with these ceramic planters from Marshalls.  The green color was the perfect color to match my other outdoor accessories. I was originally planning on buying them for planters and realized they were the exact size and shape to use as the bases for the wooden spool table.
Using the planters would be so much easier than building something and I can still use them as a planter.
How to take apart the wooden cable spool
I had no idea how the electric spool was attached, so I used a Ryobi Jig Saw to cut away the heavy-duty cardboard middle. You could use a hand saw for this part if that is all you have on hand.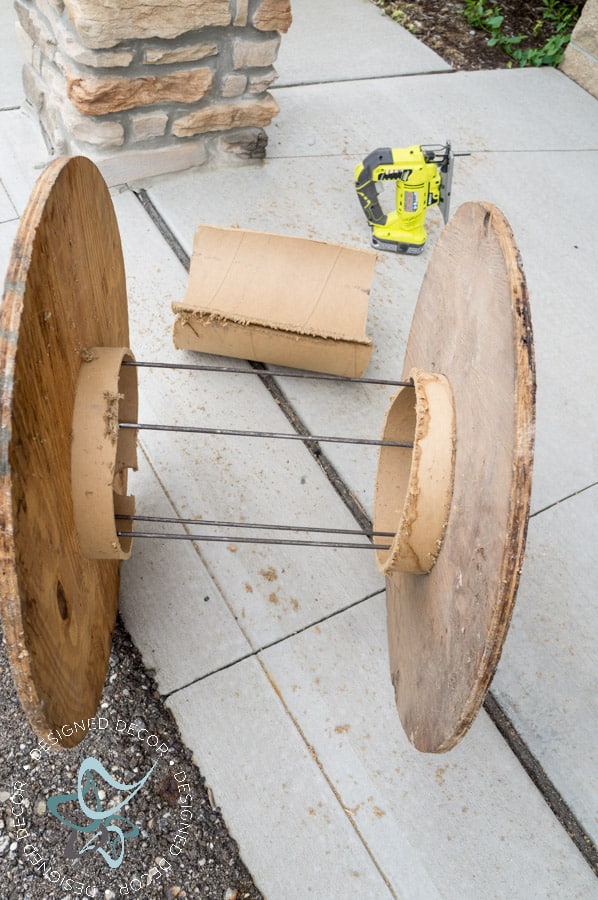 I unscrewed the metal rods that were holding the ends together and the remaining cardboard just pulled out. The bottoms had a recessed grove to hold the cardboard in place. Now I have 2 table tops.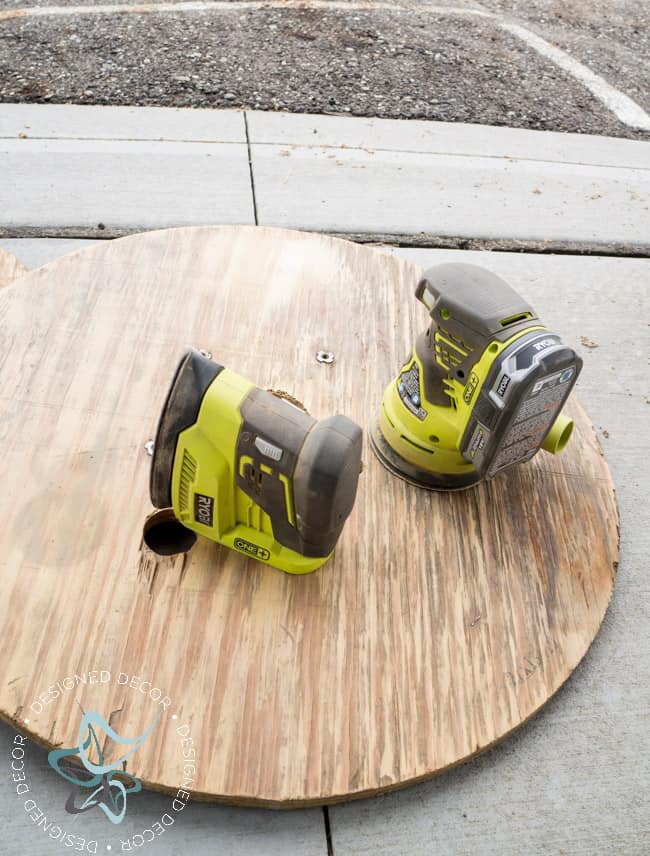 The wood on my cable spool was in pretty rough shape. I imagine it sat outside for a long time before I reduced it. I sanded down the tops using an orbital and corner cat sander to get the tops and edges smooth.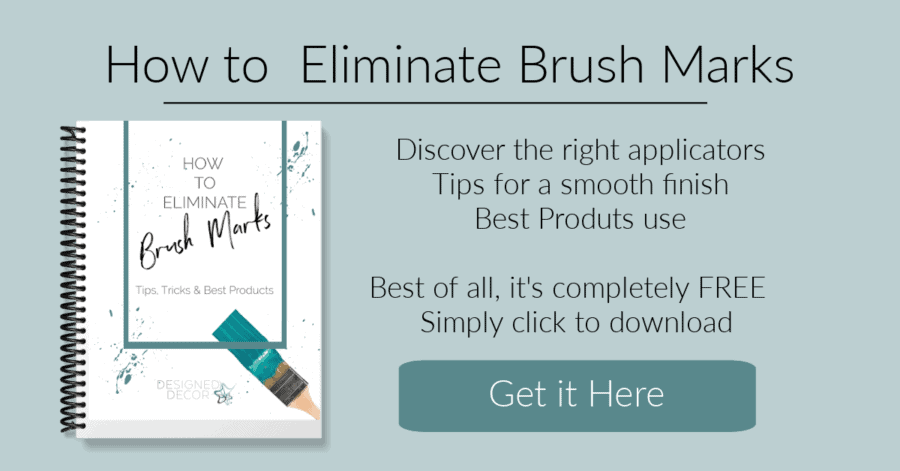 How to stain and seal a wooden cable spool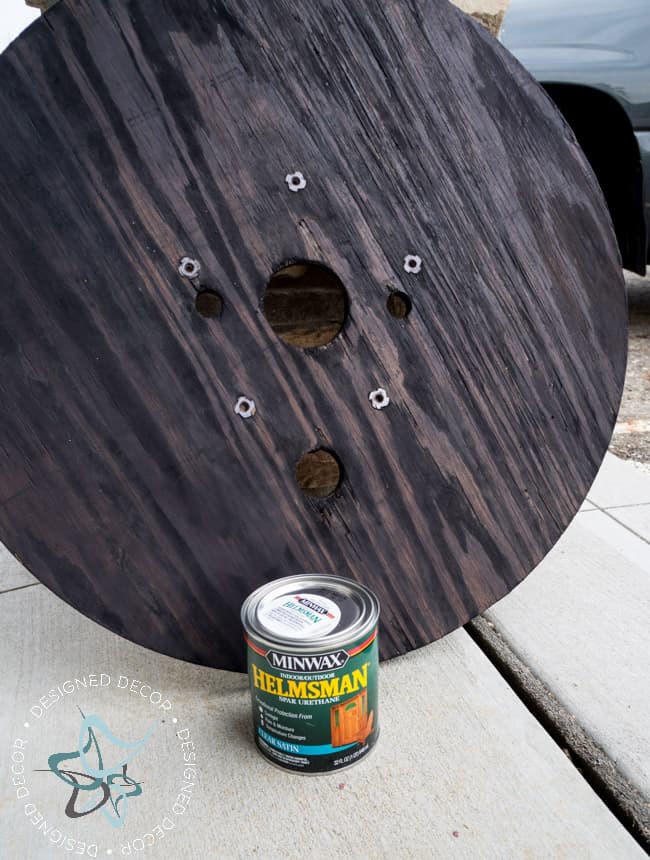 I stained the tops using Minwax true black stain. You can use an outdoor deck stain which has the built-in sealer, but I decided to use black, so that was not a color option for me. Also, I was not sure that the wood tops were treated lumber so I needed a sealer that would stand up to our crazy weather in Ohio. I sealed the tops using an exterior polyurethane finish. The spar urethane stands up to sunlight, water, and temperature changes. This will help to extend the life of my repurposed wooden spool table.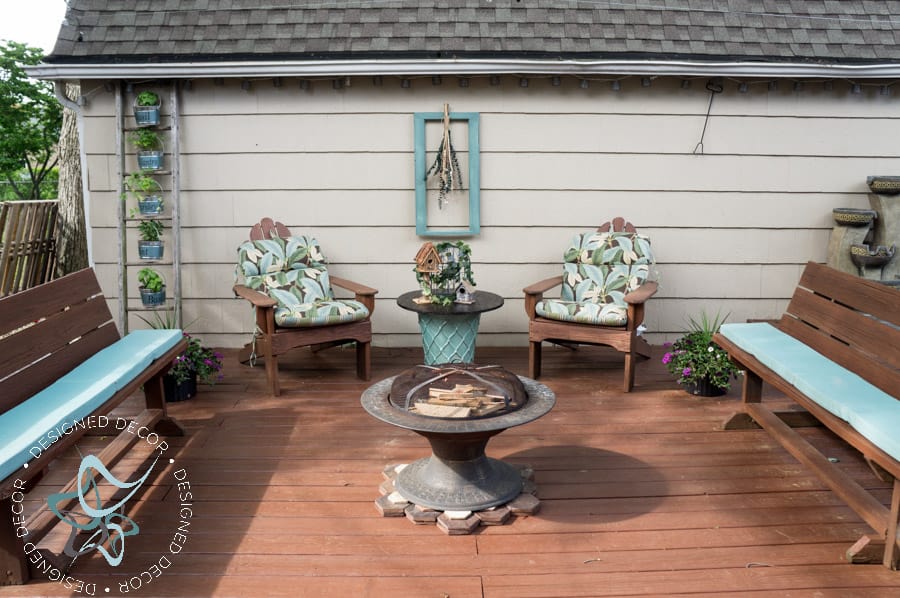 I love how the tops turned out using a black stain. There is so much brown wood on the deck that I wanted a darker color to make the tables stand out.
Make sure you check out the easiest way to stain a deck. We have sealed our deck every year and I finally discovered the best tool to use for the job.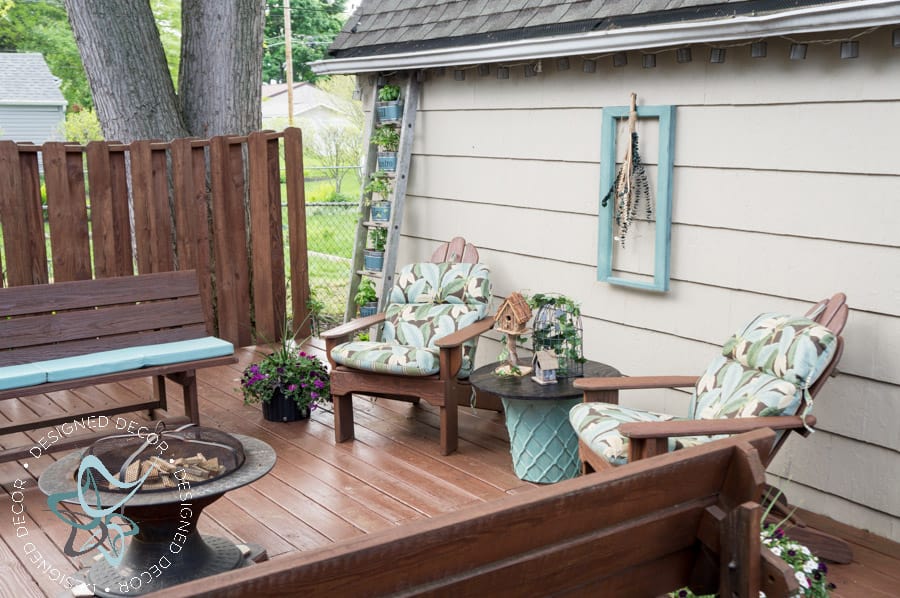 Since I had 2 tops, I did make 2 tables but I can't show you that part of the deck as I am still looking for 2 chairs to fill the space on the upper deck. I have been going to a few garage sales in hopes of finding some abused ones that I can work a little magic on. I love how this space is pulling together. My favorite is the Vertical Herb Garden in the background.
Check out these other great outdoor living projects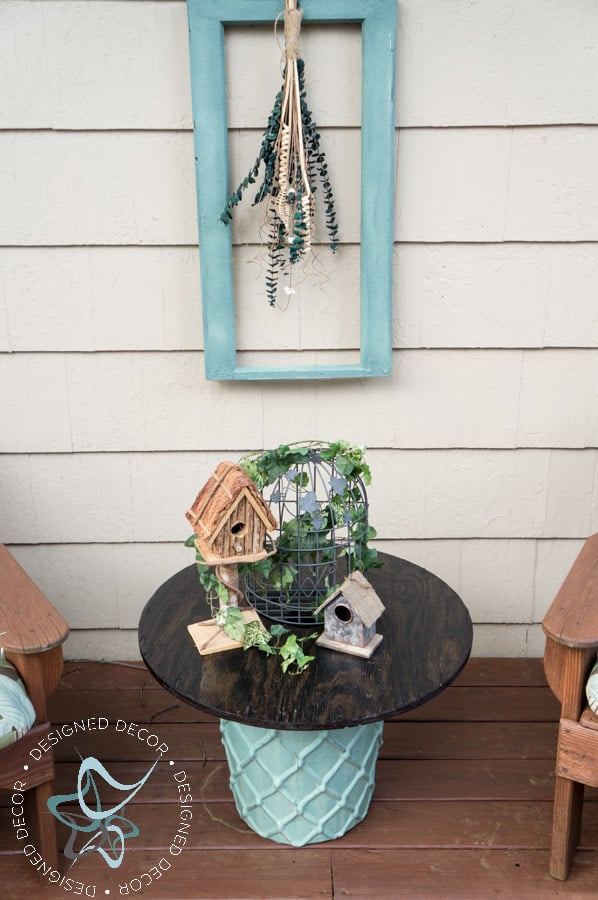 Who would have thought that a simple cable spool could be transformed into a functional, visually captivating DIY outdoor table? As we've seen, taking apart the spool is relatively simple, and there are tons of options for staining and sealing to give the spool tops the high-quality finish that you want. With so many choices available, it's a great way to express your creativity in making your patio or lawn look beautiful without breaking the bank. So what do you say – are you ready to make your own repurposed wooden spool table?
If you're looking for other outdoor DIY projects, check out these great outdoor DIY projects for your patio, porch, and deck.
Discover more Inspirations by clicking on each category photo






Join the DD Community!
Join the Designed Decor Community and receive weekly free tips on DIY home projects, painted furniture, decorating, and much more.