Believe me, when I say we NOW know the Easiest Way to Stain a Deck! We have been staining the deck EVERY year for the past 18 years and this was the first year we have tried the StainStick with Gap Wheel
from HomeRight. Pssst-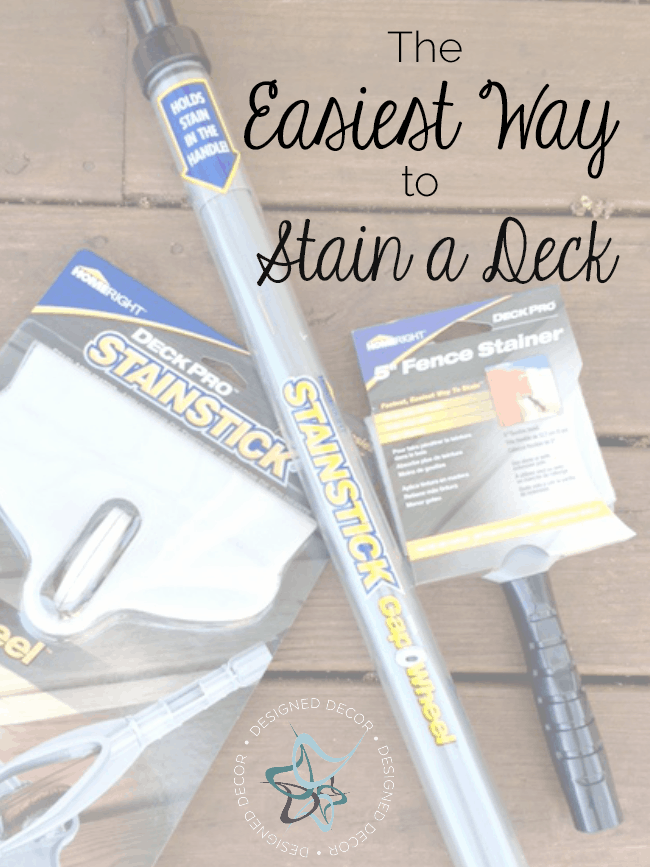 We have a lot of experience with the many different ways of staining a deck and by FAR, the stain stick is the best way from our experience.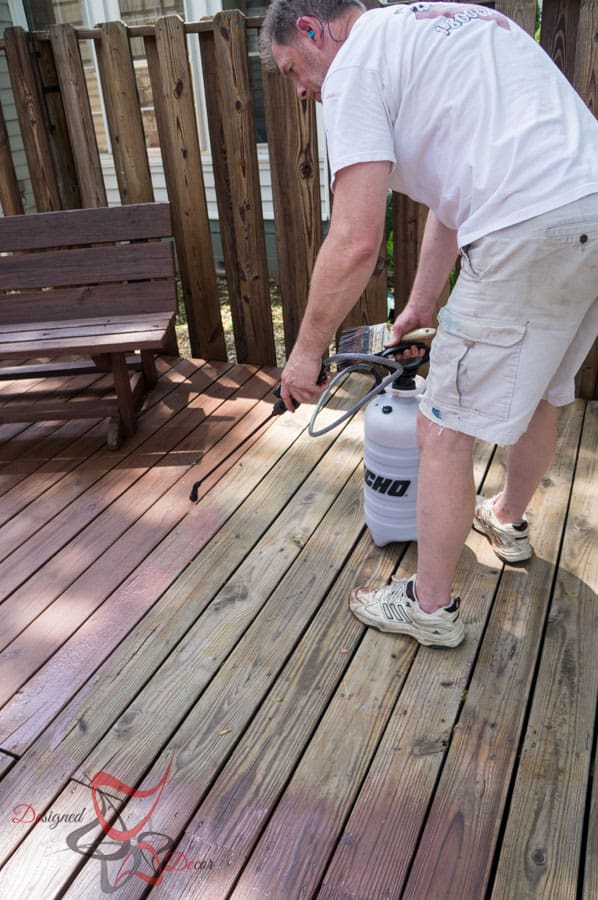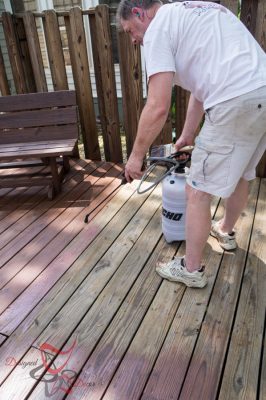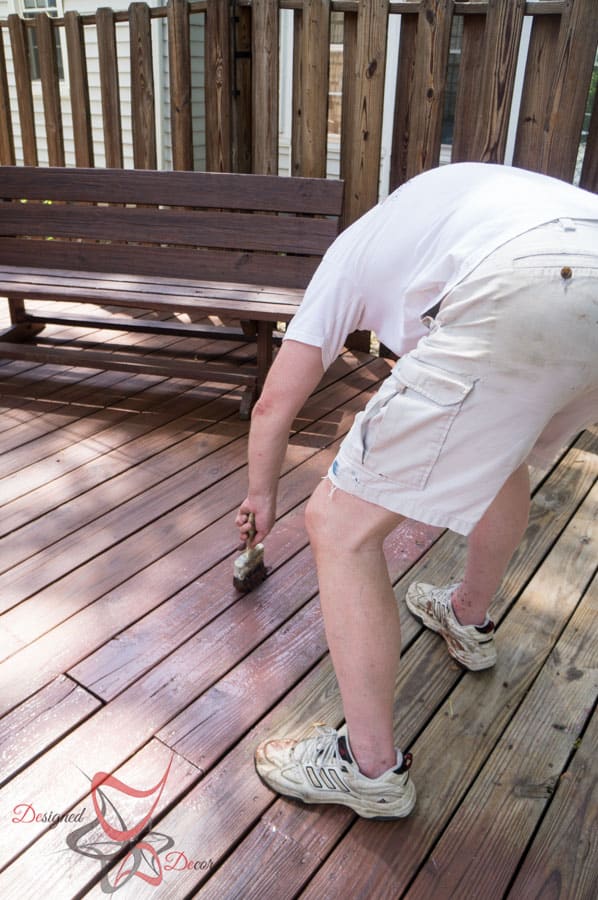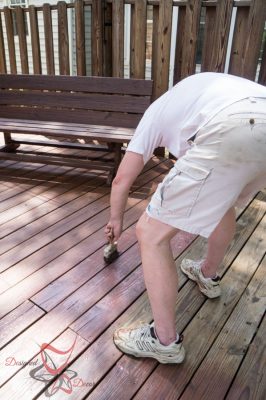 Last year we sprayed it on and then had to use an old paintbrush to spread the stain evenly over the deck boards.  It worked and it was messy and not to mention back-breaking.  We have used rollers in the past and they just seemed to push the stain instead of applying it.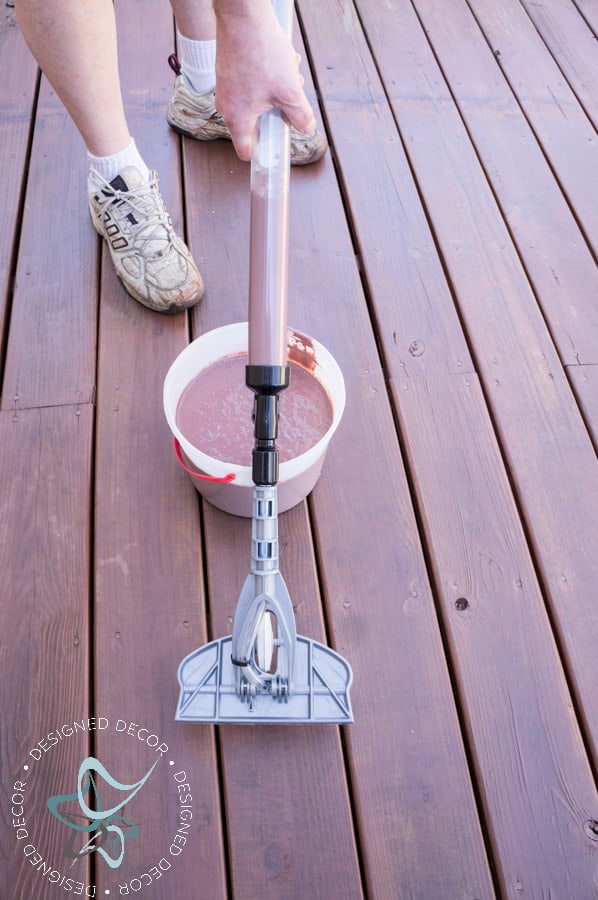 This year was the fastest, cleanest, and easiest time we have ever had.  Loading the StainStick was a breeze and applying it was even easier.  Since we did not have to deal with clogged sprayers, messy rollers, or bending over with a paintbrush we were able to complete the deck staining in half the time as the years passed.  Not to mention clean up was just as easy.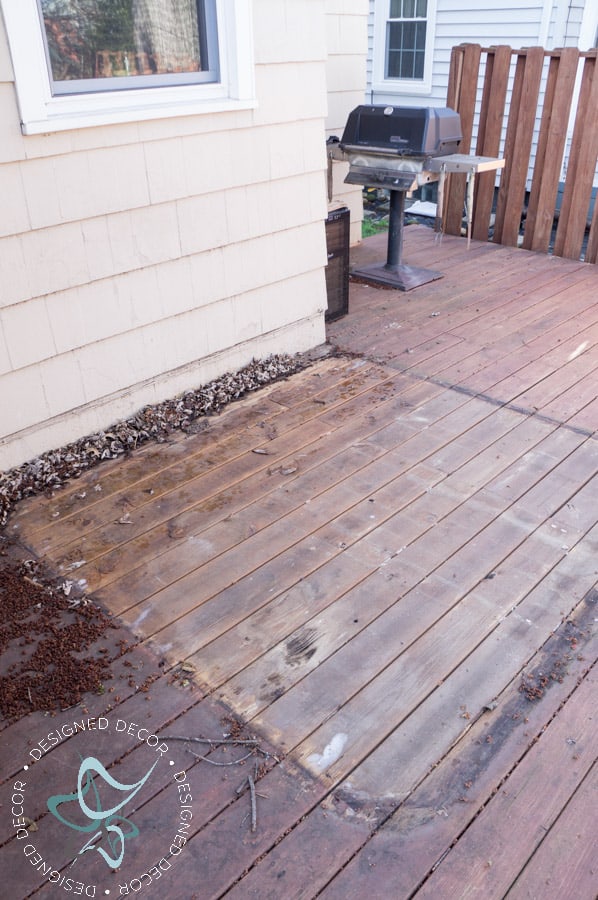 We removed our hot tub this year and we had a big difference between the unexposed area underneath the hot tub and the other deck boards.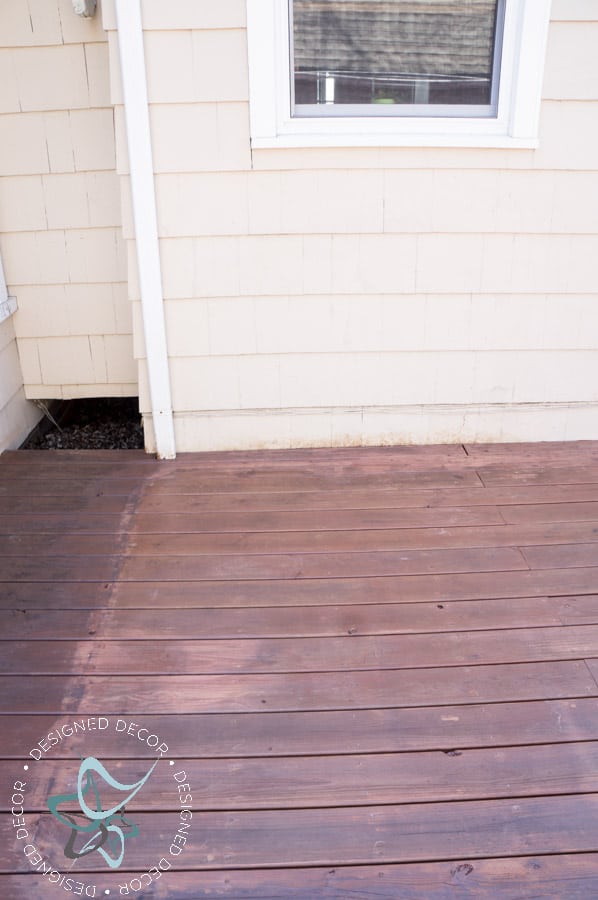 We started by applying one coat of the stain to the unexposed wood and letting it dry completely.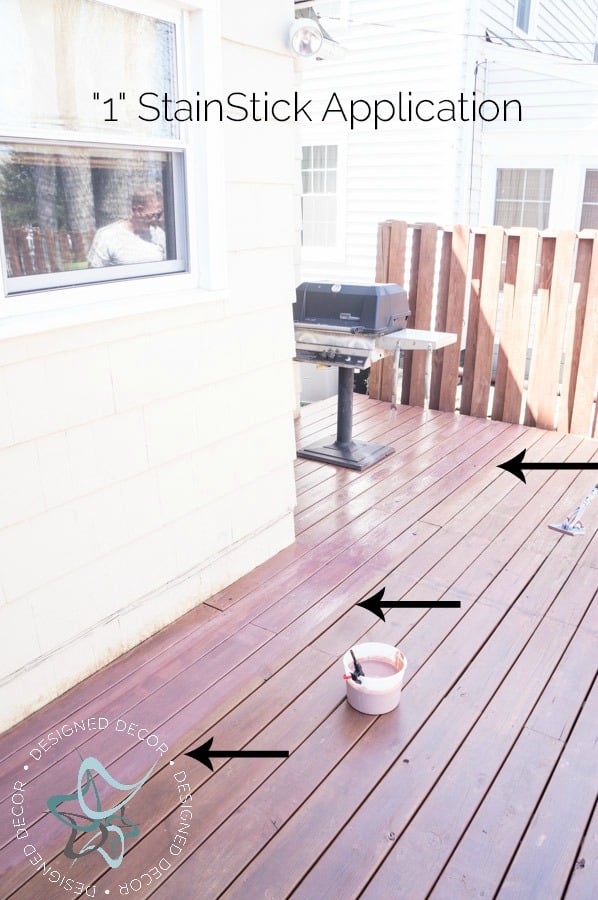 You can see how far 1 full StainStick application goes.  No bending over and fighting with other methods for applying the stain.  After the first application, Mr. DD stated this is the easiest time he has ever had staining our deck.  He was also so very thrilled that he did not have overspray or stain splatter on the house or on him.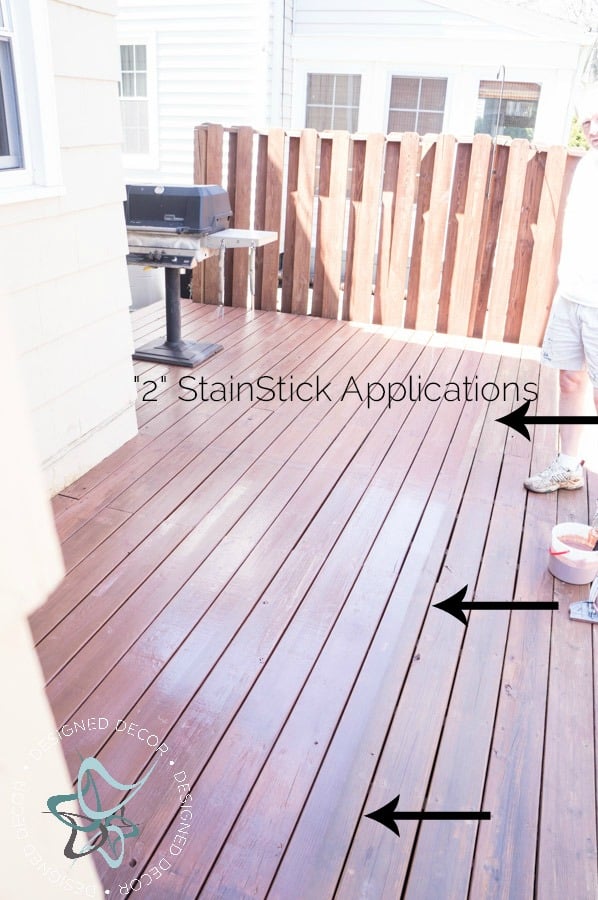 You can see how much easier and faster the applications are with the StainStick. This year we only used 3 gallons of stain compared to using 5 gallons last year. We did stain the fence and uprights on the deck last year which used a gallon of stain. So overall, we used 1 less gallon of stain.
Next year, if the fence and uprights need to be stained, I will be using the Finish Max from HomeRight.  I did all those with a paintbrush and it was very time-consuming.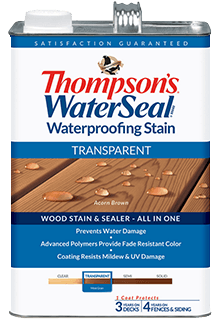 Last year was the first time we used a transparent stain on the deck. We used Thompson's Transparent in Acron Brown. I loved how it brought the deck back to life and we received so many compliments on how great the deck looked. Mr. DD was very worried about how the deck would look a year later and what we would have to do differently since we used a colored stain. You can read how we transformed the deck last year.
Also, check out these other outdoor living projects.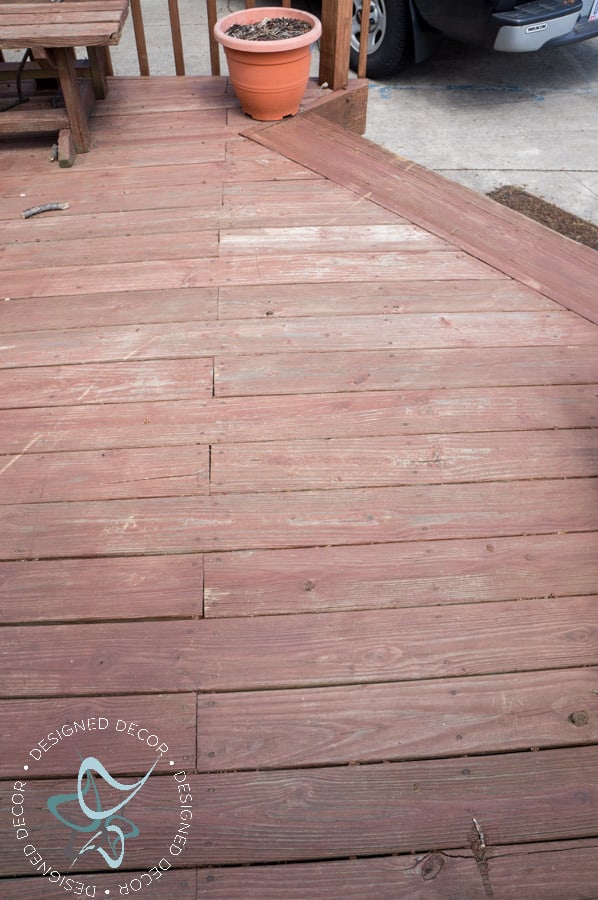 I have to tell you we did have a few areas that had more fading than other areas. I have to think that it was due to a few factors such as application and also still having waterproofing still on those areas. Like I mentioned before, we seal our deck every year and I think the areas that had sealer still on them the year before did not take the transparent stain as well. Overall, I am thrilled with the transparent stain and we did not have to do anything additional or different since we started to use the color stain.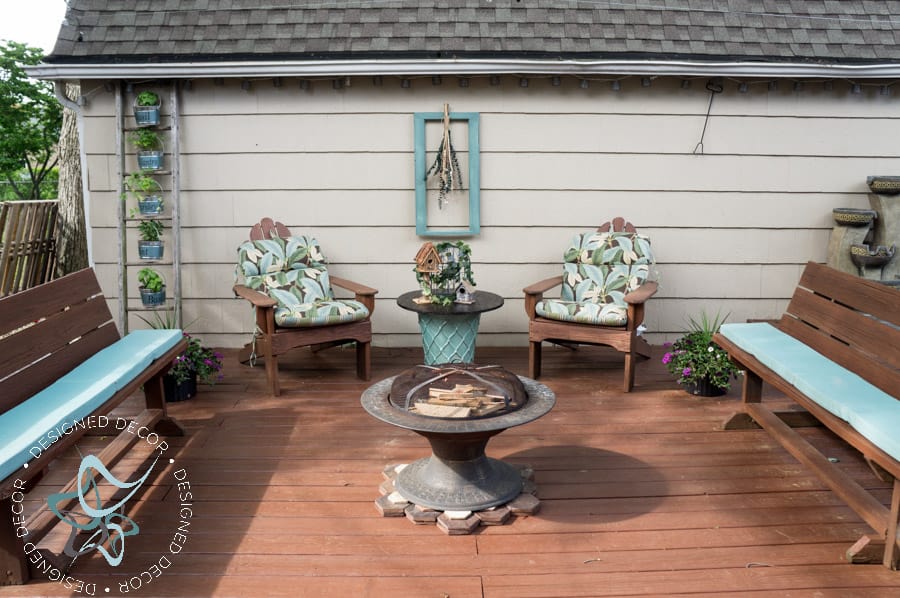 The deck is coming together nicely this year and I will be sharing all the updates that we have done next week.

Join the DD Community!
Join the Designed Decor Community and receive weekly free tips on DIY home projects, painted furniture, decorating, and much more.