Are you someone who loves spending time outdoors but doesn't want to spend much money on your patio or porch decor? If so, you'll love these simple patio decorating ideas! These ideas are budget-friendly and can be done as a DIY project or on a small budget. So get inspired and start decorating today!
The perfect way to add living space to your home is by utilizing the outdoor spaces. In order to fully enjoy these additional living spaces, you need to decorate the patio as you do the interior of your home.
Turn your outdoor area into a fun party place or a tranquil relaxing area, the choice is yours.
DIY Patio Decor Ideas
If you're looking for some simple ways to decorate your patio for cheap, here are a few do-it-yourself- ideas to get you started. First, consider adding some potted plants. This will instantly add some color and life to the space. You can also dress up plain terra cotta pots by painting them or decoupaging them with pretty patterned paper.
Another easy way to spruce up your patio is to add some outdoor rugs or mats. This will help define the space and make it feel more like an extension of your home. You can also stencil a pattern to any type of surface in place of a rug.
And finally, don't forget the power of lighting! Lighting is perfect for adding a touch of romance and whimsy to your patio. So grab a few supplies from your local craft store and get started on transforming your patio into your own private oasis.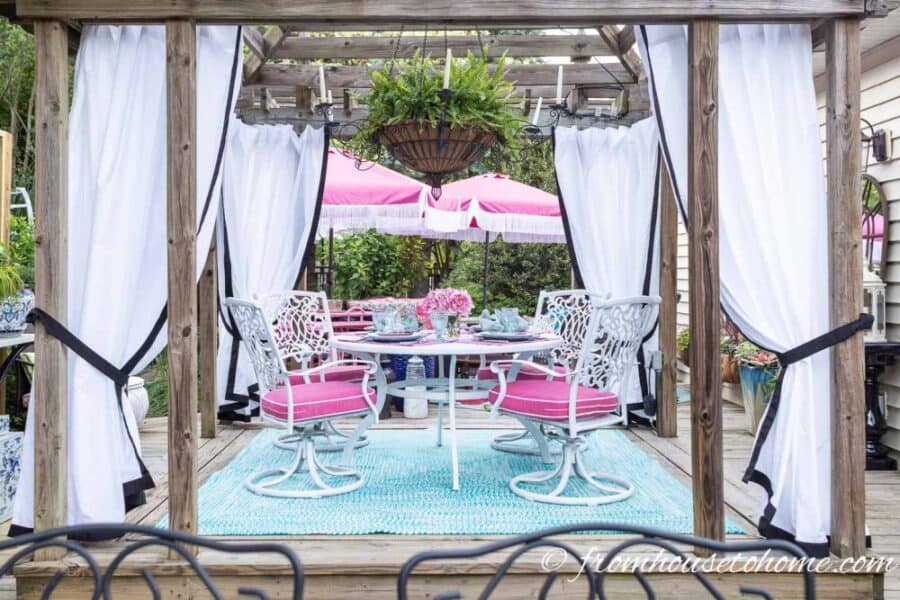 Wanda over at "From House to Home" made these DIY outdoor curtains using inexpensive sheets. Now that is a great idea and a perfect way to save money and add some privacy to your patio or porch. She said the process was simple, so make sure you go to visit and discover how she made them.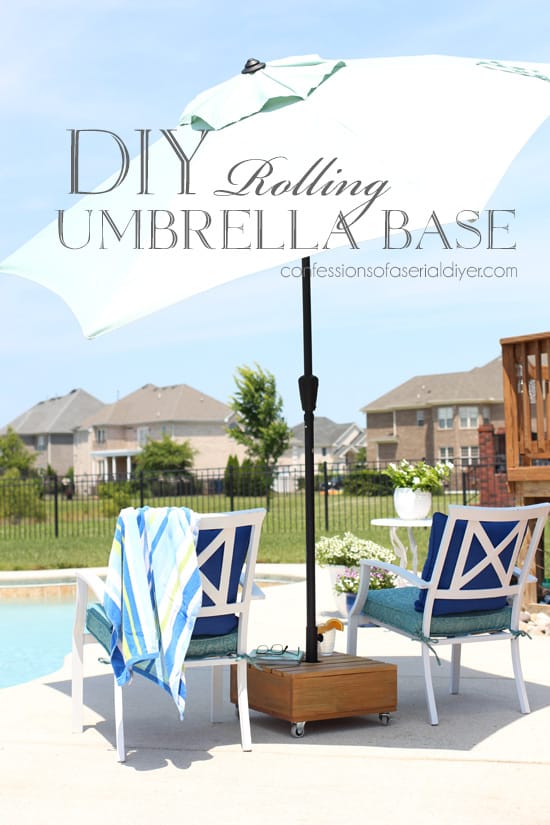 Christy from "Confessions of a Serial Diyer" made this rolling umbrella stand. This is perfect for sunny patios and making it with wheels is even better. Easily move the umbrella to where you need it instead of having to drag it from one location to another. She used pressure-treated lumber and gives you all the instructions on how to build your own.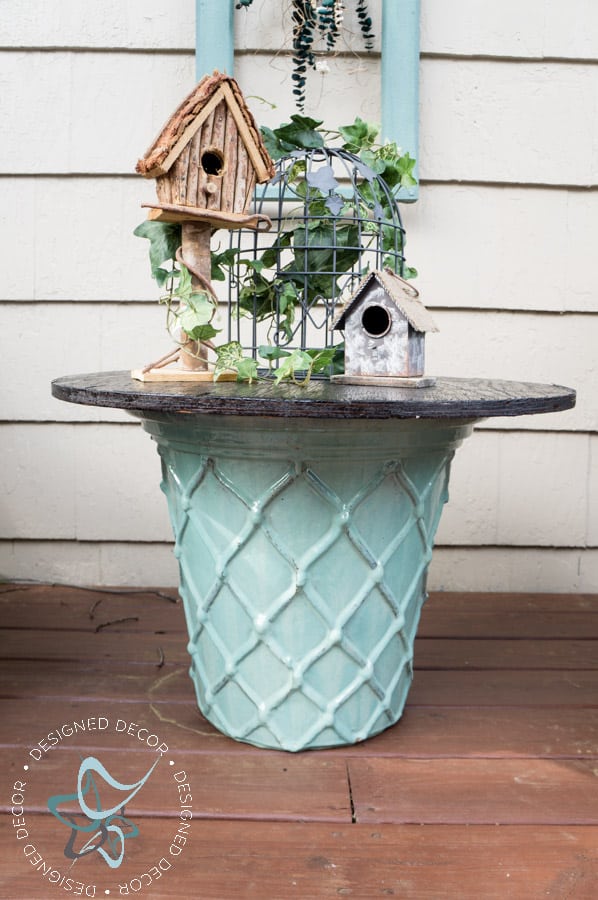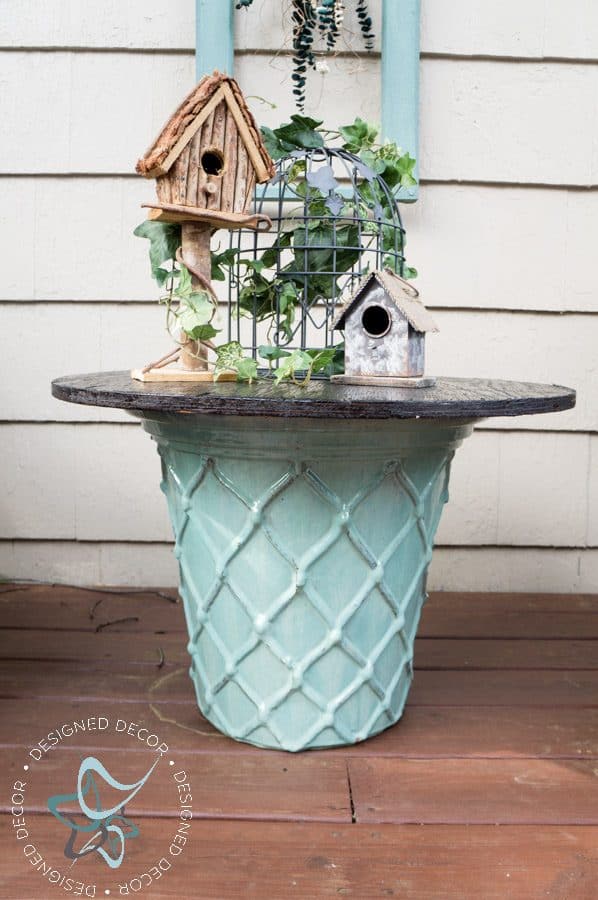 This post contains affiliate links. Click here to see my full disclosure policy.
This repurposed spool table was one of the easier DIY projects I completed for our outdoor space. I purchased the ceramic planter(similar planter) and used one side of an electric spool. It could also be turned into an umbrella stand since the electric spool top already had a hole in the center.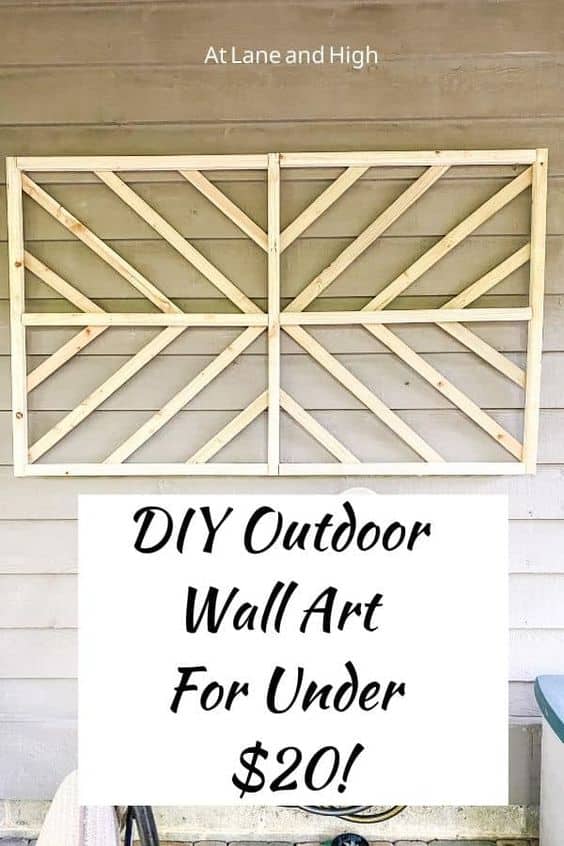 Wendy from "At Lane and High," made this DIY outdoor wall art. This is a very simple and affordable way to add some artwork to those empty walls on your patio or porch. She has some great advice on painting pressure-treated wood, so make sure you go see how she made this great wall art.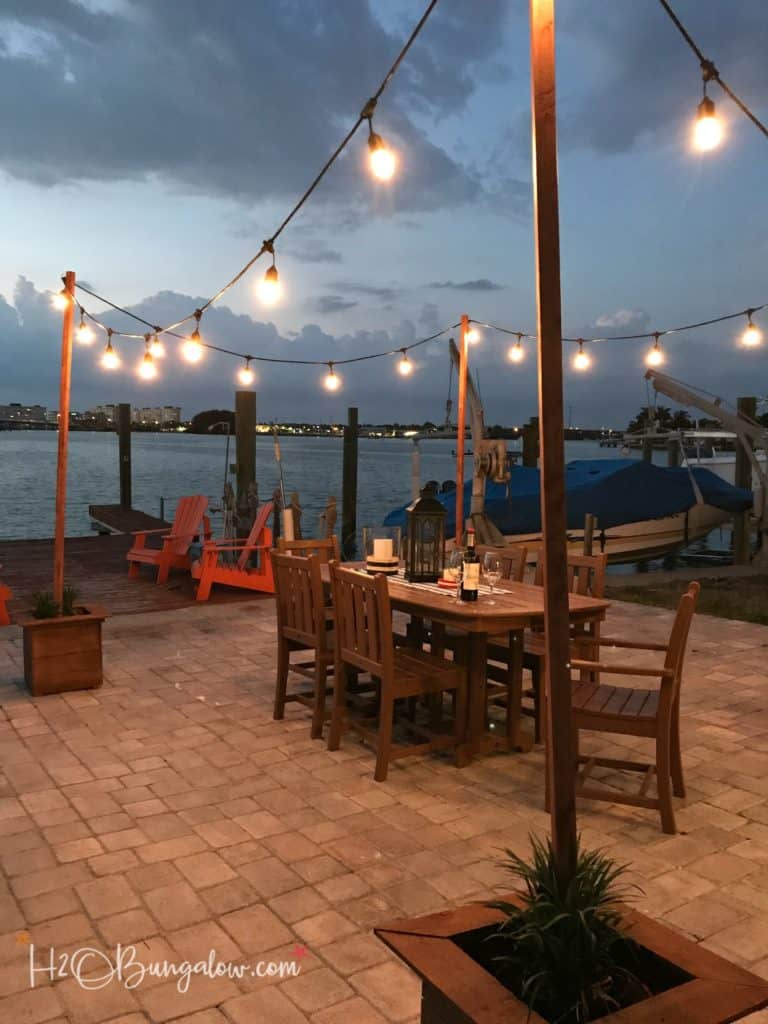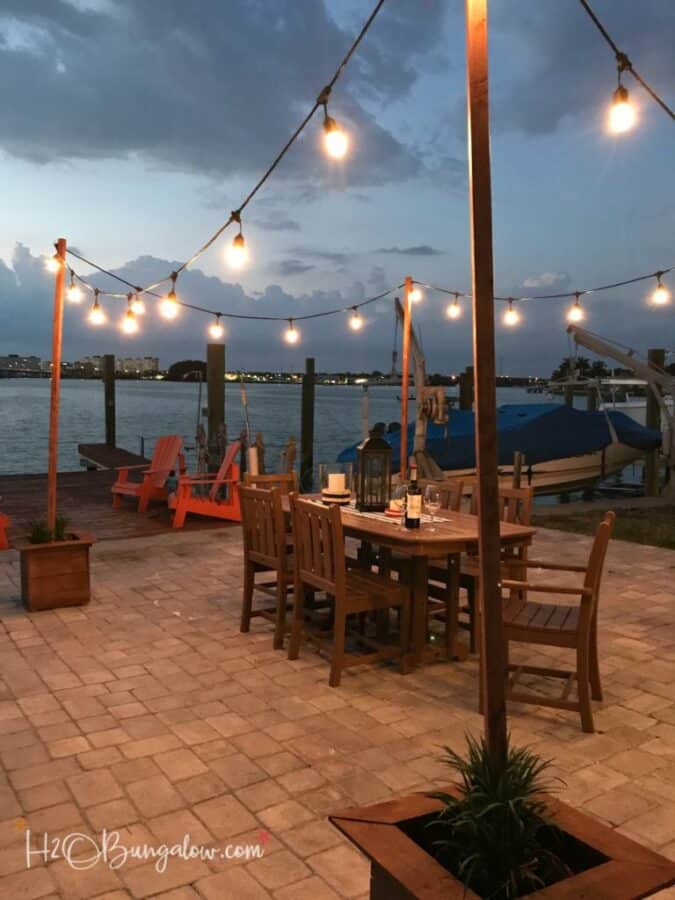 Wendi from H2O Bungalow made these DIY string light poles for her open patio. What a great idea for those patios that do not have a house or garage to hang lights from. The best part is that she can move them around the patio and she made them a planter!
Simple Porch Decorating Ideas
Want to spruce up your porch for the season without spending a lot of money? Check out these simple porch decorating ideas! Start by adding some greenery – potted plants or hanging baskets are an easy way to do this. Then, add a few cozy touches, like a throw blanket or some pillows. Candles are also a great way to create a welcoming ambiance. Finally, don't forget the details! A welcome mat and some string lights can go a long way in making your porch feel like an extension of your home. With just a few simple changes, you can enjoy your porch all season long!
Check out these great porch decorating inspirations.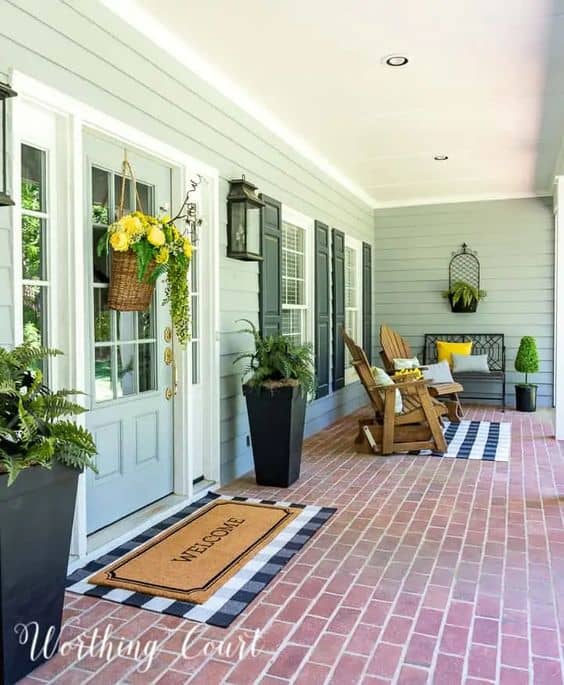 My friend Susie from "Worthington Court," knows how to decorate a front porch without overdecorating. She has those beautiful touches of yellow that draw the eye to the right places. She also played up all the black accents and used the same black and white checked rugs.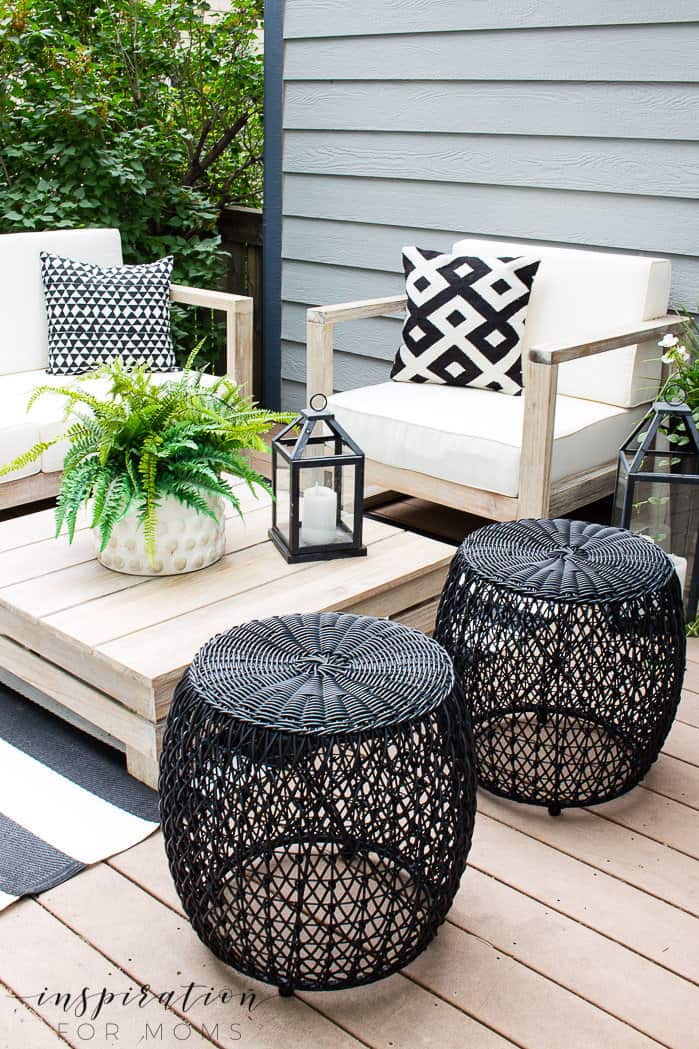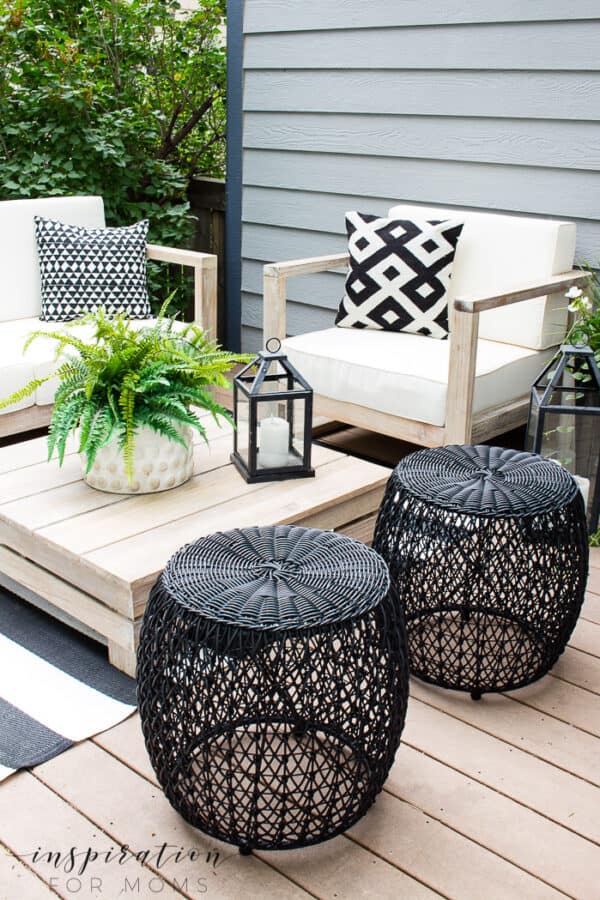 Laura from "Inspirations for moms gave her deck an update with easy outdoor living. The black and white accessories tie everything together for a peaceful and tranquil feel.
Do not forget you can also build your own outdoor furniture using pallets or simple build plans.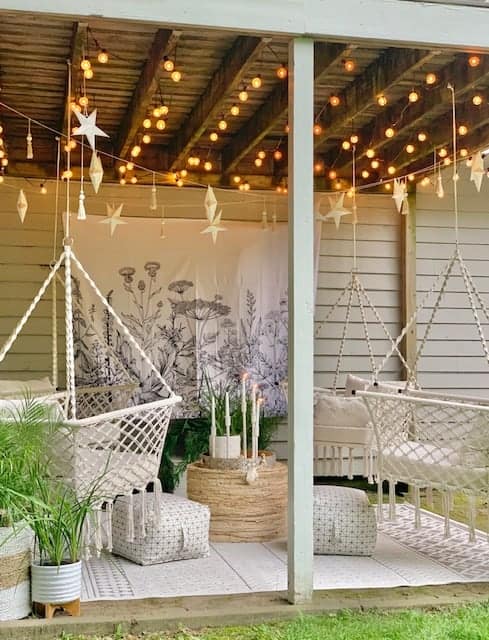 I am in love with this under-the-deck patio from the "Celebrated Nest." Everything from the macrame chairs to the hanging lights makes this outdoor patio so cozy. You could also easily add a ceiling fan to create some additional breezes on those hot sunny summer nights.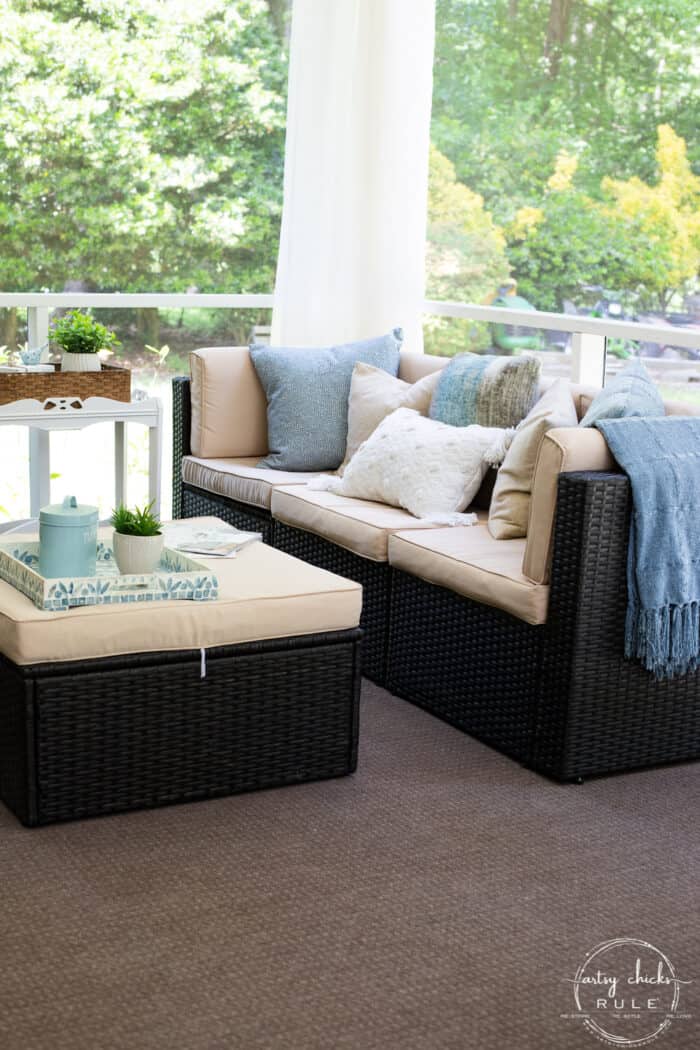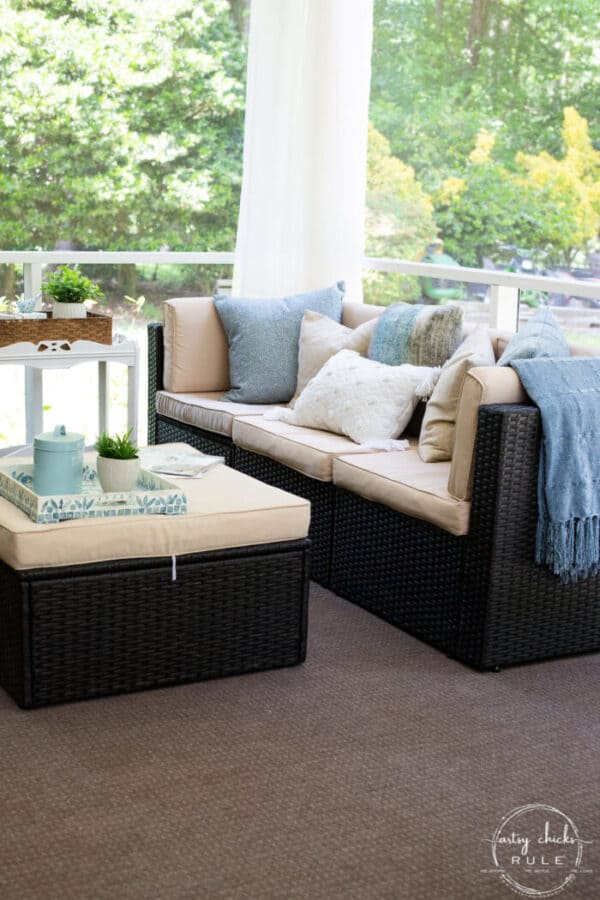 Nancy from "Artsy Chicks Rule" used pops of aqua on her screened porch refresh. She painted tables and chairs to keep the cost down and found inexpensive outdoor carpets. I love all the layers that she added to give her screened-in porch a cozy and inviting feel.
Thrifted Patio Decorating
Another great way for budget-friendly patio decorating is second-hand. In fact, one of the best ways to find stylish and unique pieces is to hit up your local thrift store. Whether you're looking for furniture, planters, or accessories, you're sure to find something that catches your eye. And since you'll be shopping for second-hand items, you'll be able to score some great deals. Here are a few tips for using thrift store finds to decorate your outdoor space: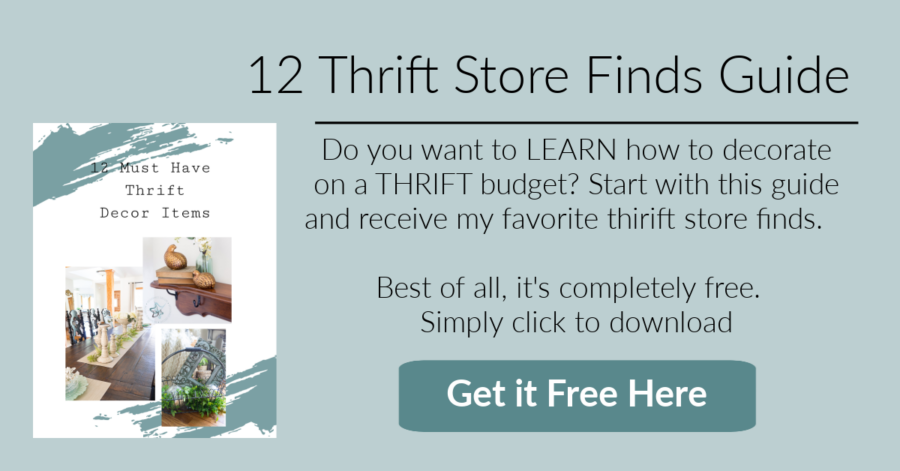 -Take your time: browsing through a thrift store can be overwhelming, so it's important to take your time and really explore all of your options. Don't be afraid to try something new – you never know what you might find.
-Think outside the box: when it comes to outdoor décor, don't be afraid to think outside the box. Use a dresser to make a great garden planter, or turn an old door into a charming gate.
-Add your own personal touch: make your outdoor space truly yours by adding personal touches throughout. Whether it's a collection of vintage plates hung on the fence or a colorful rug placed in the seating area, little details will make a big difference.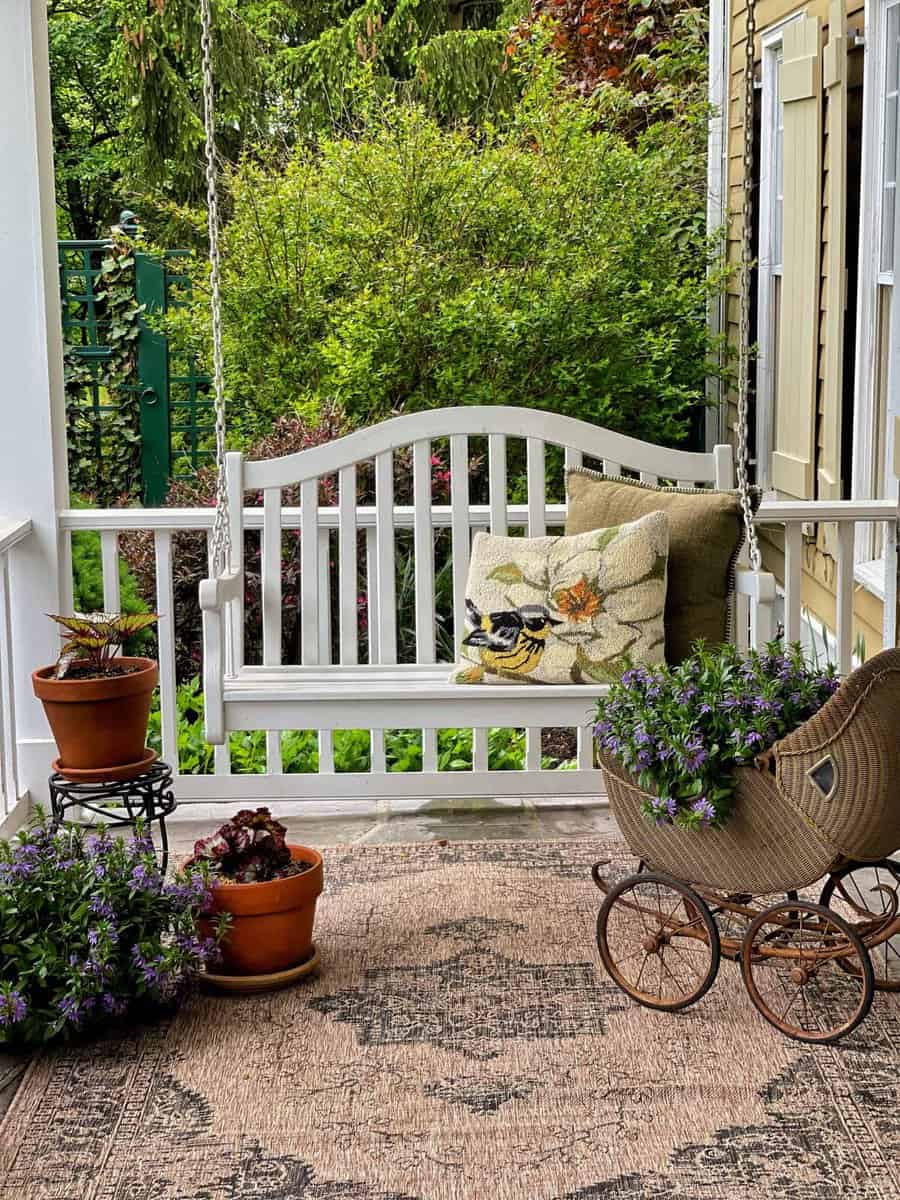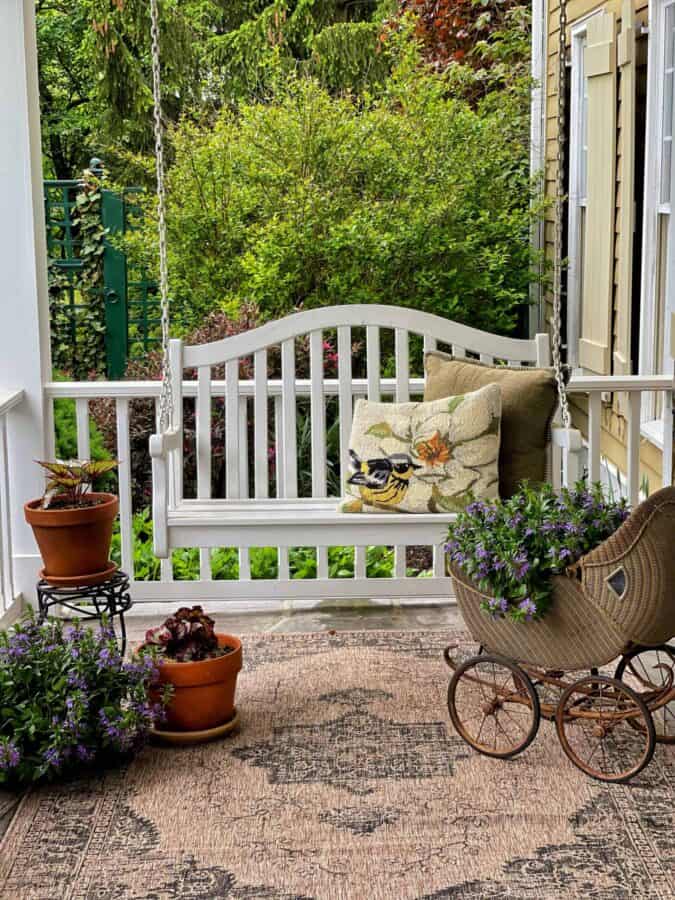 This antique stroller plant stand from Stacy Ling is a perfect find. It gives her front porch so much charm and it also serves a great function by holding a colorful plant. This would also be a great addition for sunroom decorating.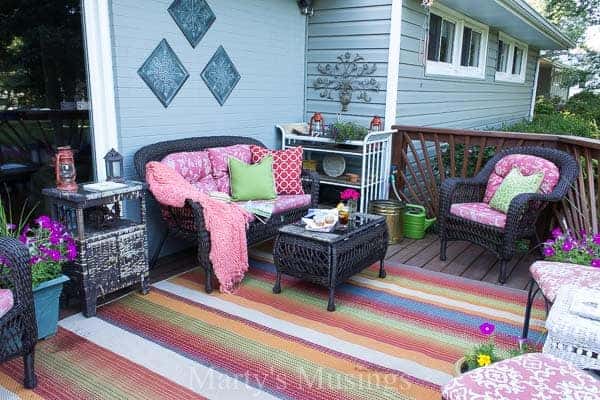 Using what you have and finding cheap accessories from Marty Musings is another perfect way to bring your decorating style to your outdoor living area.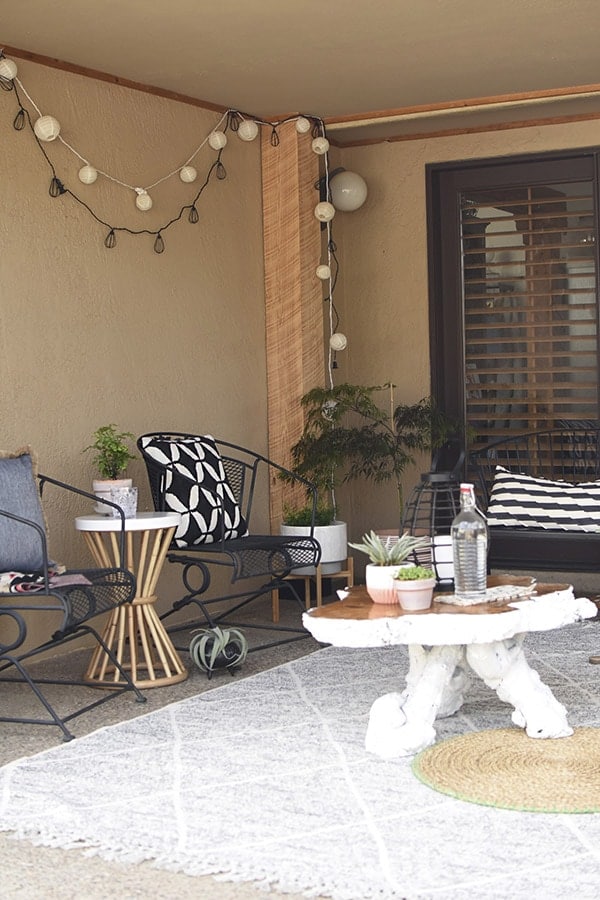 Freshen up your outdated furniture pieces with a little paint. This is exactly what Delineate your Dwelling did with her metal patio furniture and wood coffee table. Painting can go a long way when it comes to changing outdated colors and creating the perfect accent colors for your patio.
Outdoor spaces can be just as stylish and inviting as indoor living spaces with a little creativity. By using what you have, shopping at thrift stores, or doing simple DIY projects, you can create a patio space that is perfect for your needs and within your budget. So get creative and start decorating your patio today! What ideas do you have for patio decorating on a budget?
Discover these other DIY outdoor projects
Discover more Inspirations by clicking on each category photo





Join the DD Community!
Join the Designed Decor Community and receive weekly free tips on DIY home projects, painted furniture, decorating, and much more.