It is that time of the year again when we head for the outdoors and spend most of our time outside.  Our outdoor living spaces are growing more and more popular and we are finding ways to make the outdoor living an extension of our indoor living.  It is important to make your outdoor space cozy and inviting for you or for those guests when you entertain.    I want to share the essentials for a Cozy outdoor living space and share some of my favorite ways to create that perfect cozy space.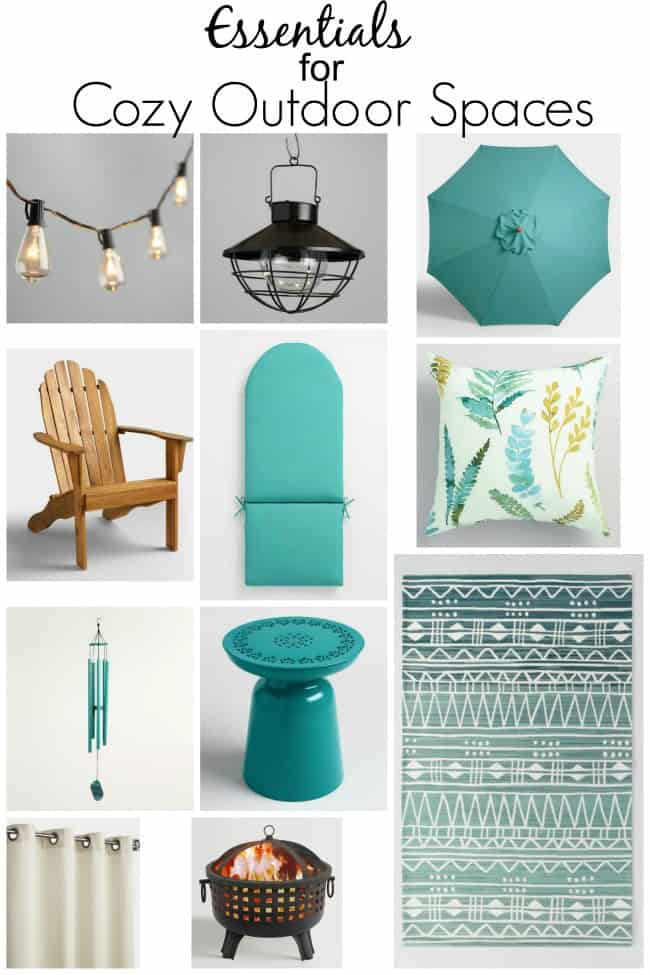 This post contains some affiliate links. Click here for my full disclosure policy.
No matter if you have a deck, patio or a porch you want to pull in a few accessories to make the space relaxing and inviting.  Of course, you need to start with outdoor furniture pieces.  Once you have your furniture, start by picking a theme.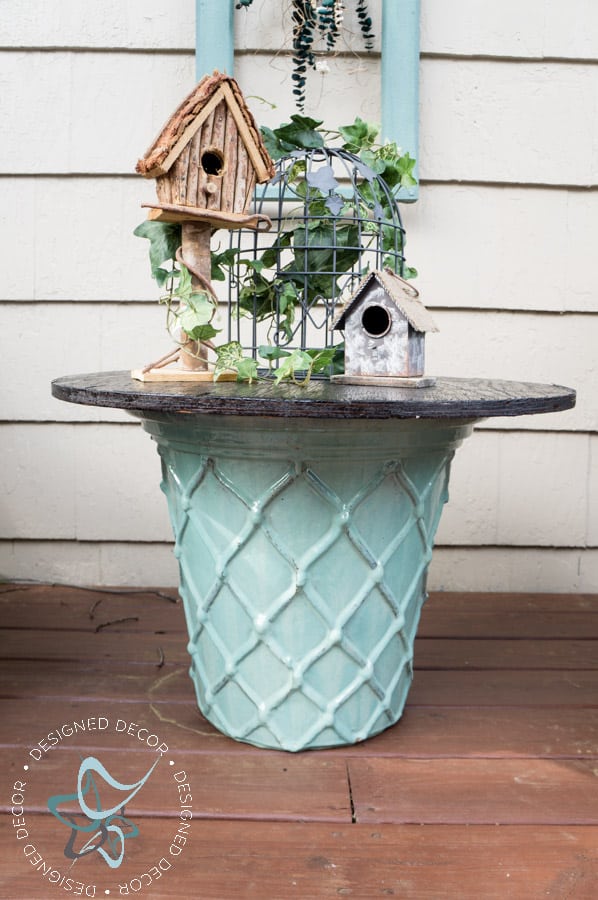 I made these repurposed electric spool tables last year and fell in love with the aqua color.  So this was the start of my color theme.  I have been slowly adding in more cozy accessories to my outdoor living space to make it more of a reflection of the inside.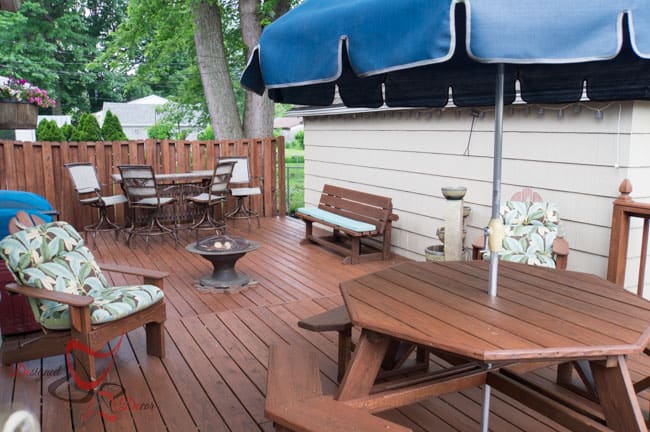 This is an old photo of my deck and you can see how plain it is without some added accessories.  This space is in need of an outdoor rug to break up all the wood tones from the deck to the furniture.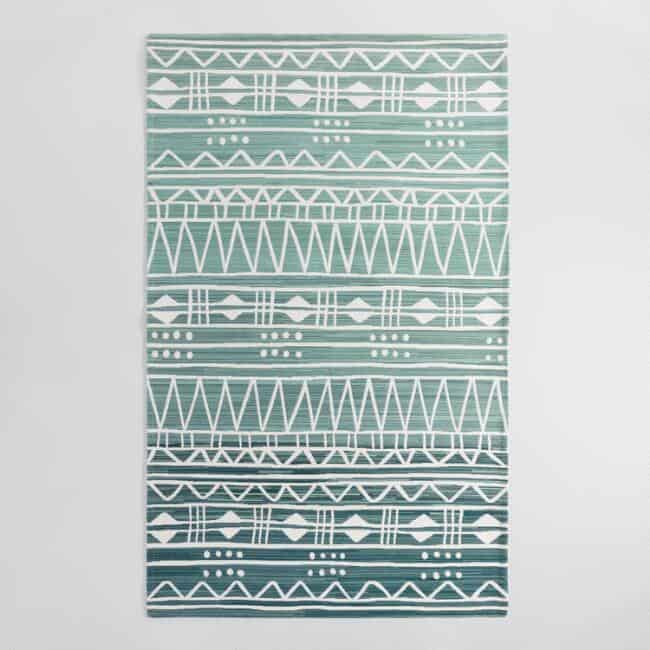 This Blue Geo Tapestry Rug would be the perfect color and adds so much more dimensions to the area.  Adding this rug to my repurposed electric spool table and placing some Adirondack chairs beside the table creates a relaxed seating area.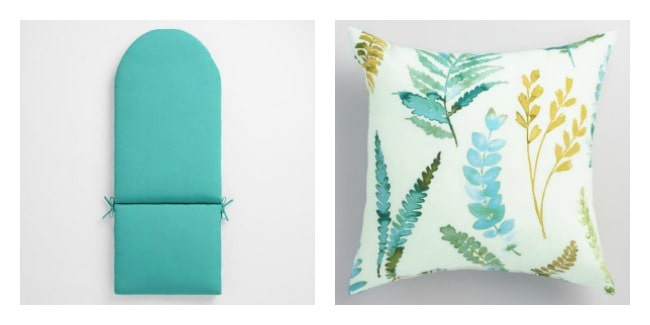 Once you have created a seating area, you will want to add cushions and pillows to the seating to create comfort.  I have continued with my color theme by choosing a solid Adirondack cushion and adding in beautiful print pillows.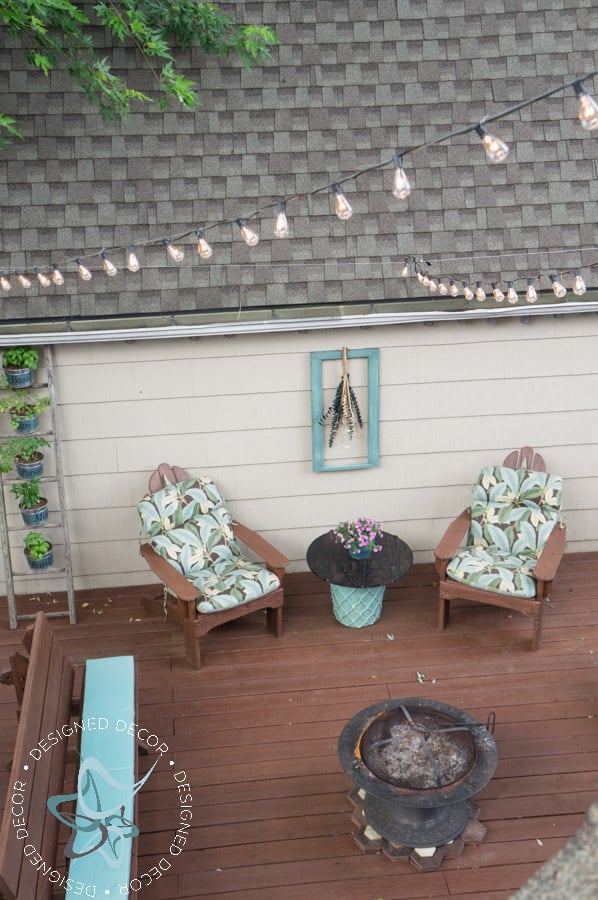 We finally figured out a way to add this Edison style string lights to our outdoor living space last year.  It was one of those things that we asked ourselves, why did we wait so long to add additional lighting.  I absolutely love the ambiance that they create.  I set them on a timer and have them turn on a dusk and turn off before we go to bed.  For those of you who are wanting to know how we hung them, you can visit this post.  Don't neglect to add additional outdoor lighting, to create the perfect feel.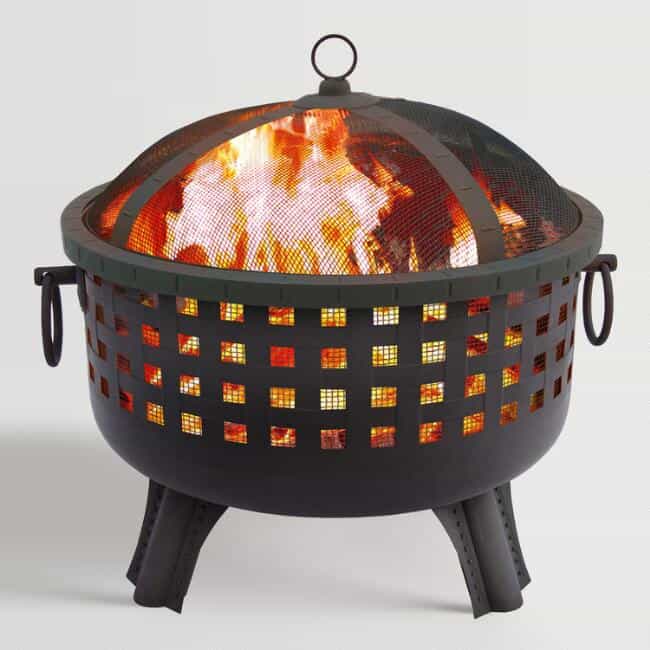 Of course, no outdoor living space is complete without some sort of fire pit.  Most nights we will sit out on our deck and build a small fire to create that additional feel of comfort.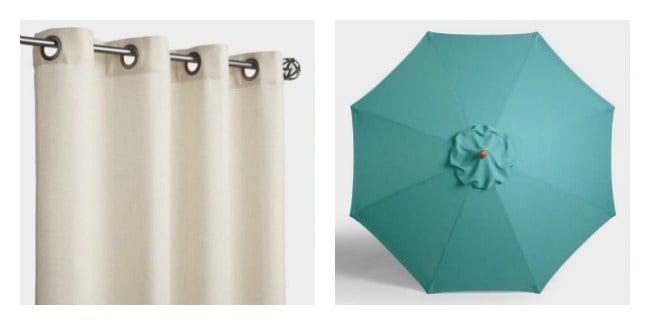 Another great way to soften the hard lines of an outdoor space is with outdoor drapes and umbrellas.  The drapes can create privacy from your neighbors and of course, an umbrella offers shade in those sunny areas of your outdoor area.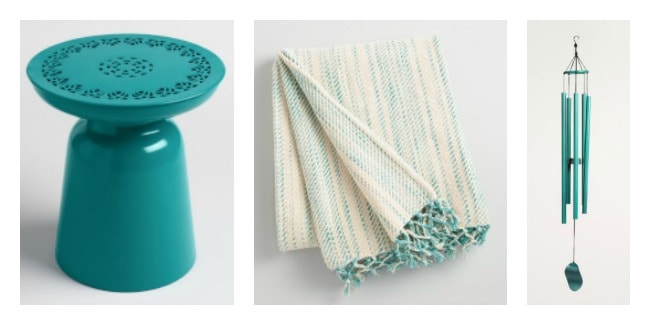 Adding a few extra decorative accessories like a blanket on the cold evenings, a nice soothing wind chime, and small tables to set drinks also add the cozy feel to your outdoor area.
Shop This Look
All of these items are found by shopping at World Market and stop by to visit your local World Market store where you will find many more items to create an inviting outdoor living space.  Let me make your shopping easy and pull all of these great outdoor accessories together for you.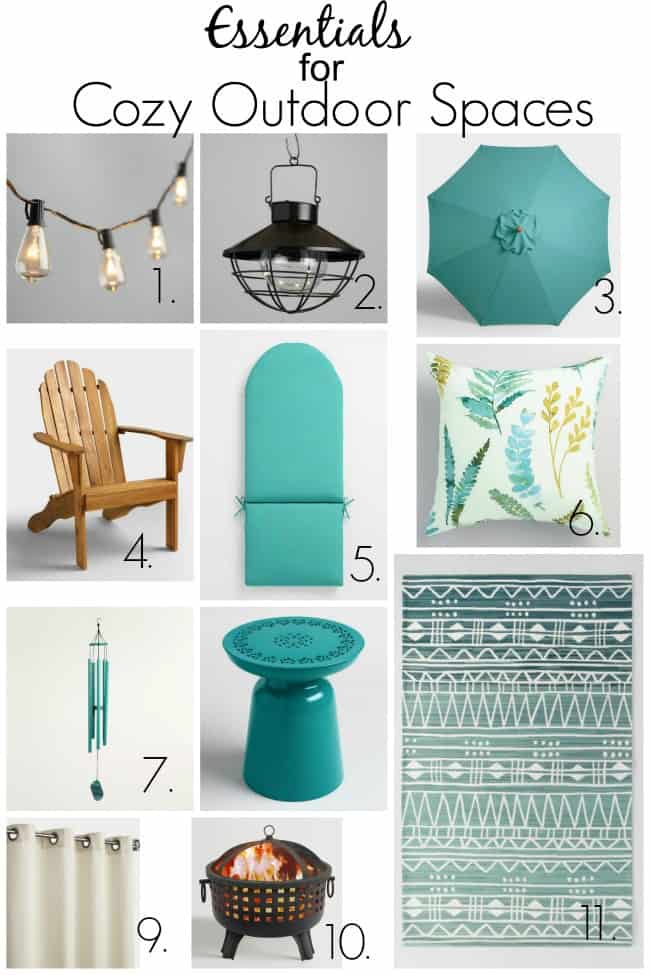 1. Edison Style Sting Lights
How to Bring Indoor Style Outdoors
Check out these "Simple outdoor decorating ideas"
Lifestyle Expert Brandi Milloy shares her top tips on bringing indoor comforts outside. Weather-resistant pillows and rugs that look as good as they feel make decorating easy and a versatile Veracruz Sectional lets you play with your seating setup. Accent tables and surprisingly soft vibrant rugs made from 100% recycled bottles add color and tie the entire space together, affordably. Read more: http://bit.ly/2odzKaB
I hope you found inspiration to create your cozy outdoor living space.

Join the DD Community!
Join the Designed Decor Community and receive weekly free tips on DIY home projects, painted furniture, decorating, and much more.