I have found my favorite "Go-To" snack.  These No-Bake Energy Bites are the perfect snack.  They are easy to make, a healthy option and they have chocolate. 
I have a sweet tooth and I have discovered if I don't satisfy that sweet, I will snack on more things than if I had just eaten the sweet instead.  These no-bake energy bites are the perfect sweet for me and I don't feel guilty when I have 1 or 2.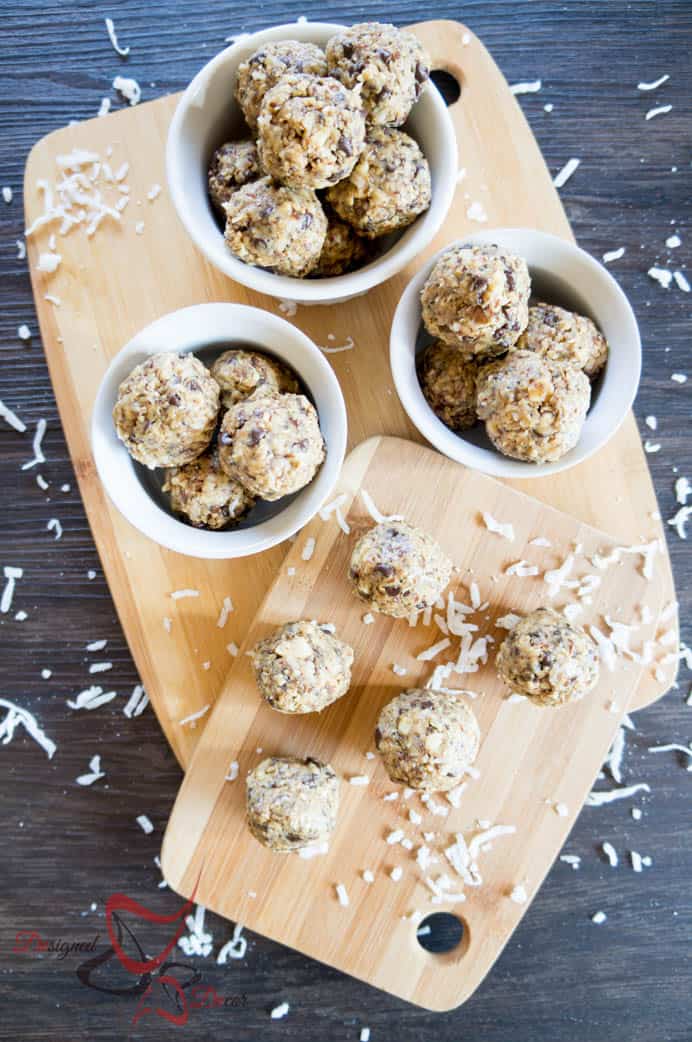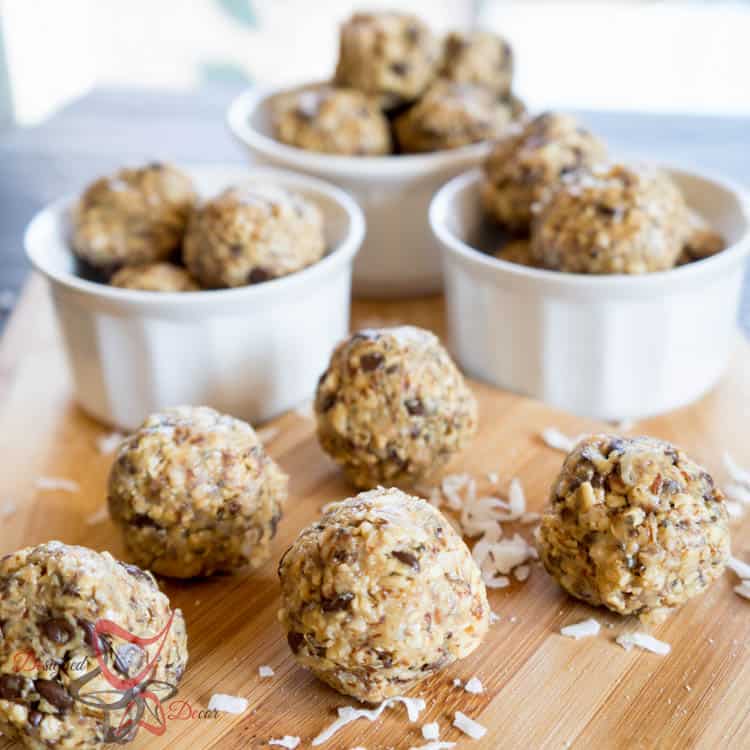 No Bake Energy Bites
Ingredients
1 cup oatmeal
2/3 cup coconut flakes(optional)
1/2 cup peanut butter
1/2 cup ground flax seed
1/2 cup chocolate chips
1/2 cup chopped pecans
1/4 cup honey
1 Tablespoon Coconut Oil
1 tablespoon chia seeds (optional)
1 teaspoon vanilla extract
Instructions
Stir all ingredients together in a medium bowl until thoroughly mixed.
Cover and let chill in the refrigerator.
Once chilled, roll into balls.
Store in an airtight container and keep refrigerated for up to 1 week.
Makes about 20-25 balls.
What I love about this recipe are all the options you have to substitute for other ingredients.   Mr. DD said he did not care for the shredded coconut, so I left it out the next time I made them.  You can add different flavors of baking chips or leave that out altogether.  I am a pecan fan, so I made sure to include them in my recipe.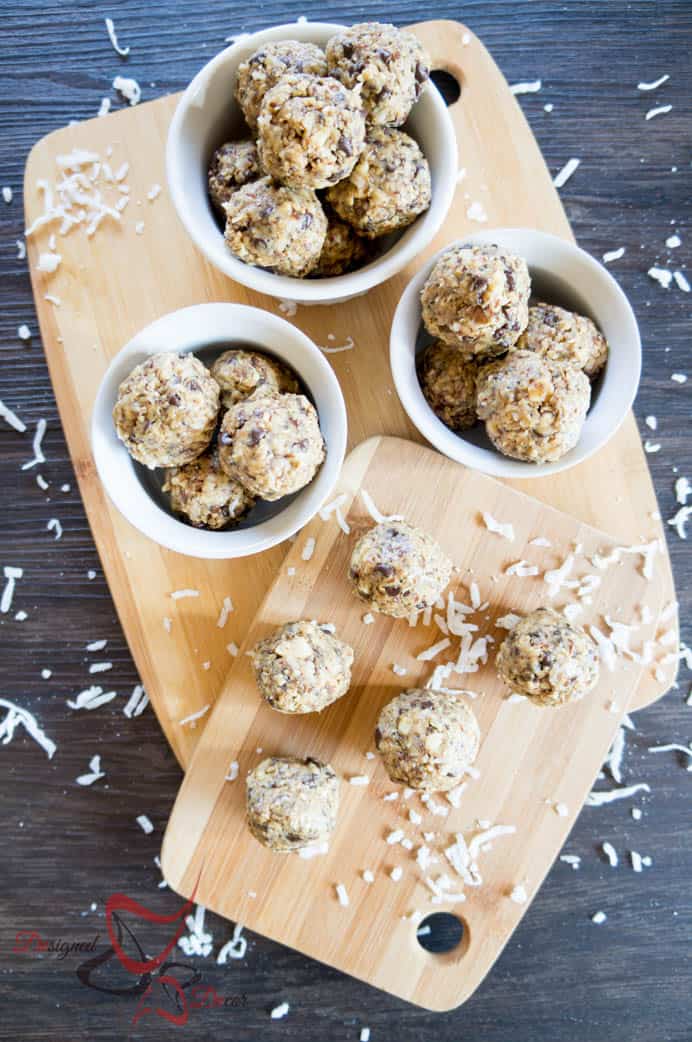 You can also substitute different nut butter if you have allergies.  I am thinking my next batch I will try with almond butter.  My local health store sells fresh ground almond butter and I think I am addicted to it.  Some of you know that I am a HUGE peanut butter fan so I have been branching out and trying other options.  I won't give up my peanut butter, thank goodness I don't have that allergy.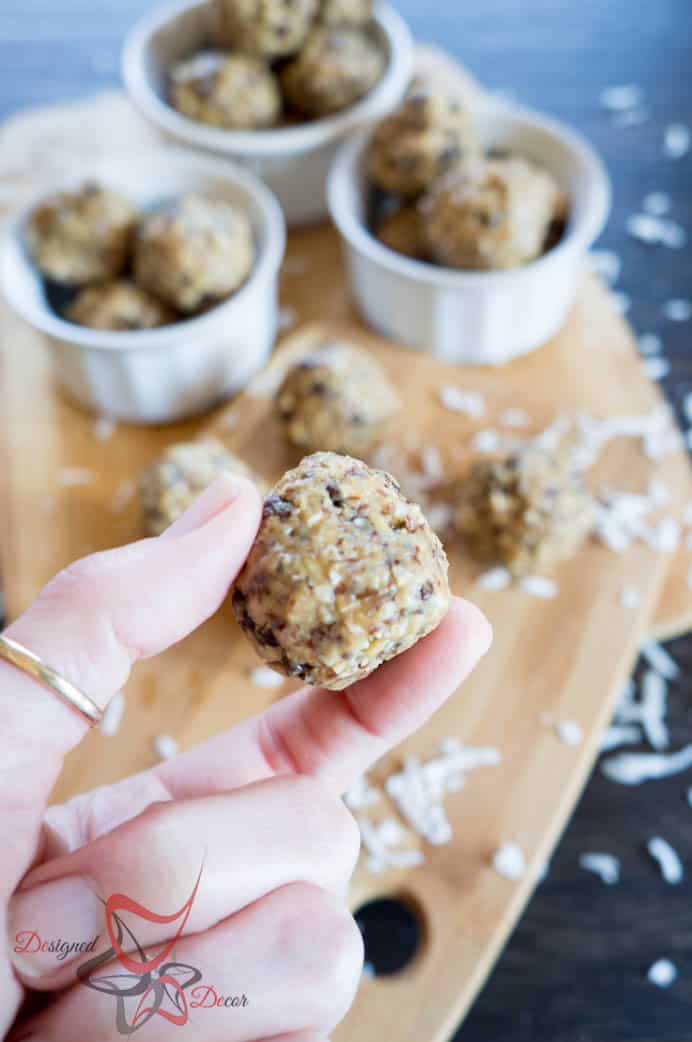 Let me know what substitutions you make and how you liked them.  I love to hear your feedback.  
You may also like these great recipes:

Join the DD Community!
Join the Designed Decor Community and receive weekly free tips on DIY home projects, painted furniture, decorating, and much more.