I hope you all have enjoyed the blueberry recipes that I have shared with you these past few weeks. If you missed the recipes, here is the healthy blueberry muffin recipe and a blueberry crunch recipe. Today I am sharing a simple and healthy version of a blueberry crumble recipe.
I have looked for some healthy dessert recipes and came across this recipe on Eating Well. Mr DD and I were very pleased with this recipe. It has very little sugar and was packed with a great flavor. This dessert satisfied the craving and allowed us not to feel guilty for eating a dessert.
Blueberry Crumble
Author:
Prep time:
Cook time:
Total time:
Ingredients
1 1/4 cups fresh blueberries
1 1/2 teaspoons white sugar
4 teaspoons all-purpose flour, divided
1 1/2 teaspoons orange juice
1/4 cup old-fashioned or quick oats
3 tablespoons chopped almonds
4 teaspoons brown sugar
Pinch of cinnamon
1 tablespoon canola oil
Instructions
Preheat oven to 400°F. Combine blueberries with white sugar, 1 1/2 teaspoons flour and orange juice. Divide between two 6-ounce ovenproof ramekins. Combine oats, almonds, brown sugar, the remaining 2 1/2 teaspoons flour and cinnamon. Drizzle with oil and stir to combine. Sprinkle over the fruit mixture. Place the ramekins on a baking sheet and bake until the fruit is bubbling and the topping is golden, 20 to 25 minutes.
Serving size:
1
Calories:
265
Fat:
13
Saturated fat:
1
Unsaturated fat:
7
Trans fat:
0
Carbohydrates:
37
Fiber:
4
Protein:
4
Cholesterol:
0
This will be a make again recipe. I will be trying it with different types of fruit. I am thinking of how good this will be with fresh southern peaches.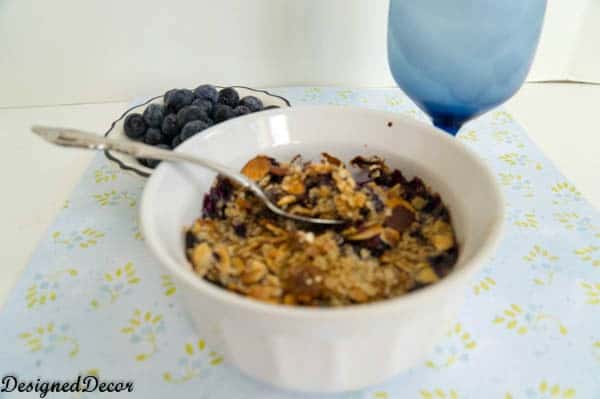 The perfect thing about this recipe is that it is perfect for 2 and can easily be doubled or tripled for company. It is another simple and quick recipe. If you have learned anything about me, I LOVE simple and quick recipes!
Join the DD Community!
Join the Designed Decor Community and receive weekly free tips on DIY home projects, painted furniture, decorating, and much more.